Remains of Vietnamese volunteer soldiers and experts found in Laos were handed over to the Vietnamese side for repatriation at a ceremony held in Vientiane on May 7.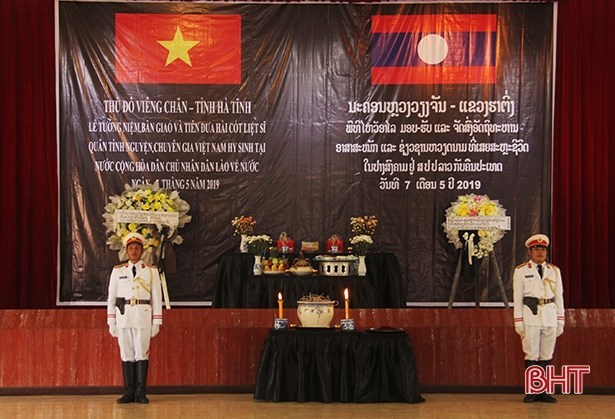 Scene at the ceremony (Photo: baohatinh.vn)
In the 2018-2019 dry season, a special working committee of Vietnam's Ha Tinh province and its equivalent agency of Vientiane capital found two sets of remains of Vietnamese volunteer soldiers and experts who lost their lives supporting Laos' past struggle for independence.
Speaking at the ceremony, Sihun Sitthiluxay, head of the special working committee of the Lao capital, expressed his deep gratitude for the physical and human support from the Vietnamese Party, State, army and people toward his country during its fight for independence and national defence.
Lao people, particularly youths, will continue to be educated on the Vietnam – Lao special traditional solidarity, thus contributing to preserving and fostering the ties, the official said.
Phan Cao Thanh, member of the Standing Board of the Ha Tinh provincial Party Committee and head of its Mass Mobilisation Commission, said he hoped for further assistance from the Lao Government, armed forces, and people nationwide in information sharing and search coordination so that more remains of Vietnamese soldiers and experts would be repatriated.
On May 8, the Vietnamese delegation, headed by Thanh, will visit Bolykhamxay to receive another five sets of remains.
Between 1999 and the 2018-2019 dry season, the special working committee of Ha Tinh province and its counterparts in Vientiane and provinces of Vientiane and Bolykhamxay unearthed 769 remains sets of the Vietnamese soldiers and experts.
In 1945, the Vietnamese and Lao governments signed an agreement on the Vietnam-Laos cooperation and support and formed the Laos-Vietnam joint army to protect each country's independence.
On October 30, 1949, the Politburo of the Communist Party of Vietnam's Central Committee established the Vietnamese military force in Laos, which was called "Vietnamese volunteer soldiers".
Ha Tinh province has more than 10,000 people who volunteered to help Laos in the fight for national independence. Among them, over 1,000 died and 5,000 were injured during their mission in Laos.-VNA