Government needs to take a close look at working hours, wages, productivity and unemployment before making any decision on expanding overtime hours.
Retirement age discussion set for tomorrow
ILO supports Vietnam's gradual retirement age increase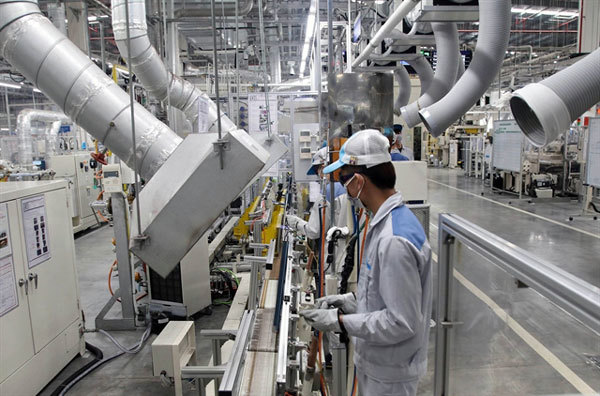 A worker of an air conditioner factory in Thang Long II Industrial Zone, Hung Yen Province. A draft revision of labour code proposed increasing overtime hours from 300 to 400 hours year. — VNA/VNS Photo Danh Lam
That's the opinion of Bui Sy Loi, Vice chairman of the National Assembly's Social Affairs Committee who was speaking yesterday at the 13th National Assembly's committee meeting on social affairs to review the draft revised Labour Code.
Proposals are to increase overtime hours from 300 to 400 hours per year, and to cap the combined official working hours with overtime at 12 hours.
"The new regulation needs to be carefully developed by taking workers' wages, rest time, labour productivity and unemployment into consideration to put an end for low labour costs and non-living wages in labour-intensive industries," he said.
On behalf of Viet Nam General Confederation of Labour, Vice chairman Ngo Duy Hieu agreed on the increase and asked for higher bonuses for workers as they "would need more money for reproduction of their labour power and the risk of occupational accidents is also higher".
In the revised Labour Code, employees who do not have a written contract will be legally protected.
Any work-related agreement indicating job description, wage, working time and an employer's management will be considered as a labour contract.
The new regulation complies with the International Labour Organisation's convention C098 on right to organise and collective bargaining as well as ensure rights and benefits of Vietnamese informal workers and those work in the digital economy, according to chairwoman of the NA Social Affairs Committee Nguyen Thuy Anh.
The retirement age for male and female workers could increase from 60 and 55 to 62 and 60, respectively from 2021.
The change aims to balance the pension fund and the benefit fund for people with disabilities which will be used up if the current retirement age remains unchanged.
Loi asked to Ministry of Labour, Invalids and Social Affairs to clarify the difference between male and female workers' retirement ages.
He also stressed the ages were not applied for all workers, especially who serve in the military, public security forces or take up high positions in the government.
At the meeting, participants also discussed reducing Tet (Vietnamese New Year) Holiday as well as adding a public holiday on July 27, also known as the Vietnamese War Invalids and Martyrs' Day.
In the draft revision planned to be presented to NA this month, workers are allowed to join or establish a representative organisation. It also gives a definition of sexual harassment in the workplace. Female workers are no longer prohibited from doing certain jobs and employees without a written employment contract are also protected by the law.
"The revision presents Vietnam's strong commitment in implement new-generation free trade agreements that we have signed and approved," said Anh.
New-generation FTAs include the Viet Nam-EU Trade Agreement and the Comprehensive and Progressive Agreement for Trans-Pacific Partnership which have provisions involving labour, the environment, sustainable development commitment and good management.
VNS