Rice paddy fields in a Central Highlands commune are facing drought after a river's flow was diverted as the result of the construction a hydroelectric plant.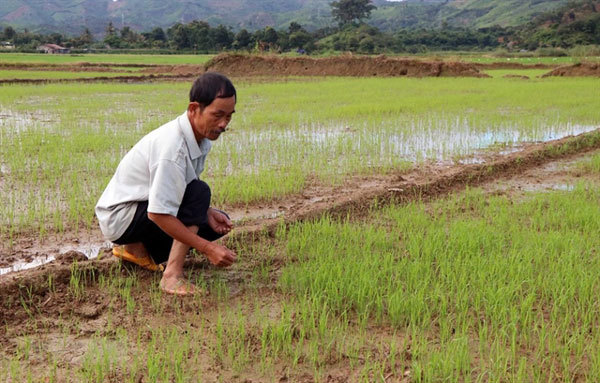 Sứk Village paddy fields dry up due to the lack of water. — VNA/VNS Photo Hung Thinh
More than 100ha of rice in Quang Phu Commune, Krong No District, Dak Nong Province has been affected since the Krong No River started being dredged last month to construct Chu Phong Krong hydroelectric plant, causing most of the stream's water to flow towards the neighbouring province of Dak Lak instead, the Vietnam New Agency reported.
The river crossing the commune is now reaching low water levels, leading to frequent inactive periods of the D12 pumping station which provides crucial supply of water for the commune's Sứk Village and D12 paddy fields.
Nguyen Van Danh, a farmer in Sứk Village, said he had to start sowing rice half a month later than last year due to the prolonged water shortage.
Local farmers usually have to wait till midnight to collect enough water for their fields.
The belated sowing makes it easier for diseases to spread, slows the growth of the rice and increases costs for farmers.
According to Quang Phu Commune People's Committee, the drought has caused uproar among local residents. Many of them have asked the communal authorities to address the issue, otherwise, they would sue Hung Phuc Electrical Installation Company, the plant's constructor.
Ho Trang, the commune party committee secretary, said the ongoing construction of Chu Phong hydroelectric plant has disrupted the lives of hundreds of households in the area.
This time last year, the company blasted rocks and caused damages to local houses but they have not provided compensation for as yet.
"In previous years, whenever the pumping station lacked water, we would mobilise local residents to dredge the riverbed underneath the station to lead water to paddies. This year, we can do nothing as the river flow has been diverted tens of metres away from the station," explained Trang, adding that local authorities have reported the case to Krong No District People's Committee and related agencies.
Quang Phu authorities also said that Hung Phuc company didn't own up to their mistake and was not cooperative in handling the issue.
Nguyen Kim Mui, a Hung Phuc Company representative, blamed the drought and low water levels for the idle state of the D12 pumping station.
However, the company told Vietnam News Agency that they promised to improve the situation, ensure water for farming and bear all related expenses.
Some 300 M'Nong and E de ethnic households have lived and farmed in the area of Sứk Village and D12 paddy fields for thousands of years.
Ensuring a stable and abundant water source for paddy fields is essential as rice needs a lot of water to grow. Without water, within 10-15 days, paddies will be seriously damaged.
VNS