Deputy Prime Minister Trinh Dinh Dung has asked the Ministry of Transport to approve a detailed master plan for Sapa Airport near the popular tourist destination of Sapa Township in Lao Cai.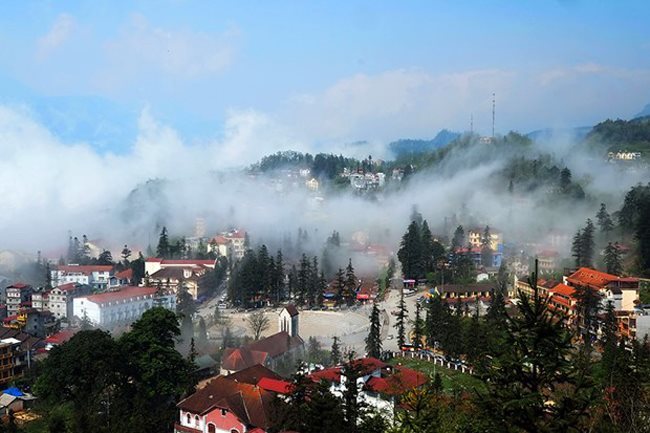 An aerial view of the frontier town of Sapa in the mountainous northwestern province of Lao Cai. Deputy Premier Trinh Dinh Dung recently issued directions on the development of Sapa Airport – PHOTO: VNA
In a recent official letter issued by the Government Office, the approval of the revised master plan is expected to provide a basis for the execution of the airport project.
The People's Committee of Lao Cai Province has been ordered to work with the Ministry of Transport and other competent agencies to develop the airport in line with prevailing regulations.
In March this year, the provincial government urged Prime Minister Nguyen Xuan Phuc to approve in principle the project worth more than VND5.9 trillion (US$252 million).
In the proposal, the province said that the project can be financed by the State budget and private funds under public-private partnerships.
More than VND3.08 trillion (US$132 million) from the central State budget will be allocated to develop the airport, including runways, taxiways and aprons, as well as arterial roads to and from the airport.
Meanwhile, the province will use over VND910 billion (US$39 million) from its own budget to finance bomb and mine clearance, demolition and site clearance and resettlement.
Also, around VND131 billion (US$5.6 million) from the Hanoi-based Vietnam Air Traffic Management Corporation will be used to develop air-traffic control facilities.
The province will call for the private sector to build a civil aviation zone and a jet fuel depot at a total cost of more than VND1.7 trillion (US$75 million) under the build-operate-transfer format.
Sapa Airport will be located in Cam Con Commune of Bao Yen District on some 371 hectares of land, 100 kilometers from Sapa.
Under the zoning criteria for airports by 2020 with a vision toward 2030, this airport is expected to meet the 4C standards of the International Civil Aviation Organization and serve up to three million passengers annually.
Situated in the economic corridor of Kunming-Lao Cai-Hanoi-Haiphong, Lao Cai Province boasts strong trade links with southwestern China. Its transport system currently uses only roads and railways, so the
development of the airport is seen necessary. SGT
Pham Nhat