Summer has just begun but residents in Hanoi have already felt the worst of it when the temperature surged to 38 degrees Celsius in the midst of the scorching heat wave at noon while the heat on the road was recorded at up to 50oC.
Green spaces around Hanoi for some cool summer shade 
Garlic harvest in Ly Son Island fails due to drought
Weather becoming more extreme, unpredictable: expert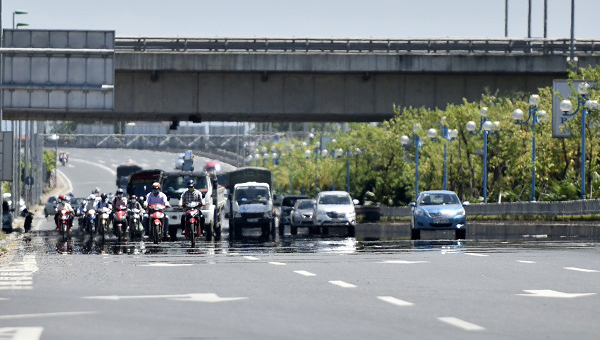 Temperature in some road of Hanoi measured at 50 degree Celsius, causing water mirage. Photo: Kinhtedothi.
Over the past two days, the temperature in Hanoi peaked an average 38 degree Celsius at 11 a.m, however, outdoor temperature was about 5 to 7 degree Celsius higher due to urban effects, Zing.vn reported.
Temperature measured in some poorly-shaded streets namely Thang Long Avenue, Nguyen Xien, Pham Hung, etc. rose to 50 degree Celsius at noon, causing watery mirage.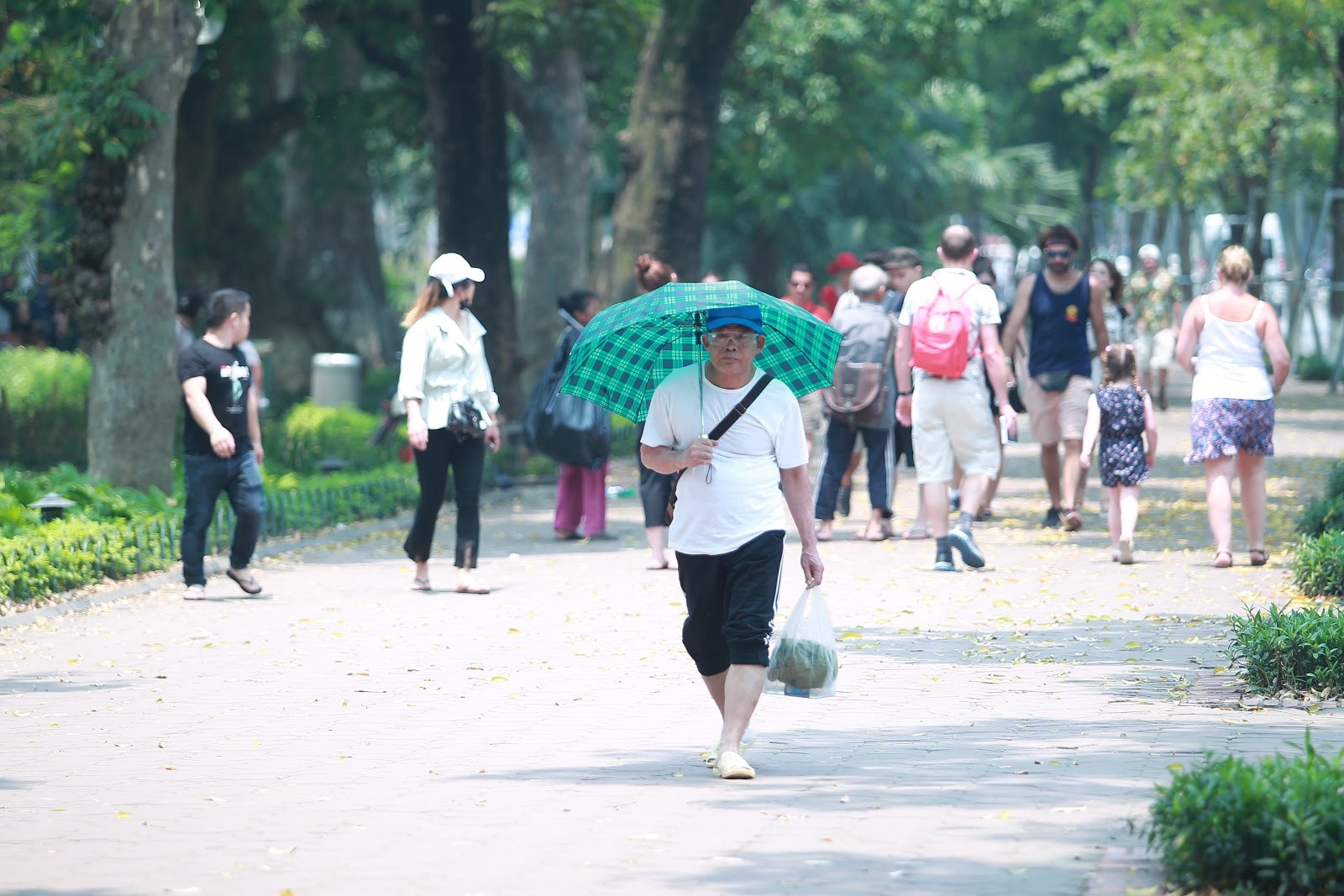 High temperatures stir up daily life in Hanoi. 
The heat wave is affecting the Hanoians' daily routines. Motorbike commuters wrapped themselves in thick hoodies, face mask, sunglasses. Outdoor workers have to take a rest every 15 minutes under the trees' shades to recover while street vendors hide under pedestrian tunnels and locals minimize outdoor activities.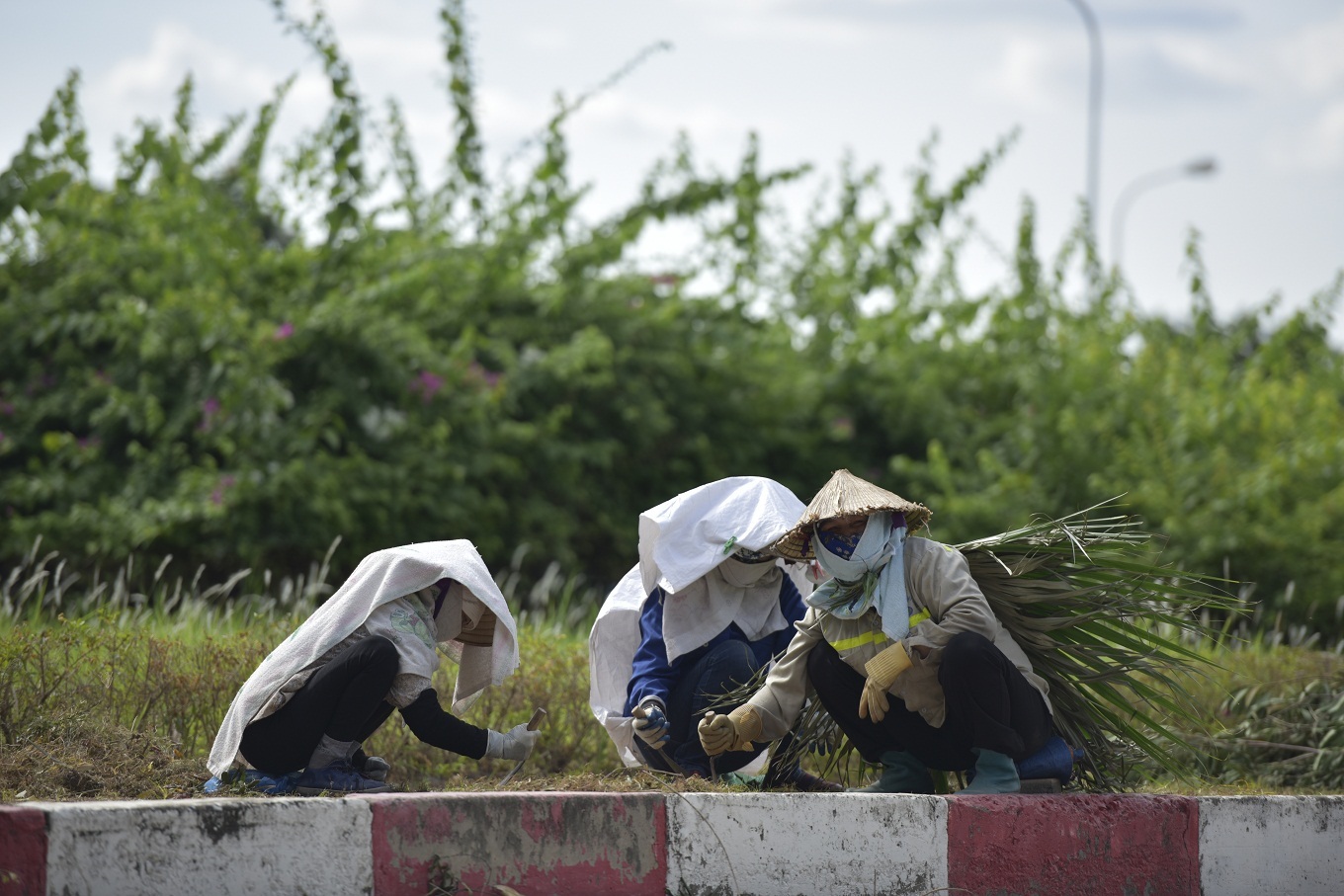 Workers have to cover themselves to work under the sun. 
Due to the scorching heat wave, fewer people come to the Hoan Kiem pedestrian zone at the weekend while thousands flocked to the Westlake Water Park to seek coolness. The park was overcrowded with people lining up to buy tickets and waiting to join some new games.
Until 6 pm, many people flocked with their children or canine companions to the West Lake as a miniature beach to swim and cool down despite the warning signs.
According to the National Center for Vietnam Hydro-Meteorological Forecasting, intensive heat would cause dehydration, exhaustion and stroke when working or travelling under the sun for a long time.
Therefore, people are recommended to limit outdoor activities between 11am and 4pm as well as drink enough water and proper diet to enhance the immune system.
It is forecast that Hanoi would experience an average temperature of 35- 38 degrees Celsius until April 24.
Widespread heat wave upsets residents' lives in Central Vietnam
Hot and muggy condition has been spreading in the central region of Vietnam with outside temperature hitting 40 degrees Celsius sometimes for the past couple of weeks; upsetting the life of locals who have been desiring a rain, causing water shortage and facilitating salt intrusion.
Since the middle of April, the heat wave has blanketed the region. Many provinces have suffered water shortage as salt intrusion has been severe in rivers. Of these, water plants have been short of water for treatment to meet residents' demand in Da Nang city. If the salinity continues rising, the situation will get worse.
Ly Son island district of Quang Ngai province has seen fresh water supply shortage trouble local people. Residents in Binh An commune has been heavily affected because of the long lasting heat wave and damaged seawater desalination system. They have been forced to pay VND220,000 a cubic meter of fresh water transported from the mainland.
Deputy chairwoman of the district People's Committee Pham Thi Huong said that the severe water shortage has occurred in the whole island, the seawater desalination system in Binh An commune has run for a long time and downgraded. Repair will be long and costly so the island authorities hope to get financial assistance to invest in a new system able to supply water for the entire island.
The wide spreading hot condition has sent residents and tourists to crowd breaches. During peak time, beaches are packed with swimmers such as Pham Van Dong, T18, T20 in Da Nang city, Tam Thanh in Quang Nam province, My Khe in Quang Ngai, Quy Nhon in Binh Dinh, Tuy Hoa in Phu Yen and others in Thua Thien-Hue and Binh Dinh provinces.
The hot and muggy weather has also imposed a threat of forest fire and irrigation water shortage for farming. The Department of Cultivation and Plant Protection in Thua Thien-Hue said that thousands of hectares of winter spring rice and nearly 500 hectares of peanut crops have been withered in the province.
According to the National Hydro Meteorological Forecasting Center, the hot and muggy weather will be especially severe in the northern and central regions today, April 21. Temperatures will soar to 38-40 degrees and even top 40-41 degrees in places. It is forecast to start abating on April 22.
The southern region will see the mercury swing around 35-36 degrees until April 24. It will be above 35 degrees from noon to 4 p.m.
Sweltering weather forecast to extend to later this month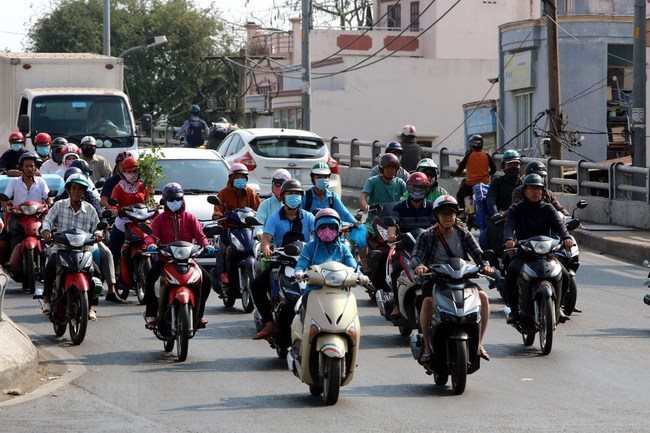 Motorcyclists in HCMC cover themselves with masks and jackets to avoid the scorching heat which is expected to continue to April 28 in many parts in Vietnam
The baking hot weather will likely continue in parts of the country, including the south, northwest and the central regions today, April 22, and may extend until the end of the week, according the National Center for Hydro-Meteorology Forecasting.
The hot weather is the result of hot low-pressure areas in the west of the country and the Foehn effect, which refers to dry and warm down-slope winds on hills or mountains, triggered by southwest winds.
As such, the northwest and central regions are facing peak temperatures of 35 and 37 degrees Celsius, with provinces from Nghe An to Phu Yen reportedly remaining the hottest places with temperatures ranging between 37 and 39 degrees Celsius, even exceeding 40 degrees Celsius in some areas.
High temperatures of over 35 degrees Celsius are common from 11 a.m. to 4 p.m. daily, and the scorching heat may stick around for days this month, according to Nguoi Lao Dong newspaper, citing the national center.
The intense heat yesterday, April 21, extended to parts of the northwest and the central regions, with the highest temperature recorded at 1 p.m., reaching 35-37 degrees Celsius.
The central provinces of Nghe An and Ha Tinh were like an oven; many parts of these provinces encountered a high of over 40 degrees Celsius, such as Quy Chau, Tuong Duong and Huong Khe.
The heat wave has been disrupting the daily activities of local residents. Streets in the cities of Vinh and Ha Tinh saw fewer people traveling between 11 a.m. and 3 p.m. than usual, in addition to a rising number of the elderly and children being hospitalized.
Since the hot weather began, over the last weekend, local residents in Nghe An and Ha Tinh have headed to beaches such as Thien Cam, Xuan Thanh and Cua Lo to cool down.
Also, the Southern Regional Hydro-Meteorological Center has released a forecast noting that the south is expected to suffer from sizzling hot weather for many days.
The ultraviolet index in HCMC will remain at the extreme levels of 11 and 12, posing a high risk of skin damage, including skin cancer, for people exposed to the sun for too long.
The city may suffer high temperatures at an average of 35-38 degrees Celsius. Meanwhile, a high of 39 degrees Celsius is forecast in the southern provinces of Dong Nai and Binh Duong.
Accordingly, the local people, especially outdoor workers, are advised to restrict travel and outdoor activities from 11 a.m. to 4 p.m., to stay hydrated and to maintain a balanced diet to build up resistance to conditions caused by hot weather.
Further, during these blistering days, the locals should stay alert to possible fires and explosions in residential areas due to high power consumption as well as the high risk of forest fires in the northwest and central regions, experts said. 
Hanoitimes/SGGP/SGT