Some research topics conducted by high school students, such as stroke patient rehabilitation or cancer treatment, could be titles for doctoral dissertations or even in-depth research projects at the ministerial or national level.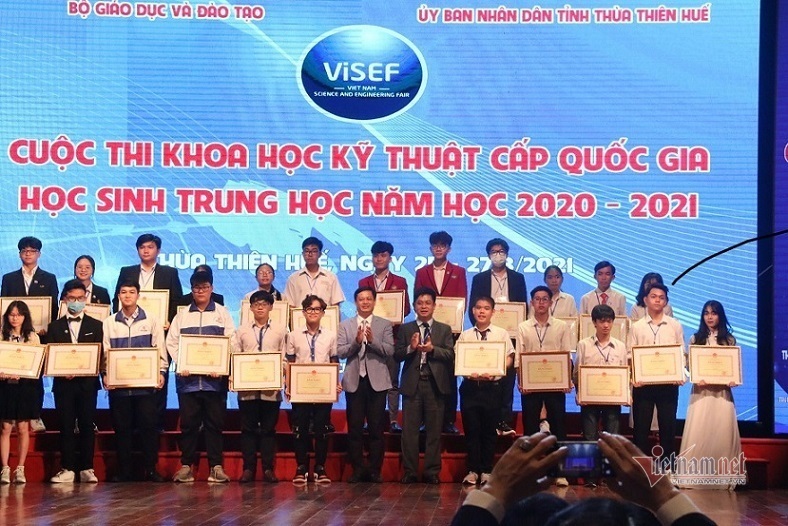 Twelve projects win first prizes at the 2020-2021 national science and technology contest for high school students
Dr Le Van Ut, head of the Science and Technology Development Management Department at Ton Duc Thang University, said the essence of scientific research is discovery, or finding new things. This can be new knowledge which contributes to humans' common treasure of knowledge, and does not necessarily have immediate commercial value. This is the result of research published in the form of scientific articles.
Research results can also help solve problems in real life, called applied studies. Or they can be shown via technology transfer projects.
As such, scientific research is a meticulous process which strictly observes rules and has novelty.
Only when becoming a master's degree student can one study 'the ways of research' methodically.
Master's students, in order to finish training courses and receive a degree, have to conduct research and write a thesis.
And postgraduates engage in rigorous research in a process that takes many years to complete a doctoral program.
The fact that high school students can conduct academic research and produce in-depth research products is a matter worth consideration.
In fact, an age limit doesn't exist in scientific research. The crucial issue is whether the research is conducted methodically and produces results.
Ut said it is great to witness the passion for science of high school students who are willing to cope with thorny and very specialized issues, such as working on devices that help rehabilitate post-stroke patients' hands; on isolation of compounds that inhibit the proliferation of aortic smooth muscle cells to prevent and treat artery rupture fibrosis; and on cancer treatment and use of artificial intelligence (AI) for early warning about risks in shrimp farming.
Ut said if Vietnam has "prodigies" who can begin conducting scientific research in a professional way when they are at high school, the nation should feel fortunate.
Twelve projects have won first prizes at the 2020-2021 national science and technology contest for high school students. Ninety one prizes were given to projects, including 12 first prizes, 19 second prizes, 26 third prizes and 34 fourth prizes.
The contest was organized in Thua Thien-Hue province on March 25-27. 
Le Huyen

While a variety of careers are open to maths majors as mathematics is involved in most sectors related to science and technology, students should prepare to adapt to their future jobs, experts have said.

Two female students from Tran Quoc Tuan High School have upgraded a so-called rice ATM into a 4-in-1 'Covid-19 prevention ATM which can disinfect hands and distribute instant noodle, rice and face masks.