It is forecast that by 2030, between 4.5 and 6 million workers will need agricultural training.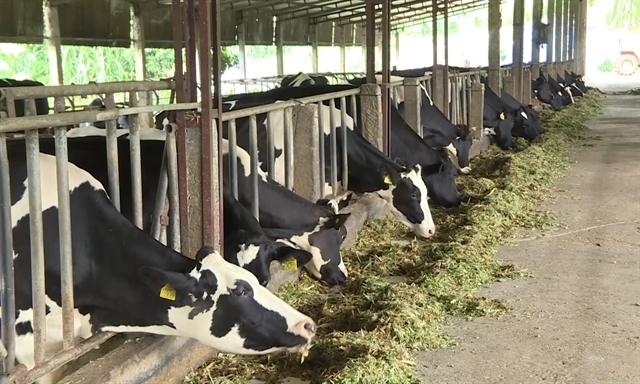 A dairy farm in Mộc Châu District, the northern mountainous province of Sơn La. Experts said that vocational training for rural workers should be based on the demands of enterprises and cooperatives.
The information was revealed by Lê Đức Thịnh, director of the Department of Cooperatives and Rural Development, in a conference held in Hà Nội on Friday. The conference was organised by the Ministry of Agriculture and Rural Development to improve the quality and efficiency of agricultural vocational training for rural workers.
Thịnh said by 2030, Việt Nam is expected to have about 100,000 agricultural enterprises, 30,000 cooperatives, 70,000 groups of cooperatives and 70,000 farms.
The ministry plans to establish 13 national main products, 200-300 provincial and regional main products and about 2,500 communal main products.
Thus the demand for vocational training for rural workers was very high, he said.
Thịnh believes that by 2020, a database on vocational training for rural workers should be created.
A project on vocational training for rural workers in the agricultural sector in 2021-30 will be set up to submit to Prime Minister Nguyễn Xuân Phúc for approval.
Priority will be given to training programmes on hi-tech agriculture and start-ups for young workers.
Thịnh said the sector must attach importance to practices at enterprises and cooperatives. Each locality should have one or two training schools that meet local needs.
Valentina Barcucci, labour economist and deputy director of the International Labour Organisation (ILO) Việt Nam recommended that the agricultural promotion system should go together with a vocational training system.
Việt Nam should have vocational certificates and workers could use the certificates everywhere and continue to raise the level of certification through a skills recognition system.
Therefore, the country needed to develop national occupational skill standards for vocational training, she said.
Nguyễn Thị Lan, director of the Vietnam National University of Agriculture, said to improve the quality of vocational training for agricultural jobs, the training should be based on enterprises' and cooperatives' demand and the development trend of the sector.
The periods for practising at enterprises and farms should be lengthened.
Lan proposed diversifying training, renewing teaching curriculums, and setting up close connections between enterprises, cooperatives and vocational training schools.
In the period 2011-15, a project on vocational training for rural workers covered nearly 1.15 million people, reaching 75 per cent of the plan. After the training course, nearly 873,000 people got new jobs or improved their working results.
In the period 2016-19, as many as 1.15 million rural workers were trained, reaching 82 per cent of the plan. In this period, localities chose jobs that met farmers' requirements and focused on the main products of each locality. The training was close to job promotion for rural workers.
Lan believes in the near future, demand for low-skilled workers will fall, but a big opportunity will open for high-quality human resources. — VNS