A tropical depression has turned into storm Mun, according to the National Centre for Hydro-meteorological Forecasting.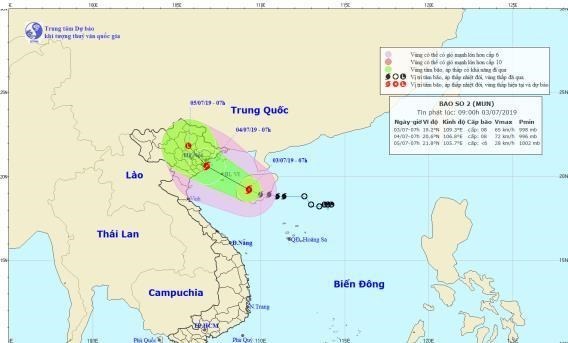 The Central Steering Committee for Natural Disaster Prevention and Control held a meeting to plan for Storm Mun
At 7 pm on July 2, the storm was 90km away from China's Hainan Island and 500km away from Quang Ninh Province. The wind speed reached 60-75km per house and will get stronger as the storm moves in a west north-west direction at the speed of 10km per hour in the next 24 hours.
At 7 pm on July 3, the storm is forecasted to be 200km away from Quang Ninh. In the next 24 to 36 hours, it will keep moving in the west north-west direction, reach the land and weaken into a tropical depression.
Strong winds are forecasted for provinces from Quang Ninh to Ninh Binh tonight and early morning of July 4. Because of the storm, the northern region and central region will have rains, especially from Thanh Hoa to Quang Nam provinces.
Rains will fall in Hanoi today and other northern provinces such as Hoa Binh and Son La from now until July 5. Notices and guidance about the storms have been sent to 56,557 fishing vessels, 484 tourism boats, 146 freight ships, 5 foreign vessels and thousands of fish farms.
On July 3, the Central Steering Committee for Natural Disaster Prevention and Control has held a meeting to plan for the storm.
Colonel Tran Van Dinh from the search and rescue force of the border command said, "1,640 tourists, including four foreign tourists, are stuck on Co To Island. We need to contact Quang Ninh authorities quickly to ensure tourists' safety."
Minister of Agriculture and Rural Development Nguyen Xuan Cuong raised warnings about flooding in the urban areas and landslides and flash floods in mountainous areas.
Localities urged to brace for typhoon MUN
Tropical low pressure in the East Sea strengthened into typhoon MUN during the evening of July 2 and is set to make landfall on the mainland on July 4, directly affecting the provinces of Quang Ninh, Ninh Binh, and Hai Phong.
During the meeting held in Hanoi on July 3, Nguyen Xuan Cuong, Minister of Agriculture and Rural Development, asked potentially affected provinces and cities to take drastic measures in order to cope with the possible scenarios that may arise from the impact of the typhoon.
Minister Cuong has requested that relevant ministries, agencies, and affected localities guide fishing vessels out of dangerous areas and maintain contact in order to be on hand to respond to any emergencies.
In addition to these measures, tourism ships have been urged to head inshore and anchor at seaports and wharves.
Cuong called for ensuring the safety of 1,640 tourists including four foreigners in Co To island in the northern Quang Ninh province whilst also keeping other tourists informed on the development of the typhoon.
He also requested that provinces and cities inspect their dyke system, especially in Thai Binh province in order to prevent flooding and emphasized the necessity of examining reservoirs and pumping station systems.
Residents on the mainland and in mountainous areas should stay updated on the movement of the typhoon and prepare for flooding, flashfloods, and landslides while rescue forces have been urged to stay alert and be prepared to immediately respond to possible emergencies.
Colonel Tran Van Dinh, head of the Search and Rescue Department of Border Guard High Command said that as of 6am on July 3, thousands of fishing vessels, cargo, and tourism ships operating between Quang Ninh and Quang Tri have been guided to safe shelters.
Of the areas that could be affected by the typhoon, Quang Ninh is expected to complete the evacuation of residents to safe shelters by 7pm on July 3 in addition to devising measures to prevent flooding occurring in urban areas.
Other provinces and cities including Hai Phong, Thai Binh, and Nam Dinh are also expected to instruct ships to anchor at wharves and seaports as well as taking measures to prevent flooding on July 3.
Quang Ninh bans vessels from sailing offshore ahead of typhoon
The northern province of Quang Ninh has temporary banned tourist and passenger vessels from sailing to islands from 11:00am on July 3 due to a tropical typhoon that is forecast to affect the sea off Quang Ninh soon.
According to the Quang Ninh inland water port authority, vessels to Co To island were banned at 6:00am the same day.
The agency has requested vessels to move to safe shelters in Ha Long Bay, Cam Pha, Dam Ha and Mong Cai areas.
Currently, 1,640 tourists, including four foreigners, are staying on Co To island. Vessels from the island to the mainland have been suspended since July 2. The People's Committee of Co To island has asked accommodation facilities and restaurants to support the tourists.
According to the National Centre for Hydro-Meteorological Forecasting, the storm, the second arising in the East Sea so far this year, was about 410km south-southeast off Quang Ninh and Hai Phong's mainland as of 4:00am of July 3.
In the next 24 hours, the storm is forecast to move west-northwest at a speed of about 10-15km per hour.
It is forecast to make landfall on July 5, affecting localities from Quang Ninh to Nam Dinh before weakening to a depression covering the northern mountainous and midland areas.
Vietnam steps up natural disaster response, search, rescue work
Vietnam's search and rescue forces will maintain round-the-clock duty so as to give timely response to natural disasters, particularly when the flood and storm season is coming.
A national plan and a strategy for civil defence should be outlined, while competent authorities have been directed to prepare for search and rescue rehearsal along the Vietnam-Cambodia border.
In addition, the country is speeding up the printing of maps indicating areas at risks of flooding in case of typhoons and high discharge of reservoirs to plan for suitable disaster prevention measures.
Training on the search and rescue work has been paid due attention as well.
Since the outset of the year, the National Committee for Search and Rescue has directed ministries, sectors and localities to carry out 1,110 search and rescue operations, saving 2,175 people, including 117 foreigners. Nearly 382,000 people were well informed of storm and tropical low pressures.
As many as 79,123 people, and 2,445 vehicles have mobilised to join the search and rescue operation nationwide so far.
Dtinews/VNA