Local authorities have been ordered to instruct fishing boats and other vessels in the East Sea to take shelter as Nakri, the sixth storm to strike Vietnam this year, is strengthening.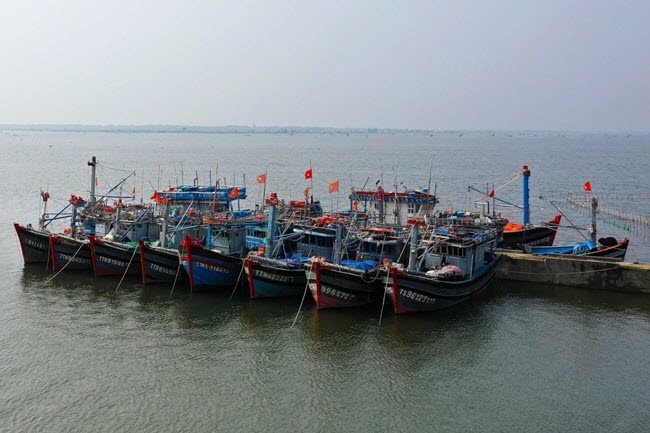 Fishing boats take shelter from Storm No.6 in the central province of Thua Thien-Hue. The storm is intensifying in the East Sea
The storm was hovering some 290 kilometers northeast of Song Tu Tay Island of the country's Truong Sa Archipelago as of 7 a.m. today, November 8, with a maximum sustained wind speed of 115 kilometers per hour, gusting at level 14, according to the National Center for Hydro-Meteorological Forecasting.
It is forecast to drift west-southwest at 5-10 kilometers per hour and will possibly grow more intense in the next 24 hours. By 7 a.m. on November 9, its center may be located 140 kilometers north of the island, packing strong winds at 135 kilometers per hour, gusting at level 15.
It may continue on a slow west-northwest drift in the next 48-72 hours before making landfall and weakening into a tropical depression in the Central Highlands localities early on November 11.
As this could be the strongest storm of the year, fishing boats and other vessels must be alerted of the danger, said Mai Van Khiem, director of the center, reported Thanh Nien newspaper.
When it makes a closer approach to the mainland and moves over cold water, the storm will likely be downgraded to level 9. During this weekend, it is predicted to affect central localities from Danang to Binh Thuan and possibly the southeast provinces, added Khiem.
According to the Central Steering Committee for Natural Disaster Prevention and Control and the National Committee for Search and Rescue, over 240,000 people and some 47,000 vehicles had been briefed on the storm's direction and advised to seek shelter as of November 7.
In response to warnings over the weather hazard, many central provinces have proactively adopted preventive measures, including calling on fishermen to move to safe areas and placing taskforces on standby for disaster response.
Besides this, Vietnam's Ministry of Foreign Affairs has worked with the competent agencies of the Philippines and Malaysia, requesting them to allow Vietnamese fishing vessels to take shelter in their waters and to assist Vietnamese fishermen in case they encounter bad circumstances.
Deputy PM urges preparations for Storm Nakri
Deputy Prime Minister Trinh Dinh Dung has urged the Ministry of Transport to send rescue ships to the southern central province of Binh Dinh to help the locality in advance of approaching Storm Nakri.
Deputy PM Trinh Dinh Dung, head of the Central Steering Committee for Natural Disaster Prevention and Control, chaired an online meeting on responses to Storm Nakri on Friday morning.
At the event, Mai Van Khiem, director of the National Centre for Hydro-meteorological Forecasting, said that the typhoon would directly affect the provinces from Quang Ngai to Khanh Hoa on November 10-11, bringing strong winds.
The storm would also result in heavy rains for many localities from Danang City to the Central Highlands region.
The provinces of Quang Ngai, Binh Dinh, Phu Yen, Khanh Hoa, Thua Thien-Hue, Quang Nam and Ninh Thuan and the Central Highlands have been warned of facing high floods.
By 4 pm on Thursday, around 47,330 fishing boats and ships were informed of the storm for shelter.
Dozens of fishing boats and ships have arrived in the Philippines for shelter.
According to General Le Manh Tien, Deputy Chief of Office of the National Committee for Search and Rescue, thousands of soldiers have been assigned for the rescue during the storm.
Ho Quoc Dung, chairman of Binh Dinh People's Committee, said that many boats and ships often dock at Quy Nhon Port, including many from other localities. However, the province does not have big ships for rescue. He proposed the National Committee for Search and Rescue for the support.
Minister of Agriculture and Rural Development Nguyen Xuan Cuong said that Storm Nakri would be complicated, so localities should make careful preparations.
The deputy PM asked localities to ensure safety for people and infrastructure works. He instructed the Ministry of Transport to send ships to Binh Dinh Province for the possible rescue. SGT/Dtinews/VNN

Tropical storm Nakri, the sixth storm to affect Vietnam in 2019, is moving slowly eastwards and is expected to change course and head to Vietnam's central region in the next 24 hours.

Storm Nakri, the sixth typhoon from the East Sea this year, with strong level 8 winds, is moving on the East Sea with a slow speed but complicated direction.