Nguyen Thi Phuong Dung, a 55 year-old teacher in HCM City, is pioneering inclusive education for autistic children.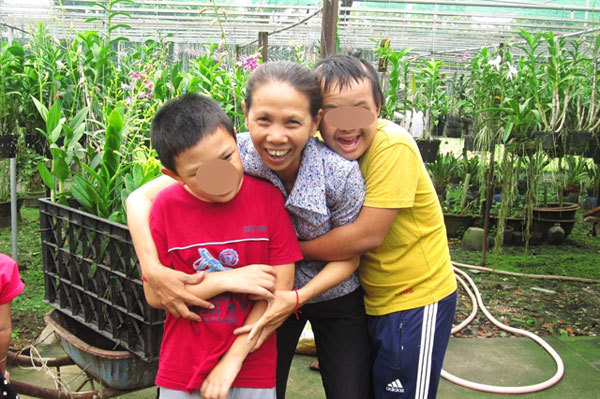 Teacher Dung with children who suffer from Down's syndrome. — Photo thanhnien.vn
After learning how to teach hearing-impaired children at the National University of Education and completing a course on understanding psychology of disabled children, Dung returned to HCM City to realise her dream of helping disabled children.
In 1996, she opened a kindergarten in Binh Thanh District offering inclusive education for children suffering from hearing impairments and Down's syndrome.
The concept of inclusive education aims to ensure equal learning quality of education in accordance with the needs and abilities of learners while respecting diversification and saying no to discrimination.
Inclusive education was a new concept at the time Dung opened the school. Many parents who have normal children study at the same school with disabled children did not agree with mixing the two groups.
This was the first of many challenges she needed to overcome. 
"The most difficult task is to stand up and make parents and the community remove discrimination against disabled children," she told Thanh Niên (Young People) newspaper.
"I told parents many times about equal educational rights and persuaded them to accept the concept. Finally, my inclusive education model has gained success and trained a lot of children over the years."
Dung also spent times training other teachers in Hanoi with skills to teach disabled children. She worked as a coordinator of the Pearl S. Buck project which equipped parents and teachers in Dong Nai, Long An, Dong Thap provinces with the knowledge and skills to help children with hearing loss.
Dung visits houses of every disabled child to teach them how to read and write as well as give them hearing aids, wheelchairs and support the cost of physical therapy.
Dung has devoted her life to teaching autistic children for three decades. She said love and trust for children helped her stick to the job.
"I believe that disabled children are just like all the others. They have potential abilities that adults do not believe in or sometimes they don't learn to understand the children.
"The best people who can nurture children are not doctors or teachers. They must be parents who bring them wonderful things. Parents must trust their children's abilities before making society trust them.
"I have come into contact with many disabled children. In the 1990s, parents of children with hearing impairment sent the kids to learning centres, gradually, the children became part of an isolated community. Later, thanks to many open activities, group activities, the children can integrate normally.
"We have to open our arms and be responsible for understanding children, not forcing them to understand ourselves because they come to us by nature, not their choice."
A woman named Loan, living in HCM City's District 8, sent her 11-year-old son to teacher Dung's class and saw improvement day by day.
"We need to integrate inclusive education into pedagogical training programmes. Every teacher should be equipped with knowledge of supporting special children to develop the model of inclusive schools," Dung said.  
VNS

Thanks to the love of her job and her sympathy for disadvantaged children, Nguyen Ngoc Hanh has helped many students with autism learn to read, write, and spell their name.

"Patience and love will bring wonderful things in life."