More primary teachers were needed for the 2019-2020 academic year, especially those specialised in computer science and technology and foreign languages, a conference heard last week.
Local authorities complain about teacher shortage
Schools lack teachers as enrollments swell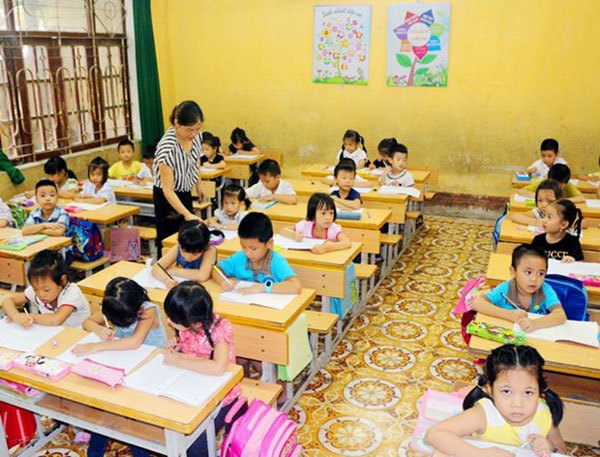 A teacher teaches first grade students at a primary school in Gia Lai Province. -– VNA/VNS Photo
Speaking at the conference to collect suggestions for the new education programme held on May 16, Thai Van Tai, deputy head of the Ministry of Education and Training's Primary Education Department, said the new curriculum required students to go to class both in the morning and afternoon, rather than just attending one class as currently, to provide a more comprehensive education.
However, many classrooms in major cities double up between the morning and afternoon for different sets of students.
Tai said the curriculum would focus on physical exercise, cultural and artistic training, and life skills.
This model would reduce learning pressure, eliminate extra classes, and improve the quality of education at primary schools, he said.
Currently, up to 80 per cent of primary school students are taking two classes per day. The other schools must be well prepared to have adequate numbers of teachers and classrooms to implement the new programme.
This would be a challenge for some localities, he added.
Representatives of departments of education and training said it was difficult to find more teachers due to a Government policy to cut public employees and streamline the Government's apparatus.
There were no recruitment quota left in many localities, they said.
Meanwhile, the addition of two subjects, including computer science and technology and a foreign language for first graders, would require more teachers this academic year.
Figures from the ministry showed more than 19,000 teachers needed in primary schools, not to mention new teachers for the two new subjects.
Some localities said they had hired contracted teachers as a temporary solution, but this hadn't worked well as most teachers left due to low salaries.
At the conference, representatives suggested that policies for paying extra teaching hours should be added.
Primary schools that faced teacher shortages and substandard facilities needed to build their own plans based on their own conditions.
VNS