The lives of millions of people in Vietnam have improved greatly because of financial help from overseas, a conference in Hanoi heard on Wednesday.
ODA and the trap of preferential loans
Gov't wants to adjust criteria for classification of important national projects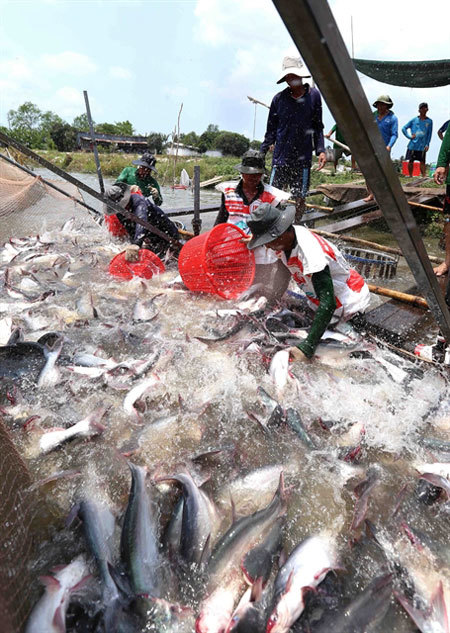 Farmers in the Cuu Long (Mekong) Delta province of Can Tho harvest tra fish. The lives of millions of people in Vietnam have improved greatly because of financial help from overseas, according to a recent conference. VNA/VNS Photo Vu Sinh
But as the country develops, some experts are worried the money may dry up, as Vietnam is no longer seen as a poor country.
The implementation of agricultural projects using official development assistance (ODA) have benefitted people in 63 provinces and cities through upgrading infrastructure in rural areas,
improving the capacity of local agricultural staff and forming areas specialising in producing high quality products for export, the conference was told.
"These projects helped turn Vietnam from a food-shortage country to the one that ensure food security for a population of 100 million and a leading agricultural exporter in the world," said Le Quoc Doanh, deputy minister of Agriculture and Rural Development, at conference which was held on Wednesday to review 20 years of the implementation of ODA-loaned projects.
Le Van Hien, head of the Management Board for Agricultural Projects under the Ministry of Agriculture and Rural Development, said 23 projects with total investment of nearly US$2 billion sourced from international donors have been carried out over the past 20 years. Of these, 17 have been completed.
Investment in agriculture has helped construction of nearly 5,000km of rural road works, more than 700km of canals and ditches, and saw about 100km of sea and river dykes upgraded.
As many as 600 rural markets and 21 fishing ports have also improved.
Millions of farmers have been trained on crop cultivation, animal husbandry and aquatic farming.
These projects have helped reduce poverty, strengthen sustainable development by improving socio-economic conditions and living standards, Hien said.
Speaking at the conference, Vu Duc Con, deputy director of the Dak Lak Province's Agriculture and Rural Development Department, said 3,000 farm households, particularly those from ethnic minorities, have been given capital and technical support for rubber cultivation from a project on farming diversification since 1999.
Cao Van Hoa, deputy director of Tien Giang Province's Agriculture and Rural Development Department, said the province received eight ODA-funded projects with a view to enhance animal health services at grassroots level and animal husbandry.
"These projects were very meaningful," he said, pointing out the implementation of projects on tea and fruit trees had enabled the province to handle environmental issues while raising income.
Hoa said with its natural advantage, the province hoped in the future it would help people plant cashew, pepper and fruit trees so that they can earn sustainable income.
Addressing the conference, Hien also spoke of the challenges management boards faced in setting up programmes for 2021-26 period, saying because of Vietnam's success, the country is no longer seen as poor so obtaining loans becomes more difficult.
The board is currently designing several projects using loans from the World Bank on sustainable fishery development, farm produce safety, and sustainable growth of cashew, pepper and fruit trees.
It is also working on a project to increase added value for rice in the Red River Delta with non-refundable aid from the Republic of Korea government.
Since 1993, Vietnam has received official development assistance from international donors including the Asian Development Bank (ADB), the World Bank (WB), and governments of Japan, the United Kingdom, Germany, Austria, Denmark and Netherlands.
ODA funds for agriculture focused on sustainable agricultural development such as upgrading irrigation systems, rural transport, fishing ports, wholesale markets and rural clean water supply systems.
VNS