Transport minister Nguyen Van The pledged to find the best method to repair the surface of Hanoi's Thang Long Bridge after multiple cracks and subsidence have developed but no long-term solution has been put forward.
Cracks reappear on Thang Long Bridge
Russian experts invited to repair Thang Long Bridge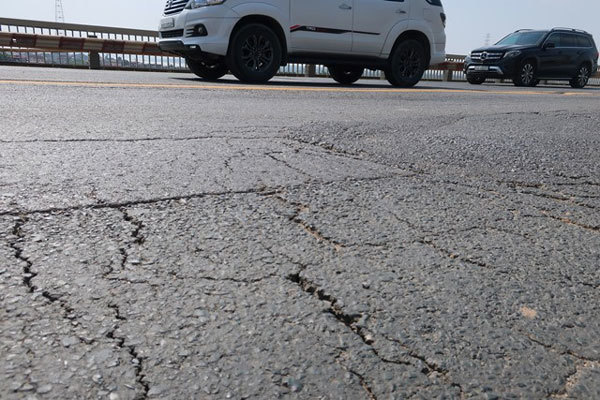 Cracks visible on the surface of the bridge. — Photo ktdt.vn
The ministry has asked departments and relevant agencies to evaluate the damage and determine the optimal solution.
"The ministry will determine the best type of repair to ensure the bridge's condition is stable for at least seven to 10 years," The said.
The official admitted that the bridge was degrading despite repeated repairs over the years since 2009.
The Directorate for Roads of Viet Nam (DRVN) was asked to monitor the bridge's condition to make sure traffic is safe until comprehensive repairs are done.
Nguyen Van Huyen, the DRVN Director said that bridge management agencies will continue to carry out restorations with the long-term solutions being eked out by many foreign consultants and contractors and not just from Russia.
Last month, the ministry reported to the Government the repair would cost an estimated VND180 billion (US$7.7 million), which it asked to take from the central fund for road maintenance.
The ministry had drawn up three proposed solutions for repairing the damaged bridge surface and consulted the Russian company that built the bridge. The Russian side agreed to help but asked that relevant documents would be forwarded to them. They will also conduct field investigation to assess the situation.
The cause for the faults appearing on the bridge's surface was blamed on the sub-quality adhesive layer between the stone mastic asphalt (SMA) and the waterproofing layer on the steel plate, leading to cracks that would allow water to sip through and damage the bridge's surface.
In 2012-13, the transport ministry conducted repairs to the SMA surface using US-based HallBros' paving machines but after some time, many faults developed even before the warranty period expired.
The Thang Long Bridge spanned across Hong (Red) River linking Hanoi's Dong Anh District and Bac Tu Liem. Its construction started in 1974 and the bridge opened for traffic in 1985.
VNS