The labor market mostly recovered when Covid-19 cooled down and as a result, it has been difficult for many firms to gather employees.
Mr. Nguyen Van Nam has to deal with a massive workload for the first time in his 10-year career in the engineering business because of stagnation following the lockdown period.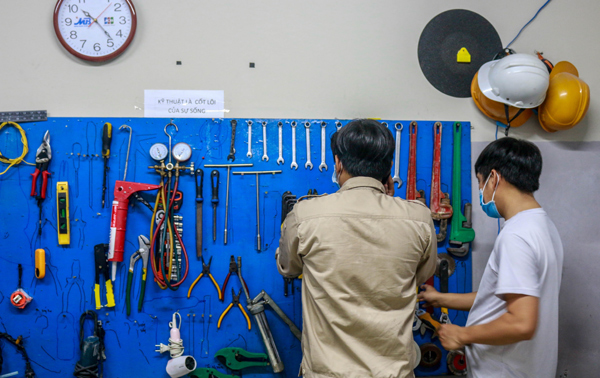 Nam checking technical tools.
The labor market mostly recovered when Covid-19 cooled down and as a result, it has been difficult for many firms to gather employees. Although this is a concern for businesses, workers are also feeling the strain.
Many young people left their hometowns, for example, a decade ago to start businesses in Ho Chi Minh City due to many work prospects. Chief Engineer of the Cantavil Hoan Cau residential complex, Mr. Nguyen Van Nam, (35, from Binh Dinh) was one of them.
For the last 13 years, he has been living outside of his hometown. He began his career as a construction employee after graduating from college with a degree in electrical engineering. As he sees it, this is a profession that demands a great degree of attention to detail, caution, and the ability to handle stress because of the constant exposure to severe weather, technological equipment, and potentially lethal machinery.
Finally, after six years of hard work and devotion, he was promoted to the post of assistant chief engineer and manager of the construction team. Even as he began to see signs of success, he and his companions were forced to deal with yet another obstacle.
Perform at your best
Many initiatives have fallen into disarray as a result of the social isolation over the lockdown. This backlog was caused by a lack of raw material supply, as well as a lack of available replacement equipment. Consequently, he and his staff are vigilant and ready to deal with any issue that may arise as the economy begins to recover.
"Building operations management necessitates a higher level of expertise than working on the building site. A 24-hour presence is required to deal with issues ranging from the upkeep of public spaces, repair of apartment machinery, to answering concerns from residents. To safeguard the safety of everyone, technical personnel must always be available to solve the problem at any moment, whether it's 3-4 am," Nam said.
He and his staff are currently engaged in hour-long meetings to deal with the backlog of work that has accumulated over the past few months.
"The prompt action of the technical team saved lives and property when I saw a fire and explosion while I worked in an old facility. This requires careful planning and preparation via meetings, talks, personnel assignments, and other means. For the job to be done efficiently and with the least amount of danger, we must maintain a constant state of concentration and motivation," he explained.
Because of limits on outdoor activities, the lockdown produced numerous challenges in reducing stress and exercising. As a result, he and his staff relied on coffee and energy drinks to keep them awake during extended work hours in recent months.
For those who have to work for extended periods of time with stress and exhaustion, Mr. Nam frequently relies on a 'Number 1' energy drink to keep him alert and help battle lethargy.
Family is his pivot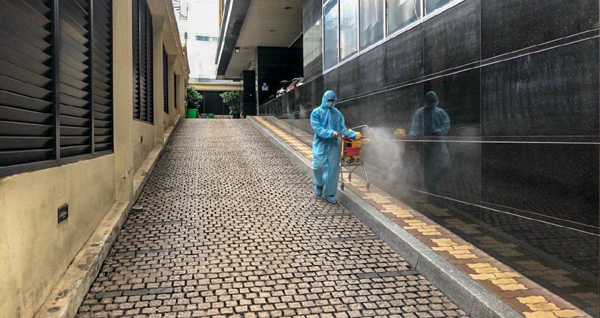 In addition to his professional duties, Mr. Nam devotes time to helping with epidemic prevention.
The support and compassion he receives from his family makes Nam feel like a lucky man.
"As breadwinner of the entire family, I constantly endeavor to do my best and devote myself to my job. In order to maintain a healthy work-life balance, I always openly discuss my challenges at the office with my loved ones, and I'm grateful to always have a strong emotional backbone."
When questioned about his hopes and dreams for the future, he responded that team members are the most important individuals to him, after his family. He leads his team with the zeal of a pioneer, striving to create the greatest possible atmosphere for their growth.
"It is my desire that I will have the capacity and health to pass on my expertise and offer growth possibilities for team members, as well as assist them in trying new positions. My belief is that time and experience build competence best."
The Dinh

After 10 days and nights of preparation, at 11 am on August 1, 2021, Dr Le Tuan Thanh received a message that "the system is through" and burst into tears. "I knew we could do something for HCM City residents," he said.
Ms. Huong, who has been taking care of hundreds of abandoned children for almost 30 years, is unconcerned about her personal happiness and instead gives all of her time and affection to the kids.