The US State Department's 2019 Trafficking in Persons Report names Vietnam to trafficking in persons watch list.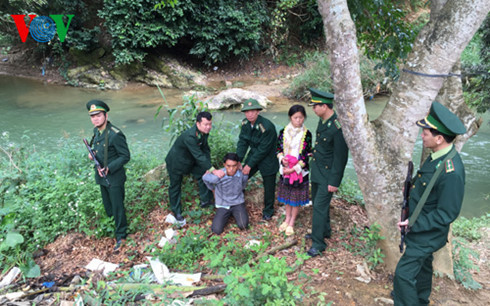 Border guards arrest a cross-border human trafficker (Photo: VOV)
The report's unobjective and wrong assessment have caused misunderstanding and given a pretext for hostile forces to distort the situation in Vietnam and rejected the country's efforts in combating human trafficking. 
The report said, "The Vietnamese government identified significantly fewer victims than in previous years. Law enforcement efforts were impeded by the delayed release of formal implementation guidelines of the penal code."
It also said a lack of interagency coordination and unfamiliarity among some provincial officials with anti-trafficking law and victim protection continued to impede anti-trafficking efforts.
Unobjective accusations
A report by the UN Office on Drugs and Crimes (UNODC) said that some areas in Africa, the Middle East and Asia have seen more human trafficking cases recently, particularly migration flows from Central American countries crossing Mexico to the United States.
It means all countries, even the US, are strongly affected by human trafficking and illegal migration.
Last year's ASEAN Senior Officials Meeting and Ministerial Meeting on cross-border crime prevention and combat said that trafficking in persons were complicated.
Vietnam, the US, and other countries are exposed to the global problem of human trafficking.
The US State Department said that last year Vietnam reported 350 human trafficking cases and arrested 400 people accused of trafficking offences. The figure was higher than that in 2016 (234 cases and 308 people accused of trafficking offences).
However, figures released by Vietnamese agencies are completely different.
Last year Vietnamese functional agencies detected 211 cases with 276 offenders and 386 victims, which were 44% lower in the number of cases and 43% lower in the number of offenders than in 2017.
Vietnamese agencies investigated, rescued, and received nearly 1,500 cases.
They confirmed that 490 people were victims of trafficking while the rest were illegal migrants.
All the victims received legal support, psychological advice, and health checkups.
Since the beginning of this year, functional agencies have detected 89 cases, 169 victims, and 142 traffickers, which were lower than the same period last year.
Constant efforts to fight human trafficking
The Vietnamese Party and State have paid special attention to fighting human trafficking by mobilizing all resources and combined strength of the political system and people to prevent and combat trafficking in persons.
On May 10, 2016, the Prime Minister of Vietnam designated July 30th as "National Day on Anti-Trafficking in Persons".
The Prime Minister issued an Action Program on Anti-Trafficking in Persons from 2016 to 2020 to reduce crimes and support victims. Vietnam has revised laws and policies on anti-trafficking in persons.
Vietnam joined the United Nations Convention against Transnational Organized Crime, the Protocol to Prevent, Suppress and Punish Trafficking in Persons, Especially Women and Children in 2011, and the International Labour Organization's Convention on Forced Labour.
The country ratified the ASEAN Convention on Anti-Trafficking in Persons, Especially Women and Children. With support from Japan International Cooperation Agency (JICA), Vietnam has established a hotline to fight human trafficking.
Not only in Vietnam, but in many places around the world, trafficking in persons are complicated.
But with political determination and experience, Vietnam will mobilize the whole political system and people in preventing and combating trafficking in persons.
Vietnam's undeniable results have proved that the US State Department's assessment of Vietnam is groundless, biased and untrue. VOV