The academic year will end in late May, but parents have already begun looking for summer classes for their children.
Foreign language centers and life skill classes have begun enrolling learners for the training courses which will open in a month.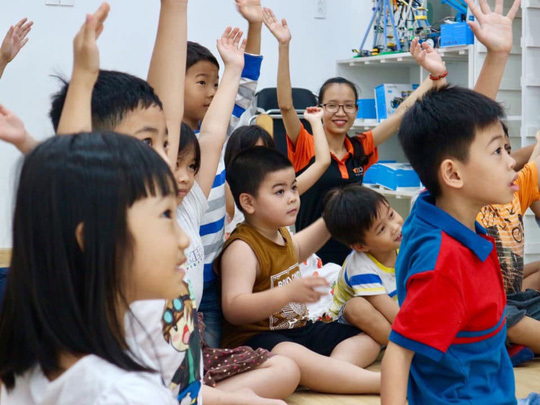 Students go to life skill classes in summer
Hong Phong, a parent in Thu Duc district, said he had enrolled his son in ESun, an international English center. The boy is expected to have a busy summer holiday as he will have English class from Monday to Friday, which begins at 7-8 am and finishes at 5 pm.
According to Phong, he has to pay VND16 million for the 8-week course. Regarding the curriculum, he said students will have activities similar to school, but there would be more hours for physical practice and foreign language lessons.
For Hanoi and HCMC parents, summer is the best time for their children to focus on English and life skill classes.
"My kid had too much schoolwork in differen subjects to do during the academic year. He needs to attend intensive English courses in summer," said Nguyen Kim Tien in Tan Binh district.
The parent has decided to send her son to Guru Summer Discovery, a summer training program which requires high tuition of VND18 million for 8 weeks. After finishing the program, the boy will have to make hectic preparation for school.
Foreign language centers and life skill classes have begun enrolling learners for the training courses which will open in a month.
Other parents admitted that they don't care much about curriculum and quality, but just want to find somewhere to leave children while they are at the office.
Kim Anh, an office worker, said she had enrolled her daughter in a foreign language near her house.
"I'm always busy and don't have time to search information about training courses. I just want a safe center to leave my child while waiting for the new school year to come," Anh said.
Headmaster of a preschool in Tan Phu district confirmed that the school won't organize summer classes because the teachers of the school want to go to their home villages to spend summer rather than stay in the city to teach classes.
Other schools have also informed parents that they will stop receiving children from June 1.
As a result, education forums are full of complaints from parents who don't know where to send their children to in summer.
Some parents have proposed that schools open throughout summer, so that students can come to school mostly to practice major science subjects, physical exercises and swimming.
However, education experts warned that parents would make a serious mistake if they send their children to summer classes, because too much study will have an adverse impact on their health and psychology.
RELATED NEWS
Vietnamese children have few places to play during summer holiday
"Third semester" begins for many students in the summer
Ha Anh