An oversized cargo vessel that crashed into An Thai Bridge over the Kinh Mon River in the northern province of Hai Duong on Tuesday afternoon was stranded for several hours.
Bridge collapse disrupts train services to HCMC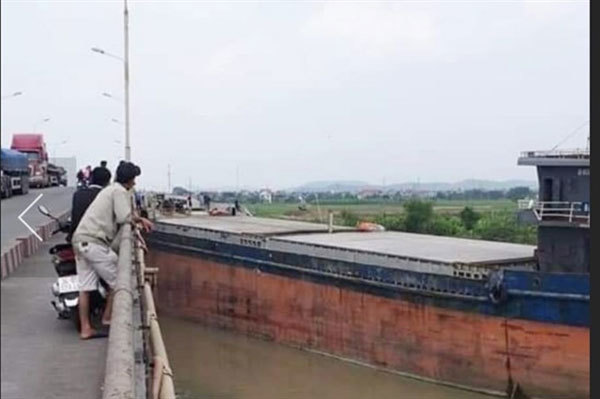 Oversized cargo from a vessel is stranded in the northern province of Hai Duong after the vessel collided with An Thai Bridge. — Photo laodong.vn
The cargo was freed from the bridge a few hours later, but the collision broke parts of the bridge, including girders and a pillar for waterway traffic signals.
The province's authorities and BOT Road 188 Ltd Company, which manages the bridge, are expected to repair the damages to the bridge by May 25. Meanwhile, the province's Transport Department has prohibited road vehicles from using the bridge.
Three years ago, a vessel with a load of about 3,000 tonnes crashed into the bridge and was stranded for 11 days. After the incident, which occurred in March, one of the four girders of the An Thai Bridge was replaced.
The bridge, which is 290 metres long and 11.7 metres wide, opened in 1999. It connects the centres of Kim Thanh and Kinh Mon districts in Hai Duong Province and is on the route linking National Highway 5 and National Highway 18.
VNS