Vietnamese airlines requested to equip with Mode S transponders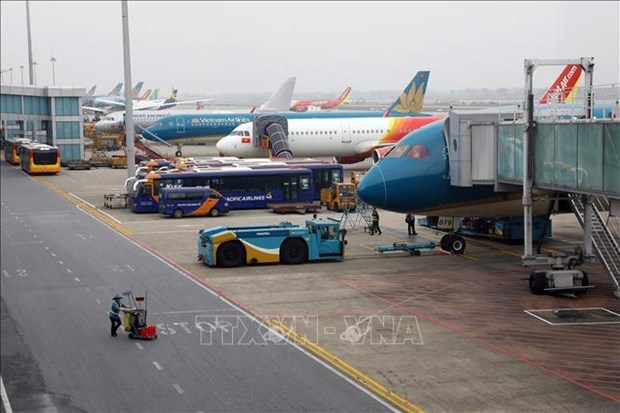 Domestic airlines must equip with Mode S transponders to improve the quality of aircraft detection, identification and altitude reporting information. (Photo: VNA)
The Civil Aviation Authority of Vietnam (CAAV) has recently ordered the Vietnam Air Traffic Management Corporation (VATMC) and domestic airlines to equip with Mode S transponders to improve the quality of aircraft detection, identification and altitude reporting information.
Mode S is a Secondary Surveillance Radar process that allows selective interrogation of aircraft according to the unique 24-bit address assigned to each aircraft. It is essential in airspace subject to high levels of traffic density or absence of air traffic control radar coverage.
VATMC is requested to study and carry out the Mode S Enhanced Surveillance (EHS) in accordance with the progress set by the International Civil Aviation Organisation (ICAO)'s Office in Asia and Pacific, and set up plan to upgrade or invest in infrastructure that is able to handle Mode S data.
Meanwhile, the Vietnamese airlines must outline plans and equip their aircraft with Mode S EHS in tandem with the Asia-Pacific ICAO's progress.
Representatives from the CAAV said that the requirement to equip Mode S transponders was imposed at the 31st meeting of the Asia/Pacific Air Navigation Planning and Implementation Regional Group from December 14-16, 2020.
Accordingly, aircraft with a maximum takeoff weight of more than 5,700 kilogrammes, or with a maximum cruising true airspeed higher than 250 knots must be equipped with Mode S EHS./.
COVID-19 vaccination conducted in 19 Vietnamese localities, with 2,265 recoveries
The COVID-19 vaccination has been carried out in 19 cities and provinces nationwide, with close to 40,000 Vietnamese citizens getting the first jabs of the AstraZeneca vaccine, the Ministry of Health said on March 25 morning.
Vaccinated people are primarily frontline medical workers, and members of community-based anti-COVID-19 groups and steering committees for COVID-19 prevention and control.
As many as 1,906 people got the vaccine shots on March 24, according to the National Expanded Programme on Immunisation.
The northern province of Quang Ninh and the southern provinces of Tay Ninh and Dong Thap are set to carry out the injection this week.
Vietnam is expected to acquire 150 million COVID-19 vaccine doses from foreign and domestic sources by 2022.  In addition to the deal with AstraZeneca, the nation is also accelerating negotiations with US vaccine producers Pfizer and Moderna, along with others from Russia and China.
By far the nation documented no fresh cases of COVID-19, leaving the national infection tally unchanged at 2,576, including 1,601 domestically-transmitted cases, and 975 imported ones.
One day earlier, a further 19 coronavirus patients have been release from hospital after making a successful recovery from the virus, taking the total number of recoveries to 2,265, while the death toll remained at 35.
A total of 120 COVID-19 patients have tested negative for the SARS-CoV-2-virus at least one, while as many as 29,762 people are put in quarantine nationwide as part of the country's coronavirus control and prevention measures.
The nation has gone the 7th consecutive day without recording any more cases of local transmission, with ten localities having no fresh domestic infections to report for 40 days.
The Ministry of Health has dispatched working groups to Quang Ninh, Hai Duong, Hanoi, Ho Chi Minh City and Tay Ninh to supervise pandemic prevention and control, and the vaccination work there.
Take precautions before getting vaccinated, say health experts
People who receive COVID-19 vaccines should take precautions just like with other vaccines, as the COVID-19 vaccine may offer some immunity but might also side effects soon after entering the body, according to health experts.
They said people who should be cautious about vaccinations are those with a history of allergies, people with underlying health conditions or chronic diseases which require medical supervision.
Last week, the Ministry of Health released guidance on health screening before COVID-19 vaccinations for people aged 18 and above.
Under the instructions sent to medical facilities nationwide, people who will not be vaccinated against COVID-19 are those with acute diseases; pregnant women, breastfeeding women; people with impaired immune responses, end-stage cancer patients and patients with decompensated cirrhosis. 
Users of high-dose corticosteroids, those who have had chemotherapy and radiation treatment within 14 days and recipients of immunoglobulin and COVID-19 plasma treatment within the last 90 days and recipients of other vaccines within 14 days are also excluded. Those infected with COVID-19 within the last six months, people aged 65 or above and people suffering thrombocytopenia or blood clotting disorders are also ineligible to be vaccinated.
After receiving a COVID-19 vaccine, people should stay at the vaccination centre for 30 minutes of observation. They are recommended to pay attention to abnormal changes in their body such as hives, itching or difficulty breathing. They should report any symptoms they experience to medical staff.
As of Tuesday, nearly 38,000 frontline workers had received AstraZeneca COVID-19 jabs as part of the national inoculation programme which started on March 8.
Health officials said that there have been several cases of severe allergic reactions among people who received the COVID-19 vaccine but they are all in stable conditions.
The most common reactions are headaches, arm pain, body aches, chills or fever but they only last a few hours to a few days.
Olympic Day Run to be held in downtown HCM City
The HCM City Department of Culture and Sports and its partners will hold the Olympic Day Run 2021 downtown on March 28.
Participants will compete in the 5km route, which will go through famous sites like the headquarters of the People's Committee, Opera House, Notre Dame Cathedral, and Central Post Office.
The run will start at 7am at April 30 Park on Lê Duẩn Street in District 1.
Participants can register for the run at olympicdayrun.com. Registration fee is VNĐ350,000. 
Vietnam co-chairs 15th meeting of ASEAN-Japan Joint Cooperation Committee
Ambassador Nguyen Hai Bang, Permanent Representative of Vietnam to ASEAN, and Japanese Ambassador Chiba Akira on March 23 co-chaired the 15th meeting of the ASEAN-Japan Joint Cooperation Committee.
At the meeting, the Japanese side said it is working hard to roll out a comprehensive aid package to serve the formation of the ASEAN Centre for Public Health Emergencies and Emerging Diseases (ACPHEED).
Under the aid package, Japan will help ASEAN in designing the centre, sending Japanese experts and training experts for the grouping.
During the Special ASEAN 3 Summit on COVID-19 last April, then Japanese Prime Minister Abe Shinzo announced the aid package worth US$ 50 million for the project.
Delegates at the meeting shared the view that ASEAN-Japan cooperation programmes have been rolled out effectively amidst the pandemic. In 2020 alone, up to 32 projects valued at US$ 22 million were implemented and 25 others worth US$ 17 million were adopted, within the Japan-ASEAN Integration Fund.
Under the Japan-East Asia Network of Exchange for Students and Youths (JENESYS) programme, about 900 ASEAN youths joined training courses in Japan last year, and the number would be 700 this year.
The ASEAN member countries appreciated Japan's contributions over the past time, especially its decision to sponsor the ACPHEED, expressing a hope that the two sides will step up their comprehensive cooperation in the time ahead, particularly in such spheres as cyber security and smart city building.
Chair of the Initiative of ASEAN Integration (IAI), Bang lauded Japan's funding 11 projects within the IAI Work Plan III and suggested the country continue its support for the IAI Work Plan IV through new, result-oriented projects.
2021 is the last year when Vietnam works as the coordinator of the ASEAN-Japan relations. The role will be handed over to Thailand during the ASEAN-Japan Ministerial Meeting in August 2021.
Hanoi's cooperative ties with Italian localities enhanced: Official
Chairman of the People's Committee of Hanoi Chu Ngoc Anh has said that cooperative relations between the capital city and Italian localities have been strengthened.
During a reception in Hanoi on March 24 for Italian Ambassador to Vietnam Antonion Alessandro, Anh highlighted growing ties between Vietnam and Italy in various fields such as politics, economy, diplomacy, national defence to science-technology, and education.
According to the official, Italy is now investing in 28 projects worth over 43.9 million USD in Hanoi. The city's exports to Italy hit nearly 142 million USD. A number of activities were held to foster cultural and economic exchanges toward common prosperity of the two nations.
As Vietnam will host many important events this year, including the 31th Southeast Asian Games and the 11th ASEAN Para Games, Hanoi will work closely with departments and agencies on such activities, especially for opening and closing ceremonies, he said.
He expressed his hope that with its cultural richness, Italy will share its experience in holding festivals and sport events with Hanoi to make thorough preparations for SEA Games 31 and ASEAN Para Games 11.
Alessandro, for his part, expressed his belief that with a solid foundation, relations between Italy and Vietnam will further develop in the future.
Agreeing with the host's proposal, he said many Italian firms have strengths in holding large-scale events. He promised to introduce them to Hanoi to share experience in the coming time.
On the occasion, the ambassador also wished to enhance collaboration with Hanoi in the fields of cultural exchange, heritage preservation and stepping up the construction progress of urban metro No.3./.
Efforts of female parliamentarians reviewed
A ceremony reviewing the activities of the Group of Vietnamese Women Parliamentarians was held in Hanoi on March 24.
In attendance were Prime Minister Nguyen Xuan Phuc, National Assembly Chairwoman Nguyen Thi Kim Ngan, President of the Vietnam Fatherland Front Central Committee Tran Thanh Man, head of the Party Central Committee's Organisation Commission Pham Minh Chinh, head of the Party Central Committee's Commission for Mass Mobilisation Truong Thi Mai, and leaders from ministries and agencies.
Addressing the ceremony, Permanent National Assembly Vice Chairwoman Tong Thi Phong, who is also Chairwoman of the group for the 14th tenure, said that since its establishment in May 2008 and through three NA tenures, the group has conducted diverse activities that attracted the active participation of members and fulfilled its set goals, contributing to improving the quality of the NA's operations.
The role and position of female parliamentarians improved during the tenure of the 14th legislature. Accounting for 26.7 percent of all deputies, they offered suggestions regarding gender equality to Party and State leaders and affirmed their mettle and brainpower as representatives of the people.
During 10 NA sessions, they presented hundreds of opinions on reports to the legislature and draft laws, accounting for 31.58 percent of total feedback.
They also made responsible, effective, and important contributions at international forums. In particular, last year they made substantial contributions to the 41st General Assembly of the ASEAN Inter-Parliamentary Assembly and ASEAN Summit.
In preparation for the election of deputies to the 15th NA, they will work closely with the NA Committee on Social Affairs to hold training courses for female candidates.
Phong hoped that such activities will help achieve the goal of raising the number of female candidates to 35 percent and the number of female lawmakers winning the election to over 30 percent.
Vietnamese ambassador visits Ukraine's southern provinces
Ambassador of Vietnam to Ukraine Nguyen Hong Thach visited Vietnamese people living in the provinces of Kherson and Mykolaiv from March 21 – 23 to learn about their wishes and help them overcome difficulties.
The southern provinces used to be home to a large number of Vietnamese people, but years of political crisis coupled with economic challenges have forced many to move to other places.
Though various obstacles remain, the second-generation Vietnamese in Ukraine have managed to succeed in their study or work. Several have earned national awards and scholarships to study in foreign countries while others have become doctors, lawyers and journalists who are playing their part in developing Ukraine and promoting the relations between the two countries.
Speaking during his visits, Ambassador Thach said one of the main focuses during his working term is to help Vietnamese people there overcome COVID-19 and shift to other livelihoods.
He suggested some new business areas such as e-commerce, catering, tourism and finance, they can shift to for their resilience amid the pandemic.
On behalf of the embassy, Thach presented gifts to the provinces' funds for community support and gave his commitment to standing side by side with people of Vietnamese origin to tackle difficulties.
The diplomat later had an audience with Governor Sergiy Kozyr of Kherson to discuss how to boost relations between Vietnam and the province, particularly in agriculture.
Central Vietnam among world's 7 lesser-known destinations to consider visiting post COVID-19
US news channel CNBC listed central Vietnam among seven lesser-known destinations in the world to consider visiting in the post-COVID-19 era, according to Nhan dan (People) Online.
CNBC noted that many international tourists to Vietnam head north to Hanoi and Ha Long Bay or south to Ho Chi Minh City. Those who do venture to the centre typically go to the old town of Hoi An, the glitzy hotels outside of Da Nang or to the historic sites of Hue and My Son.
Another attraction in the country's interior is the colossal Son Doong Cave. First explored in 2009, only 1,000 travellers are permitted to explore it each year, a limit put in place to protect the cave, which is believed to be one of the largest and most magnificent in the world.
With Vietnam continuing the suspension of international flights and the halting of entry for all foreigners, except for special cases, as a measure to contain the spread of the novel coronavirus, CNBC has urged its readers to visit the country once the pandemic passes.
Traveller habits are changing as people across the world are bypassing big cities in favour of smaller destinations that attract fewer tourists, and outside activities such as hiking and biking are drawing greater interest than before, CNBC said.
The channel also included other destinations worth visiting post-pandemic like Normandy in France, Kagawa in Japan, and Dandenong in Australia.
Vietnamese people in Czech set example in following anti-COVID-19 rules
Vietnamese people living in the Czech Republic have taken anti-COVID-19 measures very seriously, Chairman Milos Kusy of the Czech-Vietnam Friendship Association told Aktualne.cz in an interview on March 24.
Vietnamese perceive non-compliance with the measures as very irresponsible, so they adhere to anti-pandemic rules better than many Czechs, he said.
Kusy noted he sees what lies behind Vietnamese discipline is years of experience in dealing with epidemics in their home country and in Asia.
"They are an example for us in discipline and adherence to hygiene rules," he said.
Kusy was also impressed by how Vietnam has fought the COVID-19 with only 35 deaths reported since the outset of the pandemic despite the fact that it has a population of more than 90 million. Strict preventive measures have been in place in the country since the beginning of this year, he noted.
"Since last February, anyone who wants to enter Vietnam has to go through a fortnight's quarantine in a state-designated camp or hotels," Kusy described. He also attributed the low number of infected cases in Vietnam to effective contact tracing.
Data from Vietnam's Health Ministry shows that Vietnam has gone through seven days without new COVID-19 cases. The national count remains at 2,576, of which 1,601 are locally-infected cases./.
14th National Assembly leaves major imprint
The 11th session of the 14th National Assembly, which opened on March 24, concludes its five-year tenure. Throughout the term it made a significant mark in terms of legislature, supreme supervision and decision-making on critical matters facing Vietnam.
Nguyen Huu Mao has carefully observed all meetings of the 14th NA over the last five years. He said he has been deeply impressed by the decisions it made, all of which have been critical for Vietnam's development, with many being unprecedented and complex in nature.
The Q&A sessions were animated and the questions practical. Sessions were held in high regard by NA deputies and the public, as most voters' questions were asked and answered.
The 14th NA has made a mark on legislative work. It had issued 72 laws and 18 resolutions as of last December, including several important laws keeping the country abreast of the new context, such as the Law on Planning, the Law on Public-Private Partnership Investment, the Law on Cybersecurity, the Law on Anti-corruption, and others.
The 14th NA has been a tenure of innovation, with many teleconferences held, even internationally. Though taking place online, they have all been effective.
It has proved its pivotal role as the highest representing body of the people and as the most powerful State agency.
Screening of French movies at L'Espace
L'Espace will present two movies on Sunday as part of its monthly movie screening programme.
The films shown are Le voyage du Prince (The Prince's Voyage) by directors Jean-François Laguionie and Xavier Picard, and Les Cowboys (The Cowboys) by director Thomas Bidegain.
Inspired by A Monkey's Tale made over 20 years ago by celebrated animator Laguionie, The Prince's Voyage is about the old monkey Prince who runs aground on an unknown shore. Injured and lost, he is found by 12 year-old Tom, and taken in by his parents, a couple of scientists who were banished from their community because they believe in the existence of other monkey civilisations. With Tom's help, Prince discovers a society he knows nothing about, while Tom's parents decide to use him to prove that their theory was indeed correct.
Les Cowboys is a directorial debut of acclaimed French screenwriter Thomas Bidegain. The 2015 movie, which is about a father searching for his missing daughter with his son, was screened in the Directors' Fortnight section at the 2015 Cannes Film Festival.
While Le voyage du Prince will be presented at 3.30pm, Les Cowboys will be screened at 6pm. Ticket costs VNĐ50,000 and available at L'espace, 24 Tràng Tiền Street. 
Asian black bears rescued from Son La household
Two Asian black bears have been rescued from a household in the northern mountainous province of Son La.
The two bears, one 160 kilos in weight and the other 130 kilos, had been kept at a household in Song Ma Town for 10 years.  
On Tuesday, Four Paws Organisation and the provincial Forest Protection Centre received the two bears from the family and handed them over to Ninh Binh Provincial Bear Sanctuary.
The animals were given a medical check-up and anaesthetised before being transported to the sanctuary.
Four Paws Vet Szilvia Kalogeropoulu, said that due to being kept in darkness for many years, the bears are facing some problems related to their eyes, bones and livers.
The animals will be taken care of at a quarantine site for three weeks before being released back to the wild.
They are the first bears sent to Ninh Binh Bear Sanctuary so far this year.
No new COVID-19 cases, 19 recoveries recorded on March 24
No new COVID-19 cases were recorded in Vietnam over the past 12 hours to 6pm on March 24, keeping the national count at 2,576, said the Ministry of Health.
Of the total, 1,601 are domestically-transmitted cases, including 907 infections since the third wave of outbreak hit the country on January 27.
According to the ministry's Medical Service Administration, an additional 19 patients have been given the all-clear from coronavirus SARS-CoV-2, bringing the total number of recoveries to 2,265, while the death toll remained at 35.
Among active patients undergoing treatment at medical establishments nationwide, 54 tested negative to the virus once, 21 twice and 45 thrice.
As many as 29,762 people who had close contact with COVID-19 patients or entered Vietnam from pandemic-hit regions are currently quarantined across the country, including 214 in hospitals, 16,651 in state-designated establishments and 12,897 at their residences.
To live safely with the pandemic, the Ministry of Health advised people to continue preventive measures, including the "5K message" (in Vietnamese) - Khau trang (facemask) - (Khu khuan) disinfection - (Khoang cach) distance - (Khong tu tap) no gathering – (Khai bao y te) health declaration./.
Vietnamese, Chilean leaders exchange congratulatory messages
Vietnamese Party General Secretary and State President Nguyen Phu Trong and Chilean President Sebastián Piñera Echenique on March 24 exchanged their messages of congratulations on the occasion of the 50th founding anniversary of diplomatic ties between the two countries (March 25, 1971-2021).
The same day, Deputy Prime Minister and Minister of Foreign Affairs Pham Binh Minh also exchanged a congratulatory message with Chilean Minister of Foreign Affairs Andrés Allamand Zavala.
Vietnam, Chile preserve fruitful cooperation, traditional friendship
Vietnam and Chile - the first Southern American nation to set up diplomatic ties with Vietnam - have nurtured and preserved their sound cooperative relations and traditional friendship as well as comprehensive development partnership over the past five decades.
In a recent interview granted to the Vietnam News Agency (VNA)'s reporter, Charge d'affaires a.i. Gonzalo Guaiquil at the Chilean Embassy laid stress on historical relations between the two nations, which were found and developed by Vietnamese President Ho Chi Minh and Chilean President Salvador Allende.
The trip to Vietnam in May 1969 - the time when Vietnam was undergoing the fierce war against the US imperialists - had a huge impact on Salvador Allende, who served as President of the Chilean Senate at that time, and he decided to establish diplomatic relations with this Southeast Asian country when he became President of Chile, opening a new chapter in the bilateral relations.
Both nations have enjoyed stronger bonds in recent time thanks to rosy economic cooperation, long-lasting friendship and mutual understanding between the people of Chile and Vietnam, the diplomat added.
According to Guaiquil, Chile was the first American nation to ink a free trade deal with Vietnam, and this was an important milestone in trade and investment ties between the two sides.
Expressing his delight at opportunities that the free trade agreement (FTA) has brought to both nations, he said trade in goods between Vietnam and Chile exceeded the 1 billion USD benchmark in 2020 despite the COVID-19 pandemic, up over 1 percent year-on-year.
The figure is a vivid illustration for the unceasingly developed trade ties between the two nations, even when the global economy is facing formidable challenges, he underlined.
Since Vietnam was among a few countries achieving positive economic growth in 2020, it is an attractive destination for Chilean investors, he said. The diplomat also commended the Vietnamese Government's efforts and measures to prevent the pandemic.
Statistics shows that Chile is the fourth largest trade partner of Vietnam in Latin America, with two-way trade increased to 1.23 billion USD in 2019 from 170 million USD in 2005. Most of Vietnam's exports to Chile are footwear, garments and textiles, seafood, steel products, electronic products and spare parts, cement, coffee and rice. Meanwhile, the nation imports copper, pine wood, paper powder, and wine from Chile.
Chile was among one of the very first nations to recognise Vietnam's market economy. Both sides signed the FTA on the sidelines of the APEC Summit in Hawaii, the US, in November 2011. The deal officially came into force on January 1, 2014, marking the substantial development in trade relations between two countries.
Guaiquil said Chile wants to further boost trade ties with Vietnam, particularly the trading in Chilean wine and cherry, and Vietnamese tropical fruits.
Additionally, Vietnam and Chile's cooperation has been expanded to culture, politics and tourism. The visa exemption agreement signed in 2016 has facilitated travelling of citizens of both nations to enhance exchanges and better their mutual understanding, he stressed.
Tourism board set to launch "Hue in my heart" photo contest
A photo and video contest with the theme of "Hue Trong Toi" (Hue in my heart) in English, is scheduled to run from April to December.

According to the Tourism Department of Thua Thien – Hue province, the contest is designed to stimulate tourism demand and introduc the city's attractive destinations to both domestic and international friends.
The event will be open to all Vietnamese citizens and foreign nationals across all ages who either live or work in the country.
The contest's organising board is set to offer a specific topic for each month, with this information set to be officially announced on the website "Visit Hue".
All individuals hoping to enter the competition can send their works to the email address visithuevn@gmail.com before 17:00 p.m. on the 20th of each month.
The judging panel will then select some of the outstanding works and post them on the Visit Hue's fanpage and TikTok. Following this, the winning works will be the ones which get the highest number of views and interactions.
Earth Hour 2021 in Vietnam going online
 
Due to the complication of Covid-19 pandemic, activities of Earth Hour 2021 Campaign in the world mostly go online. Being launched in Vietnam by SGGP Newspaper, the campaign has attracted the participation of thousands of people in many innovative online activities.
'Speak up for Nature' is the theme of this year's Earth Hour, aiming at raising the public's awareness about the alarming state of environment quality, the shocking biodiversity reduction, and the too frequent forest fires globally at present.
According to World Wide Fund for Nature (WWF), in the next few months, representatives of several nations will gather for the 15th meeting of the Conference of the Parties (COP 15) on the Convention on Biological Diversity (CBD) in Kunming, China. They will discuss international actions in the next 10 years to save biodiversity.
Joining hand in this year's Earth Hour, people can create a voice powerful enough for world leaders in the meeting to sign agreements to protect the nature on our planet and to help it recover from severe injuries so far.
In Vietnam, as usual, SGGP Newspaper cooperates with Ho Chi Minh City Urban Environment Co. Ltd., Thu Duc Water B.O.O Corp. to host many online activities, fully taking advantage of cutting edge digital technologies. A large number of volunteers nationwide enthusiastically have taken part in the campaign. The main event will be on March 27.
The first program – Green Footprint – is an online walking project using Strava app on mobile smart devices to count the quantity of steps in walking, jogging, bicycle riding activities of participants over the length of 60km. Each step represent repeats the yearning voice of partakers to protect the environment. The program attracted more than 1,000 people only after 4 days launching. The final data will be announced on March 27.
Another program is Green Dance. The common theme song of Earth Hour Campaign is choreographed into a flashmob dances. They are recorded and then uploaded onto the official website and YouTube channel of Earth Hour Vietnam. The clips are sent to the organization board before March 24. Volunteers are also encouraged to upload their dance onto their own Facebook page and TikTok.
Participants in the campaign are asked to perform and record suitable actions in their neighborhoods to protect the environment. Feasible and innovative actions will be shared publicly on the Facebook page of the organization board. 80,000 people have registered for this interesting activity.
The main activity – Light Out – will be held from 8pm to 9pm on March 27 nationwide. Agencies, organisations, and individuals are encouraged to 'turn off lights and unnecessary electrical equipment' at that time. After that is the show of outstanding flashmob dances and the online as well as offline interviews with media ambassadors.
In this 13th year taking part in the meaningful Earth Hour Campaign, Vietnam hopes to join hands with over 200 countries to create positive results in raising the public's awareness about environment protection and sustainable development.
CARE International helps ethnic minorities in Ha Giang
The People's Committee of northern mountainous Ha Giang province and CARE International in Vietnam signed a framework cooperation agreement for the 2021-2026 period on March 24.
The agreement is expected to lay a foundation for the development of community projects regarding agriculture livelihoods, climate change response, gender equality enhancement, economic empowerment for women, market and value chain connectivity.
CARE pledged to launch a project to improve economic position of female ethnic minorities in Vietnam in six communes in the province's Quang Binh district at a total cost of 23 billion VND (1 million USD).
Accordingly, the provincial Department of Agriculture and Rural Development and the People's Committee of Quang Binh district will be responsible for implementing the project.
Its major components include improving the possibility of seeking income for poor ethnic minority women via agriculture and non-agriculture production, assisting them in saving and borrowing capital for economic development, improving business capacity of women-led businesses and cooperatives, offering support to those in remote and mountainous areas who have limited access to modern technology and lack land for production.
The provincial Women's Union and relevant units will offer technical and human resources support for the project.
Speaking at the signing ceremony, Permanent Vice Chairman of the provincial People's Committee Hoang Gia Long wished that CARE International would continue expanding projects related to economic value chains underway in Ha Giang to help improve income for ethnic minorities.
He also committed all possible support to CARE International to effectively carry out the project.
Country Director of the CARE International in Vietnam Le Kim Dung said founded in 1945, CARE has partnered with international organisations and Vietnam since 1989 with over 300 projects.
From 2017 to 2020, it carried out two projects in Ha Giang, including one to improve partnership for fair and comprehensive development of ethnic minority communities and another to comprehensively promote finance for female ethnic minorities, at a total cost of 7.7 billion VND (333,315 USD).
Nearly 170,000 local households have received support in housing and production land for economic development. The rate of poor households was brought down to 22.29 percent last year from 43.6 percent in 2015.
ASEAN, New Zealand forge stronger cooperation under new plan of action
Senior officials from ASEAN and New Zealand reaffirmed their commitment for stronger cooperation at the 28th ASEAN-New Zealand Dialogue held online on March 23, following an important milestone in their strategic partnership.
Last year, the two sides commemorated the 45th anniversary of dialogue relations and adopted a new ASEAN-New Zealand Plan of Action 2021-2025, to mark a new chapter in their relations.
At the dialogue, the officials noted the full implementation of the ASEAN-New Zealand Plan of Action (2016-2020), and underlined the need to further enhance cooperation between the two sides under the new Plan of Action.
The meeting identified a number of key areas in the new Plan of Action, where ASEAN and New Zealand could enhance their collaboration, such as maritime security, fight against illegal, unreported and unregulated (IUU) fishing, sustainable development, marine sustainability, trade, investment and economic recovery plan, renewable energy, disaster risk management, settlement of climate change, healthcare, human capital development, education, and people-to-people connection.
In advancing economic cooperation, both sides look forward to the upgrade negotiations of the Agreement Establishing the ASEAN-Australia-New Zealand Free Trade Area (AANZFTA), as well as the conclusion of the negotiation of the Regional Air Services Agreement between ASEAN and New Zealand.
They also welcomed the signing of the Regional Comprehensive Economic Partnership (RCEP) Agreement in November last year, and look forward to an early entry into force of the agreement next year.
The meeting exchanged views on regional and international issues of common interest, highlighting the importance of ASEAN-led mechanisms and ASEAN's centrality in maintaining peace, security and stability in the region.
ASEAN senior officials commended New Zealand's success in mitigating the COVID-19 pandemic and its efforts toward establishing a travel bubble between Australia and New Zealand. They also appreciated New Zealand's support and contribution to the COVID-19 ASEAN Response Fund.
Vietnam co-chairs 15th meeting of ASEAN-Japan Joint Cooperation Committee
Ambassador Nguyen Hai Bang, Permanent Representative of Vietnam to ASEAN, and Japanese Ambassador Chiba Akira on March 23 co-chaired the 15th meeting of the ASEAN-Japan Joint Cooperation Committee.
At the meeting, the Japanese side said it is working hard to roll out a comprehensive aid package to serve the formation of the ASEAN Centre for Public Health Emergencies and Emerging Diseases (ACPHEED).
Under the aid package, Japan will help ASEAN in designing the centre, sending Japanese experts and training experts for the grouping.
During the Special ASEAN 3 Summit on COVID-19 last April, then Japanese Prime Minister Abe Shinzo announced the aid package worth 50 million USD for the project.
Delegates at the meeting shared the view that ASEAN-Japan cooperation programmes have been rolled out effectively amidst the pandemic. In 2020 alone, up to 32 projects valued at 22 million USD were implemented and 25 others worth 17 million USD were adopted, within the Japan-ASEAN Integration Fund.
Under the Japan-East Asia Network of Exchange for Students and Youths (JENESYS) programme, about 900 ASEAN youths joined training courses in Japan last year, and the number would be 700 this year.
The ASEAN member countries appreciated Japan's contributions over the past time, especially its decision to sponsor the ACPHEED, expressing a hope that the two sides will step up their comprehensive cooperation in the time ahead, particularly in such spheres as cyber security and smart city building.
Chair of the Initiative of ASEAN Integration (IAI), Bang lauded Japan's funding 11 projects within the IAI Work Plan III and suggested the country continue its support for the IAI Work Plan IV through new, result-oriented projects.
2021 is the last year when Vietnam works as the coordinator of the ASEAN-Japan relations. The role will be handed over to Thailand during the ASEAN-Japan Ministerial Meeting in August 2021.
ASEAN Defence Senior Officials' Meeting convenes
The two-day ASEAN Defence Senior Officials' Meeting (ADSOM) opened virtually on March 24 under the chair of the Permanent Secretary of the Brunei Ministry of Defence, Brigadier General (retired) Dato Seri Pahlawan Shahril Anwar Bin Haji Ma'awiah.
In his opening speech, the Bruneian official said amid COVID-19 challenges, it is important to step up regional defence cooperation for peace and safety in ASEAN.
Deputy Secretary-General of ASEAN for ASEAN Political Security Community Robert Matheus Michael Tene spoke highly of Vietnam's chairmanship last year for leading the bloc through a year full of challenges.
He called on member states to increase defence collaboration in contribution to regional peace and security regionally and globally.
At the meeting, participants heard updates on ASEAN cooperation over the past time and a report from Brunei – the current Chair of ASEAN – on outcomes of the recent ADSOM's Working Group (ADSOM WG) meeting and 18th ASEAN Chiefs of Defence Forces' Meeting (ACDFM-18).
The ADSOM reviewed documents which had been discussed and submitted by the ADSOM WG, including those on new conceptions and discussions in the ASEAN Defence Minister's Meeting (ADMM), and draft joint statements of the 15th ADMM and the 8th ADMM Plus.
It also considered recommendations of ASEAN's partner nations, including the schedule for ASEAN Plus One's informal meetings of defence ministers and the ASEAN – Russia joint naval maneuver.
A Vietnamese delegation led by Deputy Defence Minister Sen. Lieut. Gen Hoang Xuan Chien attended the meeting.
Vientiane ceremony marks 60 years of Vietnam's public security expert force in Laos
The Lao Ministry of Public Security in collaboration with the Vietnamese Embassy in Laos and the representative office of Vietnam's Ministry of Public Security in Laos have held a meeting to mark the 60th anniversary of Vietnam sending public security experts to the country (March 22, 1961-2021).
The meeting was attended by member of the Lao People's Revolutionary Party (LPRP)'s Politburo and Deputy Prime Minister and Minister of Defence General Chansamone Chanyalath, member of the LPRP's Politburo and Minister of Public Security Senior Lieutenant General Vilay Lakhamphong, former Lao Deputy PM and former Minister of Public Security Asang Laoly, Vietnamese Ambassador to Laos Nguyen Ba Hung, and head of the representative office of the Ministry of Public Security in Laos, Major General Hoang Quang Huong, among others.
In his address, Minister of Public Security Vilay Lakhamphong recalled the historical context and situation when the Vietnamese public security expert force was formed in Laos, stressing that generations of experts overcame numerous difficulties and accepted the sacrifices to help the Lao People's Public Security force develop.
He underlined that the Vietnamese public security expert force in Laos accompanied Laos' struggle for national liberation and defence as well as the development of the Lao People's Public Security force.
He affirmed that the Party, State, and people of Laos always remember the valuable and whole-hearted support from the Party, State, and people of Vietnam during all stages of Laos' revolutionary cause in the past and national construction at present.
On behalf of the Party, State, and people and the People's Public Security force of Laos, the minister expressed his sincere gratitude to the Party, State, and people of Vietnam, especially leaders and officers from Vietnam's People's Public Security force who work in Laos to assist its Ministry of Public Security.
The Party, State, and people of Laos and the People's Public Security force of Laos in particular always pay great attention to the special friendship and comprehensive cooperation between Laos and Vietnam, he stated, pledging that they will do their utmost to maintain and reinforce ties and make them last forever.
Meanwhile, former Lao Minister of Public Security Asang Laoly highly appreciated the whole-hearted support from Vietnamese public security experts to the public security force of Laos over the past six decades, describing it as valuable and strategic assistance that helped build basic foundations for the development of Laos' public security force.
For his part, Vietnamese Ambassador Nguyen Ba Hung thanked the Lao side for creating favourable conditions for the Vietnamese public security experts, helping them overcome the difficulties and hardships to complete their assigned tasks in protecting security, social order, and safety in both countries, for peace and the happiness of the Vietnamese and Lao people.
On the occasion, the Party and State of Laos presented the Itsala (Freedom) Order, Second Class, to the representative office of Vietnam's Ministry of Public Security and the third-class Itsala Order to Major General Hoang Quang Huong, in recognition of their efforts in the safeguarding of public security in both countries, contributing to reinforcing and accelerating the great friendship, special solidarity, and comprehensive cooperation between the two.
Within the framework of the meeting, a book on the history of the Vietnamese Public Security expert force in Vietnamese was handed over to the Ministry of Public Security of Laos. A photo exhibition on 60 years of Vietnam's public security expert force in Laos was also held.
Hoi An active in promoting nipa palm forests
Beyond playing an important role in protecting the environment and minimising the negative impacts of climate change, in recent years, thanks to conservation and development efforts, the nipa palm forests of the ancient town of Hoi An have generated many jobs and increased the incomes of local people.
Located on the banks of the Thu Bon River in the central province of Quang Nam, the area was formerly alluvial ground, with immense water areas. It is now dubbed the "little Southern region" in the heart of Hoi An ancient town.
The conservation and development of the mangrove forests create breakwaters and the conditions necessary for aquatic species to thrive, serving the long-term livelihoods of local people.
Covering hundreds of hectares, the nipa palm forest has become a must-see destination for domestic and foreign tourists to Hoi An. Basket dancing for tourists now earns many local people a high and stable income.
Because of its benefits, local people are more aware about protecting the forest and no one cuts down trees or exploits nipa leaves for souvenirs, as used to be the case.
To conserve and develop the forest, Hoi An town and Quang Nam province have also rejected licensing projects that risk impacting its sustainability.
Amid the impact of urbanisation and climate change, the conservation and development of the nipa forests in Hoi An have brought about substantial benefits, facilitating sustainable development for the future.
Australia-Vietnam Young Leadership Dialogue initiative gets underway
The Australia-Vietnam Young Leadership Dialogue (AVLD) kicked off on March 23 in Australia in an effort to intensify mutual understanding and step up co-operation between the two countries.

This year's dialogue is expected to see the recruitment of 20 young people who are keen to contribute to efforts aimed at deepening the relationship between both nations whilst promoting their journey of leadership to participate in the programme.
As part of her opening speech, New South Wales Governor Margaret Beazley affirmed that the focus of this year's dialogue will be on promoting a range of innovations and partnerships in the post-COVID period, including areas related to the arts, business, and community.
The young leaders selected for this year's scheme will be made up of a range of dynamic and talented individuals who work in such fields as business, policy making, education, health, arts, culture, and innovation.
Following their selection, the young leaders will then participate in activities scheduled to take place in both Ho Chi Minh City and Sydney in September.
It is anticipated that the dialogue will create greater opportunities for the next generation of leaders from both countries to embark on a transformative journey towards achieving a stronger innovation partnership and co-operation across priority areas.
Trinh Duc Hai, the Vietnamese Consul General in New South Wales, affirmed that the initiative will help contribute to developing bilateral relations, especially as Australia represents one of Vietnam's most important strategic partners.
During the course of the event, representatives from both countries expressed their opinions on several international issues and reiterated common values.  
Peter Cosgrove, former governor-general of Australia and sponsor of the Australia-Vietnam Young Leadership Dialogue, emphasised that both countries have recorded a range of amazing achievements in bilateral relations, with these milestones reached largely through boosting diplomatic, economic, and trading ties.
Both Vietnamese Ambassador to Australia Nguyen Tat Thanh and Australian Ambassador to Vietnam Robyn Mudie have been invited to be advisors for the programme.
"Vietnam welcomes the comprehensive participation of the change-makers network and expresses its belief that participants in the dialogue will further strengthen the bilateral relationship through cooperation in the priority strategic areas of the two countries," said Ambassador Thanh.
The AVLD was originally established in 2016 with the aim of creating a platform in which young people could discuss issues of mutual concern, thereby enhancing their understanding and connectivity between the two countries.
Hanoi prepares to host upcoming Brazilian Film Week
The Ministry of of Culture, Sports and Tourism has granted permission for the Embassy of Brazil in Vietnam to launch a Brazilian Film Week in Hanoi.

According to the initial schedule proposed by the Brazilian Embassy, the film week is scheduled to run from May 10 to May 14 at the National Cinema Centre.
The event is set to feature five outstanding movies, including Nise: The Heart of Madness, Trinta, and A Story of Love and Fury.
Through the event, the Brazilian Embassy wants to introduce some of the unique aspects and characteristics of Brazilian culture to local audiences.
During the course of the week, all movies will be shown in their original language whilst featuring both English and Vietnamese subtitles. Indeed, all movies will only be screened as part of the film week after being granted a license by the Vietnam Cinema Department.
Digital installation commemorates Italian poet Dante Alighieri
A digital installation exhibition entitled Inferno V opens in Hà Nội this afternoon (March 25, 2pm) to mark the 700th anniversary of the death of the great Italian poet Dante Alighieri, who wrote of one of the most renowned works of world literature, The Divine Comedy.
Produced by the Italian creative media company MTM Reality and promoted by the Italian Ministry of Foreign Affairs and International Cooperation, Inferno V is conceived as a unique digital journey through the second circle of Hell, where lie those punished for their sins of passion. Inferno V combines augmented reality with the timeless words of Dante Alighieri.
Visitors will enjoy a variety of images, videos and narrations which provide an intense experience of Dante's work and explain the essential place he holds within the history of literature. All content is available in Vietnamese as well as in Italian, English, French, Spanish and Portuguese.
Starting from March 25, a website version of Inferno V can be accessed through the Italian Embassy's Facebook page.
Entry is free and the exhibition runs until April 8, from 10am to 8.30pm, at Generali Room in Casa Italia, 18 Lê Phụng Hiểu Street. 
Health minister underlines need to amend law to make organ donation easier
The law on donation, removal and transplantation of human tissues and organs and donation and recovery of cadavers should be amended to streamline procedures and help increase donations to save more lives, Deputy Minister of Health Nguyễn Trường Sơn has said.
Many provisions in it, such as the one on donors' age, are barriers preventing tissue and organ donation, he said.
His ministry is drafting amendments and would submit them to the National Assembly next year, he said.
The amendments would be in compliance with the Declaration of Istanbul made at the 2008 Istanbul Summit on Organ Trafficking and Transplant Tourism to prevent transplant tourism, trafficking and commercialism and provide ethical guidelines for organ donation and transplantation.
The ministry held the conference to collect opinions on the amendments from health experts, he added.
Dr Trần Thị Cẩm Tú, deputy head of the Human Organ Transplantation Centre at Huế Central Hospital, said, "The amended law should allow people from 15 years of age instead of [the current] 18 to register for organ donation when they are brain dead."
The Civil Code and Penal Code recognise people aged 15 as old enough for many things, she said.
But living donors should be more than 18 to donate an organ to a family member to reduce the impact on their health post-donation, she said.  
In the case of donations to strangers for transplantation, the donors should be at least 30 years old, she said.
She suggested setting up an online system to register for organ donation after brain death to get young prospective donors on board.
Prof Trần Đông A, a counsellor at Children's Hospital 2, said the law bans organ harvest from brain dead children, reducing the survival chances of child patients who need organs.
Now doctors transplant kidneys taken from adults in children, a difficult task to perform, he said.
Nguyễn Hoàng Phúc of the Vietnam National Coordinating Center for Human Organ Transplantation said: "The number of people needing organ and tissue transplants is very high while the number of donors is low. Many patients die even as they wait for a donor."
As of last year 40,257 people had registered to donate their organs and tissues in case of brain death, he said.
There are 100 living donors, while 339 have registered to donate their cadaver after death, he said. 
So far 5,587 people have benefited from organ transplants, he added.
According to the Ministry of Health, nearly 10,000 people are waiting for kidney transplants alone and thousands of others for other organs.
The conference also discussed the illegal buying and selling of human organs.
On March 9 the ministry had organised a conference in Hà Nội on funding for removal and transplantation of human tissues and organs. 
Vietnam, ASEAN urged to adopt green manufacturing technologies
Vietnam and its ASEAN neighbours need to adopt green manufacturing technologies to make sustainable new products and services, an international conference in Bình Dương Province heard on Tuesday (Mar 23).
Dr Michael Braun, co-ordinator of the Enhanced Regional EU-ASEAN Dialogue Instrument project, told the 'Cooperating with Europe for Green Manufacturing Technologies' conference that it is important to promote technological co-operation between the European and Southeast Asian blocs for mutual benefit.
ASEAN countries have emerged as important manufacturing hubs in global supply chains, he said. 
"The growing demand for environmentally sound, resource- and energy-efficient products and manufacturing has created a hunger for new green manufacturing technologies."
With its rich technology and research landscape, innovative enterprises and dedicated green growth strategies, Europe is a major source of such green technologies, he said.
"Green technologies are key to sustainable new products, services and manufacturing processes, and are essential for realising green growth."
For ASEAN member states, green technologies will help make the best possible use of their natural and energy resources and protect the health and well-being of workers and consumers.
Hans Farnhammer, head of Cooperation for the European Union Delegation to Indonesia, Brunei, Darussalam and ASEAN, said: "Green production has become the core of sustainable development." 
Prof TAN, Reginald Beng Hee, of the National University of Singapore, said, "Bình Dương Province is set to become the next destination for green technology transfer." 
Nguyễn Việt Long, director of the province Department of Science and Technology, said comprehensive transport infrastructure and quality human resources play a major role in attracting foreign investors, especially from Europe, with green manufacturing technologies. 
The Government needs to invest in improving infrastructure and offer incentives to promote the triple helix model of university–industry–government co-operation, he said.
European Green Deal
Joanna Drake, deputy director of the European Commission's Directorate-General for the Environment, said under the European Green Deal, the EU recognises that climate change and environmental degradation are an existential threat to Europe and the world. 
To overcome the challenges, the EU needs a new growth strategy that would transform it into a modern, resource-efficient and competitive economy in which there are no net emissions of greenhouse gases by 2050, and economic growth is decoupled from resource use, she said.
The Deal aims to make the EU's economy sustainable by turning climate and environmental challenges into opportunities, focusing on investments in green technologies, sustainable solutions and innovative businesses, she said.
It also lays out a path for a sustainable transition that is socially fair and ensures 'no person or place is left behind', she said.
The EU therefore supports ASEAN and its member states with initiatives related to climate-change resilience and adaptation, environmental protection, including protecting bio-diversity, and disaster preparedness and response, she added.
The two-day conference that began on Monday is being held as part of the 2021 EU Industry Week organised by the provincial People's Committee and the European Commission.
Legislators continue to hear and discuss in groups working reports
The 14th National Assembly is continuing its working programme on March 25 as part of the ongoing 11th session.
During the plenary sitting in the morning, the legislature will hear reports reviewing the performance of the Supreme People's Court, the Supreme People's Procuracy and the State Audit Office of Vietnam during the 2016-2021 tenure, and a report verifying them.
The legislators will also listen to a report summarizing opinions and petitions sent by voters and people to the NA's 11th session, and another report on the results of supervising the settlement of voters' suggestions sent to the 10th session.
The National Election Committee will also report the outcomes of its operation since its establishment.
The plenary sitting is broadcast live by Radio The Voice of Vietnam, Vietnam Television and the NA's television channel.
In the afternoon, the lawmakers will discuss in groups the draft report on performance of the 14th NA, the NA Standing Committee, the NA Ethnic Council and the NA committees, as well as working reports of the State President, Government, Supreme People's Court, Supreme People's Procuracy and the State Audit Office for the 2016-2021 tenure./.
Vietnam supports comprehensive political solution in Libya: diplomat
Ambassador Pham Hai Anh, deputy head of the Vietnamese delegation to the UN, has reaffirmed Vietnam's support for a Libyan-led and Libyan-owned comprehensive political solution on the basis of respecting independence, sovereignty and territorial integrity of Libya.
Addressing the UN Security Council's videoconference briefing on the Libyan situation and operations of the UN Support Mission in Libya (UNSMIL) on March 24, Ambassador Anh spoke highly of important progresses on politics and security in Libya, and called on parties involved to fully carry out articles of the ceasefire agreement, and try their best to facilitate the transitional period and make all necessary preparations for the holding of national elections based on the agreed roadmap.
Voicing support for UNSMIL's role in assisting the Libyan-led and Libyan-owned ceasefire monitoring mechanism, the Vietnamese representative highlighted the need to address the humanitarian and economic challenges in that country and called on all international partners to continue to provide technical and financial support for Libya and other countries in the region.
He appreciated efforts made by parties in Libya in bomb, mine and unexploded ordnance (UXO) clearance under the support of the UN Mine Action Service (UNMAS), and called for more efforts to reduce risks and protect civilians from risks caused by post-war UXO.
Ján Kubiš, Special Envoy to Libya and head of the UNSMIL, called on the UNSC to continue backing the peace progress in Libya, including allowing UNSMIL to support the ceasefire monitoring mechanism
Delegates welcomed political progress in the country and stressed the need to consolidate gains towards national elections in December. They also called for the withdrawal of mercenaries and foreign forces from Libya and compliance with the arms embargo, the need for the unification of institutions in Libya and the improvement of basic services for local people.
Thematic exhibition on National Assembly election opens in Dak Lak
A thematic exhibition titled "Ngay hoi non song" (National Festival) opened at Dak Lak Museum in Dak Lak Province on March 24, aimed at celebrating the upcoming election of deputies to the 15th National Assembly (NA) and People's Councils at all levels for the term 2021-2026.
The exhibition consists of three main themes: Uncle Ho and the NA of Vietnam; marks of the NA of Vietnam; and the outstanding activities of the delegation of NA deputies and People's Councils at all levels in Dak Lak.
The event features 250 documents and photos introducing the outstanding activities and achievements of the NA and People's Councils at all levels in general, and that of the delegation of NA deputies and People's Councils of Dak Lak in particular.
They contribute to affirming the inheritance of the NAs after each term, promoting the spirit of renewal within the NA's legislative activities, as well as monitoring and deciding upon the important issues of the country.
The event also highlights the responsibilities of the powerful agency of the State in institutionalising the Party's guidelines and undertakings into State policies and laws, contributing to the successful implementation of the objectives and tasks of building, developing and defending the Socialist Republic of Vietnam.
The exhibition aims to contribute to raising public awareness about the Party and State's policies and laws on the elections and citizenship rights and responsibilities toward the nation, while creating a consensus in society for the success of the election of deputies to the 15th NA and People's Councils at all levels for the 2021-2026 term, ensuring democracy, equality, enforcement, safety and cost saving, as well as making the election the national festival.
The exhibition runs until late May 2021.
Gov't urges execution of Long Thanh Int'l Airport project
The compensation and site clearance for the Long Thanh International Airport project in Dong Nai Province are set to be completed in April, but the Government has asked the province to speed up the project.
Deputy Prime Minister Trinh Dinh Dung on March 22 told the Dong Nai government to expedite the land reclamation, site clearance compensation as well as support and resettlement processes in line with prevailing regulations.
The province was also asked to work with the Ministry of Transport, the Airports Corporation of Vietnam and other relevant units to start work on some components to ensure the project runs on schedule.
In November last year, the prime minister gave the green light for the first phase of the Long Thanh International Airport project in Dong Nai Province with total investment of more than VND109 trillion. The project is set to be put into operation in 2025.
The first phase of the project is divided into four subprojects. In the first phase, a passenger terminal, a runway and supporting facilities will be developed capable to transport 25 million passengers and 1.2 million tons of cargo per year.
In late October last year, during Deputy Prime Minister Truong Hoa Binh's on-site trip to the location of the airport project in Dong Nai Province, the leader of the provincial government committed to handing over 1,810 hectares of land prioritized for the construction of the first phase in late 2020.
Of the total of 5,000 hectares of land for the construction of the big-ticket project, over 2,900 hectares are owned by 5,541 households and individuals. Up to now, the plan to compensate over 2,650 households and individuals, with the total value of VND5.9 trillion, has been approved, Dong Nai newspaper reported.
Photo exhibition features HCMC's youth on reunification day
A photography exhibition to mark the 90th founding anniversary of the Ho Chi Minh Communist Youth Union (March 26, 1931 – 2021) and the 45th establishment and development anniversary of Youth Volunteer Force (March 28, 1976-2021) was opened at the Youth Cultural House and Nguyen Hue pedestrian street yesterday.  
The two-week long exhibition introduces documents and images featuring the process of establishment, development and achievements of the Ho Chi Minh Communist Youth Union as well as the Municipal Youth Volunteer Force.
Through the evidences, the exhibition will help the local people, especially members of Ho Chi Minh City Youth Union understand and be more and more proud of the precious heroic tradition and voluntary spirit of young generation in HCMC in the first days of the country's reunification day.
Accordingly, the exhibition will take place until April 4. Ho Chi Minh City Youth Union in coordination with the Ho Chi Minh city's Youth Volunteer Force launched the show. 
Source: VNA/VNS/VOV/VIR/SGT/Nhan Dan/Hanoitimes