Most industrial parks in the country, including in the southern key economic zone, lack sufficient housing for workers, Phan Van Anh, vice chairman of Viet Nam General Confederation of Labour, said yesterday.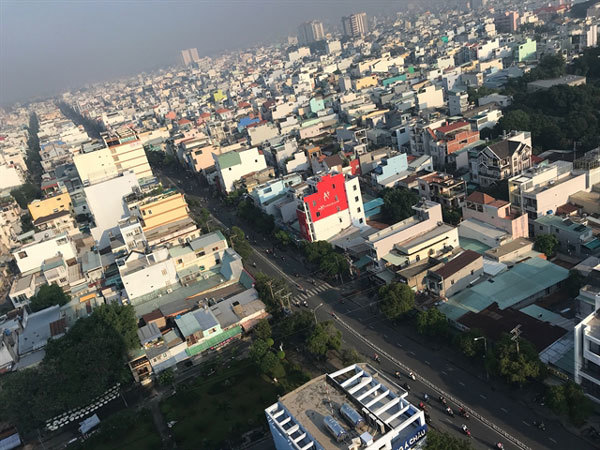 Housing in HCM City's Tan Phu District. VNS Photo Gia Loc
"The rate of migrant workers at industrial parks accounts for more than 50 per cent of the country's total workforce. HCM City, provinces of Dong Nai and Binh Duong have 70 per cent of migrant workers," Anh said.
"Housing, kindergartens and schools in industrial parks are urgently needed," he said at a conference on workers' housing held by Tiền Phong (Vanguard) Newspaper.
The confederation's survey conducted in 2016 showed that out of 2.7 million of workers at 344 industrial parks and export processing zones, more than 1.2 million needed housing, and more than 800,000 needed kindergartens for their children.
Only five to 10 per cent of their needs are met, according to the survey.
"The number of workers has increased year by year, but industrial park development planning does not include worker accommodation," he added.
Current policies had not yet encouraged the private sector to invest in housing development for workers at industrial parks, he said.
Nguyen Trong Ninh, head of Housing and Real Estate Management Department under the Ministry of Construction, said that as of last year, nearly 1.2 million workers at industrial parks had housing demand. This figure is expected to increase to nearly 1.7 million by 2020, according to the ministry.
About 200 housing projects have been completed that house 330,000 workers, meeting about 28 per cent of demand.
"The biggest problem is that state funds have not been allocated to cover the interest rate for commercial banks to provide loans for social housing projects," he added.
According to a suggestion from the State Bank of Viet Nam, nearly VND10 trillion from mid-term public investment will be needed for four commercial banks in the 2016-2020 period.
Many provinces and cities' reports show that 226 social housing projects have stopped or have been delayed.
Ninh added that authorities in many provinces and cities had not paid much attention to developing social housing.
Around 20 per cent of land fund for commercial housing projects should be for social housing.
Shortage of land for social housing was a barrier, he said.
Le Huu Nghia, general director of Le Thanh Real Estate Company, which has carried out social housing projects, said that investors had been discouraged because of the red tape involved in implementing social housing projects.
Social housing is more dense, with more people living in these areas, Nghia said, adding that investors were reluctant to be involved in such projects.
Many other delegates at the meeting complained about red tape that workers face in meeting the Government's requirements to buy social housing.
Nguyen Hoang Minh, deputy director of the State Bank of Viet Nam's HCM City office, said that banks provided loans to workers based on their demand and the value of apartments. Banks provided loans that cover 70 to 80 per cent of apartment value, while the interest rate for individual borrowers was 9 to 12 per cent, he added.
VNS