Vietnam has worked to fight human trafficking and other transnational crimes in recent decades, a top politician has said.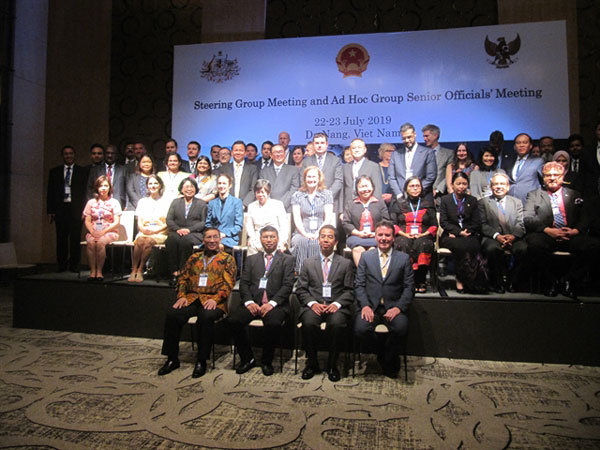 Participants join a photo session at the 14th Ad Hoc Group Senior Officials' Meeting of the Bali Process on People Smuggling, Trafficking in Persons and Related Transnational Crimes in Da Nang City yesterday. VNS Photo Cong Thanh
Deputy minister of Foreign Affairs To Anh Dung said the Government had issued policies in the area and been an active and responsible member of the Bali Process since its inception in 2002.
He made the statement at the 14th Ad Hoc Group Senior Officials' Meeting of the Bali Process on People Smuggling, Trafficking in Persons and Related Transnational Crimes in Da Nang City yesterday.
Dung also said Vietnam had made contributions to reducing human trafficking and related transnational crimes as well as raising awareness on illegal migration.
"Migration is an integral part of the development process, but it also poses various challenges for states and stakeholders. Irregular migration and human trafficking has been increasing in the region and the world, and the global issue can't be solved by a single country," Dung said.
"Strengthening multilateral co-operation in this issue should be considered essential, not only to effectively manage migration flows, but also to address the root causes of migration," he said.
He noted that Vietnam had been promoting regular migration and combating irregular migration and people trafficking.
Meanwhile, international co-operation through regional and world forums were key to tackling irregular migration and human trafficking, he added.
The deputy ministers emphasised that the Bali Process was a successful model for regional co-operation in fighting irregular migration and trafficking on the basis of confidence-building measures as well as mutual understanding and stability in the region.
Speaking at the event, Bryce Hutchesson, ambassador for People Smuggling and Human Trafficking, Department of Foreign Affairs and Trade, Australia said the Bali Process region faced significant challenges related to irregular migration, displacement of persons, statelessness, people smuggling, trafficking in persons, modern slavery and transnational crime.
"There is very real and often terrible human suffering and loss. Crimes are being committed. The criminal syndicates must be disrupted.
"There are related security, social and economic concerns of affected countries to these challenges. Co-operation between regional countries is vital to address the challenges we confront. No country can tackle the problems of smuggling and trafficking alone," he said.
Febrian Ruddyard, Director General, Department of Multilateral Co-operation, Ministry of Foreign Affairs, Indonesia, said as a mechanism for countries of origin, transit and destination, the Bali Process paid great attention to the issue of migration as one of the most challenging issues both globally and regionally.
"In recent years, we have seen a rise in forced migration and displacement due to particular reasons. Based on 2018 the United Nations Refugee Agency (UNHCR) report, almost 70.8 million individuals were forcibly displaced worldwide, an increase of 2.3 million people from the previous year."
In the Asia Pacific alone, there are an estimated 9 million people forcibly displaced from their homes.
Ruddyard also said the Bali Process had reached a milestone from having engagement with the private sector, through the establishment of the Bali Process Government and Business Forum.
The event, which drew 120 participants, closed yesterday evening after one working day.
Since its launch in 2002, the Bali Process on People Smuggling, Trafficking in Persons and Related Transnational Crime has aimed to raise regional awareness of the consequences of people smuggling, trafficking in persons and related transnational crime. It is a forum for dialogue, information sharing and co-operation to help the region address these challenges.
The Bali Process, co-chaired by Indonesia and Australia, has 49 members, including the United Nations High Commissioner for Refugees (UNHCR), the International Organization for Migration (IOM), the United Nations Office of Drugs and Crime (UNODC) and the International Labour Organization (ILO), as well as a number of observer countries and international agencies. It also includes the Ad Hoc Group, bringing together those most-affected member countries, and relevant international organisations, to address specific people smuggling, trafficking in persons, and irregular migration issues in the region.
VNS