Diabetes, as a major public health issue, will be addressed across multiple fronts, from prevention and disease management to patient care and engagement, health experts have said.
Vietnam enhances diabetes screening
Vinmec Hospital successfully performs HVAD artificial heart transplant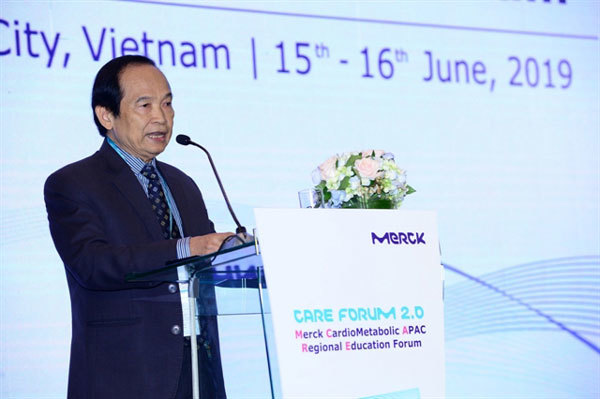 Prof. Tran Huu Dang, president of the Viet Nam Association of Diabetes and Endocrinology, speaks at the two-day Merck Cardio-metabolic APAC Regional Education Forum that opened in HCM City on June 15. Photo Thu Hang
Speaking at the Merck Cardio-metabolic APAC Regional Education Forum that opened on Saturday in HCM City, Prof Tran Huu Dang, president of the Viet Nam Association of Diabetes and Endocrinology, said Vietnam was one of the Asian countries with a high prevalence of diabetes (5.5 per cent of the population in the ages of 20 – 79) and pre-diabetes (13.7 per cent).
"However Vietnamese have a lack of awareness of the disease and prevention.
"The cost of diabetes treatment in Vietnam was estimated at US$320 million in 2007 and is projected to increase to $1.1 billion by 2025."
Health experts said the diabetes epidemic has major health and socio-economic repercussions, especially for developing countries.
According to Prof Juliana CN Chan, director of the Hong Kong Institute of Diabetes and Obesity, over half of all people with diabetes reside in the Asia Pacific region.
The heterogeneity of risk factors and complications in the Asia diabetes epidemic results in part from rapid transitions in nutrition, lifestyles and environment.
Early intervention in people with pre-diabetes using lifestyle modification prevents diabetes which can lead to long-term reduction in microvascular and macrovascular complications.

There is an urgent need to implement targeted strategies to prevent type 2 diabetes to reduce this growing burden on the healthcare system and improve the general well-being of individuals and societies.
According to WHO, the number of people living with diabetes and its prevalence is growing in all regions of the world.
The global prevalence of diabetes among adults rose from 4.7 per cent in 1980 to 8.5 per cent in 2014.
The two-day forum was organised for the first time in Vietnam by Merck APAC, a leading German biopharmaceutical company, in collaboration with Sang Trading and Pharmaceutical Company.
Experts from around the world discussed the latest in scientific research and state of the art digital health tools related to diabetes as well as cardio-vascular disease and thyroid disorders.
Topics include diabetes prevention and patient care – medicine and technology, thyroid disease management and the role of mobile services in disease awareness and cardiovascular disease, protection and the role of technology in saving lives.
VNS