HCM City, Da Nang ready to welcome new year 2021 with assorted activities


A number of arts programmes will be held along Nguyen Hue pedestrian street, at culture houses, universities and colleges, and industrial parks in Ho Chi Minh City from December 31, 2020 to January 1, 2021 as part of the city's celebrations for New Year 2021.
A 15-minute colourful firework display will take place at midnight December 31, 2020 in three locations in the city including the Saigon River Tunnel in District 2, the Landmark 81 skyscraper and Central Park in Binh Thanh District, and the Dam Sen Cultural Park in District 11.
The municipal Department of Culture and Sports will also host a bicycle race along Mai Chi Tho street on the occasion.
Meanwhile, a festival entitled 'Da Nang city welcomes New Year 2021' will be staged from December 29, 2020 to January 2, 2021 by the city's Tourism Department.
The highlights of the festival will include the opening ceremony at 7:30 pm on December 30 at Asia Park, a boat parade on the Han river on 6:00 pm on December 30-31, and a countdown from 8:00 pm on December 31 at September 2 Square.
Visitors to the city will be also be invited to join the Noodle Festival at Asia Park, which will feature more than 50 booths serving different kinds of dishes made from noodles hailing from countries worldwide.
Six imported cases of COVID-19 reported on December 25
Six imported cases of COVID-19 were reported in the past 24 hours to 6pm on December 25, raising the national count to 1,439, according to the National Steering Committee for COVID-19 Prevention and Control.
Five among the new patients are Vietnamese citizens, including two returning from the UK on December 22, and three from Germany on December 18.
The sixth patient is a Brazilian expert who arrived from Qatar on December 24.
They tested positive for SARS-CoV-2 while staying in quarantine after arrival.
The same day, 22 COVID-19 patients were given the all clear, bringing the total recoveries to 1,303, while fatalities remained at 35.
Among patients still under treatment, eight have tested negative for SARS-CoV-2 once, eight twice and eight thrice.
A total 16,829 people are being quarantined nationwide, with 171 at hospitals, 15,672 at designated concentrated facilities and 966 at homes or accommodations.
The Health Ministry continues to urge people to follow the 5K message to prevent the spread of COVID-19, install and run the Bluezone app on mobile phones.
Thu Duc City to come into existence in March next year
Thu Duc City will officially come into existence on March 1, 2021 while the people's councils of districts 2, 9 and Thu Duc will end their tenure at the same time.
HCMC Chairman Nguyen Thanh Phong told a meeting of the Government's decree drafting committee and editing team on December 24 that Thu Duc City has been established by merging districts 2, 9 and Thu Duc, with a total area of some 212 square kilometers and a population of over one million people, in line with the National Assembly Standing Committee's resolution dated December 9.
HCMC proposed allowing Thu Duc City to have a maximum four vice chairpersons and 13 divisions, said Phong.
The newly approved city is expected to become an innovation center, which will use high technologies, so a science and technology hub should be developed for Thu Duc City.
The leader of HCMC also said that the authorities would support the residents of districts 2, 9 and Thu Duc with paperwork after the merging, the local media reported.
In addition, HCMC proposed the Government introduce a separate decree to develop Thu Duc City based on its available advantages and strengths.
Deputy Minister of Home Affairs Tran Anh Tuan said that the drafting committee would propose that the Government allow Thu Duc City to have four vice chairpersons at the most.
The districts will maintain their activities until the new city is officially put into operation on March 1, 2021 to ensure administrative operations go smoothly, he added.
Thu Duc City is expected to account for one-third of HCMC's gross regional domestic product, equivalent to 7% of the country's gross domestic product.
Deputy PM calls for greater effort to expand social insurance coverage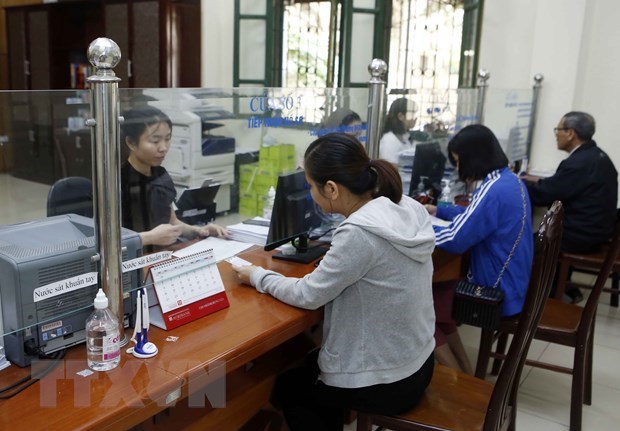 The number of voluntary social insurance participants is nearly 1.1 million, an increase of 494,000 this year. (Illustrative image - Photo: VNA)
Deputy Prime Minister Vu Duc Dam has directed Vietnam Social Security (VSS) to focus on expanding coverage of compulsory and voluntary social insurance and raising public awareness of its importance.
Speaking at an online conference held by VSS on December 24 to discuss development orientations in 2021, the Deputy PM highlighted the achievements of the sector in 2020, especially health insurance coverage reaching 90.85 percent.
He attributed the results to the involvement of the entire political system, especially the coming together of Party committees, local authorities, and the media, and the core role of VSS.
According to the Deputy PM, international organisations highly value Vietnam's achievements in the insurance field, saying it took the country only 17 years to reach health insurance coverage of 90 percent, while the best-performing country spent 40 years doing likewise.
VSS was also the first unit to implement administrative reform and streamline its organisation apparatus, he said, noting that this not only serves the insurance sector's development but also contributes to modernising the IT network for national governance.
He was also frank in pointing out shortcomings, such as the low proportion of working-age employees participating in social insurance and voluntary social insurance, and many enterprises not paying social insurance premiums on time.
The Deputy PM expressed his belief that in the near future, the social insurance sector will achieve the same feats as the health insurance sector as a whole.
In his opening remarks to the online conference, VSS General Director Nguyen The Manh stressed that Vietnam's social insurance sector has achieved remarkable achievements, making important contributions to the implementation of social progress and equity, ensuring socio-political stability and people's lives, and promoting sustainable development in the country.
In 2020, the sector basically fulfilled assigned targets, tasks and plans set for the year, especially measures to support agencies, businesses, and people in responding to the impact of the COVID-19 pandemic and natural disasters.
Social insurance coverage was expanded, with more than 16.1 million participants, reaching 32.6 percent of working-age people. The number of voluntary social insurance participants was nearly 1.1 million, an increase of 494,000 this year.
The country has nearly 13.3 million people covered by unemployment insurance. Health insurance coverage continued to record impressive growth, with about 88 million participants, accounting for 90.85 percent of the population and exceeding by 0.15 percent the target set in Government Resolution No 01 and up 25.6 percent compared to 2015.
VSS processed over 133,300 dossiers for monthly pension and social insurance benefits this year, bringing the total number of monthly pensioners and social insurance beneficiaries to about 3.2 million./.
HCMC chairman, deputies see adjustments in duties
The HCMC government has made adjustments to the duties of the municipal chairman and vice-chairs for the ongoing 2016-2021 tenure, according to a new decision.
City chairman Nguyen Thanh Phong remains responsible for all the activities of the municipal government from the developing of local strategies and master plans for the economic and social development to that of state budget estimates.
Phong will take charge of the municipal government's apparatus and other issues related to personnel, emulation and commendation, security and internal affairs, foreign economic relations and external affairs.
The HCMC Departments of Planning and Investment, Home Affairs, Science and Technology and Public Security as well as the HCMC High Command and Border Guard, the HCMC Institute for Development Studies and the Thu Thiem New Urban Area Management Board are under his charge.
Five other vice-chairs – Le Hoa Binh, Phan Thi Thang, Vo Van Hoan, Ngo Minh Chau and Duong Anh Duc – are tasked with assisting the city chairman in various fields.
NA deputies honoured for contributions to legislative operations
National Assembly (NA) Chairwoman Nguyen Thi Kim Ngan attended a ceremony held on December 24 by the NA Standing Committee to honour individuals who have made important contributions to improving the quality and efficiency of the NA's operations.
At the ceremony, the top legislator presented the first class Labour Order from the State to Standing NA Vice Chairwoman Tong Thi Phong, Chairman of the NA's Committee for External Relations Nguyen Van Giau, Chairman of the NA's Finance-Budget Committee Nguyen Duc Hai, Chairman of the NA's Committee for Science, Technology and Environment Phan Xuan Dung, and head of the NA's Committee for Deputy Affairs Tran Van Tuy.
The second-class and third-class Labour Orders were awarded to outstanding officials from the NA's bodies and the Ministry of Education and Training.
NA Vice Chairman Do Ba Ty presented certificates of merit from the Prime Minister to nine full-time NA deputies.
On behalf of the honoured, Chairman of the NA's Committee for External Relations Nguyen Van Giau said that this is a noble reward from the Party and State in recognition of the efforts and dedication of NA deputies in performing their duties./.
Support for development in ethnic minority areas extended to 2025
The implementation of a project on strengthening international cooperation to support socio-economic development in ethnic minority-inhabited areas will be extended to 2025 under a decision signed recently by Prime Minister Nguyen Xuan Phuc.
The project will be carried out from 2021 – 2025, with the aim of promoting cooperation in attracting financial assistance, science and technology and experience from countries, international organisations, overseas collectives and individuals to invest in socio-economic development in ethnic minority and mountainous areas, towards effectively performing the national target programme on socio-economic development in ethnic minority and mountainous areas in the 2021 - 2030 period.
By 2025, the project strives to maximize attraction of international resources, especially non-refundable aid, official development assistance (ODA) and preferential loans for the programmes.
It encourages international investment in socio-economic development in ethnic minority and mountainous areas based on actual demand and potential and advantages of each locality and ethnic group, and on the principles of preserving and developing traditional cultural values and protecting the environment.
The project also aims to mobilise technical support from international organizations and individuals to support capacity building for people in ethnic minority and mountainous areas, and civil servants and public employees working in ethnic affairs at all levels.
The project is expected to help address the shortage of residential land, housing, productive land, and water in ethnic minority-inhabited areas.
It will focus on developing agricultural and forestry production, and fully tapping potential and strengths of regions for commodity production in value chains.
Attention will be also paid to developing infrastructure serving production, promoting education and training to improve the quality of human resources from ethnic minority groups, preserving and upholding traditional cultural values in association with tourism development, taking care of people's health, preventing child malnutrition, promoting gender equality, and solving urgent issues for women and children./.
Hanoi fulfills housing targets for 2020
In the year, the commercial housing area hit 6.57 million square meters.
Authorities from Hanoi's Department of Construction have said that the city has fulfilled housing targets set for 2020.
In the year, the city has finished five social housing projects with total 550,281 square meter (sq.m) or 5,348 apartments; 89 commercial housing projects with 6.57 million sq.m or 53,644 units; five resettlement projects providing 154,270 sq.m or 1,723 apartments.
In addition, the department has proposed the plan for seven low-cost projects, Director of the municipal Department of Construction Vo Nguyen Phong said at a meeting on December 22 in attendance of the Hanoi Party Committee's Secretary Vuong Dinh Hue and Chairman of the Hanoi People's Committee Chu Ngoc Anh.
The department has verified 36 housing projects to be formed in the future that will provide 19,451 apartments with total areas of 1.6 million sq.m.
In the same year, the department has also consulted the local government in policies for repairing downgraded apartment blocks, managing state houses, and developing real estate market.
Gov't agrees to upgrade Nam Giang border gate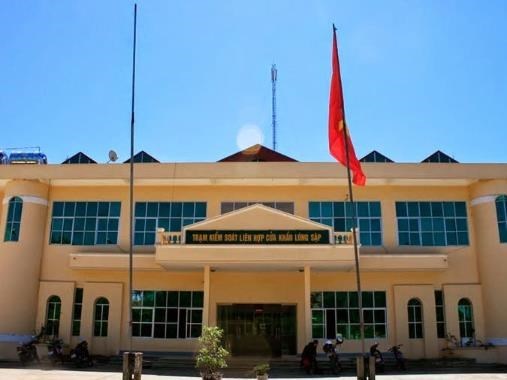 The Nam Giang border gate in Quang Nam Province
The Government has approved proposal by the Ministry of Foreign Affairs to upgrade Nam Giang border gate in the central province of Quang Nam to an international one.
The Foreign Ministry and Quang Nam Provincial People's Committee shall be responsible for working with the Laos side to organize the launching ceremony of the border gate at a convenient time.
Earlier, a meeting on upgrading Nam Giang- Dac Ta Ooc border gate to an international border gate was conducted on March 15 between provincial leaders of Quang Nam (Viet Nam) and Sekong (Laos).
The upgradation was considered very significant for the relationship between two provinces as it is expected to help speed up the socioeconomic development in both Quang Nam and Sekong.
Viet Nam and Laos have established seven international border gates namely Na Meo Border Gate in Thanh Hoa Province, Nam Can Border Gate in Nghe An Province, Keo Nua Border Gate in Ha Tinh Province, Lao Bao Border Gate in Quang Tri Province, Cha Lo Border Gate in Quang Binh Province, Po Y Border Gate in Kon Tum Province, and Tay Trang Border Gate in Dien Bien Province./.
Deputy PM praises int'l integration results in politics, security, defence
Deputy Prime Minister and Minister of Foreign Affairs Pham Binh Minh on December 24 appreciated international integration results in the fields of politics, security, and defence in 2020.
The Deputy PM, head of the inter-sectoral steering committee on international integration in the fields of politics, security, and defence, chaired a meeting in Hanoi to review the committee's performance this year and launch its tasks for next year.
He praised the efforts by relevant ministries, departments and agencies in overcoming difficulties and turning challenges into opportunities, especially in the context of the complicated development of COVID-19 pandemic, and the rapid, strong and unpredictable fluctuations in the world and regional situation.
They quickly adapted to the new situation; carry out foreign relations and international integration actively, flexibly and creatively; effectively implement online diplomacy, medical diplomacy and international cooperation on epidemic prevention, contributing to deepening relations with other countries and partners, he said.
Thanks to their endeavours, he continued, the country successfully fulfilled its roles as ASEAN Chair 2020 and a non-permanent member of the United Nations Security Council for the term 2020-2021, promoted cooperation and deep international integration in the fields of defence and security, and maintained sovereignty and territorial integrity, contributing to raising the prestige, role and position of Vietnam in the international arena.
As the international environment in 2021 will continue to see rapid, complicated and unpredictable changes, posing both challenges and opportunities, Deputy Prime Minister Pham Binh Minh directed the committee to concretise the policy on international integration outlined in the documents of the 13th Party National Congress, and promote the pioneering role of foreign relations in maintaining a peaceful and stable environment, making the most of external resources for national development.
Regarding the major tasks for next year, Minh asked the Ministry of Foreign Affairs, the Ministry of Public Security and the Ministry of National Defence coordinate with relevant ministries and agencies to further promote forecasting and counselling work.
They should better adapt to the complicated situation of the COVID-19 pandemic in order to continue deepening relations with other countries and enhancing multilateral diplomacy, implement the results achieved during the ASEAN Chairmanship Year 2020, and successfully fulfil the role of a UNSC non-permanent member, he said.
They also need to promote international cooperation in dealing with non-traditional security challenges such as epidemics, climate change, water security and cyber security.
In order to successfully fulfill the above tasks, ministries, departments and agencies should thoroughly grasp the documents of the 13th National Party Congress, increase efficiency of coordination mechanisms, and step up the training and capacity building for the contingent of officials engaged in integration work in the coming years, Minh concluded./.
Ba Ria – Vung Tau actively promotes connection for tourism development
A seminar to promote tourism cooperation between the southern province of Ba Ria – Vung Tau with a number of localities nationwide took place in the locality on December 24.
Ba Ria – Vung Tau signed cooperation agreements on tourism development with localities in the Southeast region, including Ho Chi Minh City, Binh Duong, Binh Phuoc, Binh Thuan, Dong Nai and Tay Ninh, and others such as Hanoi, Dak Lak and Can Tho, with the aim to further promote tourism linkages, especially amid difficulties posed by the COVID-19 pandemic.
According to Deputy Director of the provincial Department of Tourism Tran Thi Thu Hien, with its potential and advantages for tourism development, Ba Ria – Vung Tau has become a favorite destination for tourists.
Many high-quality tourism projects have been invested in the locality, contributing to increasing the tourism sector's revenue and the number of tourists to the province.
In 2016 – 2020, Ba Ria – Vung Tau welcomed over 62 million visitors, representing an average increase of 10.47 percent a year. The locality raked in 67.5 trillion VND in revenue from tourism activities in the last five years.
Tourism is identified as one of the four important pillars for the province's socio-economic development.
Participants shared experience in promoting tourism development, saying that the local authorities should work out specific plans to call for more investment to strategic tourism projects, towards creating impetus for the locality's tourism sector.
Representatives from travel agencies expressed their hope that tourism cooperation programmes in the region will be deployed widely, thus developing regional products to attract more visitors.
In 2020, the parties joining the above-mentioned agreements have focused on building coordination mechanisms and action plans to implement the contents of the agreements, diversifying regional tourism products and training human resources.
Ba Ria - Vung Tau is one of nine key economic provinces and cities of the Southeast region. The locality boasts a comprehensive transport infrastructure with seaports, airport and a network of rivers and roads convenient for tourism development.
With beautiful natural landscapes and rich potential of the sea and forests, Ba Ria - Vung Tau has long been considered as one of the attractive marine tourism centres of Vietnam./. 
Thailand: No lockdown, but COVID-19 control zoning nationwide
Thailand's Centre for COVID-19 Situation Administration (CCSA) announced on December 24 that there will be no national lockdown but COVID-19 control zoning is being imposed, based on the number and degree of new cases in localities.
CCSA spokesman Taweesilp Visanuyothin said there are four zones for COVID-19 control measures now being applied to provinces, including red zone: maximum control, considerable number of COVID-19 cases; orange zone: control zone, more than 10 cases and rising; yellow zone: high surveillance, with no more than 10 cases and control possible; and green zone: surveillance, with no cases or likelihood of infection.
The red zone presently covers only Samut Sakhon province, the epicentre of the latest COVID-19 outbreak, he said.
In this zone, infected and at-risk people as well as at-risk businesses and activities are quickly identified. Infected people are admitted to a field hospital and at-risk people are quarantined.
The control zone (orange) covers provinces surrounding Samut Sakhon - Bangkok, Samut Songkhram, Ratchaburi and Nakhon Pathom.
The high surveillance zone (yellow) comprises 25 provinces. Meanwhile, the surveillance zone (green) applies to provinces without an infected case.
New Year celebrations are banned in the maximum control zone, unless entirely online. Parties can be held in the control zone, on the condition the number of attendees is limited, Taweesilp said.
Celebrations can be organised in the two other zones, but must be downsized and no crowded gatherings allowed.
The zone control designations of the various provinces could change, depending on the situation there, he added.
Thailand recorded 67 more COVID-19 cases in December 24, including 58 community infections. The country has so far counted 5,829 COVID-19 patients, including 60 deaths.
In Indonesia, 7,199 new cases have been reported on the day, lifting the country's total to 692,838.
The number of fatalities also increased by 181, bringing the death toll to 20,589.
The disease has spread to all 34 provinces and cities nationwide. Indonesia is the country most affected by the pandemic in Southeast Asia./. 
Ca Mau workshop reviews communications on risks from UXO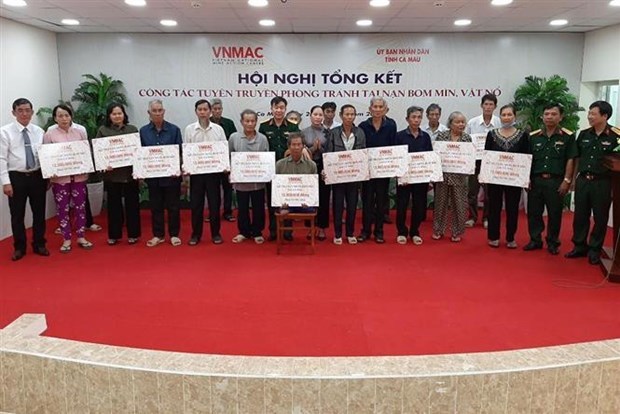 Ca Mau workshop reviews communications on risks from UXO

The Vietnam National Mine Action Centre (VNMAC) together with the People's Committee of the southernmost province of Ca Mau held a workshop on December 24 to review communications on the risks of accidents caused by unexploded ordnance (UXO).
Col. Giang Cong Bau, VNMAC Deputy General Director, said an online contest for secondary school students in Ca Mau was held for the first time in late September, in a bid to raise awareness of UXO-related accidents.
Hundreds of entries by students from 12 local schools were submitted, with 150 qualifying for the final. They included drawings, essays, stage plays, videos, and poems.
Communications on the risks from UXO have been organised for more than 50,000 students at 150 secondary and high schools in Ca Mau, according to Deputy Director of the provincial Department of Education and Training Le Hoang Du.
At the workshop, aid relief of 12 million VND (520 USD) was presented to each of 20 families in the province's Tran Van Thoi district and Ca Mau city affected by UXO.
Nearly 30 percent of the Mekong Delta is blighted by bombs, mines, and explosives. Ca Mau in particular has a total of 122,000 ha, equal to 24 percent of its natural area./.
Thailand opens electric ferry route on Bangkok's Chao Phraya River
Thai Prime Minister Prayut Chan-o-cha presided over the opening ceremony of the "MINE (Mission no Emission) Smart Ferry" project, which features an electric ferry route on Chao Phraya river and Thailand's first smart pier at CAT Tower Pier in Bangkok's Bangrak district.
In his speech at the event, the Prime Minister said this project is part of the government's 20-year plan to build transport infrastructure nationwide, and promote the use of electric vehicles, helping reduce air pollution, especially the PM2.5 problem, in metropolitan areas.
The MINE smart ferries, manufactured and operated by Thailand-based Energy Absolute, are powered by Li-Ion batteries, and can operate for 80-100 kilometres on a single charge, enough for two round trips on its 23-kilometre Chao Phraya River route.
According to project developers, the smart ferry service is in line with the UN's Sustainable Development Goals as it is safe and friendly with the environment.
The Thai government will launch more electric ferry service in the coming time. Last month, the Bangkok Metropolitan Administration (BMA) announced introduction of electric boats to replace diesel-powered ferries on Klong Padung Krungkasem canel. The service is part of the plans to connect modes of public transportation in the capital./.
Vietnam plans fundamental geological survey of minerals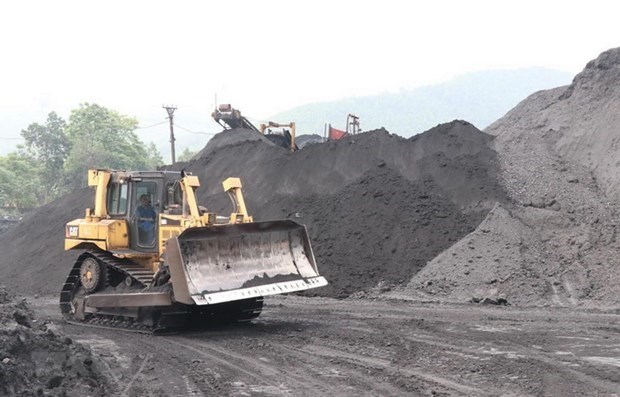 Coal exploitation
Deputy Prime Minister Trinh Dinh Dung has approved a mission to make a plan on fundamental geological survey of minerals during 2021-2030, with a vision to 2050.
The task's target is to complete the plan with high quality and feasibility and in accordance with existing regulations.
The plan will focus on analyzing and assessing the natural conditions and status quo of the fundamental geological survey of minerals, as well as the socio-economic development policies and orientations related to the survey, environmental protection and other plans involved in the survey.
The planning process should pay attention to orientations on protecting the environment, preventing natural disasters and responding to climate change.
The Ministry of Natural Resources and Environment is responsible for chairing and coordinating with relevant ministries, sectors, localities, offices and organisations to make the plan./.
Climate change research programme results highly practical: Minister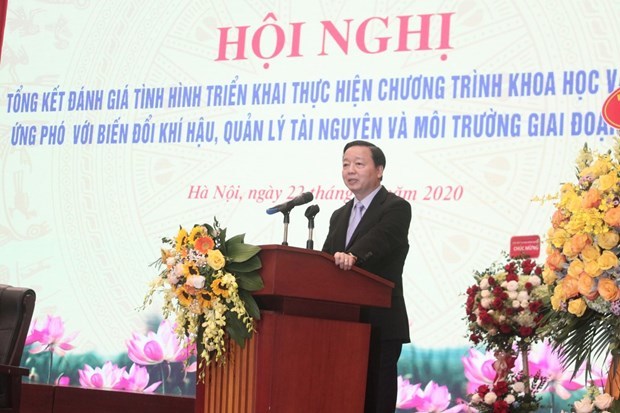 Minister of Natural Resources and Environment Tran Hong Ha (Photo: most.gov.vn)
The outcomes of the national science-technology programme on responding to climate change and managing natural resources and the environment in 2016-2020 can be applied in multiple fields in society, Minister of Natural Resources and Environment Tran Hong Ha has said.
He made the comments at a recent event held in Hanoi to review the programme, adding that results from the research have tackled issues such as climate change response in infrastructure development, weather and hydro-meteorological forecasting, and river basin and water management.
According to Deputy Minister of Natural Resources and Environment Vo Tuan Nhan, after five years of implementation, the programme has effectively applied advanced tools and models in monitoring climate change and alleviating greenhouse gases in Vietnam. It has also recommended solutions to reducing the impact of high tides, flooding, drought, and saltwater intrusion caused by climate change and sea level rises in the Mekong Delta, central coastal areas, and the Red River Delta.
By conducting 43 scientific research projects, it also provided reliable evidence for assessing the potential and value of important inland and marine resources, while proposing orientations for the sustainable planning, management, and exploitation of natural resources.
Many of these research projects were published in reputable domestic and international magazines, with outcomes transferred to sectors, ministries, departments, and localities involved.
Minister of Science and Technology Huynh Thanh Dat stressed that the programme has contributed to realising Vietnam's commitments to the Paris Agreement on Climate Change./.
Concert set to pay tribute to composer Ennio Morricone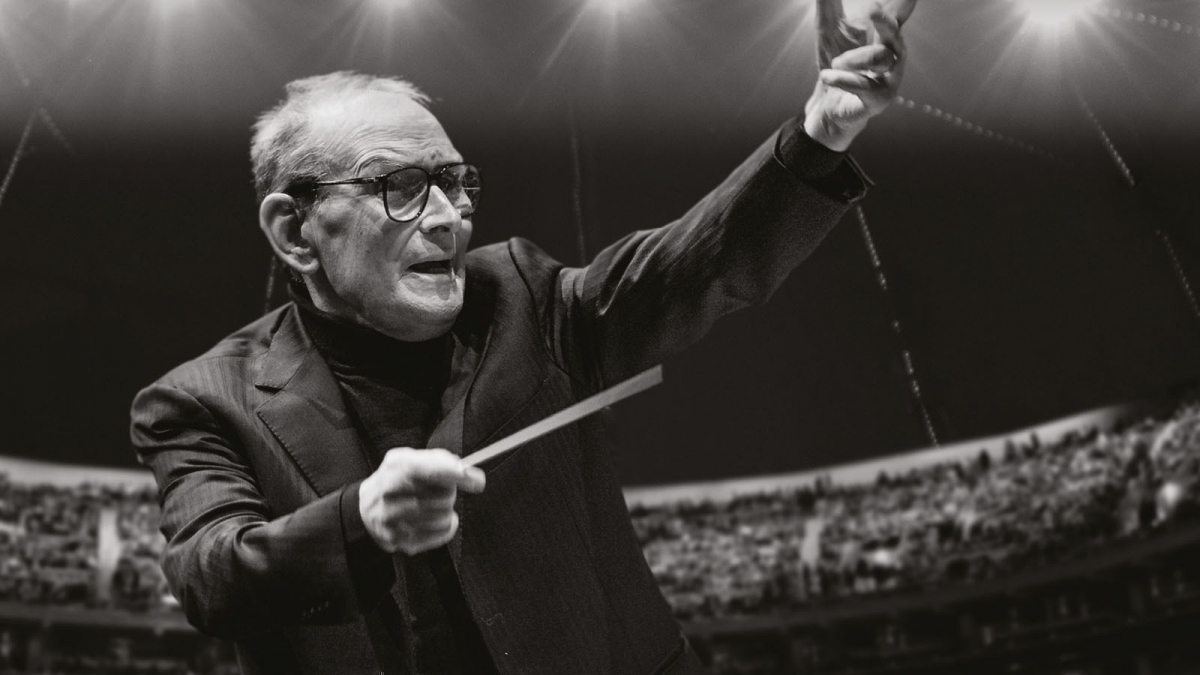 Talented musician and composer Ennio Morricone 


A concert commemorating the legacy of the extraordinarily talented musician and composer Ennio Morricone is scheduled to take place on December 27 at the Ho Chi Minh City Ballet Symphony Orchestra and Opera (HBSO).

The tribute concert will feature performances of his music from the classic films Cinema Paradiso (1988), Once Upon a Time in America (1984), The Good, the Bad and the Ugly (1964), The Legend of 1900 (1988), The Mission (1986), and La Califfa (1970).
Music played throughout the event will be performed by the Saigon Philharmonic Orchestra (SPO) semi-classic orchestra, who will be joined by jazz band Jumpforjazz. The evening will feature Nguyen Tuan Loc as a conductor, Le Minh Hien as solo violinist, Pham Ngoc Khanh as vocalist, and Lan Anh as solo pianist. Indeed, musical arrangements will be provided by Maestro Roberto Fiore and Nguyen Bao Long.
Beauty contest launched to search for Da Nang tourism ambassador
The Miss Tourism Da Nang 2021 pageant got underway in central Da Nang city on December 23, with the competition being held for the purpose of finding an ambassador who will go on to play a vital role in introducing aspects of local tourism and culture to international friends.
The contest will be open to all Vietnamese girls aged between 18 and 27 who are not already married and stand above 1.58 metres tall.
Those wishing to participate in the pageant are required to either live, study, or work in Da Nang, whilst they must display a strong commitment and dedication to the central city's tourism industry.
The winner on the competition will be given a two-year term in which they will represent the tourism industry of Da Nang and promote the city's culture and tourism both at home and abroad.
Contestants will be able to send their profiles to the organisers from January 30, 2021. The grand final of the pageant is scheduled to take place in Da Nang city on April 29 next year. 
As well as awarding titles for Miss Tourism Da Nang 2021 and the two runners-up, the contest's organisers will give prizes to winners of the various sub-contests, including Miss Fashion, Miss Communications, Miss Talent, and Miss Sports.
The total prize value on offer will be up to VND2 billion in cash and other gifts.
The pageant's ultimate winner will also qualify for the semi-finals of the Miss Vietnam and Miss World Vietnam beauty contests.
HIV transmission risks high among adolescents
Vietnam has seen an increase in the number of adolescents infected with HIV, especially among gays.
Statistics from the Health Ministry showed that the number of HIV carriers aged 15-16 rose three-fold in 2019 from 2011.
Associate Prof. Dr. Nguyen Hoang Long, Director of the Vietnam Administration for HIV/AIDS Control, attributed the increase to homosexual sex among boys and drug abuse at schools.
Among 375 patients under treatment at Children Hospital No.1 in Ho Chi Minh City, 57 age above 15 and 226 others age 10-15.
Over the past years, the hospital has worked closely with the Partnership for Health Advancement in Vietnam, the Ho Chi Minh City Disease Control Centre and other social organisations to hold training courses on HIV transmission prevention and control, and partnered with other units to offer vocational training to HIV-infected youths who left schools./.
Cash grants, water buckets, hygiene kits support natural disaster-affected people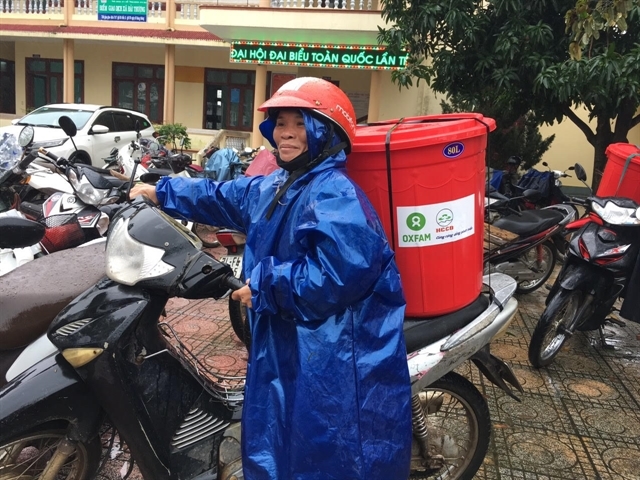 A local receives a water bucket from the first distribution of unconditional cash grants, water buckets and women dignity hygiene kits.
The first distribution of unconditional cash grants, water buckets and women dignity hygiene kits reached the most disaster affected women, men and children in Hải Lăng District, Quảng Trị Province over the weekend.
Accordingly, 1,000 households in Hải Thượng and Hải Định communes, Hải Lăng District, have received unconditional cash relief and another 1,000 have received 80-liter water buckets and sanitary kits, as part of the "Central Vietnam Flooding Emergency" project implemented by Oxfam, in collaboration with the Hà Tĩnh Center for Community Development (HCCD) and Quảng Nam Red Cross.
With a total budget of US$980,000 the project benefits affected people in the provinces of Quảng Trị, Quảng Bình, Hà Tĩnh, and Quảng Nam. The implementation period is from November 2020 to May 2021.
Oxfam and HCCD also activated a beneficiary feedback mechanism using local hotlines before, during and after the distribution to handle complaints timely and effectively.
"Our humanitarian relief and recovery project prioritises supporting households that are severely affected by natural disasters, poor and near-poor households, pregnant women or women with small children, female-headed households that have lost their jobs or income due to Covid-19, people with disabilities, and the elderly," said Oxfam's Project Manager, Vũ Xuân Việt.
Attending the distribution event, Vice President of Hải Lăng District People's Committee Cáp Xuân Tá said that this was timely and meaningful support, helping people in Hải Lăng overcome the difficulties caused by the double crisis of Covid-19 and multiple natural disasters in 2020.
After Quảng Trị, emergency relief and recovery support will be accelerated in most affected districts of Quảng Bình, Hà Tĩnh and Quảng Nam provinces. The six-month project aims at meeting priority needs of some 70,000 most affected individuals in relief and recovery phases to provide dignity life-saving support in areas of food security and livelihood, water sanitation and hygiene, as well as to strengthen operational capacity and response professionalism by local humanitarian partners.
"Oxfam's support will not only address immediate needs of disaster affected women and men in Bắc Trà My District through provision of unconditional cash grants and household kits. I believe that livelihood recovery support including water quality monitoring, conditional cash grant, and cash for work activities will contribute to medium to long term needs of disaster affected, poor people to build back their lives better", said Thái Hoàng Vũ, Chairman of Bắc Trà My District's People's Committee, in Quảng Nam Province.
Long An to undertake more water supply projects in rural areas
The Cửu Long (Mekong) Delta province of Long An will carry out 31 water supply projects in 2021- 25 to benefit nearly 28,900 rural households.
To cost VNĐ349 billion (US$16.97 million), they will be funded by both the province's coffers and public contributions.   
Groundwater will be extracted from 280 – 300 metres.   
The projects will be located in Kiến Tường Town and the districts of Tân Hưng, Vĩnh Hưng, Mộc Hóa, Tân Thạnh, Thạnh Hóa, Thủ Thừa, Bến Lức, Đức Hòa, Đức Huệ, Tân Trụ, and Cần Đước.
They will help increase the rate of rural households getting water supplied by pipe by 9 per cent and complete a target set for this in new- style rural areas, according to the province Department of Agriculture and Rural Development.
The rate is now 51.8 per cent, almost exactly the same as the national average, it said.
Cần Giuộc and Cần Đước are the two districts that have faced the worst shortage in recent years.  
In the 2019 – 20 dry season, for instance, more than 8,000 households in the two districts faced a shortage.
But the province has undertaken a number of water supply projects and basically resolved their shortage.    
Nguyễn Văn Việt, who lives in Cần Đước's Phước Đông Commune and now gets tap water, said in the past most people there depended on the rain or rivers for water.
The water supply is now regular and meets the needs of households now, he added. 
COVID-19-affected poor ethnic groups get supports
The northwest mountainous Hà Giang provincial People's Committee and the United Nations Development Programme (UNDP), have helped construct 26.5km of new rural roads connecting 17 hamlets of Yên Minh District and four other hamlets of Đồng Văn District.
The province said the rural road system will help connect rural mountainous communes of Na Khê, Lao Và Chai, Hữu Vinh, Ngâm La and Du Già with the centre of Yên Minh District, and hamlets of Lũng Táo and Sính Lũng communes with Đồng Văn District's centre.
With funding and support from the Government of Japan, UNDP has helped more than 1,200 poor ethnic minority people whose livelihoods have been severely impacted by the COVID-19 pandemic, to earn an income.
Through this support, not only do ethnic minority people have more money for their daily lives, but they have also contributed to building roads that will improve transportation between hard-to-reach areas.
The UNDP's gender-sensitive assessment of the socio-economic impacts of the COVID-19 pandemic in Việt Nam found that vulnerable households have been disproportionately impacted, especially households of ethnic people, migrant and informal workers.
Meanwhile, incomes from agriculture and tourism activities have been significantly reduced due to border closures and travel restrictions, worsening the already-challenging conditions being faced by ethnic groups living in Hà Giang Province.
Caitlin Wiesen, UNDP Resident Representative in Việt Nam, said: "Besides providing incomes for more than 1,200 people to cover their essential needs and begin to recover their livelihoods during the pandemic, the 19 roads constructed through this project will assist 8,000 people from ethnic minorities in mountainous areas, including women, the elderly and children, to access education, health services, markets and employment, ensuring that no one is left behind."
Dương Anh Phương, Vice chairwoman of the Hà Giang Women's Union added: "This is a very helpful package to support the very poor who have lost their jobs due to the COVID-19 pandemic. We have also provided consultations and support for the women who received this assistance on how to more effectively use the money, such as buying seedlings, breeding stock, and the like."
Phàn A Chẩu, head of Nà Ngù hamlet, Ngâm La commune said: "We are very happy, and all the support from the donor, the local government, and the Women's Union is highly appreciated. Thanks for supporting us with new roads and income for the local poor people."
UNDP has also mobilised funding from the Multi-Partner Trust Fund (MPTF) to provide emergency support for 600 members of fabric cooperatives in the province that were closed due to the COVID-19 pandemic, in which each member received VNĐ2.3 million ($100) and a PPE package to minimise the risk of infection.
Endoscopic endonasal surgical techniques used to treat rare vascular tumors
Endoscopic endonasal surgical technique is the gold standard to treat juvenile nasopharyngeal angiofibroma, a rare benign vascular tumour that appears in the nasal cavity, doctors at HCM City Children's Hospital 1 have said.
"These techniques have become more widespread recently as there are advantages like reduced blood loss during surgery, fewer post-op complications, and reduced length of hospital stay compared to open surgery," Dr Dương Minh Toàn of the hospital's ear-nose-throat department, said.
Dr Nguyễn Tuấn Như, head of the department, said there is no tumuor recurrence.  
The techniques have been used to treat a 13-year-old from Tây Ninh Province. On November 22 the patient was brought to the hospital with excessive bleeding from the left nostril.
He had suffered from repeated nosebleeds for a year, with bleeding lasting more than 30 minutes.
Local doctors had diagnosed a nasal infection, but his situation became worse.
At the Children's Hospital 1, doctors found a white mass in the left nostril of the boy, and said he had juvenile nasopharyngeal angiofibroma (JNA).
They used endoscopic endonasal surgical techniques to remove the 12-centimetre tumour on December 2. The process took five hours. 
The patient has recovered and was discharged from the hospital on December 18, Toàn said.
Dr Như said that JNA is uncommon, and is a benign vascular tumour, but it is dangerous because the tumour is in a position where it is very difficult for doctors to remove.
If the patient is not treated early, the blockage of the eustachian tube may cause deafness and otalgia. The patient also could suffer from headaches due to chronic sinusitis or intracranial extension, Như said.
Pressure on the optic chaisma may cause vision impairment, he added.  
According to Dr Toàn, the hospital admits 10-15 patients with JNA every year. JNA accounts for nearly 0.5 per cent of head and neck tumours. The cause of the disease is not known. It occurs almost exclusively in males. The average age of onset is 15 years old.  
Its symptoms include nasal obstruction, repeated nosebleeds and anaemia. The voice acquires a nasal intonation and may become plummy if swelling enlarges to force the soft palate down.
Parents should bring their children to hospitals for examination and treatment if a nosebleed lasts for more than 15 minutes. 
Project for organisation of film festivals during 2021-2030 approved
The Ministry of Culture, Sports and Tourism has issued Decision No. 3763/QĐ-BVHTTDL to approve the Project for the organisation of film festivals during the 2021-2030 period.
The project clearly emphasises that so far, Vietnam Cinema has successfully organised 21 Vietnam National Film Festivals, five Hanoi International Film Festivals and hundreds of Vietnamese Film Festivals/Weeks across various continents.
Under the project, in addition to the annual Vietnam Film Festivals and Hanoi International Film Festivals, various thematic film festivals/weeks will be held to encourage the development of domestic cinema.
Meanwhile, a wide range of Vietnamese film festivals in foreign countries will contribute to celebrating the diplomatic ties between Vietnam and other nations, contributing to promoting Vietnamese cinema and the image of the country to international friends.
Specifically, the Vietnam Film Festival will be held biennially alternately in the provinces and cities directly under the control of central government. The Hanoi International Film Festival will take place biennially in the capital city.
The relevant agencies will develop plans for thematic and special film festivals both in the country and abroad, depending on the scale, participants and places.
Some 10,000 children suffer from malnutrition in disaster-hit provinces: UNICEF
An estimated 10,000 children under five years of age in Vietnam's central provinces affected by the recent storms and floods are suffering from acute malnutrition and their situation could further deteriorate due to the negative impacts of the Covid-19 pandemic and healthcare service disruptions, according to the United Nations International Children's Emergency Fund (UNICEF).
As much as 10 tons of ready-to-use therapeutic food has been distributed to commune health centers through coordination between the UNICEF, the National Institute of Nutrition and other partners. More nutrition supplies are arriving to treat over 4,000 acutely malnourished children for the next three months.
"There's no time to lose to get therapeutic food to the frontline healthcare workers in communes to treat children suffering from malnutrition," said Rana Flowers, UNICEF representative to Vietnam.
"These acutely malnourished children cannot wait. With the downturn caused by Covid-19, many families in this region were already struggling to provide three nutritious meals a day, and the flooding has dramatically compounded their situation," she added.
To help address the devastating flood emergency in central Vietnam, UNICEF is providing life-saving relief to vulnerable children and women from the affected areas. The fund has ordered a total of 60 tons of food to be shipped to Vietnam in the coming weeks from its Supply Division in Copenhagen.
The food meets international standards and is in the form of a soft biscuit that provides all the energy and micro-nutrients required for the treatment of severe acute malnutrition. The most severely malnourished children will be prioritized, ensuring that they get immediate benefits.
According to Rana Flowers, children have been among the most affected by the recent natural disasters and the pandemic. "UNICEF is working with partners to bring emergency relief to the affected children and women in central Vietnam, prioritizing access to clean water, sanitation facilities, healthcare, nutrition, education, psycho-social support and child protection," she said.
Up to now, UNICEF has mobilized US$2.6 million from the governments of Australia and New Zealand, the United Nations' Central Emergency Response Fund and other supporters in multiple countries to address the urgent needs of the most vulnerable children, their families and communities in the most affected provinces.
Source: VNA/VNN/VNS/SGGP/VOV/NDO/Dtinews/SGT/VIR