Legal proceedings started against case of COVID-19 Patient 1440
Director of An Giang province's Department of Public Security, Col. Dinh Van Noi, announced on December 30 that the department's Investigation Security Agency has issued a decision to begin legal proceedings in a case of organising illegal entry into Vietnam in the local district of An Phu on December 24.
Noi said that the investigation detected signs of criminal activity in the case, and decided to commence legal proceedings to expand investigations.
The province's Department of Public Security is coordinating with the provincial Border Guard and An Phu district authorities in catching those that helped COVID-19 Patient 1440 illegally enter Vietnam.
It is a complicated case of community concern and affects the entire country's disease prevention efforts, he said.
He called on anyone who has information relating to the criminal ring to call 0947 664 882.
Earlier, after determining that Patient 1440 had illegally entered Vietnam at An Phu district's border with Cambodia and then travelled to Vinh Long province in a car, the provincial Department of Public Security coordinated with the Departments of Public Security of Vinh Long, Dong Thap, Soc Trang, Can Tho city and HCM City to trace people who had close contact with the patient.
Patient 1440 entered Vietnam illegally with five other people, three of whom then tested positive for the coronavirus./.
Major fire in scrapyard near Thanh Tri Bridge, Hanoi
A major fire broke out at a 2,000sq.m scrapyard near Thanh Trì Bridge in Hà Nội this afternoon, with billowing columns of black smoke visible over the city's skyline.
The yard, belonging to Sơn Thanh company specialising in recycling and producing plastic goods, is a few hundred metres away from the nearest residential area in Hoàng Mai District.
The fire was largely brought under control after three fire trucks and dozens of firefighters were deployed to the site.
There are no reports of any casualties.
The cause is under investigation.
Many curious drivers travelling on Thanh Trì Bridge stopped to watch the fire, leading to a temporary traffic jam on the bridge. 
Pedestrian zone around Hoan Kiem lake extended
The pilot extension of the walking streets around the iconic Hoan Kiem lake downtown Hanoi is schedule to begin on December 25, Hoan Kiem district authorities has said.

The extended areas consist of eight streets – Hang Dau, Cau Go, Hang Be, Hang Bac, Dinh Liet, Gia Ngu, Dao Duy Tu, and O Quan Chuong – and three alleys – Cau Go, Trung Yen, and Phat Loc.
According to plan, they are vehicle-free on Friday, Saturday, and Sunday evenings from 7pm in summer and 6pm in winter to midnight.
The extension will be officially starting January 1 in 2021.
The original pedestrian zone, covering more than 10 streets in the Hanoi Old Quarter, was put into operation in September 2016. It has since become a major attraction the capital city./. 
Russian President extends New Year greetings to Vietnam
Russian President Vladimir Putin on December 30 extended his greetings to General Secretary of the Communist Party of Vietnam Central Committee and President Nguyen Phu Trong on the occasion of the New Year 2021 and Vietnam's coming Tet (Lunar New Year) holiday.
In his message, Putin noted the importance of maintaining the positive dynamics of Russian-Vietnamese ties in various areas despite the difficulties arising from the coronavirus pandemic, according to Kremlin's official website.
He expressed confidence that through joint efforts of Russia and Vietnam, it would be possible to ensure the further build-up of the comprehensive strategic partnership, which fully meets the interests of the two countries' friendly peoples and is in line with strengthening peace, security and stability in the Asia-Pacific region.
The same day, the Russian President also sent his New Year greetings to heads of state and government of many other countries worldwide, as well as executives of international organisations./.
Many cases under quarantine in localities
Six people who shared the same coach with COVID-19 Patient No.1452 have been put under quarantine in the Mekong Delta province of Ben Tre, according to Deputy Director of the provincial Disease Control Centre Nguyen Huu Dinh.
The patient is a 31-year-old Vietnamese woman residing in Lai Vung district, the Mekong Delta province of Dong Thap. She illegally entered the country via an open trail on December 24 together with Patient No.1440, then travelled to Dong Thap.
She tested positive to SARS-CoV-2 by Pasteur Institute in Ho Chi Minh City on December 27.
The provincial Steering Committee for COVID-19 Prevention and Control directed authorities to seriously launch pandemic prevention and control measures.
On December 30, the People's Committee of Bac Kan province also directed units concerned to promptly take four illegal Chinese immigrants and one Vietnamese to quarantine.
They were found on a coach which was stopped by police on its way to Hanoi.
 
Another illegal immigrant was also quarantined in the Mekong Delta province of Tien Giang the same day./.
Snow forecasted to hit Mount Fansipan
Mount Fansipan would see snow at New Year as the temperature drops to below zero degrees centigrade.
According to Lao Cai Province's Centre for Hydro-meteorological Forecasting, a strong cold snap would hit the northern region of Vietnam from Tuesday evening. The weather would then affect central localities.  
The province is likely to have the highest temperature of 9-10 degrees centigrade. The temperature in Sapa would drop to 0-2 degrees centigrade.
This would be the strongest cold front in Sapa since the onset of winter this year, said Luu Minh Hai, Lao Cai Province's Centre for Hydro-meteorological Forecasting.
Snow also recently blanketed Mount Fansipan.
The temperature of Lao Cai between October and March next year is predicted to be equal to that of many previous years. Meanwhile, it was around 0.5-1 degree centigrade lower in November and December this year and February next year. 
Vietnam-Myanmar 9th annual political consultation
Vietnam and Myanmar held their 9th annual political consultation at the deputy foreign ministerial level on December 28 in the form of a videoconference.
Speaking at the event, Vietnamese Deputy Foreign Minister Nguyen Quoc Dung congratulated Myanmar for its recent successful election, and affirmed that Vietnam is ready to cooperate, support and share experience with Myanmar.
Meanwhile, Deputy Minister of International Cooperation of Myanmar Hau Do Suan congratulated Vietnam on its prominent successes in the recent past, and spoke highly of Vietnam's active cooperation with and support to Myanmar in the fight against the COVID-19 pandemic.
On bilateral relations, the two sides noted with satisfaction the great progress in the key cooperation fields since the establishment of the comprehensive cooperative partnership in 2017.
The two officials stressed that in the time to come, the two sides should continue closely coordinating, bringing bilateral ties to a new height. They agreed to continue boosting the high-level visits and contacts, and important cooperation mechanisms.
On regional and international cooperation, the two sides agreed to continue coordinating their stances and mutual support within the framework of multilateral forums, especially in ASEAN and at the UN. They also agreed to join other ASEAN countries in intensifying solidarity and accelerating the successful building of the ASEAN Community.
Besides, the two sides exchanged and shared viewpoints on a number of regional and international issues of mutual interest, including the regional situation, relations among powers, and those on Rakhine and the East Sea. They agreed to cooperate and closely coordinate within bilateral and multilateral frameworks, for the benefit of the two peoples and for the sake of peace, stability and development in the region.
The two sides agreed to hold the 10th political consultation in 2021./.
Noi Bai airport's upgraded runway ready for operation
The upgrade of runway 1B at Noi Bai International Airport in Hanoi will be put into operation by 0:00 on December 31 to meet the peak travel demand for the Tet (Lunar New Year) holiday.
Noi Bai is one of the two biggest airports which play an important role in boosting economic development and ensuring defence security.
According to Director of the Thang Long Management Board project under the Ministry of Transport Duong Viet Roan, all workload of the runway 1B upgrade was completed on December 27.
Work on checking and taking over the 3,000-metre taxiway and other facilities is being sped up, Roan said.
The management board had a working session with representatives from the Civil Aviation Authority of Vietnam (CAAV) on December 28 to discuss plans of aircraft operation and other issues.
The runway's operation duration is expected to be at least 30 years, and even up to 50 years if the periodic maintenance work is carried out regularly in line with regulations, he noted.
The CAAV has granted flight permits to domestic airlines to serve the peak days during the New Year festival and the Year of the Ox (lunar New Year) in accordance with the capacity of Noi Bai International Airport.
The two-phase project to repair the Noi Bai runway kicked start on June 29 with an estimated cost of about 2.03 trillion VND (over 88 million USD). The second phase is scheduled to be completed by December 31, 2021./.
Hanoi, HCM City pay attention to urban development in 2021
Officials from Hanoi and Ho Chi Minh City expressed their resolve to implement the Government's first resolution in 2021, adding that they pay great attention to urban planning and development in their cities.
At a conference between the Government and localities held in Hanoi on December 28, Chairman of Hanoi People's Committee Chu Ngoc Anh said Hanoi has set the motto for 2021 as the year of order, responsibility, action, innovation and development.
In 2021, Hanoi has set 23 major socio-economic development targets, including a 7.5 percent growth in GRDP. He affirmed that Hanoi will issue a plan of action to implement the Government's resolution right at the beginning of January 2021.
Regarding the allocation of capital and estimates verification related to the planning for Hanoi for the 2021-2030 period with a vision to 2045, Hanoi proposed that the Government issue a decree guiding the implementation of the NA's resolution 97 on the pilot urban administration in the capital city.
Meanwhile, HCM City designated the theme of 2021 as the year for building urban administration and improving the investment climate, with an overall goal of continuing to realize the twin objectives set by the government on well controlling the COVID-19 pandemic while effectively carrying out economic recovery programmes across sectors and fields.
Chairman of the city's People's Committee Nguyen Thanh Phong said the city will make the full use of all resources, unceasingly promote innovation, push digital transformation to build a smart city, enhance the efficiency and effectiveness of State management and accelerate administrative reforms.
HCM City has mapped out its socio-economic development plan for 2021 with 20 targets and nine key contents
Phong stressed that the city will deploy in schedule a plan on urban administration in HCM City in accordance with the Government's Resolution 131 and a related guidance decree, arrange district- and commune-level administrative units and study specific mechanisms and policies to develop Thu Duc city to submit to central agencies for approval. HCM City plans to announce the NA's Standing Committee's resolution on the establishment of Thu Duc city under HCM City on December 31.
The HCM City official asked the Government to early issue a decree guiding the organization of urban administration in the city before January 1, 2021./.
Houses of charity handed over to the needy in HCM City
Ten houses of charity were handed over to poor households and those living near the poverty line in HCM City's Can Gio district on December 28.
The houses were built at a cost of 700 million VND (30,360 USD), raised by the Vietnam Fatherland Front (VFF) Committees of centrally-run cities and provinces, including 400 million VND from the VFF Committees of Can Tho, Da Nang, Hai Phong, and Hanoi, with the remainder from the HCM City Thien Tam (Kind Heart) Foundation through the city's VFF Committee.
Addressing a ceremony to hand over the houses to beneficiaries, To Thi Bich Chau, President of the HCM City VFF Committee and head of the VFF delegation, said that the gifts aim to help households settle down and promote production, thus escaping from poverty.
She wished them a warm Lunar New Year (Tet), expressing a hope that they will continue to actively engage in movements launched by the VFF at all levels, contributing to building a prosperous and modern city./.
Outstanding ethnic minority students honoured
Some 122 outstanding students from ethnic minority groups in 47 localities were honoured at a ceremony in Hanoi on December 29.
Addressing the event, Do Van Chien, Minister-Chairman of the Government Committee of Ethnic Minority Affairs sad that the Party and State have paid special attention to socio-economic development and education services in mountainous and ethnic minority-inhabited areas.
A conclusion of the Politburo clarified the significance of the improvement of education-training quality for mountainous and ethnic minority-inhabited areas, along with the maintenance of the achievement in illiteracy elimination and the universalisation of pre-school, primary and secondary education, he said.
The document also underlined the need to enhance the quality and expanding the network of boarding schools for ethnic minority students, while supporting those from areas facing extreme difficulties, he added.
He noted that thanks to the proper investment in education services and support policies in the field, the number of ethnic minority students showing strong academic, art and sport performance as well as the number of students passing university exam have increased through years.
Among the honoured students, 13 won first and second prizes in the national contest for outstanding students in 2020, and seven bagged high prizes at art and sport tournaments.
Meanwhile, Deputy Prime Minister Truong Hoa Binh underscored the important role of mountainous and ethnic minority-inhabited areas in the socio-economic, defence-security and environmental protection strategy of the country.
He suggested that ministries, sectors and localities, especially the Government Committee of Ethnic Minority Affairs should coordinate with relevant agencies to effectively implement projects under the National Target Programme on Socio-Economic Development in mountainous and ethnic minority-inhabited areas, while giving more support to education officials in the areas.
The Deputy PM called on the whole political system and business community to join hands in assisting students in the areas to pursue studying activities.
At the ceremony, Deputy PM Binh presented scholarships totaling 500 million VND to the outstanding ethnic minority students. Minister of Public Security To Lam also presented each student with a tablet./.
Long An begins to crack down on pollution of canals
 
The Long An Province People's Committee has ordered relevant agencies and Đức Hòa District to improve oversight of pollution, especially around industrial parks and industrial clusters, to resolve the problem of the worsening state of canals in the district.
The Department of Natural Resources and Environment and other agencies are required to frequently carry out random checks of producers who discharge large volumes of wastewater and risk causing pollution at the Đức Hòa Đông, Đức Hòa Hạ and Hoàng Gia industrial clusters in the district.
Producers should upgrade their wastewater treatment systems to ensure they meet required standards, the People's Committee said.
The Đức Hòa People's Committee will inspect rental house areas that lack a wastewater treatment system or have one that fails to meet required standards.
It will draft a plan to dredge canals polluted by wastewater from industrial production.
It seeks to get rid of the pollution at the three industrial clusters and rental house areas.
The clusters do not have wastewater treatment systems.
Rental house areas in the district release about 6,000 – 8,000 cu.m of untreated wastewater a day into the environment.  
Tests of local canals like An Hạ, Ranh and T1 unsurprisingly show their water is polluted.
The concentration of dissolved oxygen (DO) does not meet national standards while biological oxygen demand exceeds the standard by 1.5 – 3 times, chemical oxygen demand by 1.3 – 6 times and ammonia by 1.2 – 7 times.
HCM City to save 2 percent power by 2025
HCM City has set a target to save at least 2 per cent of total energy consumption each year in the 2021-2025 period.
The city is drafting a plan on energy savings and promoting energy efficiency in the next five years.
The aim is to reduce greenhouse gas emissions and the effects of climate change, and contribute to national energy security.
The city wants all citizens to take part in energy savings.
According to the city's Department of Industry and Trade, the energy-saving programme has achieved significant success since 2016, contributing to socio-economic development and reducing pollution.
The department has taken numerous measures to mobilise all businesses to join the programme and encouraged the use of high-performance equipment and energy-efficient technologies.
Between 2017 and 2019, the programme helped to reduce more than one million tonnes of carbon dioxide (CO2) emissions.
The city's Department of Natural Resources and Environment has implemented many solutions and strengthened dissemination of information to improve public awareness about the importance of using energy effectively.
The department, in collaboration with media agencies, has organised many activities in response to the global Earth Hour event and the city's energy-saving programme.
It has also urged replacing existing lighting systems with LED lights.
Producers and importers are also required to affix equipment and vehicles with energy labels pursuant to the Law on Energy Conservation.
Vietnamese youth say no to cigarettes and e-cigarettes campaign launched
The Hồ Chí Minh Communist Youth Union, in coordination with the Tobacco Harm Prevention Fund and the global health organisation Vital Strategies, launched a communication campaign on tobacco harm prevention on Saturday in Hà Nội.
The campaign, entitled "Vietnamese youth say no to cigarettes and e-cigarettes", aims to raise awareness among youth union members and other young people about the harmful effects of tobacco, promoting the role of union members and youth in tobacco harm prevention, building a healthy lifestyle and a smoke-free environment among Vietnamese youth.
The event also aims to raise the young generation's awareness about the harmful effects of new tobacco products such as electronic nicotine delivery systems (ENDs) and heated tobacco products (HTPs), thereby calling on young people to fulfil their commitments to not use tobacco and e-cigarettes.
At the ceremony, the representative of the Central Committee of the Hồ Chí Minh Communist Youth Union said that the campaign is very important and urgent in the context of tobacco corporations promoting the consumption of tobacco products, especially new tobacco products such as electronic cigarettes and heated cigarettes, among young people.
Director of the Medical Services Administration and director of the Tobacco Harm Prevention Fund Lương Ngọc Khuê said that cigarettes in general and e-cigarettes and heated cigarettes in particular contain addictive nicotine, which can harm the respiratory system and cardiovascular system of smokers and those around.
"According to the World Health Organisation (WHO), e-cigarettes are not a safe and effective nicotine replacement therapy, but on the contrary, evidence shows that e-cigarette and heated cigarette users may have a risk of using traditional cigarettes, as many people may use both e-cigarettes and cigarettes at the same time," said Khuê.
Nearly 1,000 students of the Academy of Journalism and Communication have pledged to say no to cigarettes and e-cigarettes by joining an online signing campaign.— VNS Photo Thanh Hải
The Tobacco Harm Prevention Fund said that around the world, the rate of e-cigarette use is increasing among young people. In the US, the rate increased to 27 per cent in 2019 from 11.7 per cent in 2017 and two-thirds of e-smokers are teenagers. A study in 13 Eastern European countries showed that 2.6 per cent of non-smoker adolescents have tried ENDS at least three times. In Việt Nam, about 2.6 per cent of young people, aged 13-17, had used e-cigarettes in 2019.
At the event, nearly 1,000 students of the Academy of Journalism and Communication pledged to say no to cigarettes and e-cigarettes by joining an online signing campaign.
The Hồ Chí Minh Communist Youth Union will continue to maintain and promote the campaign's communication on websites of the Central Youth Union and provinces across the country and on the Facebook fan page "Smoke Free Vietnam - vn0khoithuoc".
E-cigarettes will continue to cause a heavy burden of disease and disease costs in Việt Nam. According to WHO, around the world tobacco use causes 8 million deaths each year (7 million from direct smoking and 1.2 million from passive smoking). The global cost of smoking is $1 trillion. In Việt Nam, tobacco causes 40,000 premature deaths each year. Spending on smoking accounts for over VNĐ31 trillion per year among Vietnamese households. The cost of a number of common tobacco-related diseases has reached over VNĐ21 trillion per year, according to the Tobacco Harm Prevention Fund. 
HCM City ensures traffic safety during Tết
Heavy traffic on Hoàng Văn Thụ Street near Tân Sơn Nhất International Airport in HCM City's Tân Bình District at rush hour.
An action plan from December 30 to February 19 will ensure traffic safety and reduce congestion at traffic hotspots in HCM City before, during and after the Tết (Lunar New Year) holiday.
The municipal People's Committee has issued the plan in combination with COVID-19 pandemic prevention for the peak Tết holiday and spring festival 2021 season.
Measures will be taken to ease traffic flow at the airport as well as seaports, railway stations and bus stations during the holiday period.
The committee has asked the police department to direct functional forces, in coordination with inspectors of the Transport Department, to strengthen traffic control at main roads and high-risk hotspots for congestion and accidents, and promptly handle any situation.
The action plan aims to prevent prolonged congestion at traffic hotspots, such as streets leading to Tân Sơn Nhất international Airport in Tân Bình District; Cát Lái Port in District 2; inter-provincial bus stations; An Sương Intersection between District 12 and Hóc Môn District; Phú Hữu Roundabout in District 9; sections of National Highway No 1A near Suối Tiên Theme Park in District 9 and Bình Chánh District; and the HCM City - Long Thành - Dầu Giây Expressway.
The transport department will work with the police department to regularly patrol, inspect and strictly handle violations of passenger transport services. These include carrying more than the permitted number of passengers, parking or picking up and dropping off passengers at the wrong places, and travelling in the wrong direction.
It will check automated non-stop toll collections at build-operate-transfer (BOT) road toll stations, and order BOT investors to suspend collection of toll charges if congestion occurs at their toll stations.
Regulating traffic flow will be also enhanced at the city's gateways, areas around festivals, roads with high traffic volume, and main routes that connect with key traffic hubs.
Young policeman honoured for bravery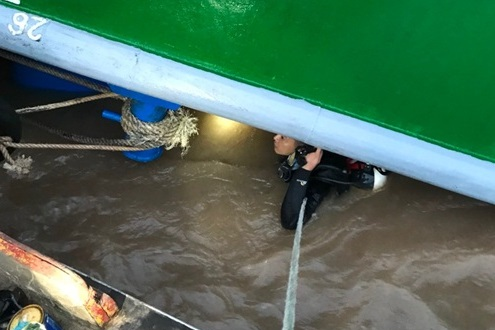 Sergeant Lê Hoàng Khang in the water looking for victims of the barge sinking accident in February. Photo courtesy Sóc Trăng Police
When he dove 5m down into the cold water to save a woman trapped in a barge sinking in the Hậu River, sergeant Lê Hoàng Khang wasn't worried about the risk to his life.
"When I jumped into the river, I had a feeling of discomfort and was very scared because the river was flowing very fast at that time", Quân recalled.
"But I thought about the victim's family who lost their loved one so I had to try to find the victim," the sergeant said.
The barge, owned by Trần Vĩnh Xuyên, travelling from Cần Thơ Province to Sóc Trăng Province in Hậu River capsized with five people on board in February, including a woman and two children.
Sergeant Khang was assigned to dive into the river to find the victims and found someone alive in the barge's cabin.
After hours struggling in deep and cold water, he managed to bring one victim out of the river. The two kids, unfortunately, went missing and were found dead later.
Khang was one of the police officers who attended the 10th National Patriotic Emulation Congress earlier this month
"Since being a student in secondary school, I dreamed of becoming a policeman," said Khang.
"I wanted to serve the country," he said.
After graduating from high school in 2016, Khang signed up for the police service and was assigned to the Fire and Rescue Police Department of Sóc Trăng.
In his four years of service, Khang has participated in more than 20 fire and rescue cases.
He has also trained local people on fire control and prevention.
Among the rescues, he has faced some unforgettable, heartbreaking scenes.
"I clearly remembered that was an evening of October 1st, 2018," Khang recalled.
"My teammates and I received an order to quickly rescue a 9th grader who was drowning in Long Đức Commune, Long Phú District," he said.
At the scene, he was assigned to dive into the river while his teammates sat on the boat for support.
Although the river was not large, it had just been dredged so it was quite deep and the water was flowing strongly.
"When diving into the river, I felt a little bit scared because it was dark at that time," he said.
"But thinking about how the pain of victim's family would pile up if the body was not found so I had to try to find the victim's body," he said.
It was past midnight (more than nine hours since the incident) but the victim was still not found, so the leader of the unit ordered the withdrawal of troops for the next day to find more.
Khang continued his work the next day.
Although he was tired and had injured his leg, looking at the pain of the victim's family and the encouragement of his teammates, Khang kept diving into the river.
After more than three hours, he found the victim's body.
Khang received the merit of Sóc Trăng Police for his bravery.
After three years serving as an intern policeman, Khang became a policeman on the payroll of Sóc Trăng Police last year.
His latest mission was rescuing victims of the barge sinking in Hậu River.
"Once I have determined that our responsibility is to save people, I did not hesitate to plunge into the water to save victims," Khang said.
"Saving victims is the joy and happiness of the soldier. I think, in my position, everyone would act like that," the sergeant said. 
An Giang Province keen to set up agricultural co-operatives
The Cửu Long (Mekong) Delta province of An Giang plans to establish at least 200 new agricultural co-operatives within the next five years.
Of them, at least 25 per cent will link up with companies to guarantee steady demand for their products.
The province also targets increasing the average sales of the co-operatives from VNĐ4.5 billion (US$194,500) a year to VNĐ5.5 billion ($237,700) by 2025 and income from VNĐ270 million ($11,700) to VNĐ400 million ($17,300).
It hopes to develop more than 80 agricultural co-operative groups for later development into co-operatives. 
Under the 2012 Co-Operative Law, a co-operative should have at least seven members and a co-operative group, at least three.
The province now has 174 co-operatives and 789 co-operatives groups. 
The average income of a member of a co-operative group is VNĐ2.56 million a month, according to the local Department of Agriculture and Rural Development.
Nguyễn Sĩ Lâm, its director, said co-operatives and co-operative groups have grown in number and quality in recent years, operating efficiently, creating jobs and increasing members' incomes.
Many co-operatives that grow vegetables have tied up with companies to guarantee outlets for their output.
The Kiến An Clean Agricultural Produce Co-operative in Chợ Mới District has, for instance, contracts with supermarkets, shops and traditional markets to supply 2 - 3.5 tonnes daily.
The district, which is well-known in the delta for growing vegetables, grows them on hundreds of hectares for domestic consumption and export to Cambodia.
Nguyễn Văn Minh Hùng, a member, uses organic fertilisers to grow green onions and mustard cabbage on his 5,000sq.m field in Kiến An Commune.
He grows one crop of green onions and three crops of mustard cabbage a year to earn VNĐ152 million ($6,600), he said.
The co-operative uses advanced farming techniques and its members have contracted outlets that purchase their vegetables at 20 per cent above the price paid by traders, he said.
But Lâm admitted most co-operatives and co-operative groups could not match other economic sectors for growth, and operate on a small scale and unsustainably.
Trần Anh Thư, deputy chairman of the province's People's Committee, said their operations should benefit farmers to attract members and they should have linkages among stakeholders, human resources, capital, and effective production plans.
HCM City: more students wear helmets, but few helmets meet standards
Schools in Ho Chi Minh City recorded higher rates of student wearing helmets on the road in the 2019 – 2020 period, however, the number of standard helmets remained low, a survey said.
At an event reviewing the city's helmet-wearing promotion project for 2019 – 2020 held on December 29, a representative of the Asia Injury Prevention (AIP) Foundation said participating schools saw the rate of students using the safety gear increased from 23 to 78 percent in the period.
But the rate of standard helmets used was extremely low, with a large number of helmets beyond their expiry dates, according to a survey by the AIP.
The project, co-organised by the municipal traffic safety committee, and Department of Education and Training, and the AIP, granted nearly 11,500 helmets to students at project beneficiary schools and conducted communications campaigns and training sessions at these schools to guide parents and students on the correct use of helmets.
Speaking at the event, Nguyen Ngoc Tuong, deputy head of the municipal traffic safety committee, said children are the most vulnerable group in transport.
As a result of the local authorities' effort, the rate of children aged between 6 and 15 years old wearing helmets on the road rose from 40 percent in 2017 to 70 percent in 2019, he noted, adding that the rate is expected to surpass 80 percent this year./.
2020 sees unemployment rate increase due to COVID-19
Despite the labour and employment situation during the fourth quarter showing some positive signs in comparison to the initial quarters of the year, the unemployment rate and underemployment rates remain higher than those in 2019, according to figures compiled by the General Statistics Office (GSO).

The unemployment rate and underemployment rates in 2020 see high increases due to the impact of the COVID -19 pandemic
The fourth quarter of the year witnessed the national labour force aged 15 and above stand at an estimated 55.1 million people, representing an increase of 563,800 compared to the previous quarter, whilst also being a decline of 860,400 from the same period last year. Generally, the year has seen the labour force aged 15 and over number 54.6 million people, a fall of 1.2 million in comparison to the previous year.
The year's unemployment rate was registered at 2.26%, of which the unemployment rate in urban and rural areas stood at 3.61% and 1.59%, respectively, while the unemployment rate among those of working age was 2.48%.
The year's youth unemployment rate, with individuals aged between 15 and 24, was 7.1%, with 10.63% in urban areas, and 5.45% in rural areas.
The underemployment rate of working-age workers stood an approximately 2.51%, of which the underemployment rate in urban areas was 1.68% and 2.93% in rural areas.
The GSO reported that the unemployment and underemployment rates for the entire year are higher than those recorded in 2019, largely due to the negative impact of the novel coronavirus (COVID-19) pandemic. In addition, the number of employed labourers and State employees' income remains lower compared to the previous year.
Furthermore, the figures for this year show the country has 16,500 households suffering from food shortages, a drop of 75.9% from the previous year, equivalent to 66,500 people suffering from food shortage, a fall of 76.1%.
Vietnam leads ASEAN's efforts in combating COVID-19
As the Chair of ASEAN in 2020, the nation has led the efforts of the ASEAN member states in promoting a response to the COVID-19 outbreak, according to the website https://moderndiplomacy.eu/.
An article published on the site recently said that as early as February 15 this year, Prime Minister Nguyen Xuan Phuc, after consulting with other ASEAN leaders, issued the ASEAN Chairman's Statement on ASEAN Collective Response to the Outbreak of Coronavirus Disease 2019.
The statement expressed deep concerns over the spread of COVID-19, and recognized it as a "public health emergency of international concern", as declared by the WHO.
It laid stress on extending help to countries around the globe in their fight against the spread of COVID-19 and also provide humanitarian support to China in the form of supplying masks and other medical facilities, the article said.
As a regional organization, ASEAN also stepped in to work for a joint and coordinated response in meeting the challenges posed by COVID-19, it noted, stressing that ASEAN not only raised the awareness levels of its member countries but also liaised with international organizations and other countries to respond at multiple levels for addressing the problems posed by the virus.
The article, however, said that ASEAN member states need to prioritize the right to health and social protection, or security, for everyone, including the most marginalized and vulnerable, and reform the system of social protection and incorporating it into the economic recovery plan post-COVID to reduce the increasing poverty rate as a result of the pandemic.
It also underscored the necessity for the regional bloc to learn from best practices in other countries, especially in forming policies that include wider social and economic opportunities, as well as establish more targeted consultation and cooperation on public health policy, such as the regulations for quarantine, lockdowns or social movement restrictions and other related elements.
The ASEAN Business Advisory Council can partner in the regional response to "engage the private sectors in delivering essential services and supplies and to support displaced workers in their value chains, the article said.
Hanoi to host ethnic upland market to celebrate New Year 2021


An upland market aimed at celebrating the New Year is scheduled to get underway at the Vietnam National Village for Ethnic Culture and Tourism in Son Tay district of Hanoi, with the event running from December 31 to January 3, 2021.
The market will involve the participation of roughly 16 ethnic minority groups, including the Mong, Kho Mu, Thai, Tay, and Nung, among others.
The highlight of the event is a space for market days in highland localities which will feature a range of traditional cuisine and folk games from ethnic groups in the northern mountainous area.
Most notably, hand-made clothing products such as the embroidery of the Red Dao ethnic group from Bac Kan province, along with the knitting of various ethnic minority groups from Lai Chau and Dien Bien province, will be introduced to visitors.
Furthermore, the Cam Muong festival of the Lu ethnic group from Lai Chau province and the Khu Su Cha festival of the Ha Nhi ethnic minority from Dien Bien province will also be reenacted.
A wide range of activities will be running for guests to enjoy, including flower arrangements, a painting exhibition on upland markets, folk singing and dances, along with traditional games which will celebrate the New Year.
Vietnam named among top destinations for solo travel
Vietnam has been listed among the top destinations for solo travel by prestigious global travel websites Lonely Planet, and Travel and Leisure.
Most recently, Vietnam was named as the best place for food in the list of 10 destinations perfect for solo travel, announced in early December by Lonely Planet.
"Subtle in its flavours and outstanding in its diversity, Vietnamese cooking is a huge draw for travellers, who're lured into lingering at cramped tables swapping travel tales over a fifth plate of banh cuon (rice batter filled with ground pork, mushroom, and shallots)," the article read.
According to the website, all over the country, visitors can mingle with villagers, sample local dishes and sip rice wine in Vietnam's many regional markets, while a myriad of street-food tours and cooking schools in major cities.
Earlier in August, US magazine Travel + Leisure ranked Vietnam in 16th place among its list of top 20 countries for solo travellers.
The magazine suggested tourists hop on a boat that departs from Ha Long and cruise through Bai Tu Long Bay, home to some of the world's most striking blue water and natural landscapes; or take a guided tour of Son Doong Cave, the largest natural cave in the world; or visit Hoi An during the full moon where they will be welcomed by the awe-inspiring sight of hundreds of lanterns floating down the Thu Bon River during the city's monthly full moon festival.
In Ho Chi Minh City, vacationers can indulge in street food at Ben Thanh Market, one of the city's earliest surviving structures, and brush up on Vietnam War history during a tour of the War Remnants Museum and the Cu Chi Tunnels.
Meanwhile, travellers to Hanoi can explore the capital's impressive historical and cultural sites and take a leisurely stroll around Hoan Kiem Lake.
Exemplary blood donation organisers in 2020 honoured
The National Institute of Haematology - Blood Transfusion (NIHBT) held a ceremony in Hanoi on December 29 to present the "Giot hong" (Red Drops) Awards and meet leaders and managers of the units that organised blood donation events in 2020.
The annual awards aimed to pay tribute to, recognise and honour collectives and individuals with significant contributions to the work of organising blood donation and developing and maintaining stable and safe blood donation sources.
This year's awards were presented to 23 collectives and 11 individuals with exceptional achievements in organising blood donation events in the peak period of the COVID-19 pandemic ahead of and after the occasion of the 2020 Lunar New Year.
Throughout its 13 years, the awards have honoured a total of 120 collectives and 55 individuals accompanying blood donation campaigns.
Speaking at the ceremony, Director of the NIHBT Bach Quoc Khanh said that despite the difficulties caused by the pandemic in 2020, the NIHBT has coordinated with units to organise nearly 2,000 blood donation locations, receiving more than 325,000 blood units, of which 70% came from Hanoi and the remaining 30% from other cities and provinces.
From these sources, the institute has ensured the timely provision of over 600,000 units of blood and components for 177 hospitals in 28 northern cities and provinces, meeting 93% of hospitals' treatment demands, he stated.
In 2021, the NIHBT targets to receive about 360,000 units of blood, Khanh said, asking leaders and managers to continue creating favourable conditions for blood donation work in a joint effort to care for the people's health.
Lao Cai suspends cattle markets due to strange disease
The northern mountainous province of Lao Cai's authorities have requested the temporary closure of cow and buffalo markets amid an on-going spreading of the bovine skin disease.
Under the decision signed by Hoang Quoc Khanh, chairman of the provincial People's Committee, the halt will be applied to live cow and buffalo markets in Bac Ha, Muong Khuong and Si Ma Cai from December 28 until further notice.
Every week, these markets provide hundreds of cows and buffaloes. Lao Cai has also ordered the suspension of the purchase of cows and buffaloes from localities that have been affected by the lumpy skin disease virus.
Meanwhile, for localities that have not yet been hit by the disease, cows and buffaloes have to be tested negative for the virus. The test has to be in line with the Ministry of Agriculture and Rural Development's quarantine regulations.
Lao Cai authorities have also urged to tighten control over local cows and buffaloes to rapidly detect the virus.
According to the Ministry of Agriculture and Rural Development, the disease has been discovered on cows and buffaloes in Vietnam since mid-October this year with the outbreak in the northern provinces of Lang Son and Cao Bang.
Lumpy skin disease virus is a double-stranded DNA virus. It is a member of the capripoxvirus genus of Poxviridae and is not infectious to humans. It is believed that arthropod vectors, direct contact, contaminated food and water and iatrogenic means (for example, repeated use of needles on different animals) can all spread the disease.
External information service contributes to national development, defence
The Party Central Committee's Commission for Information and Education has presented certificates of merit to 30 collectives, including the World News Department of the Vietnam News Agency, and 16 individuals for their outstanding performance in the external information service and communications about seas, islands, and land border.
The collectives and individuals were honoured at a national conference held in northern Quang Ninh province on December 30 to review the external information service and communications about seas, islands, border demarcation, border marker planting, and border management in 2020 and launch tasks for next year.
Highlighting the achievements in 2020, Vo Van Thuong, Politburo member and Chairman of the Party Central Committee's Commission for Information and Education, said the external information service has reflected Vietnam as a friend, trustworthy partner, and responsible member of the international community and a safe destination in an objective, honest, sufficient, timely, and profound manner.

The communications about seas, islands, and land border have closely followed the reality and been carried out frequently and continually, helping to improve public awareness, winning over the international community's support, and creating favourable conditions for the protection of Vietnam's rights and legitimate interests in the East Sea.
During the Party's 12th tenure since 2016, he added, the external information service and communications about seas, islands, and land border have helped promote the introduction of Vietnam and its culture and people to the world, fight against wrong and distorted arguments and viewpoints of hostile forces, and safeguard the country's land border, as well as sea-related rights and legal and legitimate interests, thus contributing to national development and defence.
Thuong, who is also Secretary of the Party Central Committee, noted that there will remain both opportunities and challenges in the international and regional situation, including the East Sea issue, which could affect the country's security and relations among regional nations in 2021. The 13th National Party Congress and the election of deputies to the 15th National Assembly and People's Councils at all levels will also take place next year.
Given this, the forces in charge of the external information service and communications about seas, islands, and land border should keep reforming their mindset, improving their awareness, political mettle, and professional capacity, and diversifying communication methods.
They also need to boost the combined coverage of the Party, State and people-to-people diplomacy while optimising support of nations and friends around the world to continue promoting Vietnam's stature in the international arena, the official added./.
Two imported COVID-19 cases, four recoveries reported
Vietnam recorded two new imported COVID-19 cases on December 30, bringing the total number of infections to 1,456, according to the National Steering Committee for COVID-19 Prevention and Control.
Both new cases are Vietnamese citizens, including a 26-year-old man and a 70-year-old woman, who returned home from Germany and Canada. They have been quarantined upon their arrival.
The man is now treated at the National Hospital for Tropical Diseases No. 2 in Hanoi's Dong Anh district, while the woman is treated at the Cu Chi COVID-19 treatment hospital in Ho Chi Minh City.
Of the total infections, 693 are domestically-transmitted cases, including 553 cases since July 25.
The subcommittee for treatment reported that four more patients have been given the all-clear from coronavirus SARS-CoV-2, raising the total number of recoveries to 1,323. The number of deaths related to the disease is still kept at 35.
Among the patients undergoing treatment across the country, 10 people tested negative for the virus once, 10 others twice and 10 thrice.
As many as 16,700 people who had close contact with COVID-19 patients or entered Vietnam from pandemic-hit regions are currently quarantined nationwide, including 159 in hospitals, 15,687 in state-designated establishments and 854 at their residences./.
Source: VNA/VNN/VNS/SGGP/VOV/NDO/Dtinews/SGT/VIR