Vietnam reports four imported COVID-19 cases on December 12
Four new cases of COVID-19 were recorded on December 12, all Vietnamese citizens returning from abroad and being quarantined, according to the National Steering Committee for COVID-19 Prevention and Control.
Of the newly-detected patients, one arrived from UAE on flight VN88 which landed at Cam Ranh airport on December 8, and another returned from Russia on flight VN5062 which landed at Da Nang airport on December 6. They are being treated at the General Hospital of Phu Yen province, and Lung Hospital in Da Nang city, respectively.
The two others are sailors working onboard the ship Navios Marco Polo. They from Ukraine entered Nha Trang port, Khanh Hoa province, on December 9. Both patients are being treated at the Khanh Hoa hospital of tropical disease.
With the new cases, the national count of COVID-19 patients now stands at 1,395.
Among COVID-19 cases in Vietnam, 1,238 have recovered while the fatalities remain at 35.
Among those still under treatment, three have tested negative for SARS-CoV-2 once, seven twice and 12 thrice.
A total of 21,001 people who had close contact with COVID-19 patients or arrived from pandemic-hit areas are being quarantined nationwide, with 193 at hospitals, 16,302 at concentrated facilities and 4,506 either at home or accommodations.
Vietnam chairs periodical meeting of UNSC's Informal Working Group on International Tribunals
Ambassador Dang Dinh Quy, head of the Vietnamese Mission to the UN and chairman of the United Nations Security Council (UNSC)'s Informal Working Group on International Tribunals, chaired a six-month periodical meeting of the group on December 11.
Addressing the virtual meeting, Quy thanked members' cooperation serving the working group's operation in 2019, particularly reviewing the functioning of the international residual mechanism for criminal tribunals with the UNSC's adoption of Resolution 2529.
As Chair of the group, Vietnam will push ahead with dialogues in the spirit of collaboration between the group and the President of the mechanism as well as between the Prosecutor and the Registrar of the mechanism in order to soon complete tasks assigned by the UNSC, he affirmed.
After hearing reports by President Carmel Agius, Prosecutor Serge Brammertz and Registrar Tambadou Abubacarr of the mechanism, the working group discussed measures to boost the mechanism's completion of tasks in the time to come, such as completing the trial process and arrest of hidden suspects, as well as ensuring detention conditions for prisoners and the health and safety of the mechanism's employees.
The Informal Working Group on International Tribunals was established in June 2000 to deal with a specific issue pertaining to the statute of the International Tribunal for the Prosecution of Persons Responsible for Serious Violations of International Humanitarian Law in the Territory of the Former Yugoslavia since 1991 (ICTY) and subsequently mandated to deal with other legal issues pertaining to ICTY as well as the International Criminal Tribunal for Rwanda for the Prosecution of Persons Responsible for Genocide and Other Serious Violations of International Humanitarian Law Committed in the Territory of Rwanda and Rwandan Citizens Responsible for Genocide and Other Such Violations Committed in the Territory of Neighbouring States between January 1, 1994 and December 31, 1994 (ICTR).
Apart from the working group, Vietnam is holding the Chairmanship of the UNSC's South Sudan Sanctions Committee and the Lebanon Sanctions Committee.
Quang Tri: 150 UXO pieces defused
The UK's Mines Advisory Group (MAG) operating in the central province of Quang Tri said on December 10 that it had discovered and defused 150 pieces of unexploded ordnance (UXO).
The UXO pieces were found in an underground pit by MAG staff members on December 9. They included mortar shells, grenades and detonators.
The MAG is registered as a charitable company in the UK. It is a humanitarian and advocacy organisation that finds, removes and destroys landmines, cluster munitions and unexploded bombs from places affected by conflict.
More than 328,000 tonnes of explosives were used in Quang Tri town in 1972 during the war against the US. The MAG's unexploded ordnance (UXO) clearance project in the province began in 1999.
According to the Ministry of Labour, Invalids and Social Affairs, Vietnam is one of countries most contaminated with UXOs.
It is estimated that about 800,000 tonnes of UXOs were left across the country after the war ended in 1975, mostly in the central region. Some 6.13 million hectares of land are polluted with or suspected of being polluted with UXOs, accounting for 18.82 percent of the country's total area.
Since 1975, UXO incidents have killed more than 40,000 people and injured 60,000 others, most of whom were breadwinners of their families or children./.
Transport ministry proposes not installing ETCs at seven BOT tollgates
The Ministry of Transport has proposed the prime minister should allow the exemption of electronic toll collection (ETC) systems at seven build-operate-transfer (BOT) toll stations on national highways 51, 3 and 91 and in Ca Mau Province.
The ministry said that the ETC systems would be installed at a total of 44 toll stations during the first stage, while the second stage would see 33 toll stations installed with the systems.
The prime minister had earlier ordered that the ETC systems should be operational nationwide by the December 31 deadline.
As for toll stations managed by the Vietnam Expressway Corporation (VEC), the Ministry of Transport and the Committee for State Capital Management at Enterprises were assigned with deciding on funding for the project.
To date, during the first stage, 40 toll stations have operated ETC systems, while the remaining four stations on four expressways managed by VEC have yet to apply ETC systems due to some obstacles over funding.
In the second stage, as many as 25 toll stations have ETC systems installed and meet all requirements for deploying non-stop toll collection. The eight other toll stations might see a delay in the operation of ETC systems after 2020 as three of them on Ho Chi Minh Road, My Loi Bridge and Thai Ha Bridge have generated low revenue.
Two others on national highways 3 and 91 in Thai Nguyen Province and Can Tho City, respectively, have yet to collect toll fees while awaiting the prime minister's decision on the budget allocation to reimburse investors, while the remaining three toll stations on National Highway 51 have the remaining toll collection period at less than three years.
Putting ETC systems in place at these stations will not work well and might hinder the financial progress of BOT and ETC projects, affecting investors and credit institutions, according to the ministry.
Besides, these stations are on routes with less traffic, so the lack of ETC systems at such stations will not affect the efficiency of the national ETC system, Tuoi Tre Online reported.
Many localities have pledged to complete the installation of ETC systems on schedule, while Ca Mau Province proposed not deploying ETC systems at four toll stations as the tollgates at some bridges are small and mainly serve motorbikes. As a result, installing ETC systems there is impractical.
Given the obstacles over the installation of ETC systems, in its report sent to the prime minister, the Ministry of Transport proposed canceling or suspending the operation of ETC systems at three toll stations on national highways 51, 3 and 91.
Apart from this, the ministry proposed that the prime minister allow Ca Mau Province not to apply the ETC systems at four stations in the province.
In addition, the ministry also asked the prime minister for approval to extend the deadline of the ETC operation at three stations with low revenue and assign it to decide when to deploy non-stop toll collection to bring about high efficiency.
Quang Nam province plays host to national table tennis tournament
The 2020 national table tennis tournament officially kicked off in Tam Ky city in the central province of Quang Nam on December 9, featuring the participation of 20 male and 14 female players from six teams nationwide.
Tao Viet Hai, head of the organising board, said the occasion will serve to create a good environment for players to gain experience from one another.
Hai anticipates that the event's organisers will be using the tournament to seek talented players for the national team, whilst also preparing participants to potentially compete in future international tournaments.
Competitors taking part in the event hail from a number of strong clubs based nationwide, including the public security, the military, Da Nang city, Hanoi, T&T, and Hai Duong province.
Most notably, T&T club have sent the largest number of participants to compete in the competition with a total of 11 players.
During the course of the five-day event players will be competing for sets of medals on offer throughout the tournament's various events, including in the men's and women's singles.
When attending the competition, supporters will be required to wear face masks and maintain social distancing measures in an effort to curb the potential spread of the novel coronavirus (COVID-19) pandemic in line with recommendations put forward by the Ministry of Health.
Phu Tho to host qualifying matches of Vietnamese U22 side at 31st SEA Games
Qualifying matches in the group stage of the 31st Southeast Asian (SEA) Games in 2021 featuring the participation of the Vietnamese U22 men's football team will take place at Viet Tri stadium in the northern province of Phu Tho.

According to the organisers of the event, the matches had originally been scheduled to take place at the Hang Day stadium in Hanoi, although due to ongoing repair work they have been forced to move venue.
Located in Phu Tho province, Viet Tri stadium has a capacity of 20,000 seats and successfully hosted a friendly match between Vietnam's U22s and Myanmar's U22s in June, 2019.
Most notably, the stadium is in a convenient destination as it is situated approximately 80km from the centre of Hanoi and 56km from Noi Bai International Airport.
The other groups in the men's football category at the 31st SEA Games are set to get underway at the Thien Truong stadium in the northern province of Nam Dinh.
Following the group stages, the semi-finals and final of the men's football event will be held at the My Dinh National Stadium in Hanoi.
The 31st SEA Games are set to transpire from November 21 to December 2, 2021, with the regional sporting occasion being held across 11 cities and provinces nationwide, featuring a total of 40 different sports.
UN thanks Vietnam for halting gender-based violence
To mark the Action Month for Gender Equality and Gender-Based Violence Prevention, 12 representatives of UN agencies working Vietnam have produced a video clip thanking local frontline staff for protecting women and children from gender-based violence.
In the film, the representatives come together to express their gratitude for Vietnamese hotline staff, social service workers, medical staff, doctors, nurses, midwives, psychologists, police forces, soldiers, lawyers, prosecutors, and judges. 
This comes after the number of calls made to the Vietnam Women's Union hotline from women experiencing domestic violence during the social distancing period witnessed a surge of 50%. In addition, there was an annual increase of 80% in terms of the number of victims either being rescued or taken to the union's Peace House.
A survey aimed at detailing the COVID-19 pandemic's impact on children, conducted by the Vietnam Association for the Protection of Children's Rights, revealed that 48% of respondents said they felt vulnerable. The key factor behind this was verbal abuse, while 8% claimed to have been beaten. A further 32.5% stated that they were not properly cared for by their parents.
Vietnam to develop nasal spray, eyedrop COVID-19 vaccine
Nanogen Pharmaceutical Biotechnology JSC have announced that it will develop a novel coronavirus (COVID-19) vaccine in the form of a nasal spray and eye drops in an effort to meet the various needs of different age groups nationwide.

If the human trials are successful, the firm will manufacture some 2 million doses on a trial basis in the form of injections, nasal spray, and eye drops, to meet the needs of different age groups. 
Once developed, individuals suffering from underlying diseases and children under the age of 12 will be able to make use of the vaccine.
At present, the company is recruiting volunteers for first human clinical trials of its Nano Covax vaccine, with the first stage scheduled to start on December 17.
This recombinant vaccine has been already been tested on mice, hamsters, and monkeys, so far showing a good immune response. As a result, it has been approved by the Ministry of Health to progress to human clinical trials.
If the human trials prove to be both safe and effective, the vaccine will be rolled out commercially in the middle of 2021.
Vietnamese writers honoured for knowledge of Poland
The Polish Embassy in Hanoi has granted an award to Vietnamese internet users for their dedication to spreading knowledge about the Eastern European country through online platforms.

The second edition of the Contest for Wikipedia Users in the field of Polish culture was launched to encourage people to learn more about Poland. The competition was open to all local internet users over the age of 18.  
Nguyen Thi Anh Nguyet of Ho Chi Minh City was awarded first prize of US$2000.
The contest also offered second, third, and four distinction prizes, valued at US$1,000, US$700, and US$100, respectively.
During the awards ceremony, Polish Ambassador to Vietnam Wojciech Gerwel expressed his great happiness as this year's contest had attracted huge enthusiasm from participating Vietnamese contestants. He added that the event has contributed to bringing both countries closer together.
The first edition of the contest originally took place back in June 2019, with the topic of Polish geography attracting more than 1,800 articles two months since its initial launch.
Google launches Travel Insights to support Vietnam tourism industry

The website is as part of Google's initiatives to promote and support the recovery of local tourism industries.

Google launched on December 9 Travel Insights, a website to provide global data and insights into Vietnam's tourism and travel industry with the aim to help better understand pent-up travel demand and leverage insights from these tools to plan for the road ahead. 
Ms. Tram Nguyen, Country Manager of Vietnam, Laos, Cambodia at Google Asia Pacific, said, "We've heard from our partners, such as the Vietnam National Administration of Tourism, that data and insights are critical to helping them plan ahead, and we've created three new tools to help meet that need." 
The website will provide three data and insights tools. Destination Insights - this tool will give a clear picture of the top sources of demand for a destination, and the destinations within countries that travelers are most interested in visiting - helping the industry map out a possible resumption of travel on specific routes and make choices about where to communicate with potential future travelers. 
Hotel Insights is designed to help hotels of all sizes, especially small and independent hotels, understand where demand for their property may be coming from and how to target their marketing as they plan their recovery. The Travel Analytics Center - available to Google's commercial partners in the travel sector - will enable organizations to combine their own Google account data with broader Google demand data and insights to give a clearer picture of how to manage their operations and find opportunities to reach potential visitors.  
Over the last few weeks, several global tourism and travel organizations such as the UNWTO, ASEAN Secretariat, the Ministry of Tourism and Creative economy of Indonesia, Vietnam National Administration of Tourism, Singapore Tourism Board, Taiwan Tourism Bureau, and others - have had early access to the Destination Insights tool. Many of these partners have already been using the tool to get insights into both inbound and outbound demand from their countries. 
The launch of Destination Insights is at perfect timing for Vietnam as Ho Chi Minh City is working on recovering measures for the tourism industry and restructuring destinations for the post-COVID-19 period, Mrs. Vo Thi Ngoc Thuy, Deputy Director for the Department of Tourism of Ho Chi Minh City said.
"This tool is very useful as we can monitor domestic and international travel demand with real-time data. We wish to access these data as soon as possible and hope that this tool will be improved as time goes on so that we can make statistical comparisons between countries," she added.
As part of the effort to support Vietnam's tourism industry, Hue is a city that Google directs their attention towards with activities like generating a 3D model for the Mausoleum of Emperor Tu Duc on Google Art & Cultures and upload the model on Search. 
Mr. Nguyen Van Phuc, Deputy Director for Hue city's Tourism Department, said that with the ability to provide data and insights on the tourism industry, the website will be a good support for destinations, businesses, and the authority to manage tourism at the current moment in which the city needs to be cautious to prevent COVID-19 while finding solutions to slowly recover the tourism industry, reconfiguring new travel products and services to meet the current demand from travelers. Hue and other provinces in Vietnam can push for a revival in local tourism.
The website will be a helpful and reliable resource to support managers and businesses in the tourism industry in creating business strategies to grow a sustainable travel industry, Mr. Ho An Phong, Vice Chairman of the Quang Binh People's Committee, said.
The Destination Insights Tool indicates that domestic demand in Vietnam is on a steady path to recovery back to 100% of 2019 levels, especially in the past two weeks. Coastal and nature areas are growing in popularity and Ha Giang has become the fastest growing destination growing at over 75% over the last two months - pointing towards more Vietnamese travelers looking to travel in places which are off the beaten track.
Overseas Vietnamese promote national traditions

Despite formidable challenges in the host nation, the overseas Vietnamese (OVs) in Cambodia have stood shoulder by shoulder to overcome difficulties by promoting the national tradition "the good leaf covers the torn ones".

Among them, Sok Tai Tha, member of the executive board of the Khmer-Vietnamese association in Preah Sihanouk province, has engaged in many activities to support Vietnamese people who were laid off due to the COVID-19 pandemic.
Vietnamese Consul General to Preah Sihanouk province Vu Ngoc Ly spoke highly of So Tai Tha's efforts in helping 57 Vietnamese  households in the locality enjoy a warm Chol Chnam Thmay festival while carrying out measures to prevent the coronavirus outbreak.
Ly said Sok Tai Tha also encouraged other benefactors to join hands to assist over 40 Vietnamese families and a dozen of Cambodian households with rice and medical equipment.
While in Ukraine, which has also been ravaged by the pandemic, doctor Nguyen Van Khanh has played an important role in the association of Vietnamese people in Odessa province's board for COVID-19 prevention.
Khanh has assisted the board in diagnosing serious cases, and provided valuable medical information in a timely manner, helping the OVs prevent the spread of the novel coronavirus. Most of the Vietnamese in Odessa infected with the virus have recovered thanks to enthusiastic support of Khanh and the board.
The Vietnamese people association and many other organisations set up by the OVs nominated Khanh as the Honourable Consul General of Vietnam to Odessa.
Khanh, the former President of the Vietnamese people association, was sent to Odessa for further study in 1979, and has lived in the port city of Odessa since then.
In 2003, the Vietnamese people in Odessa was recognised as a minority group in Odessa, and Khanh contributed greatly to the result.
Governor of Odessa province presented an honourable medal to Khanh for his devotion and contribution to the development of Odessa city and Ukraine as a whole in 2011. Four years later, he was named in top ten doctors in the south of Ukraine. In 2017, Dumskaya, the largest newspaper in Odessa, selected Khanh as one of five most influential foreigners in the city.
Denmark helps improve integrity education for Vietnamese youth

This is part of Denmark's long-term commitment to support anti-corruption efforts in state and non-state organizations of Vietnam.

Denmark will support to improve integrity education for Vietnamese youth, the Danish Ambassador to Vietnam Kim Højlund Christensen said at a signing ceremony on the occasion of the International Anti-Corruption Day, which falls on December 9.
The Danish ambassador and Executive Director of Towards Transparency Nguyen Thi Kieu Vien signed an agreement to start a one-year project to enhance the role of youth in fighting corruption and promoting integrity education in Vietnam.
With a grant of approximately US$100,000 from Denmark, the project will focus on improving teaching materials and teaching methods on integrity education.
"The Embassy of Denmark is happy to cooperate with Towards Transparency to carry out this project. This is part of our long-term commitment to support anti-corruption efforts in Vietnam with both state and non-state organizations," said Kim Højlund Christensen.
Focusing on improving integrity education for youth, the project will support empowering young people who are agents of change, playing an important role in creating and promoting an integrity culture in the country now and in the future, the ambassador stressed.
For her part, Nguyen Thi Kieu Vien further emphasized that the Integrity Training Guide would serve as a practical tool for Vietnamese teachers, graduates from Towards Transparency's Vietnam Integrity School as well as other interested stakeholders to disseminate integrity and anti-corruption knowledge in their schools and wider community.
Corruption is an increasing concern for Vietnamese citizens, which ranked the 4th biggest concern following poverty reduction, food hygiene and crime/safety, according to Towards Transparency's Vietnam Corruption Barometer 2019.
Building a generation of young leaders with good knowledge, skills and courage to demand greater transparency in the society will be a sustainable approach to mobilize Vietnamese youth's support and participation in the national fight against corruption.
New partnership to develop smart management system for electric buses
VinBus, a subsidiary of property developer Vingroup that specialises in transportation services, has joined Advantech Vietnam Technology Co. Ltd. to create a smart bus management system in Vietnam.

Under a new partnership signed on December 9, VinBus will launch the nation's first bus that is fully equipped with a range of modern technology aimed at improving safety and offering customers a modern service.
In line with the co-operation agreement, VinBus and Advantech Vietnam will collaborate and support each other in terms of utilising various technology platforms and technical facilities, with specific solutions focusing on artificial intelligence (AI) cameras that monitor driving behaviour, free Wi-Fi for passengers, and monitoring equipment.
Most notably, the intelligent monitoring system installed on the bus will provide an immediate warning in the event that the driver becomes distracted or is sleepy, while service quality, speed, and the travel schedule will be controlled in an effective manner.
Advantech represents the world's leading manufacturer of industrial computers. It is the 23rd largest firm in the world for developing Internet of Things (IoT) equipment.
The agreement penned with Advantech marks the next step for VinBus after entering into a strategic partnership with Star Charge, the world's leading provider of recharging equipment and solutions.
VinBus has so far teamed up with major partners in a bid to build the largest electric bus charging station system throughout ASEAN, as well as to apply IoT technology to the smart management system for electric buses in Vietnam, factors which help reduce emissions and noise pollution in major cities.
The first electric bus model manufactured by VinFast, a subsidiary of Vietnamese conglomerate VinGroup, was put into operation on a trial basis in October. The scheme was launched at the firm's own manufacturing complex in the northern port city of Hai Phong.
HCM City - Long Thanh-Dau Giay Expressway to be enlarged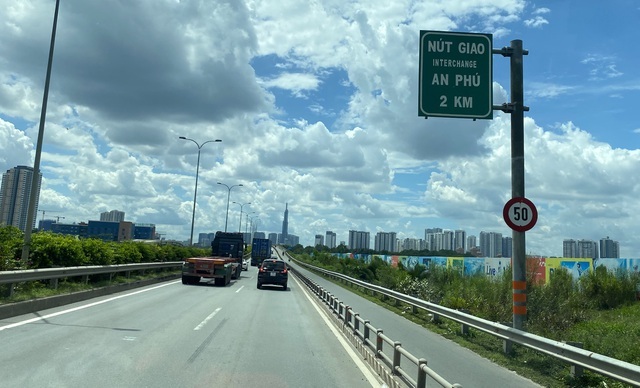 An Phu Interchange
The investor of HCM City-Long Thanh-Dau Giay Expressway has proposed to the Ministry of Transport to expand the expressway in order to meet transportation demands.
According to the Cuu Long Corporation for Investment Development and Project Management of Infrastructure, the expansion will better meet regional traffic demand. The company proposed enlargement of a 24km-long section from Ba Dat Bridge in HCM City's District 2 to the Bien Hoa-Vung Tau intersection in Dong Nai Province.
The An Phu-Vanh Dai section which has four lanes would be enlarged to eight lanes. It will be enlarged from 26.5m to 36m wide. The Bien Hoa-Vung Tau section will also be enlarged to eight lanes. An Phu-Ring Road 2 overpass will be enlarged to 17.5m wide and another bridge will be built 13m away from Long Thanh Bridge.
Some interchanges on the Ring Road 3 and Road 319B are included in some projects set for the 2020-2025 period.
There is also a proposal to invest in the Bien Hoa-Vung Tau interchange with connecting roads leading to Long Thanh Airport in order to ease congestion on National Highway 51.
It is estimated that the HCM City-Long Thanh-Dau Giay Expressway investment will be around VND9.9trn (USD426m), of which VND300bn are for ground clearance.
Cuu Long Corporation for Investment Development and Project Management of Infrastructure asked for more funds from the state budget and ODA loans from the Japan International Co-operation Agency.
Deadline for Cat Linh-Ha Dong metro line extended to 2021
The government has agreed to extend the completion date of the Cat Linh-Ha Dong metro project in Hanoi to March 2021. 
The Government Office has sent an official document to the Ministry of Transport, and the Ministry of Finance to announce the decision of Deputy Prime Minister Pham Binh Minh about the metro project. The project deadline will be extended to March 2021.
The Ministry of Transport previously asked the PM to extend the deadlines for the Cat Linh-Ha Dong metro line to March 31, 2021.
The Cat Linh-Ha Dong metro project was started in October 2011. It is 13km long with a total investment of USD500m. It was expected to be completed in June 2015 but has been delayed eight times even though the trains were bought two years ago. The total investment cost after several adjustments has increased to USD868m.
A trial run will be carried out on December 12 until 31 to test the system. The tasks to review, assess and transfer the project to Hanoi's authorities will be carried out in the first quarter of 2021. The Chinese contractors have bought 13 trains and disbursed USD551m out of USD669m ODA loan.
According to the Ministry of Transport, the Management Board of Railway Projects and the Chinese contractor Engineering-Procurement and Construction have worked many times together but failed to clarify related responsibilities to many problems like design approval or project inspection.
During a meeting in November, the PM also urged the Ministry of Transport to quickly deal with the problems to put the metro line into operation as soon as possible.
Quang Ninh offers big discounts for visitors to Ha Long Bay
Visitors to some tourist spots in the northern province of Quang Ninh next year, including Ha Long Bay, will enjoy a 50% discount or the exemption of entrance tickets.
The programme is applied for visitors to Ha Long Bay, Quang Ninh Museum and Yen Tu tourist site in 2021. 
The move is among activities of the city's tourism stimulus package worth a total VND500 billion (USD21.73 million).
Under provincial authorities' decision, tourists to the three destinations will be exempted from admission fees on holidays, including New Year's Day (1/1); the anniversary of the Communist Party of Vietnam (February 3); Vietnamese Doctors' Day (February 27); Vietnamese Women's Day (March 8); Hung Kings' Festival, Reunification Day (April 30), May Day (May 1); Vietnamese Family Day (June 28), Vietnam Tourism Day (July 9) and War Invalids and Martyrs Day (July 27), August Revolution (19/8), National Day (2/9), Vietnamese Women's Day (20/10) and Vietnamese People's Army Day (22/12).
A 50% discount will be provided on the remaining days of the year.
The province has also opened a free bus route linking Van Don International Airport and Ha Long Bay to support tourists.
This year, the province expects to lure 8.8 million visitors with total revenue of VND20.5 trillion (USD891.31 million).
In 2021, Quang Ninh will continue focusing on domestic travellers.
VND110bn bridge project halted due to lack of connection road
The opening of a bridge connecting Hanoi and Bac Giang Province has been delayed as there are no connection roads.   
Le Tho Cuong, supervisor of Xuan Cam Bridge Project which spans across Cau River, said, "After two years of construction, everything has been completed but we have to block this bridge instead of opening it to traffic."
The project still lacks an important part which is the 3km road connecting the bridge and the Bac Phu intersection in Soc Son District.
The Ring Road 4 section in Bac Giang Province is an important project. The total section is 35km long from Bac Giang-Hanoi Highway to Xuan Cam Bridge. A total of VND1.2trn (USD51.6m) has been used to build Xuan Cam Bridge and the railway overpass. The fund is from the provincial budget and government bonds.
The Ring Road 4 has a speed limit of 80km/h and will run through 15 districts and communes from Hanoi City to Vinh Phuc, Hung Yen, Bac Ninh and Bac Giang provinces. It will also run across the Red River, Duong River and Cau River. Xuan Cam Bridge is 479 metres long and 12 metres wide with an investment of VND110bn (USD4.7m).
Nguyen Xuan Tuyen, head of the Planning Department under the Management Board of Soc Son District Construction Projects, said, "Since early 2018, when the Ring Road 4 Project was approved, we sent many documents to the Hanoi People's Council to seek approval to build the connecting road. In February, we asked again to include the connecting road into Soc Son's master plan. However, we were rejected because the road project is not in the 2015 plan."
According to Tuyen, if the project is approved, they can start the construction in 2021 and the road will be completed in 2022.
Vu Van Dong, vice head of the construction team said the connecting road project had some ground clearance problems.
Hundreds of tonnes of dangerous chemicals found at Tan Tao Industrial Park
HCM City authorities have detected hundreds of tonnes of toxic chemicals stored incorrectly at Tan Tao Industrial Park's warehouse and pose high fire risks.
On December 8, HCM City Department of Industry and Trade reported that 365 tonnes of toxic chemicals including 60 tonnes of precursor chemicals used to produce industrial explosives have been found at a warehouse at Tan Tao Industrial Park.
The local authorities and the Management Board of HCM City Industrial Parks and Processing Zones and the local police carried out an inspection at the Dai Viet Chemical Equipment Production and Trading Company. The chemicals were found at their warehouse which covers 2,200 square metres. 119 tonnes of the chemical actually belong to Tan Viet Trung Chemical Company.
The warehouse contained mostly inflammable chemicals and toxic chemicals like sodium dichromate and potassium dichromate. There were also precursor chemicals used to produce industrial explosives like sodium nitrate and potassium chlorate.
The warehouse had no signs or information about the danger of the chemicals. There is no sewage treatment in the warehouse. The chemicals were not classified and arranged in accordance with regulations. The warehouse owner also didn't have any chemical incident prevention plans.
The inspectors have suspended the warehouse until the owner can obtain the required permits and certificates.
HCM City Industry and Trade and HCM City Police Department will deal with the violating companies. All toxic chemicals must be moved to a safer location.
Book provides readers with greater understanding of Hang Trong folk painting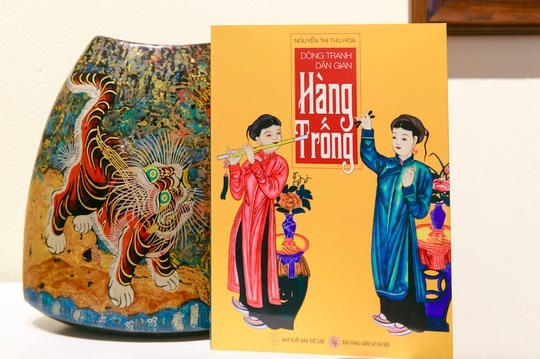 Cover the of book
 
 
 

The Gioi (World) Publishing House has recently released a book entitled 'Hang Trong folk painting' by Nguyen Thi Thu Hoa.
A ceremony to introduce the book to readers was held in Hanoi on December 8 by Hanoi Old Quarter's organising board and the Hanoi Ceramics Museum.
The 340-page coloured publication is the outcome of the thorough research of Hoa, who is Director of the Hanoi Ceramics Museum, on Hang Trong folk paintings - one of the typical folk painting genres in Vietnam.
The book includes five chapters exploring the history, the artistic value, the painting techniques, the classification, and the vitality of Hang Trong folk painting.
Hoa's research has received much support from artisan Le Dinh Nghien and his son Le Hoan, members of the only families that is still practicing the art of Hang Trong folk painting.
According to artisan Le Dinh Nghien, although a number of publications on Hang Trong folk painting have been published, Hoa's book provides the fullest and most detailed coverage of the genre of the painting.
Through the book, Hoa wanted to establish a bride linking Hang Trong folk painting with the contemporary life while inspiring the love for traditional culture among young generation.
Hang Trong folk painting first came into being in the 16th century. The genre peaked in the late 19th century and early 20th century.
It used to be widely practiced on the streets of Hang Trong and Hang Non in Hanoi, with two popular types for worshipping and traditional Lunar New Year decoration.
Some distinguished features of Hang Trong paintings are their thin and graceful sketches as well as their richness in colour. The commonly used colours are pink, green, orange, and yellow.
This genre has been appreciated by researchers as highly aesthetic and sophisticated with the wood block printing and colouring techniques.
PVF clinch trophy at U17 National Cup
PVF FC claimed the overall trophy of the U17 National Cup after edging out Viettel FC 1-0 in the title match on December 10.
PVF made good use of their home-field advantage to take control of the ball right after the first whistle.
The hosts needed only six minutes to materialise their prevalence with an opening goal by skipper Tran Ngoc Son.
In the following minutes, PVF played solidly to neutralise Viettel's waves of attack and retaliated with subtle counterattacks.
Viettel handed PVF a penalty nine minutes after the hour mark as Van Tu infringed a PVF player in the box, which cost him a second yellow card. From the spot, Nguyen Thanh Nhan, however, was unable to beat the Viettel goalkeeper to double the home side's lead. 
In the remainder of the match, the efforts made by the two sides were not enough to produce any further goals, meaning an overall 1-0 victory for the PVF team. 
With the triumph, Dinh The Nam's troops were crowned the champions of the first-ever U17 National Cup.
Earlier that same day, Hanoi U17 played out a 1-1 draw with Hoang Anh Gia Lai U17 after 90 minutes before winning the penalty shootout 4-2 to settle for the bronze medal. 
PVF's Tran Ngoc Son, who scored the solitary goal of the final match, was named the most valuable player of the tournament, while Nguyen Quoc Viet (Nutifood Academy) and Doan Duy Hoang (Viettel) won the "top scorer" (nine goals) and "best goalkeeper" categories.
Vietnamese culinary culture promoted in Argentina
Vietnam Culinary Culture Days, themed "Vietnam's taste", officially opened in Buenos Aires, Argentina on December 10, aiming to introduce Vietnam's traditional food and cultural features to international friends.
The event featured the attendance of Vietnamese Ambassador to Argentina Duong Quoc Thanh and Foreign Deputy Minister of Argentina Pablo Enrique Sivori.
Speaking at the opening ceremony, Ambassador Duong Quoc Thanh affirmed that the event is an opportunity to enhance the mutual understanding and friendship between Vietnam and Argentina.
Visitors have the chance to enjoy Vietnam's traditional food as well as learn about the preparation of the food.
In addition, guests were impressed by handicrafts, Ao Dai (Vietnamese traditional long dresses) and images highlighting the country's cultural identities.
Vietnam Culinary Culture Days will last until December 13 at the Green Bambo and Saigon restaurants.
Vietnam Airlines to offer 2.4 million seats for upcoming Tet travel season

Three local carriers under Vietnam Airlines Group—Vietnam Airlines, Pacific Airlines and VASCO—will offer 2.4 million seats, equal to some 12,000 flights, on domestic routes to meet the huge travel demand during the upcoming Lunar New Year, or Tet.
Of this, the three airlines are set to add an additional 414,000 seats, equivalent to some 2,100 flights, between January 1 and February 26 next year.
The Group will operate more flights on the busiest air routes such as Hanoi-HCMC/Danang/Phu Quoc/Nha Trang/Dalat/Vinh, and HCMC-Danang/Thanh Hoa/Vinh/Hue/Quang Nam/Quy Nhon/Buon Ma Thuot/Nha Trang/Phu Quoc/Dalat.
The increase in the number of flights is expected to allow more passengers to fly home to celebrate the Tet holiday.
According to the national flag carrier Vietnam Airlines, a large number of local residents have plans to come home to enjoy the Tet holiday, as 50-90% of its seats on busy routes departing from the major cities of Hanoi and HCMC to other smaller localities such as Thanh Hoa, Vinh, Hue and Buon Ma Thuot have been full since the end of last month.
The carriers advised passengers to book tickets via their official channels such as websites or ticketing agents and to request an invoice to avoid buying fake or overpriced tickets.
Besides this, passengers should do an online check-in via official websites and mobile apps or at check-in kiosks at airports to save time.
Tan Son Nhat airport runway to be put back to use before Tet
A runway of the HCMC-based Tan Son Nhat International Airport, which is being repaired, is set to be put back into operation for the first phase on December 31.
Some main components of a project to upgrade and repair the 25R/07L runway, which is 3,048 meters long and 45.7 meters wide, have been completed, according to Cuu Long Corporation for Investment Development and Project Management of Infrastructure.
Other components, including painting the runway and installing equipment and signals, will be carried out from December 15 to 20, Thanh Nien Online reported.
The Ministry of Transport has allocated VND373 billion from the 2020 State budget to the project to date.
The corporation is in the process of completing procedures to add VND300 billion to the funding to ensure the efficiency of the construction.
During the construction of the project, Cuu Long Corporation has been closely collaborating with some competent agencies such as the Southern Airports Authority, Air Force 370 and the Tan Son Nhat International Airport to monitor the project and ensure safety, said the corporation.
Earlier, on July 1, Runway 25R/07L and taxiways E1, NS1, W4 and W6 at the Tan Son Nhat International Airport and Runway 11L/29R at the Hanoi-based Noi Bai International Airport were closed for repair and upgrade, as part of a major project to rehabilitate and upgrade the runways and taxiways of the two international airports.
When in place, the newly-repaired runway at the Tan Son Nhat International Airport is expected to ease the burden on the airport, which is facing overloading, ensuring the smooth operation of flights during the upcoming Lunar New Year holiday (Tet).
Transport Ministry to develop Bien Hoa-Vung Tau Expy project
Prime Minister Nguyen Xuan Phuc has given the green light to the Ministry of Transport to implement the first phase of the Bien Hoa-Vung Tau expressway project, which will stretch from Bien Hoa City in Dong Nai Province to Ba Ria City in Ba Ria-Vung Tau Province, under the public-private partnership format.
The ministry was told to collect feedback for the project from the relevant agencies, revise the project's pre-feasibility study, which was created by the provincial government of Ba Ria-Vung Tau, and present the prime minister with a decision to invest in the project, in line with prevailing regulations.
The expressway will have a total length of 53.7 kilometers, including a 34.2-kilometer section passing through Dong Nai and a 19.5-kilometer section in Ba Ria-Vung Tau.
The project requires a total investment of more than VND19 trillion, with some VND6.6 trillion from the State budget and the remaining amount from other legal sources.
Further, some 588.5 hectares of land is required to build the road. After the investment for the project is approved by the prime minister, the two provinces will jointly work on site clearance and compensation policies and submit them to PM Phuc for approval.
Source: VNA/VNN/VNS/SGGP/VOV/NDO/Dtinews/SGT/VIR