Over 1.2 million more doses of AstraZeneca COVID-19 vaccine arrive in HCM City
A total of 1,228,500 doses of AstraZeneca COVID-19 vaccine arrived in Ho Chi Minh City on July 23 morning.
This is the fifth and also the biggest shipment of the deal to purchase 30 million doses signed between AstraZeneca Vietnam and the Vietnam Vaccine Joint Stock Company (VNVC) with support from the Ministry of Health.
To date, over 3.1 million doses of the contract have delivered to Vietnam. The amount accounted for approximately 37 percent of the AstraZeneca vaccine volume Vietnam has received, with the remainder coming from the COVAX Facility or donated by other countries.
Nitin Kapoor, President for Asia Area Frontier Markets at AstraZeneca who is also Chairman and General Director of AstraZeneca Vietnam, said the amount of the vaccine brought to Vietnam in July 2021 shows AstraZeneca's efforts to accelerate its supply to support Vietnam's fight against the pandemic.
In total, nearly 8.6 million doses of AstraZeneca vaccine have been delivered to Vietnam, accounting for 76 percent of the country's COVID-19 vaccine volume.
He vowed that the company will continue its cooperation with the Vietnamese Ministry of Health, the World Health Organisation (WHO), the UN Children's Fund (UNICEF), and the VNVC to quickly and safely transport the vaccine to Vietnam.
AstraZeneca was the first vaccine to have obtained authorisation for emergency use in Vietnam./.
Hanoi reports another 17 COVID-19 cases on July 23
Hanoi reported 17 new infections of COVID-19 at noon July 23, raising the total cases in the capital city since April 29 to 656, according to the municipal Department of Health.
They are linked to seven clusters, the department said, adding that the city has reported 38 cases since last night.
Among the 656 cases detected so far during the latest resurgence from April 29, 410 were found in the community while 246 were in quarantine facilities and locked down areas.
As of July 23 morning, the national tally of COVID-19 reached 78,269, including 76,140 domestically infected and 2,129 imported cases.
The number of cases documented since the fourth COVID-19 wave hit the country in late April amounted to 74,570./.
Ministry to prioritize Pfizer vaccine for those receiving AstraZeneca as first jab
Due to the limited number of Covid-19 vaccines, the Pfizer-BioNTech, or Comirnaty, Covid-19 vaccine will be prioritized for those who have been given AstraZeneca as the first shot for eight to 12 weeks and agree over its use, according to the Ministry of Health.
The ministry today, July 22, issued instructions on the use of the Comirnaty vaccine, Tuoi Tre Online newspaper reported.
According to the ministry, some other countries, such as Canada, Germany, France, Norway and South Korea, have applied the mixture of two different kinds of Covid-19 vaccines.
Studies in some countries showed that the use of the Pfizer-BioNTech vaccine for people who have received the AstraZeneca vaccine in the first jab would produce an equivalent immune response as the use of two Pfizer-BioNTech vaccine doses and a stronger immune response compared with two AstraZeneca doses.
However, the mixture may cause stronger side effects.
The Ministry of Health will receive 746,460 Pfizer-BioNTech vaccine doses this month and has worked out the vaccine distribution plan.
As soon as the vaccination drive is completed, localities must immediately report the vaccination results and side effects of the mixture. They must also strictly comply with regulations on safe vaccination.
In Vietnam, more than 3.5 million people have been vaccinated against Covid-19, including over 300,000 people having received two shots.
One hospitalized, many injured after storm sweeps Mekong Delta
One inhabitant in the Mekong Delta Province of Kien Giang's Giong Rieng District was hospitalized and several got injured after torrential rains, strong winds and cyclones swept the region flattening and blowing off the roofs of 54 houses on July 22.
Cao Quoc Dien, Chairman of the People's Committee of Giong Rieng District, said that between 7-8 am on July 22, heavy rain accompanied by cyclones hit the district damaging people's houses. Preliminary statistics show that 20 houses in Hoa Thuan commune completely collapsed while 23 other houses' roofs were blown off.
At the same time, 9 houses in Ngoc Hoa commune collapsed and roofs were blown off and two houses in Thanh Hoa commune fell.
Fourteen people were injured, one of them was seriously injured and had to be hospitalized for treatment. It is estimated that the incident resulted in overall losses worth millions of Vietnam dong.
Authority in Giong Rieng district has mobilized local forces to help people collect belongings as well as provide temporary shelters for those who lost their houses in the natural disaster, estimate damage, and assist people to repair their houses... According to Mr. Dien, most of the victims of the disaster are poor families.
On the same day, Director of the Department of Agriculture and Rural Development in Ben Tre Province Doan Van Danh said that the whirlwind during two recent days has damaged houses and orchards in the province. Local volunteers are helping people to repair the houses.
Statistically, a cyclone destroyed 19 houses including 15 houses n Ba Tri District's An Hiep Commune.
Additionally, the freak weather caused trees to topple forcing traffic to grind to a halt and causing severe congestion; as a result, the loss is initially estimated at over VND100 million.
The rainstorm also blew away the roofs of four houses and uprooted 50 durians and rambutans in Chau Thanh District. Soon, local forces helped to repair residents' houses.
Ben Tre authority will give VND40 million to owners of collapsed houses according to the present regulations, said that Department of Agriculture and Rural Development. Furthermore, local authorities visited the house of injured people to give gifts encouraging them to overcome the difficulty.
The Department of Agriculture and Rural Development in Tra Vinh Province said 14 houses in districts Tieu Can, Chau Thanh, and Duyen Hai were severely damaged in the heavy rain accompanied by a whirlwind. The loss was preliminarily estimated at approximately VND200 million. Competent agencies are assisting households to fix their houses.
Vietnam reports 3,898 new COVID-19 cases
Vietnam recorded 3,898 new COVID-19 cases from 7.30pm on July 22 to 6am on July 23, according to the Ministry of Health.
Ho Chi Minh City, the country's current largest pandemic hotspot, logged the majority of the new cases, with 3,302 infections. It was followed by southern Long An province, with 223 cases and central Da Nang city which recorded 47 infections.
As many as 191 cases were detected in the community.
The northern province of Lai Chau reported its first locally-transmitted case in the current wave of outbreaks. The patient recently returned from HCM City.
As of July 23 morning, the national tally amounted to 78,269, including 2,219 imported ones. The number of cases since the fourth wave of infections hit the country on April 27 reached 74,570.
As many as 13,421 patients have recovered from COVID-19.
More than 4.41 million doses of COVID-19 have been administered, and 334,560 people had fully received two shots.
In an effort to reduce the rate of fatality and provide timely treatment for COVID-19 patients, the MoH plans to set up 30 regional and five national intensive care units across the country, each of them will have between 500 and 1,000 beds.
As of 5pm on July 22, the COVID-19 vaccine fund had received nearly 8.23 trillion VND (357.38 million USD) from 470,150 organisations and individuals, according to the fund's management board./.
Government proposes keeping structure at 15th NA's first session
Prime Minister Pham Minh Chinh, on behalf of the Government, on July 22 proposed the National Assembly sustain the Government's structure of 18 ministries and four ministerial-level agencies in the 14th term for the 15th tenure.
Presenting the proposal as part of the 15th NA's ongoing first session, the PM said the 14th Government's structure of 18 ministries and four ministerial-level followed a multi-sector and multi-aspect model whose management scale has been gradually improved be fully functioning across sectors, in contribution to the realisation of goals set by the 12th National Party Congress's Resolution.
Based on activities in the past tenure, the structure could be said as being consolidated in accordance with the Party's guidelines and the NA's resolution, he added.
He stated that applying the organisational structure of the 13th tenure to the 14th tenure had created conditions for the Government to effectively perform the constitutional role of the highest state administrative body, exercise its executive power, and act as the executive authority of the NA.
According to the PM, functions, tasks and power of ministries and ministerial-level agencies have been supplemented and improved; their apparatuses have also been gradually streamlined for better efficiency./.
Vietnam ensures medical care and health safety for foreigners
The Vietnamese Government always pays attention to and ensures medical care and health safety of foreigners in the country, including citizens of the Republic of Korea (RoK), especially amidst complex developments of the ongoing COVID-19 pandemic.
Spokeswoman of the Vietnamese Ministry of Foreign Affairs Le Thi Thu Hang made the affirmation while responding to queries regarding the death of a Korean citizen contracting COVID-19 in Ho Chi Minh City, at the ministry's regular press conference on July 22.
She cited information from the municipal Department of External Affairs as saying that the patient died of the disease at Cho Ray Hospital on July 13.
"We are really sorry and would like to extend our deepest sympathy to the bereaved," Hang said, adding that the patient had been treated at one of the most leading medical facilities in Vietnam and received the wholehearted care of the hospital's medical staff in the best possible conditions, but it is unfortunate that the patient had not survived.
According to the spokeswoman, Vietnam's competent agencies have been working with the Korean side to deal with post-death procedures.
Vietnamese agencies and localities will review related protocols and work closely with foreign representative offices in the country to address emerging issues in a timely manner, and avoid the repetition of similar incidents in the future, Hang said.
HCM City: Over 1,000 COVID-19 patients to be discharged each day
More than 1,000 recovered COVID-19 patients in Ho Chi Minh City will be discharged from hospitals each day in the next days, according to the city Centre for Disease Control (HCDC).
The centre reported that on July 21, 1,585 patients were discharged after being given the all-clear, raising the number of recoveries to 6,422.
The temporary hospital for COVID-19 treatment No.4 in Binh Chanh alone released 200 patients on the day after their three tests showed negative results. They will continue to undertake home quarantine.
In the recent few days, the city has seen 4,837 recoveries, the HCDC said.
According to the city Department of Health, the city has set up 35 hospitals for COVID-19 treatment with a combined capacity of over 59,000 beds. As many as 35,228 F0s are being treated, 533 of whom need oxygen support and 10 use ECMO.
So far, HCM City has recorded 44,138 infections with 382 related deaths. The city is piloting home quarantine for F1s. F0s without symptoms are quarantined at their place of residence.
On July 22, HCM City began the fifth phase of its large-scale COVID-19 vaccination campaign with d 615 injection sites across the city. The campaign is scheduled to run within two weeks with more than 930,000 vaccine doses to be administered./.
Over 2,000 medical devices and supplies transported to HCM City
More than 2,000 medical devices and supplies have been transported to a field storage serving COVID-19 prevention and control activities in Ho Chi Minh City - the country's current largest pandemic hotspot, and other southern localities.
The medical devices and supplies include ventilators, dialysis machines, oxygen generators, and more than 12 million masks of all kinds.
Under the Prime Minister's direction, the field storage was established at Cho Ray Hospital in HCM City on July 17, expecting to keep about 2,000 ventilators of different types.
The facility has to date stored 125,000 N95 masks, 14,500 sets of protective gears, and 12 million medical masks.
This week, the Ministry of Health will transport 560 high flow oxygen systems sponsored by enterprises to the storage, which has already stored 60 systems.
Meanwhile, to treat severe cases, the ministry has worked with HCM City's authorities and decided to set up a 1,000-bed COVID-19 intensive care hospital, which is located at the city's oncology hospital.
So far, the city has recorded 48,863 infections. The city is piloting home quarantine for F1s. F0s without symptoms are quarantined at their places of residence.
On July 22, HCM City began the fifth phase of its large-scale COVID-19 vaccination campaign with 615 injection sites across the city. The campaign is scheduled to run within two weeks with more than 930,000 vaccine doses to be administered./.
NA to approve solution on Government's organisation on July 23
The 15th National Assembly (NA) is scheduled to vote on a resolution on the Government's organisational structure in the 2021-2026 tenure on July 23 as part of the ongoing first plenary session.
Before voting, deputies will listen to a report by NA Standing Committee on outcomes of group discussion on the matter and another report by the Government in the 2016-2021 tenure explaining contentious points and making revisions based on NA deputies' opinions on the issue.
Also in the morning, Minister of Finance in the 2016-2021 tenure Ho Duc Phoc will deliver a report on the draft national financial plan as well as a plan for borrowing and paying public debt in the next five years, while the head of the NA Budget-Finance Committee will deliver a report assessing the plans. After that, NA deputies will discuss the plans in groups.
In the afternoon, Minister of Labour, Invalids and Social Affairs in the 2016-2021 tenure Dao Ngoc Dung is to present a proposal on the investment policy of the National Target Programe on sustainable poverty reduction in the 2021-2025 period. Minister of Agriculture and Rural Development Le Minh Hoan will deliver a report on the investment policy of the National Target Programme on new-style rural area building in the 2021-2025 period.
Relevant NA committees will make their assessment on those reports, which will then be discussed in groups./.
Ensuring safety, medical care for Vietnamese people in Singapore: spokesperson
The Embassy of Vietnam in Singapore is staying in touch with the Vietnamese community in Singapore and guiding them to follow local regulations on pandemic prevention and carry out protective measures so as to protect themselves, their families and the community, spokesperson for the Foreign Ministry Le Thi Thu Hang said during a regular press conference of the ministry held virtually on July 22.
Replying to a question about reports that there are COVID-19 cases among Vietnamese in Singapore, the spokesperson said relevant agencies in Singapore are investigating the source of COVID-19 infections amongst the Vietnamese community in the country.
She added that the Vietnamese Embassy has also been working closely with relevant agencies in Singapore to provide support for the citizens, handle residential procedures and arrange flights to bring those who are in extremely disadvantaged circumstances due to the pandemic back to Vietnam. 
Vietnam has asked Singapore to pay attention to treatment for the infected, as well as ensure safety and medical care for Vietnamese who are living, studying and working in the country.
Representatives of the Vietnamese Embassy in Singapore on July 19 held a meeting with the local press to update them on the situation of the Vietnamese community in Singapore amid the COVID-19 pandemic, along with the community's contributions to the socio-economic development of the country.
"We hope that the media at large and the Singaporean press in particular will publish objective articles which are based on verified mainstream news sources regarding the situation of the Vietnamese community in Singapore, so as to promote mutual understanding between people of the two countries and the Vietnam-Singapore strategic partnership," the spokesperson underlined./.
Official dispatch calls for stronger COVID-19 prevention and control measures
Permanent member of the Party Central Committee's Secretariat Võ Văn Thưởng has called for stronger efforts in the country's fight against the fourth wave of COVID-19 infections. 
On Wednesday an official dispatch on strengthening COVID-19 prevention and control measures was sent to the National Steering Committee for COVID-19 Prevention and Control. 
The dispatch was also sent to municipal and provincial Party Committees; the Party Central Committee's Commissions; centrally-run Party Civil Affairs Committees, Party Committees, Party Delegations; and Party Committees of centrally-run non-productive agencies. 
The official dispatch says that the Party Committees, administrations at all levels, mass organisations and people from all walks of life have strived to overcome difficulties and promptly adopted measures to fight the pandemic. However, the fourth wave of infections has a large scale and spreads quickly, meaning people's lives and health as well as production and business activities have been badly affected. 
In order to improve the efficiency of the fight against the pandemic, the permanent member of the Party Central Committee's Secretariat called on the entire political system to make the work a top priority.
The Party Committees and organisations must continue seriously, drastically and effectively following directions of the Politburo, Secretariat, Government, Prime Minister, National Steering Committee for COVID-19 Prevention and Control and the Health Ministry's guidelines in the new situation, especially the Politburo's conclusion No.07-KL/TW dated June 11 on several key tasks on COVID-19 prevention and control and socio-economic development. 
He asked for commendations and rewards for individuals, organisations and localities who had performed well, while punishing those who violate prevention and control measures. 
Secretaries of the municipal and provincial Party Committees and heads of the Party Committees must pool the involvement of the entire political system; create public consensus; direct tracing, quarantine, testing and vaccination measures, particularly in localities that are implementing the Prime Minister's Directive No.16 and high-risk areas; supply necessities to people and procure equipment for the effort, take responsibility for the work before the Politburo and Secretariat. 
The National Steering Committee for COVID-19 Prevention and Control and the health sector were assigned to direct localities to outline scenarios and adopt testing and treatment measures that suit the situation, step up the research, production and distribution of vaccines. 
The Party Central Committee's Mass Mobilisation Commission, the Fatherland Front and socio-political organisations were asked to raise awareness, responsibility and pandemic prevention and control skills among their members and the people, and provide care for residents, especially those in difficulties and vulnerable groups. 
Apart from joining in the COVID-19 fight, armed forces were urged to ensure security and order, stay vigilant, punish those who take advantage of the pandemic to distort, incite and sabotage national security, social safety and order. 
The Party Central Committee's Commission for Information and Education, and the Ministry of Information and Communications must direct press and news agencies to orient public opinion, contributing to creating high consensus on pandemic prevention and control. 
President extends greetings to Tokyo 2020 Olympics, Paralympics
State President Nguyen Xuan Phuc on July 22 sent a greeting letter to Japanese Prime Minister Suga Yoshihide on the occasion of the Tokyo 2020 Olympics and Paralympics – a big sport event that is widely anticipated and followed in Vietnam and globally.
"I understand that for the solemn opening ceremony to take place on July 23, 2021, the Prime Minister and the people of Japan had to overcome many obstacles and difficulties, especially the unprecedented huge impact of the COVID-19 pandemic," President Phuc wrote in his letter.
The Vietnamese leader once again expressed his wish that the Tokyo 2020 Olympics and Paralympics will be a great success.
The burning Olympics torch in Tokyo will be a great encouragement to sport lovers about the bravery and strength of humans when facing the pandemic, and also a noble symbol of the resilient will and spirit of Japan - a strong nation, a prosperous developed country of the world and an extensive strategic partner of Vietnam, he added./.
Vietnamese, RoK PMs hold phone talks
Prime Minister Pham Minh Chinh and his counterpart of the Republic of Korea Kim Boo-kyum held a phone talks on July 22 to discuss specific measures promoting bilateral strategic cooperative partnership, towards the 30th anniversary of bilateral diplomatic ties.
The two PMs agreed to work closely together, maintain all-level exchanges to bolster joint work in all areas and exchanges between the two countries' people. They also vowed to regularly discuss key issues in bilateral ties in the near future.
They also reached consensus on achieving the goal of lifting two-way trade to 100 billion USD in a balanced trade manner, including facilitating Vietnam's exports of strength such as agro-forestry-fishery products and seasonal fruits.
Vietnam encourages and creates favourable conditions for RoK firms to continue expanding and shifting investment to the country while actively assisting those hit by the COVID-19 pandemic, he said.
The RoK side vowed to continue extending the supply of official development assistance (ODA) to Vietnam.
Both sides will effectively maintain bilateral labour cooperation and make it easier for the Vietnamese in the RoK and the Koreans in Vietnam to have a stable and safe life, particularly amid the current pandemic, as well as step up several projects in national defence-security.
About the fight against COVID-19, PM Chinh said Vietnam is actively implementing a vaccine strategy. He suggested the RoK continue assisting Vietnam in receiving vaccines via COVAX Facility at the earliest, and share vaccine supplies to Vietnam as many as possible.
The two leaders also promised to direct relevant agencies share experience and work closely together on the research and transfer of vaccine production technology. They also pledged to vaccinate foreign citizens, including those from the two countries.  
On regional and global issues of shared concern, they committed to enhancing collaboration at multilateral forums.
They shared a joint vision on ensuring security, maritime safety and freedom in the East Sea, maintain an environment of peace and stability, settle disputes by peaceful means in line with international law, including the 1982 United Nations Convention on the Law of the Sea, while seriously realising the Declaration on the Conduct of Parties in the East Sea (DOC), toward the early signing of an effective and efficient Code of Conduct in the East Sea (COC)./.
HCM City to apply more stringent preventive measures in very high-risk areas
HCM City will continue social distancing under the Prime Minister's Directive No.16 and apply more stringent COVID-19 preventive measures in very high-risk areas, Phan Văn Mãi, deputy secretary of the HCM City Party Committee, said at a press meeting on July 21.
The current 15-day social distancing period under Directive No.16 that started on July 9 will end on Friday (July 23), but the city is still seeing an increase in new COVID-19 cases and the number has yet to reach its peak, according to Mãi.
The city is preparing for more stringent COVID-19 preventive measures and is telling the public to seriously follow regulations, including keeping a safe distance in the area where they live to reduce the spread of the virus in their community.    
"In areas with a large number of people and at a very high risk of transmission, residents are not complying with regulations on COVID-19 prevention and control," Mãi said, adding that local authorities were working to resolve these problems.
The city has a map with green- and red-coloured areas that regularly updates the COVID-19 situation. The green areas are sites without COVID-19 cases, while the red areas are sites with positive COVID -19 cases.
"Previously, the city focused on high-risk areas. However, the city will now carry out further activities to protect and try to gradually expand the green areas," Mãi said.
The green area for Củ Chi District, for instance, has expanded as it now has more communes without COVID-19 cases.
Mãi said the city would also enhance supply sources to ensure food for people during the social distancing period and carry out further methods to maintain production at enterprises.    
The city has been working with the HCM Ciy Export Processing Zone and Industrial Park Authority and associations to change measures to ensure safety in enterprises' production activities.  
Mãi noted that conditions at traditional markets were not good and the lack of safe distancing was creating transmission risks.
To reopen traditional markets, the markets' managers must ensure safe distances and strictly comply with the Ministry of Health's 5K message to avoid triggering new COVID-19 clusters.
The city is also encouraging associations and companies to use a variety of ways to supply goods to customers.
The city Department of Health is taking efforts to manage and treat the increasing number of COVID-19 patients.
People who have a positive antigen rapid test are temporarily isolated at quarantine facilities in wards, communes and towns while waiting for the more accurate results of the PCR test.
If they have a positive PCR test result, have no symptoms, and do not have underlying medical conditions or other health problems, they will be brought to a separate area in the quarantine facilities for isolation.
The department estimates that the number of patients in this category accounts for 70 per cent of the total.      
If these patients' health worsens, they will be transported to designated COVID-19 treatment hospitals to prevent fatalities.
Nguyễn Hữu Hưng, deputy head of the Department of Health, said the city has 35 COVID-19 treatment hospitals with more than 59,000 beds.
More than 35,000 COVID-19 patients are being treated at these hospitals.     
Nguyễn Hồng Tâm, deputy head of the Centre for Diseases Control and Prevention, noted that no new COVID-19 clusters have been found in the city and the number of new COVID-19 cases at the city's industrial parks and export processing zones has fallen. 
Leipzig of Germany establishes partnership with HCM City
The council of Leigzig city in Germany's Sachsen state on July 21 approved the establishment of a partnership with Vietnam's Ho Chi Minh City, lifting their bilateral friendship to a new level.
At the council's meeting, Leipzig mayor Burkhard Jung reviewed the cooperation between the two cities since the two sides signed an MoU on establishing friendly ties in 2015.
At the end of 2018, Leipzig opened a representative office in Vietnam. It is so far the only German city with a rep. office in Vietnam.
The German city has worked with Vietnam and HCM City in particularly in many cooperative projects in a wide range of areas, from economics, culture, health care, education-training to energy, the environment and rare animal conservation, the mayor said.
He went on to say that the two sides have supported each other in the COVID-19 crisis through practical actions.
Addressing the council's meeting, Vietnamese Ambassador to Germany Nguyen Minh Vu said Leipzig's decision to set up a partnership with HCM City marks a new step forward not only in the relationship between the two cities but also in the friendly ties between Vietnam and Germany, especially during a year when the two countries celebrate the 10th year of their strategic partnership.
Recalling the traditional ties between Leipzig and Vietnam, the ambassador thanked the city authorities for creating favourable conditions for the Vietnamese community in the city to integrate into the host society and contribute to the ties between the two countries.
Earlier the same time, Ambassador Vu and Defence Attache Nguyen Tuan Minh had a working session with the University Hospital Leipzig on the cooperation between the German hospital and Vietnam's Military Hospital 175.
As part of his working trip, the ambassador also called at the Leipzig zoo to discuss the joint work between the zoo and Vietnamese partners, including the Endangered Primate Rescue Centre in Cuc Phuong National Park and a project to preserve primates in Cat Ba island./.
Primary schools struggle to offer full-day study
Primary schools in outlying districts in HCM City are struggling to arrange enough classrooms for first graders to study a full day in the upcoming academic year due to population growth in city districts.
With an annual migrant growth rate of 13 per cent, Bình Chánh District provides schooling for additional 4,000 migrant students in all grades every year.
Schools in the district cannot offer full-day classes for first to fifth graders at seven primary schools in Vĩnh Lộc A, Vĩnh Lộc B and Phạm Văn Hai communes due to a lack of classrooms, according to Nguyễn Trí Dũng, head of Bình Chánh District's Education and Training Office.
In Bình Tân District, around 11,000 students will enter the first grade and 7,800 students will enter the sixth grade in the 2021-2022 academic year, Ngô Văn Tuyên, head of the district's Education and Training Office, said.
All primary and secondary schools in the district have stopped receiving registration directly at schools, but have adopted online registration for first grade and sixth grade students due to social distancing requirements.
More than 8,000 online applications for first grade enrollment and 5,800 applications for sixth grade enrollment have so far been submitted.
With a new 300-class primary school to open in the upcoming academic year, the district has enough seats for all first-grade students.
However, only 60 per cent of first to second graders will attend full-day classes and the remaining 40 per cent will study only half a day because of the high number of students. 
Around 70 per cent of third to fifth graders will study only half a day.
In Gò Vấp District, there are not enough classrooms for primary schools to carry out the new training programme, which requires students to study during the day and classrooms to have no more than 35 students each.
The new nationwide training programme began last year.
In the 2020-21 academic year, only 70 per cent of first graders in the district studied during the day.
The district has no new schools, making it impossible to expand the number of classrooms for the new training programme.
The increased population in District 12 has also created a challenge for the local education sector to carry out requirements of the new training programme.
Khưu Mạnh Hùng, head of the district's Education and Training Office, said it remained a great challenge for the district to arrange enough classrooms for more than 9,000 first graders in the upcoming academic year as no new primary school projects have been carried out.
Online applications for first grade enrollment have reached more than 70 per cent, and enrollment for the sixth grade has been completed.
The list of students entering the first and sixth grades will be announced by the end of this month.
Vietnam treasures international support in pandemic combat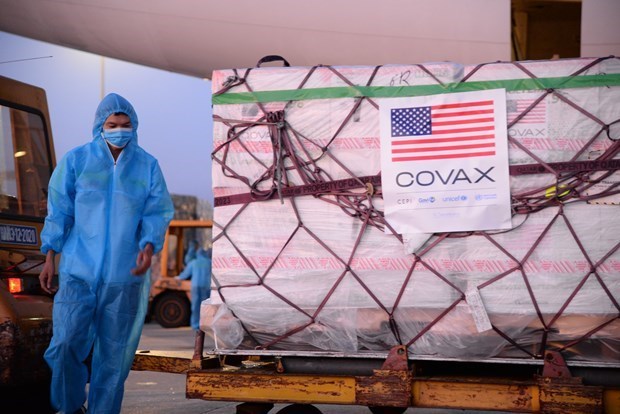 A batch of Moderna COVID-19 vaccine supported by the US Government at Noi Bai International Airport in Hanoi on July 10. (Source: WHO)
The Vietnamese Party, State, Government and people always treasure the practical and timely support of international friends during the COVID-19 fight, according to the Ministry of Foreign Affairs.
The ministry said since the pandemic broke out, Vietnam has received valuable support from people and Governments of foreign countries, as well as international organisations.
The medical supplies have helped the country sail through waves of COVID-19 outbreaks, it noted.
Given the complex developments of the pandemic, the Vietnamese Government has considered vaccine access and widespread inoculation a crucial, urgent solution.
Therefore, Vietnam has stepped up "vaccine diplomacy," with the engagement of Party, State, Government and National Assembly leaders, and ministries, and agencies.
Such efforts paid off as the country has received the warm response from partners, neighbours and international friends that have committed up to 150 million doses of COVID-19 vaccines, despite a global shortage of vaccines.
Vietnam has so far got more than 8 million doses from foreign countries and partners, of which 4.5 million doses were channeled through the COVAX Facility, with 2 million doses from the US, 3 million doses from Japan, 0.5 million doses from China and 1,000 doses from Russia.
The partners have also pledged to further aid the Southeast Asian nation in the time ahead.
Other countries like India, the UK, Australia, Cuba and Germany have also made specific commitments to donations and cooperation in the transfer of vaccine production technology.
The United Nations Children's Fund (UNICEF), and countries like Laos, Japan, the Republic of Korea (RoK), Australia, Germany, Cambodia and Saudi Arabia have also provided Vietnam with medical supplies and sources to serve the pandemic combat.
Vietnam is rolling out its largest-ever inoculation campaign. As of July 20, more than 4.3 million people have been vaccinated, of whom over 300,000 got full two shots.
According to the ministry, the Vietnamese leaders have thanked the valuable support during their meetings and online talks, and in letters to foreign leaders, saying it demonstrates the fine relations between Vietnam and partners and international friends.
At the same time, Vietnam has joined hands with the international community in the combat through cooperation activities and the exchange of experience and sources.
The country has contributed 500,000 USD to the vaccine sharing scheme COVAX./.
Hanoi woman sentenced to jail for anti-State activities
A woman in Hanoi has been sentenced to 20 months in prison for the charge of "taking advantage of the rights to freedom and democracy to infringe upon State interests, legitimate rights and interests of organisations and individuals" in accordance with Article 331 of the 2015 Penal Code.
The defendant was Nguyen Thi Thuy, 44, residing in O Cho Dua ward, Dong Da district, Hanoi.
An indictment presented by the Hanoi People's Procuracy at a trial on July 21 stated that Thuy was head of a law office that was licensed in April 2012 and based in O Cho Dua ward. On October 1, 2012, the office announced the suspension of its operation for two years, starting from December 1, 2012.
On February 12, 2019, the municipal Justice Department decided to revoke its license for reason that the office did not resume operation from December 1, 2014.
In 2017, Thuy, in her capacity as lawyer and head of the Nguyen Dang law office, joined in protecting legitimate rights and interests of Tran Quang Ngu, 69, residing in the outlying district of Ba Vi, who was arrested and prosecuted in 1990 for "fraud to appropriate socialist assets".
In the process of protecting rights of Ngu, Thuy said he was wrongly accused and illegally arrested. She later wrote two documents that hurted the prestige and honour of several Party and State leaders and sent them to ministries and agencies, thus exerting pressure on them to follow her proposal.
The council of judges concluded that Thuy took advantage of the rights to freedom and democracy to compile and disseminate documents distorting and insulting the prestige, honour and dignity of State leaders, affecting the prestige of individuals and organisations and disturbing social security and order as well as activities of the State agencies.
During the investigation, the National Institute of Forensic Psychiatry on July 16, 2020 concluded that Thuy suffered from medium-level maniac depression, leading to her limited cognitive ability and behaviour control. The judges thus decided to partly reduce her sentence./.
Quang Ninh targets safe, attractive tourism destination
The northern province of Quang Ninh, home to UNESCO-recognised Ha Long Bay, is working hard to develop safe tourism products as the local tourism sector has been hit hard by the COVID-19 pandemic. 
After containing the fourth wave of COVID-19 outbreaks, the locality has allowed travel facilities to restore their operation in line with pandemic prevention and control regulations.
Promotion tourism programmes have been launched at Ha Long Bay, the provincial museum and the Yen Tu relic and scenic complex, targeting local holiday-makers.
Local travel firms have joined hands to build chains of products and services to cut expenditures amidst difficulties caused by the pandemic, while stepping up the communication work.
The provincial tourism association has also proposed the provincial People's Committee welcoming visitors with COVID-19 passes from other localities.
According to the local tourism department, in the first six months of this year, Quang Ninh attracted 2.5 million visitors, equivalent to 60 percent of the number recorded in the same period last year, earning 5.2 trillion VND (225.86 million USD) from the sector./.
Potential for Vietnamese exports to Africa: workshop
There remains room for Vietnamese exports to the African market, experts said at a virtual workshop on Vietnam-Africa trade promotion held by the Vietnam Trade Promotion Agency (Vietrade) on July 21.
Speaking at the event, Le Hoang Tai, deputy head of the agency, said Vietnam has established trade relations with all 54 African nations whose population amount to some 1.3 billion.
Bilateral trade between Vietnam and Africa has grown positively over the past year, hitting 6.7 billion USD in 2020, he added.
Nguyen Minh Phuong from the Ministry of Industry and Trade's Asia-Africa Market Department said Vietnam has recorded mostly trade surplus to this regional market.
She noted South Africa is Vietnam's main export market with a turnover of 681 million USD last year, followed by Egypt, Ghana, and Côte d'Ivoire.
Cao Minh Tu from the same department underscored farm produce as the top priority for the bilateral trade, with Africa importing 596.1 million USD worth of rice from Vietnam in 2020.
Freshwater fish, apparel, footwear products, medical equipment, scooters, spare parts, generators and water pumps are those that can be successfully exported to Africa, he added.
Experts at the event praised opportunities for Vietnamese firms in the market but also warned of transaction frauds./.
Vietnam wins two honourable mention certificates at FIAP contest
The Vietnam Association of Photographic Artists (VAPA) has brought home two honourable mention certificates in the print and digital categories at the International Federation of Photographic Art (FIAP)'s 29th Colour Biennial, the association has announced.
The two certificates were presented to two photo collections themed 'Traditional Crafts' in the print section and 'Vietnam Viewed from Above' in the digital session.
'Traditional Crafts' comprises 10 photos, while 'Vietnam Viewed from Above' is a collection of 20 photos, both taken by different photographers.
Regarding individual photo awards, Vietnamese photographer Dzung Nguyen won an honourable mention certificate for his photo entitled 'Phoi Chieu Coi' (Drying sedge mat), which is one of the 'Traditional Crafts' collection.
Biennials is one of the most important events offered by FIAP. They are organised every two years in a different member country. Even years for Black and White and Nature Biennials, odd years for the Colour Biennial.
Biennials have a very particular characteristic, different from the international contests. It is not only the quality of the individual work that counts, but FIAP ask for coherent collections, as well of the viewpoint of inspiration and conception as form the viewpoint of execution and presentation.
The 29th FIAP Colour Biennial 2021 was held in France. Each member federation can select their own works or collections for submission, with a title for the collection being mandatory.
The entries were limited to 10 photographs in the colour prints section and 20 works in the digital colour images section.
The UK was named as the winner in the print section for its collection 'Minimalistic Landscapes' while Russia was crowned in the digital section for the collection 'On the nature of female beauty'.
Vietnam's entries to the contest were selected from nearly 760 artworks by 200 photographers by the VAPA./.
Efforts to revive and protect coral reef ecosystems in Ha Long Bay
The Ha Long Bay Management Board in the northern province of Quang Ninh is carrying various measures to protect coral reef ecosystems in the area.
Ha Long Bay is home to 147 species of coral. Areas with high coral coverage of over 30 percent are located in Cong Do-Tra San, Hang Trai-Dau Be with a total area of about 5,108 ha. Coral reefs are distributed mainly in Tra San, Soi Van and Luoi Liem areas.
To save the coral reef ecosystems in the bay, the management board has surveyed and built a database of the ecosystems useful for implementing conservation solutions. In addition, it has also trained human resources specialising in the management and protection of the coral reef ecosystems.
Patrols are regularly organised while violations in fishing and protection of aquatic resources are strictly handled.
The management board has regularly monitored and periodically supervised the conservation of coral reef ecosystems to promptly detect threats and carry out restoration measures. 
Along with zoning off and strictly preserving coral reefs with high coverage from 30 percent or more, it also erected warning signs and has stopped boats from operating as well as increasing the frequency of inspections.
Activities to protect the water environment of Ha Long Bay have been enhanced to protect the habitat of coral reefs such as banning polluting acts or collecting floating waste, especially garbage at the foot of the islands where coral reefs are often distributed.
The Ha Long Bay Management Board, in collaboration with the municipal People's Committee of Ha Long city and related agencies have regularly launched dissemination campaigns and instructed vessels not to anchor on coral reefs and prevent fishing in prohibited areas. 
Ha Long Bay is home to 147 species of coral. (Photocourtesy of Ha Long Bay Management Board) 
Pham Dinh Huynh, Deputy Head of the Ha Long Bay Management Board, said thanks to the adoption of synchronised solutions, the coral reefs of Ha Long Bay are showing signs of recovery.
The number of coral reefs with coverage of over 60 percent and branched corals are growing, he said.
In 2019, Quang Ninh province issued a regulation on the management of Ha Long Bay, including a ban on fishing in the heritage area. This rule is of great significance for the conservation of coral reef ecosystems because fishing boats might cause environmental pollution, especially oil pollution, which is one of the main reasons for coral death.
Ha Long Bay, a UNESCO World Heritage Site located in Quang Ninh province, is one of Vietnam's most popular travel destinations, receiving 14 million visitors in 2019.
Ha Long Bay literally "descending dragon" bay, was twice recognised as a World Natural Heritage site by UNESCO in 1994 and 2000. The bay spans 1,553 square kilometres and includes 1,969 islands of various sizes. It features thousands of limestone karsts and islets in various shapes and sizes.
The limestone in the bay has gone through 500 million years of formation in different conditions and environments. The geo-diversity of the environment has created biodiversity, including a tropical evergreen biosystem, oceanic and sea biosystem.
According to Deputy Chairman of the provincial People's Committee Cao Tuong Huy, the province has outlined ways to increase its sea-based economy, focusing on tourism, sea services, and coastal industries that are environmentally friendly.
With a vision of becoming an international tourism centre with uniformed infrastructure, a kaleidoscope of high-quality tourism products, and a competitive edge over rivals in the region and the world, the province has invested heavily in tourism and trade facilities, developing eco-tourism in a sustainable manner, and forming high-end tourism sites in Ha Long, Van Don, Co To, Hai Ha Mong Cai, and Bai Tu Long.
The province will prioritise turning Ha Long into a modern tourism city while developing Van Don-Co To into an international entertainment centre. It is also studying how to develop new tourism products such as yachting, water taxis, seaplanes, hot air ballooning, and scuba diving. Due attention will be paid to upgrading local fishing ports and anchorages, improving fisheries logistics in Co To and Van Don districts, and forming three fishing centres in Co To, Van Don and Dam Ha, and two seafood trading centres in Ha Long city./.
Youth Union loans a 'lifesaver' for nascent start-ups hit by pandemic
The provincial Youth Union in the northern province of Bắc Ninh, has given a helping hand to save several young start-ups heavily impacted by the COVID-19 pandemic.
Secretary of the Bắc Ninh Youth Union, Nguyễn Đức Sâm said that the COVID-19 pandemic had pushed most of the youth start-up models into difficulty, especially in high-tech agricultural production that provides clean and high-quality foods for supermarkets and restaurants.
To ensure smalls start-ups in the region could survive, the Union co-ordinated with the Việt Nam Bank for Social Policies to support two loan extensions: one for 10 start-ups to the tune of VNĐ7.1 billion (around $309,000) and the second tranche for six more new start-ups totalling VNĐ4 billion ($174,000).
Nguyễn Thế Dũng, a secretary of the Youth Union of Giang Sơn Commune, Gia Bình District, used to be a shining star in the youth start-up movement raising pigeons and growing fruit.
He has struggled over the past year however to sell his goods due to the closure of restaurants and tourist attractions to prevent the spread of COVID-19.
Dũng said that before starting the farm, he tried his hand at several businesses but was unsuccessful.
However, realising that a number of people in the village had abandoned their rice fields he decided to rent their land and try his hand at farming.
"In 2016, I decided to rent more than 1.5ha of land to grow fruit trees and raise pigeons," Dũng said.
At the time it was difficult for young people to find suitable start-up ideas and more difficult to implement because they lacked experience and capital.
In 2018, Dũng accessed start-up capital with a loan of VNĐ1 billion ($43,000) from the Youth Union.
"In the beginning, I played it safe, choosing to grow fruit trees," Dũng said.
"I used organic fertilizers and made my own microbial fertilizers and said 'No' to any herbicides," he said.
"To date, my farm has more than 1,000 trees including pomelo, jackfruit, longan and orange and I raised more than 500 pairs of pigeons," he said.
He has made a profit of nearly VNĐ300 million ($13,000) each year since.
However, at the beginning of 2021, the third wave of COVID-19 pandemic spread throughout Bắc Ninh Province, causing an economic downturn.
Dũng's farm was no exception.
He said normally, every month his family sold hundreds of pigeons to restaurants and everyday consumers at a price of more than VNĐ100,000 ($4.3) per pair.
However, when the fourth outbreak occurred, all restaurants and tourist attractions had to temporarily close as part of pandemic prevention and control measures.
The birds could not be sold and the cost of buying bird food increased by almost 30 per cent. The fruit trees had not yet been harvested too and that pushed the farm into financial difficulty, he said.
His VNĐ1 billion loan was to fall due in July too.
"I considered selling all the pigeons and ceding part of the farm to pay back the borrowed money," Dũng said.
Luckily, however, with the support of the provincial Youth Union, I was given the opportunity to delay paying back my loan for 11 months.
"This policy was a lifesaver helping me to reduce my stress levels and continue working to arrange capital to pay the bank back in the future," he said.
Dũng Lê Xuân Trường, 34, in Xuân Lai Village of Gia Bình District has been struggling due to the impact of the COVID-19.
Trường started buying and selling semi-processed bamboo when he was 25.
Gradually he expanded his production capacity to produce art and decorative ornaments from bamboo that he sold to resorts and tourist sites.
Last year, he got a loan of VNĐ330 million ($14,300) from the Youth Startup Fund with an interest rate 5 per cent per year and a 1-year term.
"Developing bamboo crafts requires a large workshop to soak and wash the bamboo, to treat termites, and then cut materials to create decorative shapes," Trường said.
"In the past, I had gone to many banks asking for loans but I could not borrow because of high interest rates and complicated procedures," he said.
"I was so lucky to access the youth start-up capital with a low interest rate, and it was a simple procedure and quick disbursement," he said.
Everything was running smoothly for Trường but when the pandemic hit that all changed.
All his clients were tourism businesses that had to close or reduce the size of their operation. As a result Trường's business was badly affected.
Goods sold slowly, and orders and contracts were also difficult to implement. His revenue decreased from VNĐ5 billion ($217,000) in 2019 to less than VNĐ3 billion ($130,000) in 2020.
In the first months of 2021, although his business had slightly recovered, it was not enough for him to import more materials and pay for labour. He would not have enough money to pay his debt due in July 2021. Trường was at a dead end.
Fortunately, however, he was approved by the provincial Youth Union and authorities to extend the loan until May 2022.
"This policy was very humane and timely. It helped me to overcome these difficulties and gave me more time to use the loan effectively," he said.
The Bắc Ninh Youth Union provides practical and effective jobs training on startup knowledge to young people all over the region.
During the pandemic, it has not only assisted young producers with financing but also offer value skills training in building a brand, applying science and technology, and contributing to improving and enhancing product value. 
HCM City districts to set up their own quarantine centres
HCM City will set up Covid-19 quarantine facilities at local districts for patient zeros without symptoms.
The decision was signed by the Chairman of HCM City People's Committee Nguyen Thanh Phong on July 21. The quarantine facilities are for patient zeros without symptoms, underlying conditions or having medical conditions but have responded to treatment and are in a stable condition.
Facilities like schools, dormitories, unused apartment buildings can be used as a quarantine centre depending on the number of patients registered in each district. The facility must have separated areas for people who tested positive by quick tests and those who tested positive via a RT-PCR test. There must also be a medical room and five to 10 oxygen cylinders.
The patients will be quarantined for at least seven days.
HCM City authorities also proposed to let patient zeros without symptoms self-isolate at home if their house meets requirements.
The patients at the quarantine centres will be monitored closely for any new symptoms or worsening signs. Patients whose health worsens will be transferred to the nearest hospitals. HCM City will set up a quick-response team to treat urgent cases across the city.
On July 21, the Ministry of Health announced 1,739 new Covid-19 cases in HCM City. As of now, the city has recorded 39,526 cases, the highest reported number in Vietnam.
Transport Ministry proposes reducing flights from HCMC to Hanoi
The Ministry of Transport has asked the prime minister for permission to reduce daily flights from HCMC to Hanoi to two to prevent and reduce the spread of Covid-19. 
The coronavirus, which causes the disease Covid-19, is raging in southern Vietnam, with 19 cities and provinces implementing the stay-at-home mandates. Therefore, the Hanoi City government, concerned about the spread of the transmissible Delta variant of the coronavirus, has proposed scaling down air services between Hanoi and HCMC.
According to the ministry, the airports in southern Vietnam practicing the stay-at-home orders include Tan Son Nhat, Can Tho, Phu Quoc, Rach Gia, Ca Mau and Con Dao, the local media reported.
Flights from/to Rach Gia, Ca Mau and Con Dao have been suspended, while air services from/to Tan Son Nhat, Can Tho and Phu Quoc have been minimized.
At present, there is only one flight on each of Can Tho-Hanoi and Phu Quoc-Hanoi routes. Meanwhile, airlines have transported no more than 1,700 passengers per day on each direction of the HCMC-Hanoi route since July 9, with Vietnam Airlines transporting a maximum of 700 passengers per day, Pacific Airlines, 200 and Bamboo Airways and Vietjet, 400 each.
However, the number of air passengers on the HCMC-Hanoi route these days has been lower than the quota. Specifically, only 800-1,000 passengers fly from HCMC to Hanoi per day and 200-400 passengers travel from Hanoi to HCMC per day.
Based on the Hanoi government's proposal, the Ministry of Transport suggested two plans on the operation of flights from the southern region to Hanoi.
As per the first plan, flights from Can Tho and Phu Quoc to Hanoi and vice versa will be suspended, while the number of passengers between HCMC and Hanoi will be cut to 800 per day.
This plan will help meet the demand from passengers who want to fly between Hanoi and HCMC. However, it will be hard to control the sources of coronavirus infection and the risk of virus transmission from HCMC to Hanoi will be high.
In the second plan, air services on air routes from Can Tho and Phu Quoc to Hanoi will be suspended, while there will be only two flights per day on the Hanoi-HCMC air route.
If this plan is approved, the number of passengers will be small, helping to control the pandemic and infection sources better.
To protect the capital city from Covid-19, the Ministry of Transport has chosen the second plan.
Dong Nai extends social distancing under Directive 16 by nine days
The Dong Nai Province government has decided to extend the province-wide social distancing period following the prime minister's Directive No. 16 by nine days as the Covid-19 situation remains complicated.
The southern province previously imposed a 12-day social distancing period following Directive No. 16, starting from July 9. After 12 days, the number of Covid-19 infections in the province is still on the rise.
Therefore, the province has asked Bien Hoa City, Long Khanh City and nine districts, with a total population of 3.2 million, to continue social distancing in accordance with the regulations of Directive No. 16 until the end of August 1.
The province asked businesses to ensure all workers undergo Covid-19 tests and work closely with the local authorities in case any workers are found to be infected with Covid-19. Those that remain operational have to strictly comply with Covid-19 infection prevention and control measures.
The chairman of Dong Nai Province said fighting the pandemic is the top priority of the province at present. All provincial departments, agencies and localities should work together, mobilize all resources and do their best to bring the pandemic under control and ensure the safety, health and sufficient supply of goods for the residents. 
Dong Nai reported 215 new Covid-19 infections this morning, July 21, sending its Covid-19 tally in the fourth Covid-19 wave, which began in late April, to 1,566. Bien Hoa City recorded the highest number of Covid-19 infections with 768 cases, followed by Vinh Cuu District with 245 cases, Nhon Trach District with 157 cases and Thong Nhat District with 147 cases.
The biggest Covid-19 cluster in the province at present is related to Changshin Vietnam Company in Vinh Cuu District. Multiple infections linked to this cluster have been found in Thanh Phu Commune, Vinh Cuu District and some wards in Bien Hoa City.
Besides, many Covid-19 patients in the province are vendors at traditional markets. The Long Khanh City market has been closed down after detecting a large number of Covid-19 cases.
Dong Nai currently has two hospitals specializing in Covid-19 treatment and six Covid-19 field hospitals with a total of more than 2,000 beds.
Moreover, the Dong Nai General Hospital and Thong Nhat Hospital are going to put two intensive care units into operation to treat Covid-19 patients in critical condition. These intensive care units have more than 100 beds and are equipped with modern devices, with support from the Ministry of Health.
HCMC proposes to give wildcard to students for second phase of national exam
The Ho Chi Minh City Department of Education and Training today sent its submission to the Ho Chi Minh City People's Committee proposing the Ministry of Education and Training to give wildcards to candidates who could not attend the first leg due to Covid-19 impacts.
Because of the complicated development of the Covid-19 epidemic, Ho Chi Minh City has proactively implemented Directive 16 throughout the city from 0:00 on July 9, 2021. After that, the Prime Minister agreed to apply social distancing measures under Directive 16 from July 19, 2021, within 14 days for 19 southern provinces and cities.
The Department of Education and Training of Ho Chi Minh City said that the epidemic will possibly develop more complicatedly in the second exam. Therefore, it is impossible to organize the second exam in safe conditions for candidates.
To guarantee the interests of candidates who couldn't sit the second high school graduation exam in 2021 on August 6 and 7, the Department of Education and Training proposed that more than 3,200 students of the second exam will be given a wildcard in the year's examination.
Additionally, in respect of university and college enrollment for candidates of the second round, the Ho Chi Minh City Department of Education and Training proposed the Ministry of Education and Training to request the Vietnam National University in the city and universities to apply other methods of enrollment except for graduation test scores.
According to the Ho Chi Minh City Department of Education and Training's report, approximately 3,234 candidates citywide have registered for the second exam out of more than 26,000 candidates nationwide. Previously, in the first phase, some 85,927 candidates in the city sat the exam, reaching 96.25 percent of the number of registered students.
Over 12,000 volunteers to get second doses of Nano Covax COVID-19 vaccine
About 12,000 second doses of Nano Covax vaccline will be administered to volunteers from July 27 to August 14, according to the Military Medical University under the Ministry of National Defense. 
They are among 13,000 volunteers of the phase 3 human trials of the first domestically developed COVID-19 vaccine.
So far, over 1,000 first volunteers of the third-phase trials had received their second dose of the homegrown COVID-19 in its third phase of human trials.
Prof. Dr. Maj. Gen. Hoang Van Luong, Deputy Director of the university was quoted as saying that the volunteers were at stable conditions. There had been no significant adverse reactions.
The volunteers were asked to update information regarding any side effects they might experience on an e-Diary.
They will have had their blood tested for the presence of antibodies to the SARS-CoV-2 virus on July 22. The blood collection will be finalized on August 3.
Mr. Hoang added that medical evaluations on the volunteers before and after the shots will be analyzed and reported to the Ministry of Health on August 15.
Nano Covax is developed by the Nanogen Pharmaceutical Biotechnology JSC based on recombinant DNA/protein technology. It began first-phase trials last December and second phase trials in this February. 
The Ministry of Health and the National Council of Ethics in Biomedical Research on June 25 agreed with the Pasteur Institute in Ho Chi Minh City and the Military Medical University to speed up the third-phase clinical trial of the homegrown COVID-19 vaccine in which volunteers were expected to have received the first jab by July 15 and the second shot by August 15. 
If the results of the phase three trials are positive and Nano Covax is given emergency approval from the National Biomedicine Ethics Council, the vaccine could be ready for large scale distribution as early as November./.
Hà Tĩnh war veterans mobilise to fight the spread of COVID-19
War veterans in Hà Tĩnh, despite their advanced years, are volunteering en masse to assist in COVID-19 management and prevention.
They have been raising funds for the National COVID-19 Vaccine Fund and have reportedly even donated their modest allowances to help needy people whose livelihoods have been badly affected by COVID-19.
Veteran Phan Hữu Thi, 71, from Lộc Hà District said that early last month, the district was under lockdown after three people in a family reportedly had contracted COVID-19.
During the lockdown, the veteran, who is working as head of Xuân Thượng Hamlet, delivered food and other necessities to families living in locked-down areas.
Xuân Phượng commune is located along the coast with a fishing market that receives a number of fishing boats from other localities. This makes it very important to control the pandemic to avoid disruptions to the local fishing industry.
"As almost all 452 families in the hamlet do work or provide fishing-related services, the community-based COVID-19 prevention team must be vigilant and ready at all times so that disease prevention and control work is completed in a timely fashion," he said.
Lộc Hà District veteran, Dương Đình Cúc, 72, led the local disease prevention and control response when the head of the local residents' group was dealing with health issues and the secretariat of the residential group Party's Committee was under quarantine.
Taking over the urgent task, the veteran quickly assigned specific jobs for every member of the community-based COVID-19 prevention team.
They helped collect information about people who had been in contact with confirmed cases and suspected cases. The information gathered was used to assist local health authorities in ensuring rapid testing for nearly 10,000 people.
A checkpoint was set up to monitor the arrivals and departures from the residential group, Cúc said.
Cúc also called on people to donate money and food to help disadvantaged families during the tough days of lockdown.
Local people saw Cúc working relentlessly, in both the heat and rain.
"I'm sometimes under the weather due to the injuries I got in wartime," Cúc said.
"Like soldiers in battlefields, we- veterans are determined to overcome any obstacle to complete any assigned tasks," Cúc said, proudly adding that Uncle Hồ's soldiers must be good examples for others to follow.
Veteran Nguyễn Chưởng, 97, from Kỳ Anh District has also contributed to the fight against COVID-19.
He sent his savings of VNĐ 10 million to the local fund for disease prevention and control.
Last year, 77-year-old veteran Phạm Đình Chín from Đức Thọ District, made the news when traveled dozens of kilometres by bike to donate his monthly allowance to the COVID-19 fund.
Trương Văn Nho, an official from Hà Tĩnh Province Veterans' Association said that veterans in districts of Lộc Hà, Thạch Hà and Hương Sơn were active and responsible members of community-based COVID-19 prevention teams.
The province, with a population of about 1.3 million, has nearly 80,000 veterans. Many veterans have been honoured for their contributions to local socio-economic development and community. 
A way to make ends meet in Central Highland province
It's sunny and hot in Đắk Lắk and the wind is blowing hot air directly at the people stooped-over in the fields, groping for buffalo and cow dung or walking quickly following a herd of cows and collecting their dung as they do.
One of those stooped-over, searching for cow feces in the middle of a field of straw is 61 year-old, H'Uyen, from Yang Reh Commune.
"In the past, people here only relied on rice grains," she tells the Tiền Phong (Vanguard) newspaper, reaching her hand to quickly wipe the sweat rolling down her tanned face. "For more than ten years, people have been collecting cow dung to earn money. Here everyone tries to take advantage of the sunny and dry weather."
"Before, when I went to the field I would collect up two or three full bags. Now, people graze cows far up on the hillside and old people like me are not strong enough to climb. Now I collect just one bag full, that I sell for VNĐ35,000-40,000 (US$1.5-1.7)."
Every day, five members of H'Thiêu's family in Yang Reh Commune get up early to walk along the fields, climb the hills and follow the footsteps of cows to collect manure.
"People can earn more if they go far away, but it is hard to carry back. For people who collect dung, their biggest fear is the rain. When it rains, the feces don't dry and instead absorb water which makes them heavy and smell bad," she says.
Collecting dung has helped H'Thiêu's family to become more financially stable. After nearly six months of collecting manure, her family has an income of nearly VNĐ35 million ($1,500). This is quite a big amount of money for a farming family in a remote area.
"In recent years, demand for buffalo and cow dung has risen sharply and collectors are able to sell directly to buyers and immediately receive payment. At first, many people are shy, but this profession is viable and honest," says H'Thiêu.
H'Doan, 65, also from Yang Reh Commune, has a big, bright smile.
"Today, I picked up nearly a whole bag, dried it in the sun, and sold it. It is hard work but the income is good."
H'Doan has been doing this work for more than ten years. She says some days she picks up cow dung until her legs won't work anymore. She can earn nearly VNĐ50,000 ($2.1) every day to cover her living expenses.
Y Buyn, 10, said that every day, she would pick up more than half a bag to have more money to buy books.
"I followed my parents into the fields to clear grass and cultivate corn, so I don't find collecting dung to be hard work," Buyn said innocently.
Hoàng Văn Nhâm, from Ia Lơi Commune, who owns 30 cows, said that in the past, cow dung was all over the roads. It smelled bad and polluted the waterways.
Now that many people buy cow dung to fertilise coffee trees, the price of manure has increased. Subsequently, the number of people collecting manure has also increased. Wherever there is cattle grazing, people come to collect their dung, cleaning the roads in the process.
Nguyễn Cao Cương, owner of a coffee farm in Cư M'gar District, has ordered several hundred bags of the cow dung and says the quality is excellent.
"It fertilises the coffee trees and helps the plants grow better and attracts less pests," he said.
Nguyễn Minh Mẫn, from Yang Reh Commune, has 13-14 years of experience in buying and selling cow dung.
"The owners of coffee and pepper gardens often order cow manure in large quantities. Every day, I go to different villages in the district and neighbouring districts to collect the cow dung. This season, I buy about 40-50 bags per day. But sometimes there is not enough manure to sell."
More than 150,000 workers return to work in Bac Giang
Over 150,000 workers have returned to 537 companies in various industrial parks in Bac Giang Province to resume operations after the recent Covid-19 outbreak has been brought under control.
346 firms with 103,000 workers in the industrial parks have resumed operation. In the Industrial clusters, 191 firms with 49,453 workers have also resumed operation. Many other firms in Bac Giang have also returned to business. 58 firms with 50,000 employees are still closed for Covid-19 prevention.
Work and employment centres in Bac Giang are also helping firms and employees to connect with each other.
On July 19, 54 firms organised Covid-19 tests for 23,431 employees. As of now, 101,287 workers in Bac Giang have been tested. The local authorities will continue to urge firms to follow preventive measures. A total of 940 firms in Bac Giang, including 327 firms with 94,707 employees in the industrial parks, have been given accounts to use labour management and tracing software.
3,075 rental housing units have met the requirements to accommodate 109,730 workers. The local authorities also provide licenses to 1,874 passenger vehicles.
Bac Giang People's Committee said the transportation in the province had been provided to meet the needs of firms and residents. 
SARS-CoV-2 variants: global risk and experience for Vietnam
Over a year and a half since it was discovered, the SARS-CoV-2 virus that causes COVID-19 has caused four global outbreaks around the world and there has been a dominant variant in each outbreak.
With thousands of recorded variants, scientists are under great pressure analysing these and preparing response scenarios as the virus becomes increasingly complex.
A virus that can cause a global pandemic must spread easily from person to person. During the early stages, the SARS-CoV-2 virus spread slowly and only through droplets, close contact and indirect contact via surfaces. In order to cause a pandemic, the virus had to mutate so that it could be easily transmitted from person to person as well as can spreading in the so-called pre-symptomatic stage, shown to be the more dangerous stage of SARS-CoV-2 for the community.
Existing variants of this virus include the B.1.1.7 (Alpha) , first discovered in the UK and then spread through the world but which has been gradually replaced by the Delta variant. The B.1.351 variant (Beta), found in South Africa in December 2020, was thought to reduce the protective effectiveness of vaccines. The P.1 (Gamma) strain was discovered in early January this year and circulated strongly in Brazil. The B.1.617.2 (Delta) variant, found in India in late 2020, quickly became dominant and spread globally, threatening to erase epidemic prevention and control efforts in many countries. This variant currently accounts for most of the infections in Vietnam. In addition, the C.37 mutation (Lambda) appeared first in Peru in December 2020 and accounted for 82% of new cases in the country , thereafter spreading to around 24 nations, mainly in South America. In the last two months, it has spread at a high rate and has been cited by the World Health Organisation (WHO) as a kind of concern.
The increase in the infection rate does not mean the epidemic is more dangerous. Currently, vaccines seem to reduce the ability to prevent infections caused by the virus but their capacity to protect against severe illness and hospitalisation is still very good. However, these variants have quickly become the majority since they appeared. The jump in the number of COVID-19 cases has overloaded the medical system and is indirectly leading to increased mortality.
Like other RNA viruses, SARS-CoV-2 has no error-control mechanism when it replicates. As a result, there will be a wrong/broken model in its genetic code during each 1,000 copies. If this error makes sense, it will create a new version of the virus and if that mutation makes it easier to spread, it will spread and quickly replace the previous one. Accordingly, a new variant is formed.
The proliferation of strains requires scientists to carefully study them while soon detecting new versions. A new variant needs to be evaluated as to whether it is more contagious or not; whether it causes milder or more severe illness; if it can be detected with current tests or not; if it responds to current treatment modalities; and can it alter the protective efficacy of the vaccines or not. In Japan, viral sequencing tests have been done regularly and reports of virus mutations have been posted weekly for early warning purposes.
Countries with poor epidemic control are a prime environment for virus variants. This is the reason why many countries, including the UK, South Africa, Brazil and India, were banned from flying following the reports of variants. However, the prohibition has often come too late as new strains have already penetrated the target countries. Accordingly, the whole world must join hands to control the epidemic. Vietnam has been highly lauded by the world thanks to its drastic actions to prevent and control the pandemic.
Some other countries and territories were also praised, including Taiwan (China) with its effective isolation and tracing strategies; Singapore with a smart management, tracing and vaccination system; the Republic of Korea with its capacity for total testing, tracing and tracking cases; New Zealand with its management of quarantine areas and freezing of high-risk zones; and Australia with its limited short-term closures and blockades.
Recently, many people have mentioned the severe acute pneumonia syndrome (SARS) that swept the world in 2003 and the MERS epidemic in 2012. Despite being controlled and disappearing, the corona virus that caused SARS mutated and is able to spread easily from person to person. SARS-CoV-2 has become the virus causing the pandemic as it is difficult to predict. A routine practice during the outbreaks has been the monitoring of the genetic mutation of the virus by genetic sequencing. With current results, it is difficult to predict when this virus will become a seasonal flu that humans can live with. This has not happened yet and people have made great efforts to control it.
Some opinions from foreign experts say the appearance of the Delta variant will put an end to Vietnam's luck. Actually, the statement that Vietnam was lucky during the previous outbreaks is not entirely accurate. To gain success, the Party, State and Government took prompt and drastic action as well as making strong commitments related to epidemic preparedness. The Ministry of Health, other ministries and agencies and localities are again implementing many measures to respond to the epidemic. Drastic measures have been conducted such as the establishment of a central tracking teams in coordination with thousands of tracing officers at all levels throughout the country.
In addition, the most unique feature is the active participation of community-based COVID groups. This is a centipede-foot-shaped network and extension arm of epidemic prevention and control designed to detect cases of intrusion as early as possible as well as symptomatic cases in the community.
Besides strengthening community surveillance, test-based surveillance is indispensable. The continuous monitoring and detection of new strains has been also assigned to research institutes so that any significant intrusion or mutation will be controlled and monitored, thereby making an important contribution to the overall success of the virus control strategy in Vietnam.
HCM City receives the most COVID-19 vaccines
HCM City has been allocated the largest amount of the country's COVID-19 vaccine doses so far.
According to the latest updated information at the COVID-19 Vaccination Portal of the Ministry of Health, HCM City, the current biggest coronavirus hotspot in Việt Nam, is taking the lead in vaccinating its residents against COVID-19 with 1,039,652 doses given. 
HCM City will receive at least five million COVID-19 vaccine doses between now and September 2021 to vaccinate 50 per cent of its population, said Deputy Minister of Health Nguyễn Trường Sơn. 
Those are the government's priorities for HCM City amid a spike in infection cases, said Deputy Prime Minister Vũ Đức Dam, head of the National Steering Committee for COVID-19 Prevention and Control. 
Recently, the Ministry of Health has allocated more than two million doses of Moderna vaccine to 53 cities and provinces nationwide as well as military, public security forces and 20 hospitals run by the ministry.
Accordingly, 505,680 doses will be given to 10 southern localities, with 235,200 doses coming to HCM City. 
Regarding the upcoming fifth phase of the COVID-19 vaccination campaign in the city, vice chairman of the Municipal People's Committee, Dương Anh Đức, said that as many as 930,000 doses were distributed to the city while around 1.3 million local people have registered for vaccination. 
This vaccination campaign is expected to take place over two to three weeks and can be extended depending on the actual situation to ensure pandemic prevention measures. 
Production facilities, enterprises advised to quarantine COVID-19 cases on-site
Production facilities and enterprises that record COVID-19 cases have been asked to quarantine the patients on-site and report to health authorities, a Ministry of Health working group said Wednesday. 
According to the working group, F0 cases should be quarantined immediately and must be reported to health authorities. The authorities will transfer the cases to centralised quarantine sites and disinfect the facilities where necessary.
The working group on Wednesday visited Linh Trung Processing Zone in Thủ Đức City (HCM City) which reported 87 infection cases between July 15 and 19. 
These cases were taken to isolation centres and the business suspended operations.
Associate Professor Nguyễn Văn Sơn, deputy director of the National Institute of Occupational and Environmental Health and a member of the working group, ordered the business to quarantine all infected cases and those having direct contact with them.
Sơn said the infection risk remains high with factory workers living and eating together.
"The company must immediately ask workers to strictly follow 5K and stay where they are and not cause confusion or worry among workers," he said.
A representative of Thủ Đức City's medical centre said the company must test F1 and F2 cases one more time. If anyone tests negative, they can self-quarantine at home.
A number of other companies at Linh Trung Processing Zone have reported infections. F1 cases are being quarantined in private rooms and regularly tested.
Sơn advised the processing zone's management board to continue to operate as infection cases have been isolated.
At companies where workers travel to work by car, Sơn said the managers had to strictly control their schedules and ensure 5K protocols were followed.
The company must conduct regular tests and enact countermeasures when infection cases are detected, he said.
Source: VNA/VNS/VOV/VIR/SGT/SGGP/Nhan Dan/Hanoitimes

Tropical depression located about 110km from Mong Cai City