Lawmakers debate five-year public investment plan
Legislators discussed in groups the medium-term public investment plan in the 2021-2025 period as part of the first session of the 15th National Assembly on July 24 morning.
Earlier, Minister of Planning and Investment Nguyen Chi Dung presented a proposal on the medium-term public investment plan in the 2021-2025 period.

He said it is necessary to make the investment synchronously, focusing on prioritised sectors, areas playing a motivation role in economic development, poor areas and areas affected by natural disasters and pandemics.
Dung said that the ministry will continue to complete mechanisms, policies and legal regulations related to public investment, while reviewing investment projects to eliminate ineffective ones.
Chairman of the NA Budget - Finance Committee Nguyen Phu Cuong said that the public investment in the 2021-2025 period expected to rise 1.43 times compared to that in the 2016-2020 period is a positive sign.
The committee agreed on the allocation of about 104.53 trillion VND for national major projects, he said.
In group discussions, the majority of deputies held that amid complicated developments of the COVID-19 pandemic, the budget and finance allocation has been conducted effectively, contributing to boosting socio-economic development and ensuring defence-security.
However, Lai Xuan Mon, a representative of northern Cao Bang province pointed out that there are still shortcomings in the work. He stressed the need to make investment basing on the real situation in each region, with priority given to infrastructure and transport projects, which will help create sustainable incomes for localities.
Deputy Tran Hoang Ngan from Ho Chi Minh City pointed to the need to focus on improving the efficiency of site clearance for projects by strengthen communications and information supply to reach public consensus, while adjusting the bidding procedures and increasing supervision over the disbursement of public investment.
Agreeing with Ngan, deputy Nguyen Van Huy of Thai Binh province held that the Government should roll out more effective measures to remove obstacles in disbursement, including those from dispensation, resettlement and site clearance.
He stressed the need to deal with the overlapping in land use planning and planning schemes of construction and sectors./.
Additional 3,991 new COVID-19 cases reported on July 24 morning
An additional 3,991 new COVID-19 infections, including four imported cases, were reported in Vietnam on July 24 morning, according to the Ministry of Health.Among the locally-transmitted cases, 2,070 were detected in Ho Chi Minh City, the current largest pandemic hotspot of the country.
Meanwhile, Long An reported 604 new cases, Binh Duong 523, Tien Giang 220, Tay Ninh 132, Dong Nai 122, Khanh Hoa 104, Ben Tre 52, Da Nang 36, Dong Thap 29, Vinh Long 25, Vinh Phuc 18, Kien Giang 14, Phu Yen 12, Ba Ria – Vung Tau 8, Hau Giang 6, Hanoi 5, Hung Yen 4, and  Dak LaK 3.
As of 6am on July 24, Vietnam had seen 86,957 infections, including 84,812 domestically-transmitted cases and 2,145 imported ones. The caseload since the fourth wave of COVID-19 outbreaks hit Vietnam on April 27 amounted to 83,242.
The number of recovered patients stood at 15,536.
On July 23, an additional 67,173 doses of COVID-19 vaccine were administered. Nearly 4.5 million doses of COVID-19 vaccines have been administered nationwide so far, with 353,601 people receiving the full two doses.
So far, eight out of 62 pandemic-hit provinces and cities have gone through at least 14 days without any new cases, including Yen Bai, Quang Tri, Tuyen Quang, Thai Nguyen, Dien Bien, Hai Duong, Quang Ninh, and Bac Kan.
The Ministry of Health has issued an official document asking local departments of health nationwide to be ready for COVID-19 prevention and control. The ministry has also ordered local departments of health to direct private medical examination and treatment facilities to review and prepare conditions related to human resources, drugs, medical equipment and facilities for the work./. 
PM: home-grown vaccines must ensure safety, efficiency
Prime Minister Pham Minh Chinh has directed speeding up the production of home-grown vaccines, saying they must ensure safety and efficiency.
He gave the direction during a working session with leaders of ministries, vaccine producers and scientists in Hanoi on July 23 to discuss the research and production of COVID-19 vaccines.
Speaking at the event, Chinh stressed that Vietnam is rolling out "vaccine strategy", including importing; studying, facilitating vaccine production technology transfer and producing home-grown vaccines; and vaccinating the whole population for free.
The Health Ministry reported that Nanocovax produced by the Nanogen Pharmaceutical Biotechnology JSC and Covivac by the Institute of Vaccines and Medical Biologicals are under clinical trials.
For Nanocovax, the first shots were given to 13,007 volunteers in the third phase while the second shots were offered to 977 others. The phase is scheduled to be completed by August 15.
So far, three domestic units and enterprises have negotiated with partners from the US, Japan and Russia about technology transfer.
If trials are successful, units plan to begin producing vaccines with an annual capacity of 200-300 million doses from late 2021.
Participants suggested tackling obstacles in mechanisms regarding the research, production and transfer of vaccine production technology, including soon submitting amendments to the Law on Pharmacy to serve the urgent licensing of COVID-19 vaccines.
Concluding the event, Chinh directed the Health Ministry to establish a working team in charge of partnering with World Health Organisation (WHO)'s experts to study, clinically test and assessing home-grown vaccines./.
Fukushima supports Vietnam's Olympic team
Fukushima is the host town of the Vietnamese sports delegation during the Tokyo 2020 Olympics. The city has made preparations to welcome the delegation coming to the city for training and exchanging on the threshold of the Olympic and Paralympic Games.

At a ceremony held by Fukushima to energize the Vietnamese athletes, Fukushima's Mayor along with locals and Vietnamese residing in the city chanted "Vietnam fighting!".
Located about 300km north east from Tokyo, Fukushima is the capital city of Fukushima prefecture. In June 2019, it was the host city of the Vietnamese delegation at Olympic Tokyo.
Acting as the host town is expected to boost people-to-people exchange between the two sides./.
Finnish Ambassador to Vietnam receives "For the Cause of Natural Resources and Environment" insignia
Minister of Natural Resources and Environment Tran Hong Ha presented the "For the Cause of Natural Resources and Environment" insignia to Finnish Ambassador to Vietnam Kari Kahiluoto in recognition of his contribution to the sector at ceremony held in Hanoi on July 23.
Speaking at the event, Minister Ha congratulating the Ambassador for successfully completing his term of office in Vietnam.
He thanked the Embassy of Finland and Ambassador Kahiluoto for their active support to Vietnam in the field of natural resources and environment, especially in circular economy promotion, solid waste management, air quality, clean water, and environmental sanitation.
The minister affirmed the Ministry of Natural Resources and Environment (MONRE) always attaches importance to close cooperation with the Embassy of Finland in Vietnam, saying that the bilateral collaboration will become stronger. 
Cooperation in the field of natural resources and environment will continue to develop and bring more concrete and better results, he said, adding that he expected Ambassador Kahiluoto would continue to pay special attention to Vietnam.
Expressing his honour to receive the insignia, the Ambassador highly appreciated the close cooperation and support of the MONRE and Vietnamese partners in implementing and applying Finnish technology solutions in environmental protection, circular economy development and climate change adaptation for long-term sustainable development in Vietnam.
According to Ambassador Kahiluoto, environmental protection is always one of the top priorities in all development policies and activities. The fact that Vietnam is striving to become a high-income country by 2045 showed the determination of the Government of Vietnam to improve living standards and conditions for the entire population. 
Finland is always proud to accompany Vietnam in the first essential areas such as clean water supply, environmental sanitation, and forest protection and management across the country, he said.
The Ambassador also said that Vietnam and Finland are working towards developing an efficient circular economy, saying both countries see themselves as reliable and complementary partners in circular economy initiatives.
During his tenure in Vietnam, Ambassador Kahiluoto has contributed to promoting cooperation activities to exchange Finnish models and experiences in circular economy development with Vietnam, transferring solid waste treatment technology, especially urban waste, from Finland to Vietnam. 
He also has helped to foster cooperation and exchange in the field of air quality monitoring in big cities and actively support the development of environment law in Vietnam./.
First Da Nang field hospital now taking patients
The first field hospital in Đà Nẵng officially opened on Friday for seriously ill COVID-19 patients from Đà Nẵng General Hospital. This will reduce the burden on the local healthcare system that has been stretched thin by an explosion of cases of COVID-19.
According to Dr Lê Đức Nhân, director of the hospital, the 1,700-bed structure is equipped with full medical facilities with part assigned as a reserved treatment centre for the downtown-based Đà Nẵng General Hospital.
The city's hospital system has been treating 340 COVID-19 patients since May, of which 11 have suffered serious ailments.
Đà Nẵng also launched an automated switchboard for online declarations for close contacts of positive SARS-COV-2 cases (F1). This will complement the city's information and technology department's COVID-19 map (http://covidmaps.danang.gov.vn). The map helps internet users identify quarantine centres, lockdown zones, living quarters and the travels of previously detected COVID-19 patients.
Meanwhile, Quảng Nam Province asked for a 14-day quarantine time for all people returning from coronavirus-hit localities, even fully-vaccinated people.
Quảng Ngãi Province said 50 COVID-19 patients had been released from hospital since the coronavirus outbreak in early June. 
More than 37,000 people had been vaccinated, of which 4,600 received two shots, between June 18 to July 22. 
HCM City sets up hotline to support the needy
HCM City has set up an extension on the hotline number 1012 for people to provide information about those who need extra assistance or essential goods amid the pandemic.
The city's Department of Information and Communications on July 22 kicked off the extension No 2 on the hotline 1012 to quickly receive information and support the needy.
The move creates a connection between local authorised agencies and residents who have been seriously affected by the outbreak.
The hotline 1012 was launched by the municipal People's Committee in April last year. It is available 24 hours a day to receive calls from the public to report issues related to the Covid-19 outbreak.
After calling the hotline at 1012, residents can press extension number 2 to report their own difficult circumstances or those of neighbours or other needy people, especially orphans, people with disabilities, the poor and homeless, and the elderly.
The information will be sent to the people's committees of city districts and Thủ Đức City, and the city's Department of Labour, Invalids and Social Affairs to verify and give support as soon as possible.
Chairman of the municipal People's Committee Nguyễn Thành Phong has called on all city residents to join hands to be more united against this difficult Covid-19 period.
The city has been under strict social distancing measures under Government Directive No 16 since July 9. 
Gov't to earmark over $3.2 billion for poverty reduction 2021-2025 
The poverty rate declined sharply from 9.88% in 2015 to 2.75% in 2020, with over eight million people being left the poor and near-poor status.
As part of the national program on sustainable poverty reduction in 2021-2025, the Vietnamese Government is set to earmark VND75 trillion (US$3.2 billion) for this purpose.
Minister of Labor, Invalids and Social Affairs Dao Ngoc Dung revealed the figure at a sitting of the National Assembly today [July 23].
For the past five years, Dung said the poverty rate declined sharply from 9.88% in 2015 to 2.75% in 2020, saying over eight million people escaped from the poor and near-poor status.
"Vietnam is the first and also among 30 countries adopting the multi-dimensional approach for assessing poverty, in line with sustainable development goals," he noted, saying the country has achieved the UN's millennial goals on poverty reduction ahead of schedule.
Giving the specific plan on poverty reduction in the next period, Dung noted the Government's plans to address localities with a high poverty rate of over 40%, including the Muong Nhe District (Dien Bien Province) at 59.97%, Ky Son District (Nghe An Province) with 42.21%; and Dong Van District (Ha Giang Province) with 41.96%.
"Unsustainable poverty reduction in certain provinces are partly due to natural disasters and diseases, along with the lack of necessary skills of its population to compete in the labor market," Dung added.
Under the multi-dimensional poverty standards in 2022-2025, Vietnam is expected to have 4.47 million households, or 17.44 million people, having income under the poverty threshold by January 2022.
"Growing economic development leads to higher living standards, and therefore also raises the poverty standards, which require huge resources to fully resolve the issue," Dung added.
Among measures set up by the government, Dung said the focus would be to improve socio-economic infrastructures as a means to boost livelihood diversification for the poor.
According to Dung, the specific goals of the program is to reduce the national poverty rate by 1-1.5% per year; the rate of poor households in poor areas to decline by 4-5% per year; rate of poverty in ethnic groups to drop by 3% per year under the multi-dimensional poverty standards.
The government expects the rate of people in poor areas to have access to job training by 60%, and at least one member in the poor and near-poor households to have a sustainable job.
Binh Duong plans to have 10,000 more beds for Covid-19 patients
Due to the complicated development of Covid-19, Binh Duong Province is planning to set up more field hospitals with a total capacity of 10,000 beds for Covid-19 patients.
The plan was announced by the Binh Duong anti-Covid-19 steering committee at a press briefing on July 23. The province has reported over 5,360 domestic Covid-19 cases and 13 deaths in the ongoing fourth Covid-19 wave, which began in late April. The disease has hit three cities, two towns and four districts in the province.
The plan to establish field hospitals will be carried out soon, as the province has a mere 11 Covid-19 treatment facilities with over 4,000 beds. Some 3,500 Covid-19 patients are receiving treatment, with 44 pregnant women, 38 people aged over 65, 72 people suffering from underlying health conditions and 95 seriously-ill ones.
In the current fourth wave, the province has detected 46 coronavirus clusters, with the source of infection mainly from HCMC. Some 12,000 people are under quarantine at concentrated quarantine centers, while 25,300 others are under home quarantine.
The province has 88 concentrated quarantine facilities with some 50,000 beds and it will also raise the number of quarantine beds to 100,000 in the coming time, the local media reported.
Besides, Binh Duong Province is conducting a massive Covid-19 testing program for 1.8 million people to prevent the spread of Covid-19.
The provincial steering committee has set up 600 mobile teams, with medical workers and students from medicine universities in charge of taking samples for Covid-19 testing.
Da Nang has enough food and essentials for three months: city authorities
Supermarkets and convenience stores in Đà Nẵng have enough supplies to meet consumers' needs for at least the next three months after the city came under its fourth social distancing order on Thursday, city authorities have said.
The city said food shops, supermarkets, drug stores, fuel stations and banks are still working, but only take-away food and necessities are allowed as motorbike delivery services and ride-hailing services have been halted.
It said only gatherings of a maximum of two people at a safe 2m distance in public sites were still allowed.
The city's transport department will also ensure the smooth distribution of commodities and food for the one million people that call the city home.
The health department has increased coronavirus testing for all people in seven districts in order to track possible sources of the SARS-COV-2 infection. 
The department said it had tested 56,000 people in just one day with 28 SARS-COV-2 cases reported on July 20 and 21. The city recorded a total of 239 coronavirus infections in the 11 days between July 10-21.
A medical officer tests a local resident in the central region. Quảng Nam, Quảng Ngãi provinces and Đà Nẵng City have begun strict control measures for COVID-19 prevention. VNS Photo Trần Kim Tuyến 
Neighbouring Quảng Nam Province has started an urgent COVID-19 prevention program by banning all people returning from Đà Nẵng from noon, Thursday. It has also asked workers and engineers from Đà Nẵng who have been working in Quảng Nam to stay at their place of work.
The three central localities of Đà Nẵng, Quảng Nam and Quảng Ngãi have taken in nearly 2,000 residents from HCM City for quarantining to ease the overloaded medical service in the COVID-19 ravaged city.  
Korean Doosan Việt Nam (Doosan Vina) has taken extra precautions to shore up its operations against COVID--19. 
Despite no cases being recorded at the industrial manufacturer's plant in the Dung Quất Economic Zone, body temperature checks are being done regularly. Safe panels were also installed at the three main restaurants the plant operates with workers dining in shifts. Anyone visiting the company must show a negative test report within 72 hours, Doosan said.
Of Doosan's employees, almost 700 have received a vaccine shot. 
The company said it had already set up a 'three on-site' program (eating, sleeping, working) for a thousand employees to ensure business continuity.
A quarantine area with 84 fully equipped rooms has been prepared to ensure employees' health during the COVID-19 hit.
Nearly 3,000 employees have been kept working since early this year delivering locally made industrial equipment for domestic use and export.
It said 18,000 tonnes of products have been exported to Japan, Thailand, Indonesia, and other major thermal and port projects in Việt Nam since early 2021.
Hanoi to provide financial aid for informal workers affected by Covid-19
Informal workers in Hanoi whose livelihoods have been negatively affected by the Covid-19 pandemic will receive VND1.5 million each, according to a decision of the Hanoi City government that came into force on July 21.
The municipal government has assigned the Departments of Labor - Invalids and Social Affairs, Health, and Culture - Sports and Tourism and the local authorities to prepare the list of recipients.
Those eligible for the financial cupport are informal workers that have lost their jobs since May 1, 2021. Informal workers, who work on their own and have no labor contract, are not eligible for social protection.
Informal workers are not just limited to street vendors; they also include employees of businesses who have an agreement with the employer but are not formally listed in the payroll.
Many informal workers in the city have lost their livelihoods after they were sent to quarantine centers or the areas where they live were locked down to curb the spread of the pandemic.
The beneficiaries also include employees of dance clubs, bars, pubs, beer clubs, cinemas, karaoke and massage parlors - the non-essential services that have been temporarily suspended.
Besides, people working at coffee shops, food stalls and restaurants that have lost their jobs after the city banned all dine-in services are also eligible for the assistance. 
As of this morning, July 23, Hanoi had reported 823 Covid-19 cases in the fourth Covid-19 wave, which began in late April.
Data of the General Statistics Office showed that the number of informally employed workers in the entire country in the second quarter of 2021 was 20.9 million, up 1.4 million over the same period last year.
HCM City tightens COVID-19 prevention and control measures
Ho Chi Minh City has tightened its COVID-19 prevention and control measures as infections have remained rampant in the southern largest city.
In a freshly-issued document, the Standing Board of the municipal Party Committee ordered intensifying inspection and supervision over the implementation of social distancing and lockdown regulations.
The city will also suspend non-urgent business and production activities, and construction sites. Banks and securities institutions are only allowed to operate at an adequate level to meet necessary demands.
Businesses that provide essential services in health care, pharmaceutical products, food and foodstuff will operate as requested and must ensure safety.
Meanwhile, enterprises operating in other fields can maintain their operations once they follow the stay-at-work mode and other safety regulations. Any violations will be strictly handled, according to the document.
Traditional markets are asked to scale down to 30 percent, with only food and essential goods are permitted to put on sale.
State agencies would divide shifts among their workforce, the standing board said, adding that COVID-19 checkpoints situated around the city would only allow certain vehicles, including those on official purposes, approved for transporting goods or those of the armed forces.

Vietnam recorded 3,898 new COVID-19 cases from 7.30pm on July 22 to 6am on July 23, according to the Ministry of Health.
HCM City, the country's current largest pandemic hotspot, logged the majority of the new cases, with 3,302 infections.
According to the municipal Department of Health, as of July 23 noon, HCM City had recorded 49,176 COVID-19 infections./.
Vietnam receives additional 1.2 million AstraZeneca vaccine doses
Over 1.2 doses of AstraZeneca COVID-19 vaccine arrived in Ho Chi Minh City on July 23 morning. This is the fifth and also the biggest shipment of the deal to purchase 30 million doses signed between AstraZeneca and the Vietnam Vaccine Joint Stock Company.
 
To date, nearly 8.6 million doses of AstraZeneca vaccine have been delivered to Vietnam, accounting for 76 percent of the country's total COVID-19 vaccine volume.
According to AstraZeneca, the amount of the vaccine brought to Vietnam in July 2021 shows the vaccine manufacture's efforts to accelerate its supply to support Vietnam's fight against the pandemic.
The company will continue its cooperation with the Vietnamese Ministry of Health, the World Health Organisation, the UN Children's Fund (UNICEF), and the VNVC to quickly and safely transport the vaccine to Vietnam.
AstraZeneca was the first vaccine to have obtained authorisation for emergency use in Vietnam./.
Fourth working day of 15th NA's first session
The National Assembly voted on a resolution on the Government's organisations structure in the 2021-2026 tenure in the morning of July 23, the fourth working day of the first session of the 15th tenure.
All 470 deputies present, or 94.19 percent of the total number of lawmakers, voted yes.
Earlier, they listened to a report by the NA Standing Committee on outcomes of group discussion on the Government's organisations structure in the 2021-2026 tenure, another report on the Government in the 2016-2021 tenure explaining contentious points and making revisions based on NA deputies' opinions on the issue, and a draft resolution on the Government's organisations structure in the 2021-2026 tenure.
Also in the morning, Finance Minister in the 2016-2021 tenure Ho Duc Phoc delivered a Government report and Chairman of the NA Budget and Finance Committee Nguyen Phu Cuong presented a report assessing the national financial plan as well as a plan for borrowing and paying public debt in the next five years. 
The NA deputies then discussed the plans in groups.
In the afternoon, the NA listened to the Minister of Labour Invalids and Social Affairs' proposal on the investment policy of the National Target Programe on sustainable poverty reduction in the 2021-2025 period. The deputies also heard a verification report of the NA's Social Affairs Committee on the matter.
Minister of Agriculture and Rural Development Le Minh Hoan delivered a report on the investment policy of the National Target Programme on new-style rural area building in the 2021-2025 period. 
Later, the NA deputy discussed in groups the investment policy of the National Target Programe on sustainable poverty reduction and new-style rural area buildings in the 2021-2025 period.
On July 24, the NA is scheduled to listen to a Government report and verification report on the Medium-term Public Investment Plan for the 2021-2025 period; then discussed in the groups on the matter.
The deputies will be provided with a Government report on the practice of thrift in 2020 and another report verifying the matter.
A list of nominations for the National Assembly to elect the President will be tabled for discussion./.
Foreign Minister receives new Cuban Ambassador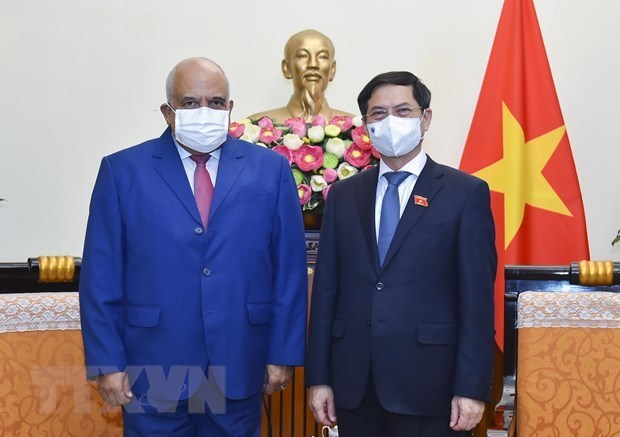 Foreign Minister Bui Thanh Son (R) and Cuban Ambassador to Vietnam Orlando Nicolás Hernández Guillén (Photo: VNA)

Foreign Minister Bui Thanh Son received new Cuban Ambassador to Vietnam Orlando Nicolás Hernández Guillén in Hanoi on July 23.
The minister asked the diplomat to uphold activities of the Vietnam – Cuba Inter-Governmental Committee and other bilateral cooperation mechanisms as well as promote measures to expand and enhance bilateral ties in fields that match each side's potential and strengths, particularly health care, COVID-19 vaccine supply and vaccine production technology transfer./.
Short film calls for end to rhino horn use
Education for Nature Vietnam (ENV) on July 23 launched its latest short film entitled "When Rhinos Lose Their Face, Consumers Lose Face Too".
The Public Service Announcement (PSA) emphasises how respect is earned through honorable acts, not by trying to impress others with rhino horn.
In the comedic film, the protagonist is a young, ambitious businessman on his way to an important meeting. Immediately, the audience is drawn to him, a respectable person who helps strangers through acts of kindness. 
However, while his good deeds are well-intentioned, he is motivated by a futuristic app that gives him a point for each good deed. As he tries desperately to earn more and more points, he eventually makes a fatal flaw rooted in ignorance, and shamefully presents a rhino horn to a business partner.
Demand for rhino horn in Vietnam is driven by a false belief that it will benefit social status, said Nguyen Phuong Dung, ENV Vice Director and Head of Public Awareness. 
"Those who buy rhino horn for honor or gifts must soon realise that respect is not earned through superficial animal products, but rather by living life through moral and ethical actions," she added.
Vietnam is one of the biggest consumers of rhino horn in the world. The illegal trafficking, trade, and possession of rhino horn continues to be a headache for wildlife conservation. 
During the period between January 2020 and March 2021, the ENV recorded 99 violations related to rhino horn with 194,69 kg of horn confiscated by competent agencies. Eleven traffickers were arrested in such cases, four of whom have been prosecuted and received sentences ranging from 6 to 12.5 years in prison.
This is the ENV's 47th PSA that aims to put an end to demand for wildlife and encourage public reports of wildlife crime to the organisation's Wildlife Crime Hotline. 
The amount of daily reports to the hotline more than doubled, from 4.7 wildlife crime cases a day in 2019 to nearly 10 a day in 2020./.
Vietnam receives 150.000 boxes of medicines for non-communicable diseases
Deputy Health Minister Truong Quoc Cuong on July 23 received 150,000 boxes of medicines worth 62.6 billion VND from AstraZenaca to help treat patients with non-communicables diseases amid the COVID-19 pandemic.
Speaking at the event, Cuong said Vietnam is facing a rise in non-communicable diseases that account for nearly 70 percent of disease burden in Vietnamm. Up to 70 people die from non-communicable diseases per 100 ones, including cardiovascular disease 31 percent, cancer 19 percent, chronic obstructive pulmonary disease 6 percent, and diabetes 4 percent.
Patients with non-communicable diseases face a higher risk of death, especially when they are infected with coronavirus SARS-CoV-2, Cuong said.
The Health Ministry will distribute AstraZeneca's medicines to medical establishments and use them effectively, thus fulfilling goals in the national strategy on prevention and control of non-communicable diseases for the 2015-2025 period, he said.
He wished AstraZeneca would ensure the progress of providing Vietnam with COVID-19 vaccines as well as other medicines for non-communicable diseases.
Chairman and General Director of the AstraZeneca Vietnam and emerging Asian markets Nitin Kapoor expressed his belief that the activity will patients continue with their treatment and mitigate risks caused by underlying diseases./.
HCM City sets up five-level COVID patient admission and treatment system
The HCM City Department of Health has changed from a four-level to five-level admission and treatment plan for COVID-19 patients.
First-level treatment is for asymptomatic COVID-19 patients with no underlying medical conditions and no obesity. They are brought to quarantine facilities in districts where they are screened by local health officials to determine if they can spend quarantine at home.
The number of patients in this category is estimated to account for nearly 50 per cent of the city's total number of cases.  
At the second level, field hospitals are in charge of treating symptomatic patients with underlying medical conditions and providing emergency aid for those whose condition becomes worse before they are transferred to hospitals at the third level.  
The number of patients in this category is estimated to account for nearly 27 per cent of the total.
At the third level, designated hospitals that have been changed into ones for COVID-19 treatment admit moderately and severely ill symptomatic patients. The number of patients in the category accounts for nearly 10 per cent.    
At the fourth level, hospitals such as the Hospital for Tropical Diseases and Chợ Rẫy Hospital treat COVID patients with severe underlying medical conditions who need specialised medical intervention.
These hospitals need high-end ICU ventilators and continuous hemofiltration machines. The number of patients at the hospitals accounts for nearly 8 per cent of the total.
At the fifth level, the COVID-19 Patient Resuscitation Hospital with modern resuscitation equipment treats patients with life-threatening risks.    
Chairman of the People's Committee Nguyễn Thành Phong said the city needs 927 doctors and 4,137 nurses and technicians to treat COVID patients.   
It also needs 2,000 medical professionals who can conduct COVID-19 tests and give vaccines.
Earlier, the Ministry of Health assigned 1,936 health staff from hospitals in Hà Nội and other provinces to come to HCM City for assistance.
Moreover, 1,601 lecturers and students at medical schools in the country have been assigned to assist the city.
The ministry said that more than 2,000 ventilators, hemofiltration machines and oxygen generators, and more than 12 million masks have been provided to the warehouse at Chợ Rẫy Hospital for COVID-19 prevention and control in the city and the southern region.
Three extracorporeal membrane oxygenation (ECMO) machines have been provided to the city and Đồng Nai Province.
The ministry this week will provide 500 high-flow oxygen therapy systems and other kinds of medical equipment to the city and southern region.
As of July 22 evening, 46,178 COVID-19 patients have been recorded since late April when the outbreak began. Of these, 562 have needed respiratory aid.  
Vietnam Buddhist Sangha presents six ventilators to HCM City
The Vietnam Buddhist Sangha (VBS) has presented Ho Chi Minh City with six multi-function ventilators worth over 4 billion VND (173,582 USD) to support the city in COVID-19 fight.
Most Venerable Thich Thien Nhon, Chairman the VBS's Executive Council, handed over the gift to Nguyen Thi Le, Deputy Secretary of the city Party Committee and Chairwoman of the municipal People's Council during a ceremony on July 23.
Addressing the event, Venerable Thich Thien Nhon said that he hopes the ventilators, bought with the support of Buddhist dignitaries and followers across the country, will help the city in treating COVID-19 patients.
Along with HCM City, the VBS Central Committee has also presented Binh Duong and Long An with two ventilators each.
Most Venerable Thich Thien Nhon expressed his wish that the support will contribute to helping the localities overcome the pandemic soon.
For her part, Le thanked the VBS for assisting the city in COVID-19 prevention and control, both materially and spiritually.
She noted that many Buddhist monks and followers have volunteered to join frontline forces of the combat in hospitals across the city.
Underlining that the support showed the Vietnamese Buddhism's tradition of solidarity with the nation, Le affirmed that the medical equipment will be a great help for the city in saving COVID-19 patients, thus soon bringing the city back to normal./.
Vietnam sets to significantly cut use of single-use plastics by 2025
Vietnam aims to use 100 percent of environmentally-friendly plastic bags and packaging at shopping malls and supermarkets by 2025, according to a project on strengthening management of plastic waste in Vietnam approved by Deputy Prime Minister Le Van Thanh on July 22.
Other goals include to collect, reuse, recycle and treat 85 percent of plastic waste; to reduce the volume of plastic waste dumped to ocean by half; to have 100 percent of tourism complexes, hotels and other lodging facilities not use non-biodegradable plastic bags and single-use plastic products by 2025.
Additionally, the project will gradually cut the production and consumption of non-biodegradable plastic bags and single-use plastic products in daily life; while raising awareness among organisations, enterprises and the community about the harmful effects of single-use plastic items to the environment, ecosystem and human health, and encouraging consumers to shift away from single-use and non-biodegradable plastics to eco-friendly alternatives.
It will campaign producers and distributors of single-use and non-biodegradable plastic products to shift to eco-friendly equivalents and promote the development and application of advanced technology in plastic waste management and manufacturing of environmentally-friendly products.
The project will also build a network of local communicators who are tasked to instruct people in how to properly classify, reuse and treat plastic waste and waste at large; and integrate knowledge about single-use and non-biodegradable plastics into school curriculums at all levels.
Vietnam is said to be the world's fourth-largest marine plastic polluter after China, Indonesia and the Philippines. Each year, the country reportedly dumps an estimate of 300,000 – 700,000 tonnes of plastic waste into the ocean per year, accounting for 6 percent of the world's marine plastics./.
President presents gifts to invalids in Ha Nam
State President Nguyen Xuan Phuc visited and presented gifts to war invalids and sick soldiers in the northern province of Ha Nam on July 23, on the occasion of the 74th anniversary of Day of Invalids and Martyrs (July 27).
At a local nursing centre for invalids, the President expressed his gratitude for war heroes and those who dedicated their lives to national independence and freedom.
He also hailed them for contributing to national construction and development, overcoming difficulties and setting bright example for later generations.
The Party and State always attach importance to providing care for those who paid merit to the nation, and strive to improve policies and mechanisms for them, he said.
He handed over 50 million VND (2,170 USD), a television and gift packages to the centre. The Minister of Labour, Invalids and Social Affairs and leaders of the province also granted 20 million VND and other gifts on the occasion.
The same day, Phuc also visited and offered gifts to heroic Vietnamese mother Nguyen Thi Mon and invalid Hoang Van Tuyen, Director of the Hoang Tuyen apparel company./.
Entire HCMC to be disinfected in next seven days
The HCMC High Command will disinfect the entire city, especially areas with complicated developments of the Covid-19 pandemic, in the next seven days.
There will be two groups with 16 special-use vehicles disinfecting two districts per day. The municipal High Command asked the Military Commands of Thu Duc City and districts and other relevant agencies to propose areas that should be disinfected, Tuoi Tre Online newspaper reported.
They will coordinate with the local authorities to ensure security and traffic safety at these areas. Besides streets, residential areas and boarding houses will also be disinfected.
On July 23, Thu Duc City and Binh Chanh District will be disinfected.
Ministry urges safe treatment of COVID-19-related waste
The Ministry of Natural Resources and Environment (MoNRE) has urged cities and provinces to take measures in environmental protection and the treatment of COVID-19-related waste.
In a document issued on July 23, the ministry asked People's Committees of cities and provinces to instruct specialised agencies to guide and monitor waste collection, management and transfer at medical facilities and quarantine areas in line with regulations set by the National Steering Committee for COVID-19 Prevention and Control.
Local authorities must direct organisations and individuals to strictly manage medical waste as well as garbage discharged from daily activities at working places, factory dormitories, families, commercial centres, supermarkets, markets, restaurants, apartment buildings and funerals.
The areas where COVID-19 cases are detected must be disinfected, according to the ministry.
The ministry asked municipal and provincial People's Committees to instruct local Departments of Natural Resources and Environment to coordinate with Departments of Health in guiding agencies and units in localities to contact competent agencies to handle medical waste.
For localities that are unable to manage COVID-19-related waste, provincial People's Committees need to call for support of other localities, the ministry said./.
France pledges to help fast-track COVID-19 vaccine supplies to Vietnam via COVAX
Minister of Foreign Affairs Bui Thanh Son held phone talks with French Minister for Europe and Foreign Affairs Jean-Yves Le Drian on July 23, during which the latter pledged to help accelerate COVID-19 vaccine supplies to Vietnam via COVAX.
Drian highly spoke of major steps taken by Vietnam and France in strengthening their strategic partnership, reflected by the recent phone talks between President Nguyen Xuan Phuc and French President E. Macron, and between PM Pham Minh Chinh and his French counterpart Jean Castex.
Vietnam remains a key partner of France in its foreign policy towards Indo-Pacific, he said, adding that France agreed to join Vietnam in preparing for the next visits by their high-ranking leaders as well as the upcoming 12th conference on decentralized cooperation between the two countries in 2022 and celebrations of the 50th anniversary of the bilateral diplomatic ties and the 10th year of the strategic partnership in 2023.
He also hailed Vietnam for what it has done to combat COVID-19 and develop the economy at the same time while thanking the Vietnamese government for facilitating France's shipment of COVID-19 vaccines to Vietnam to inoculate its citizens here.
He acknowledged various efforts made by Vietnam to fight illegal, unreported and unregulated (IUU) fishing as the country seeks to remove the "yellow card" issued by the European Commission (EC) on its aquatic exports to the EU, saying he is confident that the EC will soon lift the warning.
Minister Son, for his part, emphasised the need to maintain bilateral activities in the context of the pandemic, suggesting both sides coordinate in implementing existing cooperation and dialogue mechanisms in the fields of diplomacy and economy and defence.
He welcomed France's active and constructive role in the EU, thanked the country for actively backing the Vietnam-EU cooperation, especially in promoting the signing and ratification of the EU - Vietnam Free Trade Agreement (EVFTA), and asked the French Government and National Assembly to accelerate the ratification process of the EU-Vietnam Investment Protection Agreement (EVIPA).
On the basis of the bilateral strategic partnership, the Vietnamese official urged France to support Vietnam's access to and transfer of COVID-19 vaccine production technology and medical equipment amidst the complex developments of the pandemic, and facilitate Vietnamese seasonal agricultural products' approach to the French market.
The two ministers appreciated the two countries' close coordination and mutual support at multilateral forums such as the United Nations and ASEAN-EU cooperation, especially when Vietnam assumed the ASEAN Chairmanship in 2020 and serves a non-permanent member of the United Nations Security Council in the 2020-2021 tenure.
They exchanged views on regional and international issues of mutual concern. Both affirmed the importance of ensuring navigation and aviation freedom, security and peace in the East Sea, emphasising the role of the 1982 UN Convention on the Law of the Sea (UNCLOS 1982) as the legal framework for all activities at seas and oceans.
On this occasion, Son invited the French minister to visit Vietnam when possible./.
Quảng Bình to launch General Võ Nguyên Giáp contest
In honour of the 110th anniversary of General Võ Nguyên Giáp birthday (August 25, 1911), a contest on the late general will be held at the end of July.
The contest is being organised by the Central Youth Union in collaboration with the General Department of Politics of the Việt Nam People's Army and Quảng Bình province.
The theme of the contest is "Võ Nguyên Giáp -- People's General" and it aims to promote and educate young people about General Giáp's contribution to the country's revolution and resistance wars.
The contest will show the pride and deep gratitude the Vietnamese feel for the General -- a Communist fighter who dedicated his life to the nation. It is hoped this will encourage people to study more about Gen Giáp and other revolutionary leaders.
The contest will consist of two parts: the online interactive multiple-choice and writing. Vietnamese citizens, both at home and abroad, are eligible to enter.
The online interactive multiple-choice contest will be live-streamed on Facebook from July 30 to August 25. This will be on the fan pages: Web Portal of the Central Commitee of the Hồ Chí Minh Communist Youth Union and the Publicity Department of the Youth Union.
The writing portion of the contest will focus on the contestant's personal feelings about the general's life, career, and his contribution to the revolution as well as personal memories of the man himself.
Contestants will also discuss how young people can follow the example of the General to contribute to building a prosperous and strong country.
The writing portion will need to be submitted to the Hà Nội Youth Union through the Youth Union Publicity Department from September 10 to November 16.
The award ceremony will be held on December 22 (the 77th Anniversary of the Founding of the Việt Nam People's Army).
Prizes for the writing portion are from VNĐ5 million (US$216) to VNĐ15 million.
For the online interactive multiple-choice contest, the prize for each winning answer is VNĐ300,000, and the prize for the winner of each contest is VNĐ3 million.
Lao NA Chairman sends congratulations to Vietnamese counterpart
Chairman of the Lao National Assembly Saysomphone Phomvihane has sent a letter of congratulations to Vuong Dinh Hue on his election as Chairman of the 15th National Assembly of Vietnam on July 20.
In the letter, the top Lao legislator wrote that Hue's election to the post demonstrates the Vietnamese Party, State, NA and people's trust in and appreciation of his competence.
He expressed his belief that Hue, with his rich experience, will continue directing the 15th legislature to successfully implement its role, power and duties as well as the national construction and development cause for the happiness and well-being of the Vietnamese people.
Saysomphone wished the great friendship, special solidarity and comprehensive cooperation between the two countries in general and the two legislatures in particular will develop further, and his Vietnamese counterpart will gain greater achievements in his position./
Refrigerated trucks allocated to Military Regions for COVID-19 vaccine transport
The Ministry of Health has decided to allocate 63 specialised trucks for COVID-19 vaccine transport, manufactured by Truong Hai Auto Corporation (THACO), to seven military regions across the country under the management of the Ministry of National Defence.
The refrigerated trucks will serve the largest-ever vaccination campaign in the country from July 2021 to April 2022, ensuring the quality of vaccines.
THACO has handed over the trucks to Military Regions 1, 3 and 4, and is scheduled to deliver the trucks to the remaining regions from July 23. The trucks are designed to meet all temperature standards, ensuring that vaccines are always kept at a temperature of 2-8 degrees Celsius.
Right in July, the Military Regions will use the trucks to transport COVID-19 vaccines to localities. Meanwhile, storages have been built in the Military Regions to receive the vaccines.
They have also received instructions and training to meet good storage practice (GSP) standards, thus getting ready to undertake the storage and transport of the vaccines from August.
Minister of Health Nguyen Thanh Long said his ministry and relevant ministries and sectors have worked together to set up a new system of storage based on the support of the army.
The vaccines will be kept in warehouses meeting GSP standards that have been jointly constructed by the Ministry of Health and the Ministry of National Defence before sending to vaccination sites in nearby localities, thus ensuring fast and safe delivery, he added./.
HCM City's Buddhist Sangha proposes using pagodas as COVID-19 treatment hospitals
The Vietnam Buddhist Sangha (VBS) of Ho Chi Minh City said on July 22 that it had sent an official dispatch to authorized agencies, proposing the use of its religious establishments as temporary COVID-19 treatment hospitals and quarantine facilities for Buddhist monks and nuns.
Amidst the complicated developments of the COVID-19 pandemic in HCM City, Most Venerable Thich Tri Quang, Deputy Patriarch of the Vietnam Buddhist Sangha and Chairman of the Executive Council of the HCM City Buddhist Sangha, sent the official dispatch to the city's leaders and the Department of Health, asking for permission to use the Vietnam National Pagoda in district 10 and Pho Quang Pagoda in Tan Binh district as temporary COVID-19 treatment hospitals for Buddhist monks and nuns.
If approved by the city's leaders and the Department of Health and provided with medical equipment and workers, the HCM City Buddhist Sangha will cover all accommodation and transport expenses.
He emphasised that this move will contribute to reducing the medical burden that is currently putting great pressure on hospitals and medical centres in HCM City.
The Most Venerable also suggested municipal authorities pay attention to giving vaccination against COVID-19 to Buddhist monks, nuns, and followers who are performing social charitable activities in support of the city's COVID-19 fight. Currently, the Vietnam Buddhist Sangha in HCM City is providing more than 30,000 servings a day for medical workers and people in concentrated quarantine sites and COVID-19 treatment hospitals.
If health authorities accept, the Vietnam Buddhist Sangha in HCM City will quarantine Buddhist volunteers at its religious establishments when they test positive for SARS-CoV-2 or after they finish their charity activities./.
All Binh Duong rehab staff and patients test positive for Covid-19
All of 689 staff and drug addicts at a rehab centre in the southern province of Binh Duong have tested positive for Covid-19. Of the figure, 607 people are drug addicts.
Bo La rehab centre is under the management of the Ho Chi Minh City Department of Labour, Invalids and Social Affairs but is located in Binh Duong Province's Phu Giao District.
On Thursday, Le Minh Tan, Director of the HCM City Department of Labour, Invalids and Social Affairs asked the provincial Youth Volunteer Force to send 35 people to help ensure security order at the centre.  
Two medical staff at the centre previously had a fever and cough. They then tested positive for Covid-19. On July 21, the HCM City Department of Health sent a delegation of doctors to the centre.
According to Tan, inmates who face worse conditions will be moved to Nhan Ai Hospital in Binh Phuoc, meanwhile, staff who are in the same conditions will be brought to Cu Chi Field Hospital in HCM City.
Tan said that the Covid-19 infection sources could have been brought to the centre by the staff.
The HCM City Department of Labour, Invalids and Social Affairs has instructed to tighten Covid-19 prevention regulations at its other rehab centres.
The department is now managing 12 rehab centres with more than 14,000 inmates in HCM City, Binh Phuoc and Dong Nai.
Mekong Delta Resilient Business Network debuts
The Mekong Delta Resilient Business Network (MRBN) has been established, announced the Vietnam Chamber of Commerce and Industry (VCCI) chapter in the Mekong Delta city of Can Tho and The Asia Foundation (TAF).
The network, under sponsorship of the UPS Group, is the first one for firms to join hand in seeking measures to improve business capacity and contribute to policy building in the backdrop of climate change.
Director of VCCI Can Tho Nguyen Phuong Lam said the MRBN aims to create a community of various stakeholders which can connect entrepreneurs, scientists and policymakers in building climate change adaptation for firms in the Mekong Delta. 
The network will update information and techniques in the field, bolster firms' operations as well as their role in policymaking and social responsibility.
In the first phase from 2021 to Q1 2022, the MRBN will focus on completing its organisational structure and at the same time launch research studies on impacts of saline intrusion on firms in the Mekong Delta and propose effective policies, along with collecting information on renewable energy development in the region.
The Mekong Delta, known for its fertility and rice fields, has been facing enormous challenges posed by climate change and upstream activities, according to environmental officials.
According to the World Bank's assessment, Vietnam is one of the five countries hardest hit by climate change, with a one-metre rise in sea levels likely to affect 10 percent of population and cause losses equal to 10 percent of GDP in delta regions./.
Deputy PM tells southern provinces to enforce strict COVID prevention measures, be ready to aid HCM City
Deputy Prime Minister Vũ Đức Đam has urged southern provinces to work with HCM City to enforce strict COVID-19 prevention measures and be ready to aid the city in the fight against the virus.     
Đam, head of the National Steering Committee for COVID-19 Prevention and Control, said it was important to prevent the spread of the virus between HCM City and neighbouring provinces while ensuring circulation of goods in the region.
He spoke on Thursday at an online meeting with the Government's Special Working Group and representatives from six southern provinces (An Giang, Kiên Giang, Hậu Giang, Cà Mau, Bạc Liêu and Sóc Trăng).
Đam stressed the role of organisations such as community COVID-19 groups that "go to every corner and every house, and check every person" to ensure that they have made health declarations. 
"Those who fail to complete medical declarations or provide dishonest declarations must be strictly handled, including their family members," he said.
Provincial authorities would be held responsible for failing to control people arriving from HCM City or other provinces, and for people who don't submit health declarations.
Đam also called for stricter prevention measures in locked-down areas to ensure that all residents of all ages practise social distancing to prevent cross-infection in the areas.
HCM City late Friday afternoon announced that the city would extend the social distancing measures under the Government's Directive 16 until August 1, but would apply even stricter measures in certain high-risk wards or districts in the city.
Nguyễn Trường Sơn, deputy minister of Health, said the COVID-19 situation in the southern provinces was still under control with tracing, zoning and testing activities being carried out in accordance with the Health Ministry's instructions.
He urged the provinces to increase the number of RT-PCR tests in high-risk areas so that COVID-19 exposure sites could be cleared in the community. To speed up testing and discover positive cases more quickly, pooled samples from five to 10 people should be taken.
Sơn said the ministry would ensure supply of medical equipment and biological products for testing.
"Provinces need to set up a centralised oxygen system to ensure enough oxygen and high-flow nasal cannula (HFNC), and enhance training for medical staff to be ready for the increasing number of infections, and to limit the number of deaths," he said.
The primary COVID-19 treatment facilities in the provinces need to monitor and evaluate the condition of patients regularly and transfer patients with serious symptoms as soon as possible to higher-level hospitals.
Lê Quốc Hùng, deputy minister of Public Security, urged the provinces to work with police forces to strengthen tracing of all F1 cases (close contacts of infected patients) to reduce the risk of community infections.
Trần Thanh Nam, deputy minister of Agriculture and Rural Development, said: "Provinces need to set up working groups to connect with businesses to remove difficulties in selling farmers' agricultural products."
Đỗ Thắng Hải, deputy Minister of Industry and Trade, noted that traditional markets under Directive 16 could remain open, but they must meet strict prevention measures.
The six southern provinces were asked to be fully prepared to support HCM City, the epicentre of the latest outbreak, and other provinces, as directed by the Ministry of Health.
Facilities that treat severe and critical COVID cases must be equipped with medical oxygen supply systems, medical devices and medicines to prevent development of more serious symptoms and reduce the risk of death.
Deputy Prime Minister Vũ Đức Đam stressed that only trucks with essential goods were allowed to move during the lockdown period under Directive 16.
Đam asked the provinces to provide favourable conditions for truck drivers to get tested and ensure smooth movement between localities.
Local authorities were asked to strictly oversee businesses that transport goods and conduct quick tests or RT-PCR tests for truck drivers and their helpers.
In 19 southern cities and provinces under Directive 16, trucks are required to carry logos and QR codes that allow access to their medical declarations before they are permitted to enter or leave hotspot areas.
In the manufacturing sector, local authorities have been told to strengthen preventive measures at industrial parks. Businesses and manufacturers must strictly comply with COVID-19 prevention and control criteria and manage workers' movement from their workplaces to their accommodations to limit their number of contacts.
HCM City considers cancelling high school exam for students who missed it the first time
The HCM City Department of Education and Training has asked the city People's Committee and the Ministry of Education and Training to consider cancelling the second high school graduation exam for eligible students who were not able to make it the first time.
HCM City held the first round of the high school graduation exam on July 6, 7 and 8 with more than 85,000 candidates, reaching 96.25 per cent of the total.
The city currently has 3,234 qualified candidates to register for the second round. However, the social distancing period and increasing number of Covid-19 cases might pose a serious challenge to the second exam.
"Organisation of the second exam must ensure safety and disease prevention, meet objective and  requirements, and create favourable conditions for candidates and peace of mind for parents," authorities said.
According to regulations, if an accident, illness or special emergency occurs no more than 10 days before the test date or on the day of the first test session, candidates can be considered to not take the exam.
Students during this second round of exam are considered special emergency cases.
The HCM City Department of Education and Training suggests that schools roll out competency assessment exams and implement other methods of enrollment for students in the second exam round.
Medical, plastic wastes skyrocket in HCM City due to pandemic
The surge in plastic and coronavirus-related wastes in HCM City is creating huge pressure on its waste treatment system. 
The HCM City Urban Environment Company Limited (CITENCO) collects and treats all wastes from hospitals and quarantine facilities. 
Cao Văn Tuấn, head of its environmental technology and quality control department, said the daily medical waste output had increased to nearly 40 tonnes a day, including 12 tonnes from quarantine zones, since the outbreak, and the treatment capacity is 42 tonnes.
If coronavirus-related waste continues to grow, it would lead to an overload at the treatment plant, according to Tuấn.  
Besides having equipment prescribed for handling hazardous wastes, they also need to safeguard people handling the wastes. 
Wastes from locked-down areas are mainly collected by local authorities who spray them with disinfectants before sending to trash dumps.
With social distancing in place the volume of goods packaged and delivered to consumers' homes and the use of plastic bags have increased exponentially. 
According to Nguyễn Gia Thanh, an online seller in Tân Bình District, he has to use six kilogrammes of plastic bags a month for packaging now, twice the usual rate. 
Customers want goods to be covered with more plastic bags as a virus prevention measure. 
"Plastic is the most economical solution for a hard situation despite its negative impact on the environment," he said.
Nguyễn Văn Tốt, a garbage collector in Hóc Môn District, said while normally plastic accounted for 50 per cent of the garbage, it had now increased to 60-65 per cent. 
Wastes are now mainly in landfills and plastic wastes, though increasing, are not being sorted, and this portends serious harm to the environment.
The HCM City Department of Natural Resources and Environment is seeking approval from the Ministry of Natural Resources and Environment to add more companies capable of receiving and treating COVID-19-related waste.
Nguyễn Thị Thanh Mỹ, deputy director of the city department, said the list of added businesses included Việt Úc Environment JSC, Mộc An Châu Company, Saigon Green Biotechnology Company and Tâm Sinh Nghĩa Investment Development JSC.
These companies had invested in industrial waste and hazardous-waste incinerators, but they were still in the testing phase. But due to the growing coronavirus-related waste in the city, the department asked the ministry to approve the use of these companies' waste incinerators to treat waste related to Covid-19.
CITENCO is currently the only company that receives and treats Covid-19 related waste in HCM City.
According to CITENCO, the amount of garbage in quarantine areas and field hospitals is nearly 100 tonnes per day, exceeding its processing capacity.
Huỳnh Minh Nhựt, director of CITENCO, said the process of collecting and treating medical waste and waste from isolation areas was being carried out under strict safety standards, and garbage collection workers all wear protective gear.
Medical waste is taken to Đông Thạnh waste treatment zone in Hóc Môn District where it undergoes chemical and thermal disinfection. After the trash is burned, the ash is solidified and buried in a location reserved for hazardous waste.
Other waste, such as face masks and protective clothing, is treated separately according to regulations, while the rest can be sent to landfills to be treated by incineration and burial. 
All traditional wet markets in Thu Duc City, 11 districts in HCMC suspended
All traditional wet markets in Thu Duc City and 11 districts in HCMC have been suspended over fears of the Covid-19 spread, according to the municipal Department of Industry and Trade.
The 11 districts are 1, 3, 4, 6, 7, 8, 10, Phu Nhuan, Tan Binh, Tan Phu and Nha Be.
On July 22, Hoc Mon Market in the district of the same name resumed operations with nine traders selling food and vegetables. Meanwhile, Nguyen Tri Phuong Market in District 10 and Trung Lap Ha Market in Cu Chi District have been temporarily closed, Tuoi Tre Online newspaper reported.
Thus, as of July 22, 32 traditional wet markets in the city are operational and 205 others, including three wholesale markets, have been suspended.
Some markets which have reopened after being closed to serve the fight against the pandemic include Binh Thoi, Phu Tho, Kien Thanh and Hung Long.
A working team of the Ministry of Agriculture and Rural Development has asked the HCMC government to reopen the Binh Dien, Thu Duc and Hoc Mon wholesale markets as soon as possible to stop supply chain disruptions.
The city has also asked districts to come up with plans to reopen markets safely before July 23.
However, many districts are finding it hard to reopen markets due to the rise in daily cases.
Source: VNA/VNS/VOV/VIR/SGT/SGGP/Nhan Dan/Dtinews/Hanoitimes

Over 1.2 million more doses of AstraZeneca COVID-19 vaccine arrive in HCM City