Lao Party General Secretary and President to pay official visit to Vietnam
General Secretary of the Lao People's Revolutionary Party Central Committee and State President Thongloun Sioulith will pay an official visit to Vietnam next week. (Photo: VNA)
General Secretary of the Lao People's Revolutionary Party (LPRP) Central Committee and President of Laos Thongloun Sisoulith, his wife and a high-ranking Lao Party and State delegation will pay an official visit to Vietnam from June 28-29.
The visit is made at the invitation of General Secretary of the Vietnam Communist Party of Vietnam Central Committee Nguyen Phu Trong and State President Nguyen Xuan Phuc and their spouses./.
COVID-19: 116 local infections detected on June 24 afternoon
Vietnam logged 116 local COVID-19 infections during six hours from 12pm to 6pm on June 24, raising the number of cases in the past 24 hours to 285, including 6 imported cases, according to the Health Ministry.
Among the newly-detected cases, 61 were in Ho Chi Minh City, 20 in Da Nang, 9 each in Tien Giang and Bac Giang, 8 in Phu Yen, five in Nghe An, two in Bac Ninh and one each in Thai Binh and Hai Phong.
As of 6pm June 24, the total number of COVID-19 cases in Vietnam stood at 14,232, including 10,936 cases detected since April 27.  
The same day, 75 patients were given the all-clear, bringing the total recoveries to 5,759. The death toll has reached 72.
Among active patients in hospitals, 388 have tested negative for SARS-CoV-2 once, 126 twice and 137 thrice./.
Vietnam confirms two more Covid-19 deaths
The Ministry of Health has announced the 71st and 72nd Covid-19 deaths, two elderly patients with serious underlying medical conditions.
The 71st fatality was an 88-year-old man in Bac Giang Province's Viet Yen District who suffered from high blood pressure.   
On June 13, he tested positive for Covid-19 and was taken to Bac Giang General Hospital for treatment. Five days later, his breathing difficulties worsened and he was moved to Bac Giang Mental Hospital for intensive treatment. At the hospital, he was given a ventilator and dialysis, however, he responded poorly to the treatment and died on June 22 due to respiratory failure, multiple organ failure and blood sepsis.
The 72nd death was an 82-year-old man in Bac Giang's Yen Dung District who suffered from gout, diabetes and high blood pressure.
On June 5, he was brought to Bac Giang General Hospital after testing positive for Covid-19. On June 14, he was taken to Bac Giang Mental Hospital as his condition worsened. Failing to respond to the treatment, he died on June 22.
To date, the country has witnessed 72 Covid-19-related deaths, including 37 cases since April 27 when the fourth Covid-19 wave started hitting the country.
National COVID-19 vaccine fund receives over 321 mln USD
The national COVID-19 vaccine fund had received over 7.4 trillion VND (321.7 million USD) as of 5pm on June 23, its management board has reported.
The sum was donated by 338,346 individuals and organisations.
The fund's management board has opened 21 accounts for VND, USD, EUR at the State Treasury and six commercial banks namely BIDV, Vietcombank, VietinBank, HDBank, Agribank and TPBank.
The use, management and opening of accounts at the State Treasury is publicised on the mass media daily./.
Deputy Health Minister inspects COVID-19 prevention measures in Bình Dương
Deputy Minister of Health Nguyễn Trường Sơn yesterday led a delegation in the southern province of Bình Dương in an effort to curb the spread of COVID-19 amid a recent spike in cases.
The delegation included health officials from Pasteur Institute in HCM City and Chợ Rẫy Hospital, as well as authorities from the Ministry of Labour, Invalids and Social Affairs.
The delegation checked a boarding house for workers in Thuận An Town's Bình Hòa Ward where dozens of workers have tested positive for COVID-19.
They also inspected a concentrated quarantine facility at Lý Thái Tổ High School in Thuận An Town and Bình Dương Province General Hospital.
Deputy Minister of Health Nguyễn Trường Sơn asked local authorities to strengthen measures to curb the spread of the virus.
Sơn proposed that provincial authorities adopt stricter social distancing measures listed in the Government Directive No 16 at quarantined residential areas to curb community transmissions.
Deputy Chairman of Bình Dương Province People's Committee Nguyễn Lộc Hà said the outbreak was under control as most new cases had been placed in quarantined areas.
The province is focusing on efforts to obtain the dual goal of fighting COVID-19 but still developing the economy. It has more than 1.2 million workers in industrial parks.
Businesses have been ordered to strictly comply with the Ministry of Health's 5k prevention protocol at workplaces and join hands with the health sector to provide testing for workers.
Factories will be closed if preventive measures against COVID-19 are not taken, according to Hà.
On Wednesday morning, the province reported 23 new community-transmitted infections.
Since the fourth wave, the province has reported 164 infection cases.
The delegation will work with authorities in Đồng Nai Province on Thursday.
220 new cases of COVID-19 confirmed on Wednesday
A total of 220 new cases of COVID-19 were confirmed on Wednesday raising the total number of patients in Việt Nam to 13,947, according to the Ministry of Health (MoH).
Three of them are imported cases and were quarantined right after entering Việt Nam. Two in Tây Ninh Province and the other is in Tiền Giang Province.
The remaining 217 cases are domestic ones. As many as 152 are in HCM City, 23 in Bình Dương Province, 11 in Bắc Giang Province, seven in Nghệ An Province, six in Đà Nẵng City, five in Long An Province, four in Hưng Yên Province, four in Bắc Ninh Province, two in Lào Cai, two in Kiên Giang and one in Bắc Kạn Province.
Eighteen out of 63 provinces and cities have not seen any new cases over the last 14 days.
The MoH on Wednesday sent a letter to provinces and cities asking for tightened management for people returning from areas affected with COVID-19.
The MoH requires all people from provinces and cities that have recorded COVID-19 cases in the community to make honest medical declarations, take responsibility for the declared information to classify people facing high risk of the disease.
People in close contact with COVID-19 must be quarantined strictly based on MoH's regulations.
Those who have been to places where people with COVID-19 live, or returning from lockdown areas due to a case of COVID-19 must implement health monitoring and limit contact with people around, do not participate in crowded activities for 14 days.
If people have signs of fever, cough, sore throat, difficulty breathing or loss of taste, they must immediately notify the nearest medical station for instructions on health management.
Vietnam Day held as part of Asian Festival Film in Italy
The Vietnamese Embassy in Italy and the organising board of the 18th Asian Film Festival held the "Vietnam Day" on June 22, as part of the June 17-23 festival in Rome.
Speaking at the opening ceremony, Vietnamese Ambassador to Italy Nguyen Thi Bich Hue said cinematic exchange also contributes to deepening Vietnam – Italy strategic partnership.
On the occasion, four Vietnamese hit movies "Bac kim thang" (Home sweet home), "Tiec trang mau" (Blood moon party), "Rom" (Rom) and "Bo gia" (Dad, I'm sorry) were screened, drawing a number of audiences to Farnese cinema.
Held by the Robert Bresson Film Foundation, the festival has selected the best films in East Asia in terms of art and genre, with special attention to young and new directors.
Director of the festival Antonio Terminini said the themes of this year's films focused on abuse of teenagers, complicated family relations, impacts of economic issues and sustainable development, climate change in parts of East Asia, including in Mekong River.
As many as 28 feature and two short films from Japan, the Republic of Korea, China, the Philippines, Indonesia, Malaysia, Thailand, Vietnam, Singapore, Laos and Myanmar were  featured at the six-day event.
The RoK Day (June 19) was also held at the festival./
Over 11 billion VND earmarked for contribution to COVAX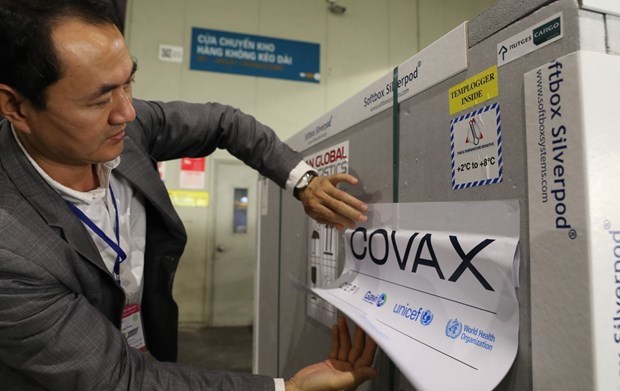 The first batch of COVID-19 vaccine supplied by COVAX Facility through UNICEF for Vietnam

The Prime Minister has decided to add 11.58 billion VND (500,000 USD) from the central budget reserve in 2021 to the Ministry of Health to make contributions to the COVAX (COVID-19 Vaccines Global Access) Facility.
He ordered the management and use of the funding to be publicised, transparent, and in line with regulation.
The principal role of the COVAX Facility is to maximise the chances of people in participating countries getting access to COVID-19 vaccines as quickly, fairly and safely as possible. By joining COVAX, self-financing countries will be guaranteed sufficient doses to protect a certain proportion of their population, depending upon how much they buy into it. Subject to funding availability, funded countries will receive enough doses to vaccinate up to 20 percent of their population in the longer term.
As one of 190 participating countries, Vietnam is included in the list of those getting sponsored in the first phase of the mechanism.
The first batch of COVID-19 vaccine supplied by COVAX Facility through UNICEF for Vietnam arrived at Noi Bai International Airport in Hanoi on April 1 morning. The batch contains 811,200 doses./.
COVID-19: 42 new cases raise national count to 13,989
Additional 42 COVID-19 infections, including five imported ones, were confirmed in the last 12 hours to 6am on June 24, raising the national tally to 13,989, according to the Ministry of Health (MoH).
Among the new domestic cases, 26 were found in Ho Chi Minh City, three each in Thai Binh and Bac Giang, two each in Tay Ninh and Long An, and one in Khanh Hoa. Of them, 28 were detected in quarantine sites and sealed off areas.
To date, Vietnam has documented 12,264 locally-infected infections and 1,725 imported ones.
The MoH said 5,684 patients have been given the all-clear so far, while the death toll was 70.
Among the active patients, 341 have tested negative for the coronavirus SARS-CoV-2 once, 143 twice and 130 thrice.
Sixteen provinces that were hit by the pandemic have gone through 14 days without new infections.
On June 23, an additional 100,374 people received COVID-19 vaccine shots nationwide. So far, over 2.6 million vaccine doses have been injected. The number of people fully getting two shots is 137,682./.
Vietnam's supporting policies contribute to higher level of mechanisation in agriculture
The Vietnamese Government's implementation of supporting policies to reduce losses in agriculture has contributed to improving the level of mechanisation in Vietnam, prnewswire.com quoted the India-based Ken Research as reporting.
Data from the Ministry of Agriculture and Rural Development in 2020 shows that the level of mechanisation in agriculture is increasing in the pre- and post-harvest stages. Specifically, the rate of mechanisation of agricultural land preparation reached 94 percent; 42 percent of sowing and planting care reached 77 percent and that of rice harvest reached 65 percent, according to Ken Research.
Compared to 2011, in 2019, the number of tractors across the country increased by about 48 percent, combine harvester increased by 79 percent, and agricultural dryer increased by 29 percent. The farm power availability reached about 2.4 HP per ha cultivated.
Due to rapid urbanisation, most of the farmers are shifting to construction and services sector in the hope of earning more wages. Consequently, this has led to a shortage of agriculture labour in Vietnam. This has acted as a major driver for the implementation of machinery in agriculture. The transition of occupational structure from agriculture to other sectors is rapidly occurring in the four regions, namely the Red River Delta, the North Central and the Central Coastal areas, the Mekong River Delta, and the South East.
The demand for agricultural machines decreased during the COVID-19 pandemic. This was due to low production and closure of dealerships and retail shops during lockdown. This was further fuelled by decrease in farmer's income which led to postponing of agricultural machinery purchases.
Additionally, agricultural equipment companies experienced cash flow difficulties due to the fact that most of the imports were banned and local manufacturing and assemblies were shut down. The demand for machines in the country remained low at the starting of 2020, however there was an increase in demand in the second half of the year post ease in confinement. Slow recovery is expected in 2021.
Analysts at Ken Research observed that Vietnam is a growing agricultural machinery market in Southeast Asia and is slowly recovering from the pandemic. The increasing credit availability in the country along with exemption in taxes is driving the growth of the industry.
Increasing focus on promotional and marketing activities, new product launches, partnerships & collaborations are expected to drive the industry in the future. The country's agricultural machinery market is expected to grow at a compound annual growth rate (CAGR) of 6.4 percent on the basis of sales revenue over the forecast period 2020-2025./.
HCM City authorities make e-health declaration mandatory from June 24
All dwellers in Ho Chi Minh City are asked to fill their electronic health declaration from June 24.
Vice Chairman of Ho Chi Minh City People's Committee Duong Anh Duc yesterday signed a document to send to departments, agencies, People's Committees of Thu Duc City, and districts upon the electronic health declaration.
According to the document, to continue furthering the effectiveness of the "Electronic Health Declaration System" in the Covid-19 epidemic prevention mission, the municipal People's Committee ask for all people in business establishments, enclosed offices, industrial parks, parks, export processing facilities, high-tech parks, factories, hospitals, medical facilities, apartment buildings, schools, railway stations, bus stations, docks, commercial centers, supermarkets, wholesale markets to fill e-health declarations.
The People's Committee of Ho Chi Minh City has just issued a plan for both isolation of infected people and their contacts and production in export processing zones, industrial parks, and high-tech zones citywide. Accordingly, enterprises will both continue producing provided that they can ensure safety conditions as per a commitment for prevention and control of the epidemic.
At the same time, the enterprise must establish concentrated accommodation for employees and ensure providing means of transport to take workers from the concentrated residence to the workplace.
Especially, all employees must have a negative test result before being brought to the concentrated residence and not leave the concentrated residence or workplace during the isolation time to restrain the spread of Covid-19.
Dr. Nguyen Khac Vui, deputy director of the Saigon General Hospital, yesterday said that five of the hospital's outpatients tested positive for the virus after they underwent Covid-19 screening at the hospital in District 1. All of them were then transferred to Cu Chi Field Hospital in the city's Cu Chi District for treatment. The hospital temporarily halted receiving outpatients for coronavirus prevention.
Hanoi aims to prevent spread of dengue fever
The capital has moved to ramp up preventive measures in a bid to reduce the risk of outbreaks of dengue fever following an increase in the number cases in various districts throughout the locality.

Hanoi's Department of Health has reported a total of 159 cases of dengue fever since the beginning of the year. Recent weeks has witnessed a sharp rise in cases of the mosquito-borne disease, with a large outbreak occurring in Hoai Duc district.
According to the department, the transition from the hot season to the rainy season provides favourable conditions in which mosquitoes can develop, thereby resulting in an increase in dengue fever cases. The risk of dengue fever outbreaks remains high if sufficient preventive measures are not put into place in a timely or effective manner.
The capital's Department of Health has therefore asked that the administrations of various districts and communes conduct campaigns aimed at raising awareness of preventative steps. This includes killing mosquitoes and mosquito larvae, spraying chemicals throughout residential areas and households, as well as improving public knowledge about disease prevention and treatment.
Exhibition sends message on environmental protection
An exhibition of landscape paintings entitled "The Echo of Nature" is underway at the Vietnam Fine Arts Museum in Hanoi. Through the paintings which showcase the beauty of Vietnam's countryside and its ethnic minority people, artists hope to send messages about environmental protection and climate change to the audience.
"O nhiem moi truong nuoc" (Water pollution), "Doi troc" (Bare hills), "Tieng vong tu moi truong" (Echo of nature), and "Vo de" (Untitled) are among the 74 artworks from 60 artists who took part in a field trip to Vietnam's northern mountainous area.
In addition to works focusing on Vietnam's natural beauty or the daily lives of its ethnic minority people, there are also several that reflect activities blighting the area, such as littering, deforestation, and the hunting of endangered animals, among others.
The exhibition does indeed provide useful messages that will contribute to increasing awareness about environmental protection, especially among the younger generation.
It is open until June 26./.
Vietnam develops comprehensive policy framework in land management: WB official
Vietnam has developed a fairly comprehensive legal and policy framework on land governance, said an official of the World Bank (WB) in Vietnam.
Kate Rickersey, a representative from the WB in Vietnam, made the remark at an online workshop co-hosted by the Ministry of Natural Resources and Environment, the Party Central Committee's Economic Commission and the WB in Vietnam on June 21.
As recent rapid urbanisation in Vietnam has resulted in remarkable changes in the pattern of land use and growth in the country, the country needs to define a land governance vision for the 2021-2045 period towards digitising land management services and ensuring rights for all land users, she noted.
According to Standing Vice Chairman of the Party Central Committee's Economic Commission Cao Duc Phat, the workshop focused on reviewing achievements and pointing out shortcomings, as well as proposing new development directions to perfect mechanisms, policies and laws, towards removing obstacles to State management on land, contributing to the nation's socio-political stability.
Delegates and experts said that in order to modernising its land management mechanism, Vietnam should make structural changes to strengthen its land management capacity in the direction of increasing efficiency and transparency./.
Vietnamese culture promoted in Czech Republic
Members of the Diplomatic Spouses Association (DSA) paid a visit to Vinh Nghiem Pagoda and various Vietnamese stalls at Sapa trading centre in Prague on June 22 as part of a scheme launched by the Vietnamese Embassy aimed at promoting Vietnamese culture in the Czech Republic.

Nguyen Thien Nga, wife of the Vietnamese Ambassador to the Czech Republic, expected the Embassy to hold further visits for diplomatic corps in order to find out about Vietnamese culture, as well as the lives of overseas Vietnamese based in the Czech Republic.
Zahra Ahmed, chairwoman of the Diplomatic Spouses Association (DSA), expressed her sincere thanks to the Vietnamese Embassy and Sapa trading centre for their warm welcome.
With the COVID-19 pandemic being gradually brought under control in Europe, the association is devising plans to hold a bazaar and hopes that the Vietnamese Embassy and overseas Vietnamese community in the Czech Republic will attend the event, she noted.
During the fact-finding trip, numerous Vietnamese cuisine and crafts have also been introduced to international friends.
Sapa trading centre is the largest of its kind owned by Vietnamese people in the Czech Republic. It is the area where various events take place every year to introduce and preserve traditional Vietnamese culture. 
The Diplomatic Spouses Association (DSA) was originally established in 2004 and sponsored by the spouse of the Czech Republic's Prime Minister.
Strict COVID-19 prevention methods for Viettel in AFC Champions League campaign in Thailand
Due to the complicated COVID-19 situation in Thailand, Viettel FC's players and coaching staff must obey strict regulations on pandemic prevention during their time in the country for Asian Football Confederation (AFC) Champions League matches in Bangkok.
When arriving in Thailand, all members of the travelling party must install the COSTE app from the Thai Department of Disease Control on their smartphone for daily temperature and symptoms reporting.
Time for outdoor activities is extremely limited, the team must follow all social distancing regulations, are not allowed to leave their hotel and must wear masks at all times except when training or playing.
They can only leave their rooms for scheduled activities including team meetings, medical care and AFC press conferences.
All activities will be monitored by local authorities through CCTV and those breaking regulations could be sanctioned under Thai law.
Swimming pools and gyms inside the hotel will also be closed.
After the matches, the teams are banned from shaking hands or exchanging shirts.
Due to the COVID-19 pandemic, Group F will take place entirely in Bangkok where Viettel will face defending champions Ulsan Hyundai from South Korea on June 26 and July 8, the Thai League 1 champions BG Pathum on July 2 and 5, and Shanghai Port or Kaya FC from the Philippines on June 29 and July 11.
The AFC Cup, Asia's equivalent to the Europa League, is looking less certain to go ahead.
The AFC has not been able to find a place to host Group H of Sài Gòn FC after Singapore withdrew or Hà Nội FC's Group G despite the start date being scheduled for between June 29 and July 6.
On June 20, all the national team players tested negative for SARS-CoV-2 on their first test during the medical isolation period after returning from the UAE on June 17. 
HCM City tech businesses develop solutions to combat COVID
Technology businesses in HCM City have been developing solutions to control the COVID-19 pandemic, with systems that measure temperature automatically, monitor gatherings and remind people to wear masks.
Homa Techs Inc., a start-up that specialises in artificial intelligence (AI) and the internet of things, has developed a smart camera system for buildings to look out for large gatherings and issue warnings.
AI is used for face identification and head count.
Nguyễn Đức Long, general director of Homa, said the system could be installed easily and is suitable for various types of buildings.
Users can control its many utility functions with a single smartphone app, he added.
Quang Trung Software City Development Co., Ltd. (QTSC) has worked with software company TMA Innovation to develop a screening system that automatically measures people's temperature, issues a warning about people with a fever and tells people to wear a face mask if they do not.
Nhiêu Quốc Trân, head of QTSC's technological solution department, said the system could be used in office buildings, schools, airports, and other crowded public areas, reducing the need for personnel to check the temperature and monitor mask wearing.
TMA Innovation has launched a quarantine management system called StayHome14 which allows authorities to monitor the temperature and location of quarantined people through smart watches.
Some hospitals in HCM City have been using Alta Software's self check-in kiosk technologies that measure and collect visitors' physical data like weight, temperature and blood pressure, which reduces the workload on medical personnel. Its face recognition software also helps search information about patients' health insurance and profile.
This allows visitors to make heath declaration by themselves, and those with a high risk of COVID can be quarantined immediately, limiting its spread.
These solutions demonstrate the value of technologies, and how united and committed the community is in helping the country overcome the pandemic, Lâm Nguyễn Hải Long, CEO of QTSC, said.
On Tuesday morning, HCM City recorded 36 new cases of COVID-19, bringing the total number of COVID-19 patients in the city to 1,820. 
Viet Nam most concerned with human rights in climate change context: Ambassador
Ambassador Lê Thị Tuyết Mai, Permanent Representative of Việt Nam to the UN, the World Trade Organisation, and other international organisations in Geneva, attended the opening ceremony of the UN Human Rights Council's 47th session, which is taking place from June 21 to July 15.
Speaking at a dialogue session with UN High Commissioner for Human Rights Michelle Bachelet, Mai affirmed Việt Nam's consistent policy on the promotion and protection of human rights.
She expressed the country's support for the work of the High Commissioner and the UN's human right mechanisms, as well as for conducting practical, constructive dialogues on human rights issues, while emphasising human rights should not be politicised to interfere in internal affairs of sovereign states or to criticise nations.
Regarding Việt Nam's fight against the COVID-19 pandemic, Mai said that Việt Nam has made every effort to ensure the people's enjoyment of basic human rights, with the highest priority given to the protection of lives and health of people, especially vulnerable groups, while maintaining economic growth.
The ambassador stressed that the national COVID-19 vaccine fund established by the Vietnamese government and widely supported by its people is one of the measures that Việt Nam has taken to promote its national vaccination strategy towards inclusive post-pandemic recovery.
The Vietnamese representative also called on countries to speed up the vaccine production process to ensure timely and equal access to vaccines to effectively control the pandemic.
Within the framework of the council's 47th session, one of Việt Nam's concerns is human rights as the world battles climate change, particularly as it is one of the countries most affected by this phenomenon.
Việt Nam will participate in organising a debate on the rights of the elderly amid climate change. On behalf of the core group comprising Bangladesh, the Philippines and Việt Nam, the country will introduce a draft resolution on climate change and human rights in 2021, focusing on vulnerable groups.
The resolution has been introduced annually since 2014 to seek the UN Human Rights Council's approval, with different themes for each year. Việt Nam's active engagement in the compilation and adoption of the resolution as well as in the activities of the core group reflects its efforts in responding to climate change, and contributes to the implementation of its foreign policy of addressing common issues of the international community in a proactive, active and responsible manner.
Addressing the opening session, UN High Commissioner for Human Rights Michelle Bachelet proposed countries place support for the full spectrum of all human rights at the heart of every society's capacity to recover from the pandemic emergency – and at the core of the work of all UN bodies and teams.
She urged nations to consider COVID-19 vaccines as a common asset and stressed that the equal and wide distribution across the globe is a prerequisite for the world to soon control the pandemic. 
Practical classes hampered by COVID-19
HCM City schools and universities are struggling to teach practical lessons amidst the COVID-19 shutdown since students lack access to equipment and oversight.
While some teachers and students have gotten used to online teaching, others are still struggling, and some lessons just cannot be taught online. 
The city has instructed school and university students to stay at home since May 10, though vocational schools could still visit their school for practical lessons that cannot be taught online as long as they follow pandemic prevention measures.
But since May 31, when the city began its social distancing mandate under Directive No. 15, they have been stopped.
Trần Nguyên Bảo Trân, head of the Lý Tự Trọng College of HCM City's mechatronics and automation faculty, said his college struggled with practical lessons since students then do not get to operate large machinery that is key to their curriculum.
As for electronics classes, some students can buy components for practising when they learn at home, but many cannot afford them, and so practical lessons are much less effective, according to Trân.
Such parts usually have to be imported, and the pandemic has caused a shortage, leading to higher prices.
Vocational schools where 70 per cent of classes involve practical lessons struggle even harder.
The Lê Thị Riêng Technical School in Thủ Đức City teaches vocations such as cooking and food processing and beauty care, and they are extremely difficult to be taught if students are not hands-on, according to Nguyễn Thị Hoàng Ánh, its deputy principal.
For instance, cooking classes require utensils that not everybody has, while make-up classes require students to practise on various facial structures, and teachers generally find it difficult to spot and help students correct mistakes online.
The principal of Saigon Polytechnic College School in Gò Vấp District, Hoàng Văn Phúc, said it had suspended practical classes.
The college is considering having students train at businesses if it could ensure both they and employees are in areas safe from the pandemic.
Other schools are coming up with solutions to help students not miss out on practical training.
For instance, Lý Tự Trọng College is looking at using simulation software to teach lessons on programming and circuit designing until students are able to return to class.
Other colleges are using highly interactive virtual simulation of vehicles, the human body or machinery in their online classes.
Many schools and colleges have also been making videos for their lessons.
More and more vocational schools are developing online education programmes and investing in virtual technologies for practical lessons, according to the city Department of Labour, War invalids and Social affairs.
Hanoi on first day of social distancing being eased
The capital Hanoi has relaxed social distancing measures from midnight of June 22, allowing hair salons, restaurants, and cafés to open their doors after being closed for a month. 
From dawn on June 22, many restaurants around Hanoi were rushed off their feet in preparing to welcome customers once more.
Despite the sudden decision by local authorities to ease social distancing measures, opening again should not present restaurant owners with too many problems as many had switched to online orders and delivery.
Hanoi has ordered venues to still ensure social distancing, set up barriers between tables, and close before 9pm. Capacity is capped at 50 percent, and no more than 20 customers can be served at one time.
The decision of local authorities to ease social distancing measures comes in the context of the outbreak being basically brought under control in the capital. Since a resurgence can happen at any time, however, it is necessary to continue to strictly follow COVID-19 prevention measures, especially the Ministry of Health's "5K message"./. 
Free meals to support Nghe An fronline forces
It was late afternoon, the outdoor temperatures were recorded at 40 degrees Celsius in Vinh City, the northern province of Nghệ An. 
But the heat does not discourage people who work at COVID-19 checkpoints and quarantine zones in Vinh City because they always receive help from the community.
At Tre Việt restaurant, Hà Huy Tập Ward, a group is busy preparing free meals to deliver to the frontline forces. 
The group of seven people come to the restaurant every day to cook delicious and nutritious meals for more than 130 people as Vinh City applied social distancing measures on Saturday due to the high number of COVID-19 cases.
Nguyễn Đình Hòa, a volunteer in the group, said due to the heatwave and social distancing, people don't want to go out. 
However, the frontline forces on duty at the checkpoints and quarantine areas must be on duty around the clock to ensure security and order and support people in the lockdown areas. 
"I decided to join the group with the desire to help fight the outbreaks as well as make a small contribution to reduce the burden on the local government," Hòa told Tin Tức online newspaper. 
"In the hot weather, if I can do anything meaningful, I will try and do my best."
Owner of Tre Việt restaurant, Nguyễn Thanh Hải, said the forces at the disease control checkpoints and health workers have had to work hard since the first case of COVID-19 was reported in Vinh City.
"In order to help them overcome fatigue, we decided to prepare meals every day for those working at checkpoints in Hà Huy Tập Ward with the support of friends," Hải said. 
"If the outbreak worsens, the restaurant may prepare more meals to support the forces in other wards."
To help people in isolation and lockdown areas, the local youth union set up a shipping group. 
Early every morning, they receive the lists of needed products from households inside and they form small groups to buy essential goods and deliver them.
Đào Tùng Loan, who works as a guard in Quang Trung Ward, said he was sent to work at a lockdown zone in Hà Huy Tập Ward when more infections were detected. 
"Working in the hot weather is so hard. But when I receive free meals from the volunteer group or gifts such as lychee, water bottles or a box of milk, I feel very happy. In the fight against the pandemic, we have been very united," said Loan.
Since the first case of COVID-19 was reported in the locality, many individuals and organisations have worked with local authorities to prevent and control the disease, according to Nguyễn Ngọc Dương, Secretary of the Party Committee of Hà Huy Tập Ward.
"They have shared and taken part in many meaningful activities to help local residents and frontline forces, contributing to motivating the forces here to complete their tasks," said Dương.
Dong Nai factories set up temporary housing for workers as COVID-19 spreads
Factories in the southern industrial province of Đồng Nai are creating temporary housing for workers as a way to deal with the ongoing COVID-19 outbreak.
Ocean Coatings (Vietnam) Company Limited, located in Long Thành Industrial Zone in Long Thành District, has set up six containers to offer temporary accommodations for its workers.
More than 100 workers at the factory agreed to stay at the factory in the temporary housing from two to three weeks.
Hoàng Thị Minh Nguyệt, the company's HR Manager, told VnExpress.vn that the rented containers, 30 square metres each in size, are equipped with air conditioners, ventilation fans, lights, windows and doors.
Each container can accommodate 10 people, five working day shifts and five night shifts. Each person has six square metres of usable area.
The company has built new bathrooms and purchased new refrigerators, blankets, pillows and essential items to serve workers. It is also providing each worker three meals a day at a cost of VNĐ150,000 (US$6.45).
Apart from the workers staying at the factory, the company has arranged for some workers to stay at a container office outside the factory.
Some employees are working at home, while others will take time off and be paid a minimum salary.
All workers have been tested for SARS-CoV-2 regularly to prevent infection in the company.
Phạm Văn Cường, deputy head of the Đồng Nai Industrial Zone Authority, said that Shinpoong Daewoo Pharma Co. Ltd in Biên Hòa 2 Industrial Zone and GreenFeed VietNam Corporation in Sông Mây Industrial Zone, among others, were also planning to expand worker accommodations.
The workers will be given COVID-19 tests regularly.
Depending on the size and number of employees, businesses have different plans for working and housing. 
 
Ocean Coatings, for example, employs only a few hundred workers, who could stay at the factory. However, companies with tens of thousands of workers may offer housing to workers living in COVID-hit areas.
The Chang Shin Vietnam Company Limited in Vĩnh Cửu District with more than 40,000 employees, for example, has helped 2,200 workers from HCM City and Bình Dương Province to rent houses near the factory.
The other employees must strictly comply with the Ministry of Health's 5k prevention protocol, and receive testing.
The Taekwang Vina Industrial Joint Stock Company in Biên Hòa 2 Industrial Zone has rented hotels for 500 employees who are from HCM City and Bình Dương Province.
The company with 30,000 workers has asked those who cannot stay in Đồng Nai to work at home or take time off.
Đồng Nai has more than 1.2 million labourers, including 620,000 people working in 32 industrial zones. Many of them are from neighbouring provinces and travel back and forth on the same day.
As the fourth wave has become more complex, the province has asked local businesses to provide accommodations for workers at the factories to prevent the spread of the virus.
On June 14, a company in the Amata Industrial Zone in Biên Hòa City was locked down due to a COVID-19 positive case. Five days later, more than 18,000 workers at the Pousung Vietnam Company Limited in the Bàu Xéo Industrial Zone in Trảng Bom District had to stay at home because of an F1 case (a person who has had contact with an F0, someone who has tested positive). 
Financial support called for artists amid Covid-19 challenge
The Ministry of Culture, Sports and Tourism has just proposed a financial support to local artists who have been affected by the Covid-19 pandemic.
The proposal sent by Culture, Sports, and Tourism Deputy Minister Ta Quang Dong to the Ministry of Labour, Invalids and Social Affairs said that the government has provided financial support to many local firms and employees of various fields to help them overcome the difficulties brought by the Covid-19 pandemic. 
However, those working in the culture and tourism sectors that have also been badly affected by the pandemic have not received any support from the government.
"Tours and shows have all been cancelled due to social distancing regulations, and artists and tourist guides have been unemployed for a long time," the proposal said. "We call for support from the government for these groups."
The minister proposed financial support of VND5.4 million (USD235) per person.
At present, there are over 2,000 artists at state-owned art groups and 26,721 tourist guides in the country.
Thousands queue for Covid-19 tests in HCM City
Over 243,000 people in HCM City's Binh Tan District queued in for the Covid-19 test during the night on June 22.
HCM City CDC have collaborated with Binh Tan Hospital to organise testing for 243,000 people in An Lac A, Binh Tri Dong, Binh Hung Hoa A and Binh Hung Hoa B wards. Binh Tan is supposed to have 35 testing locations in total. The plan is currently being rolled out with four locations available now in An Lac A Ward, An additonal11 locations in Binh Tri Dong, 20 locations in Binh Hung Hoa A and 10 locations in Binh Hung Hoa B will be established.
Over 20 employees of HCM City Hospital of Dermato Venereology also came to help with the testing held at Binh Tri 1 Primary School.
Hoai Thu, a resident in Binh Hung Hoa A Ward, said she received the notification after returning from work and arrived at the testing location at 8 pm.
"I feel worried about the situation in HCM City. Other districts also held their testing in the past days so I know we would be tested too. I hope the result will be negative," she said.
In Binh Hung Hoa B Ward, the testing was held at Southern Youth Centre and Ngo Quyen Primary School. Over 500 samples were taken from 5 pm to 9 pm at Ngo Quyen Primary School. However, the testing lasted until late at night at other locations with larger crowds.
Student startup innovation for older persons and people with disability in the COVID-19
Students from some 2,000 vocational education and training institutions across Vietnam are inspired to showcase their startup innovation and projects through a robust application of science and technology in the provision of goods and services to support and care for older persons and people with disabilities amid the global health crisis and the new normal context.

The Startup Kite 2021 is structured into three rounds, with the final round to be held in November 2021
The competition Startup Kite 2021: Startups Innovation in Industry 4.0 for Older People and People with Disability was launched in Hanoi today by the Directorate of Vocational Education and Training under the Ministry of Labour, Invalids and Social Affairs (MoLISA) and the United Nations Population Fund (UNFPA), which was funded by the government of Japan.
All students at any vocational education and training institution in Vietnam are eligible to enter the competition either as individual candidates or as a team of up to five members.
Since 2020, Startup Kite is a national Startup Competition which has been organised by the MoLISA under the National Master Plan Supporting Student Entrepreneurship until 2025, aiming at inspiring students of vocational education and training institutions to develop their creativity and dynamic mindset, and facilitate greater private sector involvement for the care of older persons within the framework of public-private partnerships.
Deputy Minister of Labour, Invalids and Social Affairs Le Tan Dung said at the launching ceremony, "Startup KITE is a playground for students from technical and vocational education and training institutions. I call on the students with their devotion to their future career to explore solutions and applications of science and technology in solving social issues. I also encourage enterprises and investors across the country to continue support vocational education and training to provid highly-qualified human resources for the national innovative development."
So far Vietnam has made a lot of efforts in containing the pandemic. However, the impacts of the gloabl health crisis have critically affected the livelihood and health of the Vietnamese people and particularly vulnerable populations, including older people and those with disabilities.
It is expected that the competition will constitute initial steps in the digital transformation to ensure dedicated and uninterrupted care and social security for older people and those with disabilities to protect them from the pandemic in the new normal.
UNFPA in partnership with the MoLISA organises the competition Startup Kite 2021 as part of UNFPA's implementation of the project "Mitigating COVID-19 Impacts on Vulnerable Populations - Ensuring National Progress to Achieve SDGs in Vietnam", which is financed by the government of Japan.
Minister Okabe from the Embassy of Japan in Vietnam said, "As the Vietnamese government has set out, digital transformation can be a driving force to change the society, which includes the betterment of the life of elderly people and those with disabilities. Therefore, I believe that this event gives a nice opportunity for the young and elderly generation to collaborate in a lot of aspects."
UNFPA Vietnam representative Naomi Kitahara said that like for pregnant women, healthcare services have often been interrupted for old people, posing particular challenges for those with disabilities. Social distancing could also mean isolation of the elderly, making it more difficult to obtain essential information, goods, and services.
The Startup Kite 2021 is structured into three rounds, with the final round held in November 2021. A training course for candidates who are selected to the final round and other interested students and teams will be organised prior to the final round to equip the students with essential knowledge about startups, the development of a business plan, and other necessary skills to call for investment.
The training will be organised offline (for about 50 students) and online (open to interested students from any vocational education and training institution) by the Department of Student Affairs of the Directorate of Vocational Education and Training with technical support from UNFPA, college lecturers, and entrepreneurs and trainers, as well as shared experience from last year's winners.
Vietnam's steel industry remains attractive in second half
According to Mirae Asset Security (Mirae Asset), Vietnam's steel industry in the second half of 2021 is still attractive, with a valuation 20 per cent lower than the region.

Mirae Asset estimates that the hot-rolled coil (HRC) segment has grown the most with the additional capacity of 3.5 million tonnes from the Dung Quat Hoa Phat project (DQCP).
In April, the strong demand from both export and domestic markets helped the steel industry's output grow faster than expected, reaching the standard of 10.5 million tonnes, equivalent to an increase of 38.3 per cent over the same period. Besides, export products reached more than 3.8 million tonnes with an increase of 88 per cent in value to $2.67 billion.
Vietnam's steel production is expected to grow strongly, reaching 30.6 million tonnes, 6 per cent higher than the previous forecast.
Vietnam's total output of hot-rolled and cold-rolled coils (HRC and CRC) of the whole year is expected to reach 11.5 million tonnes, up 30 per cent on-year. Meanwhile, steel pipes and galvanised steel sheets in 2021 would reach 11.23 million, 2.73 million, and 5.14 million tonnes, respectively.
However, the dropin iron ore prices, especially HRC, in the third quarter, would first and directly affect steel and galvanised steel companies.
Additionally, there are risks of a slowdown of the domestic construction market due to escalating steel prices as this material accounts for about 6.2 per cent of construction expenses.
Mirae Asset believes that the supercycle of construction material price, which is led by steel, can cause the construction industry to either grow very slightly or decline in the worst case.
It emphasised that a rise in construction steel prices above VND17.2 million ($747.83) a tonne will be good in the short term but in the long term, there will be certain impacts on the steel industry.
In fact, many businesses have decided to postpone construction until they can offsetthe cost of materials, which can slow down progress by 6-18 months.
In the first quarter, steel companies continued to sharply increase their output and profit thanks to large demand from both domestic and export markets. The net profit for the first three months of Hoa Sen Group, Nam Kim Steel JSC, and Hoa Phat Group increased by 216, 668, and 204 per cent, respectively.
This was followed by strong rises in stock prices since the beginning of 2021, reaching 76, 100, and 103 per cent, respectively. With the current HRC price base at over $700 a tonne, Mirae Asset believes that the net profit of the entire steel industry in 2021 will be positive.
Northern region faces thunderstorms with risks of flash flooding in mountainous areas
The Northern region and Thanh Hoa Province are forecast to see thunderstorms with heavy rain in several places in the evenings from June 23-25.
Risks of flash floods and landslides are warned for mountainous provinces, according to the national weather forecasting agency.
The rainfall is predicted to reach 100-150mm with over 200mm per period in several places in the Northern region and Thanh Hoa Province. During the thunderstorms there will be a possibility of tornadoes, lightening, hail and strong gusts.
In addition, flash floods, landslides and localised flooding are predicted in the mountainous provinces of Lai Chau, Son La, Hoa Binh, Ha Giang, Tuyen Quang, Cao Bang, Bac Kan, Lang Son, Thai Nguyen, Lao Cai, Yen Bai and Phu Tho.
In Hanoi, showers and thunderstorms will appear in the evening and at night until June 25.
Due to the large-scale rains, Northern provinces will see lower temperatures from June 23, with highest temperature of about 35C.
Meanwhile, central provinces from Ha Tinh to Phu Yen will continue to brave intense heat with over 38C in several places.
The heat wave in central region is forecast to continue for many days to come while hot weather is likely to reappear in the North from June 26.
HCMC Transport Dept seeks nod for taxi services during social distancing period
The HCMC Department of Transport recently proposed the municipal government consider allowing 400 taxis to resume operations, in order to transport residents to hospitals during the ongoing social distancing period in the city.
Earlier, the city implemented the municipal government's Directive 10 on tightening anti-Covid-19 measures citywide, reported Tuoi Tre newspaper.
Following the directive, the Transport Department ordered the suspension of public passenger vehicles including commuter buses, coaches and transit cars starting from June 20. Taxis and contract cars with less than nine seats were asked to cease operations as well.
However, over the past few days, the Transport Department realized that local residents are facing difficulties in visiting hospitals and clinics due to the suspension of taxis and ride-hailing cars.
Therefore, the department suggested the city government weigh a plan that allows 200 taxis operated by Anh Duong Vietnam JSC (Vinasun) and 200 others operated by Mai Linh Group to offer their services during the period.
Air services between HCMC and Dong Hoi suspended due to Covid-19
The Ministry of Transport has suspended flights connecting Dong Hoi City in the north central province of Quang Binh with HCMC from June 23 until further notice to prevent the spread of Covid-19 as new infections in HCMC remain high.
The Civil Aviation Authority of Vietnam is in charge of informing local air carriers and relevant agencies of the suspension.
The authority was also told to work with the Transport Health Service Administration and the authorities of Quang Binh Province to keep a close watch on the Covid-19 outbreak to promptly adjust air transport services.
Special flights transporting health workers and medical equipment between the two cities are still allowed.
The People's Committee of Quang Binh Province on June 21 wrote to the Ministry of Transport suggesting a suspension of air services between HCMC and Dong Hoi City as the number of Covid-19 cases in HCMC continued to rise.
Since early June, some provinces and cities have proposed suspending passenger flights to and from HCMC. Before Dong Hoi City, the Ministry of Transport also suspended air services connecting HCMC with Haiphong, Quang Ninh and Gia Lai.
With 1,973 domestic Covid-19 infections reported in the fourth Covid-19 wave since April 27, HCMC is currently the second biggest Covid-19 hotspot in the country after Bac Giang. The city has taken the lead in terms of the daily new confirmed cases of Covid-19 in recent days.
Long An suspends dine-in services after detecting several Covid-19 cases
Four days after resuming dine-in services, Long An Province continued to ask restaurants, food stalls, eateries and coffee shops in some districts to offer takeaway services only from midnight, June 23, instead of providing in-person services to prevent the spread of Covid-19 as the province has detected several infections.
Under the decision issued on June 22, Duc Hoa, Ben Luc, Can Duoc, Can Giuoc and Chau Thanh districts and Tan An City must follow the suspension, the local media reported.
In other districts in the province, restaurants and eateries were encouraged to sell take-away food or drinks and asked not to serve over 10 persons at a time. Besides, they must adopt Covid-19 safety protocols, including maintaining a safe physical distancing of at least 1.5 meters.
Many nonessential services such as beauty salons, hair salons, sports centers and game shops, gyms and yoga centers and cinemas in Long An Province will remain suspended.
Earlier on June 19, the province ended the 14-day social distancing period for the five districts and the city in line with the Prime Minister's Directive 15 and allowed dine-in services at coffee shops, food stalls and restaurants.
However, over the past three days, the province reported seven locally-infected Covid-19 cases in Duc Hoa and Ben Luc districts, taking the province's total number of infections during the current fourth wave of the coronavirus since April 27 to 18.
HCMC suspends new vehicle registration 

The HCMC traffic police started to temporarily stop receiving new auto and motorcycle registrations from June 22, to prevent the spread of Covid-19 which is still raging in the city.
The decision comes as new daily Covid-19 case numbers remain high, according to the Road-Railway Traffic Police Division under the HCMC Department of Police.
Under the decision, only registration papers and procedures signed and completed before June 21 will be handled.
The division decided to suspend receiving letters and files asking for the use of sirens and priority lights, the local media reported.
To handle administrative violations and investigate traffic accidents, the division will allow only one person per case to enter its headquarters.
The division also encouraged residents to use online public services or portal services to avoid bigger-than-allowed gatherings.
Saigon General Hospital suspends operations due to five Covid-19 cases
The Saigon General Hospital in District 1, HCMC, has temporarily suspended operations after five outpatients there tested positive for Covid-19.
According to Nguyen Duc Vu, director of the hospital, the five patients were detected at different times on June 21. Three of them live in District 1 and two others live in District 7 and Binh Thanh District.
All of them developed symptoms such as a cough and fever when they visited the hospital. Therefore, their samples were taken for Covid-19 testing and the test results showed they were infected with the disease.
The hospital has found no connection between their epidemiological conditions. The patients have been sent to the Cu Chi Covid-19 Treatment Hospital for quarantine and treatment.
The hospital is collaborating with the HCMC Center for Disease Control to collect samples from all 300 health workers and related people for Covid-19 tests. People that had direct contact with the five Covid-19 patients have been quarantined and all areas in the hospital have been disinfected.
HCMC performs dual plan of quarantine against Covid-19, production
The People's Committee of Ho Chi Minh City has just issued the dual plan of quarantine against the spread of Covid-19 and production for enterprises in the export processing zones, industrial parks and high-tech industrial parks in Ho Chi Minh City.
Accordingly, all employees must disclose the certificate of the negative test result of Covid-19 before they are concentrated in temporary accommodations for workers. It is important that workers must not leave the centralized accommodations and companies during working hours, and the enterprises must strictly comply with the Covid-19 pandemic prevention and control measures pledged to the funtional agencies.
Ho Chi Minh City Export Processing Zone and Industrial Park Authority (HEPZA), the High-Tech Park Management Board will coordinate with the Department of Health, the Police and the People's Committee of the districts, Thu Duc City to open inspections for the operation of concentrated accommodations for workers.
Besides, the People's Committees of districts and Thu Duc City are also responsible for ensuring security and order at the concentrated accommodations.
It is expected that Ho Chi Minh City would choose several enterprises to prioritize the dual plan.
Free swimming class offered for disabled children
The Quang Tri Provincial Youth Union yesterday coordinated with the Hai Hung Commune Project Management Board in the Central Province of Quang Tri's Hai Lang District to run a free swimming class for children with intellectual disabilities.
This swimming lesson aims to help to prevent children from accidents and injuries especially drowning accidents in summer vacation since teaching children to swim is one of the best ways to prevent such incidents.
This special free-of-charge swimming class attracted 30 participants including 13 children with intellectual disabilities. Each lesson will be directly guided by two qualified teachers and volunteers.
Children not only learn to swim but also necessary skills including giving first aid to drowning victims.
Nguyen Minh Dung, Secretary of Hai Hung Commune said the class organizer hoped that disadvantaged children and mildly disabled children in the area escape drowning after learning more swimming skills.
Drowning is the 3rd leading cause of unintentional injury death, accounting for 7 percent of all injury-related deaths.
Up to now, Hai Hung Commune Youth Union has offered eight swimming classes with the participation of 25 to 30 children a class for local children.
The provincial Youth Union has coordinated with other sectors in the province to organize 35 free swimming classes for nearly 1,000 children.
Mai Van Nam, Deputy Secretary of Quang Tri Provincial Youth Union, said that to protect children, the Standing Committee of Quang Tri Provincial Youth Union has directed and oriented the Youth Union at all levels to organize classes to help children acquire swimming skills.
In 2021, Quang Tri Provincial Youth Union determined that each district, town, and city union must run three free swimming classes particularly for children with disabilities.
More home-bound citizens fell victim to cryptocurrency scammers: HCMC police
Cryptocurrency exchanges and trading platforms are on the rise since citizens' livelihood got affected by Covid-19, creating more opportunities for scammers to target home-bound office workers and gullible housewives.

An anonymous Vietnamese woman in District 11, HCMC reported that she had been scammed out of over US$11,000 at the beginning of June by a self-proclaimed cryptocurrency trader she met online.
The alleged Chinese business person had talked the woman into wire transferring US$11,000 to them with promises of helping her invest in cryptocurrency. The woman stated that she bought into the lies after having earned small sums of interest by trading with the person previously.
Vietnam's law as of now does not recognize virtual money as a currency or legal means of payment, said a member of the HCMC Bar Association.
However, since it does not prohibit trading or investing in virtual currencies either, people taking part in such activities might face huge risks of losing their savings on scammers.
Many cryptocurrency exchanges in Vietnam are branching out using high commission rates in the same way as pyramid marketing does to entice people, said Head of District 11 Police Colonel Pham Xuan Thao.
Also according to the HCMC Bar Association, cryptocurrency platform founders who shut down their site with evident attempts at deceit could be charged with "fraudulent appropriation of assets" under Vietnam's law. At the same time, people who knowingly trade cryptocurrency on illegitimate sites with factors of gamble could be prosecuted for illegal gambling.
However, reporting frauds through virtual currency platforms is currently complicated due to the lack of criminal evidence, said the HCMC Bar Association.
Vietnam attends Asia & Pacific High-level Conference on Belt & Road Cooperation
Vietnamese Minister of Foreign Affairs Bui Thanh Son on June 23 attended the Asia and Pacific High-level Conference on Belt and Road Cooperation at the invitation of China State Councilor and Foreign Minister Wang Yi.
In his remarks, Son called on the international community to continue supporting countries, particularly developing nations, to soon push back the COVID-19 pandemic, shift towards the green and circular economy, and expand trade and investment, to promote sustainable and inclusive recovery.
Regional cooperation plays an important role as it helps Asia-Pacific recover and adapt to rapid changes of the global economy, the minister said.
He, therefore, suggested countries enhance multilateral cooperation, carry forward regional cooperative frameworks and initiatives in the region such as the Asia-Pacific Economic Cooperation (APEC), the Association of Southeast Asian Nations (ASEAN) and the Belt and Road Initiative, step up assistance to developing countries to complete sustainable development goals by 2030, and share experience and transfer technologies on green economy.
Son highlighted Vietnam's dual goals of pandemic containment and socio-economic recovery and development, adding the country will also press ahead with international economic integration, and expand and deepen cooperation with countries in Asia-Pacific, for peace, prosperity and sustainable development in the region.
Themed "Promoting Cooperation on Combating the Pandemic for Sustainable Recovery", the event focused its discussion on challenges faced by the region, especially COVID-19 impacts, and efforts to cope with the pandemic and promote economic recovery, towards developing green and circular economy for sustainable and inclusive growth on both regional and national scales.
Participants highlighted a need to enhance the sharing of information and experience in the fight against the pandemic. They expressed support for COVAX Facility and called on development partners and international organisations to continue assisting developing nations in accessing vaccines at reasonable costs.
They called for stepping up cooperation in vaccine research and production technology transfer while encouraging regional and global financial organisations to provide preferential credits for developing countries to effectively cope with the pandemic.
Priorities should be given to the full and on-schedule fulfillment of the United Nations Sustainable Development Goals till 2030 and the Paris Agreement on Climate Change, cooperation in green economic development and environment, sustainable infrastructure development, clean energy, and improvement of the capacity to respond to climate change.
Several opinions said Belt and Road cooperation could positively contribute to the region's common efforts via connectivity projects, facilitation of trade and investment, vaccine production and supply, green and circular economic development./.
Vietnamese, Cuban ministries target stronger cooperation
Vietnam's Ministry of Public Security and the Cuban Ministry of Interior sought ways to deepen cooperation during online talks between their ministers on June 23.
At the talks, Minister of Public Security To Lam said the Party, State and people of Vietnam in general, and his ministry in particular always treasure and keep in mind the solidarity and wholehearted support, both materially and spiritually, Cuba has granted to Vietnam during the Southeast Asian nation's past struggle for national liberation as well as the present cause of national construction and defence.
He lauded Cuba's successes in COVID-19 vaccine research and production towards becoming one of the first countries in the world to administer home-grown vaccines to its entire population.
Cuban Minister of Interior Lazaro Alberto Álvarez Casas spoke highly cooperation between the two ministries over the past time, stressing that his ministry always makes all-out efforts to maintain and develop the solidarity and friendship between the two countries.
The Cuban side also stands ready to enhance and expand collaboration with the Vietnamese ministry in all fields, especially in safeguarding national defence, and social order and safety, for the sake of the two countries' people, and regional and global peace and stability.
On this occasion, Lam handed over 100 tonnes of rice to the Cuban ministry to share difficulties facing the Latin American country./.
PM hails Vietnam visit by RoK Foreign Minister
Prime Minister Pham Minh Chinh has hailed the ongoing visit to Vietnam by Minister for Foreign Affairs of the Republic of Korea (RoK) Chung Eui-yong, saying that it contributes to strengthening Vietnam – RoK ties.
During a reception in Hanoi on June 23 for Minister Chung, Chinh congratulated the RoK Government on its achievements in the fight against COVID-19, and economic recovery while highlighting the New Southern Policy Plus of the RoK Government.
He stressed that both sides need to continue strengthening political trust to promote other cooperation fields that match their potential.
The PM suggested fulfilling the goal of lifting two-way trade to 100 billion USD in a balanced, sustainable and effective manner, with priority given to the import of Vietnamese goods of strength such as farm produce and fruits.
The Vietnamese Government encourages and creates favourable conditions for RoK firms to expand investment in Vietnam, especially in digital transformation, manufacturing and processing, renewable energy and medicine, he said.
He thanked the RoK Govenrment for continuing to provide official development assistance (ODA) for Vietnam, expanding labour cooperation in the RoK, and supporting in post-war bomb and mine clearance.
The PM also thanked the Korean Government for assisting Vietnam in the fight against COVID-19, and lauded several RoK firms such as Samsung, LG and SK for donating to the Vietnam's national COVID-19 vaccine fund.
The host said joint work to overcome the pandemic will step up people-to-people exchange, bilateral cooperation in trade and investment.
Minister Chung affirmed that the RoK Government always considers Vietnam a strategic and major partner in its New Southern Policy Plus, and stays ready to boost bilateral ties towards building a comprehensive strategic cooperative partnership.
He proposed enhancing collaboration in investment, trade, defence industry and people-to-people exchange, and working closely together to celebrate the 30th anniversary of bilateral diplomatic ties next year.
The guest also thanked the Vietnamese Government and the PM for creating favourable conditions to experts and firms of the RoK amid the pandemic.
On regional and global issues, both sides shared stance on increasing joint work at multilateral forums; protecting peace, stability, security, maritime and aviation safety and freedom; and abiding by law in the East Sea, including the 1982 United Nations Conventon on the Law of the Sea (UNCLOS); seriously implementing the Declaration on the Conduct of Parties in the East Sea and building an effective and efficient Code of Conduct (COC) in the East Sea in accordance with international law and the 1982 UNCLOS, thus contributing to promoting dialogues and denuclearisation on the Korean Peninsula./.
Vietnam attends 9th Moscow Conference on International Security
Vietnamese Minister of National Defence Sen. Lieut. Gen. Phan Van Giang delivered a speech on strategic views on regional security at the second plenary session of the 9th Moscow Conference on International Security on June 23.
The minister said Asia-Pacific has become momentum of global growth and taken the lead in economic connectivity, which is also the centre of the global strategy.
He, however, pointed to potential uncertainties in the region, including traditional and non-traditional challenges such as sovereignty and territory disputes, proliferation of weapons of mass destruction, ethnic and religious conflicts, terrorism, cyber security, natural disasters, and notably COVID-19.
Vietnam appreciates Russia's role in the region, especially in cooperation within the ASEAN Defence Ministers' Meeting Plus (ADMM ), as well as proposals for multilateral cooperation between the country and ASEAN like the ASEAN-Russia Defence Ministers' Informal Meeting and joint naval exercise, Giang said.
He affirmed that Vietnam will maintain its defence policy of peace and self-defence, and resolutely and persistently address all disputes and conflicts, including the East Sea dispute, by peaceful measures in line with international law and regional regulations.
The country will also play a more active role in cooperation with foreign countries, including Russia, to protect a peaceful and stable environment for national development and people's life, he continued.
Vietnam acknowledges values of peace, and will make every effort to contribute to protecting peace, for the sake of itself and other countries, the officer said.
The conference takes place virtually on June 23-24 under the chair of Russian Defence Minister General Sergey Shoygu.
With five plenary sessions, it focuses on strategic stability: transformation and prospects; the Asia-Pacific region in the context of global politics; military and military-technical cooperation in Africa and the Middle East as a major factor in strengthening regional security; military interaction as a tool for countering regional challenges and threats in Latin America and the Western Hemisphere; and European security: trends and prospects./.
There are also two thematic sessions on the role of military agencies in fighting against the new coronavirus disease COVID-19, and information security: problems and solutions./.
Vietnamese people always stand side by side with Cuba
Assoc. Prof. Dr Nguyen Viet Thao, Permanent Vice President of the Vietnam-Cuba Friendship Association, on June 23 highlighted the solidarity, special friendship and comprehensive cooperation between the two countries, affirming Vietnamese people always stand side by side with Cuba.
The relationship remains a role model one that has become an invaluable legacy of the two Parties, States and peoples, Thao said while co-chairing an exchange programme that was held online and linked to 30 sites in Vietnam and Cuba. The event took place on the day when Cuba submitted a draft resolution against the US blockade to the United Nations.
Vietnamese people have always opposed the unilateral blockade imposed by the US, he said.
Cuban Ambassador to Vietnam Orlando Nicolas Hernandez Gullien, who co-chaired the programme, briefed the participants on losses caused by the US blockade to Cuba in such spheres as health care, education, food, and financial and banking services.
From April 2019 to December 2020, the total loss exceeded 9 billion USD, he said, noting that the blockade has weakened the Caribbean country's COVID-19 response capacity.
Nguyen Hai Anh, Permanent Vice President of the Vietnam Red Cross Society, said he and those who love Cuba always back Cuban people's struggle for justice in an effort to remove the embargo.
On this occasion, the Vietnam-Cuba Friendship Association extended a message of solidarity with Cuban people, saying Vietnamese people always stand side by side with the people of Cuba, and strongly support resolutions of the UN General Assembly asking the US to immediately lift the blockade so that Cuba would grow further and integrate into the world's economy and trade equally.
This is the wish of not only Cubans but also Vietnamese, and progressive and peace-loving people, including Americans, the message read.
Vietnam will maintain solidarity and stand side by side with Cuba until the wish comes true, it said.
In the message, the Vietnamese side also called for the support of Americans and acts by the US government to put an end to the blockade and restart the normalisation of relations with Cuba, for peace and development in the region and the world at large./.
Vietnam, UK tap cooperation potential
Head of the Party Central Committee's Economic Commission Tran Tuan Anh hailed the growing strategic partnership between Vietnam and the UK in various areas during a reception in Hanoi on June 23 for Minister of State for Trade Policy in the Department for International Trade of the UK Greg Hands.
Anh said celebrations for the 10th anniversary of bilateral strategic partnership, issuance of a joint statement on orientations to development in the next decade and the signing of a bilateral free trade deal last year provided an important foundation for the two countries to tap cooperation potential, especially in economy, trade and investment.
Expressing thanks to the UK for supporting Vietnam in climate change response, Anh affirmed that the Vietnamese Party and State always strive and make the highest commitment in the regard.
He also affirmed the Vietnamese Party and State's stance on give the highest priority to renewable energy development, stepping up clean energy projects, towards gradually reducing the development of coal-fired plants nationwide.
The host suggested the UK continue assisting Vietnam in the field and shifting to low-carbon economy.
Congratulating the UK on being one of the first countries in Europe and the world in terms of COVID-19 vaccination, Anh proposed the UK Government create more favourable conditions for vaccine provision and facilitate vaccine production technology transfer to Vietnam, as well as waive copyright requirements for the country.
Hands, for his part, lauded Vietnam's guiding role in climate change response in ASEAN and its achievements in renewable energy development.
He suggested Vietnam pool more resources to optimise the potential of renewable energy, as well as thanked the country for supporting the UK's negotiations on joining the Comprehensive and Progressive Agreement for Trans-Pacific Partnership (CPTPP)./.
Lao Defence Ministry supports Vietnam's COVID-19 control fund
Lao Deputy Prime Minister and Minister of National Defence Gen. Chansamone Chanyalath on June 23 handed over 200,000 USD to Vietnamese Ambassador to Laos Nguyen Ba Hung in support of Vietnam's COVID-19 prevention and control fund.
Gen. Chansamone said that after the fourth wave of COVID-19 broke out and spread to many provinces and cities in Vietnam, the Lao Ministry of National Defence called on officers and soldiers to contribute money to assist the Vietnamese people.
The sum is not much, but it shows the sentiments of the Lao officers and soldiers towards the Vietnamese people, and reflects the spirit of solidarity and mutual support between the two countries to overcome all difficulties and hardships.
Hung expressed his gratitude to the Lao Ministry of National Defence for the donation, and affirmed to transfer the money to Vietnam as soon as possible.
He added that the embassy has to date received over 1.2 million USD in cash and medical supplies from Lao agencies, units and enterprises in support of Vietnam's fight against the pandemic./.
Vietnam hosts regional audiovisual archive association's 25th conference
The Southeast Asia-Pacific Audiovisual Archive Association (SEAPAVAA) convened its 25th conference in both in-person and virtual forms in Hanoi on June 23 under the host of the Vietnam Film Institution.
Opening the event, Karen Chan, President of the SEAPAVAA said that 2020-2021 is a tough period for archiving and heritage agencies due to the COVID-19 pandemic.
She noted that the current unprecedented challenges have posed impacts on all fields in the global scale, with archiving collections becoming a source of inspiration and drawing more attention.
The changing environment has forced people working in archiving sector to work harder to keep memories for future generations and create an important resource as well as a source of hope to overcome the current hard time, she added.
Addressing the event, Deputy Minister of Culture, Sports and Tourism Ta Quang Dong said the foundation of SEAPAVAA 25 years ago marked a milestone for those working in film archiving, showing the responsibility and dedication toward the cause of preserving moving image heritage of countries and territories of the region – a dedication that has stemmed from various authorities and professionals alike.
The Ministry of Culture, Sports and Tourism of Vietnam always attaches great importance to the work of archiving, preserving and promoting film heritage, stated the official.
In recent times, the Vietnam Film Institute - an active member of SEAPAVAA - has made continual efforts in fulfilling its tasks in archiving, preserving and promoting the value of moving image materials in Vietnam, said Dong.
Hosting this annual conference on the Silver Jubilee anniversary of SEAPAVAA is a great honour for Vietnam, giving the country a chance to show its international commitments, and make contributions to the association's activities, he said.
Dong expressed his belief that participants will share valuable experiences and lessons, sketching out action plans to develop and connect the work of archiving, preserving, promoting and disseminating audio-visual materials by optimising the increasingly popular digital platforms.
SEAPAVAA was founded in 1996 in Manila, the Philippines, with its annual conference held in a rotation format by its members.
As a founding member of the association, the Vietnam Film Institution hosted three conferences in 1998, 2004 and 2012.
The 25th conference of the SEAPAVAA will run until June 27. This is the first time a conference has been held virtually. A number of sidelines activities will be held, including an exhibition of moving image on Vietnamese tourism and a Vietnamese film screening./.
British diplomat rejoices at development of UK-Vietnam ties
British Minister of State for Asia Nigel Adams on June 22 hosted a reception for newly-appointed Vietnamese Ambassador to the United Kingdom Nguyen Hoang Long.
Adams welcomed Long taking his new mission as Vietnamese Ambassador to the UK at a time when bilateral relations are growing fruitfully.
He expressed his delight at significant development steps of the bilateral relationship over the past years and thanked Vietnam for supporting the UK to become a Dialogue Partner of the Association of Southeast Asian Nations (ASEAN) and its bid to join the Comprehensive and Progressive Agreement for Trans-Pacific Partnership (CPTPP).
The new ambassador, for his part, said Vietnam is committed to implementing the "Joint Declaration on UK-Vietnam Strategic Partnership: Forging ahead for Another 10 Years," in order to beef up the bilateral cooperation in all areas in a more practical and effective manner, and to promote the implementation of the UK-Vietnam Free Trade Agreement (UKVFTA).
Long held that Vietnam and the UK should step up collaboration in multiple fields, including politics, diplomacy, defence, security, economy, trade, education, and culture, as the two nations are heading towards the celebration of the 50th founding anniversary of their diplomatic ties in 2023.
On the occasion, he asked Adams to help Vietnam gain access to COVID-19 vaccine supplies, production technology and medicine for COVID-19 treatment.
The British official affirmed that Vietnam is in the UK's priority list of COVID-19 vaccine access.
He wished Long success during his term of office in the UK and pledged to stand ready to assist the Ministry of Foreign Affairs and Embassy of Vietnam in the UK in deploying priority foreign affairs./.
Seminar talks theoretical, practical issues in Party building
The Party Central Committee's Theoretical Council held a seminar on June 23 to look into some theoretical and practical issues related to the continued enhancement of Party building and rectification work.
The event, drawing leaders from some central commissions, ministries, and agencies, aimed to gather opinions for the compilation of an advisory report to be submitted to the Politburo and the Party Central Committee's Secretariat.
Participants focused on some newly-arising theoretical and practical issues related to Party building and rectification; the prevention of and fight against the degradation in political thought, morality, and lifestyle; as well as signs of internal "self-evolution" and "self-transformation".
The steering viewpoints, focal tasks, and breakthrough solutions to continue promoting the Party building and rectification work were also high on the agenda.
They assessed the implementation of the resolution on the issue released at the fourth session of the 12th-tenure Party Central Committee in October 2016, pointed out shortcomings and causes, and proposed solutions to the pressing matters in Party building.
In his closing remarks, Politburo member Nguyen Xuan Thang, Chairman of the Theoretical Council and President of the Ho Chi Minh National Academy of Politics, asked for more seminars and fact-finding tours of some localities to be organised in order to define clearly the advisory report's content so that the report will be completed early and submitted to the Politburo and the Secretariat in the time ahead./.
State President receives RoK Foreign Minister
State President Nguyen Xuan Phuc has affirmed that the development of Vietnam – Republic of Korea (RoK) ties is a common determination from the grassroots to high levels in Vietnam.
During a reception in Hanoi on June 23 for RoK Minister of Foreign Affairs Chung Eui-yong, Phuc suggested the two countries' foreign ministries and agencies maintain all-level exchanges, uphold initiatives to overcome difficulties caused by the pandemic, and further expand and diversify the RoK's investment in Vietnam.
The host asked for effectively tapping the potential of cooperation in investment, trade, science-technology, culture-education, and urged the RoK to offer more support to the Vietnamese community in the country, including popularising Vietnam's culture and language teaching.
Thanking the RoK for providing valuable assistance for Vietnam in the fight against COVID-19, Phuc wished that the RoK would share its experience in vaccine production and medical resources with the country.
He expressed appreciation for the RoK's support to Vietnam to fulfil its roles as rotating ASEAN Chair 2020 and a non-permanent member of the United Nations Security Council for the 2020-2021 tenure, adding that the two countries need to work closely together during the time when Vietnam serves as coordinator of ASEAN – RoK relations in 2021-2024.
President Phuc voiced Vietnam and ASEAN's stance on maintaining peace, stability, security, maritime safety and freedom, and settling disputes in the East Sea by peaceful means in line with international law, especially the 1982 United Nations Convention on the Law of the Sea.
Minister Chung expressed his delight at visiting Vietnam on the occasion of the Asia - Europe Meeting (ASEM) High-level Policy Dialogue in commemoration of ASEM's 25th founding anniversary in Hanoi.
Describing Vietnam as a strategic and major partner in the RoK's New Southern Policy Plus, he said the RoK wishes to further bolster coordination with Vietnam in all areas to meet aspirations of the the two countries' people.
On the occasion, he thanked Vietnam for creating favourable conditions for Korean experts and firms to do business in the country, and hoped that they would receive more support to effectively tap into bilateral economic and trade ties in the near future.
Speaking highly of Vietnam's important contributions in the region and the world, especially this year when it serves as coordinator of ASEAN – RoK relations for the 2021-2024 period, he expressed his wish for closer connections with Vietnam to push forward ties between the RoK and ASEAN member states, including the Greater Mekong Sub-region.
The guest stated that the RoK Foreign Ministry is ready to work closely with Vietnam at multilateral forums and on issues of shared concern.
He also wished that Vietnam would make further contributions to promoting dialogue and cooperation on the Korean Peninsula./.
Vietnam ready to join RoK in lifting relations to new height: NA Chairman
Chairman of the National Assembly (NA) Vuong Dinh Hue had talks via videoconference with Speaker of the NA of the Republic of Korea (RoK) Park Byeong-seug on June 23, in which he affirmed Vietnam's readiness to work with the RoK to lift bilateral ties to a new height.
Hue stressed that Vietnam treasures and wants to develop its cooperation and friendship with the RoK, which is one of the leading and long-term partners of the Southeast Asian country.
Vietnam highly values and believes that the RoK's New Southern Policy will create great opportunities for the two countries to strengthen their strategic cooperative partnership, he said.
Regarding the Korean Speaker's proposal to elevate the bilateral relationship, which will turn 30 in 2022, to a comprehensive strategic partnership, Hue affirmed that Vietnam is ready to work with the RoK to lift their relations to a new height.
The Vietnamese leader noted with satisfaction that despite the pandemic's serious impacts, bilateral economic, trade, and investment ties have still been growing well and formed one of the drivers for their ties in other aspects.
In the current context, businesses, especially leading enterprises of the RoK, still view Vietnam as an attractive investment destination and continue to invest strongly in the country, he remarked.
The Chairman asked both sides to continue enhancing connectivity between the two economies based on the signed free trade agreements and fostering bilateral trade. He called on the RoK to create favourable conditions for Vietnamese goods, especially agricultural products, to enter its market to help address the trade imbalance so as to achieve the target of 100 billion USD in bilateral trade soon.
He also applauded Samsung's establishment of a research and development centre in Hanoi and its attention to the supporting industries in Vietnam, describing this as a good way to boost bilateral trade.
The Vietnamese NA and Government highly value the role of Korean investors and will create more conditions for them to address difficulties to make long-term and successful investment in Vietnam, Hue affirmed.
On this occasion, he thanked the RoK for assisting Vietnam in the COVID-19 combat, suggesting the two countries to cooperate closely via the COVAX Facility to ensure the implementation of their respective vaccine strategies.
They should consider the exchange of experts and the pilot application of vaccine passports to tourism and other activities in the time to come, he suggested.
For his part, Park said Vietnam is one of the important partners of the RoK and pointed out that more than 8,000 Korean businesses are operating in the Southeast Asian nation.
During the talks, the two leaders held that Vietnam and the RoK should step up bilateral cooperation and people-to-people exchange, considering Vietnamese - Korean families as a precious common asset that needs to be treasured and supported.
Having suggested both sides strengthen cooperation in culture, sports, and education, Hue spoke highly of coach Park Hang-seo's contributions to the Vietnamese men's national football team, helping them to secure a berth in the third and final qualifiers of the FIFA 2022 World Cup, and described this as a symbol in the cultural exchange between the people of the two nations.
Vietnam and the RoK should also actively support each other's roles at multilateral forums and international parliamentary cooperation mechanisms for the sake of human development as well as regional and global peace and security, he said.
Hue also affirmed that Vietnam has always served as a responsible member of the international community and actively contributed to global peace, stability, and development, including via efforts to promote the maintenance of peace on the Korean Peninsula./.
Vietnam, RoK seek to further advance ties
Minister of Foreign Affairs Bui Thanh Son on June 23 held talks with his counterpart from the Republic of Korea Chung Eui Yong during which both sides agreed to boost the bilateral relations further.
Chung, who is on an official visit to Vietnam from June 21 – 23, congratulated Vietnam on the success of the elections of deputies to the 15th National Assembly and all-level People's Councils for the 2021 – 2026 tenure, and highly regarded the country as a non-permanent member of the UN Security Council for the 2020 – 2021 term.
He also expressed his confidence that Vietnam will achieve more successes in socio-economic development and diplomacy in the time to come.
The two FMs exchanged views on the bilateral ties and international and regional issues of mutual interest. They both reiterated the importance of maintaining and further advancing the Vietnam-RoK Strategic Cooperative Partnership.
They also expressed their delight at major achievements in bilateral cooperation in multiple fields, with regular and effective high-level exchanges and strengthened mutual trust and understanding, despite COVID-19.
Both officials agreed that the two Foreign Ministries will step up multifaceted cooperation as agreed by the two countries' leaders so as to take the strategic cooperative partnership to a new height; further bolster high-level exchanges; strengthen concerted efforts in fighting COVID-19; expand cooperation in trade, investment and development assistance; and promote citizen protection.
They also agreed to continue working closely and effectively together at multilateral platforms, such as the United Nations and ASEAN; and promote active cooperation to enable Vietnam to fulfil its duty as a coordinator of ASEAN-RoK relations, starting in August.
They reaffirmed their support for maintaining regional peace and stability; settling international disputes, including East Sea issues, through peaceful means in line with international laws; and promoting dialogue and cooperation in the Korean Peninsula.
Son said Vietnam wants to deepen the Strategic Cooperative Partnership with the RoK, particularly as the two sides will celebrate the 30th anniversary of their diplomatic ties in 2022.
He also spoke highly of the RoK's New Southern Policy in which Vietnam and ASEAN are viewed as key partners.
He asked the Korean side to provide Vietnamese goods, especially farm produce, with broader access to its market and enable Vietnamese firms to join RoK corporations' global supply chains, in the hope of raising the two-way trade to 100 billion USD.
Vietnam hopes to ramp up cooperation in labour, science-technology and COVID-19 vaccine R&D and production, he said, adding that Vietnam also wants help from the RoK to access vaccine supplies to soon keep the coronavirus at bay.
Chung, for his part, said the RoK government attaches importance to intensifying relations with Vietnam as part of the New Southern Policy. The RoK will be Vietnam's close partner in its journey to accomplish socio-economic development goals, he said, expecting that Vietnam will continue creating favourable conditions for Korean investors in order to stablise supply chains amidst the COVID-19 pandemic.
The two ministers later witnessed the signing of a memorandum of understanding on COVID-19 response between the National Institute of Hygiene and Epidemiology and the Korea International Cooperation Agency (KOICA)./.
Vietnam, Russia forge stronger military-technical ties
Deputy Minister of National Defence Sen. Lieut. Gen. Le Huy Vinh hosted a reception for Anatoly Chuprynov, resident representative of the Russian Federal Service for Military-Technical Cooperation, in Hanoi on June 23.
At their meeting, Chuprynov congratulated Vinh on his appointment as Co-chair of the Vietnam-Russia Intergovernmental Committee on Military-Technical Cooperation and chairman of the Vietnamese sub-committee.
Authorised by chairman of the Russian sub-committee under the Russia-Vietnam Intergovernmental Committee on Military-Technical Cooperation, Chuprynov shared his views on the status and results of military-technical cooperation between the two countries' defence ministries.
Russia wants to further enhance ties with Vietnam in this field in the coming time, he said, proposing the two sides convene the 22nd meeting of the Russia – Vietnam Intergovernmental Committee on Military-Technical Cooperation this year.
Deputy Minister Vinh, for his part, highly spoke of the outcomes of the bilateral military-technical cooperation over the previous years, particularly highlighting the role of the committee in this regard.
Taking note of Russian side's proposal, he suggested both sides to continue effectively implementing agreements and improving existing partnership mechanisms./.
Vietnam calls for enhanced cooperation to address instability in Central African Republic, Syria
Ambassador Pham Hai Anh, Deputy Permanent Representative of Vietnam to the United Nations, has called for closer cooperation among stakeholders to address security and humanitarian challenges in the Central African Republic (CAR) and Syria.
Addressing a meeting of the UN Security Council (UNSC) on June 23 to discuss the situation in the CAR, the ambassador shared the UNSC's concern about security instability and serious impacts on recent humanitarian activities in the country, while urging all parties to promote trust building and dialogue, as well as regional cooperation to solve common security challenges.
Regarding difficulties facing operations of the UN Multidimensional Integrated Stabilisation Mission in the Central African Republic (MINUSCA), Anh emphasised the need to strengthen coordination between field forces for the common goal of restoring peace and promoting development in the country, create favourable conditions for the mission as well as ensure the security and safety of its staff.
Mankeur Ndiaye, Special Representative of the UN Secretary-General for the Central African Republic and head of MINUSCA, briefed participants on instability in the country, saying that certain armed groups have opposed the election process in the country.
Security instability continues to cause civilian casualties and serious humanitarian consequences, he said.
Participants acknowledged the commitment of the Central African Republic's government in promoting dialogue and socio-economic development, and implementing the Peace Agreement.
At a regular meeting of the UNSC to discuss the humanitarian situation in Syria on the same day, UN Secretary-General António Guterres and Acting Under-Secretary-General for Humanitarian Affairs Ramesh Rajasingham informed participants of the difficult situation for the Syrian people at present as a result of the years of instability and serious socio-economic crisis and the impact of the COVID-19 pandemic./.
ASEM important to Vietnam's multilateral diplomacy: ambassador
The past 25 years is a course of history with breakthroughs in international relations of both Asia and Europe, and one of the most noteworthy achievements is the Asia - Europe Meeting (ASEM).
The remark was made by Ambassador Nguyen Nguyet Nga, Vice Chairwoman of the National Committee for Pacific Economic Cooperation and Senior Advisor to the Vietnamese Ministry of Foreign Affairs, while talking to the press on the occasion of ASEM's 25th founding anniversary.
Regarding ASEM's significance to Vietnam and the country's contributions to this multilateral forum as a founding member, she said the establishment of ASEM was a turning point that changed the nature of Asia - Europe relations and the equality in international relations.
ASEM has helped the two continents enhance their voice and coordination, effectively deal with issues in international ties, and substantially contribute to the enhancement of mutual understanding, cooperation, and equality to achieve common targets and development.
This forum was founded not only to share and strengthen mutual understanding but also to take concrete actions, Nga noted.
She went on to say that via ASEM, Vietnam has made use of support to promote negotiations on its entry into the World Trade Organisation (WTO) and its integration into the global economy.
The ambassador affirmed the highly important role of ASEM and its members as the COVID-19 pandemic is remaining complicated in both continents.
Apart from the current cooperation priority of continuing responding to COVID-19, ASEM should also consider a longer-term issue, namely the post-pandemic comprehensive socio-economic recovery, she held.
ASEM is an important forum for Vietnam in terms of strategy, economy, politics, security, development, and society, Nga said, adding that the ASEM High-level Policy Dialogue on "ASEM at 25: Strengthening Asia-Europe Partnership in a Transforming World", held on June 22, showed that the theme Vietnam chose for the event attracted the attention of other members.
The diplomat said the dialogue also demonstrated the clear-sightedness of the foreign policy stated in the resolution of the 13th National Party Congress.
What have been achieved over the past 25 years have shown that ASEM continues to play a crucial role during the implementation of Vietnam's multilateral diplomacy, Nga added./.
Source: VNA/VNS/VOV/VIR/SGT/Nhan Dan/Hanoitimes

Top Hanoi leaders re-elected at municipal People's Council meeting