COVID-19 vaccinations underway in Hai Phong, Bac Ninh
Authorities in the northern port city of Hai Phong started a COVID-19 vaccination programme for prioritised people in 15 areas and kicked off a COVID-19 vaccination campaign in the city.
Vice Chairman of the municipal People's Committee Le Khac Nam asked the local healthcare sector to make full preparations and strictly ensure safety during the campaign.
According to the Director of the municipal Department of Health, Tran Anh Cuong, prioritised cases for shots in the first phase include medical staff who have been treating COVID-19 patients at the Viet Tiep Friendship Hospital, those involved in epidemiological investigations, sampling staff, those working at concentrated quarantine areas and other establishments used for quarantine, vaccination staff, and members of contact tracing teams. 
Regarding two new COVID-19 infections confirmed recently in the city, social distancing measures have been introduced in seven areas with 244 households, according to Hai Phong's quick response team for COVID-19 prevention.
These areas were sprayed with disinfectant, and seven cases were placed under concentrated quarantine and five others were required to quarantine at home.
On March 10, the city was informed that two local residents tested positive to the coronavirus upon arriving in Australia.
The patients included a 42-year-old woman and her child, born in 2003, who reside on Nguyen Cong Tru Street in Le Chan district. They travelled to Hanoi on February 26 for COVID-19 tests the result of which was negative. They then flew to Australia on February 28 and arrived on March 1 after transiting in Singapore. The child tested positive for the coronavirus on March 2 and the woman on March 6 after testing negative on March 2.
The General Hospital of the northern province of Bac Ninh on March 11 also began providing COVID-19 vaccinations to medical staff in regular and direct contact with sources of the disease.
The hospital is the first in the locality to kick off a vaccination programme.
Bac Ninh has been allocated 2,900 doses in the first stage. Its programme is being conducted in 11 areas and is for those working at medical facilities as well as the police and armed forces./.
Waste reduced at wholesale markets as HCM City insists on processing before transport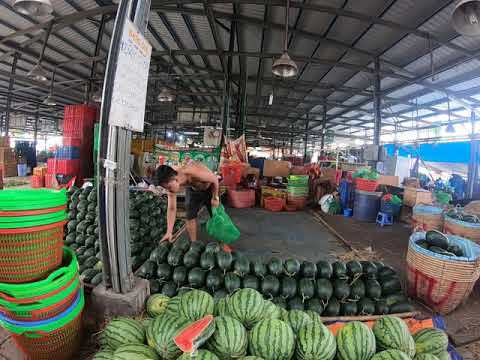 Partial processed agricultural goods at Binh Dien Wholesale Market in HCM City's Bình Chanh District.
The volume of waste relative to the total agricultural produce reaching focal points in HCM City has tended to decrease thanks to partial processing at source, according to the city people's committee.
Since 2018 city authorities have been exhorting shopkeepers at wholesale markets and relevant authorities in the provinces of Lâm Đồng and Bến Tre, the two major suppliers of agricultural produce to the city, to ban unprocessed agricultural products.
The people's committee said the waste that came with meats, vegetables and fruits to the Bình Điền wholesale market in Bình Chánh District, Thủ Đức wholesale market and Hóc Môn wholesale market last year was 173 tonnes per night, 60-65 tonnes less than in 2018.
Over 9,200 tonnes of goods are delivered to the three markets daily.
The managements of the three markets have to spend a combined VNĐ8.5 billion (more than US$365,000) a year to collect, clean, decontaminate, transport, and treat the waste.
Lê Huỳnh Minh Tú, deputy director of the city Department of Industry and Trade, said the city would continue with the programme of partial processing at source by working more closely with related departments of Lâm Đồng Province and tightening regulations on the supply of goods to wholesale markets to reduce the amount of waste being dumped in the city.
NA Standing Committee's 54th session to consider personnel matters
The 54th session of the 14th National Assembly (NA) Standing Committee is slated for March 15 in Hanoi, with personnel matters high on the agenda.
The committee will give opinions on personnel proposals, which will later be submitted to the National Assembly.
The one-day session will also examine a series of reports regarding the work of the NA and its Standing Committee during the 14th tenure; the results of monitoring the settlement of voters' petitions sent to the 14th NA's 10th meeting; and a summary of opinions and recommendations by voters and people sent to the NA's 11th session.
Members of the NA Standing Committee will give their opinions in written form concerning a report on the supplementary assessment of implementation of socio-economic development and State budget plans in 2020./.
Vietnam Social Security removes 34 HCM City health centres off insurance blacklist
Vietnam Social Security has agreed not to black list for insurance coverage 34 health centres across HCM City.
It had announced that from April 1 it would not cover patients going to these places since they failed to meet several criteria including number of doctors who have certificates to practise medicine.
They are in districts 4,7,9, 10, Gò Vấp, Tân Phú, Bình Thạnh, Phú Nhuận, Hóc Môn, Nhà Bè, and Bình Chánh, and Thủ Đức city.
The health stations said in defence of their position that they could not attract doctors with practising certificates because of the low salaries on offer.
On March 8 the deputy head of the city Department of Health, Tăng Chí Thượng, met VSS officials and persuaded them not to call of their contracts with the 34 health stations, saying before doing so they should meet department officials to discuss solutions.
His department and the Ministry of Health aim to develop universal primary health care and reduce the overload on city- and central-level hospitals, he said.
"Besides direct participation in disease prevention and control, health stations in communes and wards also examine and treat ailments, especially chronic conditions, for local people. This is one of their critical jobs.  
"So the department has a roadmap for facilities and personnel at health stations. More medicines are being provided to them for effective treatment. It helps them operate as family medical centres."
To address the failure to meet the VSS's criteria, Thượng instructed district-level hospitals to provide doctors and medicines to the erring health stations, even collaborating to develop them into their clinics.
The hospitals' doctors could take turns to work at the clinics, helping address the shortage of doctors there, he said.
Soon the department plans to provide training to managers of health centres in districts and health stations to keep them abreast of regulations related especially to examination and treatment covered by health insurance, he said.  
Health stations' managers should report their problems to the department so that the latter relevant divisions will help resolve, he said, adding that they should not ask for VSS to stop contract first.   
His department would petition the ministry to simplify procedures for primary health examination and treatment at health stations, he promised. 
Singaporean chef presents Vietnamese cuisine at festival
Vietnamese cuisine is being presented by Singaporean chef Jeff Koh from Vietnamese restaurant Red Sparrow at the ongoing Francophone Festival in Singapore.
His cooking show is supported by the Vietnam Trade Office in Singapore and will be broadcast in English-French languages at 6pm on https://www.voilah.sg/francophone-eat, as well as live-streamed on the Facebook page @voilahsg.
The festival draws 21 countries, nine of them will join cooking shows in video clips to broadcast on the mass media.
In 2017, Jeff Koh opened the Vietnamese restaurant "Red Sparrow", which offers home-cooked meals typically found in a Vietnamese household./.
Vietnam Airlines offers free domestic transportation of COVID-19 vaccines
Vietnam Airlines has offered to transport domestically free of charge 5 million doses of COVID-19 vaccine (11.5 tonnes) supplied by COVAX Facility - a mechanism set up by the World Health Organization (WHO), from March 15.
With the proposal, the national flag carrier wishes to join hands in successfully implementing the country's COVID-19 vaccination campaign.
Previously, ground units of Vietnam Airlines participated in the receipt and successful preservation of the first vaccine batch for Vietnam on February 24 at Tan Son Nhat International Airport.
On March 6, Vietnam Airlines safely transported the first batch of COVID-19 vaccine on flight VN220 from Ho Chi Minh City to Hanoi.
Vietnam Airlines owns the most modern and synchronous infrastructure for transporting vaccines in Vietnam. It has installed ultra-cold storage systems at airports. The firm can also deploy reefers service to store vaccines during air transportation.
With its network of 60 air routes across the country, Vietnam Airlines can quickly transport large volumes of vaccines to dozens of provinces nationwide.
Apart from domestic flights, the firm is still maintaining flights to destinations in Asia and Europe. This helps it be ready to ship vaccines from abroad as soon as required.
Bac Giang looks to build 130 high-tech intensive aquaculture models
The northern province of Bac Giang will develop 140ha of aquaculture with 130 high-tech intensive aquaculture models in the 2021-2025 period, said the provincial Department of Agriculture and Rural Development.
It will also adopt automation technology in the management and care of aquatic products, aiming to harvest more than 14 tonnes of products meeting VietGAP standards per hectare.
At the same time, 15-20 household groups and cooperatives will be set up to use automation technology in support of production, consumption and formation of a production linkage chain.
Intensive aquaculture models using automation technology will be operated in the districts of Tan Yen, Viet Yen, Hiep Hoa, Yen Dung, Lang Giang, Luc Nam and Bac Giang city, with a water surface area of at least 0.8ha each.
Deputy Director of the provincial Department of Agriculture and Rural Development Nguyen Van Dinh said in order to achieve the goal, the provincial People's Committee will offer support in the form of materials, fingerlings and equipment.
The province will also finance half the cost of sensors, oxygen generators, fish feeding machines and cameras, which will be connected with Internet via computers and phones.
The locality will support 60 percent of the cost to buy fingerlings, and subsidy the purchase of chemicals and probiotics for farming households participating in the models as well as environment measurement equipment.
The provincial authority will also hold 12 training courses on intensive aquaculture and automation for 600 people, five seminars to review and spread the models and five fact-finding trips to Hai Duong and Hai Phong while raising public awareness of intensive aquaculture.
Last year, water surface area used for aquaculture in Bac Giang was 12,500ha, up 50ha from 2019. Of which, around 4,400ha was used for intensive and semi-intensive aquaculture with an output of 7-10 tonnes per ha.
Thanks to modern technological application, the total output of commercial fish of Bac Giang reached nearly 48,000 tonnes last year, up 4.1 percent annually. Of which, nearly 45,000 tonnes came from farming and the remaining from fishing./.
PM hails effective Gov't-VFF coordination in COVID-19 relief efforts in 2020
Prime Minister Nguyen Xuan Phuc has praised the effective coordination between the Government and the Vietnam Fatherland Front (VFF) in combating COVID-19 last year during a conference in Hanoi on March 11.
In 2020, the Party, State and VFF have coordinated to mobilise people and all sectors to join in fighting COVID-19, Phuc told the conference to review the enforcement of the Government-VFF coordination mechanism.
The VFF had hosted two virtual conferences to raise public awareness about COVID-19 and call on people to get engaged in fighting the pandemic, he said, adding that he himself and VFF President Tran Thanh Man have co-launched a drive calling for help from all Vietnamese in COVID-19 relief efforts. It has raised around 2 trillion VND in a short period, the PM said.
This provides valuable experience for future cooperation between the two sides, he emphasised.
The Government and Cabinet members always listen to the VFF's opinions, he said, while highlighting close coordination between the Government, authorities and all-level VFFs in implementing democracy at grassroots, handling complaints and denunciations, and promoting dialogues to receive public opinions and hear about their aspirations and timely settle problems.
Both sides need to continue closely working in various areas, particularly stemming COVID-19, he said, adding that they must not drop their guard against the coronavirus though vaccines are available.
The two sides should also jointly consolidate great national unity, and strengthen social consensus, and promote democracy.
This year, they plan to review their coordination in promoting sustainable poverty reduction and new-style rural building./.
Binh Phuoc: Four sentenced for activities to overthrow people's administration
The People's Court of southern Binh Phuoc province sentenced four locals to jail for "attempting to overthrow the people's administration" under Article 109 of the 2015 Penal Court.
Specifically, Vu Thi Kim Phuong, 51, received a 13-year jail term and a five-year home probation, while her accomplices Le Van Lac, 55, were sentenced to seven years in prison; Nguyen Thi Kim Duyen, 43, six years in prison; and Le Van Sang, 49, five years in prison.
Lac, Duyen and Sang will be placed under home probation for two years after their jail terms end.
According to the indictment, from 2015 to 2019, Phuong knew the structure, organisation, platform and plots of the "Provisional National Government of Vietnam" – a reactionary organisation led and Dao Minh Quan and established on February 10, 1991 in the US.
The four defendants hoped to help Quan collect 5 million votes to return to Vietnam to overthrow the Socialist Republic of Vietnam and establish a new state with Quan becoming its President.
In this case, Phuong incited Lac, Duyen, and Sang, and actively collected a list of 1,595 people registered to participate in the referendum.
Lac, Duyen, and Sang participated as accomplices to help Phuong gather a list of members to participate in the referendum./.
Quang Tri, Ireland mark 15-year cooperation
A seminar was held in Dong Ha city, Quang Tri, on March 11 to mark the 25th anniversary of the Vietnam – Ireland diplomatic relations (April 5, 1996 – 2021) and the 15th anniversary of cooperation between the central province and Ireland.
Since the two countries established diplomatic ties 25 years ago, Ireland has supported Quang Tri in conducting various humanitarian projects in education, addressing natural disaster and war aftermath, clearance of unexploded ordnance and responding to COVID-19. Ireland has provided a total 2.29 million EUR in funding to these projects.
The government of Ireland has also granted more than 52 billion VND in non-refundable aid to extremely disadvantaged communes under Programme 135 between 2012 and 2020.
Irish President Michael Daniel Higgins visited Quang Tri on his state visit to Vietnam in November 2016. Also during this visit, the Chairman of the Quang Tri People's Committee Nguyen Duc Chinh and Irish Foreign Minister Charles Flanagan signed a Memorandum of Understanding, in which the two sides agreed to strengthen and deepen cooperation.
Support provided by the government of Ireland has contributed to improving local living standards and boosting the province's socio-economic development, said Hoang Nam, Vice Chairman of the provincial People's Committee. Relations between Quang Tri and Ireland as well as friendship between their peoples will be further deepened in the time ahead, he added.
On this occasion, the provincial cultural and cinema centre has been being lit up with green lights to celebrate the Irish National Day. The lighting is expected to bring local people closer to Ireland./.
Vietnam, India hold bilateral consultations on UN Security Council issues
India and Vietnam on March 11 held bilateral consultations on United Nation Security Council (UNSC) issues through an online platform, the Ministry of External Affairs (MEA) of India said.
Do Hung Viet, Director of the Department of International Organisations under the Ministry of Foreign Affairs, led the Vietnamese delegation at the meeting. The Vietnamese delegation was also joined by officials from the ministry's Department of International Organisations and Department of Southeast Asia - South Asia - South Pacific, the Vietnamese Embassy in New Delhi and the Permanent Mission of Vietnam to the UN.
Meanwhile, Prakash Gupta, Joint Secretary (UNP & Summits), led the Indian delegation, which was joined by officials from the Southern Division of the MEA, the Permanent Mission of India to the UN and the Embassy of India in Hanoi.
The two sides discussed a wide range of issues on the UNSC agenda and briefed each other on their UNSC priorities, the MEA said in its press release issued on March 11.
They agreed to work closely together on key issues on the UNSC agenda, it added.
Vietnam will hold the Presidency of the UNSC in April this year. It also informed the Indian side of its Presidency initiatives./.
Cabinet permanent members discuss mid-term budget allocation
Permanent members of the government met in Hanoi on March 11 to deliberate the mid-term investment allocation plan, sourced from the State budget, for 2021-2025.
Presiding over the meeting, Prime Minister Nguyen Xuan Phuc stressed the need to focus on important, key infrastructure projects in order to give a boost to socio-economic development during the five-year period.
Such projects would be coastal routes, belt roads of major economic centres and urban areas, regional expressways, infrastructure for national digital transformation, and science-technology, he said.
Apart from economic projects, more attention should be paid to those covering socio-cultural aspects such as major hospitals, he suggested, adding that the allocation of investment must ensure the balance between regions.
The PM said the plan plays an important role in the cause of national development, with regard to economy, society, national defence and security.
The leader urged ministries, agencies and localities to mobilise different investment sources for infrastructure development, through official development assistance (ODA), public-private partnership (PPP), and local budget.
PM Phuc asked the Ministry of Planning and Investment to join hands with the Ministry of Finance and other relevant ministries and agencies to consider opinions raised at the meeting so as to complete a report on the allocation plan./.
Binh Thuan working to tackle IUU fishing
The south-central province of Binh Thuan has asked localities to promptly complete the installation of Vessel Monitoring Systems (VMS) on all fishing vessels and acquire the necessary data as part of efforts to tackle illegal, unreported, and unregulated (IUU) fishing.
The province asked its Fisheries Sub-Department to coordinate closely with the border guard force and fisheries surveillance forces to strengthen patrols and inspections to strictly manage the activities of fishing vessels. No vessel is to head offshore without a VMS.
The sub-department has also coordinated with the border guard force and neighbouring localities to stop fishing vessels from other provinces operating illegally in foreign waters.
According to the Binh Thuan Department of Agriculture and Rural Department, no fishing vessels or fishermen from the province have violated foreign waters since July 2019.
As of February 2, nearly 93 percent of local fishing vessels had installed a VMS.
The European Commission (EC) gave a "yellow card" warning to Vietnam's fisheries and seafood exports to Europe in October 2017 due to IUU fishing concerns. The Government and localities have introduced a raft of measures to improve the situation./.
Spectators allowed to attend some V.League 1 matches
Spectators will be able to attend four matches in Round 3 of the 2021 LS V.League 1, which is set to return on March 13 after being suspended due to COVID-19.
According to the Vietnam Professional Football Joint Stock Company (VPF), except for the fixture held at Quang Ninh's Cam Pha Stadium between Than Quang Ninh and Ho Chi Minh City FC on March 14, which will take place behind closed doors, other matches will host a limited number of spectators.
The first game, between SHB Da Nang and Hong Linh Ha Tinh at Hoa Xuan Stadium in Da Nang on March 13, is to host no more than 2,000 spectators.
Some 5,000 tickets are on sale for the match between Hai Phong and Ha Noi FC at Lach Tray Stadium in the northern port city on the same day, and 200 away fans will be permitted into the ground.
Two others will take place on March 14. Hoang Anh Gia Lai's Pleiku Stadium is expected to see the largest number of spectators, of 6,000, when it hosts newly-promoted Topenland Binh Dinh.
The Viettel - Becamex Binh Duong fixture, meanwhile, will host a maximum of 2,000 spectators.
Guidelines were introduced previously to ensure safety at football matches amid the pandemic./.
Nearly 1,600 people vaccinated against COVID-19 in Vietnam
As many as 1,585 Vietnamese people in nine cities and provinces have been given AstraZeneca vaccine shots against COVID-19 since the national vaccination campaign was launched on March 8.

According to the National Expanded Immunization Programme, Ho Chi Minh City has recorded the highest number of vaccinated people, 474.  
Hai Duong, the epicenter of the country's latest coronavirus outbreak, has recorded the highest, 293.
It is followed by Hai Duong (293), Gia Lai (200), Bac Giang (187), Hanoi capital (163), Bac Ninh (108), Hung Yen (69), Hai Phong (61), and Long An (30).
Those vaccinated people have shown common side-effects such as tenderness, joint pain or muscle ache, warmth, itching or bruising, fatigue, a headache, and feeling sick.
Currently, Vietnam is using the AstraZeneca vaccine imported in late February 2021. Due to limited supplies, frontline healthcare workers and people in high-risk areas are to receive shots first. When vaccine deliveries are to increase in the coming weeks, more people will get jabs.
Vietnam is expected to get 60 million doses of the AstraZeneca vaccine this year, including more than 5.4 million doses scheduled to arrive in March and April 2021.
The Ministry of Health is negotiating to purchase a further 30 million doses of the Pfizer vaccine for this year. It is also considering licensing other COVID-19 vaccines such as Moderna of the United States and Generium of Russia.
Photographer claims gold at Three Country Grand Circuit 2020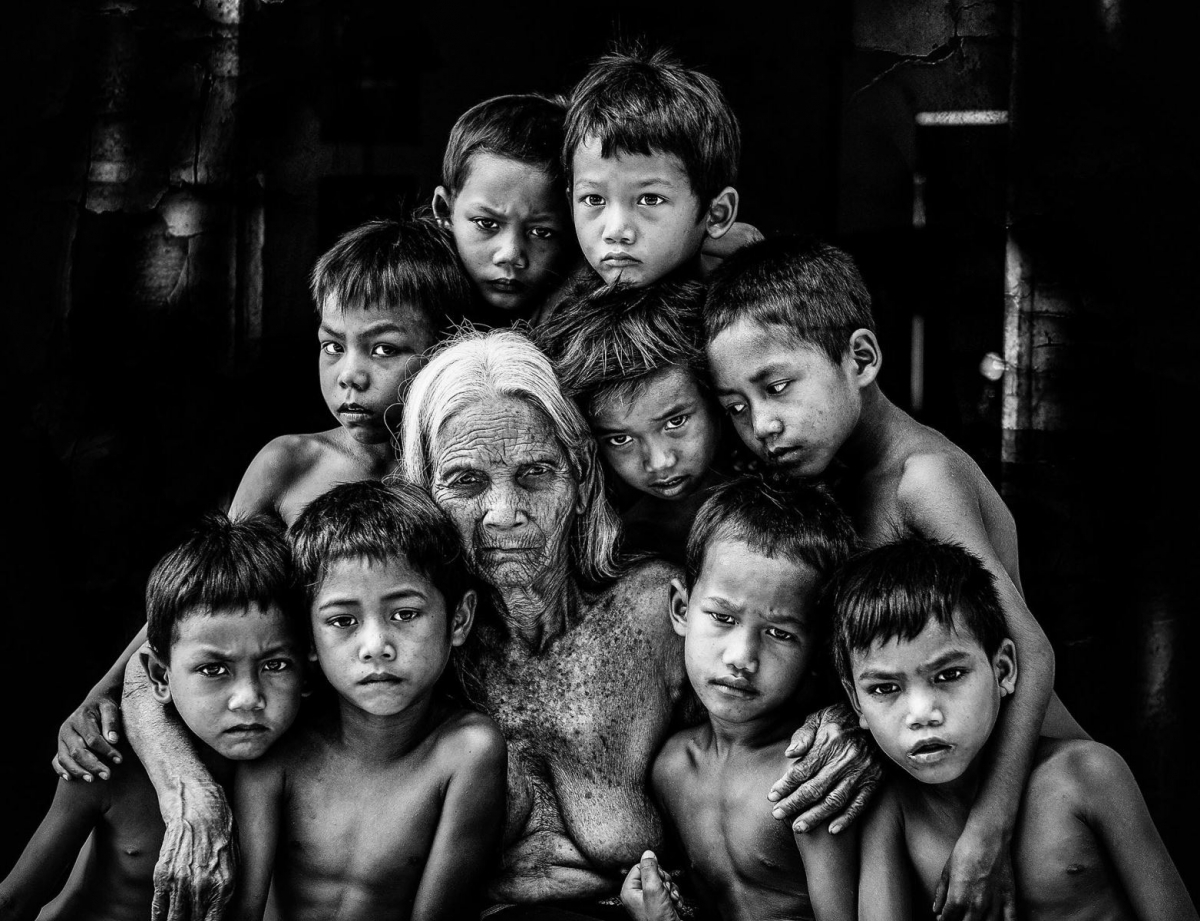 A photo titled "Những thiên thần Tây Nguyên" taken by local photographer Ninh Manh Thang wins a gold medal at the Three Country Grand Circuit 2020 photo contest.
Local photographer Ninh Manh Thang has won a gold medal and received an honourable mention in the child category of the Three Country Grand Circuit 2020 international photo contest.

Thang's artwork titled "Những thiên thần Tây Nguyên" was taken in Gia Lai province last year and features children in Tay Nguyen, the Central Highlands region of Vietnam. The theme behind the image is to send a message of the need to protect children in order to secure a brighter future.
The Three Country Grand Circuit 2020 photo contest is co-organised by the Republic of Ireland, Montenegro and Serbia, and sponsored by the Photographic Society of America (PSA).
This year's annual contest, the sixth of its kind, was open to amateur and professional photographers worldwide and consists of 12 sections, all of which are digital.
Most notably, Thang, a native of Ninh Binh province, is a member of the Vietnam Association of Photographic Artists (VAPA) who has won many awards in both domestic and international contests throughout the years.
Northern border localilty offers tourism stimulus packages
The northern border province of Quang Ninh has launched a range of tourism stimulus packages aimed at attracting greater numbers of domestic tourists to the locality.

The move will see admission fees either cut or reduced for all tourists visiting UNESCO-honoured Ha Long Bay, Quang Ninh Museum, and the complex of Yen Tu monuments in the year ahead.
Travelers to these popular local tourist attractions will be offered an attractive discount on tickets of between 50% and 100%. In addition, passengers who pass through Van Don International Airport will receive free round-trip bus rides to the cities of Ha Long and Uong Bi.
This comes as part of a drive by numerous firms, including Sun World Halong Complex, Hot Spring Resort Yoko Onsen Quang Hanh, and Premier Village Halong Bay Resort, to promote stimulus packages in an effort to boost traveler numbers.
Local authorities have also permitted the reopening of many non-essential services, such as movie theaters, bars, and discos, along with video game, internet, and karaoke parlors. These venues will be opened on the condition that they strictly maintain COVID-19 prevention and control . 
Intercity buses will also be permitted to operate, with the exception of routes both to and from the neighbouring province of Hai Duong, the epicentre of the most recent COVID-19 outbreak. Along with this, forces will collect medical declarations from people entering Quang Ninh.
Following the launch of a long-term stimulus package at the beginning of the year, coupled with the implementation plan for a series of 150 recreational, cultural and sporting events, Quang Ninh hopes to see a swift recovery for the local tourism industry. Indeed, the locality is keen to achieve the goal of welcoming over one million visitors during the course of the first quarter.
Da Lat to have the first traffic lights as congestion worsens
Da Lat City in the central highlands province of Lam Dong will set up traffic lights at six locations that often see serious congestion after decades of no traffic lights. 
Da Lat City hasn't had traffic lights for decades. On March 11, Lam Dong Province Department of Transport announced they were gathering public opinions to install traffic lights at six congestion-prone locations.
The department is considering building a tunnel connecting Ba Thang Tu and Ho Tung Mau streets to ease congestion at Kim Cuc Roundabout because of complicated traffic flows.
If the results are positive, they will install traffic lights across the city.
On March 9, Chairman of Lam Dong People's Committee Tran Van Hiep ordered the department to research the installation of traffic lights at congestion spots in Da Lat. The project must be suitable with the smart city development plan and the infrastructure expansion and renovation plans to ease congestion in Da Lat.
Da Lat's streets were designed to serve a low population of 90,000. The streets are narrow, long and wind around the hills.
However, the city population has reached 250,000 and receives four to six million visitors each year. The rising number of vehicles has caused some severe congestion.
More tours sold after Tet Holiday
More tours have been sold after the Tet Holiday as the Covid-19 pandemic is being brought under control in many localities in Vietnam.
Bich Thu in Hanoi's Cau Giay District has decided to book a tour to Nha Trang next week for her family. The tour costs only VND1.99 million (USD86.52) each person, including two-night hotel accommodation and three meals per day. The price is much lower than that before Tet.   
With the tour, the family also does not have to pay surcharges for their children aged below 12. The tour also includes return transport to Cam Ranh Airport.
According to travel companies, beach tours to Nha Trang, Con Dao, Quy Nhon and Phu Quoc or the northern mountainous areas of Moc Chau, Ha Giang, Dien Bien are attracting visitors the most. Many promotional programmes have also been launched to lure customers.
Quy Do from a travel agent said that these days she is selling tours worth a total USD100 million (USD4,347) daily.
A large hotel chain has launched the package tour of VND2.9 million (USD126) for three days and two nights, six meals, flights and free tickets to entertainment areas.
A range of five-star hotels in famous tourist sites also have had the lowest prices so far. Room prices at a four-five-star hotel are at record-lows of VND1 million (USD43.47).
Saigontourist said that the number of customers booking tours has surged over the past two weeks, particularly tours to the southern central and south-western localities.
Vietravel reported that on February 22-28, the number of customers tripled against last week with 70% booking package tours. The most favourite destinations are Phu Quoc and southern central areas.
Many localities have also launched their tourism discount programmes.
Dak Lak launches investigation into forest destructions
The Department of Forest Protection Area 4 announced on March 11 that they have detected serious forest destruction in Krong Bong District, Dak Lak Province.
Dak Lak Department of Forest Protection said they had worked with the Department of Forest Protection Area 4 along with the Department of Forest Protection in Krong Bong and the forest fire fighters of Area 2, and Yang Mao Commune People's Committee on March 1 and 2 to investigate illegal logging.
Two illegal logging sites were found in the community forest of Tul Village. Nearly 39 cubic metres of timber were found at the sites. Many trees with a diameter of 40cm to 100cm were cut down. The newest activities were only a month ago. The police haven't found any suspects and no one has come to claim the timber.
During Tet Holiday, the police in Krong Bong District detained nine people who were transporting seven cubic metres of timber via buffalo carts. They had illegally cut down Fokienia or Fujian Cypress trees in the forest land managed by Krong Bong Forestry Company. The police later found nearly 30 cubic metres of timber left at the site.
In other cases, over 20 people were seen bringing mechanic saws to cut trees illegally on the 8,600 square metres of forest land of Krong Bong Forestry Company.
Three cases were reported after over 2.1ha of forest land managed by Ea H'leo Forestry Company were destroyed.
8th Vietnam Book Day to be held in-person and online in April
The 8th Vietnam Book Day is scheduled to open on April 18 in HCMC Book Street while the online event will take place at the e-commerce trading floor at Book365.vn on April 17. 
The book show will include exchanges between writers and readers; the introduction of books; seminars and discussions on the reading culture, the digital transformation in the publishing industry and the way of approaching book in the Fourth Industrial Revolution.
According to the Department of Publishing, Printing, and Issuing, despite of the complicated situation of Covid-19 pandemic, the publishing industry has kept its operational activities and the development of reading culture. In 2020, the sector released more than 33,000 titles with 410 millions of copies and earned an estimated revenue of VND2,700 billion (US$116 million) representing 97 percent compared with last year.
In 2020, the 7th Vietnam Book Day was firstly held online due to the Covid-19 epidemic. The month long book show took place at the e-commerce trading floor at Book365.vn featuring online booths of book distributors and publishing houses.
The Vietnam Book Day was approved in 2014 and it is scheduled to occur every year on April 21. The event is to encourage and promote reading habit in the community and raise awareness of using books as a tool for critical thinking. It also celebrates appreciation for readers, writers, publishers, distributors, and other affiliates of the publishing industry.
Int'l watercolor exhibition opens in HCMC
An international exhibition featuring watercolor paintings titled ""Art and Peace" opened at Vietnam Watercolor Art in HCMC on March 10. 
The whole world has suffered from the Covid-19 pandemic, but people have found solutions and step by step overcome difficulties together. The love of art can connect hearts around the world, heal wounds and create good things for life. That is why "Art and Peace" exposition is opened.
Exhibits are top paintings that were selected among more than 300 paintings exhibited in Albi, France in October 2020, presenting the beauty of natural landscapes around the world and artists' views of life.
The painting contest attracted artworks of 60 artists of 17 countries, including France, Japan, Holland, Iran, Bulgaria, Spain, Mexico, Italy, Thailand, Vietnam. This year's event saw the first prize went to Chinese painter Sun Jiangang for the picture titled "Life and hope Series II". The second and third prizes belonged to Huynh Bao of Vietnam for the artwork entitled "Softness" and Yuko Nagayama of Japan for the painting themed 'Spring", respectively.
The HCMC's exhibition that is co-organized by the International Watercolor Society (IWS) in Vietnam, the SaiGon Watercolor Club and VietNam Watercolor Art will run until March 19.
Binh Duong Province gets new national intangible cultural heritages
Traditional pottery-making craft and traditional martial arts named Vo Lam Tan Khanh Ba Tra of Binh Duong Province have been recognized as national intangible cultural heritages by the Ministry of Culture, Sports and Tourism. 
The Southeastern province of Binh Duong is well-known as the land of pottery and ceramics with a network of traditional craft villages spreading all over the province, especially in cities of Thu Dau Mot City and Thuan An, Tan Uyen Town.
The traditional craft is believed to have origins dating back to the end of the 19th century and the early years of the 20th century. It has been maintained and passed down through many generations. Ceramic products have diverse designs and sophisticated patterns featuring Vietnamese cultural characteristics and a mixture of styles ranging from traditional fine arts and art-deco.
Tan Khanh Ba Tra martial art originated in Binh Duong province in the early 17th century has contributed to the reclamation of the land and national defense. The martial art has mainly developed in Tan Uyen Town's Tan Phuoc Khanh Ward; Binh Chuan, Binh Nham, Binh Hoa and Hung Dinh wards in Thuan An City; and Hiep Thanh Ward in Thu Dau Mot City.
14 sport teams to be injected Covid-19 vaccine
The General Department of Sports and Physical Training made a list of Vietnamese athletes being given priority to Covid-19 vaccination soon before joining the upcoming competition tournaments.  
Accordingly, around 200 athletes from teams of shooting, judo, wrestling, gymnastics, athletics, taekwondo, archery, karate, boxing, fencing, weightlifting, badminton, rowing and canoeing were named in the list. They will represent Vietnam in key international tournaments and Olympic qualifiers in the upcoming time. 
 Some athletes from athletics are named in the list of prioritizing vaccination. 
The Ministry of Culture, Sports and Tourism and the National Olympic Committee also sent an official letter to the Prime Minister, the National Steering Committee for Covid-19 pandemic prevention and control to approve for prioritizing vaccination for the teams' members. 
Besides, some football players of Viettel, Hanoi and Sai Gon football clubs are also in the priority list before joining the upcoming AFC Cup and AFC Champions League.
HCMC plans to re-arrange school system from 2021 to 2030
Ho Chi Minh City plans to re-arrange school system according to the decision 02/2003 of the municipal People's Committee.
Presiding a working session upon a plan to carry out the mission of 2021 of the Department of Education and Training with the attendance of many representatives on March 11, Vice Chairman of the People's Committee of HCMC Duong Anh Duc said the HCMC People's Committee has issued the decision 02/2003 about the city's education and training plan to carry out its tasks in 2021.
He revealed that in the plan, some 1,932 hectares of land will be used for building schools in 24 districts and wards.
However, according to statistics from Thu Duc City and 21 districts and wards, only 1,000 hectares of land are allocated for building schools making up over 50 percent of the plan whereas many localities have clean and clear land lots  but lack investment. Some localities are jumping difficulties in carrying out the plan due to existing warehouses.
Speaking at the working session, Deputy Chairman Duc expected the Department of Education and Training to actively cooperate with other departments and people's committees in districts to re-examine schools by the end of 2020 as the legal basis for building a school system plan in the 2021 – 2030 period.
This construction of schools needs to firmly stick to the reality. Each district will apply the goal of school construction differently as each district has its own difficulties. Overall, the target of 300 classrooms per 10,000 people has not been met in all districts.
The Department of Education and Training in HCMC has presented several petitions relating to policies and bonuses for teachers as well proposed the Ministry of Education and Training to have an official document on appeal for social contributions for teaching and learning in private educational centers.
Moreover, the Department of Education and Training in HCMC asked for official guideline on semi-boarding service in schools with the aim to call for social contributions for the service.
Dau Giay- Tan Phu expressway project needs US$286 mln for construction
The Thang Long Project Management Board requested the Ministry of Transport to approve for the pre-feasibility study report of the nearly 60-kilometer Dau Giay - Tan Phu expressway project for the first phase with the total capital of VND6,619 billion (US$286 million).  
Dau Giay - Tan Phu expressway project is part of Dau Giay-Lien Khuong expressway construction investment project, implemented under the form of Public Private Partnership (PPP) and Build–operate–transfer (BOT) contract according to A-class standard with a design speed of 100 kilometers per hour and four lanes for vehicles. 
As for the first phase, the project is designed 17-meter wide road surface and a maximum speed of 80 kilometers per hour. Total investment capital for the project is VND6,619 billion (US$286 million), including VND1,300 billion (US$56 million) from the state budget.  
According to preliminary calculations, the maximum payback period for this project is 15 years and five months. If the investment policy is approved, the project will start investor selection from the fourth quarter of 2021, start construction in the fourth quarter of 2022, complete and be put into operation in the first quarter of 2025.
Vietnam reports over 200 fires claiming 11 lives in February
There were 205 fires and 15 forest fires causing 11 deaths, 14 injured people, damaging over VND25 billion (nearly US$1.1 million) and over 11 hectares of forest in the whole country in February. 
According to the Police Department of Fire Prevention and Fighting and Rescue under the Ministry of Public Security, the number of deaths and injured people in February still increased over January despite decline in the number of fires. 
Compared with January, the number of fires in the whole country decreased to 38 cases; however, the number of deaths surged nine people, an increase of 81.8 percent and the number of injured people augmented to six ones, raising 42.9 percent. The total damage in term of properties decreased VND88.69 billion (US$3,8 million).
In comparison with the same period last year, the number of fire cases decreases 28.07 percent or 80 ones. Meanwhile, the number of deaths surged 78.6 percent, equivalent to three people. The number of injured people reduced 33.3 percent or seven ones. Total properties damage went down 16.3 percent or VND4.98 billion (US$215,000).
Last month, there were five explosions in the country, leading two deaths and four injured people. 
Vietnam allocates US$120 billion for public investment in 2021-25 period
The state fund would first be channeled to major infrastructure projects that serve as a boost for socio-economic development and lay the foundation for the economic growth in the next five-year period.
The Vietnamese government would allocate VND2,750 trillion (US$119.3 billion) for public investment during the 2021-25 period, in which VND1,380 trillion (US$59.85 billion) are from the central government's budget, and the rest from provincial budgets.
Prime Minister Nguyen Xuan Phuc revealed the figure at a government meeting discussing the allocation of mid-term public investment fund for the 2021-25 period on March 11.
"Mid-term public investment plan for the 2021-25 period plays a key role in ensuring the country's comprehensive development in terms of economy, society, defense and security," Phuc said.
Given the limited financial resources at disposal, the PM urged ministries, provinces/cities to continue mobilize additional investment capital for infrastructure development via the official development assistance (ODA), public-private partnership, and provincial budget.
"The  state fund will be prioritized for financing major infrastructure projects that serve as a boost for socio-economic development and lay the foundation for the economic growth in the next five-year period, including coastal roads, ring roads surrounding major economic and urban zones, regional expressway, digital infrastructure, science and technology," Phuc added.
"In addition to economic infrastructure, priority should also be given to socio-cultural projects, including the construction of large-scale hospital," Phuc noted, saying there should be a balance in investment activities between different regions.
The PM requested the Ministry of Planning and Investment to finalize the plan and submit to the government for approval before March 20, while ministries, provinces/cities should review the list of projects set to be included in the mid-term investment plan.
Under Vietnam's development strategy for the next 10 years, state budget would be used to help attract investment capital from other economic components for socio-economic development.
The government would not finance projects which could be invested with private resources.
Hanoi Party identifies 10 missions for next five year term
One of the city's key tasks is to boost urbanization in the city of eight million people.
The Hanoi Party Committee has identified 10 big tasks that it set for the city's comprehensive development in the next five years.
At the committee's 3rd meeting [of the 17th term] on March 11, municipal top leaders discussed the specific targets and the roadmap for the implementation in the 2021-2025 term.
Issued in November 2020, the committee's 10 programs are expected to raise the Hanoi's connection and competitiveness in the global integration, greatly enabling the city to increase its gross regional domestic product (GRDP) per capita from current US$5,200 to US$8,5000 by 2025.
Program No.1 Reinforcing the Party and city political system, and promoting the administrative reforms. It targets to admit roughly 10,000 people to the Party per year, abolish 20% of administrative procedures by 2025, have at least 20% of state bodies becoming self-financed, and raise the city's Provincial Governance and Public Administration Performance Index (PAPI) by five grades annually.
Program No.2 Focusing on economic growth and restructuring, international integration, and competitiveness.
Program No.3 Pushing up urban refurbishment and socio-economic growth as well as ensuring urban development and sustaining urban economy. This is the new program aiming to boost urbanization together with developing urban economy to make the city's areas enjoy the pretty equal development rate.
Program No.4 Promoting the implementation of the national program on new-style rural areas and agricultural restructuring for better living standards of people in rural areas. This goal covers the agro-forestry-fisheries growth rate of 2.5-3% annually, 70% of hi-tech farm produce, and per capita income in rural areas of VND80 million (US$3,478)/year.
Program No.5 Improving planning, management, the use of natural resource and environment protection, natural disaster respond, and climate resilience.
Program No.6 Concentrating on improving cultural development and human resources, and maintaining the style of elegant Hanoians.
Program No.7 Boosting the development of science and technology and creativeness. This new target is expected to serve the city's digitalization.
Program No.8 Improving social welfare and living standards of local residents. This new program covers a wide range of issues with an aim to improve local residents' living standards.
Program No.9 Putting the focal point on increasing defense and security capacity for the next five years.
Program No.10 Enhancing combat against corruption, maintaining thrift and preventing wastefulness.
Source: VNA/VNS/VOV/VIR/SGT/Nhan Dan/Hanoitimes