Vietnamese Buddhist nun Thich Nu Gioi Tanh was honoured in a ceremony on November 10 evening in Seoul, the Republic of Korea, for her outstanding engagement in charity activities to support people hurt by COVID-19 in the RoK.
Minister explains to National Assembly on land management
Minister of Planning and Investment Nguyen Chi Dung cleared up deputies' concern regarding land management at a Q&A session on November 11, as part of the ongoing second sitting of the 15th National Assembly.
Minister Dung said the Ministry of Planning and Investment will research and advise the Government in the promulgation of policies in response to the situation when a number of foreign investors use names of Vietnamese businesses and individuals to accumulate land in the country, especially land in coastal and border areas.
This is a big issue, the minister said, pledging that the ministry will inquire into the situation and report results to the Government and the legislature.
He made the explanation in reply to a deputy from the northern province of Nam Dinh who pointed to the fact that many Vietnamese enterprises and individuals have purchased and transferred land use rights to foreigners.
The legislator also asked the ministry to clarify the land use plan for the 10 years./.
NA deputies interested in economic recovery solutions post COVID-19
Legislators continued to question Government members regarding labour, invalids and social affairs, education-training, and planning and investment at a Q&A session on November 11, as part of the ongoing 11th sitting of the 15th National Assembly.
For labour, invalids and social affairs, the deputies raised queries on the flow of people returning home due to impacts of both the COVID-19 pandemic and the fourth Industrial Revolution that makes low-skilled workers unemployed.
Minister of Labour, Invalids and Social Affairs Dao Ngoc Dung presented five basic solutions, including improving the quality of workforce, forecasting capability, and personnel training.

Speaking at the session, Deputy Prime Minister Vu Duc Dam stressed the need to roll out policies to ensure rights and interests of the returning labourers, covering housing and social welfare establishments.
In his closing remarks at the session for the minister, NA Chairman Vuong Dinh Hue said Dung has full understanding about matters under the management of the ministry, and responded to the questions candidly and satisfactorily, while proposing many specific solutions to the current problems.
Party and State leaders have assigned the Vietnam Fatherland Front to coordinate with Ho Chi Minh City and relevant localities to organise online ceremonies in memory of people, officials and soldiers who died of COVID-19.
The Ministry of Labour, Invalids and Social Affairs should join hands with the Vietnam Fatherland Front, HCM City and other localities in the organisation, he said.
Also at the hearing session, Minister of Planning and Investment Nguyen Chi Dung cleared up legislators' concerns over planning and investment issues.
The raised questions focused on policies and solutions to recover and develop the national economy in the new context, along with solutions to support enterprises, cooperatives and household businesses that are facing difficulties, such as extending tax payments, accelerating the disbursement of public investment and official development assistance (ODA), and speeding up the implementation of major national projects.
Minister Dung will continue to appear at the Q&A session on November 12 morning./.
Priority given to digital transformation in education-training: Minister
The national digital transformation programme gives top priority to the work in education and training, Minister of Information and Communications Nguyen Manh Hung said at the Q&A session on November 11, as part of the 15th National Assembly's second sitting.
He added that the Ministry of Information and Communications (MIC) will stand side by side with the Ministry of Education and Training (MoET) in the revolutionary digital transformation process.
Hung reported that in the past two months, Internet connection facilitating online learning was set up at 1,000 locations, while the installation at remaining places is due to be completed by January 2022.
As about eight million households to date have yet to gain access to fiber-optic cable Internet service, the MIC is asking providers to ensure fiber-optic Internet connection for all households in Vietnam before 2025.
A programme launched by the Prime Minister has handed over more than 100,000 computers to help students learn online. It will also accelerate the installation of Internet connection in remaining locations with a budget of some 3 trillion VND (131.54 million USD), together with reducing online learning tuition fees totalling 500 billion VND for some student groups until the end of this year.
Hung said that Vietnam has developed six online learning platforms, which are being used by about 10 million students.
The two ministries are compiling assessment criteria and information safety standards for the online learning platforms, he said./.
Vietnamese Buddhist nun honoured for supporting pandemic-hit people in RoK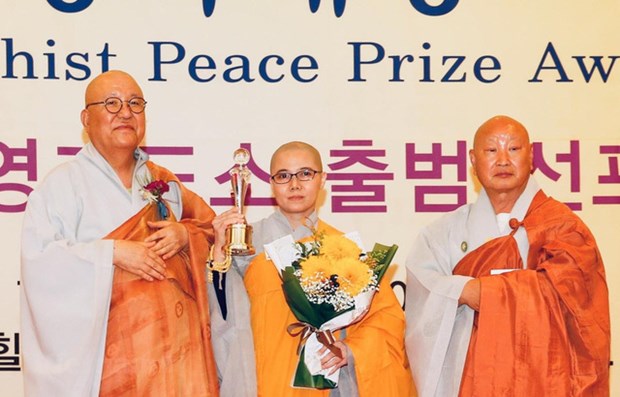 Vietnamese Buddhist nun Thich Nu Gioi Tanh (centre) at the ceremony .
Vietnamese Buddhist nun Thich Nu Gioi Tanh was honoured in a ceremony on November 10 evening in Seoul, the Republic of Korea, for her outstanding engagement in charity activities to support people hurt by COVID-19 in the RoK.
She was among 20 people, including artists, painters and business leaders, named at the 7th edition of an annual event held by the Ahn Jung Geun cultural and art association to recognise outstanding citizens in the RoK for their contributions in different areas, particularly arts.
This year's event also awarded 16 scholarships to disadvantaged students affected by the pandemic.
Nun Thich Nu Gioi Tanh, member of the Vietnamese Buddhist Sangha's Executive Board and head of the Vietnamese Buddhists' Association in the RoK, was given a World Buddhist Peace Prize Award for her great efforts to promote Vietnam's distinctive cultural identity in the host country, boosting cultural exchange between the two countries, as well as her commitment to charity over years.
The nun has visited and delivered aid to Vietnamese people living in the Korean cities of Busan, Daegu, Incheon, Gwangju, Daejeon, Ulsan and Muan. She has introduced about Vietnam's Truong Sa (Spratly) and Hoang Sa (Paracel) Archipelagoes during peace-praying ceremonies and requiems at Phap Mon Pagoda, the first Vietnamese pagoda in the RoK.
She dedicated most of her time this year in Vietnam to assist with the fight against COVID-19, via donations of face masks, hand sanitisers and medical supplies. She also provided support to Truong Sa and impoverished people./.
Forum seeks to develop business services for older persons
About 100 representatives from both national and international businesses attended the first-ever virtual business forum to promote the private sector's participation in the development of business services for older persons in the COVID-19 and the new normal context in Vietnam.
The business forum was co-chaired by Vice Chairman of the Vietnam Chamber of Commerce and Industry (VCCI) cum VCCI Director in Ho Chi Minh City Vo Tan Thanh and the United Nations Population Fund (UNFPA) Representative in Vietnam Naomi Kitahara.
The forum was among a series of interventions funded by the Government of Japan through the Project "Mitigating the negative impacts of COVID-19 on vulnerable population groups - Ensuring National Progress to Achieve SDGs in Vietnam".
Delegates discussed the current situation of the elderly care industry, care needs and the potential of a 'silver' market in the new normal.
The domestic service market for the elderly is very promising with 20 million "potential customers" by 2035, according to findings released in a report on Market Outlook for Elderly Care Service in Vietnam.
The report outlines that as an extremely valuable intellectual and experience pool, the elderly are an important asset contributing to the country's development. They also create a crucial driving force for a special emerging market, which can generate good sales, income and jobs for society.
At the event, businesses also had a straightforward dialogue with policy makers, particularly with regard to the government's policy for the care industry.
To maximise the opportunities resulting from population aging, participants explored the trends and future prospects, including innovative solutions for the care industry to meet the needs of senior citizens, especially during the COVID-19 period.
In his opening speech, VCCI Vice Chairman Vo Tan Thanh confirmed that the forum constituted a timely intervention, especially when HCM City and other provinces and cities across the country were hardly hit by the fourth wave of the COVID-19 pandemic, causing a negative impact on the country's socio-economic development.
Thanh highlighted the potential of elderly care in Vietnam, noting that the development of this care industry is not sufficient to meet the increasing and diversified needs of older persons.
He pointed out several factors which can hinder further development including under-developed infrastructure, the need for incentive policies to encourage the private sector to invest in and limited financial and human resources as well as unavailability of technologies. 
"There are no effective service models yet which are in line with the culture of the Vietnamese people while communications strategy and activities need to be more effective to make the senior Vietnamese citizens change their attitude and practices. The business forum today is an opportunity for all the stakeholders to discuss and create a breakthrough in this important and potential industry.", Thanh added. 
Naomi Kitahara, UNFPA Representative in Vietnam also echoed her co-chairman by saying that the organisation of this special forum was significant, given the fact that the participation of businesses in the care industry for older persons is limited.
"While the virus spreads among persons of all ages, older persons and those with underlying medical conditions are at increased risk of developing severe conditions and having higher death rates. Meanwhile, Vietnam's population ageing is progressing fast and the country will transition from the "ageing" to the "aged" society by 2036. While this presents implications on the need for care and support for the elderly population, it can also present a business opportunity for the care industry", she stressed.  
"Japan shares the same trend of population aging and low fertility, and a lot of private sector businesses, many of which are very unique and innovative, have developed in the past decades to provide care and services to the elderly population. The Government of Japan is honoured to support UNFPA and VCCI to engage the businesses in dialogues with policy makers, particularly with regards to the Government's policy for the care industry", Minister Okabe from the Embassy of Japan to Vietnam told the forum.
The forum was wrapped up with recommendations for next steps to ensure that older persons must be a priority in Vietnam's efforts to overcome COVID-19 and that no one is left behind in humanitarian response as well as in development effort.
TISCO-related case: jail terms reduced for three defendants
The High-level People's Court in Hanoi on November 11 decided to reduce prison terms for three defendants that were involved in a case related to wrongdoings at Thai Nguyen Iron and Steel JSC (TISCO).
The three defendants are among the 12 who filed appeals in the case.
Dau Van Hung, former General Director of Vietnam Steel Corporation (VNS), and Hoang Ngoc Diep, former member of the Board of Directors of TISCO, who had been sentenced to three years and two years in prison at the first-instance trial, respectively, both got a suspended sentence as they have fully dealt with consequences.
Uong Sy Binh, former deputy head of the accounting and finance division at TISCO, will spend one and a half years in prison instead of two years as ruled at the first-instance trial due to his old age and health problems.
The High-level People's Court upheld the rulings of the previous trial for the nine others, including Tran Trong Mung, former Director General of TISCO, who was sentenced to nine years and six months behind bars.
The eight others got jail terms ranging from 18 months to seven years, for "violating regulations on management and use of State assets causing losses and wastefulness" and "lacking responsibility causing serious consequences."
According to the indictment issued by the Supreme People's Procuracy, the VNS Board of Directors decided to invest in the second phase of TISCO's production expansion project which initially had total investment of more than 3.8 trillion VND (164.9 million USD at the current exchange rate). The China Metallurgical Group Corporation (MCC) won the construction bid in 2007.
On July 12, 2007, then TISCO General Director Tran Trong Mung and MCC General Director Shen Heting signed an engineering, procurement, and construction (EPC) contract worth over 160 million USD (equivalent to over 3.5 trillion VND). It was stipulated that the value, including taxes and expenses necessary for contract implementation, was to not change during the implementation process.
TISCO and MCC launched implementation on September 29, 2007. However, more than 11 months after the contract took effect, MCC had failed to select or sign contracts with subcontractors, or carry out the EPC contract. Instead, it proposed extending the contract implementation duration and raising the contract value by more than 138 million USD.
The indictment said that although individuals at TISCO and VNS were aware that MCC had infringed the contract and groundlessly proposed the implementation extension and value hike, they did not consider contract termination, revocation of the advance, or reporting the matter to competent persons to abolish the bidding result and re-organise the bidding process so as to ensure the project's effectiveness and progress.
Among the defendants, Mung held the overall responsibility for the project's effectiveness while Tinh was in charge of approving and directing project implementation.
The Supreme People's Procuracy held that the violations of rules on the management of State assets and the lack of a sense of responsibility by those at TISCO and VNS caused losses of over 830 billion VND to the State. The sum is the interest rate TISCO had to pay to banks for the period from the time the project began falling behind schedule, on May 31, 2011, to the date an official investigation was launched, on April 18, 2019.
The defendants' criminal acts not only adversely affected economic development and had a direct negative impact on production and business activities and the interests of employees at TISCO, they also indirectly affected the process of promoting rapid and sustainable economic development, becoming a burden on the national economy and causing a loss of trust in society./.
Binh Duong steps up COVID-19 vaccinations for IP workers
The People's Committee of Binh Duong southern province on November 11 asked industrial parks in the province to support COVID-19 testing and inoculation for those who want to return to work.
The move aims to curb the spread of the pandemic and help workers and local firms resume operations, surmount difficulties and stabilise lives.
Of note, mobile medical teams have been sent to factories and offices to provide examination and vaccinations for workers.
Binh Duong has reported 241,589 COVID-19 cases since the fourth wave of COVID-19 outbreaks hit Vietnam, with a death toll of 2,529.
Some 10,930 patients in the province are receiving treatment, including 4,363 at medical establishments.
The province has administered more than 4.14 million doses of COVID-19 vaccines so far, with nearly 1.75 million people receiving full two shots./.
HCM City presents aid to Vietnamese-Cambodians
A delegation of the Committee for Overseas Vietnamese Affairs of HCM City presented 750 aid packages to Cambodians of Vietnamese origin during a ceremony held on November 11 at the Thuong Phuc-Kaoh Roka international border gates in Vietnam's Dong Thap and Cambodia's Prey Veng province.
The assistance demonstrates the care of HCM City's leaders and people for the Vietnamese-Cambodian community and disadvantaged people living in three Cambodian localities of Phnom Penh, Kandal and Prey Veng.
The aid, which includes 1.5 billion VND (66,240 USD) in cash along with 15,000 face masks, 200 bottles of hand sanitiser, 1,000 sets of children's clothes and 2.5 tonnes of rice, will be delivered to beneficiaries through the Khmer-Vietnamese Association.
Addressing the handover ceremony, Vice Chairman of the committee Vo Thanh Chat said the assistance aims to support Vietnamese-Cambodians to overcome difficulties caused by COVID-19 and contribute to the solidarity and friendship between people of Vietnam and Cambodia.
For his part, head of the Khmer-Vietnamese Association Sim Chy highly valued the support from HCM City which he said will help Vietnamese-Cambodian and local people improve their situations./.
AFC hails Vietnam's efforts in match with Japan
The Asian Football Confederation (AFC) has commented on Vietnam's performance when hosting Japan on November 11 in the final round of the 2022 FIFA World Cup Asian qualifiers.
The game saw fans return to My Dinh Stadium for the first time in the final of the qualifying round as the home support looked to inspire Vietnam to their first points of the campaign.
But it was Japan who were in the ascendancy from the off and took the lead when Ito Junya opened the scoreboard in the 17th minute. Ito found Vietnam's net the second time five minutes before the interval but the goal was ruled out for offside.
Vietnam gained more possession of the ball in the second half but struggled to trouble the Japan backline.
Kyodo news agency reported that playing in front of home supporters for the first time in the qualifying campaign, Park Hang-seo's Vietnam were aiming for their first points in Group B, but barely troubled Japan keeper Gonda Shuichi.
It continued that Vietnam's shot stopper Bui Tan Truong prevented his side falling further behind late in the contest, blocking attempts from substitute Shibasaki Gaku and Morita Hidemasa.
As it is the fifth consecutive defeat of the team, Vietnam have yet to collect any points and stand at the bottom of Group B.
They are to host group leaders Saudi Arabia on November 16.
This is the first time that Vietnam has played in the final qualifying round. They are in the same group with Japan, Australia, Saudi Arabia, China and Oman./.
Vietnam, Russia seek stronger cooperation in COVID-19 combat
Representatives from Russian and Vietnamese businesses operating in the field of pharmacy and health care exchanged experience and sought technological cooperation opportunities in the fight against COVID-19 at a round-table in Moscow on November 11.
Speaking at the event, Vietnamese Ambassador to Russia Dang Minh Khoi said only close cooperation would help countries succeed in combating the pandemic and restoring international trade and tourism.
Lauding achievements Russia has recorded in the research, development and production of COVID-19 vaccines and treatment drugs, the diplomat noted that Vietnam and Russia have effectively coordinated in the pandemic combat.
Khoi cited an example of the coordination, which is the success of Vietnam's Vabiotech company in bottling Sputnik V COVID-19 vaccine under an agreement with its Russian partner.
The Vietnamese Embassy in Russia stands ready to coordinate with ministries, agencies and companies of Russia and Vietnam to deepen the substantive and mutually beneficial international cooperation in the pandemic combat.
Oleg Nizhelsky, General Director of Russia's Bronemed LLC, told the Vietnam News Agency (VNA)'s correspondents on the sidelines of the round-table that through the event, Vietnamese and Russian enterprises have set up initial links to draw up cooperation plans.
According to him, both countries have adequate resources in terms of science and technology to push ahead with collaboration in the pandemic fight, and the production of vaccines and pharmaceutical products.
Vietnamese Trade Counselor Duong Hoang Minh said Vietnam would work as a hub for the production and supply of COVID-19 vaccines and treatment drugs to other countries in Southeast Asia.
In the first 10 months of this year, Russia's pharmaceutical exports to Vietnam increased 3.5 times to 39 million USD, the trade counselor said, expressing his hope that businesses of the countries will contribute to creating new momentum for the bilateral trade ties.
At the end of the round-table, Vietnam's Biopharma and T&T group signed memoranda of understanding with Sistema Biotech and Bronemed of Russia./.
UNSC members urge stakeholders in Yemen to resume comprehensive political dialogue
The United Nations Security Council (UNSC) held a discussion about the situation in Yemen, with the participation of UN Special Envoy for Yemen Hans Grundberg and Acting Assistant Secretary-General for Humanitarian Affairs and Deputy Emergency Relief Coordinator Ramesh Rajasingham.
Speaking at the discussion, Ambassador Dang Dinh Quy, Permanent Representative of Vietnam to the UN welcomed diplomatic activities taken by the UN Special Envoy for Yemen, and reaffirmed Vietnam's support for the Special Envoy's efforts in resuming comprehensive and sustainable political dialogue among stakeholders in Yemen.
The Vietnamese representative showed concern about the military escalation in Yemen, especially Marib, which he said may destroy peace reconstruction efforts in the country, cause pain to Yemen people and threaten the stability in the region.
Vietnam called on all relevant parties to end all military acts, resume dialogue and cooperate with the UN Special Envoy to seek a comprehensive political solution for Yemen.
Vietnam also urged all parties to respect the International Humanitarian Law, implement the UNSC Resolution 2573, including the protection of civil infrastructure works, and speed up the implementation of the Stockholm and Riyadh Agreements.
Regarding issues related to the Safer oil tanker, Ambassador Quy called on Ansar Allah to engage in full collaboration with the UN to seek proper solutions, thus preventing risks of possible environmental and humanitarian environmental disasters./.
Hanoi's agricultural production and supply continues despite pandemic restrictions
Many agricultural production chains in Hà Nội have maintained operations throughout the most recent outbreak of COVID-19, thanks in no small part to strong cooperation between producers and sellers in the city. 
Nguyễn Đình Tường, Director of Đồng Tâm Livestock and Service Cooperative in Quốc Oai District, said to ensure produce reached consumers during the complicated developments of COVID-19, his cooperative worked directly with convenience stores, as well utilising the power of online commerce platforms.
"We recorded an increase of 30 per cent in pork consumption. In August, the cooperative sold 25 tons of pork meat with stable prices."
The food production and supply chains at Organic Green in Thường Tín District and the Đặng Xã Commune Agricultural General Services in Gia Lâm District were also maintained during the outbreak. 
Thanks to strong partnerships with over 100 production facilities and 90 distribution points, Organic Green ensured output for its produce.
According to Nguyễn Văn Chữ, Chairman of Organic Green: "Due to the temporary closure of multiple local markets, consumers tend to look for produces with transparent origins. Our company ran a 15 per cent discount on all items and offered free shipping on orders of VNĐ800,000 or more, which doubled our sales volume compared to the period before the outbreak."
Hà Nội is leading the country in the implementation and development of agricultural produce supply chains.
The Director of Tiền Lệ Agricultural Cooperative in Hoài Đức District, Nguyễn Văn Hào, confirmed that pandemic did have an impact on agricultural trading. 
However, thanks to the cooperative's partnerships with Hà Nội Safe Foods Company in Cầu Giấy District and Liên Anh Commercial Production and Services in Hoài Đức District, consumption volume was ensured, he said.
"The cooperative currently maintains vegetable production on a 33-hectare area, producing more than 10 tonnes of greens of all kinds every day", said Hào.
From the consumer's perspective, Kiều Thị Thanh: "Due to the complicated developments of the pandemic, our family opts for nearby agricultural supply chains instead of going to the market.
"The groceries here are fresh, with clear sources and origins, so we feel very assured."
Commenting on this achievement, Nguyễn Ngọc Sơn, Deputy Director of Hà Nội Department of Agriculture and Rural Development (DARD), said: "The 141 chains operated smoothly throughout the social distancing period, which helped ensure the supply of safe produce for everybody."
"Hà Nội DARD has coordinated with control teams in the COVID-19 prevention and control departments to facilitate customs at the city's gateways, prioritising green lanes that transport food produce and agricultural materials to distribution channels", he continued.
Phạm Quang Tuấn, Vice Chairman of Quốc Oai People's Committee, said the district will continue to focus on large-scale centralised production, alongside trademark registration, branding, and product traceability.
"When COVID-19 is under control, Quốc Oai District will also hold seminars and forums to facilitate discussion between businesses and cooperatives, to encourage agricultural produce consumption contracts", said Tuấn. 
"In the immediate future, to increase production and business efficiency, the Hà Nội Sub-department of Rural Development will continue coordinating with stakeholders to reinforce connections and safe produce consumption in the area", said the Sub-department Director Nguyễn Văn Chí. 
"In the long run, the Sub-department and supply chains will work closely to promote online sales on e-commerce platforms and social media like Facebook and Zalo", he continued. 
Director of Hà Nội DARD, Chu Phú Mỹ, also said: "Hà Nội's agricultural sector will review the planning of specialised production areas and promote the registration and management of farming area codes."
"We will also strengthen connections to businesses with potential for long-term investment, which are willing to share the benefits with farmers to develop production and consumption chains, increasing the value and stabilising outputs for Hà Nội agricultural produces." 
Thailand keen to resume tours with Vietnam: Ambassador
Thailand will work with Vietnam on reopening tours between the two countries, particularly in increasing tourist arrivals between Thailand and Ho Chi Minh City, Thai Ambassador to Vietnam Nikorndej Balankura has said.
He revealed the information during a meeting with Secretary of the municipal Party Committee Nguyen Van Nen on November 11.
At the reception, Nen appreciated the long-standing  Vietnam-Thailand friendship and thanked the General Consulate of Thailand and the Thai community in HCM City for their support in the local COVID-19 fight.
The Thai ambassador vowed to do his utmost to foster the countries' relations and the ties between Thai localities and HCM City.
Hailing HCM City's role as the economic-trade hub which houses 80 percent of Thai companies in Vietnam, he expressed his gratitude to the local authorities for supporting the Thai community, especially during the recent COVID-19 outbreaks.
In preparation for cooperation post-pandemic, Thailand will focus on ramping up the trade and investment relations with Vietnam, he added.
The Tourism Authority of Thailand will devise a specific plan on the cooperation with the Vietnamese side in the coming time.
At the event, the two sides agreed on the holding of activities in December to celebrate the 45th anniversary of bilateral diplomatic ties this year.
Thailand is now the largest trade partner of Vietnam in ASEAN and the ninth leading foreign investor out of 140 countries and territories investing in Vietnam.
The two countries have closely collaborated and supported each other at regional and international forums.
Thailand is the 12th largest investor of HCM City with a total registered capital of more than 467 million USD across 231 projects.
In addition, the city welcomes in excess of 180,000 Thai holidaymakers each year, making Thailand rank ninth in the number of tourists to HCM City./. 
Final underground track segment on Metro No 1 to be completed in two months
Two final underground railway segments for Metro Line No 1 are being installed and will be completed in two months.
The HCM City Management Authority of Urban Railways (MAUR), the project's investor, said that work on the two railway track segments began on November 9.
The two segments are 660m long and 1.43m wide, and run parallel to each other between the Opera House and Bến Thành rail stations.
Around 56 engineers and construction workers assigned to do the work are fully vaccinated and strictly adhere to COVID-19 regulations.
The Metro Line No 1's underground railway system is 2.6km long, with three stations in the city centre. Facilities such as lobbies and ticket machines for the Ba Son and Opera House stations have been completed.
Work on Bến Thành Station is slated to be completed by the end of the year. Bến Thành, Metro Line No 1's central station, will connect to three other metro lines in the future.
Around 88 per cent of the work for the metro line had been completed as of November 10. The line was originally expected to be finished by the end of the year, but the COVID-19 pandemic has greatly affected construction work and imports.
The metro line is now expected to be completed by the end of 2023 or early 2024, according to MAUR.
The VNĐ43.757 trillion (US$1.9 billion) route, from Bến Thành Market in District 1 to Suối Tiên Theme Park in District 9, is 19.7km long and will have 14 stations, three of them underground.
The metro has been built with official development assistance (ODA) and funds from the Japan International Cooperation Agency.
Of the total 17 imported trains from Japan, seven have been received.
The metro line is the first of eight metro lines to be built in the city.
On November 6, Hà Nội City's first metro line opened for service, from Cát Linh in Ba Đình District to Hà Đông District. Many locals said they preferred to use the metro line over their personal vehicles because of affordability and less traffic congestion and noise pollution.
VASS President honoured with Order of the Star of Italy
Associate Professor Dr. Bui Nhat Quang, President of the Vietnam Academy of Social Sciences (VASS), has received an Order of the Star of Italy (Ordine della Stella d'Italia) bestowed by the Italian President.
Speaking at the handover ceremony in Hanoi on November 11, Italian Ambassador to Vietnam Antonio Alessandro said the order is the most noble reward that Italy presents to foreigners who make outstanding contributions to promoting friendship and cooperation between Italy and other countries.
The presentation of the order to Quang is to recognise his contributions to the enhancement of ties between Italy and Vietnam and his efforts to support collaboration activities between people of the two countries, especially in cultural and academic activities, said the ambassador.
The Italian diplomat underlined that Quang, who is also the President of the Vietnam-Italy Friendship Association, has paid great attention to strengthening relations between the two countries and deploying various cultural activities to create a bridge between Vietnam and Italy.
For his part, Quang said it was a great honour for him to receive the order, describing it as a milestone in his long, close attachement to the nation and people of Italy.
He noted that in the 1990s, Italy gave positive support to Vietnam in expanding partnership with the European Union (EU) as well as normalising relations with international financial, monetary and trade institutions. Meanwhile, Vietnam acted as a gateway for Italy to strengthen ties with Southeast Asian countries.
Since the two nations set up a strategic partnership in 2013, the bilateral cooperation has been expanded to almost all fields, including social sciences with many joint projects, he said.
Quang said that over the past 35 years since its establishment, the Vietnam-Italy Friendship Association has worked to enhance mutual understanding between people of the nations. He pledged to exert more efforts, together with leaders and member of the association, to further promote the sound traditional friendship between the two countries./.
Hanoi: supporting industry firms flexibly respond to COVID-19 pandemic
The complicated developments of the COVID-19 pandemic has been posing both challenge and opportunity for the supporting industry sector in Hanoi, requiring businesses in supply chains to promptly adapt and make flexible changes.
Nguyen Van, vice chairman of the Hanoi Supporting Industries Business Association (HANSIBA), acknowledged that the pandemic has posed many challenges for businesses in Vietnam as well as those across the world.
Van said social distancing measures to curb the spread of COVID-19 have caused certain difficulties to import-export activities and production and business of enterprises in general and enterprises operating in supporting industry in particular.
In addition, businesses that survive after the pandemic are facing a shortage of labour resources. The pandemic negatively affected the progress and implementation of projects to build new factories.
In order to adapt and develop in the context of the pandemic, HANSIBA proactively directed more than 200 member enterprises of the association in particular and supporting industry enterprises in Hanoi in general to effectively implement Resolution No. 128/NQ-CP promoting provisional regulations on safe, flexible adaptation to and effective control of COVID-19 issued on October 11, 2021.
The association has also supporting the promotion of digital transformation in its member businesses to not only adapt to the new context but also catch up with the global digitalisation trend.
It has cooperated with partners from Japan and the Republic of Korea (RoK) to provide technical support and improve production capacity for member businesses.
The association has also paid special attention to connecting with financial sources and finding preferential loans for businesses, helping them further promote investment in production, towards meeting the market demand, which is forecast to recover growth in early 2022./.
Heritage, 'Ao dai' to be promoted during 28th Vietnam Film Festival
The 28th Vietnam Film Festival will take place in the central province of Thua Thien-Hue from November 18-20, spotlighting not only cinematography but also heritage and "ao dai" (traditional dress) of Vietnam.
The festival will feature 128 films from 42 units, including 26 feature films, 56 documentaries, 15 scientific films, and 31 animated films. A number of side line events will be organised both in virtual and in-person forms.
This year's event will present two new awards, one for a feature film with the best cinematography, and the other for outstanding debut by a director.
It has been 22 years that the Vietnam Film Festival returns to Hue city, after the 1999 edition. To date, all preparations have been completed.
Within the framework of the festival, together with programmes offering experience of Thua Thien-Hue's green and safe tourism products, a gala show themed "Ao dai – Cinematography" will be organised.
Hue, which was the imperial capital of Vietnam for over 100 years, is home to five heritages recognised by UNESCO, which are the Hue ancient citadel relic complex – a World Cultural Heritage site; Nha Nhac (Hue royal court music)- an intangible cultural heritage item; Nguyen Dynasty's wood blocks – a documentary heritage item; Nguyen Dynasty's Chau ban (royal administrative documents) – part of the Asia-Pacific Register of UNESCO's Memory of the World Programme; and literature on Hue royal architecture - a documentary heritage./.
Vietnam's Tet, ancestor worship spotlighted at Venezuela's int'l book fair
he Embassy of Vietnam hosted a talk on "Ancestor worship and Tet Nguyen Dan (Vietnam's traditional New Year)" in both virtual and in-person forms on November 10 as part of the 17th International Book Fair of Venezuela (FILVEN 2021).
The event was attended by Venezuelan deputy minister of culture Mary Pemjean, Ambassador of Venezuela to Vietnam Tatiana Moreno Pugh, Vice President of the Vietnam – Venezuela Friendship Association Le Duy Truyen, President of the Venezuela – Vietnam Friendship Association (CAVV) Carolus Wimmer, and Venezuelan Vietnamese Business Chamber (Cavenviet) Director Alberto Burguer.
In his remarks at the event, Truyen gave a brief overview of the history of Vietnamese culture, the custom of worshiping ancestors of Vietnam, noting that it is not a religion but a way the Vietnamese remember and pay tribute to their ancestors. The Vietnamese also maintains a tradition of worshiping gods and national heroes, such as Hung Kings, general Tran Hung Dao, and President Ho Chi Minh, he added.
Nearly 8,000 festivals take place across Vietnam annually and the biggest and most important of all is Tet Nguyen Dan, or Tet, which is an occasion for family reunion and honouring traditional values, he continued, describing how Vietnamese people decorate houses and ancestor altars and enjoy the holiday./.
Vietnam backs UN peacekeeping and UNPOL operations
Ambassador Dang Dinh Quy, Vietnam's Permanent Representative to the United Nations, has affirmed peacekeeping continues to be an important tool to maintain international peace and security, and the UN police (UNPOL) have well done their assigned tasks and closely coordinated with military and civil units of the mission amidst escalating challenges.
Addressing the UN Security Council's annual meeting on UNPOL on November 10, Quy commended the increasing number of women police officers, and specifically, the six women currently serving as heads or deputy heads of the United Nations police components in peacekeeping and special political missions.
He underlined the importance of prioritising, through resources and attention, the promotion of women in peacekeeping operations, including policing activities.
Further, the international community should enhance training and capacity building support to developing countries, including for women police officers, he said, noting that the percentage of Vietnamese female peacekeepers in the United Nations Multidimensional Integrated Stabilisation Mission in the Central African Republic (MINUSCA) and the United Nations Mission in the Republic of South Sudan (UNMISS) has increased to 20.6 percent, from 16.5 percent in 2020, exceeding the Secretary‑General's target of 15 percent for uniform gender parity before 2028.
Jean-Pierre Lacroix, UN Under‑Secretary‑General for Peace Operations, briefed participants on the implementation of the Action for Peacekeeping (A4P) initiative and the Action for Peacekeeping Plus (A4P ) as well as the UNPOL's contributions to boosting the implementation of priorities of these initiatives.
Violet Lusala, Police Commissioner of the United Nations Interim Security Force for Abyei (UNISFA), outlined obstacles to the Mission's efforts to maintain public order and protect civilians, including the presence of armed elements, intercommunal clashes and cattle rustling.
She said services for survivors of sexual and gender-based violence remain non-existent. Highlighting the need for increased United Nations police capacity, she urged the Council to press Sudan and South Sudan to immediately establish the Abyei Police Service.
Patricia Boughani, Police Commissioner of the United Nations Multidimensional Integrated Stabilisation Mission in Mali (MINUSMA), called for a shift in mindset to promote a gender perspective, given that few women are deployed in Mali's security forces in the centre and the north. UNPOL is developing strategies to build women's dormitories in some regions and providing training, as well as working to financially empower women through quick impact projects./.
Argentina offers 500,000 AstraZeneca vaccine doses to Vietnam
The Argentine Government on November 11 announced its decision to donate Vietnam 500,000 doses of the AstraZeneca COVID-19 vaccine in a nearly 1 million dose package for 5 countries around the world.
According to a decree signed by Argentine President Alberto Fernandez, joint efforts between countries are important to limit the economic and health impacts caused by the SARS-CoV-2 pandemic.
The Argentine Government asserts that the COVID-19 pandemic is a global challenge that requires a united strategy towards equitable access to vaccines.
In the context that 75% of the Argentine population has been vaccinated with at least one dose and 56.5% of the population has completed the immune regimen, the Argentine Government considers this the right time to share vaccines with other countries across the globe, thereby showing its solidarity and contribution to the global pandemic fight.
Besides Vietnam, Argentina also donated 450,000 doses of the COVID-19 vaccine to Mozambique, 18,000 doses to Santa Lucia, 11,000 doses to Saint Vincent and the Grenadines and 2,000 doses to Dominica.
Vietnam, Russia bolster cooperation in COVID-19 fight
Vietnamese and Russian firms operating in pharmaceuticals and medical equipment have discussed experience and technology in the fight against the COVID-19 pandemic. 
A roundtable seminar featuring prospects for economic, scientific and technical cooperation between Moscow and Hanoi was held in Moscow, Russia on November 11 on the occasion of the upcoming official visit to Russia by President Nguyen Xuan Phuc.
Upon addressing the event, Vietnamese Ambassador to Russia Dang Minh Khoi hailed the important results Russia has yielded in research, development, and production of COVID-19 vaccines and drugs in recent times.
Russia has become the first country to develop the Sputnik-V vaccine against COVID-19, and is also actively supporting countries in the pandemic fight.
The two countries have been coordinating very effectively in the fight against COVID-19, with Vietnamese company VABIOTECH having successfully manufactured its first batch of the Sputnik V COVID-19 vaccine from semi-finished products, the Vietnamese diplomat emphasized.
Ambassador Dang Minh Khoi said he believes that the two sides, through the seminar, will be able to learn more about the advantages and possibilities of cooperation in the pandemic combat fight as a way of further promoting the Vietnam-Russia comprehensive strategic partnership.
At the discussion, business representatives highlighted their strengths in production, supply, and technology transfer of drugs and vaccines, medical equipment, as well as the possibility of expanding cooperation and boosting market expansion.
Binnofarm is the largest group among medical equipment manufacturers that also involve in COVID-19 vaccine production, while Himrar, Biotex, Pronomed are producers of  Avifavir, Areplivir and rapid test kits for COVID-19.
Duong Hoang Minh, Vietnamese Trade Counselor in Russia highly appreciated the prospect and efficiency of cooperation between both nations' enterprises in manufacturing vaccines and drugs for COVID-19 treatment, which is a very important field especially when  the whole world are facing this dangerous disease.
"Vietnam and Russia boast great potential for cooperation in the production and supply of vaccines and drugs for COVID-19 treatment. Vietnam has the advantage of producing these drugs in order to supply other countries in Southeast Asia, even with the nations that Vietnam has a free trade agreement with," Minh said.
According to Duong Hoang Minh, the past ten months of the year saw import-export turnover between Vietnam and Russia reach US$ 4.5 billion, up 12% over the same period last year.
Notably, pharmaceutical exports from Russia to Vietnam grew by 3.5 times, reaching a figure of US$39 million that indicate strong growth.
Hopefully, pharmaceuticals will be a new driving force for trade growth between Vietnam and Russia in the remaining months of the years, and years to come, Minh added.
Several schools remain open despite new COVID-19 infections detected
Several localities will quarantine only the new COVID-19 cases detected on campus, without closing the entire school, said delegates at a recent online meeting between the Ministry of Education and Training and its departments. 
Upon detecting new COVID-19 infections on campus, Quảng Nam Province will only quarantine the patient's class and not the entire school. The province's education sector remains operational as usual, according to head of the province's Department of Education and Training (DoET) Hà Thanh Quốc.
Boarding and day schools also organise weekly quick tests for students. For schools in outbreak "hotspots", COVID-19 testing is conducted twice a week. 
Meanwhile, Khánh Hòa Province DoET's strategy is to narrow down the infected areas, trace possible infections and disinfect the locations at risk quickly. Students at schools which detect new cases will only study online for two or three days before they can return to the classroom. 
The province also flexibly employs different measures, such as dividing the class and rotating between online and in-person learning. 
According to Nguyễn Thế Sơn, Bắc Ninh DoET, students across the province went back to school since September 24. With the complicated developments of the pandemic, the department has directed schools to decide on appropriate teaching methods based on the pandemic level in each locality.
Currently, 84 out of 336 education institutions in Bắc Ninh are teaching via online classes, while 13 schools opt for hybrid learning. The remaining majority have returned to in-person classes.
Cao Xuân Hùng, Director of Nam Định DoET, said that COVID-19 continued to spread in the province, infecting hundreds of teachers and students. However, educational activities continue as normal.
Five out of ten districts in Nam Định now employ online teaching. Education institutions holding in-person classes are also accelerating the curriculum to ensure teaching quality, in case complicated pandemic situations arise. 
According to Deputy Minister of Education and Training Nguyễn Hữu Độ, the pandemic will remain unpredictable in the future. Provinces and cities thus must prioritise teachers', staff and students' health, and continue working to fully vaccinate these people. 
He also required localities to be flexible in teaching to complete the curriculum while maintaining education quality. 
HCM City DoET has proposed to the city People's Committee to allow in-person classes from December 10 for areas of low and average infection risk (Level 1 and 2 respectively). 
The remaining areas will continue with hybrid learning or online learning. The city has also planned for the situation where new infections are detected on campus. 
According to HCM City DoET, in areas of low and average risk, in-person classes can resume without extracurricular activities.
In order to reopen, schools must meet a set of safety criteria and be well-prepared to switch back to online learning in case of a complicated outbreak. 
High-risk areas (Level 3) will employ hybrid learning without extracurricular activities. Depending on the actual situation, the city districts and Thủ Đức City will decide on the teaching plans for each grade, with priority given to Grade 1, 2, 6, 9, 12. 
Classes will be arranged in different schedules to avoid large gatherings. Very high-risk areas (Level 4) will continue with online learning.
"Before students return to schools, the education sector will conduct pandemic prevention training for teachers and staff on December 8, and meet with the parents on December 9," said Lê Hoài Nam, Deputy Director of HCM City DoET. 
Source: VNA/VNS/VOV/VIR/SGT/SGGP/Nhan Dan

Vietnam expects APEC to remain key forum for economic cooperation, linkages