HCM City launches school milk programme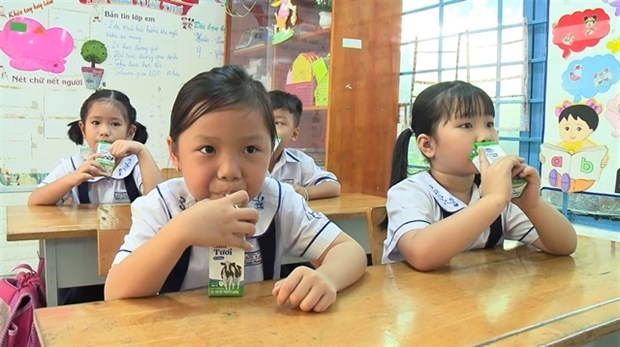 Some 300,000 children in kindergartens and primary schools in HCM City will benefit from a school milk programme launched on October 31.
More than 300,000 kindergarten and first-grade students in 10 HCM City districts will benefit from a school milk programme launched on October 31.
The programme will first be piloted in Thu Duc, Tan Phu, Binh Tan, Cu Chi, Hoc Mon, Nha Be, Can Gio, Binh Chanh districts, and Districts 9 and 12 before being expanded city-wide.
The Vietnam Dairy Products Joint Stock Company (Vinamilk) will provide the milk for the programme, which will be implemented at all public and private kindergartens and primary schools and private creches.
Each child will receive five 180ml cartons of milk per week.
The cost will be borne by the city, enterprises and the parents of the children in a ratio of 30 percent, 20 percent and 50 percent.
But disadvantaged children will get the milk for free.
Nguyen Huu Hung, Deputy Director of the municipal Department of Health, said the average height of Vietnamese is less than that of other nationalities in Asia and elsewhere.
Nutrition plays an important role in a population's height, he said, adding the programme will have an effect on children's height and also improve their physique and health.
Bui Thi Diem Thu, deputy head of the Department of Education and Training, said the programme will help improve the nutritional status of children, reducing the rate of malnutrition, and contribute to human resources development.
It aims to raise public awareness of the importance of nutrition to children's healthy growth and development, school meals and the use of milk and dairy products.
About 80 percent of schools in the designated districts with 53 percent of their student population have registered to participate in the programme.
The department and Vinamilk have organised training for doctors, health workers, teachers, and parents in those districts.
Some 60 countries in the world run school milk programmes, while 17 cities and province in Vietnam do./.
Various activities to honour culture of Vietnamese ethnic groups
A wide range of attractive activities are being held at the Vietnam National Village for Ethnic Culture and Tourism in Hanoi from November 1-30, aiming to honour the cultural quintessence of Vietnamese ethnic groups.
Themed 'Great Unity – the cultural quintessence of Vietnamese ethnic groups', activities will introduce visitors to folk songs, dances, cuisine, specialties and customs of the groups.
The highlight will be an art programme entitled 'Huyen thoai loai hoa tam giac mach' (The legend of Buckwheat Flower), with stories about the familiar flowers in the northern mountainous region. The programme will also feature songs praising the solidarity among the ethnic groups around the country.
Mong, Dao, Tay and Nung ethnic minority people will gather at an area to show unique cultural and culinary activities, including performances of Then singing and Tinh gourd lute by Tay and Nung ethnic groups, bell dance of Dao people and khen (pan-pipe) dance by Mong people. Visitors will also have the chance to join folk games.
In addition, Thai and Kho Mu ethnic minority groups will together reproduce their typical songs, dances as well as introduce traditional food that are cooked meticulously.
Notably, all ethnic groups at the Village will give performances with traditional musical instruments, folk games and handicrafts to connect with visitors./.
Company fined for producing fake cosmetics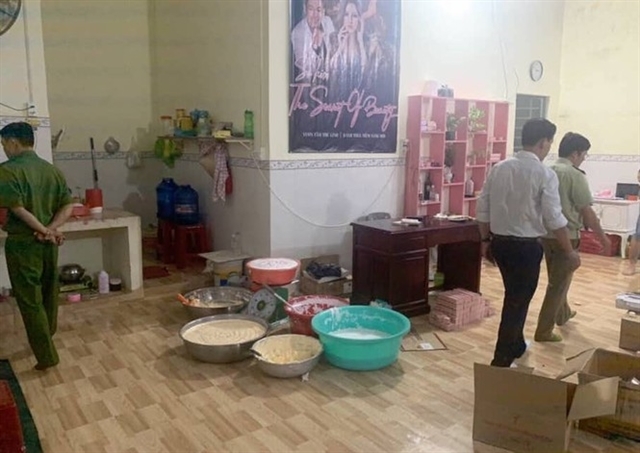 Basins containing substances for cosmetics production at Tóc Tiên Real Estate Commerce and Service Co,Ltd in Cần Thơ City. — Photo tienphong.vn
The Market Watch Department of Mekong Delta Cần Thơ City has fined a local company VNĐ62 million (US$2,680) for producing fake cosmetics.
Tens of thousands of fake products have been seized.
Nguyễn Ngọc Hiền, deputy head of the department, said Nguyễn Thị Cẩm Tiên, director of Tóc Tiên Real Estate Commerce and Service Co,Ltd, has been fined for producing more than 85,660 boxes of cosmetics with unclear origin.
On October 15, the department's inspectors raided the company in Ninh Kiều District's An Bình Ward.
The company was found to lack certificates for cosmetics production or the certificate of goods with origin.
More than 85,662 boxes of unlabelled cosmetics were seized. More than 250 tubes of Velvet Whitening and 65 boxes of Baby Powder Allatoin without clear origin were also seized.
The whole batch of cosmetics, worth over VNĐ1.2 billion (nearly $52,000), would be destroyed.
New power line opened in Kon Tum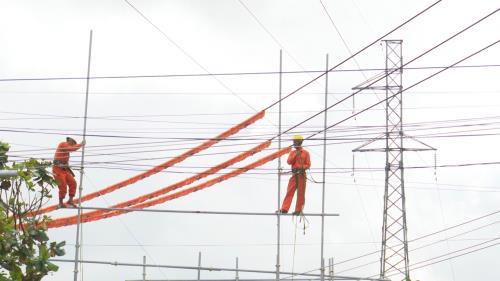 The Đăk Hà- Đăk Tô power line supplies electricity to more than 47,000 people in Kon Tum Province. — Illustrative photo bnews.vn
A 110kV power line in the Central Highlands province of Kon Tum was integrated into the electricity grid system on Wednesday, bringing a stable source of power to more than 47,000 people.
The 38km Đăk Hà- Đăk Tô power line had total investment of VNĐ94 billion (US$4 million) from the Central Power Corporation.
It supplies electricity to five districts of Đăk Hà, Đăk Tô, Ngọc Hồi, Đăk Glei and Tu Mơ Rông.
Once it is put into operation, it will reduce pressure on hydropower electricity in the area.
The line was constructed in a month from October 4 to 29.
The new power line is expected to supply power to 643 electricity substations in Kon Tum Province.
Hà Nội jails seven in bank fraud case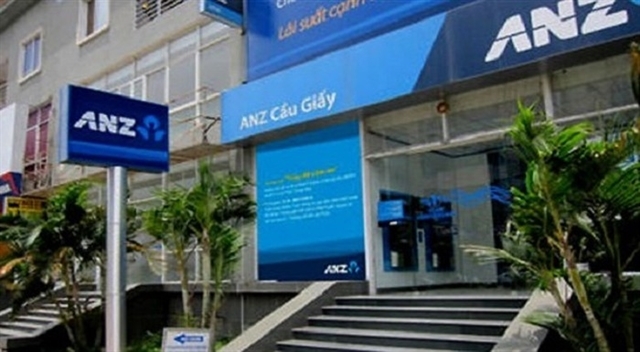 A branch of ANZ bank in Hà Nội's Cầu Giấy District. Seven people involved in bank loan fraud were sentenced to prison by a court in Hà Nội on Thursday. — Photo motthegioi.vn
Seven people involved in a bank loan fraud were sentenced to prison by a court in Hà Nội on Thursday.
Bùi Kiên Dũng, former director of Minh Phương Joint Stock Company, was sentenced to 18 years in prison.
Others accused were sentenced to 13-17 years in prison, including An Thị Hương Giang, former director of Quyết Chiến Ltd,. Co; Vũ Văn Diện, former director of Toàn Diện agricultural product processing and trade Ltd,.Co; Lê Quốc Huy, former chairman of member council and Vũ Quang, former director of Sông Đà Đông Đô-Đồng Nai Ltd,.Co; and Trần Nam Phương, former director of Nhật Phương Company.
They were all sentenced for the same charge of fraudulent appropriation of assets.
The accused Nguyễn Thị Nguyên, former director of Á Châu Pharmaceutical Trading Joint Stock Company, was given a 36-month suspended sentence for forging seals and documents.
In 2014, ANZ and HSBC bank denounced 13 businesses that showed signs of fraud.
According to the indictment, from 2010 to the end of 2013, the defendants used legal entities of many companies to forge loan and disbursement records at ANZ and HSBC banks.
The total money the accused owed the two banks was over VNĐ380 billion (US$16.5 million).
At the hearing, the defendants claimed the appropriated money was used for personal spending and debt repayment.
Manpower training needs to be in lockstep with technology advancement: experts
More focus on workforce training is needed amid the fourth industrial revolution, a conference hears in HCM City on October 30.
Training the workforce and helping reskill low-skilled workers are important tasks in preparing for the rapid technological development during the Fourth Industrial Revolution, experts have said.
Trần Lê Thanh Trúc, director of the Centre for Forecasting Manpower Needs and Labour Market Information HCM City, told a conference in HCM City on Wednesday that the industrial revolution could bring about more job opportunities from new business models in a digital era, and only low-skill, repetitive jobs would be displaced.
Work efficiency would also be higher in manufacturing industries due to new technologies, which could help increase workers' earnings, she said.
A more skilled, high-quality workforce would be required due to changes in how production is carried out with the aid of technologies, and more and more of the city's workforce are being trained and educated, she said.
But she admitted that adopting modern, automated technologies and artificial intelligence, and subsequently switching from cheap, low-skilled labour to skilled labour could negatively impact the traditional labour market.
Many workers in the city still lack skills and there is a serious lack of high-skilled ones, so the workforce as a whole might not yet be ready for rapid changes in technology.
Several areas are expected to develop quickly in future and attract a large proportion of the workforce, including automation and technologies such as 3D printing, robotics and food production.
Graphic, fashion and architecture design will also see more interest in addition to business management, marketing and finance, and services such as tourism and logistics.
Newer, more specialised and practical job opportunities will also increase as a result of newer trends and demands such as game development, web security, risk management, information system management, and medical research.
Trần Phúc Hồng, deputy general director of TMA Solutions, a software outsourcing company, said Việt Nam has an opportunity to be ranked relatively highly on the global hi-tech scene.
Việt Nam has a young population and a large number of engineers, and young people have a passion for technology and learn quickly, and many have studied abroad, he said.
Experts at the conference called for more education programmes in IT and science, focusing on areas such as web security, big data analysis, AI and blockchain.
The programmes should be more practical, focus on English and embrace digital technology, they said.
The Government should provide financial assistance to help build training programmes for businesses and workers, they added.
Trúc said training facilities ought to prioritise industries that support the Fourth Industrial Revolution and train unskilled workers likely to be affected by technological advances.
Businesses also need to focus on long-term investment in workforce training while the forecasting of labour demand and market information should be perfected, she added.
The conference was organised by the HCM City Institute for Development Studies and the city Department of Labours, War Invalids and Social Affairs.
Tech solutions needed to improve property management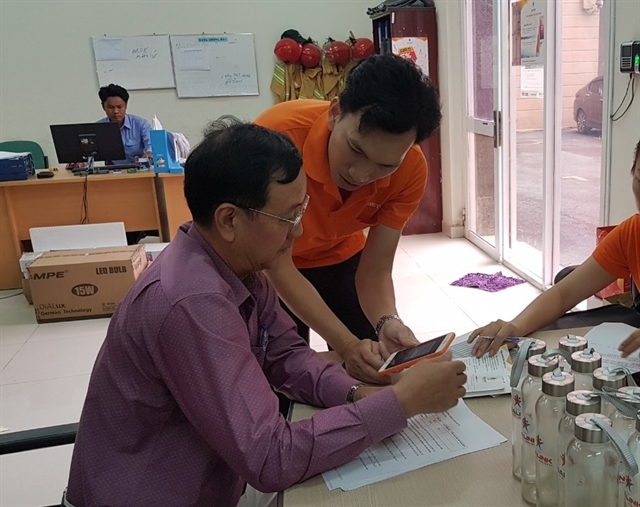 Staff from Saigon Vista Corporation uses technological solutions to provide effective management services at a building in HCM City. — Photo courtesy of the corporation
Conflicts between residents living in apartment buildings and management companies have become increasingly common because of ineffective and poor management.
Speaking at a forum held on October 30 in HCM City, architect Lê Anh Đức said that many management companies of apartment buildings where he has lived "had to change because of their (poor) quality".
Đức said that residents want to be aware of the fee collections and expenditures of their building's management company and what the company will do to ensure technical safety, including regular checks of electricity and water systems.
"When residents see that management is effective and they are kept updated of the company's financial report, conflicts between them will not occur," he added.
Nguyễn Tiến Dũng, CEO of Saigon Vista Corporation, said: "The conflict occurs because management companies have failed to meet residents' expectations about service quality that the companies pledged to maintain."
The behaviour and attitude of management company staff also cause conflicts, Dũng said, adding that staff have been trained to obtain certain standards in service.
Companies should use technological solutions such as apps and software to avoid conflicts, he added.
Additional values
Independent consultant Sử Ngọc Khương, a counselor for Shark Tank Việt Nam TV show which helps start-ups with training and mentorships, and former director of the national investment team at Savills Vietnam, said: "Good management services help raise additional values for buildings. Apartment buyers or investors do not want to buy when they know that the quality of management is not good."
Many people will choose to sell their apartments and move elsewhere if management services are poor, he added.
Dũng agreed, saying that apartment buyers want to eventually sell at a higher price than they originally paid. The price depends on the building's quality, he said, adding that buildings often degrade with time. To avoid rapid decline, management companies must regularly maintain and repair problems.
Technological solutions can assist management, such as warnings about problems that need to be addressed quickly.
Khương said that many real estate management companies in other countries use tech solutions such as the Internet of Things to connect with apartments or offices in smart homes or buildings.
However, in Việt Nam, many apartments and offices are not smart homes, so management companies cannot use these technologies, he added.
Lê Hoàng Châu, chairman of the HCM City Real Estate Association, noted that domestic real estate management companies have advantages that foreign companies lack, and should focus on these advantages and the two main goals of ensuring safety and a good living space for residents.
Vietnam commits to environmentally sustainable transport
Traffic congestion is one of major challenges that Asian cities, including Hanoi, have to cope with given the constraints of current infrastructure and city development.
The Ministry of Transport will continue activities to enhance environmentally sustainable transport in Vietnam, said Deputy Minister of Transport Le Anh Tuan.
Tuan was speaking at the 12th Intergovernmental Regional Environmentally Sustainable Transport (EST) Forum in Asia recently held in Hanoi.
"The ministry will be proactive in working with other countries in the region and the world to exchange experience, improve capacity and technology transfer on the deployment of smart transport systems and low carbon emissions in cities, fulfilling the contents set by the Hanoi Declaration," he said.
Representatives of 15 Asian cities signed a Hanoi Addendum to the Kyoto Declaration to promote environmentally sustainable transport towards the realisation of smart cities.
A Hanoi Declaration on the realisation of smart cities in Asia through sustainable transport was also adopted at the forum.
"It showed the common concern of Asian countries and the community in promoting sustainable transportation and reducing emissions, contributing to the implementation of sustainable development goals of UN 2030 Agenda," he said.
The deputy minister suggested the participants continue working to promote cooperation, technology transfer and mobilise resources to realise the Hanoi Declaration.
UN Centre for Regional Development (UNCRD) would collaborate with countries and international organisations to explore potential sources and co-operation in capacity-building activities to push up the development of urban spaces in Asia in a comprehensive and sustainable manner as well as meet the needs of all people.
Earlier, at a discussion on 'The role of EST with the development of smart, sustainable and adaptable city', Tuan emphasised the relationship between the development of intelligent transport systems, low carbon emissions and the realisation of smart cities, as well as the role of sustainable transport in reducing greenhouse gas emissions and achieving sustainable development goals.
"Good experiences from other countries and new initiatives about smart transport, low carbon technology in transportation were exchanged at the forum to enable countries to study and apply to achieve comprehensive and sustainable urban development," he said.
Other participants at the forum shared experience, research results and their views on the role of EST and smart cities, as well as the role of intelligent transport system in the realisation of smart cities.
The 13th Intergovernmental Regional Environmentally Sustainable Transport (EST) Forum will be held in Bangkok, Thailand next year.
Established by the UN in 2005, the forum is an important part of the Environmentally Sustainable Transport (EST) initiative. The annual event aims to boost Asian countries' awareness of environmental protection in the transport sector, as well as build safer, more beautiful and sustainable urban areas and communities.
It has 25 member countries including Afghanistan, Bangladesh, Bhutan, Brunei, Cambodia, China, Indonesia, Japan, the Republic of Korea, Laos, Malaysia, Maldives, Mongolia, Myanmar, Nepal, the Philippines, Thailand, Russia and Vietnam./.
Regional workshop discusses reducing mercury emissions from coal combustion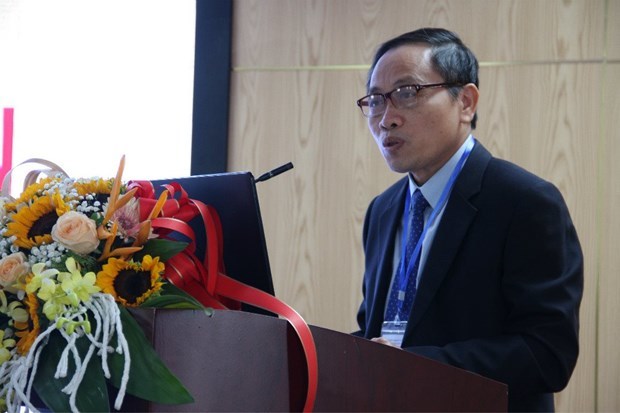 Deputy Rector of the Hanoi University of Natural Resources and Environment Pham Quy Nhan speaks at the workshop in Hanoi on October 31 (Photo: baotainguyenmoitruong.vn)
The Hanoi University of Natural Resources and Environment (HUNRE) hosted an Asia-Pacific regional workshop on the reduction of mercury emission from coal combustion on October 31.
The event provided a forum for scientists, experts and managers from the region to share research outcomes, management experiences and ideas regarding the control of pollutant emissions from the use of coal.
Deputy Rector of the HUNRE Pham Quy Nhan said the event is part of the technical assistance and capacity building programme for countries participating in the Minamata Convention.
The UN Environment Programme has warned that mercury pollution is becoming a global problem. The rapid economic growth in Asia has stimulated the expansion of industries using mercury during production, turning the continent into the biggest source of mercury emissions, accounting for nearly 50 percent of the harmful waste in the world. Coal combustion is one of the main sources of mercury emission, therefore it is urgent to seek specific solutions to this problem.
Participants focused their discussion on the best available technical solutions and best environmental experiences in the field, emission accounting, access to available policy tools and ideas for national-level projects./.
Vietnam wins "World's Best Golf Destination" for first time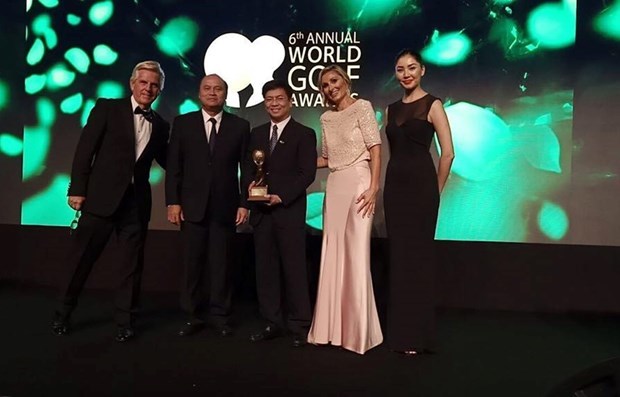 A representative of the Vietnam National Administration of Tourism (centre) receives the awards at the ceremony in Abu Dhabi, the UAE, on October 29
Vietnam won the "World's Best Golf Destination 2019" and "Asia's Best Golf Destination 2019" awards at the World Golf Awards (WGA) in the United Arab Emirates (UAE) on October 29.
This was the first time Vietnam has secured the "World's Best Golf Destination" award but the third time in a row the country has gained the "Asia's Best Golf Destination" award.
The WGA has been held annually since 2014 and evaluated as the most prestigious award in the golf tourism industry.
Voting for the awards lasted from February 21 to September 15 this year. Votes were cast by professionals working within the industry, travel operators as well as golfers across the world.
Vietnam has also been nominated besides two other countries, China and Thailand, for the "Best Golf Destination in Asia-Pacific" award, which will be announced in India on November 6.
According to the Vietnam Professional Golf Association, there were over 70,000 people playing the game as a leisure sport in 2018, up from 10,000 in 2009.
Vietnam has more than 30 golf courses of regional and international standards and 60 others are to be built by 2020./.
Fifth Ben Tre coconut festival to open in November
The fifth coconut festival will be held in the Mekong Delta province of Ben Tre from November 16 – 20, heard a press conference on October 31.
Speaking at the press briefing, Deputy Director of the provincial Department of Culture, Sports and Tourism Tran Thi Kieu Ton said the highlight of the festival is community-based activities such as food display, folk and children song performances in coconut orchards.
Within the framework of the festival, the culture – arts – tourism week will also be held to honour coconut trees, products and processors.
In particular, an exhibition of coconut products and a trade fair are expected to draw about 400 stalls along with competitions to choose outstanding handicraft products made from coconut, businesspeople and coconut farmers in the province.
Vice Chairman of the provincial People's Committee Nguyen Van Duc said the organising board will also hold tours of Ben Tre's rivers, ecological tourism sites and coconut orchards.
In addition, a "ba ba" shirt festival will also be organised for the first time to honour traditional costume of women in the south.
The walking street on Dong Khoi boulevard and coconut space at Cai Coi park will introduce Ben Tre coconut culture to visitors.
Duc said the festival will encourage farmers to use modern technology in coconut cultivation, afford Ben Tre a chance to boost trade, investment and tourism.
On the occasion, the Mekong Innovation Hub will debut while seminars on improving value chain of coconut trees in adaptation with climate change, tourism development based on linkages with Mekong Delta cities and provinces./.
Hanoi named among the world's most 50 beautiful cities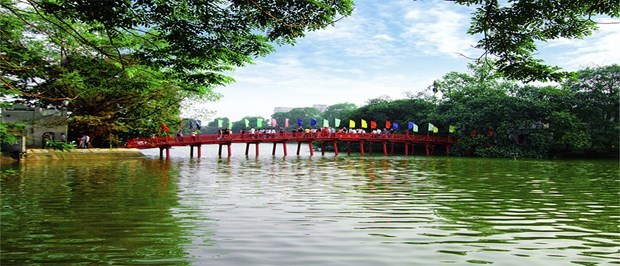 Hoan Kiem Lake
The capital city of Hanoi has been named among the world's most 50 beautiful cities by Flight Network, one of the leading online tourism companies in Canada.
The ranking is based on a survey of over 1,000 travel companies, writers and tourism bloggers.
Sitting at the 37th place in the list, Hanoi is a delightful blend of French and Vietnamese architecture, delicious restaurants and intriguing Old Quarter.
Hanoi, though changing fast, is one of the few really beautiful cities in Southeast Asia.
Topping the list is Paris of France. Apart from Hanoi in Southeast Asia, Bangkok of Thailand and Singapore are also named in the list./.
Hanoi, Vietnam Airlines sign cooperation agreement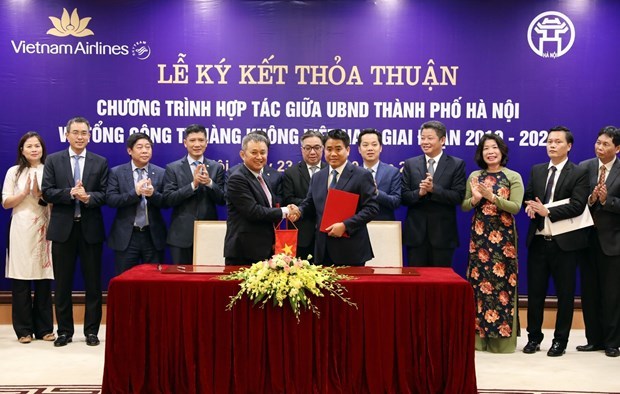 The Hanoi People's Committee and Vietnam Airlines ink the cooperation deal to promote the capital city both nationally and globally
The capital city of Hanoi has teamed up with the Vietnam Airlines Corporation (Vietnam Airlines) for a promotion campaign both nationally and globally.
Under the agreement, the two sides will use their websites, in-flight entertainment screens, LED screens in Hanoi, publications, Vietnam Airlines branches worldwide and domestic and foreign events to promote each other.
They will also take part in tourism events at home and abroad, especially in markets where Vietnam Airlines has launched direct flights.
Joint efforts will be made to welcome farm and press delegations to Hanoi and other Vietnamese localities.
At the same time, tour packages to Hanoi and tourism promotions will be launched under the agreement to attract more domestic and foreign visitors to the city.
Hanoi and Vietnam Airlines will also coordinate to hold national and international cultural and sporting events, particularly the Formula 1 Vietnam Grand Prix in April 2020, the 31st Southeast Asian Games (SEA Games 31) and the 11th ASEAN Para Games (Para Games 11) in 2021.
The Formula 1 Vietnam Grand Prix will appear on Vietnam Airlines' in-flight entertainment screens from April 3-5.
The municipal People's Committee has also allowed Vietnam Airlines to use the area around Ly Thai To Square to hold events introducing products and services.
The two sides have assigned the municipal Tourism Department to coordinate with the municipal Department of Planning and Investment, the Hanoi Promotion Agency, Vietnam Airlines's sales and marketing department and relevant agencies to realize the cooperation deal.
Meanwhile, the municipal Department of Culture and Sports will partner Vietnam Airlines' communications and branding department and relevant agencies.
In 2017, Hanoi and Vietnam Airlines also signed another cooperation agreement for the 2017-2021 period, which has contributed to promoting the capital city's image and the corporation's brand.
According to the municipal Department of Tourism, the number of foreign visitors to Hanoi increased by approximately 19 percent between 2015 and 2018. They came from over 190 countries and territories.
In 2018, Hanoi welcomed 26.31 million visitors, a year-on-year increase of 10.4 percent. International arrivals reached over 6 million, up 21.3 percent, the department said.
In the first nine months of 2019, Hanoi served more than 21.5 million vacationers, up 9.5 percent against the same period last year, including over 4.7 million foreigners, up over 10 percent.
Tourists from Asian countries account for 60 percent of the international visitors who arrive in Hanoi, followed by Europe at nearly 24 percent, America at 9 percent, Australia at 5.5 percent and Africa at 0.5 percent.
In recent years, Hanoi has been hailed as one of the most attractive destinations in the region and the world by prestigious international organizations, including "Asia's Leading Destination" and the "World's Leading Destination" in 2018.
In 2019, Hanoi won the Travelers' Choice Awards and was ranked among the 25 leading destinations in Asia, and the 25 leading places in the world on TripAdvisor.
CNN listed Hanoi along with Phu Quoc Island in the Mekong Delta province of Kien Giang as the best travel destinations in Asia in 2019.
Many highlights of Hanoi were recently listed in a CNN article suggesting 13 memorable experiences for foreign visitors in Vietnam, such as "search for the best pho in Hanoi", "make vermicelli noodles in Cu Da village", and "ride the Reunification Express (officially known as the North-South Railway)".
Most recently, Hanoi has been ranked fifth among the seven best places in Asia for solo travellers by Bigseventravel.
The Italian tourism website described Hanoi as a hectic, crazy and often confusing city, and a wonderful base from which to explore the north of Vietnam, including the world natural heritage site of Ha Long Bay in the northeastern province of Quang Ninh and the popular resort town of Sa Pa in the northern mountainous province of Lao Cai.
According to Mastercard's Asia Pacific Destinations Index, Hanoi ranked 15th among the 20 leading destinations in the region./.
Party's External Relations Commission marks 70th traditional day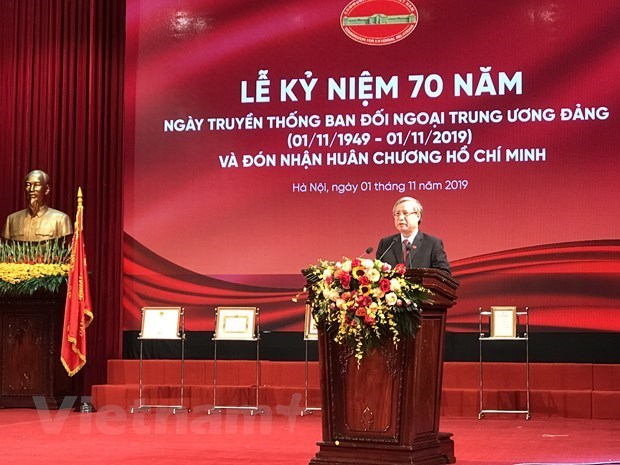 Politburo member and Permanent member of the Party Central Committee's Secretariat Tran Quoc Vuong speaks at the event
The Party Central Committee's Commission for External Relations celebrated its 70th traditional day (November 1) and received the Ho Chi Minh order at a ceremony in Hanoi on November 1.
On behalf of the Party and State leaders, Politburo member and Permanent pember of the Party Central Committee's Secretariat Tran Quoc Vuong presented the Order, the second highest decoration of the State, to the commission.
The commission was also honoured with the first-class Labour Order of the State of Laos presented by head of the External Relations Commission of the Lao People's Revolutionary Party Central Committee Soonthorn Xayachack, and the first-class Friendship Order of the State of Cambodia presented by Permanent member of the Standing Board of the Cambodian People's Party Central Committee Tep Ngorn.
Addressing the event, Vuong hailed the enormous and continuous contributions by the Commission over the last 70 years.
He stressed that Vietnam is entering a new stage of reforms. Aside from considerable opportunities, it also has to face major difficulties and challenges due to uncertainties and unpredictable changes in the global and regional situations which are posing big challenges in terms of political order, security, economy, law and trade that may strongly affect the country's security and development environment.
Therefore, the diplomatic work in general and the Party's external affairs in particular are facing increasingly heavy tasks, he noted.
Vuong asked the Commission to improve the researching, forecasting and proposing of strategies for external relations, adding that amidst the fast-changing world, it is necessary to have precise assessments and forecasts of major trends and new features of the world, the region, superpowers and neighbouring countries, particularly issues affecting Vietnam's security and development environment, to give timely proposals to help the Politburo and the Party Central Committee's Secretariat make effective policies and responses.
The commission needs to expand and intensify the Party's foreign relations in a suitable roadmap, enhance the Party's ties with the ruling parties of neighbouring countries and nations with traditional friendship with Vietnam, while strengthening substantive connections with the communist and workers' parties that play major roles in other countries and international communist and workers' movements.
It should also participate more actively in multilateral forums of political parties, thus helping the international community better understand the Party and the reforms and development of Vietnam, he added.
At the ceremony, head of the commission Hoang Binh Quan said the Party has set up relations with 247 political parties in 111 countries, including 65 ruling parties. Its prestige and stature at many multilateral forums of political parties in the region and the world have also been increasingly affirmed.
The Party's active performance has greatly helped promote the solidarity and unanimity of communist and workers' forces, thereby contributing to the fight for peace, independence, progress and socialism around the globe, the official noted./.