Cam Ranh Airport to operate second runway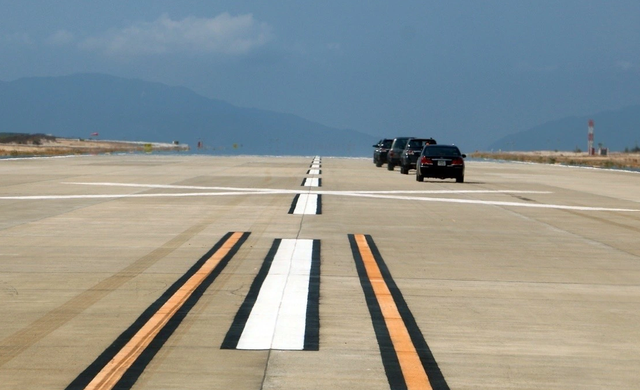 The VND1.9trn (USD82m) runway will be opened at Cam Ranh Airport, Khanh Hoa Province, on October 10.
The news was announced during a meeting between the Ministry of Transport and Khanh Hoa Province People's Committee on October 2. The investment for the first phase of the project is VND1.5trn (USD65m) and VND400bn for the second phase. 50% of the investment will come from the state budget and 50% from the provincial budget.
The runway will be 3,048 metres long, 45 metres wide and meets requirements for big aircraft such as the A320, A321, and B737. Most of the first phase has been completed and approved by the Transport Engineering Construction and Quality Management Bureau.
The Ministry of Transport will receive and manage the completed construction. The runway will be operated by the Airports Corporation of Vietnam. Deputy Minister of Transport Le Anh Tuan said it was necessary to open the second runway to ensure aviation safety.
Airports Corporation of Vietnam must work with the provincial authorities to maintain the construction.
Drug smugglers could face death penalty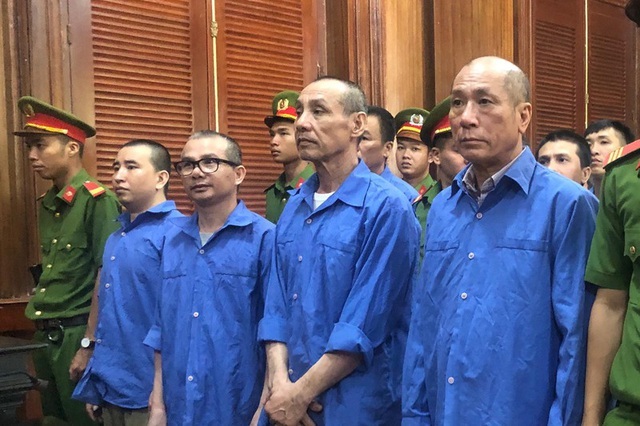 Phan Hữu Hiệu ( wearing glasses) and defendants at the trial on Wednesday.Photo dantri.com.vn
Six people who smuggled millions of dollars' worth of heroin and methamphetamine from Laos to Việt Nam could face the death penalty.
HCM City's People's Procuracy has suggested the court hands down the maximum sentence possible to the defendants.
Phan Hữu Hiệu, 49, from the central province of Nghệ An, and five others all admitted the smuggling charges.
From early June to July 11, 2018, Hiệu and his accomplices trafficked and sold 132kg of heroin and 55kg of methamphetamine in the central city of Đà Nẵng and HCM City, dantri.com.vn reported.
At the time, it was seen as one of the largest drug busts in the region.
After his arrest, Hiệu told police he refused an offer to smuggle the drugs into Việt Nam, but had no choice when he ran up gambling debts.
Hiệu was the ringleader of the gang and the five others acted as accomplices, who helped him in transporting and trafficking the drugs.
Nguyễn Thành Nam, 38, from Nghệ An Province, Bùi Đình Trung, 50, also from Nghệ An Province. Lý Thơ Phước, 52, from HCM City, Phan Thạch Dinh, 65, from Quảng Trị and 62-year-old Trền Đức Trầm from Nghệ An Province all conspired with Hiệu to import the drugs.
Officials have asked the court to sentence all six of them to death.
Recommendations of life imprisonment and a sentence of 20 years behind bars have been made in the cases of three other members of the gang.
According to the indictment of the HCM City People's Court, Hiệu got acquainted with a Lao man called Siva Tony when he was at a casino in Vientiane, Laos, in April, 2017.
In August, 2017, Siva Tony offered Hiệu the chance to join in a drug transport ring from Laos to Việt Nam, but Hiệu refused.
In April 1, 2018, Hiệu came to the casino to gamble, but he lost a large amount of money, so he had to borrow US$250,000 from Tony.
In order to repay the debt, Tony again asked Hiệu to join his drug trafficking line from Laos to Việt Nam.
In Việt Nam, those convicted of possessing or smuggling more than 600g of heroin or cocaine or more than 2.5kg of meth face the death penalty.
Petroland chairman detained over power abuse allegations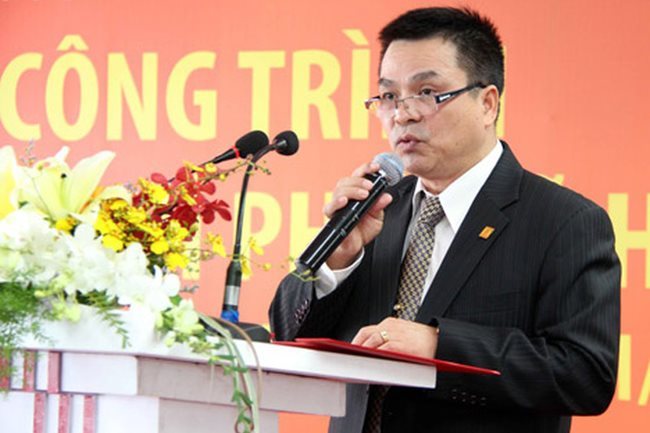 Bui Minh Chinh, chairman of Petrocapital and Infrastructure Investment JSC – PHOTO: PETROLAND
Bui Minh Chinh, chairman of Petrocapital and Infrastructure Investment JSC, or Petroland, has been detained for his alleged abuse of power which led to losses worth VND100 billion (US$4.3 million) for the company.
The Ministry of Public Security said in a statement on Wednesday that its investigators had pressed charges against Petroland late last month.
As a result, investigators on Tuesday detained the 58-year-old Chinh and searched his house for additional evidence.
A preliminary investigation found that while serving as general director of Petroland, between 2012 and 2018, Chinh had approved payments on many contracts related to real estate brokerage and housing consultancy services and had signed contracts on the sale of Petroland's properties, in contravention of the law.
The 33-story Petroland Tower, which is located in Phu My Hung New Urban Area in District 7, where Petroland incurred hefty losses – PHOTO: DAU TU NEWSPAPER
Investigators alleged that Chinh's crimes were related to the business and financial performance of the 33-story Petroland Tower in Phu My Hung New Urban Area in District 7.
The building, which requires total investment of more than VND1 trillion, has a total floor space of some 57,000 square meters to house commercial and office spaces, and high-end apartments.
Chinh was found to have signed dozens of sale and lease contracts for the building. Terms in these contracts put Petroland at a severe disadvantage, leading to losses.
For example, many contracts are valid from 2012 to 2058, and the partners are allowed to use the building for their business activities without paying office space leasing costs. They only have to pay the monthly electricity and water bills.
Chinh was also accused of having colluded with another senior Petroland official. They had allegedly used a front firm for real estate brokerage and housing consultancy services, offering commissions of 10%-12% of the contract value.
Meanwhile, Petroland had set up a real estate floor to offer advice on the transfer and lease of properties. However, these tasks were then assigned to the front firm.
Founded in 2007, Petroland was formed from a management board of construction projects in southern Vietnam, under the Vietnam Oil and Gas Group, or PetroVietnam. Petroland has charter capital of VND1 trillion and is headquartered in Tan Phu Ward of District 7, HCMC.
Petroland has two major State-run shareholders, PetroVietnam Construction Corporation and PetroVietnam Oil Corporation, which hold respective stakes of 36.01% and 9%.
Chinh joined Petroland from the early days of its establishment. He was appointed general director of the company in May 2009 and was assigned an additional post as chairman in June 2017. He relinquished his position as general director in August 2018.
Under his leadership, Petroland has suffered hefty losses.
Judge, lecturer in HCMC detained for trespassing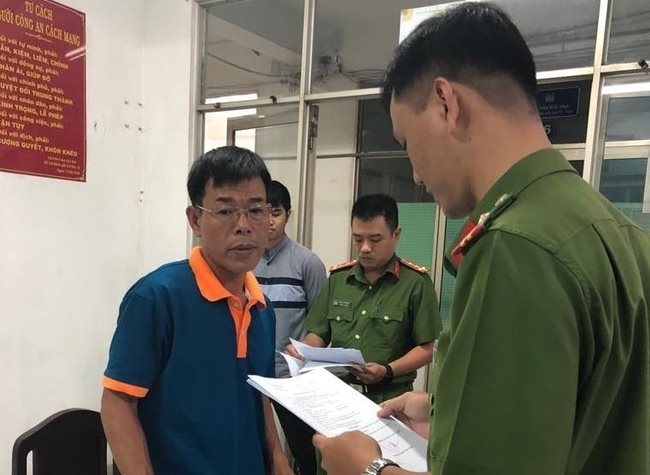 A police officer reads out a decision to detain Nguyen Hai Nam, deputy presiding judge of the People's Court of District 4, HCMC for his alleged trespass, on October 1

Police in HCMC on Tuesday detained a senior judge and a prosecution lecturer for allegedly trespassing on a five-storey private home in District 1 last month.
The District 1 police launched legal proceedings against Nguyen Hai Nam, 45, deputy presiding judge of the People's Court of District 4, and Lam Hoang Tung, 28, lecturer of the HCMC Procurator Professional Training School, based on the 2015 Penal Code.
Video footage aired by the local media showed that Nam played a key role in the September 19 incident in which his associates, including Tung and Nguyen Thi Hanh, head of the District 1 process servers' office, attempted to kidnap three young children, including a three-month-old infant, from the domestic helper of the absent mother of the children residing in that home.
Still images taken from the video showed Hai, Tung and Hanh each carrying a child.
Thanks to the strong and resolute intervention of the domestic helper and neighbors, the children were recovered safely, but the house was still illegally occupied by several people, allegedly connected with the trio, until they were evicted by police on September 28.
When the incident occurred, as the result of a possible home transaction dispute, the homeowner and mother of the three children, Hoang Thi Thu Thao, was away from home.
When Thao returned, she immediately sought help and protection from law enforcement agencies and media organizations.
She later lodged a letter of complaint with the District 1 police, which then pressed criminal charges based on the unlawful entry into the private property on September 27.
Housing dispute
According to the case file, Thao entered into a contract in October 2017 with Hoang Trong Anh Chi to purchase the building at 29 Nguyen Binh Khiem Street in District 1, which was under construction at the time, at a price of VND25 billion (over US$1 million).
Before signing the agreement, Chi put up the apartment and its landed assets as collateral to take out loans at a local bank. At the time, only the first floor of the building had been completed.
Thao initially put down a deposit of VND1 billion on the house and transferred six other installments, totaling VND6 billion, to Chi's bank account a month later.
Having received deposits worth 20% of the contract's value, Chi handed over the building to Thao to continue the construction work. Thao spent an additional VND8 billion on construction costs.
In September 2018, Thao hired a construction firm to repair the building. In March this year, Thao and her family moved into an apartment in the building, where they planned to live and run their own business.
Under their agreement, if Chi were to liquidate her loan contract with the bank and conduct the construction completion procedure, she would then be able to transfer the building's ownership rights to Thao.
The procedure acts as a prerequisite for the authorities to issue a certificate of home ownership rights. However, as the building had not been constructed as licensed, it was not eligible for the completion of the procedure.
Therefore, the transfer of the home ownership rights could not be done, leading to the dispute between the involved parties. As the two sides could not meet costs for the liquidation of the contract, Thao filed a lawsuit with the People's Court of District 1.
Accusation denial
When the local media broke the news of the September 19 incident, Nam and Tung denied the accusations of trespassing and child kidnapping.
According to the Dan Tri news website, Tung told the District 1 police, while in custody, that he was a co-owner of the building with Chi.
He claimed that since 2015, he had contributed his own money to purchase the building. It was not until January this year that Chi authorized him to conduct legal procedures related to the property.
He claimed that he had sent many notices to the homebuyer Thao, but these had gone unanswered. Therefore, he had hired the District 1 process servers' office and a security guard services firm to create a certified written minute regarding the home's occupation.
The move was intended to correct construction violations, making the construction completion procedure applicable, he said.
Photographers can run away with a top prize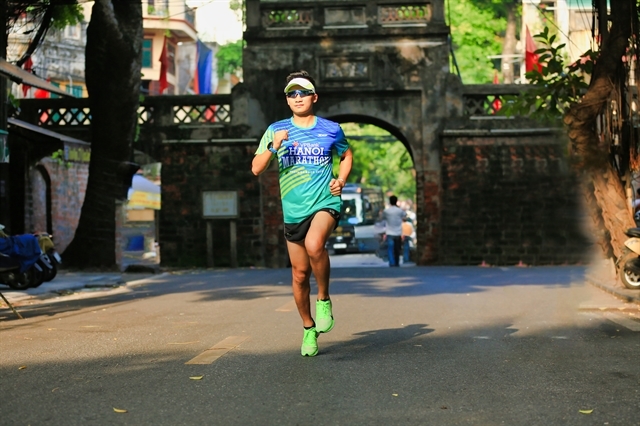 An athlete running through Ô Quan Chưởng, one of Hà Nội's heritage sites.
A photograpy competition combining sports with Hà Nội's landmark locations has been launched.
The VPBank Hanoi Marathon-Run&Share contest was launched yesterday ahead of the capital city's marathon later this month.
The idea is for photographers to take pictures of athletes running near Hà Nội's heritage sites such as Hoàn Kiếm Lake, Long Biên Bridge and the Văn Miếu-Quốc Tử Giám (Temple of Literature-First National University).
Winning images will take a share of the VNĐ100 million (US$ 4,300) prize fund.
Competition organiser Trần Tuấn Việt said: "The marathon is not just about crossing the finishing line but also about spreading Hà Nội's beautiful historical and cultural values to the community."
VPBank has also pledged to pay VNĐ5,000 to the Bring a Pupil to School programme for every kilometre covered during the race, and for each photograph submitted to the competition.
For more information about the competition click here and picture entries can be sent to vpbankhanoimarathon@gmail.com.
The VPBank Hanoi Marathon 2019 takes place on October 20.
Five seized for making fake temporary residence books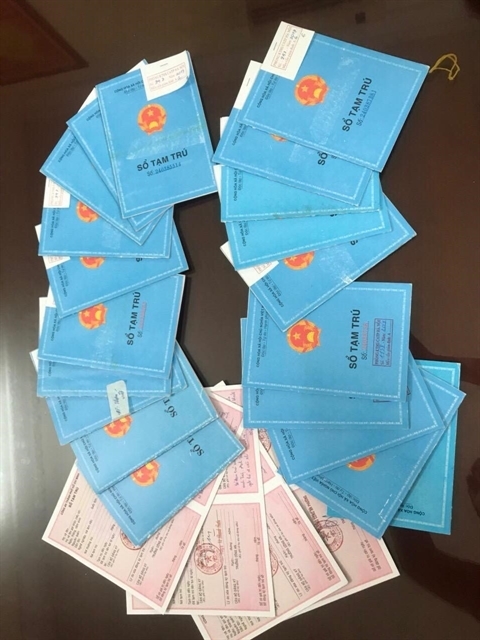 Evidence seized by the police.
Five people are being prosecuted for allegedly faking official State documents.
Hà Nội Police on Tuesday said they had arrested Tống Nguyên Tuệ, 29, Ngô Bảo Trân, 25, Vương Xuân Mạnh, 33, Nguyễn Thị Thơm – Mạnh's wife, and Nguyễn Quang Tín, 27.
In December last year, the Korean Government had a new visa policy for people living in Hà Nội, Đà Nẵng and HCM City. Under the policy, people living in those cities can apply for visa to enter Korea for many times in five years.
It is alleged those arrested were faking documents to make people who didn't live in those cities look like they were so they could apply for Korean visas.
Police say the counterfeit documents were being sold for VNĐ4-5 million (US$170-220) per book.
During a police raid, 22 temporary residence books were recovered and 13 of them discovered to be fake.
Investigations are continuing.
International forum discusses on reforming higher education models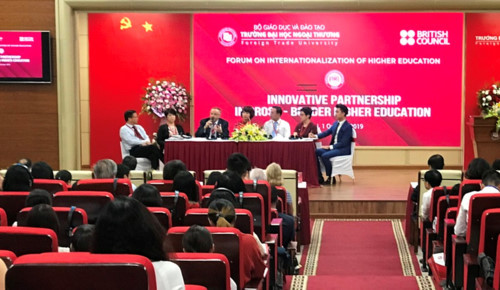 Education experts exchange ideas to reform higher education models at the forum in Hà Nội on Monday. — Photo courtesy of FTU
Education experts discussed reform measures on Monday at the forum on Internationalisation in Higher Education 2019 (FIHE) in Hà Nội.
The one-day event, entitled "Innovative partnership in cross-border higher education", is organised by the Foreign Trade University (FTU) in collaboration with the Ministry of Education and Training and the Bristish Council in Việt Nam.
"As we know, the higher education worldwide is currently witnessing substantial changes from the labor market, learners' demand and information technology," said FTU Rector Bùi Anh Tuấn.
"In that context, universities seek for innovative and effective cooperation models to help them achieve the big goal and spread their education philosophy.
"Knowledge sharing and the exchange of valuable experiences are critically important. FIHE, an initiative of FTU, is established to create an environment for universities to accomplish this mission."
Tuấn said the forum has successfully created a flexible and innovative hub of empowerment for education transformation which is not just limited to the higher education level, university level or national boundaríe.
He added: "In order to raise the new generation of global students who are cooperative, agile to changes with a high sense of responsibility and positive impacts on the society, it is a high time for universities in Việt Nam as well as universities worldwide to join our hands to connect, collaborate, co-create new models to serve the community and above all, to ensure that we can truly build and spread the culture of innovation in a sustainable way."
This year's forum attracted 300 people from 32 international universities and international organitations, 47 local universities and organisations and representatives of 12 embassies in Việt Nam.
At the annual forum, participants shared experiences and facilitated the innovation of international cooperation models between higher education institutions, organisations and enterprises in efforts to enhance operation efficiency and management capacity and also foster the influence of non-traditional universities and higher education service providers.
They also focused discussions on opportunities and challenges, together with the strengths and weaknesses of cooperative models between universities and businesses, especially in promoting social innovation and the formation of social enterprises.
Participants predicted new cooperation trends in cross-border higher education, discovered economic, political, social and technological factors that might have a critical impact on the cooperation trends in the future.
They also discussed topics related to international development and cooperation between higher education institutions and promoted opportunities for negotiation and cooperation between Vietnamese and foreign universities.
Participants also committed to support the Foreign Trade University's initiative of building and developing the Cross-border University Innovation Ecosystem, which has been laid foundation in the Hanoi Declaration 2019.
Initiated since 2017, the annual FIHE is an outstanding initiative of FTU that aimed to find new models to promote education internationalisation in Việt Nam.
Bắc Kạn manages mineral exploitation via cameras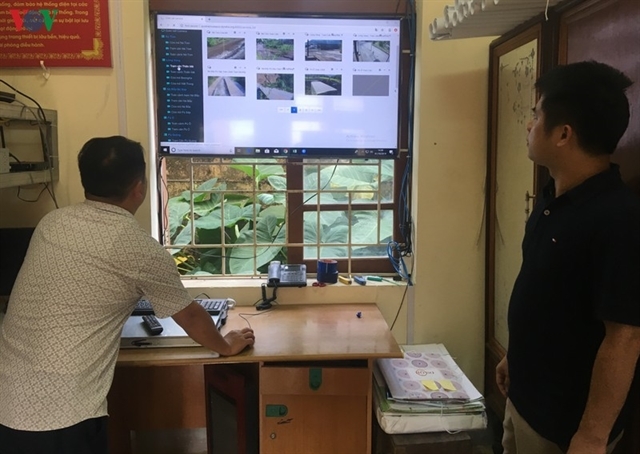 An inspector checks images via the camera system at mines in Bắc Kạn Province. — Photo vov.vn
The northern province of Bắc Kạn has invested nearly VNĐ2 billion (US$86,900) installing cameras at six mineral mines to supervise work.
All of the six mines are in Chợ Đồn District and each of mine has at least two cameras.
The cameras are installed in the mines' gates to supervise electronic weighing stations and are connected through a host computer to the Chợ Đồn Natural Resources and Environment Division.
The cameras at the mines are managed and protected by the mine management board.
Nông Đình Thép, deputy head of the Industry Management Division under the provincial Department of Industry and Trade, which chairs the project, said the installation was completed on September 26.
The system will officially go operational later this month.
Thép said that the cameras will help improve management and production in the province.
First provincial hospital uses robot in surgery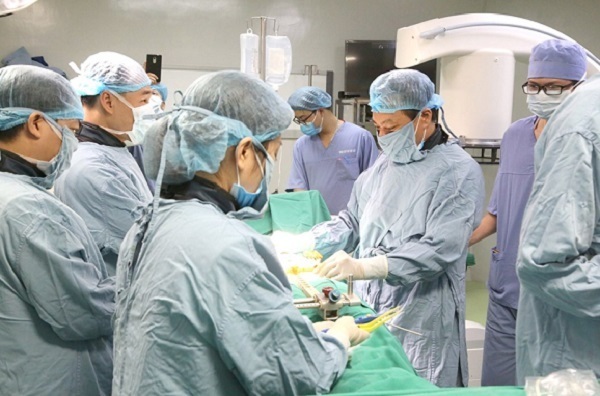 Doctors use a robot in spinal surgery. — Photo courtesy of the Phú Thọ General Hospital
The Phú Thọ General Hospital has become the first provincial hospital in the country to successfully use a robot in spinal column surgery.
The news was announced on Thursday by the hospital. The surgery was conducted on September 28.
The patient Trương Thanh Bình, 43, from Hạ Hòa District, was hospitalised with serious pain on her spine. She could not walk by herself. She had used painkillers for many months leading to stomach problems.
Bình said that four years ago, she was examined at the Hà Nội-based Việt Nam-Germany Hospital and doctors advised her to have surgery. However, she refused as she thought that it would affect her health.
Recently, serious pain meant she could not walk, so she visited the doctor once again who advised her to have surgery as soon as possible.
After hearing that the Phú Thọ General Hospital was preparing to use a robot in spinal column surgery, she decided to have the operation at the facility. She was also the first patient to undergo the procedure at the hospital.
Nguyễn Văn Sơn, deputy director of the hospital, said that the location for the screws was the most important part in spinal column surgery.
The robot will help doctors pinpoint the location and minimise harm to neighbouring tissues. The patients can avoid many risks during surgery. They will lose little blood, experience less pain and recover more quickly.
Without robots, the surgery lasts about an hour and a half. Now with the robot, it lasts just 30 minutes.
Bình is now recovering and is expected to be discharged from the hospital in the next ten days.
Eleven jailed for container thefts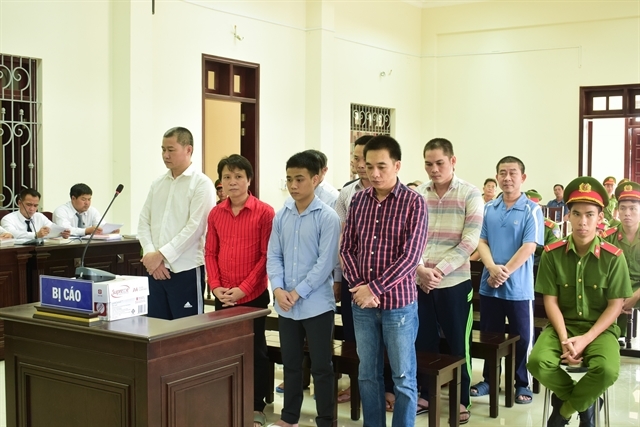 Members of the criminal gang hear their fate in court.
Eleven people have been jailed for stealing from containers taking goods overseas.
The gang was led by Lê Văn Tám who organised the criminal enterprise. The Tây Ninh People's Court on Wednesday sentenced him to 19 years in prison.
Lê Văn Minh was jailed for 18 years for the thefts and a further five years for forging documents to cover their tracks.
From April 2017 to May 2018, Tám and his accomplices stole VNĐ12.68 billion (US$551,300) worth of goods from 13 containers.
But police caught the gang red-handed when they tried to break into a container loaded with bicycles in An Thạnh Commune, Bến Cầu District, the southern province of Tây Ninh.
The court was told the gang had drivers who would help arrange the thefts.
Two central hospitals awarded center of excellence for breastfeeding
Parents use skin-to-skin contact techniques at the Đà Nẵng Hospital for Women and Children. — Photo courtesy of Alive & Thrive
Đà Nẵng Hospital for Women and Children and Quảng Nam General Hospital have been named as Center of Excellence for Breastfeeding.
The awards were given by Alive & Thirve – a global nutrition initiative – and the Đà Nẵng and Quảng Nam health departments.
The hospitals received the prize for their efforts in creating and maintaining breastfeeding-friendly environments for newborns and mothers.
"90 per cent of mothers exclusively breastfeed their babies during their hospital stay in the Đà Nẵng Hospital for Women and Children," said director of the health ministry's Maternal and Child Health Department Nguyễn Đức Vinh.
"I acknowledged the hospital's enormous effort to achieve this especially by ensuring skin-to-skin contact between the mother and child for the first 90 minutes after birth.
"Quảng Nam General Hospital deserved the designation, given their concerted efforts and dedication to following essential newborn care procedures among mothers and children, and supporting breastfeeding."
At the Đà Nẵng Hospital, skin-to-skin contact is not exclusive to healthy babies, but also provided to preterm, underweight or sick children with jaundice, respiratory problems through Kangaroo Mother Care.
The hospital's Deputy Director Nguyễn Sơn said: "Pre-term or underweight newborns that receive skin-to-skin contact for 20 hours a day from their mothers or relatives see a 40 per cent reduced mortality rate, 44 per cent reduced infection rate, 66 per cent reduced hypothermia rate, and 20 per cent increase in exclusive breastfeeding rates after hospitalisation."
At the Quảng Nam General Hospital, mothers can choose anyone to support them during birth, if desired. This companion can support the mothers to breathe properly, motivate the mothers, comfort them with backrubs and cloths, and guide them to change postures during labour.
"We believe a successful birth delivery goes beyond ensuring the safety of mothers and children to include a relatively pain- and stress-free experience for the mother as much as possible, and breastfeeding within 90 minutes after birth," said Dr. Nguyễn Thị Kiều Trinh, head of the Obstetrics Department.
"In addition to medical interventions, emotional and psychological support is crucial to achieving this."
The aim of the A&T initiative is to prevent illness and ensure healthy growth and development through improved maternal nutrition, breastfeeding and complementary feeding practice.
A&T regional director, Roger Mathisen, said: "I strongly believe the Quảng Nam Provincial General Hospital will serve as a role model for other health facilities in early essential newborn care and breastfeeding support. Their birth companion of choice model is a brilliant step toward ensuring a positive delivery experience for mothers."
According to the World Health Organisation, babies that receive prolonged skin-to-skin contact are three times more likely to breastfeed during the first 90 minutes.
The statistics observed in the Đà Nẵng Hospital for Women and Children in 2018 have reinforced this evidence: exclusive breastfeeding rates rose by three times thanks to 90 minutes of uninterrupted skin-to-skin contact.
Prolonged skin-to-skin contact without interruptions for immunisations or weight measurements also helped reduce neonatal mortality by 15 per cent, neonatal intensive care by 30 per cent and the need for antibiotics by 50 per cent.
In a survey conducted by the Ministry of Health with 3,500 mothers after birth, only 39 per cent had skin-to-skin contact for 90 minutes, and 30 per cent mothers could not breastfeed their newborns within 90 minutes after birth.
The Center of Excellence for Breastfeeding Initiative has been developed and implemented by Việt Nam's Ministry of Health, provincial Departments of Health with support from Alive & Thrive and Irish Aid, encouraging health facilities to create and maintain breastfeeding-friendly environments by practicing early essential newborn care and supporting breastfeeding.
Four hospitals nationwide have been given the awards since August.
First folk festival to highlight Hanoi's traditional culture, heritages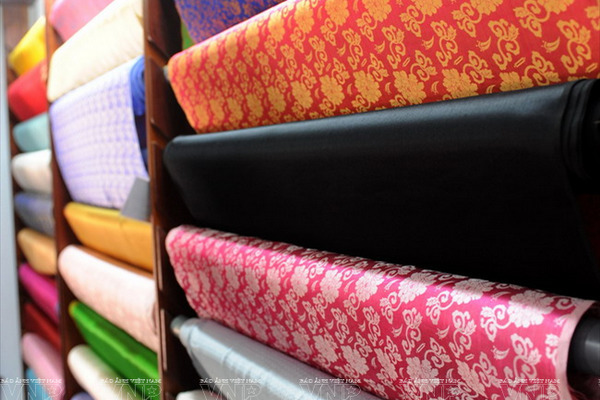 Products of Van Phuc silk village
The first-ever folk festival honouring Hanoi's traditional and contemporary culture as well as cultural heritages will be held at the Ly Thai To Statue Square beside Hoan Kiem Lake in the heart of the capital city on November 15-17, according to the municipal Department of Culture and Sports.
The festival is part of activities to mark the Vietnam Cultural Heritage Day (November 23) and respond to the city's nomination to the UNESCO Creative Cities Network.
An exhibiting area will be set up to introduce local traditional craft villages like Van Phuc silk village, Bat Trang pottery village, Phu Vinh bamboo and rattan village, and Ha Thai lacquer village. Besides, the villages' modern products that meet demands of domestic and foreign markets will be nudged closer to the visitors.
In addition, a traditional art space will offer an opportunity for local residents and tourists to discover the city's historical values, art and efforts to preserve traditional paintings such as those of Hang Trong, Kim Hoang and Dong Ho. The area will also introduce the city's landscapes and cultural heritages through paintings by disabled artists, women and children.
Within the framework of the festival, a wide range of activities are scheduled to popularise local intangible cultural heritages./.
Gender equity for ethnic women: Key to social progress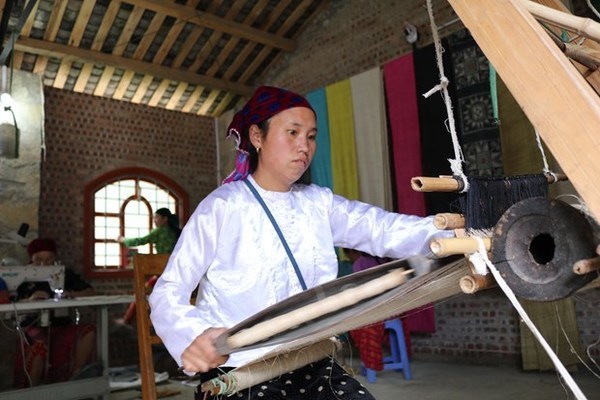 Sung Thi Sy is now director of Sa Phin A Agro-forestry Services Cooperative in Dong Van district, Ha Giang province
Darkness prevails Mong ethnic woman Sung Thi Sy's shabby house on a rocky slope. Her husband comes home late again with a pungent alcohol odour. At that moment, Sy knows very well that tomorrow, as every morning ever, her kids would question her about her swollen and bruising eyes while asking for small change to buy some sweets along their way to school, which she could never give. She starts weeping.
This is Sung Thi Sy's story of her life two years ago. Gone are the days when the ethnic woman had to struggle financial problems and domestic violence. She is now director of Sa Phin A Agro-forestry Services Cooperative (White Hemp Cooperative in short) in Dong Van district in the mountainous province of Ha Giang.
"Before working at this cooperative, my family had been struggling with household farming. We hardly could afford rice and meat is something that we could only buy once in two months," Sy recalled. "My husband got so pissed about the family's financial status that he had to drink the misery away. While being drunk, he beat me and then we both cried in the following morning when our kids went to school with an empty pocket," Sy added.
Gender equity for ethnic women: Key to social progress hinh anh 2
Sung Thi Sy answers reporters (Photo: VNA)
Sy told the Vietnam News Agency she wanted to run away for a free future away from this sheer misery but this thought was quickly removed in her head when she saw her family picture. "How could I leave my adorable kids?" she asked herself for a thousand times. Then her life continued to be a vicious circle.
Her story is familiar with many Mong ethnic women in Dong Van border district, which is home to 17 ethnic groups with Mong people accounting for 88% and is among six poor districts in Ha Giang province. Due to rugged terrain and unfavorable weather condition, the district encounters numerous difficulties in economic development.
Because of inferior financial status, many families in Dong Van district had been dogged by tragedies as a lot of Mong ethnic men had illegally crossed the border for work while a number of Mong ethnic women had been trafficked to China or suffered from domestic violence, according to Vang Thi Cau, Vice Chairwoman of Women's Union of Dong Van district.
Turning point
Not far from the renowned tourist attraction of Vuong family's Palace in Sa Phin A hamlet, lays a small but cozy stone house where five to six Mong ethnic women are carrying out different stages of making brocade products. The house is a workshop and also an exhibition room of the White Hemp cooperative.
In September 2017, Sung Thi Sy was approached by Vang Thi Cau, Vice Chairwoman of Women's Union of Dong Van district, who had nurtured a dream of preserving traditional values of Mong ethnic people in the locality since a kid.
Gender equity for ethnic women: Key to social progress hinh anh 3
Vang Thi Cau (R), Vice Chairwoman of Women's Union of Dong Van district, talks to customers visiting White Hemp Cooperative (Photo: VNA)
After being convinced by the idea of making money from Mong ethnic people's traditional brocade weaving, Sung Thi Sy nodded to join Vang Thi Cau in running a brocade weaving cooperative with a hope for a brighter future for her family.
"Since I worked here, I have no longer needed to borrow money for my kids to go to school. My husband now works here too. He works so hard and drinks no more," Sung told the Vietnam News Agency.
'Social progresses can only be achieved as women are empowered'
Born into a family of 10 in Dong Van district, Vang Thi Cau had not entered the first grade until she was 17. Thus, she understands the limited intellectual capacity of local women so well. Besides, seeing the darkness of poverty and domestic violence prevailing Mong ethnic community in her hometown since a kid, she had always dreamt of providing local women with a stable job so that they can affirm their role in the society.
"Social progresses can only be achieved as women are empowered", Cau said, citing Secretary of Dong Van district Party Committee Nguyen Ngoc Thanh as saying.
When working at the Women's Union of Dong Van district, Cau told Thanh a lot about her dream of opening a workshop for Mong ethnic women so that they can be financially independent and take the wheel of the their life.
"Social progresses can only be achieved as women are empowered. If you are successful in providing jobs for local women, that would be the mass success of our district. We zero in on supporting your idea", Thanh reiterated every time he met Vang Thi Cau.
The dialogues with Thanh in early 2017 encouraged her to establish Sa Phin A Agro-forestry Services Cooperative in November that year.
Since establishment, the White Hemp Cooperative has always targeted disadvantaged local women.
The cooperative now employs 20 women, with three living in extremely poor households, some disabled, some being victims of domestic violence, human trafficking and illegal working abroad.
Rising from their own miseries, the women now can earn 4 million to 6 million VND (170 to 260 USD) per month.
Besides 20 official members weaving brocade products, the cooperative also works with different groups of local women to expand production.
"We have now provided jobs for 95 local women in Dong Van district. We have organized two vocational training courses for local women while connecting with three other groups of local women. We used to buy materials from other localities but since uniting local women, we can provide ourselves with enough materials for production", Cau said.
During the initial operation stage, the establishment was provided with a financial assistance worth 300 million VND (nearly 13,000 USD) for buying materials and basic equipment. The cooperative was also facilitated to open a workshop for making and displaying their products near the local tourist attraction of Vuong family's Palace in Sa Phin commune.
Besides, local officials are also the most active in advertising the products. They often wear brocade products from White Hemp Cooperative when attending domestic and overseas events and presents them as souvenirs to any delegations visiting the district, Cau said.
"In the coming time, the local government is planning to open two more workshops in the district to make the products more popular among visitors while providing more jobs for local women", Dinh Chi Thanh, Vice Chairman of Dong Van district People's Committee said.
Domestic violence and poverty have now been a past that exists only in the memory of the Director of White Hemp Cooperative Sung Thi Sy. Escaping from the harsh conditions, Sy and Cau now continue helping other Mong ethnic women in improving local livelihood and achieving gender equity.
"We hope our cooperative could reach more Mong ethnic women so that they can hold their destiny in their hands", Sy said./.
Psychedelic art exhibition at Hive Villa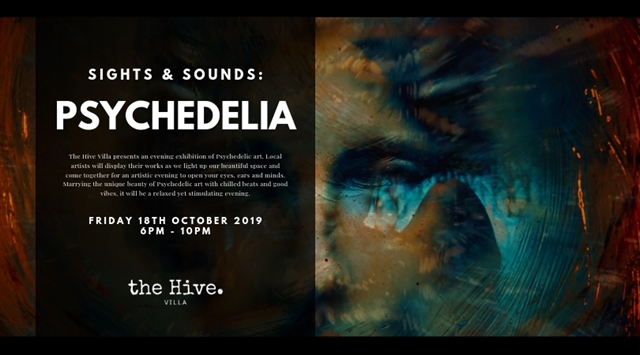 An exhibition of psychedelic art will be held from 6pm to 10pm on October 18 at the Hive Villa on 29 Nguyễn Bá Lân Street, Thảo Điền, in HCM City's District 2.
Local artists will display their works as we light up our beautiful space and come together for an artistic evening to open your eyes, ears and minds. Marrying the unique beauty of psychedelic art with chilled beats and good vibes, it will be a relaxed yet stimulating evening.
Tickets are VNĐ150,000 (US$ 6.4). 
Concert features professional musicians and junior music lovers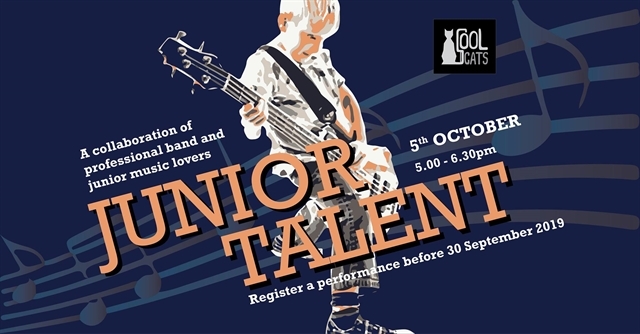 The event aims to provide young talents a performance space to expose their music ability, to meet and mingle with other talented kids as well as nurture a love for jazz in them.
Cool Cats Jazz Club will dedicate a night to artistic kids' performances on Saturday.
According to the club, the enjoyment children found in jazz at their last kid-friendly events 'Tenor Madness' and 'Crazy Guitar' inspired them to organise the upcoming showcase.
The event aims to provide young talents a performance space to expose their music ability, to meet and mingle with other talented kids as well as nurture a love for jazz.
Alongside with junior music talents, there will be performances from the Cool Cats Club including Nguyễn Đình Phúc (piano), Dalkyun Im (saxophone), Nguyễn Đức (bass) and Lê Việt Hùng (drum).
While pianist Phúc, who has more than 20 years in music, is passionate about jazz, from standard bepop to fusion jazz funk, Im graduated from Berklee College of Music in the US, and is a renowned saxophonist, trumpeter and singer, who has performed in many countries in Asia and Europe.
The charming sound of the group, together with junior talents will create a perfect combination.
The free entrance event takes place from 5pm to 6.30pm. A special kid's menu is also available. Cool Cats Jazz Club is in JW Marriott Hotel Hanoi, 8 Đỗ Đức Dục Street, Nam Từ Liêm District. To book, call 090 329 0998 or book online at: www.jwmarriotthanoilife.com/vn/dining/coolcats 
HCM City triumph in national chess champs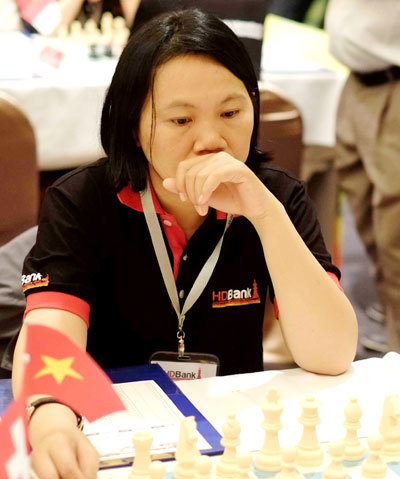 Nguyễn Thị Thanh An thinks about her next move. — Photo vietbao.vn
HCM City brought home three gold medals at the National Team Chess Championship the city hosted on Wednesday.
Veteran duo Đào Thiên Hải and Nguyễn Thị Thanh An won gold in the mixed doubles with 15 points after nine games.
Hải and An had to be at their best to beat Nguyễn Ngọc Trường Sơn and Phạm Lê Thảo Nguyên.
In the women's team, Lê Kiều Thiên Kim, Hoàng Thị Bảo Trâm, Nguyễn Mỹ Hạnh An and Bạch Ngọc Thùy Dương helped HCM City get another gold medal with their win over Bắc Giang.
In the men's team, despite not having their No 1 player Lê Quang Liêm, HCM City still stood on the top podium thanks to the efforts of Nguyễn Huỳnh Minh Huy, Trần Quốc Dũng, Phạm Chương and Đặng Hoàng Sơn.
The tournament attracted more than 230 players from 18 teams across the country including Hà Nội, Kiên Giang, Đà Nẵng, Thừa Thiên - Huế and Quảng Ninh.
It will finish on Saturday. 
Free film screening on climate change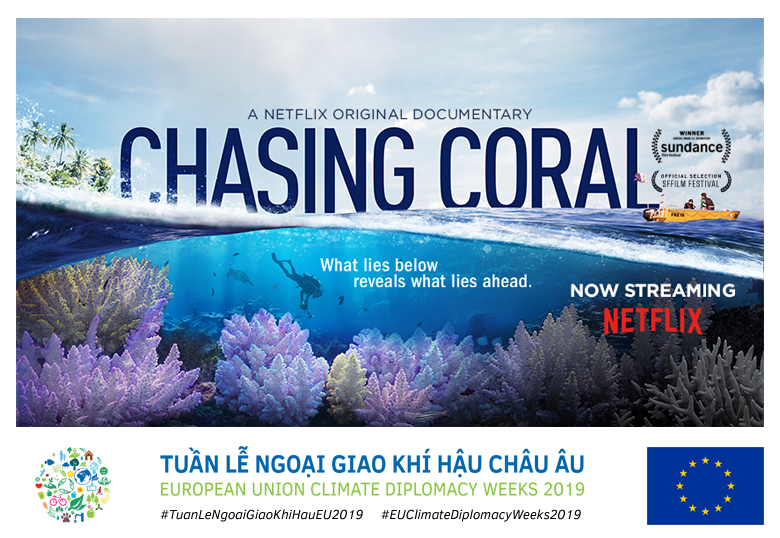 The European Union (EU) Delegation on Thursday morning hosted a free screening of "Chasing Coral" movie to raise awareness on the severe impacts of climate change.
The event was held back-to-back with a ceremony organised by the Central Committee of the Ho Chi Minh Communist Youth Union to reward the winners of a photo competition promoting climate action, organized in collaboration with the French Development Agency (AfD) and the European Union.
The event was part of the the European Union Climate Diplomacy Week 2019.
Around 200 youngsters attended the movie screening, among which are 150 students from universities in Hanoi.
Addressing the event, Ambassador of the European Union, Giorgio Aliberti said: "We chose the movie because not only it's an interesting documentary which showcases the underwater world, but also sends a strong message on the negative impacts of climate change. It is also in line with the growing awareness of Vietnam's society on the importance of the ocean and why we need to protect marine resources."
'Chasing Coral' taps into the collective will and wisdom of an ad man, a self-proclaimed coral nerd, top-notch camera designers, and renowned marine biologists as they invent the first time-lapse camera to record bleaching events as they happen. Unfortunately, the effort is anything but simple, and the team doggedly battles technical malfunctions and the force of nature in pursuit of their golden fleece: documenting the indisputable and tragic transformation below the waves.
The film was produced in over three years, with 500+ hours underwater, including footage from over 30 countries, and was made with the support of more than 500 people all over the world. With its breathtaking photography, nail-biting suspense, and startling emotion, 'Chasing Coral' is a dramatic revelation that won't have audiences sitting idle for long.
Winner of various awards at multiple international film festivals, 'Chasing Coral' is considered one of the most worth watching environmental documentaries.
After seeing the movie, young audience were encouraged to recommend the movie to their friends, continue discussing and relaying the message on environment protection and climate change.
Photo exhibition showcasing Seoul for the past 40 years opens in Hanoi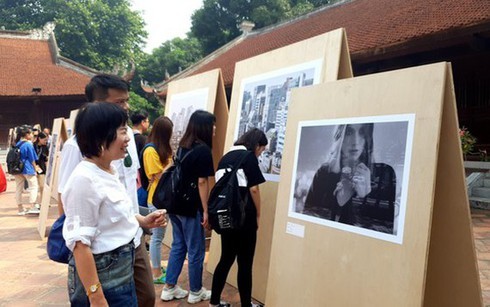 The Korean Cultural Center in Vietnam has coordinated with the Korean Foundation for International Cultural Exchange (KOFICE) to organize an exhibition featuring photos of Seoul for the past 4 decades at the Van Mieu Temple of Literature in Hanoi.
The event titled 'Mega Seoul 4 Decades' displays 62 photographs capturing the twists and turns of Seoul over the last 40 years from the late 1960s to early 2010 through the perspective of 12 Korean photographers.
Through the photographs by various generation photographers, visitors can find the history of Seoul from late 1960s when everything headed to Seoul with 'Hymm of Seoul' to the present when Seoul became a worldwide Mega City.
They also can experience the documentary of the old Seoul that vanished too many and too fast, and the city's absurdity through this exhibition.
The event will run from October 1- 12 and also opens at the Korean Cultural Center, 49 Nguyen Du Street in Hanoi's Hai Ba Trung district on October 1-30.
New walking street and food market opens in Cao Bang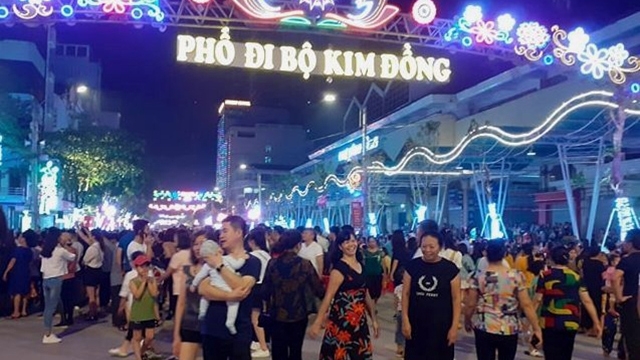 The pedestrian street space is spread across an area of over 2 hectares with the main axis being Kim Dong Street.
The Kim Dong walking street and food market officially opened in the northern mountainous city of Cao Bang on October 2.
The construction of the Kim Dong Walking Street started on May 7, 2019, with a total investment of over VND32 billion.
The pedestrian street space is spread across an area of over 2 hectares with the main axis being Kim Dong Street, which is over 600 metres long.
From 19:00 to 23:00 every Friday and Saturday, there will be cultural performances, street performances and folk games on the pedestrian street. A highlight of the walking street is the food and souvenir market with 70 stalls serving specialties of Cao Bang.
In recent years, Cao Bang Province has implemented many solutions to improve the quality of tourism services and attract more tourists. Over the first nine months of 2019, the province attracted around 1.2 million visitors.
The opening of the Kim Dong Walking Street and the food market aims to contribute to promoting the cultural identity, cuisine, and specialties of Cao Bang to visitors from at home and abroad.
Winners of photo contest on actions for climate change honoured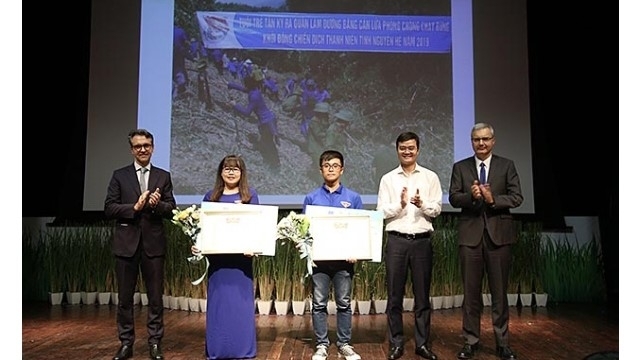 Members of the youth union of Nghia Binh commune, Tan Ky district, Nghe An province receive the contest's first prize
An awards ceremony for a photo contest on encouraging the youth to take action on climate change was held in Hanoi on October 3.
The first prize worth VND10 million went to members of the youth union of Nghia Binh commune, Tan Ky district, Nghe An province for their photo featuring an effort made by local youth to stop a forest fire.
One second, three third and five consolation prizes worth VND24 million in total were also presented to other outstanding entries.
The contest was launched from July 22 to August 25 by the Ho Chi Minh Communist Youth Union, the EU Delegation to Vietnam, the French Development Agency (AFD) and the Embassy of France.
The contest aimed to encourage creativity, initiative and practical action among young people and the community to cope with climate change, which is one of the most pressing problems facing our planet.
The contest received 125 entries sent by members of youth unions in cities and provinces nationwide, featuring their ideas and solutions to cope with climate change. Most of the entrants are high school and university students, employees at State-run businesses and administrative agencies.
The contest' official Facebook account at https://www.facebook.com/thanhnienungphobiendoikhihau attracted 2 million viewers, including 126,000 views, shares and comments.
Vietnamese citizens to pay traffic fines online: officials
The Government Office has proposed that traffic fines are digitalized in order to save time and money, and to avoid corruption.
Citizens should be able to pay their traffic fines on Vietnam's national public services portal, Ngo Hai Phan, Head of the Administrative Procedure Control Agency (APCA) under the Government Office, said at a Monday meeting in Hanoi.
Currently, paying traffic fines is a cumbersome offline process. Citizens have to contact the concerned government entity at least three times and wait for 10 to 72 days in order to retrieve their confiscated documents or vehicles after paying their fines.
Phan said this procedure was not only time-consuming and strenuous, but it also allowed corruption and negative experiences to take place.
It is not uncommon that traffic police receive bribes from citizens after the latter are caught violating traffic law. The bribe is either initiated by the violator who wants to avoid paying a bigger fine or have their documents or vehicles confiscated, or by the police officers who are willing to let violator off for a price.
In March last year, a 7-minute video published by Tien Phong newspaper captured 14 traffic policers in Hanoi receiving cash from dozens of drivers who were stopped for traffic violations. The footage shows VND100,000 - 200,000 ($4.32 - 8.64) bills were slipped into the officers' hands or put between their paper files. The officers in the video showed no reaction when the money was being inserted or took the money directly from the citizens.
After the video went viral, 14 officers and their six superiors were suspended for a month.
Considering there are four million traffic violations committed every year in Vietnam, Phan of APCA said Vietnam would save VND1.3 trillion ($56.2 million) each year with a digitalized process.
Under the new proposal, citizens can log onto the portal and search for the tickets on their violations and find out the fine they have to pay, the concerned account of the government agency and pay it online.
After the payment is verified, they can retrieve their confiscated documents or vehicles directly or via post.
Supporting the proposal, Deputy Transport Minister Le Dinh Tho said at the meeting that the payment method can also be used for railways and airways. However, he also expressed concern about the budget and legal corridors needed to implement it.
Major General Le Xuan Duc, Deputy Director of Traffic Police Department said although the proposal was in line with the traffic police's expectations, several challenges exist in Vietnam's law on handling administrative violations and shared databases.
Mai Tien Dung, Chairman of the Government Office, said he has asked concerned departments to quickly amend the law so that the online fine payment becomes a reality.
The national public services portal, which is expected to open next month, has been described by Prime Minister Nguyen Xuan Phuc as an e-document exchange platform where quicker and safer delivery of official documents is possible. The portal will be built and managed by the Government Office.
Cao Bang celebrates its 520th founding anniversary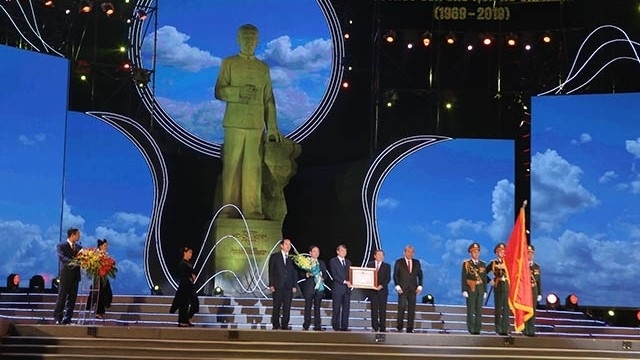 Deputy PM Truong Hoa Binh presents Independence Order, first class, to Cao Bang province.
The northern mountainous province of Cao Bang held a ceremony on October 3 to celebrate its 520th founding anniversary (1499-2019) and the 50-year implementation of President's Testament.
Politburo member and Deputy Prime Minister Truong Hoa Binh attended the event and presented the Independence Order, first class, to the province.
Speaking at the ceremony, Deputy PM Binh hailed the achievements that the Party, government and people in Cao Bang Province have gained over recent years, particularly the average economic growth rate of over 7% per year.
The province has mobilised numerous resources to effectively take advantage of tourism potentials, change the appearance of rural and urban areas, and improve both the material and spiritual lives of ethnic people, he added.
The Deputy PM asked Cao Bang authorities to make further efforts to take full advantage of its potentials and strengths as well as improve both the material and spiritual lives of the people.
The province should focus on effectively implementing breakthroughs in tourism, trade and services, hi-tech agriculture and forestry, and border economy, he added.
It is also crucial to mobilise resources to consolidate and complete transport infrastructure; promote training of human resources; raise public awareness of environmental protection; and enhance sustainable tourism development, said Deputy PM.
The Politburo member urged the locality to actively improve the investment-business environment to attract more investors, particularly in tourism development and hi-tech agriculture and forestry.
He emphasised the harmony between economic development and other fields, including education, healthcare, culture, and Party building.