Poor students to find it easier to access online learning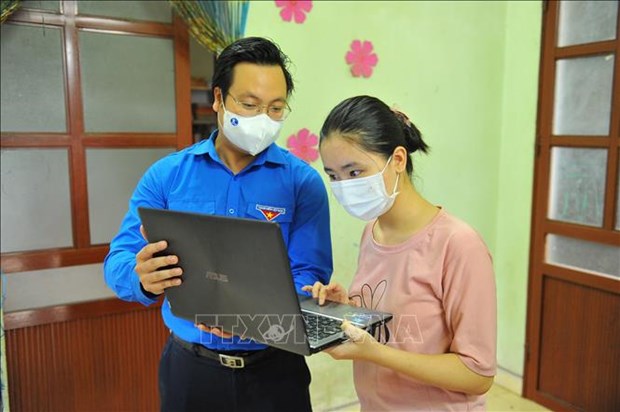 Eligible students are those who have no computer and equipment for online study and have not yet received any support in the field.
Deputy Prime Minister Le Minh Khai has agreed with the Finance Ministry's proposal to help needy students with electronic devices to serve their online learning amid the COVID-19 pandemic.
Under the ministry's proposal, students from poor and near-poor families as well as those facing difficulties due to the COVID-19 pandemic, including students whose fathers or mothers died of the disease, will be enabled to get loans to buy computers under support of the "computers and Internet services for children" programme.
According to the ministry, eligible students are those who have no computer and equipment for online study and have not yet received any support in the field.
The People's Committees of communes and wards are responsible to make and verify the lists of beneficiaries before submitting to the Vietnam Bank for Social Policies for approval.
The maximum value of the loans will be 7 million VND (307 USD) per student, according to the proposal, which estimates that the total capital for the scheme is about 3.5 trillion VND (153.86 million USD). The duration of the loans is under one year with a zero percent interest rate.
Initially, resources for the scheme will come from the 7.5 trillion VND credit package that is being implemented by the Vietnam Bank for Social Policies, which was designed for employers to borrow to pay salaries for their employees but received few requests.
The Deputy PM has assigned the Ministry of Labour, Invalids and Social Affairs to coordinate with the Finance Ministry, the State Bank of Vietnam and relevant agencies to work on supplementing the policy regarding the credit package and report it to the Government.
Viet Duc Hospital to transfer patients to other hospitals amid COVID-19 outbreak
The Việt Đức (Việt Nam – Germany) Friendship Hospital, the site of the latest outbreak of COVID-19 in Hà Nội, has asked three local hospitals to receive about 1,000 of its patients, so they can focus all their efforts on clearing up the virus.
From September 30 to 5pm October 4, there have been 41 cases of COVID-19 in connection with the hospital.
Leaders of the hospital on Sunday said that all COVID-19 patients at the hospital have been transferred to the National Hospital for Tropical Diseases for treatment, while all F1s at the hospital have been taken to the city's concentrated quarantine area.
Currently, there are 1,054 patients, 1,018 patients' relatives and 1,000 healthcare staff staying at the hospital. All of these people have been tested twice. 
Management at the Việt Đức Hospital have asked to transfer 200 patients and their relatives to Hà Nội Medical University, 450 patients and their relatives to Thanh Nhàn Hospital, and 350 patients and their relatives to Đức Giang Hospital.
Hoàn Kiếm District authorities have been asked to assist with patients that need post-organ transplant check-ups. All of these cases have had negative COVID-19 test results.
Leaders of Việt Đức Friendship Hospital will coordinate with the relevant authorities to conduct a third test for more potential cases on Tuesday, October 5. Hospital authorities have assured that they have a suitable plan for medical staff who have had two doses of the vaccine and have had three negative tests in seven days to continue working.
For medical staff and patients on the 7th and 8th floors, where the outbreak was discovered, the hospital will strictly implement pandemic prevention measures. Food and necessities will be transported by specialised staff in protective gear. Only when staff are a safe distance away can those in isolation collect the supplies. 
During a phone call with hospital leaders on Monday, the Director of the Department of Medical Examination and Treatment under the Ministry of Health, Lương Ngọc Khuê, said the transfer of patients and patients' family members out of Việt Đức Friendship Hospital was an urgent matter. 
Regarding the plan to let medical staff who have had two vaccines and three negative tests to continue working, Khuê suggested that they stay at hotels, which will allow them to go to the hospital to take care of their patients every day, or distance themselves in another appropriate manner. 
Thua Thien-Hue fines spontaneous returnees from Covid-19-hit areas
Authorities of the central province of Thua-Thien Hue will fine local residents who spontaneously return home from Covid-19-hit areas which are applying social distancing measures.
Over recent days, thousands of people have been travelling through Thua Thien-Hue by motorbike to return to their hometown.
This morning, October 4, a group of 1,700 people went through a Covid-19 checkpoint in the Hai Van Pass area by motorbike. Most had left southern cities and provinces for their home in the central provinces of Quang Tri, Quang Binh, Ha Tinh and Nghe An.  
At the checkpoint, the people were instructed to complete health declarations and provided with food and drinks.
However, at present, around 50 among their motorbikes are still at the checkpoint due to technical problems; so, a charity group is helping fix the vehicles.
According to a representative from the office of the Thua Thien-Hue People's Committee, the province planned to take more local people from areas seriously affected by Covid-19.
On Tuesday, the province will organise a flight for 200 pregnant women from southern cities and provinces. More flights are expected to be conducted for other people.
Authorities in Thua Thien-Hue have asked their residents to stay where they are for Covid-19 prevention. But those who have returned their home from areas that are implementing social distancing regulations in line with the government's Directive 16 by themselves will be sent to quarantine sites and fined.
Vietnam concerned about uncertainties in Haiti: Diplomat
Minister Counsellor Nguyen Phuong Tra, Deputy Permanent Representative of Vietnam to the United Nations, on October 4 expressed her concern over difficulties and uncertainties in Haiti.
Speaking at a meeting of the UN Security Council (UNSC) on the Haiti situation and the operation of the UN Integrated Office in Haiti (BINUH), Tra highlighted the political agreement between the Haitian Prime Minister and political parties on the organization of the election in 2022.
The diplomat expressed her hope that relevant sides will identify priorities, focusing on the model and time of the election, saying the number of female representatives engaging in political activities should account for 30 percent of the total.
Vietnam suggested solutions to enforce laws and protect civilians, particularly women and children, while calling for aid to improve the capacity of Haitian police through training, providing equipment and raising capacity management.
Tra also lauded efforts by the BINUH and the UN's working group in Haiti, and expressed her support for the extension of the BINUH's mission.
She called on the UN, and international and regional organisations to continue helping Haiti overcome the current difficulties, and reiterated Vietnam's support to Haitians, for peace, security and development in the Caribbean country.
Briefing the meeting on the situation in Haiti, rapporteurs proposed the UN and international organisations increase humanitarian aid to needy people in Haiti.
The UNSC member countries condemned violence, attacks and kidnapping that target civilians, especially women and children, and lauded the BINUH's role in assisting the Haitian government in political dialogues, institutional reform and dealing with socio-economic difficulties./.
Pandemic brought under control in more HCM City districts
Thu Duc City and 16 districts in HCM City have basically brought Covid-19 under control, said Pham Duc Hai, deputy head of the municipal Steering Committee for Covid-19 Prevention and Control.
Hai gave the information at a press conference on Monday on the city's Covid-19 prevention and control activities.According to Hai, Covid-19 prevention and control inspection teams have proposed the HCM City authorities to recognise Thu Duc City and the districts of Go Vap, Phu Nhuan, Tan Phu, Tan Binh, Nha Be, Can Gio, Cu Chi, 1, 3, 6, 7, 8, 10, 11 and 12 as being qualified as basically bringing the pandemic under control.
Meanwhile, Binh Tan and Binh Chanh districts have not yet contained the pandemic and the District 4, Binh Thanh and Hoc Mon are still waiting for evaluation reports from Covid-19 prevention and control inspection teams.
According to the Ministry of Health, a locality is acknowledged as containing Covid-19 when its weekly locally-infected Covid-19 cases drop against two consecutive weeks earlier and at least 50% against the week with the highest infections. In addition, it also has not recorded any new Covid-19 outbreak within seven days.
Over the past three days, around 5,300 companies in HCM City have registered for resume operations.
Hai, however, said that many local residents still ignore Covid-19 prevention regulations such as gathering and selling goods on streets.
Since October 1, HCM City has gradually eased social distancing measures to ensure the dual goal of containing the outbreak and revitalising the economy.
Lessons learnt from Viet Nam's fight against COVID-19 fourth wave
At the Government's monthly meeting on Saturday, Prime Minister Phạm Minh Chính announced that the pandemic was basically under control nationwide as the number of new infections and COVID-19 relating deaths was falling in major hotspots of HCM City, Bình Dương, Đồng Nai and Long An.
"All strategies and decisions to respond to the complicated development of the COVID-19 pandemic in Việt Nam have been made and implemented quickly, effectively and flexibly," Health Minister Nguyễn Thanh Long said.
Among options to consider, those with the least risk were selected, Long said.
Looking back on what has been done in the fight against COVID-19 during the fourth wave, minister Long emphasised the five key decisions that generated notable results.
The first decision is about the lockdown of industrial zones – major COVID-19 clusters in two northern provinces of Bắc Giang and Bắc Ninh and regular mass testing.
Quick antigen tests were used to detect SARS-CoV-2 positive cases, take them to concentrated areas or treatment areas to stop infections in the community, Long said.
At that time, there was an opinion that only people with COVID-19 symptoms should be tested. However, in fact, up to 80 per cent of COVID-19 cases are asymptomatic ones, Long said, adding that such asymptomatic cases could pose a very high risk of spreading the disease.
Meanwhile, field hospitals and intensive care units were established at COVID-19-hit areas together with support for people living in the areas.
"The COVID-19 prevention and control in Bắc Ninh and Bắc Giang are typical lessons for Việt Nam in the COVID-19 fourth wave," Long said.
The second decision was about the implementation of strict social distancing measures in dozens of localities in the south.
Together with the social distancing, Việt Nam had to prepare for relevant issues of social welfare, travel, business and production, security and people's livelihoods.
"Social distancing measures were stricter and stricter. However, as soon as we saw social distancing on a small scale failed to curb infections, the National Steering Committee for COVID-19 Prevention and Control immediately shifted to large-scale social distancing in 20 southern provinces and cities," Long said.
The third decision was about human resources. 
Nearly 300,000 frontline workers including health workers, soldiers and police reached COVID-19 hotspots. 
During the mass testing and vaccination in Hà Nội the first half of last month, medical workers from 12 neighbouring provinces arrived in the city to support them.
The fourth decision was about consensus in leadership and the decentralisation in COVID-19 prevention and control.  
Every commune and ward was considered "a fortress" and everyone was a soldier in the fight against COVID-19. People's benefits were put at the centre of all disease prevention and control work. 
Mobile healthcare stations were set up at the grassroots level so people could access health services and support as soon as possible.
The fifth decision was about the country's largest-ever vaccination drive. Thanks to directions from Politburo, National Assembly, Government and Prime Minister, the COVID-19 vaccination has been done safely and effectively despite barriers and difficulties. 
The COVID-19 vaccine purchasing ensured transparency and met the demand to expand vaccination coverage.
Quoting Secretariat of HCM City Party Committee Nguyễn Văn Nên that only insiders could see and understand how hard they worked, Health Minister Nguyễn Thành Long affirmed that the Government, ministries and agencies made joint efforts to solve problems and challenges in COVID-19 prevention and control.
For example, when Việt Nam conducted mass COVID-19 testing, some people said it was unnecessary. However, the US' experience showed that mass testing was key to bring the country back to normal.
Việt Nam was not the only country that followed the "Zero COVID" strategy but in the early stages of the pandemic, almost all countries in the world followed the strategy. Only a few countries allowed the controlled spread of coronavirus among the population in attempts to achieve herd immunity.
People questioned Việt Nam's approach to control the COVID-19 pandemic such as mass testing and isolating COVID-19 hit areas.
Explaining the issue, Long said that scientifically, no one was exempt from COVID-19, from newborns to the elderly.
In terms of the health system, Việt Nam's healthcare capacity was unable to deal with the situation when infections kept increasing. 
In terms of culture and traditional morality, it was hard for people to accept human losses. People's lives and safety must be always of top importance.
"Việt Nam only changed strategies in COVID-19 prevention and control when people got vaccinated against COVID-19. It's an important issue," Long said, "the changes must depend on the country's situations and the changes aimed to ensure people's safety."
"The pandemic in Việt Nam will not end this year or next year. It could last longer," Long said, adding that the health ministry was developing contemporary guidelines for safe, flexible and effective resilience to COVID-19.
The guidelines aimed to protect people health and lives, minimise COVID-19 cases and deaths, restore and develop socio-economics activities, ensure security and social order.
Pagodas proposed for being used as Covid-19 quarantine sites
The Buddhist Sangha of Vietnam has proposed that cities and provinces nationwide can consider using pagodas as quarantine sites for returnees from Covid-19-hit areas.
Under the recommendation sent to localities, the Buddhist Sangha of Vietnam said that pagodas have to meet medical requirements for quarantine.
The Buddhist Sangha in localities need to continue calling for donations of face masks, handwash, protective clothes, quick Covid-19 testing kits as well as charitable meals for quarantine sites.
According to the Ministry of Public Security, around 3.5 million temporary residents are still staying in HCM City, Binh Duong, Long An and Dong Nai. Among those, 2.1 million want to return to their hometown. However, many cities and provinces would be overwhelmed at quarantine sites if they received that number of returnees.
Prime Minister Pham Minh Chinh has instructed HCM City and the provinces of Binh Duong, Long An and Dong Nai to encourage people to stay to get Covid-19 vaccines and support instead of returning to their hometowns. In necessary cases, localities need to arrange means of transport to take their local residents home safely.
Vietnam urges respect for, full implementation of Chemical Weapons Convention
The United Nations Security Council (UNSC) convened a meeting on October 4 to review the implementation of Resolution 2118, issued in 2013, on the issue of chemical weapons in Syria.
Izumi Nakamitsu, UN Under-Secretary-General and High Representative for Disarmament Affairs, briefed participants on the implementation of Resolution 2118, noting that most of field activities by the Technical Secretariat of the Organisation for the Prohibition of Chemical Weapons (OPCW) have still been suspended due to impacts of anti-COVID-19 measures.
Regarding the settlement of outstanding issues related to the initial declaration by Syria to the OPCW under the Chemical Weapons Convention (CWC), the OPCW Technical Secretariat and Syria are discussing to seek ways to accelerate this process. The two sides are preparing for the 25th round of consultations in the latter half of October and also for a meeting between the OPCW Director-General and the Syrian Minister of Foreign Affairs and Expatriates, who is also head of the country's national authority for the CWC.
At the session, UNSC members voiced concerns about the allegations of chemical weapon use in Syria and appealed for cooperation to be enhanced to prevent this action.
They emphasised the importance of promoting technical cooperation between the OPCW Technical Secretariat and Syria to deal with the outstanding issues towards the full implementation of obligations under the CWC and UNSC Resolution 2118.
In his remarks, Ambassador Pham Hai Anh, Deputy Permanent Representative of Vietnam to the UN, reiterated Vietnam's stance on condemning the use of chemical weapons, stressing the need for respecting and fully implementing the CWC.
He highlighted the role of technical consultations between Syria and the OPCW Technical Secretariat to early resolve the outstanding issues related to Syria's initial declaration, thus seeking a durable solution to the chemical weapon issue in this country in line with Resolution 2118.
The diplomat also underlined the importance of constructive cooperation and the international community's unanimity so as to facilitate this process./.
Vietnam sisters win Grand Prix at int'l children's drawing contest
Two Vietnamese sisters Trinh Hien Minh and Trinh Nha Minh from Hanoi have won the Grand Prix at the international children's drawing contest named "Nature of the planet".
Nine-year-old Hien Minh won the award with her paintings Spring Branch and Happy Octopus, while six-year-old Nha Minh got the award with the painting Butterflies: flowers that move by themselves.
The contest, part of "The world through the eyes of children" project, was held from February to June, attracting the participation of children from 3 to 18 years old.
All entries were exhibited at the Botanical Garden of the Moscow State University from September 1-30.
The most outstanding paintings will have a chance to join the "The world through the eyes of children" exhibition in Russia and India./.
Viet Nam players vow to leave it all on the pitch in crucial match against China
The Việt Nam national team are in the final stages of preparation for their decisive match against China in the UAE on Friday.
Hoàng Anh Gia Lai's star Nguyễn Phong Hồng Duy said that, despite languishing in 5th place in Group B, the team will fight for their first three points of the final round of World Cup qualifiers.
"They are a strong team but we will do everything we can to get a win," Duy said.
"We're prepared as a team and have studied our opponent carefully. We have been focussing on recovery after training and helping each other to improve in this high-pressure environment."
"The first day in the UAE was a bit hot but the whole team are ready for the upcoming match. The time difference doesn't matter much because we have played here before."
"At this stage every opponent is strong, but we will play our best to satisfy the fans," said the 25-year-old player.
After the 0-1 loss against Australia, Việt Nam's first-choice shot-stopper, Đặng Văn Lâm, suffered a serious shoulder injury in training with his club Cerezo Osaka. He is expected to be out for several months and may require surgery. 
Lâm's misfortune opens the door for Viettel's Trần Nguyên Mạnh to prove his worth once more, in one of Việt Nam's biggest games this season. This will be Mạnh's first appearance in two years; for Mạnh, there will be no better comeback than a solid performance.
"It's an honour," Mạnh said.
"After two years I finally have a chance at the national team. It's wonderful.
"Of course, Lâm's absence is a great loss but I will do my best for the team.
"In the first two days I couldn't keep up the intensity in training. But now I have found my feet and regained my confidence, and I'm ready to show what I can do on the pitch.
"There is always motivation to improve myself. It's hard to talk with any certainty about my position in the team -- it's a very competitive environment. Focussing on myself and doing my best are my main priorities at the moment," Mạnh added.
After two matches in the final round of the World Cup qualifiers, Việt Nam are fifth and have yet to win a point.
The match against sixth-placed China on October 8 is a decisive match for the World Cup dreams of Việt Nam. A win could see them move up to third in Group B and the chance to qualify through the 4th round play-off.
Endangered pangolin released to nature of Chàm Islands
Local rangers and management of the Chàm Island Maritime Protected Area (MPA) have released an endangered pangolin (Manis Javanica) back to the wild on the Chàm Islands after locals found the animal.
Vice director of the MPA, Nguyễn Văn Vũ told Việt Nam News that the pangolin, weighing around 1kg, was discovered living in a garden of a household in Cẩm Phô Ward in Hội An City, a few months ago.
The MPA and local rangers checked the health condition of the pangolin before taking it to the forest on Chàm Islands on Sunday.
Vũ said pangolins, which are listed as Critically Endangered species by International Union of Conservation of Nature (IUCN), are living in the Islands' forest. They were discovered after a diversity study by the Centre for Biodiversity Conservation Research (GreenViet). 
Chàm Islands-Hội An (including the total area of the Islands' land and water and Hội An), was recognised as a World Biosphere Reserve in 2009 and covers 1,500ha of tropical forests and 6,700ha of sea. 
A wide range of marine fauna and flora  including many endangered species such as salangane (swallows), the long-tailed monkey and the crab-eating macaque (Macaca fascicularis) live in the area.
The islands and buffer zones did attract around 1.5 million tourists per year, but the COVID-19 pandemic has seriously damaged the visitor rate. 
Storytelling competition launched across Asia
A virtual competition has been launched for children across Asia to promote their creative storytelling abilities. 
The contest, the Scholastic Asia Young Storytellers Award (SAYSA), is held by the world's largest publisher and distributor of children's books, Scholastic. 
Children must submit a 3-minute video of themselves creatively telling a story, or reading an excerpt from Scholastic's wide range of books.
From simple picture books to chapter books, parents can help their children choose the book that best represents them.
"As an organisation, Scholastic believes in empowering young readers with the right tools to help them develop not just language skills but soft skills like confidence, creativity, and self-expression," said Selina Lee, deputy president of Scholastic Asia. 
"At a time of an ongoing pandemic, what better way than to provide a virtual space for children to flaunt their reading talent, showmanship and even instil some competitive spirit among fellow friends across Asia." 
The competition serves as a platform for self-expression, especially for children who have had to cope with a lack of face-to-face interactions with teachers, friends and even family during the ongoing pandemic.  
Children aged 4 to 10 years old from participating countries across Asia are invited to participate and submit their videos between October 1 to 31, 2021.
Parents can read the terms and conditions for entry on the official website bit.ly/SAYSA
Guidelines are provided on how to record, materials to be used for reading aloud and tutorials on how to register and submit the video.
The competition boasts a star-studded lineup of judges, including; bestselling and award-winning author-illustrator Peter H. Reynolds; senior director for Room to Read's Global Literacy Programme Christabel Pinto; and Scholastic Asia's Reading Ambassador Catherine Wu. 
"As a storyteller myself, I can't wait to see the many talented children from Asia reading aloud to their favourite Scholastic storybooks," said Reynolds. 
"One of the greatest joys I've found in storytelling is being able to express a range of emotions and engage with viewers. When you're able to move an audience with your storytelling, you know you've accomplished your goal to entertain and to connect.
"I hope the children will have a fun time during this whole process as I'm sure it will be a great family-bonding exercise as well."
The judges will view and judge a lucky group of shortlisted entries from all over Asia. They will also determine the top 10 winners of the competition.
The top 60 shortlisted finalists will receive a certificate and an exclusive Scholastic storybook set. 
The 10 lucky winners will receive a SAYSA Trophy, a certificate and bragging rights for being one of Asia's top 10 child storytellers.
All shortlisted finalists will be invited to attend the virtual award ceremony, which will be held in January 2022. 
HMS Richmond conducts PASSEX exercise with Vietnam frigate
Royal Navy ship HMS Richmond of the United Kingdom conducted a passing exercise (PASSEX) with Dinh Tien Hoang frigate of the Vietnam People's Army on October 4, marking the end of the British navy ship' four-day visit at Cam Ranh port.

A PASSEX is an exercise conducted between two or more navies which consists of navigational and communication drills as ships coordinate maneuvers alongside and around each other. Some of the drills include flashing light, semaphore and flag hoisting. The exercise helps increase the operational readiness and interoperability amongst participating ships.
HMS Richmond, one of HMS Queen Elizabeth's escort ships in the UK Carrier Strike Group (CSG), docked at Cam Ranh port in Khanh Hoa province on October 1 for a visit to Vietnam.
The visit came at a time when both the UK and Vietnam are celebrating the 10th anniversary of their defense relations, and just two months after the first visit to Vietnam by the UK Secretary of State for Defense Ben Wallace.
Captain Hugh Botterill, Commanding Officer of the HMS Richmond, said, the visit "demonstrates the UK's commitment to a persistent and reliable presence in the Indo-Pacific region, including crucial regional partners like Vietnam with we have numerous shared interests".
The UK and Vietnam are scheduled to hold the fourth annual bilateral defense policy dialogue later this year.
Project looks to protect, develop coastal forests
Deputy Prime Minister Le Van Thanh has signed a decision approving the project on protecting and developing coastal forests to respond to climate change and promote green growth in the 2021-2030 period.
The project's objectives are to manage, protect and sustainably use forests in the existing and newly-afforested coastal areas in the period; effectively promote the role and function of forests in coastal areas in protecting the environment, consolidating defence security, reducing impact of natural disasters, responding to climate change, as well as generating jobs and increasing income of locals, thus contributing to socio-economic development.
The main task of the project is to effectively manage, protect and use the existing coastal forests, especially the area of protection forests, special-use forests and production forests; planting 20,000 hectares of new forests, including 9,800 hectares of mangrove forests and 10,200 hectares of forests for shielding from winds and wind-blown sand; and growing more trees on 15,000 hectares of existing forests, including 6,800 mangrove forests and 8,200 hectares of forests for shielding from winds and wind-blown sand.
The project aims at raising capacity and awareness about the role and value of forests in coastal areas, protecting and developing mangrove forests, and preserving biodiversity./.
Vietnam will try its best to fulfill its mission: Ambassador
Vietnam will continue to complete its term as a non-permanent member of the United Nations Security Council (UNSC) and fulfill its commitments to the international community the country made when it began joining the council, a diplomat has said.
Ambassador Dang Dinh Quy, Permanent Representative of Vietnam to the UN, made the statement in an interview with the Vietnam News Agency's reporters about Vietnam's plans at the UN from now until the end of the year.
The next three months will be full of challenges and new problems, so Vietnam needs to continue to strive to make its voice heard, he said.
The country will even have to be more responsible and contribute more practical contributions in the next three months, Quy said in the context that there are only three months left until Vietnam completes its term as a non-permanent member of the UNSC for the 2020-2021 term.
Regarding the participation as well as the message of President Nguyen Xuan Phuc at the high-level general debate of the UN General Assembly, the ambassador said that the State leader's presence made a very special impression. The theme throughout all four discussion sessions attended by the President was the image of a Vietnam with strong aspirations, wishing to contribute more responsibly to regional and global affairs. This was the reason why countries highly appreciated Vietnam, expecting the country to contribute not only in terms of policy and understanding but also resources to the regional and global affairs.
According to the diplomat, the fact that the 76th session of the United Nations General Assembly was held in both face-to-face and online forms for the first time in 75 years of its history has reflected the UN's flexibility and adaptability amid complicated developments of the COVID-19 pandemic.
The main message that countries focused on at the high-level general debate and 76th session of the UN General Assembly was to strive for post-pandemic recovery, improve resilience to recover from the pandemic in a sustainable manner, meet the requirements of the planet, respect the people, and give new lease of life to the UN, he concluded./.
Skilling up Vietnam in new situation
Delegates at an international seminar in Hanoi on October 4 suggested solutions to improve skills for Vietnamese workforce to restore and develop the domestic labour market.
The seminar was held by the Ministry of Labour, Invalids and Social Affairs (MoLISA), in conjunction with the Vietnam General Confederation of Labour, the Vietnam Chamber of Commerce and Industry, and the International Labour Organisation (ILO).
According to the MoLISA and the ILO, by the end of the second quarter of this year, Vietnam had 51.1 million labourers, of whom only 26.1 percent underwent training.
The numbers revealed the urgent need to provide training and improve skills for Vietnamese employees, especially in the context of the COVID-19 pandemic that has hindered their job access.
The delegates looked into impacts of the pandemic as well as the fourth industrial revolution on Vietnam's market in both short and long terms, and how to equip local workers with skills to adapt to the industrial revolution.
Vietnam is striving to advance its vocational education to the level of ASEAN-4 countries by 2030, and to the level of G20 countries by 2045.
To that end, the delegates said relevant ministries and agencies should draw up mechanisms and implement policies to raise labourers' skills and better forecast the labour demand./.
Winners of UAVS-NSW's IT idea competition announced
Three students from the central city of Da Nang won the first prize at the grand finale of an IT idea competition virtually hosted by the United Associations of Vietnamese Students in New South Wales (UAVS-NSW), Australia, on October 3.
The team AnCV, comprising three students from the Da Nang University of Technology and the University of Da Nang's Vietnam-Korea University of Information and Communication Technology, was rewarded 2,000 AUD (1,400 USD) and scholarships after they championed the UAVS Hackatrix "Fix the Glitch" 2021 for a project on AI-based solutions for agriculture in Vietnam.
They are among five teams competing in the finale. The second and third prize recipients were awarded for projects in healthcare.
In his opening remarks, Nguyen Nhat Linh from the Vietnam Students' Association Central Committee said Vietnam is eyeing to become a digital nation, with the digital economy contributing about 30 percent of the GDP by 2030, and to this end, the young generation must serve as a bridge to connect the world and Vietnam with breakthrough technological solutions.
UAVS-NSW President Nguyen The Anh said the competition is expected to incubate promising hi-tech projects that Vietnam can apply in the era of innovative technology and connect students, experts, businesses and governmental and non-governmental organisations in the field of information technology.
Via the competition, UAVS-NSW wants to create a international playground for all Vietnamese IT students to meet and sharpen their skills, he noted.
The competition encouraged contestants to develop ideas on their technological products and compete against one another in terms of innovation and application in tackling issues in health, society, finance-banking, services, and technology.
High school graders, university and postgraduate students in Vietnam and Oceania were eligible to join in groups of between two and five members each. Individuals, meanwhile, were supported by the organisers to form teams.
The competition followed a series of activities targeting Vietnamese students in Australia initiated by UAVS-NSW since it was established three years ago./.
Vietnam calls for strengthening inter-sectoral, inter-pillar coordination in ASEAN
Vietnam suggests ASEAN enhance coordination between sectors and pillars, and its response capacity to such challenges as COVID-19, climate change and maritime issues, Vietnamese Minister of Foreign Affairs Bui Thanh Son said on October 4.
Son made the remarks while attending meetings ahead of the 38th and 39th ASEAN Summits and Related Summits.
The 24th ASEAN Political-Security Community Council (APSC) Meeting, the 30th ASEAN Coordinating Council (ACC) Meeting and the ASEAN Foreign Ministers' Meeting (AMM) took place virtually under the chair of Brunei, the current ASEAN Chair.
Vietnam has played an active role in realising ASEAN's priorities in 2021, and will closely coordinate with other countries to make the upcoming meetings a success, Son said.
For the pandemic fight, Vietnam suggests ASEAN improve its self-reliance in vaccines by building a regional supply chain, he said, stressing that Vietnam will joint efforts to accelerate the establishment and operation of the ASEAN Centre for Public Health Emergencies and Emerging Diseases (ACPHEED).
On this occasion, the minister announced the organisation of the ASEAN forum on sub-regional cooperation towards sustainable development and inclusive growth in Hanoi on November 30.
Pointing out challenges to ASEAN and the region, Son said ASEAN should keep a close watch on developments, and maintain solidarity and self-resilience, as well as its centrality and independence.
At the same time, ASEAN should maintain a harmonious approach that keeps its stance and principles towards issues affecting regional peace and security, while encouraging its partners to actively engage in ASEAN-led mechanisms.
Regarding the East Sea issue, the minister reiterated the importance of promoting trust, exercising self-restraint, and settling disputes peacefully in line with international law, including the 1982 United Nations Convention on the Law of the Sea (1982 UNCLOS).
He proposed the ten-member grouping continue its close coordination with China to ensure the full and effective implementation of the Declaration on the Conduct of Parties in the East Sea (DOC), and build an effective and substantive Code of Conduct in the East Sea (COC) that is consistent with international law and the 1982 UNCLOS.
For the situation in Myanmar, Son applauded the first humanitarian batch to the country, and expressed his hope that Myanmar will create optimal conditions for the ASEAN Special Envoy to fulfill his tasks in the country.
At the 30th meeting of the ACC, ASEAN countries agreed to use 10.5 million USD from the COVID-19 fund to buy vaccines, striving to deliver the first batch of vaccines for the countries in the fourth quarter of this year or the first quarter of 2022./.
Bac Lieu's officials congratulate Khmer people on Sene Dolta Festival
Leaders of southern Bac Lieu province on October 3 and 4 visited and presented gifts to Khmer people on the occasion of their traditional Sene Dolta Festival.
Sene Dolta, which is celebrated from the 30th day of the eighth lunar month to the second day of the ninth lunar month each year, is one of the most important religious festivals for the Khmer ethnic people, along with Chol Chnam Thmay (New Year) and Ooc Oom Bok to thank the Moon for a good harvest.
During the event, people gather to pay homage to their ancestors and enjoy traditional singing and dancing after a year of hard work.
The local leaders briefed dignitaries, monks, nuns at Khmer pagodas on socio-economic achievements recorded by Vietnam and Bac Lieu province in particular over the past time.
The Party and State have synchronously rolled out many policies towards the Khmer people in terms of housing, production and economic development, helping to raise their living standards, they said.
They expressed their hope that the dignitaries, monks, nuns and Khmer people will carry forward the tradition of patriotism, preserve their cultural identities, join hands in new-style rural area building, and celebrate the festival in line with COVID-19 prevention and control regulations.
The dignitaries, monks and nuns promised to better preform their role in representing the Khmer community, contributing to the preservation of the traditional culture of the Khmer people./.
Synergy helps Ho Chi Minh City triumph COVID-19
With great support from the entire political system, health sector, and relevant agencies, and especially local cadres, Ho Chi Minh City has triumphed in its fight against COVID-19, helping local people return to normal life.
Several measures were implemented during social distancing in Ho Chi Minh City. Each commune, ward, and town possesses different characteristics, terrain, and conditions, but all did their utmost to become "fortresses" to prevent and control the spread of COVID-19.
Many areas of the city have become "green zones", and the city's anti-pandemic "fortresses" are determined to cement the achievements in pandemic prevention and control while maintaining socio-economic development and ensuring health and safety./.
PM approves Bien Hoa-Vung Tau expressway investment plan
The Prime Minister has approved an investment plan for the first phase of the Bien Hoa - Vung Tau expressway project, which is expected to speed up travel between Dong Nai, Ba Ria - Vung Tau and Ho Chi Minh City.
The total investment will be about 19.6 trillion VND (862.7 million USD). Around 6.6 trillion VND will come from the State's budget to cover land clearance compensation and relocation.
The expressway is expected to ease congestion on National Highway 51. It will be around 53.7 kilometres long, connecting Dong Nai and Ba Ria – Vung Tau.
It will have a speed limit of no more than 100 kilometres per hour, and be built under the public-private partnership (PPP) model and Build – Operate – Transfer model.
It will run parallel to National Highway 51 and cut through the HCM City - Long Thanh – Dau Giay expressway and Ben Luc - Long Thanh expressway.
The first phase of the project will include four lanes, except for the segment between the two intersections between the expressway and HCM City - Long Thanh – Dau Giay and Ben Luc - Long Thanh, which will have six lanes instead.
Investment and construction will be carried out from 2021 to 2026.
The project will add to traffic infrastructure needed to fully utilise Cai Mep – Thi Vai Port and the future Long Thanh international airport.
The Ministry of Transport, which is in charge of the project, plans to survey potential investors and work with other authorities on the project's feasibility study. It targets choosing an investor by the end of 2022.
Vietnam aims to develop additional 4,000km of expressways by 2030./.
Competition on safety, gender equality in cyberspace opens
The contest "Cyber S – Generation S: Safety and equality in cyberspace" opened on October 4 to raise public awareness, especially among young people and content creators on social media, about safety and gender equality in cyberspace amid COVID-19 pandemic.
Co-hosted by the UN Women Vietnam, the Centre for Sustainable Development Studies (CSDS) and the CEDLink, the event will last till November with a training course on gender equality and safety in cyberspace for students and content creators, guidance for them to build and carry out their own projects, and join the competition with awards worth over 70 million VND (3,000 USD).
Speaking at the event, Vu Phuong Ly, an expert from the UN Women, said amid the pandemic, online schooling and working have become popular but still posed risks for users, especially women and girls. Therefore, improving public awareness of safety and gender equality in cyberspace has become urgent and necessary.
CSDS Director Don Tuan Phuong expressed his hope that the event will afford contestants a chance to share initiatives to build gender-sensitive contents and end gender violence online.
According to the Forbes magazine, the pandemic has pushed up the use of the Internet globally by 50-70 percent. Women and girls are vulnerable to online violence, including sexual abuse, physical threats, tracking and stealing personal information and photos./.
Kami paper dolls celebrate COVID-19 frontline forces
When the COVID-19 pandemic hit Ho Chi Minh City since the end of April, witnessing the silent sacrifice and devotion of frontline healthcare staff, Tran Thi Thanh Thuong came up with her own way to honour and celebrate those 'soldiers in white blouses'.
Thuong created small figurines of healthcare workers and other frontline forces from kami paper – a kind of thin paper made specifically for Japanese origami.
Images of soldiers, despite the burning heat, delivering essentials to local residents, or volunteers soaked by the rain standing guard at COVID-19 checkpoints, inspired Thuong to make the figurines.
'Artist of the Poor', actor Quyen Linh, who carried heavy sacks of rice to distribute to poor people and labourers during the pandemic, also became a model for Thuong's paper dolls.
Dolls of other famous artists such as Viet Huong and Hoai Phuong, who took part in charity activities during the coronavirus fight, were represented in paper.
"Alongside expressing my admiration and gratitude towards the frontline forces, the figurines are keepsakes of a challenging yet unforgettable period of time," she said.
The 39-year-old said that although she hasn't joined the pandemic fight in person, by creating the kami paper dolls, she wants to cheer on those dedicated volunteers and healthcare workers.
According to Thuong, in 2017, she was given a kami paper doll, and became curious about how to make one herself.
She then learned about Japanese paper-folding art of origami by studying online.
As the art is still relatively unknown in Vietnam, she wasn't able to find the right paper and had to order it from abroad, mainly from Japan and Taiwan. It took several days for her to get the right equipment for her first kami creations.
In the beginning, Thuong followed the basic steps online. Day by day, week by week, she finally found her own "tips" to perfect her paper creations.
"Firstly, I chose the model that I wanted to make. I had to study every detail then figure out how details should be folded," said Thuong. The paper artist is now considered a pioneer in kami paper folding art in Vietnam.
The next step is to decide the colour, then roll, and fold the paper. The last step is to connect all the details with glue and give it some final touches.
"Unlike other kinds of folding papers, kami has wavy lines on its surface and smooth texture that holds creases very well and is very easy to create the models, so kami creations can be used as nice souvenir items," she said.
Thuong spends about 3-4 hours to produce a simple kami figure. For complicated ones, it takes her 2-3 days.
In 2018, she created the Facebook page Do Choi Giay Kami (Kami Paper Toys) where she has posted 300 hand-carved paper creations. She also decided to quit her white-collar job to devote herself to kami art.
In December 2018, when Vietnam's national football team played Malaysia in the AFF Cup Tournament, Thuong designed a collection of the squad, including 24 footballers and coach Park Hang-seo.
A big fan of the national team, together with help from her husband, Thuong didn't sleep so she could complete the collection in 24 hours.
"It's really a wonderful memory," she said.
Thuong has also conducted online workshops on kami paper folding. She hopes to promote the art form in Vietnam, especially among young people./.
Da Nang spends over 20 bln VND for offshore fishing vessels
Authorities of the central city of Da Nang has spent over 20.7 billion VND (900,000 USD) to support 824 fishing vessels since 2019 in accordance with the Resolution No. 255/2019/NQ-HĐND dated July 11, 2019 by the municipal People's Council, reported the municipal Fisheries Sub-Department.
Under the resolution, owners of fishing vessels in the city will receive financial assistance to buy insurance for bodies of fishing vessels, journey monitoring devices, and fishing and preservation equipment between 2019 and 2025, apart from other State support.
As of October 1, the municipal authorities approved six aid packages worth nearly 2.7 billion VND for 265 vessels.
About equipment used in fishing and preservation of aquatic products, the city will fund half of expenditure, no more than 500 million VND per vessel.
To prevent and mitigate illegal, unreported and undocumented fishing (IUU), expenses for purchase of journey monitoring devices and first-year subscription for all offshore fishing vessels will be wholly funded by the municipal authorities.
So far, a total of 565 fishing vessels with a length of over 15m in the city have been equipped with journey monitoring devices. Over 17.8 billion VND have been approved for 557 devices while eight others are waiting for payment.
According to the sub-department, no IUU activity has been discovered since the installation of such devices in early 2021./.
Quang Ninh maintains COVID-19-free zones for tourism recovery
The northeastern coastal province of Quang Ninh has identified that maintaining COVID-19-free zones, dubbed 'green zones', serves as a prerequisite condition for tourism and services recovery in the new normal.
The province will gradually ease COVID-19 restrictions inside its boundary and only resume tourism activities once it is safe to do so.
In October, Quang Ninh will resume some tourism services serving only visitors from inside the province, while applying stringent preventive measures towards a pilot programme of welcoming tourists from other localities next month.
It is to set up links with its neighbour Hai Phong port city to open safe tours.
Under the plan, Quang Ninh will build safe multi-day tours to Tuan Chau island and the three islands of Co To, Van Don and Hai Ha, Mong Cai coastal city, as well as to mountainous communes in the province's Binh Lieu district.
Local authorities also encourage overnight tours in Ha Long Bay and closed-loop services.
The province will soon join hands with Central Highlands localities that have brought COVID-19 under control to study the launch of 'one route-two destinations' tours in the time to come.
The Party delegation of the Quang Ninh People's Committee has been asked to instruct localities and relevant agencies to study plans of setting up points of sale for products in the 'One Commune, One Product' (OCOP) programme and OCOP fairs at provincial and district levels, in an effort to increase visitors' spending while travelling in the province. 
During the 2021 - 2025 period, it is set to develop 300 new OCOP products, at least 250 of which will be rated three to five stars, with the participation of at least 50 economic organisations.
Between 2017 and 2020, the local OCOP programme had its focus switched from quantity to quality as more than 200 products were rated three to five stars, which is said to have helped improve rural residents' living conditions and contributed to the building of new-style rural areas.
Quang Ninh, one of the three nuclei of the northern key economic region, has implemented the OCOP programme since 2013, and it is now taking the lead nationwide in this regard.
At present, Quang Ninh has 456 items in the OCOP programme, 236 of which have been granted ratings of three to five stars. To be given star ratings, those products have met basic, even advanced, standards, been made in modern and professional manufacturing processes, and had their packages and labels perfected.
A campaign has been rolled out to call on local people to prioritise 'Make-in-Quang Ninh' products and services in a bid to bolster consumption and contribute to the gross regional domestic product.
Since the fourth wave of COVID-19 outbreaks hit Vietnam in late April until October 1, Quang Ninh has basically kept the pandemic under control. It had gone through 94 days without new infections in the community by October 1 and administered the first COVID-19 shot for most of local residents.
People entering the province must be fully vaccinated and test negative for COVID-19 using Real Time RT-PCR method within 48 hours.
Quang Ninh set a target of welcoming 1.9-2 million tourists and earning 4-4.5 trillion VND (175.6 - 197.5 million USD) from tourism services in the last quarter of 2021.
It is home to Ha Long Bay, around two hours from Hanoi, which has earned a permanent spot on the global tourism map, with travel bloggers and filmmakers hailing its emerald waters and thousands of towering limestone pillars topped by rainforests.
The bay helped Quang Ninh welcome 14 million tourists, including 5.7 million foreigners, in 2019, an increase of 14 percent from the previous year.
Ha Long Bay, literally 'descending dragon' bay, was twice recognised as a World Natural Heritage site by UNESCO in 1994 and 2000. The bay spans 1,553 square kilometres and includes 1,969 islands of various sizes. It features thousands of limestone karsts and islets in various shapes and sizes./.
World Cup qualifiers: Vietnam-China match to be played without supporters due to COVID-19
The football match between Vietnam and China in the final round of the 2022 FIFA World Cup Asian qualifiers at the Sharjah stadium in the United Arab Emirates (UAE) this week will be played behind closed doors due to COVID-19, according to the stadium's managing board.
The game will kick off at 0am on October 8 (Vietnam time).
It will be the second match that Vietnam have played without fans due to the COVID-19 pandemic.
Both Vietnam and China collected zero points after their two opening matches.
The Vietnamese team was defeated 0-1 by Australia and 1-3 by Saudi Arabia, while China lost 0-3 to Australia and 0-1 to Japan.
This is the first time Vietnam have ever played in such a round of World Cup qualifiers. Vietnam are in Group B along with Japan, Australia, Saudi Arabia, China and Oman for a berth at the 2022 Qatar World Cup./.
Source: VNA/VNS/VOV/VIR/SGT/SGGP/Nhan Dan/Hanoitimes  

Over 3 million labourers in HCM City subjected to unemployment insurance allowances