Photo exhibition shows dedication of firefighters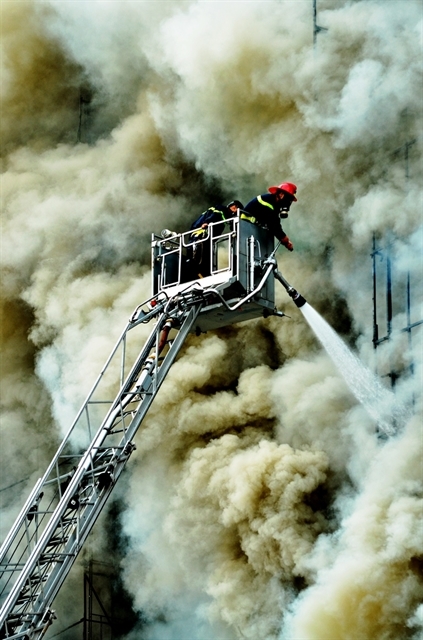 "The Ones Who Find Lives", a photo taken by Hoàng Ngọc Minh, received a consolation prize.
The blackened faces of firefighters due to smoke and dust and their smiles that shine through once a fire is under control are the subject of a photo exhibition that kicked off in Hà Nội on Friday.
Co-organised by the Người Hà Nội (Hanoians) newspaper and the Department of Fire Prevention, Fighting and Rescue Police, it is the first exhibition reflecting the hard and dangerous work firefighters undertake in Việt Nam.
The exhibition marks National Fire Prevention Day and the 58th anniversary of the establishment of the Việt Nam Firefighting Force (October 4, 1961).
With the theme For the Peaceful Life, the exhibition is displaying 56 photos depicting firefighters at work, in training and during their free time.
The exhibition was a result of a photo contest launched in June. The organisers received 1,600 entries from 169 photographers nationwide, according to Đào Xuân Hưng, editor-in-chief of newspaper.
Among them, 16 photos had won awards. There was no first prize because none of the photos met the criteria.
"The photos send a humane message of protecting a peaceful life and people's safety," Hưng said.
"The display captures special moments in the firefighters' lives, showing their sacrifice and braveness. Some photos reflect fierce battles while others show emotional moments when firefighters save lives."
"It's a special exhibition because it helps raise people's awareness of preventing fires and the work firefighters do. The exhibition honours their firefighting and rescue efforts."
The exhibition will run until Sunday at the Exhibition House, 93 Đinh Tiên Hoàng Street, Hà Nội.
NA leader attends ceremony to kick off work on Can Tho historical site
At the groundbreaking ceremony
Chairwoman of the National Assembly Nguyen Thi Kim Ngan attended a ceremony in the Mekong Delta city of Can Tho on October 4 to a project to upgrade the Lo Vong Cung historical relic site in My Khanh commune, Phong Dien district.
The project has a total investment of over 99 billion VND (4.25 million USD) from social sources. It will be carried out from now to 2020.
Speaking at the ceremony, Vice Chairman of the municipal People's Committee Duong Tan Hien said Lo Vong Cung connects National Highway 1A with Phong Dien district. It runs through My Khanh, Nhon Ai, Tan Thoi and Giai Xuan communes, and ends at Ba Se highway in O Mon district.
This is a convenient transport route with an important strategic position in the southwest gateway of Can Tho city.
During the resistance wars against French colonialism and American imperialism, Lo Vong Cung was known as a "land of fire", and held a specially important position from a military perspective.
Many Vietnamese soldiers laid down their lives there, especially in the 1968 Spring General Offensive and Uprising and the historic Ho Chi Minh Campaign that liberated the South and reunited the nation in 1975.
On February 7, 2013, the Ministry of Culture, Sports and Tourism issued a decision recognising the troop transit site, field hospital and weapon cache at Lo Vong Cung as a national historical relic site.
To preserve and promote the value of the site, on April 13, 2018, the municipal People's Committee approved a project to upgrade it with the construction of a memorial site./.
Vietnam silk, brocade exhibition underway in Geneva
The Vietnam silk and brocade exhibition is underway at the headquarters of the World Intellectual Property Organisation (WIPO) in Geneva from September 30 – October 9 within the framework of the 59th session of the WIPO General Assembly.
The exhibition is co-organised by the Vietnam Permanent Mission to the United Nations, the World Trade Organisation and international organisations in Geneva.
It introduces silk products from Bao Loc, the Central Highlands province of Lam Dong – the capital of silk in Vietnam by well-known designer Minh Hanh.
Earlier, the Vietmode fashion show also introduced silk and brocade products in the same place on the occasion of the 74th anniversary of the National Day to the welcome of international friends.
WIPO General Director Francis Gurry also expressed his impression about the show./.
Overseas Vietnamese celebrate teachers' day in Laos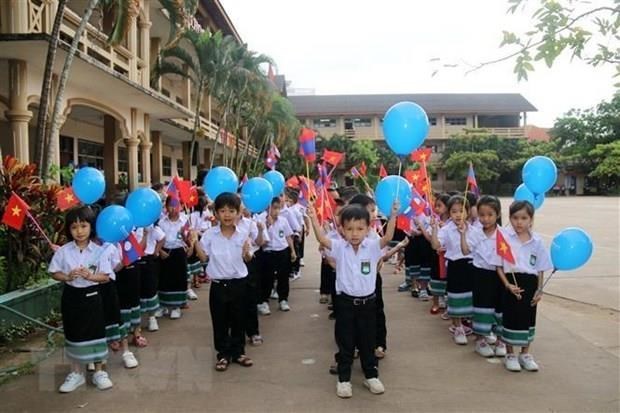 Students of the Nguyen Du Vietnamese-Lao Bilingual Language School in Laos
The Nguyen Du Vietnamese-Lao Bilingual Language School in Laos and the Vietnamese community association in Vientiane held a get-together in the capital city on October 4 to honour teachers of the school.
The event was to commemorate the 25th year of the National Teachers' Day in Laos (October 7). It was attended by representatives of the embassy of Vietnam in Laos, local authorities and the school's students and their parents.
Speaking at the event, Acting Principal of the school Sivanhuaeng spoke highly of the sentiments of Vietnamese students and offices in Laos for the school's teachers on the day of the country.
The Vietnamese teachers have always worked to teach the mother tongue to students of the school, helping them learn the country's traditional cultural traits and remember their roots, he added.
On the occasion, overseas Vietnamese in Lao also held similar events at the language department of the National University of Laos./.
Norway-funded project to help turn ocean plastic into development chances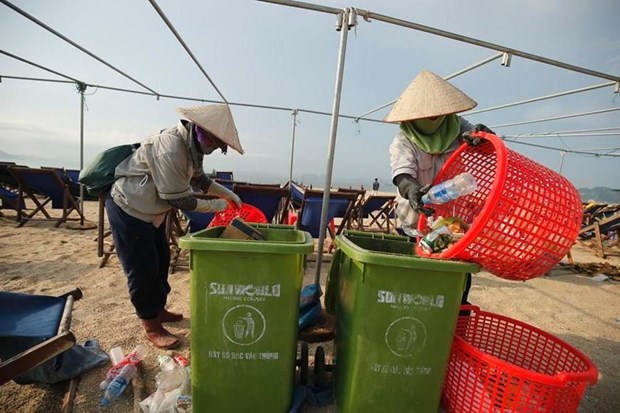 Environmental workers sort waste on a beach of Ha Long Bay in Quang Ninh province
A project funded by the Norwegian Government made debut at a seminar in Ho Chi Minh City on October 4, aiming to help Vietnam turn plastic wastes from the oceans into chances in a circular economy.
Vietnam is one of the five Asian countries to benefit from the "Ocean Plastic Turned into an Opportunity in Circular Economy" (OPTOCE) project, apart from China, India, Myanmar and Thailand.
This project will connect with the countries' management agencies on natural resources and environment, which are the Ministry of Natural Resources and Environment and its provincial-level departments in Vietnam, to promote public – private partnership in collecting waste and using it as materials to generate energy for cement factories.
Statistics show that these five countries have a combined population of 3 billion, about 1 billion of whom reside near rivers, lakes or seas and release about 176,000 tonnes of plastic waste each day, equivalent to 64 million tonnes annually.
Besides, some industries like cement, steel and electricity are consuming a huge amount of coal and emit more than 30 percent of the CO2 volume around the world.
The OPTOCE project is set to replace this coal amount with unrecyclable plastic waste, thus creating a solution to threats posed by plastic and greenhouse gas emission.
According to Norwegian Ambassador to Vietnam Grete Lochen, the oceans are increasingly polluted, and 80 percent of marine debris comes from land-based sources. Ocean plastic waste has become a global issue, including in Vietnam.
The project is an international action key to addressing the biggest sources of plastic litter in the oceans, she noted.
The pilot phase of this project is scheduled to begin in late 2019./.
Exhibition gives insight into changes in Hanoi's boundary
An exhibition of archival materials on the changes in Hanoi's administrative boundary since the feudal period to now was opened at the relic site of the Imperial Citadel of Thang Long on October 2.

The event, which runs until October 15, is an activity to mark the 65th anniversary of the liberation of the capital from French colonialists (October 10, 1954-2019).
A total of 88 documents, maps and photos are on display, arranged in three periods, showing the administrative boundary of Hanoi before the August Revolution in 1945, during the time from 1945 to 1954, and after 1954.
After merging with the whole neighbouring Ha Tay province, Me Linh district of Vinh Phuc province and four communes of Luong Son district, Hoa Binh province, the current Hanoi stretching over 3,328 sq.km, tripling the former acreage. The city has 577 communes, districts and townships of 29 districts and towns./.
Ha Long city develops sustainable tourism
Ha Long city in the northeastern province of Quang Ninh is striving to develop sustainable tourism, especially promoting the world natural heritage site of Ha Long Bay.
The city has implemented a number of measures to improve environmental protection such as removing factories causing pollution and maintaining the monitoring of environmental quality in the bay and surrounding areas.
It also strengthens the inspection of environmental protection of organisations and individuals providing tourism services in Ha Long Bay.
The city is speeding up the construction of daily sewage treatment facilities in coastal areas. It is also carrying out a 154 million USD project using official development assistance (ODA) loans to improve the environment.
The city asked organisations and individuals running tourism services in Ha Long Bay to not use disposable plastic products from September 1, 2019.
Local authorities have encouraged people to sort waste at source and limit the use of plastic bottles and nylon bags while touring the bay.
Service providers in the bay were asked to use paper cups, straws and bags to serve their customers, according to the Ha Long Bay Management Board.
So far, Ha Long has launched four communication campaigns on reducing plastic waste.
The city has maintained close relations with international organisations to obtain their financial and technical support to serve the preservation and promotion of heritage values of Ha Long Bay.
Thanks to these aforesaid measures, in the first nine months of 2019, the number of tourists to Ha Long city increased 21 percent to reach 7.9 million.
The municipal tourism sector grossed over 15.7 trillion VND (679 million USD) in revenue in January-September, a year-on-year rise of 35 percent.
Ha Long Bay literally "descending dragon bay" is a must-see destination in Quang Ninh province. It was recognised as a UNESCO World Heritage Site in 1994 and 2000.
The bay spans 1,553 square kilometres and includes 1,969 islands of various sizes. It features thousands of limestone karsts and islets in various shapes and sizes. The limestone in the bay has gone through 500 million years of formation in different conditions and environments. The geo-diversity of the environment has created biodiversity, including a tropical evergreen biosystem, oceanic and sea biosystem.
Ha Long Bay is home to 14 endemic floral species and 60 endemic faunal species.
In April 2019, US-based newspaper Business Insider made a list of 35 most beautiful natural wonders around the world, in which Vietnam's Ha Long Bay claimed a place.
According to the news website, the beauty of Ha Long Bay makes it one of Vietnam's top tourist sites. It also recommends that tourists see the UNESCO-recognised site's awe-inspiring limestone towers by boat.
Previously, Ha Long Bay was ranked 14th in Business Insider's list of the 100 most beautiful UNESCO World Heritages in 2018.
So far this year, Ha Long Bay has gained a lot of global titled. In July, the bay was listed among the world's most beautiful sunrise spots by the Microsoft Network (MSN).
"What's more memorable when you see the sunrise in Ha Long Bay, natural wonders with turquoise waters, majestic limestone mountains and lush tropical forests," MSN wrote.
"What you need to do is take a boat tour on Ha Long Bay and wake up at 5pm to catch mild, romantic sunshine unexpectedly," it added.
In August, British travel magazine Rough Guides included Ha Long Bay in its selection of the 100 most beautiful places to visit next year.
In the Rough Guides to the 100 Best Places on Earth, the magazine describes "the scattering of limestone pinnacles jutting out of the smooth waters of Ha Long Bay", around four hours east of Hanoi, as an "incredible sight". The bay was the only Vietnamese destination in the list.
In September, Ha Long Bay was named as one of the most popular attractions in Asia, according to the South China Morning Post (SCMP) based in Hong Kong.
Around 5.2 million foreigners visited Ha Long Bay in 2018, up 22 percent from a year ago, accounting for 30 percent of the 15.6 million foreign tourist arrivals to Vietnam./.
HCM City needs 75,000 labourers in last quarter
Around 75,000 workers are needed in Ho Chi Minh City for the last three months of 2019, up over 7 percent compared to the same period last year, according to the HCM City Human Resources Forecast and Labour Market Information (Falmi) Centre.
Of the number, the demand for trained labourers makes up 82.92 percent, including 27.38 percent of skilled workers. Most of the new jobs are available in industry, service, business – sale, and consultation.
A representative from Falmi said now is the time when businesses increase the recruitment of workers to complete production and business plans and orders for the last months of the year.
Notably, the business – sale sector accounts for 23.24 percent of the recruitment demand, while the service sector is 15.55 percent.
According to Vice Director of the HCM City Youth Vocational Training, Career Orientation and Employment Service Centre (YES Centre) Nguyen Van Sang, from now to the year-end, businesses have great needs of recruiting workers, especially experienced workers, high quality human resources, skilled labourers, and those with foreign language fluency and other skills.
Professional working environment requires workers to equip themselves with appropriate knowledge and skills to meet labour market needs, he noted.
Sang said his centre has coordinated with the Ho Chi Minh City University of Industry to organise a job fair to find more than 7,000 workers from enterprises. Most businesses needed employees in the fields of information technology, environment, construction, economy - finance, tourism - restaurant - hotel, translation - interpretation, law, architecture, and fashion.
In the first nine months of 2019, HCM City recorded over 29,600 newly-registered businesses with a total capital of 450 trillion VND (19.4 billion USD).
Labour and employment experts said the city's socio-economic stability has had positive impact on labour supply and demand./.
CNN names Hanoi among top nine coffee spots worldwide
To mark International Coffee Day, CNN Travel has unveiled a list of nine of the best places to get the best coffee around the globe, with Hanoi included on the list.
According to CNN, coffee is part of Vietnam's DNA with the country being one of the biggest producers of beans in the world.
"Don't expect a flat white or an Americano here, though", notes the website.
CNN travel detailed how Vietnamese coffee is brewed in a traditional filter, dripping into a single cup below. Customers are able to enjoy the drink with traditional sweetened condensed milk.
A cup of "ca phe trung", known as egg coffee in English, at Cafe Giang was strongly recommended by CNN.
Other locations around the world that serve the best to coffee include Wellington in New Zealand, Melbourne in Australia, London in the UK, Iceland, Rome in Italy, Singapore, and Seattle in the United States, according to the list released by CNN.
Hanoi to host biggest Study UK Fair next week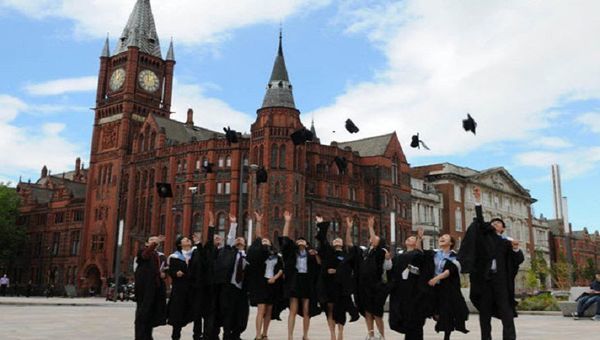 Study UK Fair 2019, the biggest annual UK education event organized by the British Council Vietnam in 2019, will take place in Hanoi on October 6.
At this event, guests will have the opportunity to meet representatives of over 30 leading UK colleges, universities, prestigious education consultancy companies, and gain access to study programs in the UK.
The fair will deliver a golden opportunity for students to learn all the most up-to-date information regarding studying in the UK including the exciting new visa policy for international students.

The main topic of Study UK Fair 2019 focuses on career orientation for students. Joining this year's fair, students will be consulted on how to choose majors and universities in the UK, focusing on six fields (marketing, engineering, art and design, media, hospitality management, education and linguistics).
Highlights of this year's fair include a UK visa seminar with updated information about the new UK graduate immigration route, tips to apply for top UK universities, opportunities to study in Wales, the Chevening Wales scholarship program, and career-oriented seminars with experts from leading companies in Vietnam.
Especially, a seminar on future career opportunities in Vietnam will be attended by high-profile guest speakers from leading companies and corporations in Vietnam, such as CEO of Thien Minh Group Tran Trong Kien, CEO of Ventures Group Thai Van Linh, CEO of Navigos Group Nguyen Phuong Mai.
They will join useful sharing sessions and inspirational messages promises to help UK alumni and students in Vietnam understand how to build career development path in the Vietnamese market.
The UK government has announced a new graduate immigration route to allow international students to stay in the UK for two years after they graduate to work or look for work, ensuring the UK continues to attract the best talent from around the world.
UK universities will be able to recruit on the basis that students starting in the 2020-2021 academic year will benefit from this new scheme. This development will open opportunities for those planning to study abroad in the UK in the future.
Vietnam to set up national innovation center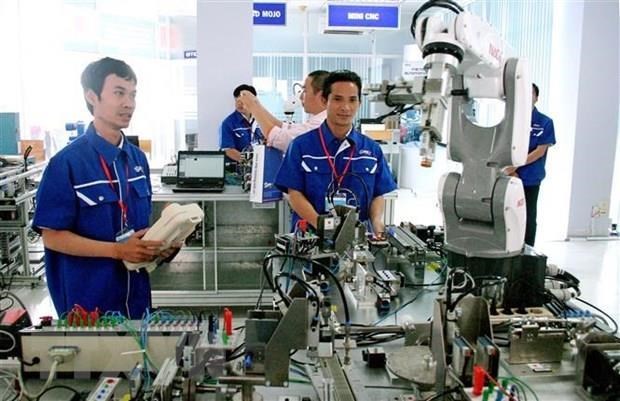 The establishment of the Vietnam National Innovation Center aims to support and develop a startup ecosystem in Vietnam.

Prime Minister Nguyen Xuan Phuc has recently signed a decision to set up the Vietnam National Innovation Center (NIC) under the Ministry of Planning and Investment.
The establishment of the center aims to support and develop a startup ecosystem in Vietnam and promote innovation as well as the growth model based on scientific and technological development.
The PM assigned the Ministry of Planning and Investment to specify the functions, tasks, power and apparatus of the center, and approve its organisation and operation regulations.
He asked the ministry to mobilise, manage and use legal resources from domestic and foreign organisations and individuals to serve the center's operation in line with the country's law.
The Ministry of Science and Technology was tasked to work with the Ministry of Planning and Investment to direct the management board of Hoa Lac Hi-Tech Park to support the completion of procedures to put the center into operation.
The Ministry of Finance was requested to work with the Ministry of Planning and Investment to issue documents guiding the management and use of aid packages for the center./.
HCMC establishes competition council for innovative urban area ideas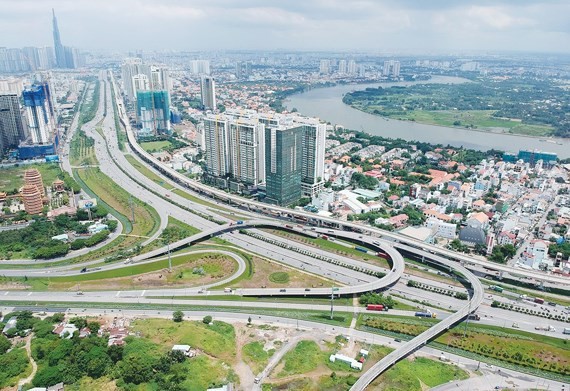 Ho Chi Minh City People's Committee on October 1 signed a decision to establish a competition council to seek ideas for planning and development of an highly interactive and innovative urban area in the east of the city including Districts 2, 9 and Thu Duc.
The council comprises 13 members including seven international experts namely Zhiyu Jerry Chen, senior economic expert of the World Bank; Michael Koh, director of Urban Planning and Design at the Singaporean Urban Redevelopment Authority; Professor Dr. Yong Han Ahn from Hanyang University, South Korea; Joost Helms, director of the Eindhoven International Project Office, the Netherlands; Halvard Dalheim, executive director of the Department of Planning, Industry and Environment of New South Wales, Australia; Phil Donaldson, manager of Adelaide Living Laboratory (ALL), Australia; and Professor Dr. Jorg Rainer Noennig from the HafenCity University Hamburg, Germany.
Vietnam has six experts including Architect Tran Ngoc Chinh from Vietnam Urban Planning and Development Association and former deputy Minister of Construction; Dr. Nguyen Viet Dung, director of HCMC Department of Planning and Investment; Tran Chi Dung, chairman of HCMC Urban Planning Development Association; Associate Professor Dr. Tran Hoang Ngan, head of HCMC Development Studies Institute; Nguyen Thanh Nha, director of HCMC Department of Planning and Architecture; and Khuong Van Muoi, deputy chairman of Vietnam Association of Architects.
The competition council will help the organization board estimate and rank projects and select the best one for the organization board to synthesize and report to the city People's Committee for approval.
The competition will be organized from October 14-16.
HCMC to spend VND500 billion upgrading flood-prone street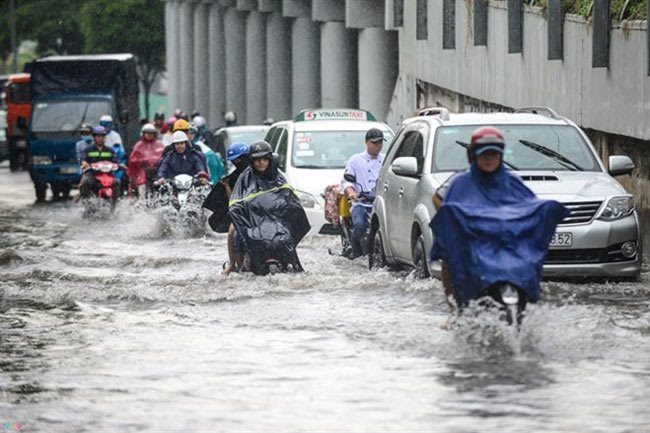 A section of Nguyen Huu Canh Street in HCMC's Binh Thanh District is flooded after heavy rain. A project to upgrade the street will cost nearly VND500 billion - PHOTO: VNA
Nearly VND500 billion will be spent on a project to upgrade flood-prone Nguyen Huu Canh Street.
According to the HCMC Management Board of Investment and Construction of Traffic Projects, the 3.2-kilometer street, which connects districts 1 and Binh Thanh, will be upgraded.
Work on the project will start on October 5 and is expected to be completed within 14 months, Thanh Nien Online newspaper reported.
The street surface will be fixed and a new wastewater drainage system will be added. In addition, a lighting system and other technical facilities will be developed along the street to ensure traffic safety and the beauty of the urban landscape.
Further, trees and grass covers will be added. There are currently 459 trees along the street, but 60 of them, which are stunted, will be cut down and replaced with new ones, helping increase the area of trees and grass coverage by 20%.
Nguyen Huu Canh Street has three lanes, and the project will be executed on each lane to ensure a smooth traffic flow.
Nguyen Vinh Ninh, deputy director of the HCMC Management Board of Investment and Construction of Traffic Projects, said that the project is aimed at preventing the street from being flooded and revitalizing the urban landscape.
The street is frequently flooded as it has subsided due to the weak foundation. Some sections have sunk by 1.2 meters. Therefore, the street surface will be reinforced.
The HCMC Management Board of Investment and Construction of Traffic Projects will help road users choose appropriate routes during the project's execution. The investor will strive to execute the project in the shortest period of time possible and will coordinate with the traffic police to regulate traffic, Ninh added.
The street is expected to be free of floods after it is upgraded, so the management board will report the project results to the HCMC government, which will then decide whether to continue leasing a massive water pump.
Cities pulling out all the stops to become smart
Following a Singaporean-initiated smart cities scheme, Vietnam's three biggest cities are pushing towards making themselves smart, contributing to creating a large system of such locations across the country.
After the ASEAN Smart Cities Network (ASCN) was launched in Singapore in April last year, Hanoi, Danang, and Ho Chi Minh City, which have been selected to join the ASCN, have been actively seeking effective solutions to transform themselves in alignment with smart trends. According to the Ministry of Construction, this is laying firm groundworks for Vietnam to develop smart cities on a larger scale in the future.
Hanoi Department of Information and Communications (DIC) reported that in its journey to become a smart city, this year Hanoi will co-operate with partners to pilot 5G, in addition to expanding the application of IT solutions in parking and the supervision of the operation of buses via GPS and e-tickets.
Next year, Hanoi will begin creating a scheme to develop itself into a smart city by 2025 with an orientation towards 2030, establishing its own smart monitoring centre.
The facility will include eight sub-centres focusing on information security, support for IT experts, media information management, transport supervision and monitoring, data analysis, response to public requirements, public service management, and fire prevention, as well as healthcare issues.
"Hanoi will also deploy smart projects regarding healthcare, education, the environment, agriculture, and on urban areas," stated a report from Hanoi's DIC.
According to Danang's equivalent, after the ACCN was launched, the city has been actively deploying a series of programmes and projects to make itself smarter.
Late last year the municipal People's Committee approved a scheme to develop Danang into a smart city in 2018-2025, with an orientation towards 2030. The scheme will cost VND2.14 trillion ($93 million) of which VND650 billion ($28.3 million) will come from the state budget, and the remainder will be from private sources. This May, the committee enacted a plan to carry out the scheme until next year.
"Currently all departments and agencies in the province are preparing procedures for investing into key projects in 2020, especially projects to upgrade the city's data centre, expand the city's telecommunications system, construct a system for environmental monitoring, and to build up an urban database.
The city is now also implementing the application of IT in the transport sector, and co-operating with FPT Group to deploy an online transport portal in the city. It is also about to develop a VND550 billion ($23.9 million) project to install smart cameras on all streets and roads.
Danang is also going to develop a smart water management system, with an investment of VND15 billion ($650,000) during 2021-2025.
Meanwhile, after 18 months of implementing its smart city action plan following the ASCN, Ho Chi Minh City has achieved results.
Specifically, according to the city's DIC, Ho Chi Minh City has built a shared data warehouse and developed an open data ecosystem. The warehouse's first phase has been operating at Quang Trung Software Park on the basis of integrating existing databases, such as electronic one-stop, complaints and ­denunciations, business registration, foreign direct investment, taxpayers, foreign labour, and more.
Moreover, the country's largest city has built an intelligent operations centre on the basis of camera integration and the application of some video analytic functions.
Besides that, Ho Chi Minh City has also started developing an e-portal for providing information and responding to public requests, which allow citizens and enterprises to send feedback, report on public infrastructure incidents and public transportation systems, and comment and contribute to public services via different methods such as voice calls, SMS, mobile apps, websites, and social networks.
The Ho Chi Minh City People's Committee has also built an e-government architecture which serves the digital transformation process, aiming to build digital government to manage and operate a smart city.
The ASCN was launched at the 32nd ASEAN Summit in 2018. Under the initiative, smart city development covers many sectors including transport, water quality, energy, healthcare, education, public services, data, and ICT. A total of 26 cities in Southeast Asia have joined the ASCN.
The Vietnamese trio will be linked up with private ­sector solution providers to kick-start practical and commercially-viable projects with tangible outcomes. They will also pair up with specific external partners on a voluntary basis, and form mutually beneficial partnerships to drive smart city development.
"The cities have taken concrete steps to harness smart solutions in various ­domains," said Lim Teng Leng, deputy director of the Centre for Liveable Cities under Singapore's Ministry of National Development.
"Already, Hanoi's iParking app makes vacant parking lot information available at drivers' fingertips, and allows them to pay for parking with just a few clicks. Danang has also made use of data to assess climate change risks and shape its strategies in a data-informed manner," he said
According to him, many cities in Vietnam also have greater ­visions. "They have put forth innovative solutions and ­ambitious plans for the near future, such as Danang's intelligent traffic control system to reduce congestion and improve logistical efficiency, and Ho Chi Minh City's Integrated and Unified Emergency Response Centre to centrally co-ordinate and respond to emergency situations."
Tourism festival in Ban Gioc Waterfall tourist site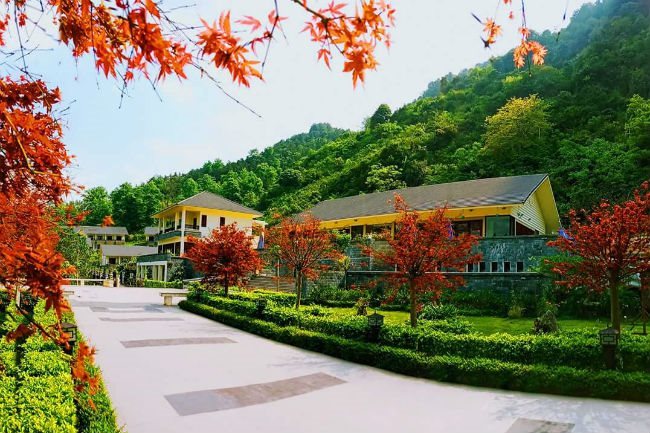 The Saigon-Ban Gioc Resort in Trung Khanh District, Cao Bang Province - PHOTO: COURTESY OF SAIGONTOURIST
A tourism festival will be held in Ban Gioc Waterfall tourist site in Trung Khanh District in the mountainous province of Cao Bang this weekend.
The festival features a host of exciting events and activities, including a light show at the foot of Ban Gioc Waterfall from 8 p.m. to 9:30 p.m. on October 5.
From 7:30 a.m. to 11:30 a.m. on October 6, a ceremony will be organized to pray for peace and good weather at Phat Tich Truc Lam Ban Gioc Pagoda in Dam Thuy Commune.
There will also be a food fair introducing local specialties, photo exhibitions, folk games, and traditional music shows during the festival.
The festival aims to promote Cao Bang Province's landscapes, especially Ban Gioc Waterfall, people and unique culture to local and international tourists, contributing to socio-economic development and attracting more investors to the province.
The Saigon-Ban Gioc Resort, operated by Saigontourist Holding Company, will participate in the festival.
On the occasion, the resort is offering many promotions. Guests booking three nights at the resort will pay for only two nights, while those booking two nights will get a 30% discount on room rates for the second night.
The resort has launched special packages, which cost VND1.3 million for Superior rooms and VND1.5 million for Deluxe rooms, including tickets to Ban Gioc Waterfall and Nguom Ngao Cave, lemongrass peach tea for two and a bowl of chicken soup with chilies.
Moreover, guests can enjoy traditional music and cooking shows and take part in game shows with valuable prizes being bags and 10% or 20% discount vouchers for food and beverages.
The four-star Saigon-Ban Gioc Resort is located near Ban Gioc Waterfall, one of the most gorgeous waterfalls in Asia.
Covering more than 31 hectares, the resort has 53 rooms with luxury design and conference rooms and restaurants for over 200 guests, serving local, Asian and Western specialties.
The Saigon-Ban Gioc Resort is the first four-star resort in the northeastern mountainous region, where modern design and local nature and culture co-exist.
A stay at the resort allows guests to discover the breathtaking Ban Gioc Waterfall, the mysterious Nguom Ngao Cave, and peaceful, picturesque sights in the border area.
The Saigon-Ban Gioc Resort is located in Dam Thuy Commune, Trung Khanh District, Cao Bang Province.
Hai Duong works to preserve Stork Island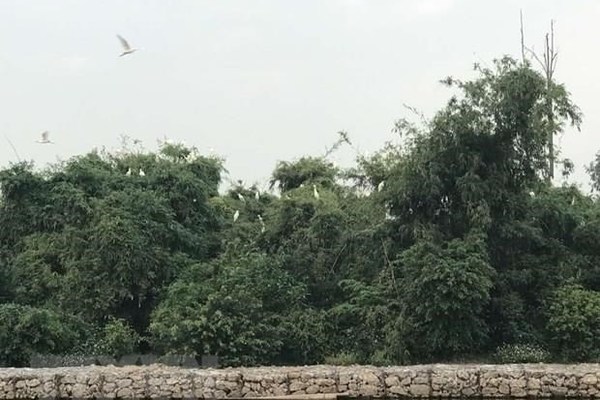 With a total area of over 31.6 ha, the Stork Island is located in the middle of An Duong Lake in Chi Lang Nam commune, Thanh Mien district, Hai Duong province. 
Thanh Mien district in the Red River Delta province of Hai Duong is working on plans to protect the Chi Lang Nam Stork Island, given the falling number of storks and herons.
With a total area of over 31.6 ha, the Stork Island is located in the middle of An Duong Lake in Chi Lang Nam commune.
The island, which is home to about 170 flora and fauna species, was recognised as a national relic site in 2014.
From the ninth lunar month to the fourth lunar month of next year, thousands of storks, herons and other bird species to the island to search for food. It is estimated that around 16,000 storks and 6,000 herons are making their nests on the island.
The Stork Island has been designated as an eco-tourism destination. The best time to visit the site is between September and April. At present, it already welcomes thousands of visitors a year.
However, over the past years, the number of storks on the island declined sharply due to illegal hunting and trapping.
Nguyen Dang Giam, deputy head of the management board of the relic site, said his agency has coordinated with the People's Committee of Chi Lang commune to establish a 56-member working group which is divided into three teams in charge of preventing, detecting and handling the hunting and trapping.
The efforts to protect the island have received the warm welcome of local people, he said.
The management board has also coordinated with domestic and foreign scientists to study characteristics of storks and herons to adjust their habitat, he said, adding that the island has been upgraded with more plants.
Thanks to such efforts, more stocks have recently flocked to the island, thus attracting crowds of visitors, Giam said./.
HCM City primary school students participate in road safety event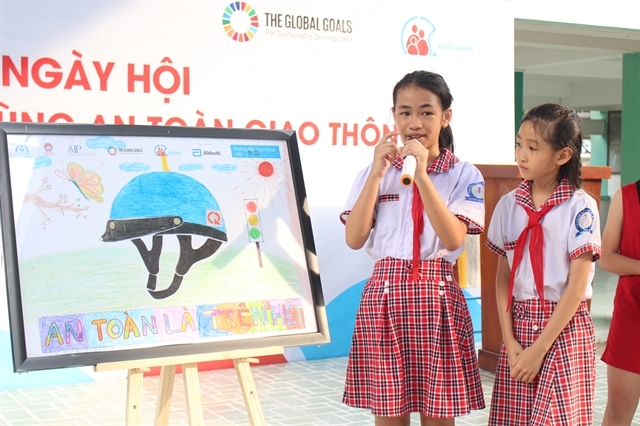 Nearly 1,000 children and teachers took part in the "Children Have Fun with Road Safety" festival at Lê Lợi Primary School in HCM City's Nhà Bè District on Thursday as part of the Helmets for Families programme run by the Asia Injury Prevention Foundation.
Students and volunteers participated in road safety games, paintings and helmet-wearing demonstrations to reinforce previous road safety education delivered by AIP.
"These festivals are a great opportunity for students to learn outside of the classroom, especially about traffic safety to protect their lives and others'," Lê Thanh Hải, deputy head of the Nhà Bè District Education and Training Division, said.
The festival culminated in an exhibition of pictures of helmets drawn by students and the announcement of awards.
Earlier the foundation worked with health professionals from Chợ Rẫy Hospital to develop an educational video to raise teachers and parents' awareness.
Five hoardings were erected at focus areas, and more than 13,000 handheld fans, 6,756 rulers and 6,756 booklets with the Helmets for Families logo were distributed to students at 10 targeted primary schools and their parents and to patients at the Củ Chi, Hóc Môn, Nhà Bè District, Paediatric 2, and Chợ Rẫy Hospitals.
Mirjam Sidik, CEO of AIP Foundation, said: "We are excited to continue implementing more interactive approaches to learning such as festivals and extracurricular days at school."
The programme is supported by global healthcare company Abbott, and is run in co-ordination with the HCM Cityy Traffic Safety Committee and Department of Education and Training.
Douglas Kuo, general manager of Abbott in Vietnam, said the Helmets for Families programme has provided more than 25,000 quality helmets to students and teachers at 21 schools and nearly 15,000 helmets to parents with subsidies and through exchange in the last six years.
Vietjet starts special journey
Budget carrier Vietjet will team up with the Việt Nam Youth Federation to start a journey called "I love my Fatherland" 2019, a press conference heard in the capital city on Thursday.
The journey will be held in 63 provinces around the country featuring 6,300 young people. In each province, 100 young representatives of youth, celebrities and young influencers will be selected to take part.
With 129 domestic and international routes, Vietjet will accompany the journey with many meaningful activities.
A Vietjet aircraft bearing "I love my Fatherland" symbol will connect destinations. The aircraft help spread the responsibility towards the community and the love towards the homeland.
Vietjet and the Viêt Nam Youth Federation have signed a five-year co-operation programme so that the two sides will team up to organise a number of meaningful and practical activities in the community. 
Experts discuss festival honoring first king of independence era
Historians have been discussing the idea of a festival to be held annually in the ancient citadel of Cổ Loa on the outskirts of Hà Nội dedicated to King Ngô Quyền, the first king of the country who helped gain independence from Chinese invaders in 938 after over 1,000 years of foreign rule.
They were attending a workshop in the capital on October 3.
History professor Lê Văn Lan proposed there should be an annual local festival hosted by Đông Anh District and another national event hosted by Hà Nội every five years.
According to the professor, the king deserved to be remembered and the events would help remind people of the historic figure and what he accomplished.
Participants suggested holding the festival on the 7th day of the first lunar month, a day after the present Cổ Loa Festival.
Some said the plan would be difficult to implement as there was no temple dedicated to King Ngô Quyền at Cổ Loa Citadel, so a proposal to build such a temple should be submitted to Hà Nội authorities.
Researcher Phạm Quốc Quân, a member of the National Culture Heritage Council, suggested that while waiting for the temple to be built, there should be a ceremony honoring the king every year so that locals could get used to the custom and prepare for the national festival.
Participants also looked at how to involve the local community in hosting the event, rather than following a script.
"If the local community plays an active role the festival will live on and be handed down through the generations," said Prof Lan.
Experts suggested connecting local people with other communities that already host festivals dedicated to Ngô Quyền around the country.
Nguyễn Văn Nhân, an official from Cổ Loa Commune, said the 7th day of the first lunar month was not a good time as locals celebrated the Cổ Loa Festival just a day before.
"We should hold the event later than the existing festival bu still in the first lunar month," he said. "Historic documents record that King Ngô Quyền came onto the throne in spring. We should organise the ceremony later in spring to attract more tourists throughout the country."
Other attendees suggested organising the ceremony at the nearby Ngự Triều Di Quy communal house while waiting for the temple to be built.
Participants also discussed how to make the ceremony different from existing spring festivals.
"The ceremony will be held right after the Cổ Loa Festival, so we should think about how to make it stand out from existing events," said researcher Lê Hồng Lý from the Việt Nam Social Sciences Academy.
He also suggested consulting other localities that host ceremonies dedicated to historic figures.
"We need to learn from other localities like Hoa Lư District in Ninh Bình Province which hosts a festival at King Đing Tiên Hoàng Temple, and the festival at Lê Lơi Temple in Thường Xuân District, Thanh Hóa Province," he said.
Historians are planning further discussions about how to move the project forward.
Ngô Quyền (898-944), also known as Tiền Ngô Vương, was the first king of the Ngô Dynasty. In 938, he led the army to fight Chinese invaders on Bạch Đằng River in today's Quảng Ninh Province, and his victory ended nearly 1,000 years of foreign rule and opened an era of independence for Việt Nam. After the victory, he took the throne and established the Ngô Dynasty, ruling between 939 and 944.
Ngô Quyền has been listed among 14 national heroes and named "the king leading kings" in various historical documents.