HCM City police detect dozens drug users at nightclub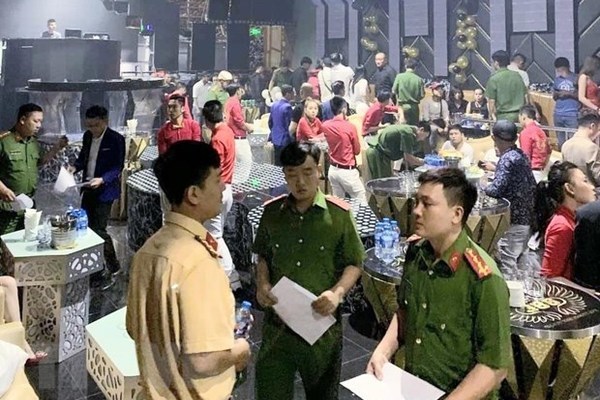 HCM City police officers raid the venue in District 5 and find dozens of drug users.
Police in HCM City found dozens of drug users during a surprise raid at a nightclub in District 5.
One Sunday, officers conducted a search at 86 Club of Đại Dương Entertainment Consulting Services Joint Stock Company on Hùng Vương Street.
Eighty-five people who appeared to be under the influence of drugs were taken to the police station for tests.
More than 30 tested positive for drugs.
The venue was also cited for a number of violations over fire protection, emergency exits and lighting, as well as allowing drugs to be consumed on the premises.
More officials charged for exam scandal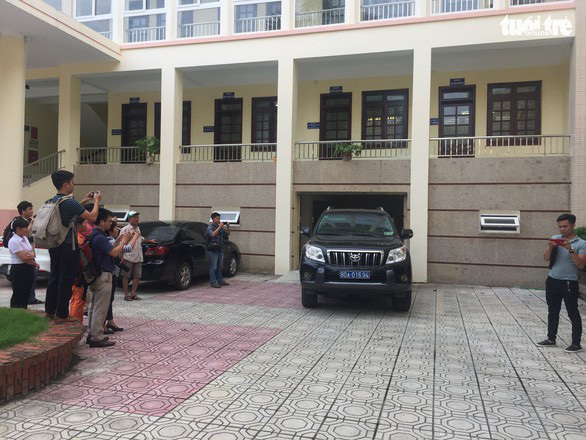 Investigative police enter the Hòa Bình Department of Education and Training to search offices of people related to the exam scandal. — Photo tuoitre.vn
The Ministry of Public Security (MoPS) on Saturday arrested a former official of Hòa Bình Province Police for taking advantage of his position and rights while on duty.
Khương Ngọc Chất, 44, was former head of the Internal Political Security Division under the Hòa Bình Police.
Also related to the case, the MoSP last Friday prosecuted six people who were teachers and leaders of different divisions under the Hòa Bình Department of Education and Training for the same offense.
The ministry also began legal proceedings against Đỗ Mạnh Tuấn, deputy principal of the Lạc Thủy District Boarding School for Ethnic Minority Students for receiving bribes, and Hồ Chúc, a teacher of the Thanh Hà High School for giving bribes.
All of the charges were related to the national high school graduation exam scandal last year.
The scandal was brought to light when Hòa Bình and Sơn La provinces' maths scores were found to be some of the highest in the country in the 2018 high school exams.
The Ministry of Education and Training (MoET) re-marked 140 tests from 56 students and concluded the final marks had gaps ranging by between 0.2 and 9.25 points from their actual scores. The maximum score on each individual test is 10. One student had their total score increased by 26.45 points.
Bac Giang Sports Stadium opens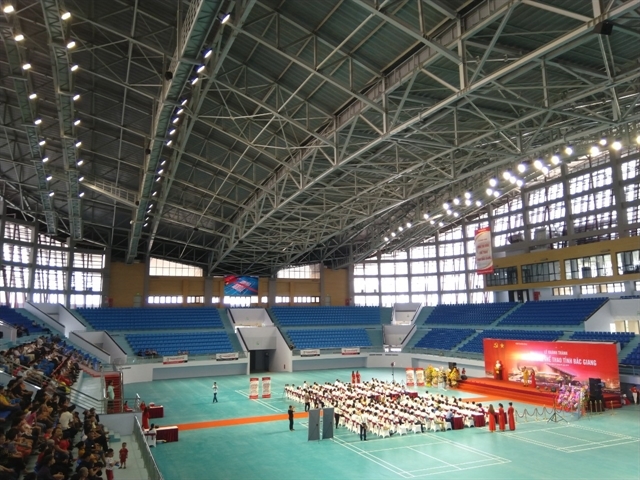 A corner of Bắc Giang Sport Stadium.
The northern province of Bắc Giang has officially opened a provincial indoor sport stadium in Dĩnh Kế Ward in Dĩnh Trì Commune, Bắc Giang City.
The 2.8ha project has investment capital of over VNĐ750 billion (US$32.36 million) and consists of a stadium that has a capacity of nearly 5,000 spectators, a square, elevated walkways and an outdoor water tank.
The project, which provides a place for indoor sport games that meets SEA Games standards, is an architectural highlight of Bắc Giang City's urban landscape.
To create the impressive project, modern technologies were used in construction and lighting. For the first time in Việt Nam, a stadium at the national level is using an Internet of Things-based intelligent lighting system.
Designed and installed by Điện Quang Lamp JSC, the intelligent lighting system is programmed to provide suitable lights for different kinds of sport competitions. It also complies with Việt Nam's lighting standards for sports.
Compared to conventional lighting, the smart lighting solution saves more than 50 per cent of power consumption, helping to reduce greenhouse gas emissions.
Enterprises to handle plastic waste
Enterprises in the Packaging Recycling Organisation Vietnam (Pro Vietnam) will collect all packaging they use by 2030, said the organisation's leader in Hà Nội last week.
Chairman Phạm Phú Ngọc Trai said the organisation will build a system to collect packaging materials when he inked a co-operation agreement with the Ministry of Natural Resources and Environment (MONRE) to reduce plastic waste in Việt Nam on September 11.
Under the co-operation with MONRE, the organisation will work together to support waste reduction activities and boost the capacity and effectiveness of collecting, transporting and recycling waste.
They two sides will also enhance responsibilities of producers, brand owners, distributors, retailers both modern and traditional, and exporters in their management of after-consumption waste and recycling work.
The co-operation also aims to form a recycling industry, promoting products made from recycled materials, and raising public awareness on the matter.
Speaking at the signing ceremony, Minister of Natural Resources and Environment Trần Hồng Hà said: "Enterprises contribute to the problem but they can also be part of the solution."
As a co-founder of PRO Vietnam, Ganesan Ampalavanar, General Director of Nestlé Vietnam, said: "Nestlé supports sustainable development and environmental protection by co-operating with the business community and government agencies to help consumers change their habits and deal with plastic waste."
Việt Nam is one of the five countries dumping the most plastic waste into oceans, according to international organisations. MONRE estimated about 80 tonnes of plastic waste and bags are thrown away every day in the two city of Hà Nội and HCM City.
Pro Vietnam was established in June with the participation of nine major companies, including Coca-Cola, FrieslandCampina, La Vie, Nestle, NutiFood, Suntory PepsiCo, Tetra Pak, TH Group and URC. Between now and later this year, a further 30 enterprises will join the plastic waste recycling network.
Anh wins gold at national athletics champs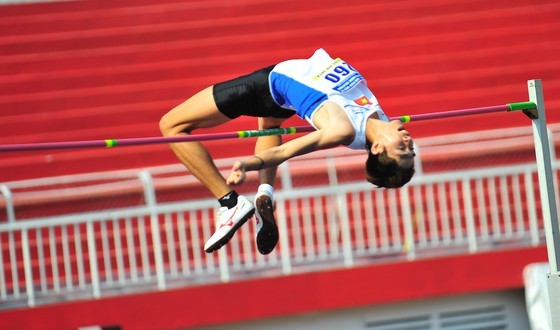 High jumper Vũ Đức Anh performs at the National Athletics Championship. Photo sggp.org.vn
Vũ Đức Anh won gold in the men's high jump event of the National Athletics Championship which opened at Thống Nhất Stadium in HCM City yesterday.
Anh of Hải Phòng cleared 2.20m in the final to triumph.
Nguyễn Thành Nhân of Tiền Giang and Cao Võ Ngọc Long of HCM City were the runners-up with the results of 2.12m and 2.09m, respectively.
The 21-year-old Anh is a golden hope for the national athletics team in the upcoming Southeast Asian (SEA) Games in the Philippines.
In the men's shotput, Phan Thanh Bình brought HCM City the first gold medal with a throw of 16.33m. The silver went to Lê Hồng Quân of Military team with 14.84m and bronze belonged to Unh Ra of Tây Ninh with 14.37m.
The event drew nearly 400 athletes from 46 provinces and cities, competing in 50 events including running, walking, long jump, triple jump and discus throwing.
The annual event, which aims to select the best players for the SEA Games and towards the 2020 Olympics, will end on Thursday.
Hanoi plans more overpasses crossing To Lich river
Hà Nội's Department of Transport has proposed the municipal authorities approve a project to build three overpasses crossing Tô Lịch river for pedestrians and cyclists.
The overpasses will cross the river in Đống Đa and Cầu Giấy districts.
The project is aimed at helping citizens' travelling and reduce accidents along Láng Street which runs along Tô Lịch river and at crossroads in the areas, according to deputy director of the department Ngô Mạnh Tuấn.
There are many bus stops along Láng Street, where many State agencies, schools and hospitals are located, but most of the bus stops are far from existing overpasses so it was difficult and dangerous for people to cross crossroads to reach them, he said.
Construction of the three overpasses are estimated to cost VNĐ36 billion (US$1.56 million), of which more than VNĐ28 billion will be earmarked from the city's budget.
If approved, the overpasses are expected for completion and put into operation next year.
Harmony in interest of relevant parties sought in draft revised Labour Code
It is necessary to carefully consider reducing labourers' working hours from 48 to 44 hours per week to ensure the interests of enterprises, said Phan Thi Thanh Xuan, Vice President and Secretary General of the Vietnam Leather, Footwear and Handbag Association.
Xuan made the statement at a working session between the Ministry of Labour, Invalids and Social Affairs (MOLISA) and the Vietnam Chamber of Commerce and Industry (VCCI) in Hanoi on September 16 to discuss the draft revised Labour Code.
She said a four-hour reduction means businesses would have to recruit an extra 10 percent of their current employees, causing more pressure for them and leading to a 9 percent drop in their revenue.
Xuan added the attraction of foreign direct investment (FDI) in strong export sectors such as garment and apparel and footwear will be affected.
She proposed the design of a roadmap for the reduction, thus optimising opportunities for all relevant parties.
Meanwhile, VCCI President Vu Tien Loc said the bill should consider the operation situation of enterprises.
As Vietnam's labour productivity is lower than many countries it competes with, cutting working hours to 44 hours per week, with a maximum of 400 extra hours for a year, and the progressive calculation of overtime hours are not suitable, he stated.
Loc stressed that with Vietnam striving to improve GDP growth, the country should not reduce working hours.
Minister of Labour, Invalids and Social AffairsDao Ngoc Dung said the bill comprises many areas including employment and social security.
It comprises many new contents to meet the requirements of integration and suit Vietnam's international commitments, while ensuring the country's development, he said.
The minister said if an optimal solution cannot be found, a most suitable solution will be sought, ensuring harmony in interests of labourers, enterprises and the nation.
Ideas gathered for the bill will be reported to the National Assembly Standing Committee on September 20 before being submitted to the NA in October, said Dung.
Commune-level clinics to shift to family health care services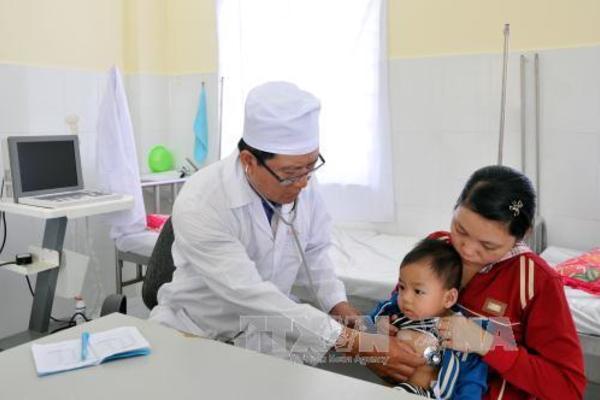 Doctor gives examine to a patient in Ngọc Tố Commune of Sóc Trăng City's Mỹ District. The Ministry of Health has carried out projects on capability improvement to medical workers in grassroots level clinics.
The health care sector has been focusing on improving clinics in communes to enhance primary health care services.
Ministry of Health (MoH) statistics show the country' health care system is expanding from central to local levels, and there are more than 11,000 clinics in communes in countryside areas.
Minister of Health Nguyễn Thị Kim Tiến said commune-level clinics needed more attention to increase doctors' capabilities because they were considered 'gatekeepers' in primary health care.
Doctors' skills at clinics were found lacking in a survey run by the Health Care Strategy and Policy Institute, with some lacking the skills to treat common diseases like diarrhoea, respiratory infections, high blood pressure or provide first aid in poisoning cases.
Medical workers at commune clinics did not have updated knowledge on diagnosis and treatment, the survey found.
To help local-level clinics meet the needs of citizens, the health care sector has been carrying out a programme on clinic improvement nationwide.
Under the programme, the medical workers engaging in primary health care services would be provided with comprehensive training to better respond to changes in disease patterns.
The MoH has implemented a project on Health Professional Education and Training for Health System Reforms (HPET), one of few projects the ministry has ran using loans from the European Union.
The project provided training on family health care knowledge for medical workers from central to local level medical entities.
As of March this year, a total 250 training courses were held for nearly 8,000 medical workers in primary health care service in commune-level clinics including doctors, nurses, pharmacists and management officials.
The training for primary health care workers at grassroots levels reached 80 per cent of the target.
The programme aimed to help commune-level clinics shift to family health care services.
More efforts needed to clear bombs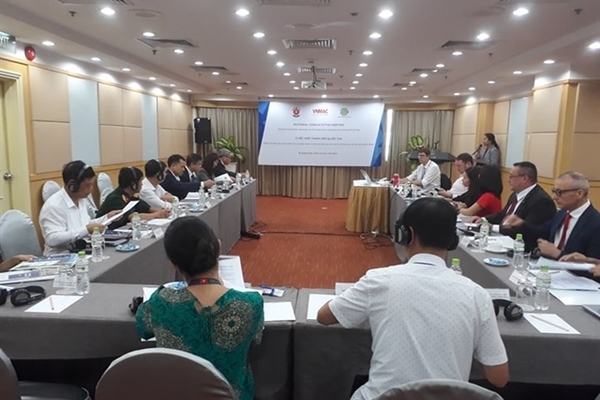 Representatives attend the meeting.
Việt Nam has put a lot of effort into removing explosives remnants of war (ERW), but the issue is still a great challenge for the country, a high-ranking army official has said.
Colonel Nguyễn Hạnh Phúc, deputy director of the Vietnam National Mine Action Centre (VNMAC), made the statement at a meeting in Hà Nội yesterday.
The national consultative meeting 'Enhance awareness programmes on the dangers of mine/explosive remnants of war' was organised by the VNMAC, the ASEAN Regional Mine Action Centre (ARMAC) and the Japan-ASEAN Cooperation.
Phúc said that during the past 40 years, the country has seen improving consequences of mine and explosive remnants of war as an urgent, important, regular and long-term duty.
To create a legal corridor for the work, former Prime Minister Nguyễn Tấn Dũng in 2010 approved the national action programme to tackle the impact of post-war bombs and mines in 2010-25, often called Programme 504.
Programme 504 helps guide and manage post-war mines and ERW, creating co-ordination between State management agencies and localities in the work.
An important policy was strengthening support to help victims of mines and ERW integrate into the community, he said.
Phúc said more education on preventing mine and ERW accidents should be given to citizens.
Hal Judge, ARMAC's mine risk education expert, said Cambodia, Laos, Myanmar, Việt Nam and Thailand were affected by mines and ERW, and ARMAC, through a set of consultative meetings, aimed to bring these countries together to share their knowledge and experiences to build a regional approach to mine risk education.
The goal of the project would be to establish a platform for ASEAN countries to learn from one another so a collaborative community of mine risk education experts could be established.
Incomplete statistics show the number of bombs left after the war in Việt Nam is about 800,000 tonnes, with the total area suspected of bomb and mine pollution about 6.13 million hectares, accounting for 18.71 per cent of the country, according to the VNMAC.
The largest amount is said to be in central provinces.
From 1975 until now, bombs and mines have killed more than 40,000 people and injured 60,000.
The United Nations Sustainable Development Programme to 2030 considers tackling landmines and war consequences to be a major goal.
In recent years, the Ministry of Defence (MoD) has sped up the process of overcoming the consequences of mines and ERW in polluted areas, especially Quảng Trị, Quảng Nam, Bình Định and Hà Giang.
Despite the positive results, the country needs tens of billions of dollars, not including billions of dollars for resettlement in the contaminated areas, and more than 100 years to finish the work, according to the MoD.
Israeli Embassy funds cardiovascular training courses in four provinces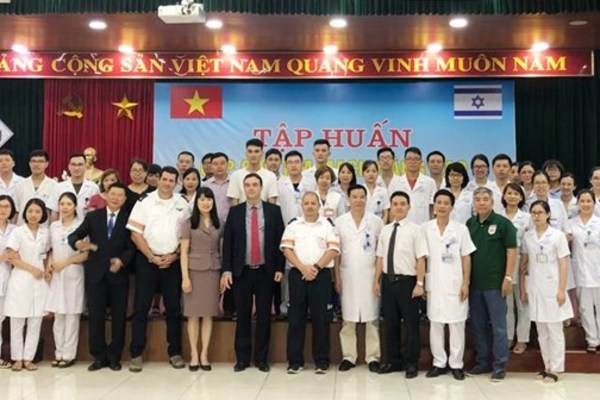 Representatives of the Israel Embassy in Vietnam, Israel experts, and Thai Nguyen's leaders and doctors pose for a group photo. (Photo: baothainguyen.org.vn)
The Israeli Embassy in Vietnam is funding a training course for 86 cardiologists in the northern province of Thai Nguyen, lectured by leading experts from Israel.
The course, from September 12-13, includes both theory and practice sessions, helping local cardiologists improve their expertise.
It is expected to facilitate the implementation of programmes and activities on emergency treatment for cardiovascular patients, as well as cardiovascular check-up, treatment and training in the locality in the time ahead.
On September 13, a delegation of the embassy led by Ambassador Nadav Eshcar visited the trainees. Earlier, they paid a courtesy visit to leaders of Thai Nguyen and visited Thai Nguyen University.
Apart from Thai Nguyen, the embassy has also funded similar courses in the northern provinces of Bac Giang, Bac Kan and Cao Bang.
New-style rural area building programme achieves much success in Mekong Delta
Vo Van Chien, a 70 year - old farmer in Hong Ngu town's Binh Thanh commune, said thanks to the programme, the town has got a good road network linking hamlets and communes and an excellent irrigation system.
The Mekong Delta's 12 provinces and Can Tho city have achieved good results in the national target programme on new-style rural area building, with rural incomes and living conditions improving considerably.
The programme, launched by the Government in 2010, sets out 19 criteria for building new-style rural areas such as planning, transportation, electricity, irrigation, healthcare, culture, education, environment and social order.
In Dong Thap province, 55 of 119 communes have achieved all 19 criteria, according to the local steering committee for the programme.
Nearly 100 percent of people in these communes have access to electricity and the rate of schools meeting national standards is 75-100 percent.
Vo Van Chien, a 70 year - old farmer in Hong Ngu town's Binh Thanh commune, said thanks to the programme, the town has got a good road network linking hamlets and communes and an excellent irrigation system.
The province has undertaken many projects and measures for economic development and helped farmers apply them to agricultural production, he said.
Chien's family breeds mud carps and bighead carps during the flood season under a province project to improve flood drainage, develop livelihoods and adapt to climate change in the Dong Thap Muoi (Plain of Reed) region.
In Soc Trang province, Thanh Quoi last month became the last commune in My Xuyen district to achieve all 19 criteria.
The district's average per capita income has increased to 42.5 million VND (1,830 USD), 3.5 times the 2011 figure.
Dao Dac Hung, vice chairman of the Xuyen My district People's Committee, said rural areas have improved significantly, especially in planning, production and agriculture restructuring.
"Rural areas have extensive and modern infrastructure."
Hundreds of households in the district have together donated more than 500,000sq.m of land for building infrastructure, he said.
The delta's 12 provinces and Can Tho city have mobilised capital from public and private sources for the new-style rural area programme.
Vinh Long province mobilised 7.13 trillion VND (306.4 million USD), including 1.3 trillion VND from communities, companies and organisations in 2011-19.
But despite all this, many challenges remain, including gaps in infrastructure and the impacts of climate change, according to the central steering office of the national programme.
The ratio of delta communes that meet all 19 criteria is 40.6 percent while the national average is 48.7 percent.
The impacts of climate change cause saltwater intrusion, soil erosion, subsidence and flooding, affecting people's lives and production.
The delta is the country's largest rice, fruit and seafood producer.
The delta has developed many farming models to adapt to climate change and improve production efficiency.
They include farmer's clubhouses in Dong Thap and the polyculture of raising rice, vegetables and animals on coastal sand dunes and in brackish water in Soc Trang, Tra Vinh and Ben Tre provinces.
Under the farmer clubhouse model in Dong Thap, established in 2016, farmers who grow the same crop participate voluntarily in a group known as a farmer's clubhouse to compare notes.
Nguyen Thanh Hung, vice chairman of the Dong Thap provincial People's Committee, said the province has 80 farmer's clubhouses with more than 4,000 members.
This model has helped promote economic development and self-management in the community, he added.
Tra Vinh province has developed a model of planting mangrove forests in coastal areas and breeding aquatic species in the forests to provide farmers with an extra income.
The delta has been implementing the Government's One Commune-One Product programme since 2018 to develop strong agricultural and non-agricultural products and services.
Dong Thap has chosen flour products in Sa Dec city and Chau Thanh district, lotus-related products in Thap Muoi district, pink mandarin in Lai Vung district, and dried snakehead fish in Hong Ngu town and Tam Nong district under the programme.
It targets at least 50 percent of its 61 traditional products - mostly food and beverages, garments, souvenirs, household items, and rural tourism products - meeting the programme's standards by next year.
An Giang province has chosen 10 products like herbal medicines, food and beverages, and tourism to achieve three-star standards under the programme.
Truong Kien Tho, deputy director of the province Department of Agriculture and Rural Development, said the programme is suitable and necessary for building new-style rural areas and restructuring agriculture.
It would help the province boost the process of building new-style rural areas, he said.
The province plans to focus on promoting the selected products through various channels, including online.
Fire kills two in Hai Duong, one in Bac Ninh
Two people died in a fire in the early hours of Sunday morning in Tiên Tảo Village, Thanh An Commune, Thanh Hà District in the northern province of Hải Dương.
The fire started in the first floor of a grocery store belonging to Nguyễn Thị Phương and quickly spread to the rest of the house.
The 36-year-old was killed in the fire along with her one-year-old daughter Nguyễn Trần Anh Thảo. Her other daughter, Tăng Quỳnh Anh, 17, managed to climb to safety.
Four fire engines and dozens of firefighters battled for around two hours to put out the blaze.
Around 300 properties in the area lost electricity as a result of the fire.
Meanwhile another person was killed in a fire at the Passion Karaoke Shop in Kinh Bắc Ward, Bắc Ninh City in the northern province of Bắc Ninh at around 8pm on Sunday.
Six fire engines and more than 40 firemen were called to the scene to extinguish the fire. They discovered employee Nguyễn Văn Định, 25, unconscious in a toilet in the seventh floor. He was taken to hospital but pronounced dead.
The cause of both fires is under investigation. 
Southeastern region, Mekong Delta have success in building new-style rural areas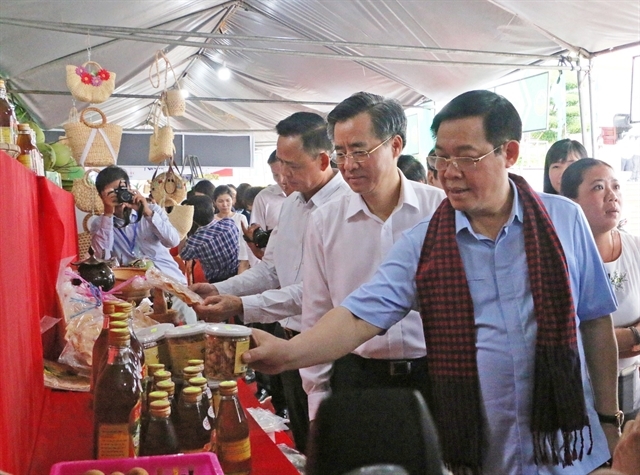 Deputy Prime Minister Vương Đình Huệ visits a booth which displays agricultural products at the conference.
The southeastern and Cửu Long (Mekong) Delta regions have done well in improving rural areas, but more needs to be done, officials have said.
The regions are building new-style rural areas based on developing a sustainable and safe agricultural sector with high technology and good-quality infrastructure, said Deputy Minister of Agriculture and Rural Development Lê Quốc Doanh.
A delegation of Government officials led by Deputy Prime Minister Vương Đình Huệ had a working session in the Mekong Delta province of Bạc Liêu on Saturday to review almost a decade of running the national target programme on new-style rural area building.
According to a report from Deputy Minister Doanh, since the programme kicked off in 2010, the two regions so far have had 874 communes recognised as new-style rural areas.
Seven out of 19 provinces and cities in the regions, namely Bình Dương, Đồng Nai, Bình Phước, Tiền Giang, An Giang, Kiên Giang and Bạc Liêu, realised the target or reached the target before deadlines.
Đồng Nai and Bình Dương provinces have performed best with all communes recognised as new-style rural areas.
New-style rural areas in southeastern and Mekong Delta regions have met criteria in terms of income, housing and number of households escaping poverty, even performing better than the national average, Doanh said.
However, the performance has not fully reflected potential nor brought into full play the advantages of the regions.
"The infrastructure of the Mekong Delta region, especially transport infrastructure, lacks connection. Agriculture accounts for a large proportion in the regional economic structure but mostly develops on small scale. Farm produce consumption remains unsustainable and has yet to meet demand of big production while regional capacity to adapt to climate change and natural disasters has not been improved. Both the quantity and quality of agricultural co-operatives remain limited," said Deputy Minister Doanh.
The deputy minister said by 2025, the regions must strengthen inter-regional and trans-regional connection. Infrastructure must be able to adapt to climate change and be safe from natural disasters. Natural resources must be exploited appropriately.
The new-style rural areas must also preserve their cultural and historical values and improve the lives of local people, he said.
Professor Trần Đức Viên, from Việt Nam National University of Agriculture, member of science and technology programme on building new-style rural areas, said building new-style rural areas continues to play a key role in national development. Farmer, agriculture and rural area development are core parts of growth model innovation and national economic restructuring.
Deputy Prime Minister Vương Đình Huệ, chairman of the central steering committee on the national target programme on new-style rural area building, acknowledged results achieved by southeastern and Mekong Delta localities in production and rural labour structure.
The deputy PM urged local authorities to review their performance, address shortcomings and continue to apply good models in practice.
Localities must put people at the core of new-style rural area building, he said.
He added that the localities must not be satisfied with their good results and must focus on the quality of the programme.
The national target programme on new-style rural area building, launched by the Government in 2010, sets out 19 criteria for building new-style rural areas such as planning, transportation, electricity, irrigation, healthcare, culture, education, environment and social order. 
No more plastic lanterns this Mid-Autumn Festival
The Mid-Autumn Festival has become the second largest celebration after the Lunar New Year. On the first day of the eighth lunar month the country turns into a festive mood celebrating the clearest and fullest moon of year.
As well as joyful street parties, many would release lotus lanterns on streams and rivers both to make individual wishes and add to the celebratory atmosphere at night.
However, this year, the practice of using plastic lanterns will come to an end.
Joining the rest of the country in the fight against plastic waste, the Việt Nam Buddhist Sangha sent a circular to its chapters nationwide asking Buddhist followers to help in reducing plastic waste. The letter asked each and every Buddhist community to persuade followers and citizens to avoid using plastic lanterns if they wish to release them during the Full Moon festival.
"If we don't put forward solutions, the effects of plastic waste will become severe," reads the letter signed by Most Venerable Thích Đức Thiện.
This is the first time the Buddhist Sangha has sent a letter calling on its congregation to act on reducing plastic waste, in accordance with earlier efforts by the public, then led by the Ministry of Environment and Natural Resources.
When Buddhists set lanterns alight, it is a philosophical yet religious act to remind oneself that he or she exists for the time being. You are enlightened, meaning your existence matters – it's not buried in darkness.
"I set a light, meaning my mind lives in the moment," said a Buddhist monk who declined to provide his name because he said it means the same for everyone, citing him would not make a difference.
He said he had been to several Vesaks, or World Buddhist Conference, where releasing the lanterns in the sky had taken place. But this year at the Vesak in Tam Chúc, in Hà Nam Province, the organisers decided not to do so. The participating Buddhists decided to light candles and release some lanterns into the lake.
"Enlighten the existence," is both a form and a means for a person to be aware of his or her existence.
"Enlighten one's existence is a prerequisite starting point for a path to ultimate relief."
He further cited other writers and philosophers saying if you are not aware of your existence, it means you're dead.
Lighting the lanterns is just a means. But if that means polluting the environment, then you can change to do something else that can send the same message.
First of all, you need to enlighten yourself from overthinking and forgetfulness.
Earlier this month, a student wrote to the President asking not to use balloons during the school opening day nationwide on September 5.
So no balloons were set free, and some schools even went farther by declaring this academic year to be the School Year for the Environment, with the school canteen stopping the use of plastic straws, bowls, cups, spoons and forks.
In the letter sent by the Việt Nam Buddhist Sangha, it states clearly that you are advised not to release plastic lanterns to pollute the water resources.
So the Full Moon celebrations will be less sparkling by the lakes or the rivers, but our water resources day by day, little by little get less polluted, therefore, people get to "exist" in a cleaner environment, which is the direct result from their self-awareness.
"Act now, it depends on you, nobody else but you!" reads the lyrics from a popular song children sing during the Opening Day of this school year. 
National Chèo Festival kicks off in Bắc Giang
The National Chèo Festival opened yesterday at the Conference Centre in the northern province of Bắc Giang with the participation of about 1,000 artists.
The artists from 16 troupes will perform 26 chèo (popular opera) plays with classic and modern themes.
Việt Nam Chèo Theatre has two plays to be performed at the festival including Vân Dại (Crazy Vân) and Rồng Phượng (Phoenix Dragon).
"One is classic and the other is modern theme which will surprise not only the audience but also our colleagues," said director Nguyễn Thị Bích Ngoan.
"Noteworthy, the two plays will feature young talents who are successors of the theatre's artist generation."
Artists from Hà Nội Chèo Theatre will perform Kiều Loan and Điều Còn Lại (Thing Remains).
"We are sure that the modern story will be performed with traditional chèo art characteristics," said artist Nguyễn Thị Thu Huyền, the theatre's deputy director.
"It depends on many factors such as the script, the director and the artists because staging chèo is different from other genres."
The national festival is also a good chance for the professions to promote the development of chèo.
Most of the troupes at the festival had to pay their own way to take part in the festival.
Two plays by Bắc Giang Chèo Theatre are also modern themed entitled Gọi Đò (Boat Song) and Người Con Gái Kinh Bắc (Girl From Kinh Bac Land).
"After many days of rehearsing we are excited to welcome the festival opening," said artist Trần Đức Tường from Bắc Giang theatre. He will act in both plays.
"The festival is a chance for us to popularise traditional art."
The highlight of the festival is the diversity of the performances. However, the plays have to meet some requirements such as not using foreign scripts and must be staged from 2016 to the present.
The best plays and the best artists will be awarded gold and silver medals at the closing ceremony. 
All children deserve an education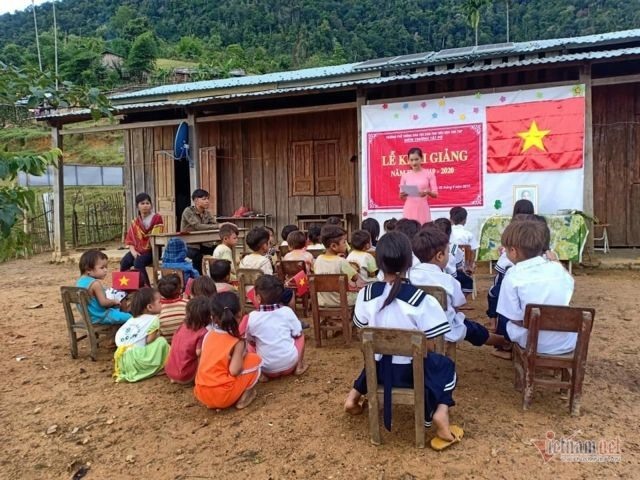 The opening ceremony at a school in remote Tắk Pổ Village, Nam Trà My District, Quảng Nam Province. — Photo coutersy from the teacher's Facebook Mít Pé
Photos of a simple school opening ceremony in the remote Tắk Pổ Village in the mountainous Nam Trà My District of the central province of Quảng Nam went viral in recent days
The ceremony was decorated with nothing more than a national flag and paper flowers. Some of the children didn't have shoes or uniforms, while the teacher wore the traditional áo dài but with slippers. Six of the children were squatting as the school didn't have enough wooden benches. The sight of two teachers, 34 children and a village head touched heart across the country.
The images completely stole the show from photos of other opening ceremonies shared in the media, with kids wearing neat new shirts, colourful decorations everywhere and top national leaders in attendance.
The ceremony was also in stark contrast to flamboyant city schools on opening days, with parents driving their children in cars and motorbikes, with flowers and red carpets spread out.
Here, in a remote school 10 kilometres from the nearest town, hard to reach by any vehicle, the children, mostly Xơ Đăng ethnic people, look happy and eager for the new school year, unlike the tired and yawning city children.
In Tắk Pổ, despite the lack of facilities, netizens saw only laughs and glittering eyes of children to their teachers, who sometimes have to walk for two hours just to get to the school.
The difficulties of remote schools like Tắk Pổ, sadly, are common in many mountainous and remote areas. Schools in places I have visited like Hà Giang, Điện Biên, Sơn La, Lai Châu, Nghệ An and Quảng Trị provinces share similar stories. The buildings are wooden houses with corrugated iron roofs, earthen yards and no air conditioners, no computers and no frills. Remote locations and poor facilities are common problems. The children, mostly ethnic minorities, are limited in number, with the classes normally a mix of different grades. Many of them have to walk hours to get to school. Lunches at school are sometimes just rice mixed with instant noodles.
Visiting such schools shows how hard it is to access education for children in remote areas, how hard it is for teachers to convince parents to let their children keep going to school. The teachers in such remote areas must love their jobs so much to have enough patience and energy to keep teaching in such places.
In recent years, Việt Nam has gained lots of achievements in education. The Government has increased funding for the education sector and allocates at least 20 per cent of the State budget to education. The Government has also implemented policies to improve the quality of education, especially in rural and remote areas. At a session of the ongoing 37th session of the National Assembly Standing Committee earlier this week, a report on policies and laws focusing on poverty reduction in ethnic minority and mountainous areas in 2012-18 showed that in the past years, there had been a clear change in infrastructure with about 25,000 works invested in and built in underprivileged communes and villages, ethnic minority and mountainous areas.
But there obviously remains a huge gap between remote mountainous areas compared to urban areas, especially in terms of teacher shortages and living standards for teachers. Does this mean the policies ignore education in such areas? Should National Assembly deputies and Government officials find why the policies and funding cannot help poor and unequipped schools like in Tắk Pổ?
The photos of the teachers and students in Tắk Pổ reminds us that there is still a lot we need to do, a lot of efforts needed to improve the lives of teachers in remote areas and the quality of education in such places. In mountainous, inaccessible and remote areas, it is not easy to eradicate poverty and improve school facilities, not to mention teaching the children foreign languages or life skills. But, the light in the eyes of the teachers and the students in Tắk Pổ, the love, the care, the efforts over there shows that education can change the future for these children.
So let's take action, and support teachers and invest in schools, because the children in Tắk Pổ deserve it just as much as those in Hà Nội.