Chu Dau pottery plate secures Guinness World Record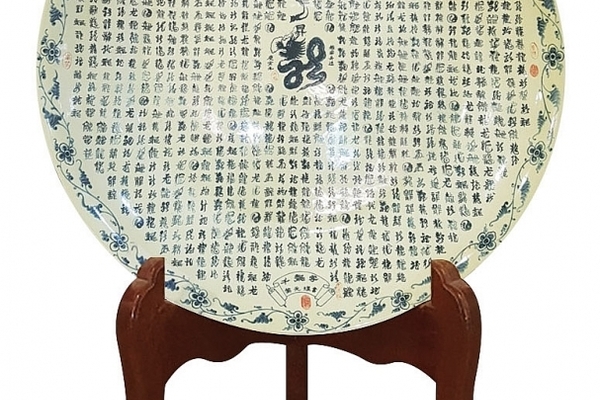 A Chu Dau plate featuring the word "Long" (Dragon) written 1,000 times in Nom (Chinese-style)
calligraphy - a true masterpiece of Vietnamese craftsmanship - received a new Guinness World Record from The Vietnam Record Association - Vietnam Records Organisation, the Chu Dau Ceramic JSC, a member of major local private conglomerate the BRG Group, has announced.
The record-winning plate, measuring 1.2 meters in diameter, features two leading colors: yellow enamel and the deep blue tone of the patterns. The record feature of Vietnam's largest piece of Chu Dau pottery is the calligraphy depicting the word "Long" 1,000 times in different configurations: the shape of a soldier holding a rifle to safeguard the Motherland, a navy soldier on board a ship at sea, a young girl from Hanoi, an ascending dragon, birds, shrimp, a guitar, and flowers.
The unique plate also features traditional patterns such as daisies and flower strings - the key thematic elements of Chu Dau pottery.
The Guinness Record-holding plate was crafted manually by ten Chu Dau craftsmen, together with renowned calligrapher Le Thien Ly, over the course of more than 200 days.
The materials used for the creation of this masterpiece were very carefully curated. White clay was taken from Truc Thon, Chi Linh, whereas kaolin was brought from the northern highlands, the birthplace of the famous Hung Kings, perfectly matched by water taken from Kinh Thay River, creating a paste that is deeply imbued with the distinctive Vietnamese culture.
After the completion of the design, the product was covered with a unique enamel line, "tro trau", which makes Chu Dau pottery unique among pottery lines available in the marketplace.
At the Guinness World Record ceremony, Mr. Nguyen Huu Thuc, Director of the Chu Dau Pottery JSC, said that in taking on the nearly 500-year heritage of Chu Dau pottery under the guidance of the BRG Group, the company has been working tirelessly to give birth to thousands of distinctly Vietnamese products shaped by the dexterous hands and creativity of local artisans and craftsmen.
With the uniqueness of the product and the efforts to revive and develop premium Chu Dau ceramics, the Chu Dau Ceramic JSC received an award from General Vo Nguyen Giap, who called Chu Dau Ceramic "the Essence of Vietnamese culture", and Prime Minister Nguyen Xuan Phuc, who praised it for its Vietnamese character "shining over five continents." / Photo: chudauceramic.vn
Chu Dau is an age-old high-end pottery line, a symbol of Vietnamese culture that is widely chosen by the Vietnamese Government, local organizations, and businesses as gifts to international guests at important foreign affairs events such as the 2017 APEC Economic Leaders' Week in Da Nang and the DPRK-US Summit earlier this year.
Chu Dau pottery is now exhibited at 46 well-known museums in 32 countries and territories around the world, including Tokyo in Japan, Istanbul in Turkey, and New York City in the US. The pottery is now exported to around 30 countries and territories worldwide.
HCM City's first-ever underground market reopens
The only underground market in Ho Chi Minh City has been re-opened beneath September 23 Park in District 1, downtown the city, under a new name "Central Market" after it was shut down five months ago.
First-ever underground market in Ho Chi Minh City, Sense Market, before it was closed in April. The market is re-opened under a new name "Central Market" on September 21.
The subterranean market, which combines a shopping centre and a food court, was re-launched by Cuu Long 23-9 JSC on September 21.
It spreads over 11,000sq.m, including 4,000sq.m for parking, and consists of the 1,500sq.m Asiana Food Town featuring nearly 100 street food stalls selling food from various countries like Vietnam, Japan, Thailand, Laos, Cambodia, and India and the 2,000-sq.m Taka Plaza with some 300 shops selling various goods at fixed prices.
It also includes a Co.op Food outlet and a game centre.
Central Market is a mixture between a conventional and a modern market, said Director General of Cuu Long 23-9 JSC Nguyen Binh Phuong. It is Vietnam's first-ever underground market and also a venue for events and festivals, which helps promote reputation of the city and the country among both residents and foreign visitors, he added.
To mark its opening, a series of activities are scheduled at the market from September 21 – 28, including folk games, music performances, fashion shows and tourism promotion events.
Central Market, formally known as Sense Market, was first launched in March 2017. It was developed at a cost of more than 100 billion VND (4.3 million USD) in September 23 Park's basement, which had been abandoned for 20 years.
It was closed at the end of April because the municipal People's Committee wanted to redesign the park to make it a more accessible green space for the public.
"Hoi An Memories" show welcomes one millionth visitor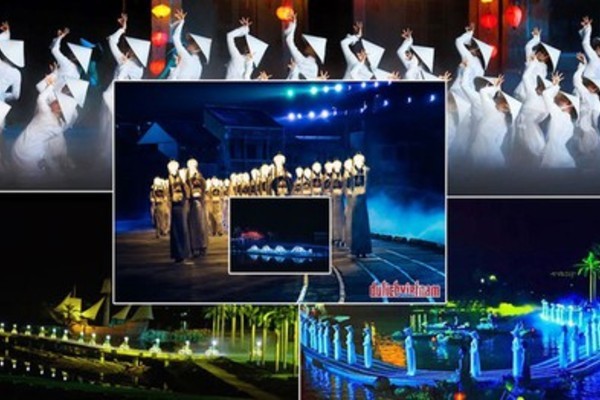 Amraia from Belgium has become the one millionth visitor to Hoi An Memories, an outdoor musical performance which started from humble beginnings in the small Vietnamese city of Hoi An and has now grown into a global phenomenon.
Managed by Gami Theme Park, the show features cultural performances to promote Hoi An's rich history and culture.
"Hoi An Memories is the jewel in the crown of Hoi An's night life. It truly mirrors the history and culture of the ancient town," said Hoi An Party Committee Secretary Tran Anh.
Since its debut in March last year, the 500 performers of Hoi An Memories have delivered more than 500 shows. The skilled dancers give the audience a glimpse of how Hoi An developed from a small farming village into a vibrant tourists' destination, using breath-taking effects, detailed props, and intricate and expressive choreography.
Adding to the grandeur of the performance is the 2.5ha stage, the biggest outdoor stage in Vietnam, that is built on a natural island on the Thu Bon river.
Vietnamese heroic pilot passes away
 Vietnamese heroic pilot Nguyen Van Bay
Vietnamese heroic pilot Nguyen Van Bay who shot down seven US aircraft during the American War died Sunday at the age of 84.
Bay died at 175 Military Hospital in HCM City following a week of intensive treatment.
He was hospitalised on September 16 in coma due to a stroke. Doctors held a consultation on his condition, but he was too weak for a surgery. Bay then passed away at 9 pm on Sunday.
Colonel Nguyen Van Bay who was born in 1936 the southern province of Dong Thap joined the army at the age of 17 and was assigned to the 923rd Fighter Regiment where he began his first aerial combat in the northern province of Lang Son.
Bay flew 94 flights with a MiG17 and shot down US aircraft during the American war.
He was honoured as a military hero in 1967. He has been living in his hometown in Dong Thap Province since his retirement in 1989.
Ukraine's Lviv province willing to support Vietnamese investors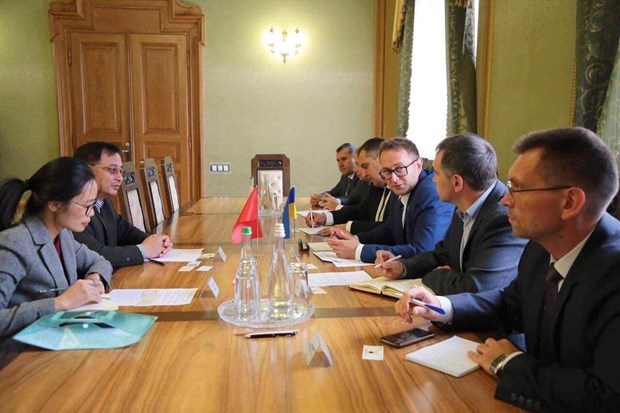 At the meeting
Authorities of the Ukrainian province of Lviv will create favourable conditions for Vietnamese enterprises to invest in and do business here, stated head of Lviv Regional State Administration Markiyan Malsky.
On behalf of local leaders, Malsky made his statement while meeting a delegation from the Vietnamese Embassy in Ukraine, led by Ambassador Nguyen Anh Tuan. The delegation visited the province at Malsky's invitation last week to seek business opportunities for Vietnamese firms.
The meeting was also attended by Head of the Lviv Regional Council Oleksandr Ganushchy; Vyacheslav Voynarovskiy, representative of the Ukraine's Ministry of Foreign Affairs in Lviv; and representatives of local departments and sectors.
Participating officials discussed the Vietnam – Ukraine friendship as well as Lviv's business climate and policies for foreign investors.
The Vietnamese diplomat hoped for further support from Lviv authorities toward Vietnamese investors in the province.
Malsky responded positively to his wish and recommended the Vietnamese side consider working with Ukraine to launch a direct flight from Vietnam to Lviv.
While in the Lviv city, the Vietnamese delegation also met with Anatoliy Zabarylo, Secretary of the Lviv City Council, while working with local units on projects Vietnamese enterprises are interested in. It also attended the Lviv international book fair, which ran from September 17 to 20.
Hanoi to host conference on Hung Kings era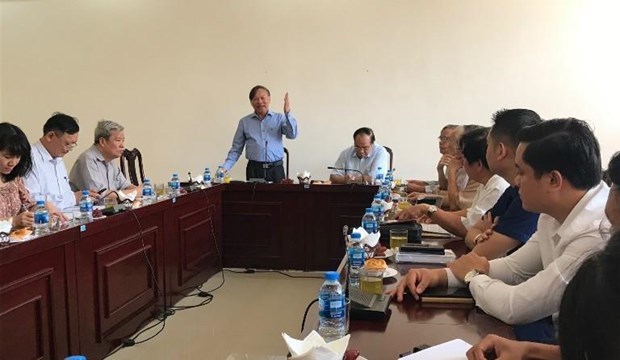 Vice Chairman of the Vietnam Association of Historical Sciences (VAHS), Dr. Nguyen Quang Hoc speaks at the press conference (Source: http://dangcongsan.vn)
A national scientific conference on the heritage value of the Hung Kings era in Vietnamese history will be held in Hanoi on September 24, heard a recent press conference in the capital.
Speaking at the event, Vice Chairman of the Vietnam Association of Historical Sciences (VAHS), PhD. Nguyen Quang Hoc said the event aims to evaluate new research in the last five decades on the first nation-building era of Vietnam, as well as draw experience and look forward to scientific research programmes in the next decades.
Hundreds of scientists and researchers of Vietnamese history and culture have registered to participate, who will focus on pointing out core issues and historic changes to evaluate the value of the Hung King era heritage.
According to Vice Chairman of the management council of the Hung King Cultural Research and Development Centre Tran Ngoc Tang, delegates will discuss three major issues: the Hung Kings era through historical documents and folk culture; the Hung Kings era through archaeological, anthropological and geographic data; and measures to preserve and promote relevant cultural heritage values.
Issues and information agreed upon at the event will be gathered to inform the public and the scientific community, contributing to preserving and upholding the cultural and historical values of the Hung Kings.
Mekong Delta city seeks to use advanced farming technologies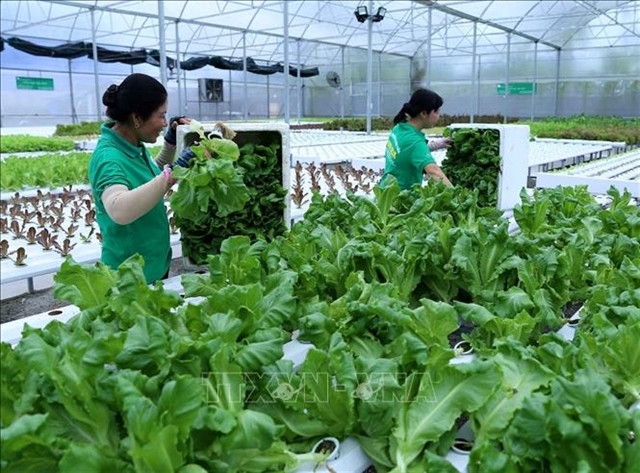 Vegetables are grown using hydroponics at the Minh Hòa farm in Cần Thơ City's Bình Thủy District.
Advanced technologies hold the key to Cần Thơ's agricultural sector raising the quality and competitiveness of its products and expand exports, experts have said.
Application of technology resulted in a 30 per cent boost to the value of agricultural produce, director of the science and Technology Application Centre run by the city Department of Science and Technology, Nguyễn Thị Tố Uyên, said.
In fact, across the country, the adoption of technology in agriculture had increased rapidly, she told a workshop held in Cần Thơ City last Friday.
City authorities should offer incentives to farmers to adopt advanced technologies and new varieties of plants and livestock, she said.
Supply chain management for agricultural products along with technology helped trace product origins from farm to table, she said.
It also helped Vietnamese farm produce enter many demanding markets, she added.
Phạm Thị Lý of the Việt Nam Association of Small and Medium Enterprises' Integration and Development Centre for Enterprises said the application of electronic traceability systems enabled tracing product origins using barcodes on smart phones.
Hoàng Đắc Hiệt of the Research and Development Centre for High Technology Agriculture in HCM City spoke about organic leafy vegetable farming.
Organic farming, which is becoming popular, seeks to produce foods that are free of pesticides and fertilisers and genetically modified organisms, he said.
The workshop, organised by the Cần Thơ Department of Science and Technology, sought to promote the use of technology and technology transfer in agriculture.
Bắc Giang-Lạng Sơn Expressway to open for traffic
The Bắc Giang-Lạng Sơn Expressway will open for traffic in January next year, cutting travelling time from Hà Nội to the northern mountainous province of Lạng Sơn from 3.5 to about 2.5 hours.
By the end of this month, road tests will begin on the 64km stretch.
Phạm Minh Đức, deputy general director of Build-Operate-Transfer (BOT) Bắc Giang-Lạng Sơn Joint Stock Company said the construction's progress has met deadlines and requirements for trial opening this month.
"The road surface has been basically completed. Contractors are accelerating progress of other works," he said.
So far 95 per cent of the construction work is finished, according to the company.
It will run from National Highway 1's section in Mai Sao Commune, Chi Lăng District of Lạng Sơn Province to the end of National Highway 1's section crossing Hà Nội-Bắc Giang area.
The road is 25m wide with designed speed of 100km per hour. It has four lanes including two emergency lanes.
The expressway is part of Bắc Giang-Lạng Sơn BOT project with investment of more than VNĐ12 trillion (US$521.7 million).
Another part of the project is to improve the surface of a National Highway No1's section covering 105km.
Once being opened to traffic, the expressway will reduce congestion and boost socio-economic development of northern provinces and cities.
In February this year, the Prime Minister approved adding Chi Lăng-Hữu Nghị Expressway invested at more than VĐ5.6 billion ($243,500) as part of the Bắc Giang-Lạng Sơn project.
Festival to highlight cultural identity of Thai ethnic community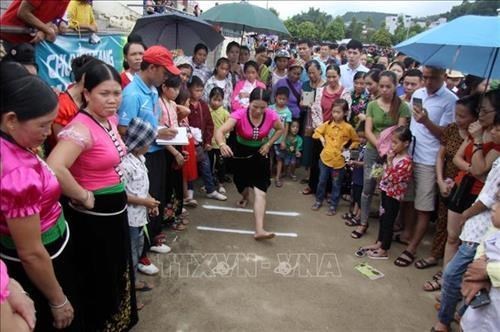 "To Ma Le", a folk game of Thai people
The second Thai Ethnic Culture Festival 2019 will take place in the northern province of Dien Bien from October 18-20, featuring the cultural identity of Thai ethnic minority people in Dien Bien, Lai Chau, Son La, Yen Bai and Thanh Hoa provinces.
According to Vice Chairman of the People's Committee of Dien Bien province Le Van Quy, the festival aims to strengthen national solidarity and honour the cultural values of Thai people nationwide.
The festival is hoped to enhance awareness of State agencies and the community on preserving the cultural identities of Thai people and all ethnic groups of Vietnam, said Quy, who is also head of the steering committee for the festival.
This is also a chance for participating provinces to introduce the culture of the Thai community in their locality to people in and outside Vietnam, promoting the development of tourism, especially community-based and cultural tourism.
The opening ceremony of the festival will take place in the night of October 18and be broadcast live on the Vietnam Television, the Voice of Vietnam as well as TV channels of Dien Bien and some other provinces and cities.
Various activities will be held throughout the festival, including Thai costume and art performance, Thai people's craft product exhibition, tourism promotion and folk games of Thai people.
Pham Viet Dung, Director of the Department of Culture, Sport and Tourism of Dien Bien, said this is the first time the province has hosted the festival.
Dien Bien hopes to give visitors an in-depth insight into the culture of the Thai community in the province, especially the traditional "xoe" dance which has been recognised as national intangible cultural heritage by the Ministry of Culture, Sports and Tourism, he said.
Vinh Phuc welcomes 4.6 million visitors in nine months
The number of visitors to the northern mid-land province of Vinh Phuc during the January-September period is estimated to surge 17 percent year-on-year to 4.6 million, including some 39,000 foreign tourists.
In the period, earnings from tourism service are estimated to rise 15 percent to some 1.38 trillion VND (50.38 million USD).
As the province hopes to host 6 million tourists, including more than 40,000 foreigners, and gain about 2 trillion VND in tourism revenue for 2019, the local culture, sport and tourism sector has worked to enhance tourism promotion both inside and outside the country.
Attention has been paid to improving Sate management in tourism, ensuring social order and environmental hygiene at tourist spots, as well as better tourism human resources.
The province has invested in technical infrastructure to facilitate travel to key tourist sites like Tam Dao, Tay Thien and Dai Lai.
A wide range of tourism products have been developed to lure more visitors, comprising eco-tourism, homestay, culture-spiritual tourism, resort tourism, and MICE (Meeting, Incentive, Conference and Event) tourism. Notably, several newly-launched tours have attracted a slew of travellers such as one-day tour to conquer Tam Dao Mountain Range, "Spiritual Path" tour, and Hai Luu stork eco-tourism, among others.
Vinh Phuc province is now home to 67 hotels and 299 lodging facilities with total 6,389 standard rooms. There are 10 travel businesses operating in the locality, including four international firms.
Nha Trang sets up zone for cage aquaculture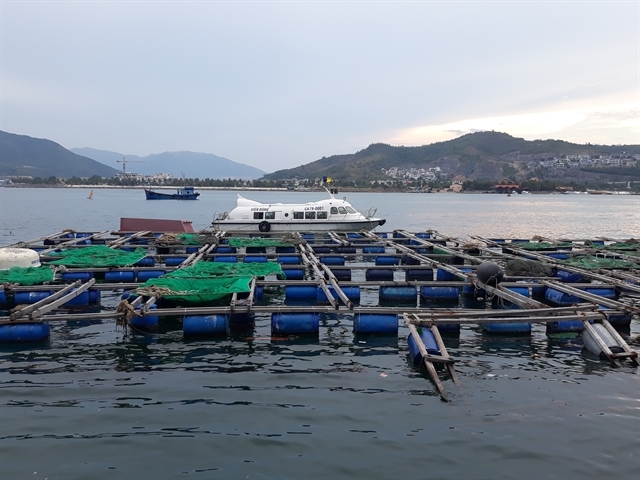 A floating raft with cages for breeding fish on Trí Nguyên Island in Nha Trang Bay in Khánh Hòa Province.
Nha Trang City has set aside a zone covering 70ha of surface water in Nha Trang Bay for cage aquaculture, according to the city's People's Committee.
Located in the south-central province of Khánh Hòa, the city will focus on cage farming on Trí Nguyên and Bích Đầm islands and a 50ha water surface area between Bích Đầm and Đầm Bấy islands in Nha Trang Bay.
Under an aquaculture plan to 2035 in the bay, approved by the city's People's Committee, there will be 100 floating rafts with 2,931 traditional cages in Trí Nguyên and 30 floating rafts with 1,125 traditional cages in Bích Đầm by 2025.
The traditional cages are 4 metres wide and 4 metres long, and will contain mostly lobsters and marine fish species.
Trí Nguyên now has 127 floating rafts with 3,366 traditional cages and Bích Đầm has 29 floating crafts with 710 traditional cages.
In the 50ha water surface area between Bích Đầm and Đầm Bấy, there will be 60 large cages using advanced farming techniques by 2025.
The large round cages have a diameter of 20 metres.
Advanced farming techniques include the use of high-density polyethylene (HDPE) floating cages and nets with anti-fouling coatings.
The durable HDPE floating cages can withstand winds and waves, are able to breed a large quantity of fish, and are convenient for checking fish and harvesting them.
In the 2026-35 period, the city plans to reduce the number of traditional cages in Trí Nguyên and Bích Đầm.
During the period, the city will develop four floating cages with advanced farming techniques in Trí Nguyên and three floating cages in Bích Đầm.
The city will maintain the 50ha water surface area between Bích Đầm and Đầm Bấy for cage aquaculture in the 2026-35 period.
Farmers will also receive support from the city to relocate their floating cages to zoned areas, according to the city's People's Committee.
The city will also encourage farmers to use floating cages with advanced farming techniques to reduce risks caused by natural disasters and disease, and to use industrial food to feed aquatic species to prevent pollution in the bay.
Đào Thanh Tùng, head of the Nha Trang City Economy Bureau, said the zoning of cage aquaculture would reduce the density of floating cages and prevent water pollution caused by overcrowding.
After implementing the zoning, farmers and local authorities will be able to easily control diseases and the seed quality of farmed aquatic species, he said.
In addition, the origin of farmed aquatic species can be traced, which makes it easier to export via official channels, he said.
Khánh Hòa is considered the capital of aquaculture in the country's south-central region.
The province, which has many deep bays, has favourable conditions for aquaculture as it has long coast and clean sea water with suitable salinity level for marine aquaculture.
Its Nha Trang, Cam Ranh and Vân Phong bays have a total area of more than 100,000ha. The bays' natural conditions and hydrology are suited for breeding marine aquatic species, especially lobsters and marine fish. 
Limiting plastic waste in tourism activities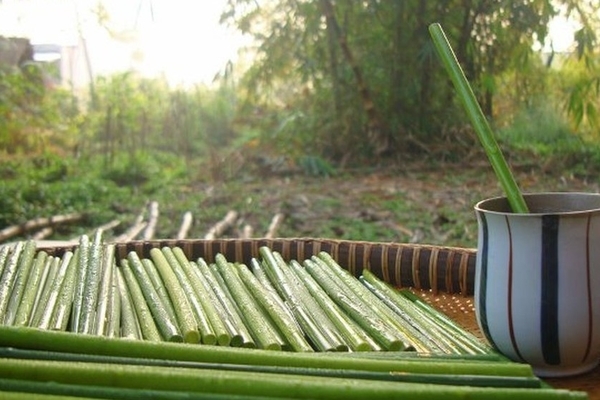 In recent years, Vietnam's tourism has grown strongly in terms of both international and domestic visitors, gradually becoming a key economic sector and increasingly contributing to the overall development of the country. However, the increasing amount of littering in many popular tourist destinations, including large quantities of hard-to-decompose waste such as plastic bottles, bags, and packaging, has negatively impacted the environmental protection and public health.
According to the Food and Agriculture Organization of the United Nations (FAO), Vietnam emitted more than 1.8 million tonnes of untreated plastic waste in 2018, accounting for nearly 6% of the world's plastic waste. Vietnam also ranks fourth in the world for the amount of plastic waste dumped into the sea. In the World Economic Forum's global ranking of tourism and tourism competitiveness reports, Vietnam's environmental sustainability is underestimated, ranking 129th out of 136 countries.
Recently, at the conference "Tourism without plastic waste" organised by the Quang Nam Tourism Association, many figures startled the audience. On average, Quang Nam creates 660 tons of waste daily, 92 tons in Hoi An alone, of which plastic waste accounts for 18% to 20%.According to a report from the World Wide Fund for Nature (WWF), an average of 155 tonnes of waste is generated every day in Phu Quoc, Kien Giang Province, but only 91 tonnes are collected. The amount of plastic waste collected by people is 10.8 tonnes per day, accounting for only 33.6% of the total plastic waste generated. With green tourism becoming an inevitable trend, tourists are increasingly concerned with environmentaly friendly factors. As such, the overload of plastic waste in many areas and tourist destinations will surely cause these destinations to "lose points".
In fact, recently, aware of the importance of the urgent demand on protecting the environment in tourism activities, some businesses, especially reputable tourism enterprises, have pioneered in finding solutions to limit plastic waste through specific actions. For example, instead of dispensing drinking water with small plastic bottles, they have moved to storing water in large bottles; meeting rooms and hotels have turned to cups and glass bottles for reuse; plastic straws are being replaced with straws made from eco-friendly materials such as rice, bamboo, and stainless steel. Some travel units also develop travel tours to collect rubbish on river branches or during a forest trekking journey. This is a good sign that the people working in the tourism sector have made positive changes in awareness and are growing increasingly aware of environmental protection.
However, it is not enough if just rely on the change of some leading enterprises. Therefore, in order to bring about significant results in restricting plastic waste from tourism activities, a comprehensive and specific strategy is required with the involvement of the State, businesses and people. Currently, some countries in the world stipulate that businesses wishing to do tourism business or joining tourist associations and organizations must set out an action plan and commit to doing business sustainably on the basis of environmental protection. From the good experiences of other countries, Vietnam's tourism management agencies should soon deploy the application of a wide range of criteria for certification of sustainable tourism labels, green tourism, and energy saving for agencies and tourism businesses, aiming to contribute to improving management efficiency, and reduce negative impacts of tourism activities on the environment. The certification also helps affirm the reputation, enhance responsibility, and improve the ability to attract tourists.
Additionally, through the media, it is necessary to call and mobilize people and tourists to join in protecting the environment, limiting plastic waste, and saving electricity and water. It is necessary to have a mechanism to encourage units to research and produce alternative materials. On the tourism business side, priority should be given to products such as straws, mugs, bowls, chopsticks made with materials of organic origin or that can be used repeatedly; to use organic or reusable packaging and cleaning chemicals and utensils made from environmentally friendly materials, with environmental protection labels; and to distribute materials guiding tourists to respect the regulations on environmental protection, limiting plastic waste.
New sunset & moonlight cruise launched in Nha Trang Bay
A new cruise for watching the sunset and admiring the moonlight has been launched in Nha Trang Bay in south-central Khanh Hoa province by Horizon Cruise Nha Trang.
With five-star standard services, the vessel is over 32 meters in length and 15 meters in width, with a capacity of about 175 guests.
Departing Cau Da Port in Nha Trang, the cruise takes passengers around the bay to enjoy the spectacular sunset on the ocean and the mysterious moonlight and night views on the bay.
Also travelling along Tran Phu Beach in the center of Nha Trang, the trip provides passengers with a view from the sea to the beauty of the city at night, with hundreds of lights from buildings, restaurants, bars and pubs.
While enjoying the stunning sightseeing they can also feast on delicious delicacies from Nha Trang at a seafood buffet and barbecue together with premium wine.
There are also live music performances from local artists to bring the color of local culture to visitors.
Nha Trang Bay is one of the most beautiful in the world with sunny weather all year round, providing great potential for cruise development, according to Mr. Hoang Van Vinh, Chairman of the V.A. Ekaterinburg JSC, the investor of Horizon Cruise Nha Trang. However, most of the tours in Nha Trang only offer day trips. Therefore, the new sunset and moonlight tour of Horizon Cruise Nha Trang is expected to give both residents and tourists a new night experience in Nha Trang.
The cruise also aims to be a highlight in Khanh Hoa and Nha Trang's tourism, providing tourists with more options and contributing to the diversification of tourism products.
Khanh Hoa has a coastline of more than 380km and hundreds of islands and islets. Its capital, Nha Trang, has 180km of coastline with beautiful landscapes including Van Phong, Nha Trang and Cam Ranh Bays and many islands. It is known for its beautiful beaches with fine clean sand and water, mild temperatures, and excellent scuba diving, and is a popular destination for domestic and international tourists, including affluent travelers. Nha Trang Bay is widely considered among the world's most beautiful. The city hosted the Miss Universe 2008 pageant and Miss World 2010.
Khanh Hoa welcomed over 5 million tourists in the first eight months of this year, including more than 2.5 million foreigners, up 14 per cent and 32 per cent against the same period last year, respectively.
HCMC hosts Vietnam ITO Conference 2019
The third international conference on Information Technology Outsourcing in Vietnam (Vietnam ITO Conference 2019) is being held from October 23 to 25 in Ho Chi Minh City, organized by the Ho Chi Minh City People's Committee in cooperation with the Investment and Trade Promotion Center (ITPC), the VNITO Alliance, and Quang Trung Software City (QTSC).
Themed "Vietnam - Emerging Destination for Innovation", the biennial conference aims to create an international forum on a large scale, highlight the capacity of Vietnam's IT industry, draw the attention and participation of foreign partners, and contribute to promoting the image and potential of Vietnam's information technology industry as an emerging destination for innovation, targeting the country's long-term goal of becoming Southeast Asia's leading innovation center.
The conference will have more than 500 participants from the US, Germany, Australia, Japan, South Korea, Singapore, and elsewhere, with activities such as business-matching sessions to connect Vietnamese software companies and local and foreign buyers, a technology exhibition, and visits to top IT companies and software parks.
It will introduce solutions in artificial intelligence / machine learning (AI / ML), blockchain, big data, Internet of Things (IoT), digital transformation, tech talent, and so on.
The number of exhibition booths showcasing impressive products and solutions has increased from 30 at VNITO Conference 2017 to 60 this year, of which nearly 30 are for South Korean and Japanese companies, who are keen to partner and cooperate with Vietnamese IT companies. The organizing committee expects the business matching session to generate more than 200 networking opportunities.
In particular, the conference has two major discussions panels involving experts from Japan and South Korea. The Japanese panel will introduce Japanese partners' success stories when working with Vietnam's IT services companies, and how Vietnamese companies can expand their market in Japan. The South Korean panel will discuss how South Korean tech companies can work with Vietnamese IT companies in win-win cooperation.
Vietnam has been very successful in the software outsourcing field over the last decade and international counterparts regard it as a "Software Development Hub" of Asia, according to Mr. Lam Nguyen Hai Long, Honorary Chairman of the VNITO Alliance. Moreover, in recent years, Vietnam has actively implemented many new models and policies such as smart city models, creative cities programs, and startup activities as a meaningful response to Industry 4.0. Vietnam is also a highly open economy with a policy of making friends with all countries, thereby helping it reach larger markets.
As a country listed in the top 10 for having most students studying abroad, together with a large number of Vietnamese scientists working in developed countries, Vietnam possesses favorable conditions to connect and study the most up-to-date and complicated products and technologies in the world. These conditions offer a host of opportunities for Vietnam to become a center of software development and innovation in Southeast Asia.