Vietnamese tea receives 'Tea of the World' awards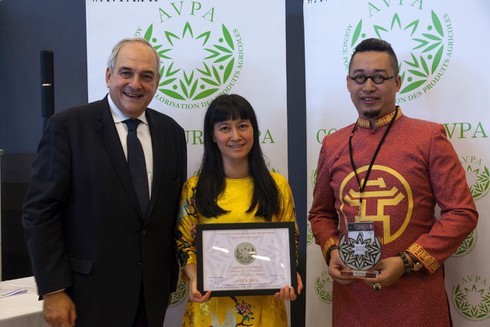 A total of six Vietnamese tea products from Van Chan-Yen Bai, Con Linh-Ha Giang, and Moc Chau-Son La, have received awards at the second 'Tea of the World' AVPA Paris 2019 International contest.
Among the winners of the Gourmet award were Shan Tuyet white tea of Tay Con Linh in Ha Giang province, in addition to Shan Tuyet tea of Pang Sung Do commune, Van Chan district, Yen Bai province.
The recipients of the gold awards include Shan Tuyet pink tea from Tay Cong Linh in Ha Giang, along with Oolong Moc Chau tea which originates from the northern mountainous province of Son La.
Bringing home the silver awards were the green tea product from Pang Sung Do commune, Van Chan district, Yen Bai province, and a pink tea product from Tay Con Linh, Ha Giang.
The AVPA Tea Contest is a unique competition which ranks beverages based on gastronomy rather than standardised refereeing. It therefore seeks a striking rather than a consensual sensory profile.
In this year's version, the contest attracted 128 tea products from 17 countries worldwide.
By receiving international tea prizes, Vietnamese tea products will boost their prestige in the global market.
Vietnam Industry 4.0 Summit 2019 to run in early October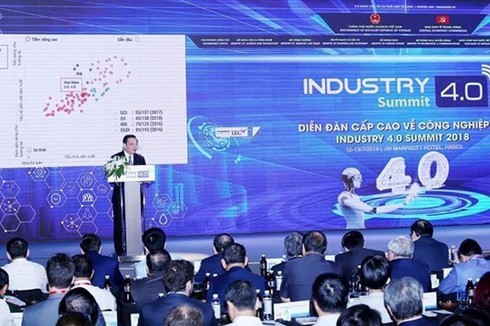 Scene at the 2018 edition of the event (Source: laodong.vn)
The Industry 4.0 Summit 2019 is scheduled for October 2 and 3 in Hanoi, announced the Party Central Committee's Economic Commission on September 25.
The summit will be chaired by leaders of the Party, National Assembly and Government with the participation of about 1,500 domestic and international delegates.
On the sidelines, five symposiums, an exhibition on modern technologies, and a business matching event will take place.
The summit aims to explain key polices of the Party and State on Vietnam's participation in the 4th Industrial Revolution, pool domestic and foreign experts' recommendations for such engagement, and connect international investors in the field with the Vietnamese business community.
Some 85 percent of industrial enterprises in Vietnam still lag behind the Fourth Industrial Revolution (Industry 4.0), and only 13 percent are at the beginner level, according to Nguyen Duc Thanh, director of the Vietnam Institute for Economic and Policy Research (VEPR).
In a draft national digital transformation plan, Vietnam targets emerging as one of the top four countries in ASEAN in terms of digitalisation by 2025 with 80,000 digital technology companies.
Ha Long-Cat Ba Alliance helps enhance efficiency of heritage management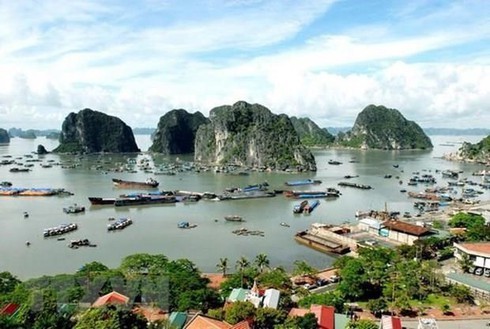 The Ha Long-Cat Ba Alliance Initiative is one of several important projects helping the Management Board of Ha Long Bay manage the heritage better with a multidimensional and multi-sectoral approach, according to vice chairman of the board Pham Dinh Huynh.
The US Agency for International Development (USAID)-funded project has helped connect State management agencies with non-governmental organisations, firms and the community, as well as Quang Ninh province and Hai Phong city in protecting Ha Long Bay and Cat Ba Archipelago, Huynh said at a meeting held by the International Union for Conservation of Nature (IUCN) on September 25.
The Ha Long Bay World Heritage Site and Cat Ba Archipelago Biosphere Reserve are two of Vietnam's most economically and ecologically important areas, renowned for their beauty and biological importance.
The Ha Long – Cat Ba Alliance was established in 2014 to build a partnership between government, business, and community leaders to preserve and protect Ha Long Bay and the Cat Ba Archipelago.
The alliance is implemented by the IUCN and it advocates for the preservation of the area's biodiversity through a high-level, business-led leadership committee. The committee members are business leaders, local and international non-governmental organisations, political representatives from Quang Ninh province and Hai Phong city, national-level government agencies, and the US government.
These stakeholders set a vision and give guidance on the alliance's work plan, which includes increasing public awareness of environmental conditions; advancing a green certification standard for overnight cruise companies; improving water quality in Ha Long – Cat Ba; and nominating the Ha Long Bay UNESCO World Heritage Site to expand to include the Cat Ba Archipelago.
The Ha Long – Cat Ba Alliance has partnered with nearly 20 cruise companies, local and international businesses, and civil society organisations. It has leveraged more than 210,000 USD from the private sector to invest in awareness raising and community development activities in Hai Phong city and Quang Ninh province.
Huynh noted that since 2014, the alliance has made efforts to protect the environment in Ha Long Bay and Cat Ba Archipelago through the Alliance Leadership Committee.
Over the past five years, the project has focused on improving the quality of water and preserving biodiversity in these regions.
It has mobilised the engagement of businesses in managing solid waste through activities in the "Act for Green Ha Long" campaign. The efforts have been supported by local administration through the issuance of a ban on foam buoys and single-use plastics in Ha Long Bay. Quang Ninh has also asked all passenger vessels to install wastewater treatment systems.
The alliance has assisted Quang Ninh and Hai Phong build a programme to supervise biodiversity through holding training courses and providing technical assistance and equipment, as well as advocating the allocation of local budget for biodiversity supervision.
In the future, if the Ha Long Bay World Natural Heritage is expanded to Cat Ba Archipelago, more management measures will be applied to preserve the biodiversity values of the region, said Huynh.
The administrations of Quang Ninh and Hai Phong will continue cooperating in researching on impacts of tourism to the water quality and wildlife, while reviewing regulations related to plastic waste reduction and improving water quality.
Nguyen Anh Tuan, head of the Office of the Cat Ba Heritage Management Board and Director of the Hai Phong Department of Foreign Affairs said Hai Phong city and Quang Ninh province have worked to finalise dossiers proposing the United Nations Educational, Scientific and Cultural Organizatio (UNESCO) to recognize Ha Long Bay with expansion to Cat Ba Archipelago as a World Natural Heritage Site.
Hanoi meeting responds to World Rabies Day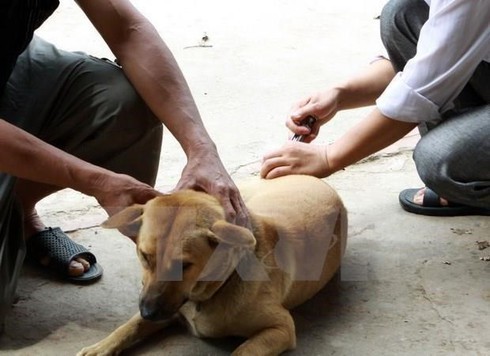 Animal health officials gives rabies shots to dogs
A meeting was held in Hanoi on September 25 to respond to World Rabies Day 2019, which falls on September 28.
Addressing the event, Assistant Prof. Dr. Hoang Duc Hanh, Vice Director of the Hanoi Department of Health, cited the World Health Organisation's report that the fatal disease kills 50,000-70,000 people each year, and forces more than 10 million people to get vaccinations.
In Vietnam, the disease has persisted for decades, with high fatality at about 100 cases per year, he noted, stressing the need to vaccinate more cats and dogs, enhance communications among the community on the danger of the disease, and encourage people to get vaccines.
Over the years, Vietnam has been making efforts to control rabies and seen a decrease in the number of deaths from rabies from 2015 – 2017. However, the number of fatalities increased last year, rising to 103 from 74 in 2017, he noted.
In the first half of 2019, the country reported 46 deaths from rabies in 24 cities and provinces with Son La recoding six cases, the highest number.
Hanoi has not recorded any deaths from the disease so far this year.
According to the National Institute of Hygiene and Epidemiology, rabies is the main cause of most deaths from infectious diseases in Vietnam. About half a million people get vaccinated as a preventive measure from rabies but in reality, the number of people bitten by animals is much higher.
The institute emphasised that vaccination is the only way to prevent human mortality from rabies.
Robothon and WeCode contests slated for October
Over 500 primary and secondary school students from Can Tho, Danang, Ho Chi Minh City, and Hanoi are set to take part in the National Robotics, also known as Robothon, and WeCode contests running from October 5-27.
A total of 115 teams will participate in Robothon, while 92 students will compete in the WeCode programming competition.
The theme of this year's events will be "FoodEffect 2050", which aims to get students thinking about the possibility of food shortages by 2050 and how robotics could be used as a solution in the context of the ever-increasing global population and further reduced arable land.
Therefore, the role of automation and robotics in agricultural production will become increasingly important for future generations.
The contests are co-organised by the Management Board of the Hoa Lac Hi-Tech Park under the Ministry of Science and Technology, DTT Eduspec Joint Venture at the STEM Institute, along with primary and secondary schools across the four cities.
Starting date set as Miss Capital ASEAN 2020 launches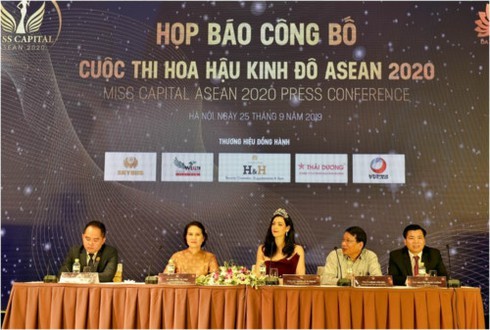 During a press conference held in Hanoi on September 25
The preliminary rounds of the Miss Capital ASEAN 2020 beauty pageant are set to take place in 10 nations across Southeast Asia from November 15, 2019 to February 15, 2020, stated the event organisers during a press conference held in Hanoi on September 25.
Following the competition's opening rounds, the semi-finals are set to take place from March 15 to March 25, 2020, whilst the finals will be held in Trang An scenic landscape complex in the northern province of Ninh Binh from April 15 to April 27, 2020.
The pageant's winner will receive a cash prize of VND300 million, in addition to a crown with a cost of VND500 million.
Those who win the first and second runners-up spots will both be awarded a crown with a value of VND100 million, in addition to a bonus of VND200 million and VND100 million, respectively.
In addition, the winners of the competition's sub-categories such as Miss Talent, Miss Ao Dai, Miss Tourism, and Miss Fashion, will be awarded over VND35 million each.
The beauty contest is open to citizens from ASEAN nations including Vietnam, Cambodia, Myanmar, Brunei, Singapore, Indonesia, Thailand, Laos, the Philippines, and Malaysia, aged 18 to 27 and 1.65 metres and above.
The Miss Capital ASEAN 2020 pageant will take place as a part of a broad range of cultural activities happening during National Tourism Year 2020 - Ninh Binh and also mark Vietnam taking on the role of ASEAN chair next year.
Technological innovation and collaboration key for SDGs: forum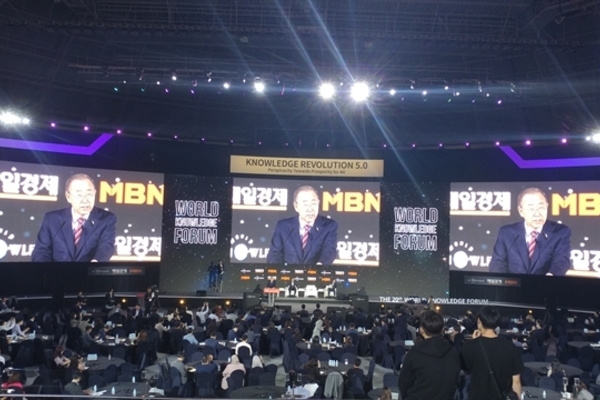 Ban Ki-moon, former Secretary General of the United Nations, delivers a speech at a session of the 20th World Knowledge Forum held on Thursday in Seoul.
Ban Ki-moon, former Secretary General of the United Nations, on Thursday called on more collaboration between corporations and the international community, as well as more use of advanced technologies to ensure no one is left behind.
When addressing a session of the 20th World Knowledge Forum on 'Building a better future with technology', in Seoul, South Korea Ban said: "We must understand that inclusiveness remains an essential pillar for continued sustainable development goals (SDGs)."
"We cannot move forward without ensuring no one is left behind. This is an important philosophical motto of SDGs," he said.
"Achieving SDGs is depending on transforming various sectors of society. This includes transitioning to green energy, building smart cities, expanding sustainable agriculture and protection of biodiversity, and many others.
"Innovation through locomotives of technology and science will be key elements to actualising these transformation and ensure the ultimate success of SDGs."
However, Ban said that innovation in technology should not be limited to the United Nation's 17 SDGs.
Governments should prioritise public investments in research and development to nurture collaboration between key stakeholders and synergise innovation to achieve SDGs.
President and Chief Strategy Officer of Samsung Electronics Young Sohn said the world has changed, so the approach to innovation is also changed.
"As we continue create revolutionary changes, we must embrace the concept 'Tech for good'," he said.
He highlighted the challenges the next generations might meet if they can't access quality education and are not prepared to embrace technology.
He stressed that global issues such as education, food and energy could "either unify us or divide us", adding that it depends on how communities deal with them.
He recalled that five years ago, he launched a technology challenge programme for his employees to share knowledge to be able to improve their performance. Now, the programme has become a global start-up competition to focus on 'tech for good'.
"That is tremendous opportunities that entrepreneurs, corporations, start-ups and governments to work together to have global impacts."
Chairman of Maekyung Media Group Chang Dae-whan said there are many across the globe seeking collaboration between corporations and countries.
He gave an example that smart cities collaboration is a new turning point in sustainable urban transformation.
"Companies, cities and countries can work together based on key technology of the Fourth Industrial Revolution to make life more convenient and safe," he said.
He quoted Jack Ma, co-founder and former executive chair of Alibaba Group, as saying: "In a rapid change of the technological environment, we cannot survive by focusing on profit goals… We need to increase social potentials."
Chang stressed the leading roles of enterprises in spreading philanthropy as core knowledge management value, preserving environment and energy.
He said the global economy is increasingly influenced by non economic factors such as trade wars, geopolitical conflicts and climate change. However, he expressed his confidence these non-economic uncertainties will be greatly resolved by pursuing sustainable development goals.
Ending the session, Chang signed an agreement with Samsung's Young.
Under the agreement, the Meukyung Media Group will become a founding sponsor for the Samsung Electronics' Extreme Tech Challenge which is a competition to encourage companies to develop and offer products and services to advance the 17 UN SDGs. — VNS
Quang Tri successfully handles nearly 300 explosive devices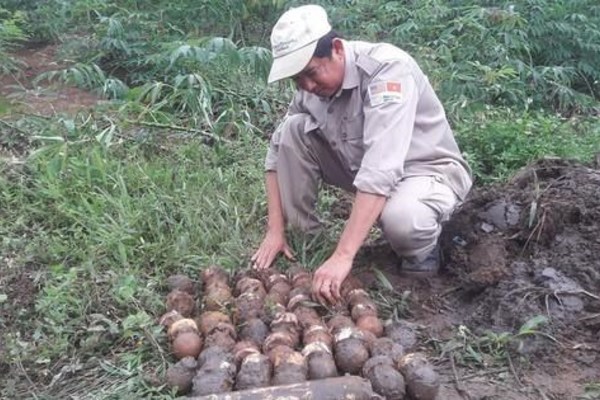 Some explosive devices found at the cassava field in Xy commune (Photo: nguoiduatin.vn)
Nearly 300 explosive devices were successfully defused in Xy commune, Huong Hoa mountainous district, the central province of Quang Tri on September 25.
Right after receiving information from local residents, the province's mobile unexploded ordnance (UXO) clearance team under Peace Trees Vietnam, in collaboration with the provincial border guard's Thanh border station and the communal People's Committee, conducted inspections at the cassava field.
The team found 75 Blu-24 bomblets and 220 warheads of various kinds. As most of the bomblets remained intact, posing a high risk of explosion, they were defused at the site. Meanwhile, the authorities safely moved the warheads to a warehouse for explosive materials.
A survey in 2017 by the Ministry of National Defence showed that nearly 82 percent of the area of Quang Tri, a fierce battlefield during the war, was contaminated with UXOs. Nearly 8,540 local residents have been killed or injured by UXOs since 1975.
In Huong Hoa – a heavily UXO-polluted district, more than 1,150 people have been killed or injured in UXO accidents since 1975 – when the war ended.
In 1995, Peace Trees Vietnam was the first international non-governmental organisation coming to the province to help address post-war consequences through UXO clearance, and support for UXO victims.
Since February 2019, Quang Tri has carried out a cooperation programme with RENEW (Restoring the Environment and Neutralising the Effects of the War) and the Norwegian People's Aid (NPA) organisation to expand the area subject to UXO clearance.
Huong Hoa is also the last district of Quang Tri to benefit from the RENEW-NPA project, which has not only helped deal with UXOs but also promoted farming activities, especially the cultivation of coffee trees – a key plant for economic development in the district.
Since 1996, Quang Tri has mobilised millions of USD from foreign organisations to address addressing UXO consequences.
Notably, a project worth nearly 95,000 USD has been implemented since March this year by the US's Golden West Humanitarian Foundation to provide technical support and build capacity for the province in post-war UXO clearance.
Additionally, the UK's Mines Advisory Group has also pledged to add nearly 2.5 million USD to the sixth phase of a UXO clearance project from now to 2021 in Quang Tri.
Such projects have also organised UXO education, benefiting more than 160,000 primary and secondary school students in the province so far.
This is also an important solution to help the province become the first locality in Vietnam to be free of post-war UXO impact in 2025.
Thanks to local efforts and assistance from foreign organisaitons, UXO accidents in Quang Tri have reduced, bringing down the annual number of victims from about 70 between 2001 and 2005 to two in 2017. Notably, the province did not record any UXO victims in 2018./.
Ministry cracks down on container trucks violating rules
The Ministry of Transport has taken steps to prevent the increasing number of accidents involving cargo trucks and container trucks.
Many container trucks have not complied with regulations on the transport of goods.
The Directorate for Roads of Vietnam (DRVN) will be responsible for enforcing regulations concerning transportation of goods on container trucks at ports, stations and cargo warehouses.
Ho Chi Minh City's Department of Transport has directed the city's Transport Association to improve traffic-safety training for truck drivers and disseminate information about new inspections.
In addition, the city's Police Department is expected to strictly handle container trucks that have not complied with safety rules, especially in cases in which the containers are not locked securely in the trailer.
The Vietnam Register Authority under the Ministry of Transport has told container truck drivers to comply with the speed limit and to ensure traffic safety.
Nguyen Ngoc Tuong, deputy chief of the HCM City Traffic Safety Committee, said that most of the accidents were caused by a lack of safety awareness among container truck drivers.
On August 25, in Di An commune in Binh Duong province, a 40-feet storage container that was not locked properly on a trailer fell out after the driver slammed on the brake to avoid a crash with a motorcyclist.
On August 5, on the Tram 2 overpass in district 9, a storage container fell out of a truck and collided with a car./.
H're people's brocade weaving recognised as national intangible cultural heritage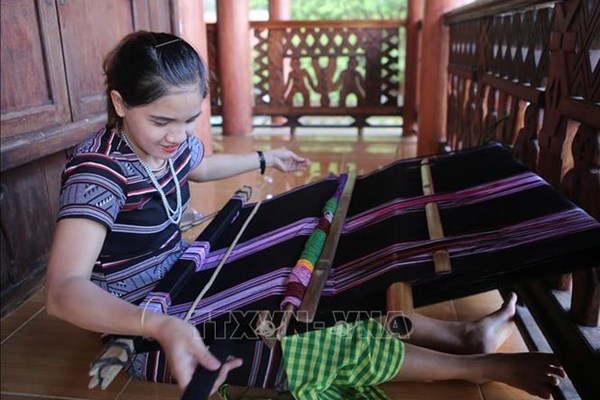 The traditional brocade weaving of the H're ethnic minority people in Ba Thanh commune, the central province of Quang Ngai, has been recognised as national intangible cultural heritage.
Traditional brocade products of H're people are popular among other ethnic groups, serving the daily needs of communities, contributing to conserving the locality's traditional culture and improving incomes for weavers.
The weaving also demonstrates the traditional culture, intelligence and sophisticated techniques of H're weavers, which have been passed down from generation to generation.
Each brocade product of the H're people is not only a common product, but also a spiritual product where weavers convey their talent, aesthetics, intelligence, creativity, and spirit.
The traditional weaving shows the unique culture of the H're ethnic group in Quang Ngai, reflected by the way of patterning on brocade weaving products and costumes.
The recognition as a national intangible cultural heritage is a basis for preserving and promoting this profession.
In recent years, local authorities and sectors have encouraged local residents to develop the traditional handicraft, as well as implementing scientific projects to preserve it.
Vocational training in brocade weaving has been organised for young H're women in the locality, and weaving products introduced at festivals, exhibitions and fairs, contributing to preserving and developing traditional weaving./.
Athletes compete at Hà Nội Mới Newspaper – Run for Peace this Sunday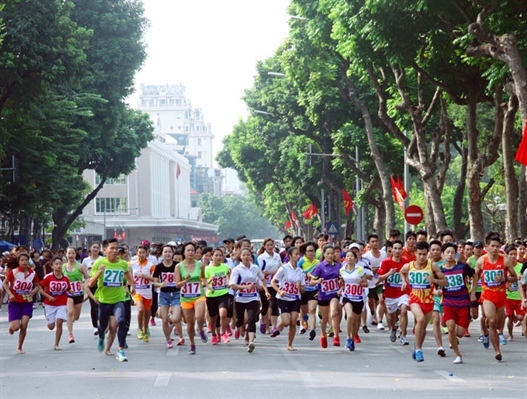 1,500 athletes will take part in the Hà Nội Mới Newspaper – Run for Peace this Sunday in Hà Nội. Photo baovanhoa.vn
The 46th Hà Nội Mới Newspaper – Run for Peace will see a number of national team members competing this Sunday around Hoàn Kiếm Lake in Hà Nội.
The annual event has drawn about 1,500 athletes, with amateur runners from schools, universities, enterprises and others alongside professional competitors as SEA Games 5,000m winner Nguyễn Thị Oanh of Bắc Giang and SEA Games 3,000m steeplechase bronze medallist Đỗ Quốc Luật of the Military team.
More than 360 foreigners including 12 ambassadors to Việt Nam will also join the event.
Amateur runners can choose suitable distances ranging from 1.75km to 5.25km, equivalent to one to three laps around Hoàn Kiếm Lake.
Meanwhile, professional athletes will compete in mandatory distances of 5.25km for women and 8.75m (five laps) for men.
The organisers will present a total prize of VNĐ200 million (US$8,600) to high-ranking athletes and teams.
The run will be broadcast live on VTV6 channel from 7-10am.
Literacy books for high school students released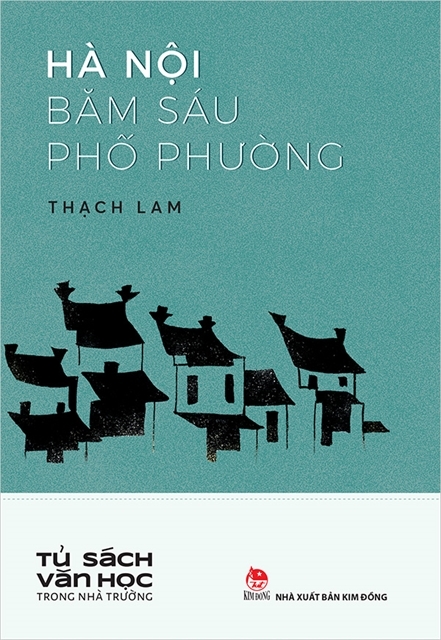 The cover of Hà Nội Băm Sáu Phố Phường (Hà Nội's 36 Old streets), a 124-page book about Hà Nội's culture and lifestyle by talented writer Thạch Lam, has been republished by Kim Đồng Publishing House to serve high school students. — Photo from the publisher's website
he Kim Đồng Publishing House has released a series of six books by Vietnamese writers to serve high school students as part of the publisher's efforts to encourage reading among youth.
Four of the books are written by Thạch Lam, Vũ Trọng Phụng and Nam Cao, who were famous in the 1930s and 1940s.
The other books are by female poet Hồ Xuân Hương of the 18th century and the great poet Nguyễn Du, famous for the work Truyện Kiều (Tale of Kiêu), an epic poem of 3,254 verses recognised as the most significant work of Vietnamese literature.
Kim Đồng will also republish books by well-known writers living in different periods, such as poets Hàn Mạc Tử and Nguyễn Bính, and authors Nguyễn Tuân and Tô Hoài in the 20th century.
"We will provide more Vietnamese titles for high school students this year," a Kim Đồng official said.
Kim Đồng, the country's leading publisher for children's books, has also signed contracts with well-known authors, including young writers, to create books for teenagers.
Its website, www.nxbkimdong.com.vn, has introduced 12 new Vietnamese children's books in literature, history and the arts.
Featured books include Điện Biên Phủ Của Chúng Em (Our Điện Biên Phủ), Bác Hồ Sống Mãi (President Hồ Lives Forever) and Tuổi Dấu Yêu (Teenage) by veteran and young authors of the Việt Nam Writers Association.
Many young readers have written comments about these books on the publisher's online forum.
Other publishers have also been involved in the market. The HCM City Culture and Arts Publishing House has issued a series of books written by Từ Kế Tường, Nguyễn Nhật Ánh and Đinh Tiến Luyện, who were famous in the 1980s and 1990s, to attract young readers.
These books were published in magazines for secondary school students, Tuổi Ngọc (Teen Age) and Hoa Học Trò (Flowers of Students), between 1998 and 2008.
Phương Nam Book, a private publishing house in HCM City, has signed an exclusive contract to publish several books by Đoàn Thạch Biền, some of them released before 1975. All of these books tell stories about girls and boys at high school.
"Writers and printers should work together to increase the number of books for teenagers on the market," said writer Từ Kế Tường.
Young doctors work in poorest provinces as part of Health Ministry project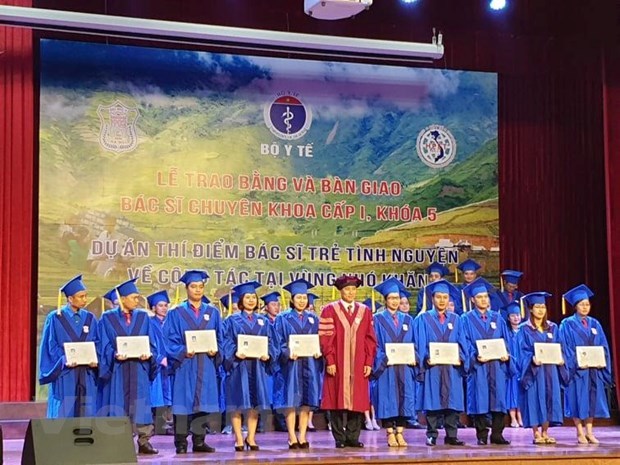 Twenty-five new medical doctors at their graduation ceremony in Hà Nội on Tuesday.
A group of 25 recent graduates from medical school will work in remote areas as part of the Ministry of Health's project to dispatch more doctors to the country's poorest provinces.
The ministry on Tuesday held a graduation ceremony for the young doctors who studied at Hà Nội Medical University, Huế University of Medicine and Pharmacy, and Hải Phòng University of Medicine and Pharmacy.
The doctors will be divided into small groups that will work in 16 poor mountainous districts in the provinces of Hà Giang, Lào Cai, Yên Bái, Bắc Giang, Bắc Kạn, Lai Châu, Lạng Sơn, Phú Thọ, Sơn La and Nghệ An.
Of the 25 doctors, 15 of them are ethnic Mông, Thái, Tày, Mường and Nùng.
The doctors were among 354 medical school students who enrolled in the Health Ministry's pilot project to send doctors to mountainous villages, border regions and remote islands.
Launched in February 2013, the pilot project seeks to provide a sustainable, high-quality resource of medical personnel for remote regions.
Its aim is to dispatch between 300 and 500 young doctors to the poorest provinces by 2021.
So far, 77 graduates have been sent to 13 provinces in northern and central Việt Nam.
Geographical difficulties and chronic poverty in these areas are key challenges to recruiting doctors to work at the underprivileged communities there.
Reports from health departments in the 62 poorest districts have identified a shortage of 598 doctors who are needed to ensure local healthcare standards.
Seven medical field in desperate need of more doctors are internal medicine, surgery, obstetrics, pediatrics,
resuscitation and emergency medicine, infectious diseases, and medical imaging.
Hospitals urged to adopt sterile practices to prevent infections
Good practices at hospitals to control infections are key to ensuring patients' safety, Dr Trần Vĩnh Hưng, director of HCM City's Bình Dân Hospital told a conference yesterday.
"Control of infections in hospitals is an important element in the process of providing healthcare to patients since hospital-acquired infections and multidrug-resistant bacteria are imminent challenges for global health."
Last month the World Health Organisation (WHO) updated the list of medical errors and urgent problems related to the control of infections in hospitals.
It said nearly 10 per cent of patients in developing countries got hospital-acquired infections.
"When control is practised well, patients will be taken care of effectively and risks of infections will also reduce sufficiently."
Nguyễn Thị Thanh Hà, vice chairman of the HCM City Infection Control Society, said infection of surgical incisions also occurs often at hospitals, and so they should pay attention to this.
If practices to ensure safety related to surgeries are not adequate, patients could be burdened with additional treatment costs and also face an increased risk of mortality, she warned.
Hospitals could then face lawsuits, she said.
An inspection conducted by the Ministry of Health found that most hospitals in the country have operating rooms that are not designed safely while the most common errors are failure to follow safety protocols, leading to infections while transferring patients to surgery rooms, she said.
Hospitals should set up intervention programmes to ensure safety with managers, operators, health staff, and patients taking part, she said.
They should also factor in this problem when designing their operation rooms, she said.
Hưng said Bình Dân Hospital, for instance, uses various methods to sterilise surgical tools and others, and its procedures for infections control are very strict and automated.
Dr Lê Thị Anh Thư, the society's chairwoman, said 187-281 million surgeries are performed each year around the world.
Of them, nearly seven million patients develop complications and one million die, she said.
HCM City welcomes over 6.2 million foreign tourists in nine months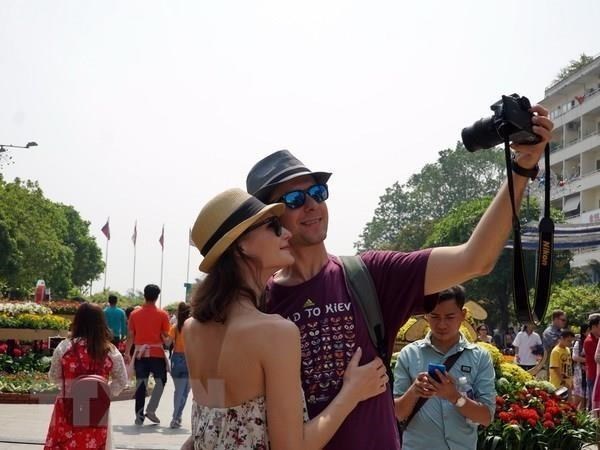 Foreign visitors in Ho Chi Minh City (Source: https://www.hcmcpv.org.vn)
Ho Chi Minh City greeted more than 6.2 million foreign visitors in the first nine months of 2019, representing a year-on-year increase of 14.3 percent, according to the municipal Department of Tourism.
The city's tourism sector earned 108.3 trillion VND (over 4.6 billion USD) in revenue in the reviewed period, up 7.4 percent from the same period last year.
The department said the sector is stepping up the application of information technology in managing and processing relevant documents, while operating online public services to handle administrative procedures in the field.
Attention has been also paid to tourism promotion activities, towards luring more tourists to the city.
Ho Chi Minh City welcomed more than 7 million foreign tourists last year. It aims to expand tourism growth of between 15-20 percent and serve about 8-8.5 million foreign holiday makers in 2019./.
Association helps promote Vietnam-Belarus friendship
The Vietnam-Belarus Friendship Association convened its fourth national congress (2019-2024 tenure) in Hanoi on September 25.
The congress elected a 27-member executive board for the new tenure, with Nguyen Tuan Phong, deputy head of the Party Central Committee's Commission for External Relations, as President.
Over the past years, the association organised various meetings and people-to-people exchanges, contributing to promoting the relationship between Vietnam and Belarus.
It supported many Belarus delegations which came to Vietnam to seek cooperation opportunities, while maintaining its close relations with the Belarus-Vietnam Friendship Association.
Delegates shared their views that the association should renew and improve the efficiency of its operation in the new term in order to reap practical results in people-to-people diplomacy.
Addressing the congress, Nguyen Phuong Nga, President of the Vietnam Union of Friendship Organisations, praised achievements recorded by the association over the past time.
She highlighted the traditional friendship and long-term, multi-faceted cooperation between Vietnam and Belarus, and urged the association to consolidate cooperation with its partners, especially the Belarus-Vietnam Friendship Association.
Peace and friendship activities should be combined with cooperation in such areas as new energy, mechanical manufacturing and the processing of agro-forestry products.
The association can encourage youths to explore the land and people of the respective countries through schools and community-based programmes, she suggested.
Nga urged the association to expand its operation network in order to bring into full play its role as a bridge between organisations, individuals and businesses of the two countries./.
Vietnam Economic Forum 2019: Strategy needed for AI development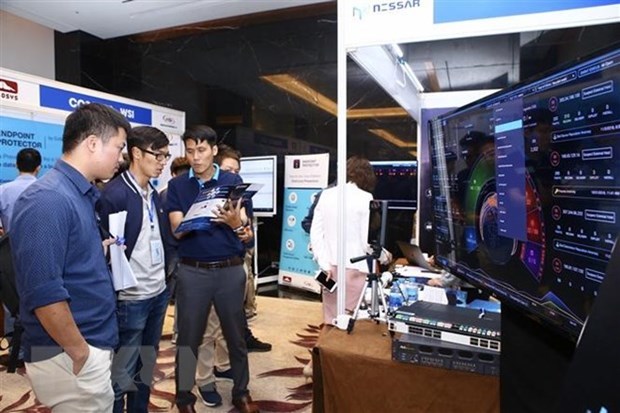 Visitors at a technology fair
Experts and business representatives all stressed the need for a strategy for the development of Artificial Intelligence (AI) in Vietnam at a thematic workshop held in the framework of the 2019 Vietnam Economic Forum in Hanoi on January 17.
Deputy Minister of Science and Technology Bui The Duy said such a strategy needs to define Vietnam's targets and measures to realise those targets, based on an accurate assessment of the size of the domestic AI market.
He noted that there has not yet been any official survey on the size of the AI market in Vietnam, and available reports on the world and regional AI markets contain no information on the country. At the same time, AI has not been included in the investment lists of many Vietnamese companies, and if it did, the investment is insignificant.
According to the Deputy Minister, this means the AI market in Vietnam is small and businesses' commitment to the market is not obvious. However, this is also an opportunity for those who want to engage in this field.
Deputy Minister Duy said in such a situation, the State, with both roles as the largest consumer and the leader of the economy, should become the strategic investor in core AI elements. The first task is to build the national AI strategy and policies to stimulate this market.
Participants at the workshop shared experience in starting business in the field of AI and in how to ride the wave of AI, grasp opportunities and deal with challenges in building the foundation for technology sharing.
The Vietnam Economic Forum 2019 is jointly organized by the Government and the Party Central Committee's Economic Commission on January 16 and 17 in Hanoi.
Conference spotlights AI development in HCM City
The Ho Chi Minh City People's Committee in collaboration with the World Bank Vietnam on September 25 held an international conference on Artificial Intelligence (AI) use in Vietnam and abroad to gather experts' recommendations for the southern economic hub.
Speaking at the event, Chairman of the committee Nguyen Thanh Phong said since 2015, the city has included AI projects in its demand stimulation programme, which offers each project support of up to 100 billion VND (4.3 million USD). It has also integrated AI applications into its smart city building project, he added.
The official, however, pointed to the city's slower and inferior use of AI compared to other cities worldwide, and attributed the shortcoming to incompetent human resources.
Phong noted the conference will serve as an important foundation for the city to build its AI ecosystem, establish a centre on AI application, and compile documents for the upcoming municipal Party congress.
World Bank Country Director for Vietnam Ousmane Dione said AI could be the answer for a series of challenges facing the city like traffic congestion, flooding, and environmental and infrastructure problems.
Discussions at the event revolved around several topics, including AI application toward smart city building; the future of technology and innovation in Ho Chi Minh City; AI trends and application in the public sector; and opportunities and challenges facing the municipal health sector in applying AI; among others./.
Tra Vinh province to go vibrant with Sene Dolta festival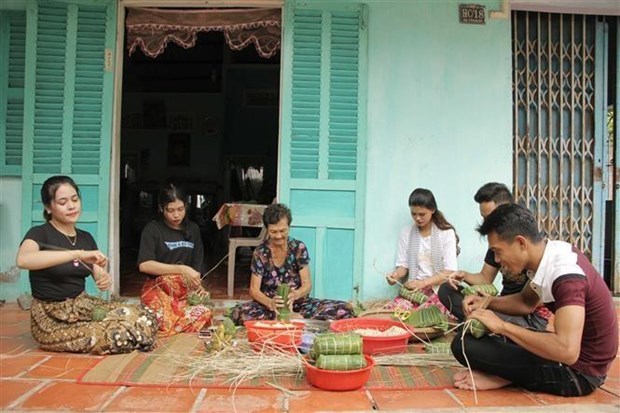 Several days before the Sene Dolta festival, Khmer people gather to make Tet cake.
A thrill of excitement has overwhelmed the Mekong Delta province of Tra Vinh these days as the Khmer people are celebrating their traditional Sene Dolta festival, which falls on September 27-29 this year.
Sene Dolta is one of the largest annual festival of ethnic Khmers in the southern region, along with Chol Chnam Thmay (New Year) and Ok Oom Bok (long boat race).
Also called Phchum Banh, Sene Dolta means family gathering and virtue. It is held from the last day of the eighth lunar month to the second day of the ninth lunar month each year.
During the festival, the Khmer people express their gratitude to ancestors, parents and relatives, and pray for good luck. A wide range of religious rituals and several cultural activities take place at Khmer pagodas.
Tra Vinh province has a population of 1 million people, 32 percent of whom are ethnic Khmers. Most of the people live in rural areas and rely much on agricultural production. In the past years, local authorities have carried out a myriad of policies and programmes in support for the ethnic group to improve their material and spiritual lives.
According to Ha Thanh Son, deputy head of the provincial committee for ethnic minority affairs, hundreds of VND has been disbursed to develop infrastructure for poor districts and areas resided by ethnic minority group, as well as help the locals to develop production.
As of the end of 2018, Tra Vinh province had over 16,400 poor households, declining 2.46 percent from 2017, with the number of impoverished Khmer families falling 4.43 percent. To date, more than 93 percent of the Khmer people get access to clean water while over 97 percent are enabled to use safe electricity.
The province has eight boarding schools, helping facilitate the study of ethnic children, he added./.
Binh Thuan leaders extend greetings to Cham Brahman community on Kate Festival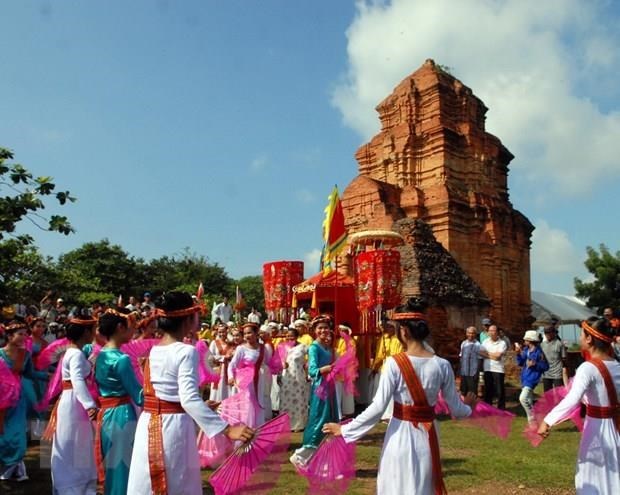 Leaders of the south-central province of Binh Thuan on September 25 visited and extended greetings to the Cham Brahman community in the province on the occasion of their biggest yearly occasion – the Kate Festival.
Along with monks, dignitaries and prestigious people of the local Cham Brahman community, provincial leaders also visited those living in Phu Lac and PhongPhu communes of TuyPhong district, and Phan Hiep and Phan Thanh communes of BacBinh district.
They wished the community a prosperous and fancy festival, continuing to preserve and develop the traditional culture of the group.
Leaders also lauded the group's efforts in building the national great unity bloc, expressing their hope that the dignitaries and prestigious people will promote their influence in the community, encourage locals to follow the Party and State's policies and law, support each other in poverty reduction and reinforce solidarity.
For their part, Cham Brahman monks, dignitaries and followers thanked the local leaders for creating favourable conditions for them to enjoy the festival. They proposed that provincial authorities continue supporting them in economic development.
Falling on the first day of the seventh month of the Cham calendar, Kate is the most popular Cham festival in NinhThuan. It reminds the ethnic Brahman community of their ancient gods and delivers wishes for bumper harvests and the growth of all beings.
The Cham people have several distinctive festivals including the Ramuwan, the Rija Nugar, and the Chabun.
There are about 153,000 Cham people in Vietnam, including approximately 72,500 people in Ninh Thuan. Over 43,000 of them, scattered across 12 communes in seven districts, follow the religion.
Over the years, the community has received support in capital for production development, along with investment in improving infrastructure and public works, thus considerably improve locals' living conditions./.
British Council organises biggest Study UK Fair in 2019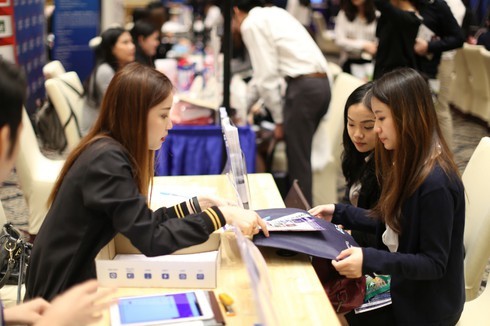 Study UK Fair 2019, the biggest annual UK education event organised by the British Council in Vietnam in 2019, will take place in Ho Chi Minh City on October 5 and in Hanoi on October 6.
The fair will deliver a golden opportunity for students and parents to learn all the most up-to-date information regarding studying in the UK including the exciting new visa policy for international students.
More than 30 leading UK colleges, universities, prestigious education consultancy companies, UK qualification programmes in Vietnam will participate in Study UK Fair 2019.
Highlights of this year's fair include a UK visa seminar with the most up-to-date information about the new UK graduate immigration route, tips to apply for top UK universities, opportunities to study in Wales, the Chevening Wales scholarship programme, and career-oriented seminars with experts from leading companies in Vietnam. Register at: https://vn.registration.study-uk.britishcouncil.org/
The curricula at UK colleges and universities are work-based with plenty of hands-on learning, which gives graduate students an edge in the job market.
Most institutions participating in Study UK Fair 2019 report that more than 90% of their students were in employment or further study within six months of graduating.
Key performers are Birmingham City University at 97.4% (HESA 2016/17), Cardiff University at 97% (DLHE 2016/17), University of South Wales at 95% (DLHE 2018) together with representatives from other institutions and well-known education consultancy companies.
With the reputation of world-renowned UK higher education system, students graduate from UK institutions are always favoured by employers. The main topic of Study UK Fair 2019 focuses on career orientation for students.
Joining this year's fair, students will be consulted on how to choose majors and universities in the UK, focusing on six fields (marketing, engineering, art and design, media, hospitality management, education and linguistics).
Especially, a seminar on future career opportunities in Vietnam will be attended by high-profile guest speakers from leading companies and corporations in Vietnam, such as Mr Tran Trung Kien – CEO of Thien Minh Group; Mrs Thai Van Linh – CEO of Ventures Group; Mrs Nguyen Phuong Mai – CEO of Navigos Group with useful sharing sessions and inspirational messages promises to help UK alumni and students in Vietnam understand how to build career development path in the Vietnamese market.
The UK Government has announced a new graduate immigration route to allow international students to stay in the UK for two years after they graduate to work or look for work, ensuring the UK continues to attract the best talent from around the world.
UK universities will be able to recruit on the basis that students starting in the 2020-2021 academic year will benefit from this new scheme. This exciting development will open opportunities for those planning to study abroad in the UK in the future.
Joining the seminar on UK student visas, presented by representatives from the UK Visa and Immigration department at the UK Embassy in Vietnam, will deliver the most up-to-date and official information on this hot topic.
Study UK Fair not only includes UK institutions, it also welcomes education consultancy companies with information from hundreds of courses and scholarships from UK institutions.
For those interested in UK qualification programmes in Vietnam, the fair will feature leading universities and institutions offering joint training programmes with UK institutions, such as British University Vietnam, London College for Design & Fashion, National Economics University, Banking Academy of Vietnam.
Besides, there will be counselling activities for students on how to assess their abilities to select appropriate majors in the future. Visitors will also benefit from counselling activities to help high school students prepare knowledge and skills to apply to Oxbridge, as well as leading UK universities.
Based on their time living and studying in the UK, the inspirational stories from UK alumni at the fair's 'Wales in my eyes' seminar will bring visitors authentic and lively perspectives about the studying abroad journey in the UK, in general and Wales, in particular.
Moreover, the fair will provide with the latest information on the Chevening Wales scholarship programme for master degrees together with other financial support and valuable scholarships.
Study UK Fair is open to the public. More than 1,000 'Study in Wales' booklets with special gifts from Welsh universities will be given to those who show up early at the fair.
All updates on the fair are available in the web link: www.britishcouncil.vn/en/events/study-uk-fair-2019 and at the event Facebook page: bit.ly/StudyUKFair2019Facebook