Jail terms proposed for defendants in fake cancer drug case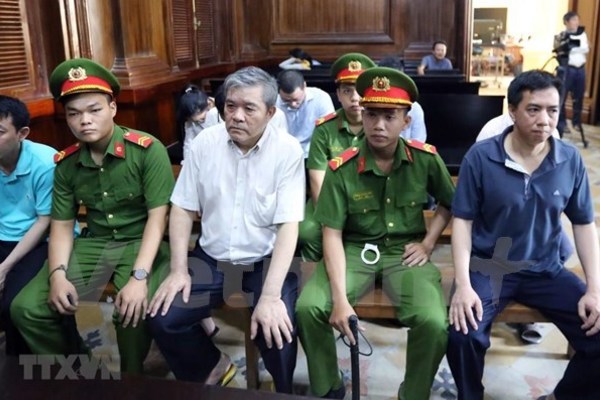 At the court
The Ho Chi Minh City People's Procuracy on September 26 proposed jail sentences of 3-20 years for 12 defendants in a fake cancer drug trading case at the Vietnam Pharma JSC (VN Pharma).
Nguyen Minh Hung, VN Pharma Chairman and General Director, is expected to spend 18-19 years behind bars for "trading in fake goods being curative medicines" in accordance with Clause 4, Article 157 of the 1999 Penal Code.
A 20-year imprisonment was sought for Vo Manh Cuong, Director of H&C International Maritime Trading Co., Ltd, for the same charge.
Former Deputy General Directors of VN Pharma Nguyen Tri Nhat and Ngo Anh Quoc may be given a prison term of 12-13 years each. Meanwhile, a jail sentence of 3-7 years was suggested for the other defendants.
The defendants must also be banned from practicing their profession for five years after their release, the procuracy said.
According to the procuracy, VN Pharma won a bidding package to supply 9,300 boxes of fake H-Capita to big hospitals.
The trading of the counterfeit medicine caused serious consequences on a very large scale, it said, noting that Hung and Cuong were the masterminds of the scheme.
The procuracy said Hung's crime caused damage of more than 6 billion VND (258,000 USD) to VN Pharma. Cancer patients may have used the fake drugs if the case had not been detected, thus affecting their health and even life. Besides, patients could buy the drugs at prices much higher than the real version.
Hung's deeds adversely affected the management and prestige of the State in the health sector as well as export-import activities, while sparking public concern, it said.
The first-instance trial will last until September 30./.
Traffic accidents claim 5,659 lives in nine months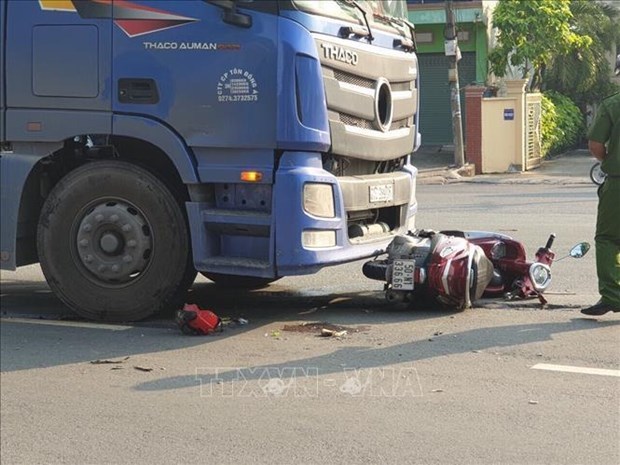 At the scene of a traffic accident in Binh Duong province on September 25, which killed one person
A total of 12,675 traffic accidents occurred nationwide in the nine months to September 14, killing 5,659 people and injured 9,619 others, according to a report of the National Committee for Traffic Safety.
The number of accidents dropped 4.28 percent compared to the same period last year, while the number of deaths and wounded victims also declined 5.87 percent and 6.78 percent in the period, respectively.
Among the accidents, 12,501 happened on the roads, 121 on the railways, 43 on waterways and 10 at sea.
September alone saw 1,344 traffic accidents cross the country, killing 563 people and wounding 1,032.
The month saw a yearly decrease of 7.95 percent in the number of accidents; 12.85 percent and 7.37 percent in that of deaths and the injured./.
Da Nang seeks solutions towards smart city goal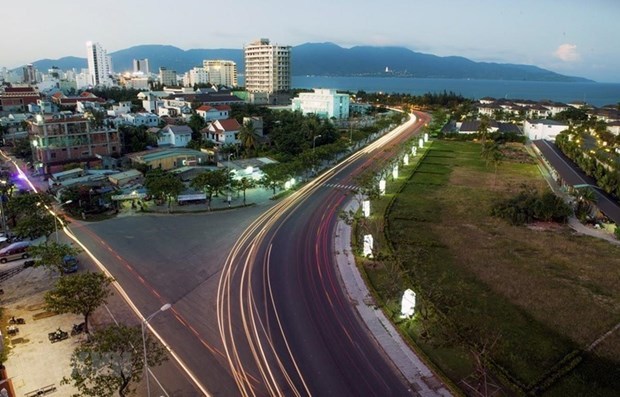 A birdview of Da Nang from Vo Nguyen Giap street
Experts have given recommendations to the central city of Da Nang to become a smart city in the near future.
Da Nang boasts high potential to become a leading smart city in the country, said Pham The Truong, General Director of Microsoft Vietnam at a conference in the city on September 26.
The city has opened its door to technology investors, he said, adding that in the future, Microsoft will work with Da Nang in various technology sectors, contributing to the city's road towards becoming a smart city.
Initially, Microsoft will install a programme to protect children on the internet and support the training of teachers in Da Nang. In the future, the firm will pilot smart solutions in the city, while continuing to invest in technology and share experience with Da Nang, said Truong.
Nguyen Quang Thanh, Director of the Da Nang Department of Information and Communications, said the city hopes to partner with Microsoft in education, health, technology and especially data collection and analysis.
He expressed his hope that through the conference, Da Nang city can learn from the experience of other countries, thus building a programme.
He said that the city will strengthen international cooperation, while attracting more resources from international organisations and businesses to build a smart city.
Participants at the event proposed several solutions for Da Nang to become a smart city, including applying the Internet of Things in strengthening security through the supervision of cameras and smartphones; the building of smart parking places and the installing of system to detect illegal parking and manage public transport; and the construction of smart building; and the developing of a platform to gather data on damage from disasters to serve the recovery process.
Da Nang's smart city project for 2018-2025 was issued in December 2018. The project has goals and roadmaps for smart city building, as well as a list of major works for priority.
The project will be implemented in three phases. In the first phase until 2020, the city will build infrastructure and a smart data platform to support all applications of a smart city.
In the second phase from 2020 to 2025, the applications piloted in the previous phase will be made smarter to serve businesses, locals and tourists, while urban management will be transformed from traditional methods to data-based methods.
Meanwhile, in the third phase from 2025 to 2030, community applications and in-depth technology such as artificial intelligence and virtual reality will be developed.
Over the years, Da Nang has rolled out several measures to become a smart city.
In August this year, Da Nang won an Asia-Oceanian Computing Industry Organisation (Asocio) Smart City Award for its outstanding initiatives of a smart city during the Asocio Smart City Summit in Bangkok, Thailand. Da Nang was one of eight cities from 24 economic members of the Asocio to receive the smart city award this year.
Da Nang is planning to become a smart city and the first in Vietnam to join the smart city network of the Association of Southeast Asian Nations (ASEAN) by 2030.
The city approved a framework plan in 2018 with information and technology infrastructure.
The plan focuses on smart management, smart economy, smart environment, smart living, smart citizens and smart traffic to build the city's link with the 126 strong smart city network.
Da Nang was the first city in Vietnam to launch an e-government system in 2014, and transferred the system to 16 cities and provinces in 2016. According to a report, Da Nang's e-government system had been used by 225 agencies.
Vietnamese, Russian youths bolster connectivity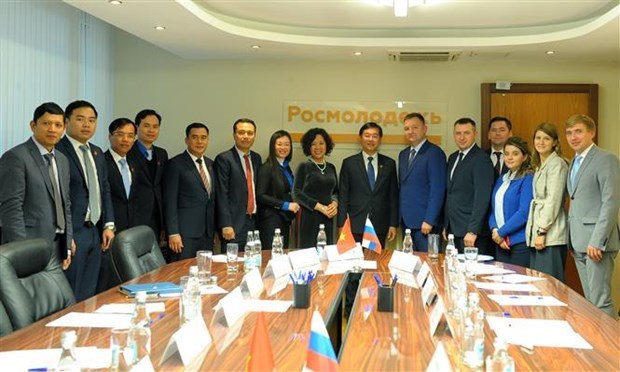 Vietnamese delegation poses for a group photo with representatives of the Federal Agency for Youth Affairs
First Secretary of the Ho Chi Minh Communist Youth Union Central Committee Le Quoc Phong held talks with head of Russia's Federal Agency for Youth Affairs Aleksander Bugaev in Moscow on September 24.
Phong, who is also Chairman of the National Committee on Youth of Vietnam, is leading a delegation of Vietnamese youths to the 2019 Russia-Vietnam Youth Forum to welcome the Vietnam Year in Russia and the Russia Year in Vietnam.
At the talks, the two sides examined issues in youth cooperation between the two countries and their interactive mechanisms.
Phong affirmed that the visit of the Vietnamese delegation this time will greatly contribute to youth cooperation in particular and the bilateral relations in general.
The sides will exchange experience and identify main fields of cooperation during the Russia-Vietnam Youth Forum, he noted.
The same day, the Vietnamese delegation paid a visit to the Embassy of Vietnam in Russia. At the meeting, Phong spoke highly of the support of the Embassy for Vietnamese students in Russia.
On September 25, the delegation met with Alexander Varfolomeev, deputy head of the policy committee of the Federation Council of Russia.
The Russian official noted that the Russia-Vietnam parliamentary ties have been fostered in more than 60 years and cooperation in this sphere is thriving, thereby consolidating the bilateral political, trade and economic ties.
He also reiterated that it is necessary to organise regular meetings between young parliamentarians of the countries./.
HCM City prepares for new school training programme, curriculum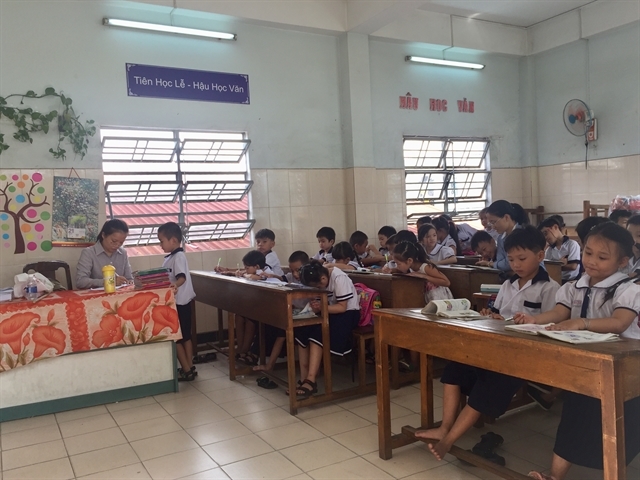 The HCM City Department of Education and Training plans to reform teaching and learning systems at schools to prepare for the introduction of a new training programme and textbooks in 2020-21.
It has enabled school managers to take initiatives to develop programmes to reduce learning by rote and increase practical lessons, Lê Hoài Nam, the department's deputy head, said.
Schools have strengthened outside activities and adopted problem-based learning, a teaching method that uses complex real-world problems to help students learn concepts and principles as opposed to mere presentation of facts and concepts, he said.
This teaches students the skills of presentation, communication, teamwork, and others, and they also are inspired to be creative and develop their own strengths, he said.
The department has increased the number of science contests at schools, he said.
It has encouraged schools to use STEM, an approach integrating science, technology, engineering and mathematics in learning and developing, he said.
Teachers are a decisive element in the successful implementation of the new training programme, the department said.
It has worked with universities to train teachers in teaching the new integrated curriculum.
It said that the most difficulty the new programme might face is an insufficiency of classrooms.
Lê Hồng Sơn, its head, said the city's population growth has created this pressure on classrooms.
Every year there are nearly 15,000 additional students, and this is the reason why many children attend school for only half a day, he said.
But the new programme would require all students to learn through the day.
The People's Committee has instructed relevant agencies to add new schools to districts' plans. Land in new urban areas and industrial parks will be prioritised for building schools.
The city aims to have 300 classrooms per 10,000 school-aged populations to increase the rate of students studying throughout the day.
The ratio is expected to be 288 by the end of this year.
Lifting Vietnam's lacquer art and photography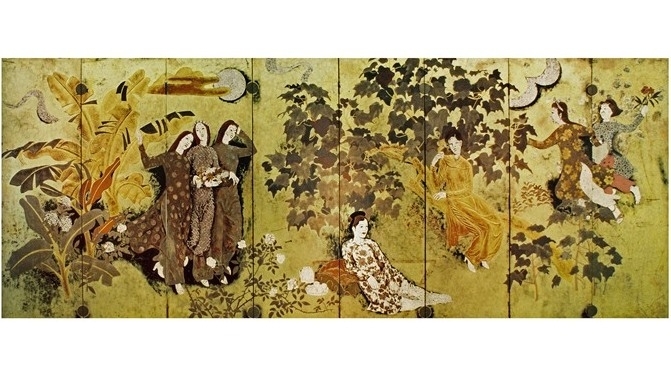 A lacquer painting entitled Thieu Nu Trong Vuon (Girls in The Garden) by master painter Nguyen Gia Tri. (Photo courtesy of the Vietnam Museum of Fine Arts)
The fine arts and photography sector are working on two projects, 'Vietnamese lacquer art' and 'Vietnam's city of photography', in order to turn the country's two forms of art into national trademarks.
The two projects were developed by the Department of Fine Arts, Photography and Exhibition (DFPE), as assigned by the Ministry of Culture, Sports and Tourism, in an effort to realise the Prime Minister-approved strategy on developing Vietnam's cultural industries by 2020 with a vision to 2030.
The DFPE has decided to focus on fine arts and photography – two fields in which Vietnam holds many advantages, in order to create quality products which are good enough to feasibly be consumed in both domestic and foreign markets, thus contributing to advertising Vietnam's land and people to the world.
As a time-honoured genre of Vietnam's art, lacquer art has been practiced by many generations of artists and has established its fame in regional arts and international markets.
The project on 'Vietnamese lacquer art' formulates a set of criteria and standards for the material of lacquer, the production procedure, and required techniques to make lacquer paintings and products become a national trademark.
The project also maps out plans and activities to turn Vietnam into a centre for the art of lacquer through the organisation of workshops, seminars and performances featuring lacquer; tours and trade fairs to provide first-hand experience about the craft of lacquer making; and exhibitions and displays of Vietnamese lacquer products.
These activities are expected to boost the development of lacquer, expand markets for the products and further promote them to customers at home and abroad.
In addition, the planting area of lacquer trees (Rhus verniciflua) will be restored under the project to improve the material shortage which is facing Phu Tho Province.
Meanwhile, the 'Vietnam's city of photography' project presents its first-ever model of event organisation. Accordingly, selected cities and provinces which have strong advantages in tourism and possess rich culture will biennially host a series of photography events.
According to Head of DFPE Vi Kien Thanh, the project plans the organisation of a fair on introducing and trading products and supporting equipment for photographers during field trips, whose works will be sold at the following event, together with seminars, workshops and exchange events on photography.
The Department is considering two options on whether such events will be held by localities on a rotating basis or if they will take place in a fixed location.
The project is expected to encourage creative thinking; develop in-depth and professional photography in Vietnam; and contribute to raising public awareness about the possession and use of photographic works.
Fine arts and photography is the first out of five industries that are tasked with developing its own national trademark under the guidelines of the Ministry of Culture, Sports and Tourism, with the four remaining industries including tourism, cinema, performing arts, and advertisement.
Functional agencies have carried out further research and organised consultation workshops and field trips to collect opinions from experts, managers and artists about the two projects.
Deputy Head of the Science and Technology Department under the MoCST Vo Viet Doan stated that cooperation and mutual support between the Ministry of Industry and Trade, the Ministry of Information and Communications, the Vietnam Fine Arts Association, the Vietnam Association of Photographic Artists, press agencies and media are needed to finalise the projects.
Experts discuss plans for post-2020 high school graduation exams and college admissions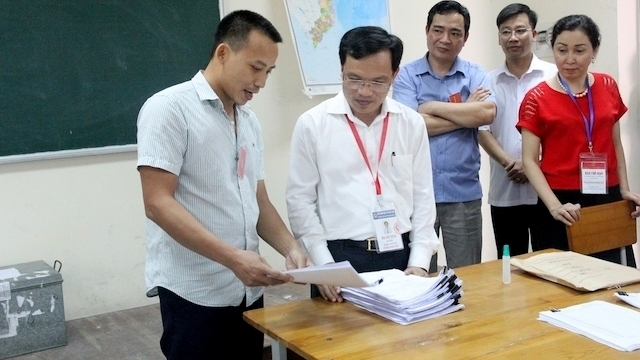 Representatives from the Steering Committee for the National High School Exam 2019 inspect examination marking at Ha Nam Province's exam venue.
Experts and lawmakers gathered at a meeting held at the Government Headquarters on September 25 to discuss the plan for organising and recognising the results of high school graduation and university and college admission exams after 2020.
The event was attended by Deputy Prime Minister Vu Duc Dam, who is also the vice chairman of the National Council on Education and Human Resources Development, along with members of the council.
Delegates focused on discussing the plan provided by the Ministry of Education and Training (MOET), noting that in the past five years, the renovation of the national high school exams has been implemented with a specific roadmap.
They affirmed that exam innovation is necessary and has been deployed in the right direction, focusing on making the evaluation of students' performances more objective and honest, helping increase the chance for them to enrol in universities and colleges. Despite several remaining issues, the national high school exams have significantly reduced the pressure on students, families and the society, they stressed.
Discussing the tentative plans for organising the exams after 2020, Mai Van Trinh, head of the MOET's Quality Management Department, said that it is expected that the exams in 2020 would be similar to with 2019, aimed at streamlined exams that help reduce pressure and ensure objectivity, reliability and capacity to assess students' competence.
In the 2021-2025 period, the MOET is expected to make some changes. For the test subjects, all students are not required to participate. Students who complete the 12th grade programmes, if they do not wish to get a high school diploma but still meet the conditions prescribed by the MOET, will be granted a certificate recognising their high school completion. Only students wishing to get a diploma and apply for university and college admission need to take the national high school exams. The test content will mainly cover the current high school programmes, mainly of Grade 12. Students will still take their exams on paper, but at the same time there will be tests carried out on computers in accordance with the feasibility schedule.
Minister of Education and Training Phung Xuan Nha affirmed that the ministry would fully absorb experts' suggestion to prepare for the high school exam plan after 2020 in a radical way, with a firm roadmap. The MOET will gradually deploy the form of computer-based tests in places where relevant conditions permit, while continuing to standardise and expand exam question banks and foster the capacity for exam officials.
At the meeting, Deputy PM Dam emphasised that the construction of the high school exam plans after 2020 should be deployed in a solid, active and urgent manner. The MOET should make clear plans for granting certificates of completion of general education programmes to students and delineate the format of computer-based exams in the national high school exams with the operation of independent testing centres organising multiple exams in a year.
Dam also asked the ministry to ensure standardisation in the progress of updating and expanding the exam question banks and organising exams on computers. After this meeting, the MOET should organise other meetings to collect comments from experts and the public also to formulate the plans before submitting them to the Government.
Over 1.4 million ethnic minorities benefit from credit policies
More than 1.4 million clients who are of ethnic minorities are benefiting from preferential credit programmes at the Vietnam Bank for Social Policies (VBSP), with a total loan of VND135.96 trillion (US$5.84 billion).
Credit programmes under social policies have contributed positively to implementing national target programme on sustainable poverty reduction and social welfare assurance.
The information was reported by the VBSP at a seminar held in Hanoi on September 25 to review policy credit programmes for ethnic minority people in Vietnam.
The credit programmes have helped ethnic minority people to boost production, improve their living standards and escape from poverty. Thanks to the credit policies, more than two million ethnic minority households have escaped from poverty, over 162,000 workers have been provided with jobs, including 16,000 workers sent abroad, and about 211,000 needy students have been offered credit to pursue their studies.
In addition, 1,3 million water supply and environmental sanitation facilities and 215,000 social houses have been built under the policy credit programmes.
According to Politburo member and Head of the Party Central Committee's Commission for Mass Mobilisation Truong Thi Mai, preferential credit policy is among 54 policies directly providing for ethnic minority people, which is also a highlight in sustainable poverty reduction.
The statistics from the Ministry of Labour, Invalids and Social Affairs showed that the poverty rate of Vietnam was reduced from 14.75% to 4.25% in the 2007 – 2015 period and from 8.23% to 5.35% in the 2016 – 2018 period.
In the future, the VBSP will continue to carry out preferential credit policies for needy households and ethnic minority people, particularly in the Southwest region, Central Highlands and Northwest region.
Vietnam promotes products at Moscow food fair
This year, about 10 Vietnamese firms attend the event, offering various kinds of products such as coffee, beer, agro-forestry-fishery products, pepper, spices, fruit juice, and cashew nut.
The businesses were supported by the Trade Promotion Centre of the Ministry of Agriculture and Rural Development to join the fair under the national trade promotion programme.
World Food 2019 is the biggest event of its kind in Russia, drawing hundreds of Russian and foreign businesses to sell a wide range of food and beverage products.
The opening ceremony attracted nearly 31,000 visitors.
The event will run until September 27./.
Social policy credit lifts 2 million ethnic minority families out of poverty 
Social policy credit has lifted more than 2 million ethnic minority households out of poverty as of August 31, said Director General of the Vietnam Bank for Social Policies (VBSP) Duong Quyet Thang at a conference in Hanoi on September 25.
It has also created jobs for more than 162,000 ethnic minority workers, including some 16,000 people working abroad on fixed-term contracts, and funded the construction of 215,000 houses for those from difficult backgrounds, Thang told the conference to review the effectiveness of social policy credit for ethnic minorities in Vietnam, held by the VBSP and the Committee for Ethnic Minority Affairs.
About 211,000 disadvantaged ethnic minority students have been offered student loans to pursue further education, he added.
More than 1.4 million borrowers from the VBSP were ethnic minority people who have taken out approximately 136 trillion VND (5.84 billion USD) in soft loans, and outstanding balance for ethnic minority people at the bank exceeds 49.6 trillion VND, accounting for 24.8 percent of the total outstanding balance, the director general said.
Social policy credit has changed their way of thinking, allowing many ethnic minority people to overcome their inferiority complex to apply for a loan, and successfully develop their own business. The preferential credit has also helped hampered loan sharks, he said.
Soft credit is one of the 54 exclusive policies designed for ethnic minority groups and a bright spot in sustainable poverty reduction, said Truong Thi Mai, head of the Party Central Committee's Commission for Mass Mobilisation. Disadvantaged ethnic minority people have become more independent with greater responsibility for their livelihood rather than relying on others' support, according to Mai.
Such a change in thinking has heightened their chances of sustainably escaping poverty, she said.
According to statistics from the Ministry of Labour, Invalids and Social Affairs, Vietnam's poverty rate declined from 14.75 percent to 4.25 percent from 2007 – 2015 and from 8.23 percent to 5.35 percent from 2016 – 2018 .
Governor of the State Bank of Vietnam Le Minh Hung said the central bank has submitted to the Government a finance proposal which outlines solutions to provide easier access to capital and financial services for poor and vulnerable people in remote areas. The solutions include the application of new technologies at a low cost to better serve people in these disadvantaged areas, he said./.
Ancient tea trees in Yen Bai receive recognition
The annual event aimed to honour and improve the value of Suoi Giang tea brand in domestic and foreign markets, introduce cultural characteristics of the Mong ethnic people, attract investment to tourism and step up the construction of the Suoi Giang ecological tourism area, thus raising young generations' awareness of protecting and developing Suoi Giang tea.
Visitors had a chance to learn about the process of picking, processing and enjoying shan tuyet tea and join cultural and sport activities such as pounding steamed rice cake, panpipe dancing, tug of war and pao throwing.
On the occasion, the Suoi Giang tea space was inaugurated.
Suoi Giang tea complex is now home to over 400 ancient shan tuyet tea trees which have been recognised as Vietnam heritage trees by the Vietnam Association for Conservation of Nature and Environment.
The latest figures show that Suoi Giang is home to 393 hectares of land for tea cultivation, three-fourths of them with ancient roots./.
Vietnam seeks to send more workers to Germany: minister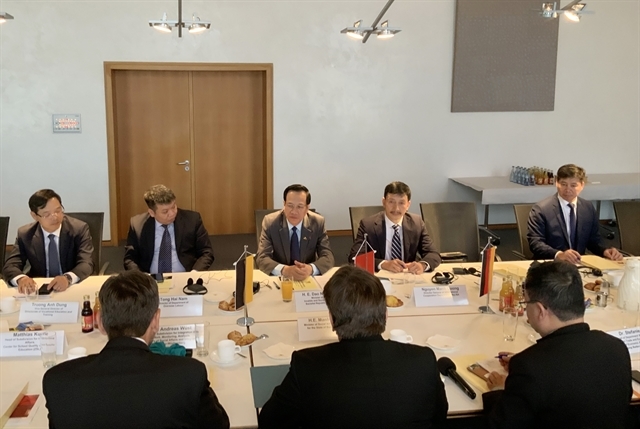 A meeting between the delegation of Việt Nam's Ministry of Labour, Invalids and Social Affairs and the Baden-Württemberg's Ministry of Economics Affairs, Labour and Housing Construction in Germany, on Tuesday local time. — Photo courtesy of the Ministry of Labour, Invalids and Social Affairs
Việt Nam has proposed Germany sign labour co-operation agreements which will allow more Vietnamese to work in the European country, the Ministry of Labour, Invalids and Social Affairs announced on Wednesday.
Labour minister Đào Ngọc Dung made the suggestion during meetings with authorities of the federal state Baden-Württemberg and the Stuttgart Chamber of Commerce during his visit to Germany on Tuesday local time.
Dung asked Việt Nam and Germany to strengthen bilateral labour co-operation by signing an agreement on career training between the Directorate of Vocational Education and Training and Baden-Württemberg's Ministry of Economics Affairs, Labour and Housing Construction.
He also proposed another deal on receiving Vietnamese workers between the state's Ministry of Social Affairs and Integration and the Department for Overseas Workers Management.
That agreement would open the path for more Vietnamese nurses to work in Germany, which currently has great demand for elderly caretakers.
There are about 1,000 Vietnamese nurses working in Germany at present.
The German officials welcomed Dung's proposals, saying that they would try to ink the agreements as soon as possible.
The state minister of Economics Affairs, Labour and Housing Construction Nicole Hoffmeister-Kraut said Germany's new migration law would come into effect since March 1, 2020.
"It will be of great timing to receive more non-EU workers, including those from Việt Nam," she said. 
Lung Cu flag tower marks ninth year of inauguration
The tower is 33.15m in height, 3.8m in diameter. The octagonal-shaped tower body is decorated by relieves imitating patterns in Dong Son bronze drum and describing the historical periods of Viet Nam.
Plugging in the flagstaff is a Vietnamese national flag with an area of 54m², representing 54 ethnic groups of Viet Nam.
The tower was recognized as a historical site and national destination in 2009.
It has become an attractive tourist destination and a symbol affirming the country's sovereignty in the North Pole. 
Ban Gioc Waterfall Festival to feature attractive activities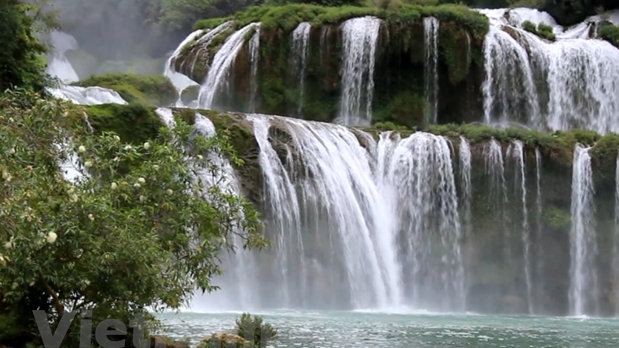 The third Ban Gioc Waterfall Festival will be held in Trung Khanh District, in the northern mountainous province of Cao Bang, on October 5-6.
The event aims to promote the image of the land and people of Cao Bang Province, particularly Ban Gioc Waterfall – a national landscape, to both domestic and foreign visitors.
The festival will feature various rituals and festive activities, including a water procession ceremony to pray for peace along with favourable wind and rain at Phat Tich Truc Lam pagoda in Dam Thuy Commune, and a light festival at the bottom of Ban Gioc Waterfall.
The specialties of the communes and towns in Trung Khanh District will also be introduced during the festival. Meanwhile, exhibitions themed "Discovering Trung Khanh District" and "Cao Bang – 50-year implementation of President Ho Chi Minh's Testament", as well as performances of folk arts from ethnic minority groups in Cao Bang Province, are expected to attract numerous visitors.
Locals and visitors will have the chance to join folk games such as tug of war, sack race, stick pushing, catching ducks blindfolded and peeling chestnuts.
Ban Gioc is the largest natural waterfall in Southeast Asia and also the world's fourth largest cross-border waterfall.