Vietnam ranks eighth in IPv6 adoption worldwide
Vietnam's Internet Protocol version 6 (IPv6) adoption rate reached 45 percent, ranking second in ASEAN and eighth globally, up two places from 2020, according to the Vietnam Internet Network Information Centre (VNNIC).
In Vietnam, 34 million mobile and 11 million Internet subscribers are using IPv6 services, and the figures have been on the rise over the past two years.
Some organisations and businesses posting the highest IPv6 transition rate as of August 2021 included the Viettel Military Industry and Telecoms Group (Viettel), Vietnam Posts and Telecommunications Group (VNPT), and FPT Telecom, among others.
Vietnamese firms are advised to build IPv6 adoption planning and efficiently apply digital resources and infrastructure.
IPv6 is expected to meet Vietnam's demand to offer new and quality services such as Internet of Things, 4G-LTE and 5G networks, contributing to digital transformation and digital government building./.
Music video encourages medical workers in pandemic fight
A music video entitled "Nhung thien than ao trang" (Angles in scrubs) has been released to encourage medical workers in the frontline of the fight against COVID-19.
The MV is made by two singers from the central province of Nghe An, spotlighting efforts and sacrifice by medical workers who are working hard to stamp out the pandemic.
It features images of doctors and nurses in the COVID-19 fight as well as the tradition of mutual support of Vietnamese people in hard times.
After the pandemic is controlled, professional artists from the Vietnam Music Academy will remake the MV with singer Dang Duong as the main vocalist./.
AI talents invited to join cooperation network with Australia
The Ministry of Science and Technology (MoST) and partners are calling on individuals and organisations working in artificial intelligence (AI) to join an AI cooperation network between Vietnam and Australia.
The Vietnam - Australia AI cooperation network, launched by the MoST, aims to help promote the national AI strategy.
The network looks gather Vietnamese individuals, businesses, and organisations working in AI, both at home and abroad, to cooperate with Australian partners, hoped to serve as a prerequisite for building a community of sustainable AI cooperation in Vietnam and the world in the future.
It will create opportunities for those in the AI sector to connect with one another and access AI support policies and programmes issued by state agencies, firstly the MoST.
Participating businesses will have a chance to connect with specialists to find AI solutions while partnering with domestic and foreign counterparts in AI application and technology transfer.
MoST Deputy Minister Bui The Duy said the network will initially develop a management software and an online community space for members to share opinions on AI development in Vietnam.
It will later boost cooperation with many other countries and work towards building a sustainable AI community with various activities facilitating the computer science in the country.
Via this network, Vietnam looks forward to learning from Australia as well as other countries to create a favorable environment for AI development in Vietnam, thus realising the ambitious goal set out in the national AI strategy - bringing Vietnam to the top four of ASEAN and top 50 in the world in AI research, development and application by 2030, the official added./.
Winners of video-making contest "Vietnam in my mind" honoured
The Association of Vietnamese Communities in the Republic of Korea (AVCK) announced winners of a video-making contest named "Vietnam trong toi" (Vietnam in my mind) in a virtual event livestreamed last weekend.
The competition was held by AVCK under the patronage of the Vietnamese Embassy in the RoK on the occasion of Vietnam's 76th National Day (September 2).
The contest aimed to provide a playground for Vietnamese people to show their creativeness and cheer them up during the time of COVID-19. A total of 18 entries were sent to the competition in the forms of short films, documentaries and others from July 26 to August 16.
Le Van Hung, First Secretary of the Vietnamese Embassy and one of the judges, said most of the entries reflect the love of Vietnamese expats for their motherland.
There were one first, second, and third prizes for both individual and team categories alongside three honourable mentions for three individuals.
Additionally, the organizer also presented awards of impression and viewers' choice.
The AVCK has also launched a fundraising campaign called "Trao gui yeu thuong" (Sending out love) appealing for donations of cash and necessities to aid the COVID-19 fight back home. As of 8pm on September 2, it had raised nearly 80 million VND (3,515 USD)./.
PM chairs national teleconference on COVID-19 prevention and control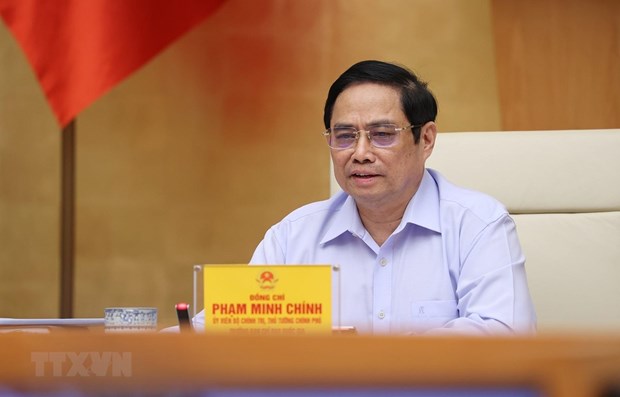 PM Pham Minh Chinh chairs a national teleconference between the National Steering Committee for COVID-19 Prevention and Control, and localities on the fight against the pandemic. 
Prime Minister Pham Minh Chinh on September 5 afternoon chaired a national teleconference between the National Steering Committee for COVID-19 Prevention and Control, and localities on the fight against the pandemic.
The meeting was connected to more than 9,000 locations in communes, wards and towns, 705 districts and townships, and 63 provinces and cities across the country.
PM Chinh, who is also head of the national steering committee, acknowledged and praised the efforts, unity and consensus of party committees, administrations, Fatherland Front Committees at all levels as well as officials and people in localities in implementing social distancing.
He also commended frontline forces such as health workers, military officers and soldiers, policemen and volunteers for their endeavors to overcome difficulties and hardships to step up the pandemic combat.
The government leader stressed that considering communes and wards as fortresses and each person as a soldier and placing people at the centre of the fight against the pandemic is a sound policy.
However, the efficiency of COVID-19 prevention and control is not high as expected because the implementation remained limited and showed shortcomings in many localities, he said.
The pandemic is still complicated and unpredictable, he said, adding that the continued implementation of social distancing will cause difficulties for people, stagnate production activities and disrupt supply chains.
Therefore, PM Chinh asked administrations at all levels, sectors and localities to double efforts to soon control the pandemic, thus bringing the life to new normal.
He requested localities to strengthen the apparatus of their steering committees for COVID-19 prevention and control with secretaries of party committees working as heads, and set up command centres led by chairpersons of people's committees.
Localities applying social distancing must define their targets, roadmaps and measures to improve the efficiency of the pandemic fight and avoid extending social distancing without achieving the set goals, affecting socio-economic development and people's lives, he said.
The PM demanded localities to strictly carry out five major tasks, namely strictly taking social distancing regulations; ensuring social security and not letting people lack food and necessities; guaranteeing people get early access to medical services right in communes and wards; maintaining social order and safety; and step up communication campaigns to help people better understand and join hands with the entire political system in the fight against the pandemic.
Localities were required to coordinate with sectors, especially the health sector, to conduct large-scale testing for all people in an effective and safe manner, while expanding and enhancing treatment capacity.
He said the government considered the vaccine strategy an extremely important factor as leaders of the Party and State, the PM, sectors and agencies have spared no efforts to perform vaccine diplomacy in a bid to secure vaccines as many as and as quickly as possible for people.
Regarding production and circulation of goods, the PM asked for the gradual recovery and stepping up of production in localities that complete social distancing period, while ensuring safety and strictly implementing pandemic prevention and control regulations in industrial parks, and production and business establishments./.
Viet Nam starts seven-day quarantine for fully vaccinated entrants in pilot program
Viet Nam started to pilot seven-day quarantine policy for fully vaccinated entrants.
A Viet Nam airlines flights carrying 297 Vietnamese people from Japan lands at Van Don International Airport in the northern province of Quang Ninh on September 4, 2021.
The first flight carrying 297 Vietnamese passengers from Japan landed at Van Don International Airport in Quang Ninh province on September 4 
All these passengers will be quarantined for SEVEN days instead of 14 days as they have received two doses of COVID-19 vaccines, with the second dose taken 14 days but no more than 12 months prior to the entry date.
The passengers are also required to show proof of negative RT-PCR/RT-LAMP COVID-19 test result issued within 72 hours before departure.
Pham Ngoc Sau, Director of the Van Don International Airport said the passengers have to strictly follow COVID-19 prevention and control measures deployed at the airport, complete immigration and customs procedures at a separate zone.
It is expected that the airport will receive a flight carrying Vietnamese people back home from the U.S. on September 12.
The Van Don airport has been one of the airports designated for 228 repatriation flights since March 22, 2020 when the Viet Nam began to suspend entry of foreign arrivals but but this policy is not applicable to diplomats, officials, foreign investors, experts, and skilled workers./.
More than 3,100 children Covid-19 patients under treatment in HCMC
The Ho Chi Minh City Center for Disease Control (HCDC), on September 5, said that the Ministry of Health announced 245,707 Covid-19 cases detected in the city by 6 a.m. on September 4, with 245,247 community transmissions and 460 imported cases.
Currently, the city is treating 42,862 patients, including 3,106 children under the ages of 16, 2,770 critically ill patients on ventilators, and 22 patients with ECMO intervention. On September 4, 2,266 patients were discharged from the hospital, raising the total number of recovered patients from January 1, 2021, to now to 122,775. There were 256 deaths on the day.
The total number of vaccines that HCMC has administered by September 3 is 6,321,049 doses, an increase of 52,722 injections compared to the previous day. The total number of people with the first dose is 5,923,063, and that with the second dose is 397,986. The number of people over 65 years old and people with background disease being vaccinated is 691,358.
From April 27 to September 3, the city had taken 1,673,162 test samples, including 1,026,676 single samples and 646,486 pooled ones, from 6,006,140 people in quarantine areas, lockdown areas, buildings, residential areas, industrial parks, and export processing zones. The total number of samples without results was 9,144, including 5,588 single samples and 3,556 pooled ones.
The city has organized mobile medical stations to take care of and monitor F0 under home treatment. When conducting quick testing and detecting F0 cases, mobile medical stations will grasp information quickly and process it promptly, contributing to reducing the pressure on hospitals. HCMC has also distributed medicine bags A, B, and C for F0 to treat at home.
By September 3, the number of Covid-19 cases being isolated, monitored, and treated at home was 109,728 people. Particularly, 84,138 cases were isolated at home as soon as they were detected, and 25,590 people were isolated after leaving the hospitals.
The number of Covid-19 cases being isolated, monitored, and treated at concentrated isolation facilities in districts was 23,819 people. The number of F1 cases under concentrated isolation was 2,823. The number of F1 cases being isolated at home was 20,947.
HCM City workers get second dose against COVID-19
Ho Chi Minh City, the epicenter of Vietnam's fresh coronavirus outbreak, began vaccinating workers at its export processing and industrial zones with a second dose against COVID-19 on September 5.

More than 3,000 workers at three firms FAPV, Nidec Tosok and Inahvina at Tan Thuan export processing zone will get the second jab this time.
According to regulations, they are all required to undergo a negative COVID-19 quick test within 72 hours before injections.
Getting fully vaccinated this time helps not only workers but also their families and businesses feel more secure in their operations, said Nguyen Thai Thanh, vice president of the Trade Union of the Ho Chi Minh City Export Processing & Industrial Zones.
Currently, approximately 9,500 people are working at Tan Thuan zone under the '3 on-site' model, meaning workers work, sleep and eat right at their workplace. Thanh said the Trade Union will coordinate with local health sector to inoculate all the workers there in the coming time.
The city has so far vaccinated more than 519,000 workers, including 237,700 females, at 3,458 businesses of different sizes. It has stepped up vaccinations for workers in order to maintain a safe labour force for businesses, especially export processing and industrial zones.
Binh Duong accelerates vaccine rollout to return to new normal
The southern province of Binh Duong is stepping up vaccine rollout in a bid to return to new normal by September 15.
The ramp-up in inoculations means the southern industrial hub needs to administer 250,000 vaccine doses per day. 
The local authorities have mobilized its health workers and supportive medical forces to join the process.
As of Saturday, as many as 1,134,176 local residents received the first vaccine jabs, accounting for 42 percent of the locality's population. Of these, 46,080 people were fully vaccinated.
Since April 27 when the fourth COVID-19 wave hit Viet Nam, Binh Duong recorded 128,983 infection cases, making it the second worst-affected locality after nearby Ho Chi Minh City – the current epicenter of the country's outbreak./.
Da Nang eases restrictions after 20-day hard lockdown
The central city of Đà Nẵng will reopen traditional markets, online shopping and take-away services in 'green zones', while QR codes will be given to local residents so they can travel to work, hospitals and stores from Sunday (September 5).
Residents in 14 'green' wards and living areas are allowed to exercise from 5 to 7am, and one member of a family can go to the market every five days in the 'green zone' area only. Meanwhile, people in 'risk zones', marked in yellow, can go out for medicine or first aid, but those in 'red' or 'very high risk' areas will be in lockdown with delivery services provided by community teams.
The city's people's committee said frontline forces and local residents have made great efforts during a 20-day lockdown, reducing infection cases in the community from an average of 150 or 200 to 47 per day as of Saturday.
It said 2,400 sources of coronavirus infections (F0) had been cleared in the three-week lockdown with five mass testing programmes.
The city said 480 COVID-19 patients had been released from hospitals on three days from September 3-5, meaning the number of patients recovering from coronavirus reached 980 in a month (from August 25 to September 5).
Doctors from Hòa Vang field hospital said a mother with COVID-19 gave birth to a boy on August 27, and the mother and son left the hospital on Sunday after nine days of treatment. They will be quarantined at home for two more weeks with medical checks from the local health centre.
According to the city's Centre for Disease Control, more than 2,000 medical staff will be mobilised for quick and mass vaccination programmes in the coming days, focusing on residents in 'green zones', teachers and labourers in industrial zones.
It said 180,000 people, including 70,000 workers, had received the first shot, while 55,000 were fully vaccinated.
Local people can post online health declarations or suspected coronavirus symptoms for home testing.
In three days between September 2-4, 550 residents living in 'very high risk' areas in Thanh Khê District had been taken to 'safe' quarantine sites for isolation.
The city will provide VNĐ113 billion (US$4.9 million) in financial aid to support 368,000 households including 66,000 migrant workers and students. The city had allocated the first aid package of VNĐ71 billion to 142,000 households last month.
More than 280,000 students in the city will join online learning programmes in the two first weeks of the new school year from Monday (September 6). The city will exempt school fees in the 2020-21 school term for all students with coronavirus.
The city also set up a hotline to support foreigners working and living in Đà Nẵng during the lockdown and social distancing orders from late August. Vice director of the city's foreign affairs department, Nguyễn Thúy Anh said the hotline had received at least 180 phone calls and emails. Up to 4,800 foreigners are living mainly in Ngũ Hành Sơn and Sơn Trà districts.
She said five hotlines are available for foreigners in English, Chinese, Korean and Japanese in Sơn Trà, Ngũ Hành Sơn, Hải Châu, Cẩm Lệ and Liên Chiểu districts.
She said foreigners could contact the phone numbers and email for assistance.
HCMC needs to gradually reopen amid Covid-19 pandemic with strict management
HCMC is seeking measures for the economic activities amid the ongoing Covid-19 pandemic. Districts of 7 and Cu Chi have been selected to trial the implementation of returning life in the "new normal" state and learn to live with the virus.
The statement was made by Secretary of the HCMC Party Committee Nguyen Van Nen at a meeting with the press on the sidelines of the working session with District 7's authorities on September 5.
The virus won't go away and the city can not separate all people infected with Covid-19 from those who are not infected as well as continue to extend social distancing rules, but high vaccination rates, knowledge and practice of personal protective measures during the pandemic are necessary and sufficient conditions, he said.
Earlier, the Ministry of Health has encouraged people to follow the 5K message, including Khau trang (face masks), Khu khuan (Disinfection), Khoang cach (Safe distance), Khong tap trung (No gathering) – Khai bao y te (Health declaration). Now the message also includes "Khong khi va moi truong thong thoang" (airy atmosphere and fresh environment), and "Suc khoe the chat va tinh than" (mental and physical health). Especially, the living habits and behavior of residents play an important role, he stressed.
In addition, the city has to improve the healthcare system and implement the dual goals of preventing the Covid-19 pandemic and ensuring safety for production and business.
The municipal authorities has delegated functional units including scientists, healthcare professionals, sociologists to study problems relating to environment and the environmental factors associated with infectious diseases.
District 7 has become the first HCMC locality to bring Covid-19 under control. The municipal authorities will give a priority to allocate vaccines to the district and improve the healthcare system to help the locality to ease social distancing step by step.
Regarding to Cu Chi District's proposal on implementing rapid antigen test to control vehicles and people entering or exiting the locality, he said that Cu Chi wants to protect the district's green zones where are not affected by the pandemic. However, when the city and southern localities will gradually lift social distancing rules in coming time, the localities must carry out the application of information technology in management of people's activities.
Plans of the evacuation bringing local residents to the temporary shelters aims to prevent the spread of Covid-19 and the number of confirmed cases as well as protect the people's health have not been taken yet because the city is unable to meet demand.
When the pandemic can be under control, the City Party Chief said that the first thing he wants to do is building social houses for low-income people. If the city has land, issues policies and a call for investment, businesses will participate in the projects.
COVID-19: Hanoi permits motorbike shippers to operate from 9am to 8pm
Motorbike shippers in the capital city of Hanoi have been allowed to operate between 9am and 8pm every day during the period of social distancing.
The municipal People's Committee made the decision following a proposal submitted by the Department of Transport.
All shippers, accordingly, will have to furnish a certificate with negative PCR or rapid antigen test results in line with the Ministry of Health's regulations.
The People's Committee asked the Departments of Public Security, and Transport and relevant agencies to ensure COVID-19 prevention and control measures during the implementation of the decision.
Hanoi will divide its localities into three zones for the application of different COVID-19 prevention and control measures starting from September 6.
The division will be based on the level of pandemic outbreak risk as well as characteristics of each locality such as geography, population and production, thus ensuring pandemic control measures and maintaining production.
Accordingly, the Prime Minister's Directive 16, and stricter pandemic prevention and control measures and travel restrictions will continue to be applied in zone 1, comprising 10 districts - Tay Ho, Ba Dinh, Cau Giay, Hoan Kiem, Dong Da, Hai Ba Trung, Thanh Xuan, Ha Dong, Thanh Tri and Hoang Mai; and parts of the five districts of Nam Tu Liem, Bac Tu Liem, Hoai Duc, Thanh Oai, and Thuong Tin.
Transport connecting with zone 2 and zone 3 will be tightly controlled with 23 checkpoints. Authorities in zone 1 are requested to make careful preparation to avoid disruption of supply chains of food and necessities.
Meanwhile, the PM's Directive 15 will be carried out in zone 2 which covers five districts - Long Bien, Gia Lam, Dong Anh, Soc Son and Me Linh. Higher measures will be applied in areas with higher risks to match each locality's production situation.
Safe production will be maintained in zone 2 using "three-on-site" or "one route-two destinations" models.
Meanwhile, looser measures will be implemented in zone 3, covering agricultural production areas and industrial parks and clusters with low population density including 10 districts - Ba Vi, Son Tay, Phuc Tho, Dan Phuong, Thach That, Quoc Oai, Chuong My, Ung Hoa, My Duc, and Phu Xuyen, and the remaining parts of the five districts in zone 1 - Nam Tu Liem, Bac Tu Liem, Hoai Duc, Thanh Oai and Thuong Tin.
The capital city has also designed regulations on inter-regional operation mechanisms with an aim to tightly controlling zone 1 as well as the travel flow from zone 1 to zone 2 and zone 3, and ensuring the continuity of production and supply chain.
After three times of applying social distancing along with mass testing, the city has found that infections mostly concentrated in inner districts, while lower risks are seen in other localities.
The division into three zones is expected to help the city prevent the spread of the pandemic and focus on stamping out COVID-19 in high-risk areas./.
Futsal players arrive in Lithuania for World Cup 2021 finals
Vietnamese futsal players have left Spain for Lithuania where they are due to clash with Brazil, the Czech Republic and Panama at the coming FIFA Futsal World Cup 2021.

Vietnamese players arrive in Lithuania, beginning their quest at FIFA Futsal World Cup 2021.
The players had completed a training course in Spain with three friendly games against hosts Spain, Japan and a Spanish side there.
With the suspension of the domestic futsal tournament due to COVID-19, international friendlies gave chief coach Pham Minh Giang the chance to review positions of the squad for big games ahead.
Captain Tran Van Vu told fifa.com that all the players are in good form, aiming to cruise into Round 1/8 as they did five years ago.
While in Lithuania, Vietnam will play another friendly game against Morocco on September 6 before beginning their quest at the World Cup 2021.
According to an earlier draw, Vietnam are in Group D alongside world defending champions Brazil, the Czech Republic and Panama.
They are scheduled to take on Brazil on September 13, Panama on September 17 and the Czech Republic two days later.
This is the second time Vietnam have competed in the FIFA Futsal World Cup. In their first global competition in Colombia five years ago, Vietnam made history after storming into Round 1/8.
Military Medical Academy shares information on immunogenicity of Nanocovax vaccine
Major General, Associate Professor, Dr. Nguyễn Viết Lương, of the Military Medical Academy, Ministry of National Defence - the unit participating in the trial of home-grown COVID vaccine Nanocovax, has given more details addressing concerns about the vaccine's immunogenicity in an interview with the Vietnam News Agency.
On August 29, after a meeting to consider the application for an emergency use licence for Nanocovax by Nanogen Biopharmaceuticals, the Advisory Council for Registration of Circulation of Drugs and Medicinal Ingredients acknowledged the results submitted and appraised by the Legal Subcommittee under the National Institute for Control of Vaccines and Biologicals, the Quality Subcommittee, and by the Pharmacology and Clinical Subcommittee. It also asked the company to urgently supplement and update a number of contents of the quality dossier: safety data on pharmacological and clinical records; immunogenicity in response to new virus strains; and size of samples for immunogenicity assessment according to the research plan; the relationship between vaccine immunogenicity and protective efficacy of at least 50 per cent according to World Health Organization guidelines.
Lương explained the four important tests to evaluate the immunogenicity of Nanocovax.
Lương said that the immunogenicity (using quantitative testing of IgG antibodies to COVID-19, which shows the level of antibodies generated after infection or vaccination) of Nanocovax vaccine reached 57.56 U/ml.
Lương said that in order to compare the IgG antibody levels of vaccines, it must be done using the same unit of measurement (WHO standard unit is BAU/ml). Even to ensure the accuracy of comparison, vaccines must use the same test kit, while here the studies use different types of kits with different units of measurement.
"To evaluate the immunogenicity of the vaccine must be based on many other criteria, not only on the concentration of IgG antibodies," Lương said.
In the Nanocovax vaccine research, the units used four tests, including a quantitative antibody test; assessment of neutralisation antibody (surrogate neutralisation antibody); assessment of neutralising antibodies on live viruses by PRNT (plaque reduction neutralisation test); and assessment of cell-mediated immunity.
Lương said that in order to standardise the data to determine the immunogenic effect of the Nanocovax vaccine, researchers could use a comparison method with the sera of people having recovered from COVID-19.
In this study, the results showed that the IgG antibody efficacy of all the serum samples studied in recovered COVID-19 patients was 5.63 U/ml on average. Meanwhile, the IgG of volunteers vaccinated with Nanocovax vaccine (with a dose of 25 mg) reached 6.77 U/ml on ​​day 35, 60.47 U/ml on day 42, and fell to 16.25 U/ml on day 90.
The significantly reduced anti-S IgG antibody levels in the vaccinated volunteers, 3.7 times compared to day 42 (from 60.47 U/ml to 16.25 U/ml) were still 2.9 times higher than that in the group of recovered COVID-19 patients (5.63 U/ml).
Lương added the published figures of the Moderna vaccine showed 5.19 times higher antibody levels in the vaccinated group at the time of peaking (day 42 after injection) compared to the group of recovered COVID-19 patients. The comparable figure for Nanocovax vaccine was 10.74 times.
As for surrogate neutralisation, the results of the study on Nanocovax also showed that the neutralisation rate of serum samples from recovered COVID-19 patients reached 5.68 per cent while that in volunteers injected with Nanocovax vaccine (with a dose of 25 mg) on ​​day 35 reached 58.39 per cent, 85.5 per cent on day 42, 72.68 per cent on day 90.
Regarding the decline in antibody levels after the peak, Lương explained normally the half-life of IgG is about 25 days, which means that for all vaccines after IgG antibody production is stimulated and peaks, the antibody levels will gradually decrease.
"That doesn't mean the vaccine loses its ability to protect. Vaccination helps the body to form specific B cells. This cell will continue to produce antibodies when antigens or viruses enter. This also shows that it is necessary to re-inject the vaccine against COVID-19 after a certain period of time," Lương.
It had been shown in research results published by Moderna regarding its emergency licensed vaccine, Lương said. With Moderna vaccine antibody concentration decreased 3.96 times on day 119 compared to day 43. By comparison, Nanocovax had a similar reduction of 3.7 times (16.25 U/ml on day 90 versus 60.47 U/ml on day 42).
Yet the antibody level on day 90 in the vaccinated group was still much higher than that in the group of recovered COVID-19 patients (16.25 U/ml versus 5.63 U/ml).
Regarding the two cases of anaphylaxis during testing he said the two incidents among 13,627 volunteers are not a large proportion compared to the claims of many other vaccines. Moreover, these were only grade 1 and grade 2 anaphylaxis, who were promptly treated, have recovered and returned to a completely normal state.
These two cases were also reported to relevant medical authorities according to regulations.
He said when the vaccine candidate had not been officially approved by the licensing council, the publication of data on research results must be agreed upon by the manufacturer and the research and evaluation agencies. This regulation is intended to protect the legitimate interests of manufacturers and agencies participating in evaluation and research as well as to ensure commitments regarding ethical issues in research.
He was concerned that false and unfounded information would not only confuse the public but also directly affect volunteers as well as producers, units, organisations and scientists participating in the research.
Lương said after reviewing the report on the results of the first two phases and phase 3a of the Nanocovax vaccine trial, the Ethics Council had made a conclusion and transferred the file to the Advisory Council to consider emergency licensing for the Nanocovax vaccine.
"The evaluations and comments of the National Ethics Council in Biomedical Research are correct, fair and objective. Currently, the company and research units have supplemented the required documents. It is hoped that the Nanocovax vaccine will be granted an emergency licence by the Advisory Council for Registration of Circulation of Drugs and Medicinal Ingredients in the first half of September 2021 so Việt Nam will have an 'important weapon' in the war against the pandemic, contributing to protecting people's health and soon returning life to a new normal," said Lương. 
Online learning platform provides digital skills for Vietnamese workers
A free learning platform has been officially launched, at www.congdanso.edu.vn, providing six basic digital skills to learners, especially female migrant workers.
The platform was jointly developed by the General Department of Vocational Training under the Ministry of Labour, Invalids and Social Affairs, the International Organisation for Migration (IOM) in Vietnam and Microsoft Vietnam.
It is part of a project to enhance access to digital skills training for young workers in Vietnam in the 2020 - 2021 period, which is an extension of Microsoft's on-going Global Skills Initiative (GSI) that was launched last year to address growing employment challenges resulting from the impact of the COVID-19 pandemic.
In the pilot period, the platform targets 3,000 migrant workers and vocational students in Ho Chi Minh City, and the southern provinces of Binh Duong and Dong Nai, who have demand for developing digital skills amid the COVID-19 pandemic.
Addressing the launch ceremony, Park Mihyung, Chief of Mission IOM Vietnam, said she hoped that this platform will be popularised among people, students, workers, and disadvantaged groups in the society.
Deputy General Director of the General Department of Vocational Training Pham Vu Quoc Binh said the platform will help equip thousands of Vietnamese with necessary digital skills, which will help them ensure a more stable future.
According to Microsoft Vietnam, by early 2021, its Global Skills Initiative helped more than 30 million people in 249 countries and territories around the world access digital skills, including over 60,000 people from Vietnam./.
Vietnam video making contest winners honoured in RoK
The Vietnamese Association in the Republic of Korea on September 4 evening hosted a ceremony to award winners of a video making contest themed Vietnam in My Heart.

The video contest has attracted 18 entries from Vietnamese individuals and collectives in the RoK.
The contest, launched in July, aims to create a forum for Vietnamese individuals and collectives in the RoK to support the ongoing fight against COVID-19 back in Vietnam.
The organisers had received 18 entries that reflected the feelings of the Vietnamese community in the RoK toward their homeland, history, culture and people. Some sensational stories show Vietnamese expatriates' solidarity and support with their compatriots at home in their COVID-19 fight.
The organisers presented awards to first, second and third prize winners.
ON this occasion, the Vietnamese Association in the Republic of Korea launched a fund-raising campaign to purchase medical equipment in support of the ongoing COVID-19 fight at home.  
Top legislator's working visit to Austria helps promote bilateral relations: Ambassador
National Assembly (NA) Chairman Vuong Dinh Hue's working visit to Austria to attend the fifth World Conference of Speakers of Parliament (WCSP5) will contribute to comprehensively promoting bilateral relations between the two nations, a Vietnamese diplomat has said.
In an interview granted to the Vietnam News Agency's correspondent in Europe, Vietnamese Ambassador to Austria Nguyen Trung Kien said since Vietnam and Austria officially established diplomatic relations in 1972, the bilateral relationship has witnessed fruitful development across fields, from politics, economy, trade and investment, to education-training, science-technology and culture.
Top leaders of the two countries had also paid visits to each other's country, and the two sides conducted the political consultation at the deputy minister level in 2019.
Austria is one of the five largest trade partners of Vietnam in the European Union (EU). Trade value between the two countries in 2019 reached about 3.6 billion USD. Since August 2020, when the EU-Vietnam Free Trade Agreement (EVFTA) took effect, two-way trade has remarkably grown and is expected to achieve even more positive results when this agreement will be fully tapped in the near future.
Although it is a multilateral activity within the framework of the the Inter-Parliamentary Union (IPU), the Vietnamese top legislator's visit is an important occasion to promote Vietnam - Austria relations, Kien said.
Within the framework of the visit, the Vietnamese high-ranking delegation will have many activities to promote Vietnam's cooperation with Austria in a wide range of fields, including economy, trade, investment, and agriculture, he added.
The visit will also affirm Vietnam's priority to expand cooperation with the International Atomic Energy Agency (IAEA), the UN Industrial Development Organization (UNIDO) and the UN Commission on International Trade Law (UNCITRAL) which are based in Vienna - the world's third largest centre for multilateral diplomacy, the ambassador said.
Hue's attendance at WCSP5 once again affirms Vietnam's commitment to actively and responsibly participate in multilateral parliamentary diplomacy, and promote the role and position of the country and its legislature at regional and international parliamentary cooperation mechanisms.
Hue and the high-ranking delegation of the Vietnamese NA left Hanoi on September 5 morning for WCSP5. They will also pay working visits to the European Parliament and Belgium, and an official visit to Finland during their trip from September 5-11.
The visits are being made at the invitations of IPU President Duarte Pacheco, President of the Austrian National Council Wolfgang Sobotka, President of the European Parliament David Sassoli and Speaker of the Finnish Parliament Anu Vehvilainen./.
Vietnam to host Australia in WC qualifier without key players
Hosts Vietnam will play visiting Australia in their second World Cup qualifier on September 7 without key players, causing a headache for coach Park Hang-seo to complete the lineup for the clash.

Dinh Trong and Duy Manh will not be able to join their teammates in a clash against visiting Australians due to their injury and suspension.
Midfielder Dinh Trong's muscle injury is dealing a big blow to Vietnam's preparations for the upcoming match against Australia.
Trong was diagnosed with injury recurrence following a CT-MRI scan on September 4, and the 24-year-old player is expected to stay off the pitch for at least three weeks.
Bui Tien Dung, another midfielder, was earlier injured and is now awaiting recovery. Doctors expect Dung will be able to complete his recovery and stay ready for the game on time.
Meanwhile, Duy Manh will be sidelined in the coming match after being given a red card in Vietnam's 1-3 loss to hosts Saudi Arabia two days ago.
Que Ngoc Hai are suffering from muscle strains and now receiving intensive care from doctors.
Without key players in the lineup, coach Park is likely to call up reserve players such as Viet Anh, Tan Tai, Thanh Binh and Van Thiet, but none of them have played for the national squad.
The injury crisis has forced Park to seek players to fill the missing gaps, which may affect the team's performance but is considered a necessary step for young players to prove themselves.
Australian players arrived in Hanoi on September 4 for second WC 2022 qualifier against hosts Vietnam, The visiting players are in good form after their 3-0 win over rivals China on September 2.
Due to COVID-19, Australia will play Vietnam behind closed doors at My Dinh national stadium in Hanoi and this will put the visiting team at an advantage, according to Australia's coach Graham Arnold.
UN Secretary-General, foreign leaders congratulate Vietnam on National Day
United Nations Secretary-General Antonio Guterres and leaders of other international organisations and foreign countries have sent congratulations to Vietnamese leaders on the country's National Day (September 2).
In a congratulatory message to President Nguyen Xuan Phuc, Guterres expressed his hope that Vietnam will continue to support the UN's role to build a more peaceful and better world for all.
Regarding the COVID-19 fight, he said countries should put into place recovery policies to build a more equitable, sustainable and resilient society.
He also called on the international community to step up efforts to cope with climate change and realise sustainable development goals (SDGs).
Belarusian President Alexander Lukashenko, Prime Minister Roman Golovchenko, Chairwoman of the Council of the Republic of the National Assembly (upper house) Natalya Kochanova and Chairman of the House of Representatives of the National Assembly of Belarus (lower house) Vladimir Andreichenko sent letters of congratulations to President Nguyen Xuan Phuc, Prime Minister Pham Minh Chinh and National Assembly Chairman Vuong Dinh Hue.
President Phuc also received greetings from Madagascar President Andry Rajoelina, Mauritania President Mohamed Ould Cheikh El Ghazouani, Namibian President Hage Gottfried Geingob, Nicaragua President Daniel Ortega Saavedra and Vice President Rosario Murillo, and Captains Regent of San Marino Gian Carlo Venturini and Marco Nicolini.
Director of the Joint Institute for Nuclear Research (JINR) Grigory Trubnikov and Director-General of the Food and Agriculture Organization of the United Nations (FAO) Qu Dongyu also cabled messages of congratulations to President Phuc.
PM Chinh received congratulations from his counterparts of India, Narenda Modi; Singapore, Lee Hsien Long; and Greece, Kyriakos Mitsotakis.
On this occasion, Minister of Foreign Affairs Bui Thanh Son received greetings from his Belarusian and San Marino counterparts, Vladimir Makei and Luca Beccari./.
HCM City envisages post coronavirus 'new normal' scenarios
Ho Chi Minh City, the largest coronavirus hotspot in Vietnam, will develop scenarios of a 'new normal' status following the successful COVID-19 prevention model in its districts No.7 and Cu Chi, according to a senior local official.

Nguyen Van Nen, Secretary of the HCM City Party Committee, made the statement at a working session with the local administration of District No.7 on September 5, noting District No.7 and Cu Chi are the first that have basically brought the outbreak under control.
The two districts will carry out a pilot scheme on a 'new normal' status that will be then replicated citywide as soon as the outbreak is kept in check, Nen said.
To halt the spread of the virus, District No.7 said it has thoroughly implemented social distancing measures. In addition, it has also completed COVID-19 testing and separated all F0 cases from its 'green' and 'yellow' zones as scheduled.
As of September 4, approximately 237,000 residents in the district, or 99.43% of its total population, have been vaccinated against COVID-19.
The local administration has pooled all resources to support people heavily affected by the outbreak to ensure none of them are left behind.

Mobile medical units have been established to provide F0 cases with necessary services.
The district has established a socio-economic development model research centre in order to bring operations back to the new normal. The centre has developed a plan to gradually reopen production workshops, business services, hotels, restaurants, markets and schools and other essential services.
Secretary Nen welcomed the local administration's plan but said the district should continue to go ahead with strict measures against COVID-19.
"You must not rest on your laurels, because your efforts will come to nothing if the virus recurs," he said.
HCM City is the largest coronavirus hotspot in Vietnam. It has so far recorded more than 245,000 new coronavirus infections, or half of the country's total, since the resurgence of the virus in late April.
Millions of students attend virtual opening ceremonies of new school year
A special online opening ceremony of the 2021-2022 new school year for students in Hanoi was held in Trung Vuong Secondary School in Hoan Kiem district on September 5 morning, and broadcast live on the Hanoi Radio and Television.
After the flag-raising ceremony, Director of the municipal Department of Education and Training Tran The Cuong read a letter sent by President Nguyen Xuan Phuc to the education and training sector on the occasion of the 2021-2022 school year.
Chairman of the Hanoi People's Committee Chu Ngoc Anh beat a drum to kick off the new school year.
He said the education and training sector of the capital city had striven to overcome difficulties to implement the dual goals of pandemic prevention and control and fulfilling the academic yearly target with the spirit of "temporarily stopping going to school without stopping studying."
Anh said the 2021-2022 academic year came amid unpredictable risks from the pandemic and the city would face more difficulties in the future, urging the whole city to unite and join efforts to overcome challenges.
Representing more than 2.1 million students of Hanoi attending the online opening ceremony, Nguyen My Hanh, a ninth grader of the Trung Vuong Secondary School expressed her joy and deep gratitude to the municipal authorities and relevant agencies for organising the meaningful opening ceremony.
Every student should consider online learning as an opportunity to experience and develop information technology skills, improve self-study capacity, practice self-discipline, perseverance and creativity, she said.
On the occasion, local students who won medals at International Olympiads in 2021, and teachers with outstanding achievements in training these students were presented with certificates of merit by the Chairman of the municipal People's Committee.
Millions of students across the country also attended an online opening ceremony for the new academic year on the same day, amid the COVID-19 pandemic, while million of others went to ceremonies in person.
The 2021-2022 school year takes place as the COVID-19 outbreak is ravaging a large number of cities and provinces, dealing a heavy blow to business and social affairs, including education. Many localities have closed schools due to rising COVID-19 cases.
Fifty localities nationwide decided to hold the opening ceremony of the new school year either physically or online for nearly 20 million students, while the remaining localities have cancelled or delayed the opening date, giving priority to pandemic prevention and ensuring student safety.
Over 20 other provinces and cities, mainly in the central and southern regions, also kicked off the new school year opening ceremonies online or via television. Due to the worsening outbreak triggered by Delta variant of the coronavirus, many schools are being used as quarantine facilities. After the ceremony, most students had to study online.
In Ho Chi Minh City, the current biggest hotspot of COVID-19 in Vietnam, a simple ceremony was held at Le Hong Phong School for the Gifted with participation of 30 people and broadcast live./.
Comprehensive digital transformation to improve business efficiency
The Ministry of Planning and Investment has drawn up a programme on supporting digital transformation in enterprises, cooperatives and household businesses during the 2021-2025 period.
It has also sketched out a draft project, a draft proposal and a draft decision approving the programme that aims to materialise policies and guidelines of the Party, laws of the State and solutions of the Government in this regard.
The programme is expected to help accelerate digital transformation through changes in awareness, mindset and strategies of enterprises, as well as incentives towards digitalisation in business, administration and production activities.
Accordingly, all of the production facilities would have their awareness and mindset of digital transformation improved by 2025. Meanwhile, at least 500,000 of them will receive assistance from the programme like training, consultancy and access to digital packages.
Among the beneficiaries, at least 800 firms, 100 cooperatives and 4,000 household businesses are set to become models in digital transformation, especially in processing, manufacturing, agriculture, tourism and certain production spheres.
A network of experts will be set up, bringing together at least 500 organisations and individuals that will provide consultancy in digital transformation, and announce a database with at least 100 digital transformation solutions.
The programme targets enterprises, cooperatives and business households that seek digital transformation to improve their production and business efficiency and competitiveness.
To meet the set targets, the ministry will build documents and tools guiding digital transformation, roll out activities and boost cooperation between relevant sides.
The programme will focus on developing and raising capacity of experts in digital transformation according to global standards and trends, and connecting them with the production facilities.
It will select production facilities that have capacity and commit to adopting digital transformation, helping them put forth a roadmap for digital transformation, and offering them up to a 50 percent reduction of consultancy costs.
The funding for the programme will come from the State budget, both at central and local levels, and contributions by organisations, individuals and businesses./.
Clash of values in a pandemic
HCMC has entered a new phase in the battle against Covid-19, when social distancing measures are tightened.
In reality, the fight against Covid-19 in HCMC shows that there are many issues to grapple with, leaving impacts on socio-economic activities and contrasting responses from stakeholders. Different values start to clash, making it difficult for the community to surge ahead.
Why is it challenging to control Covid-19?
The large-scale damage inflicted by the SARS-CoV-2 virus is unprecedented, so there is no formula for tackling it. The measures adopted have not been tested before. Urgency and risks mean that policymakers cannot afford to make mistakes, which may prove costly. Consequently, enforcement officers are given more power, so that they can handle each case with flexibility.
Enforcement agencies have different purposes, habits, needs and concerns. Their interpretation of anti-pandemic measures may vary, too. Moreover, within the same agency, different officers may have different personality, backgrounds and responses. This makes it difficult to mobilize resources and coordinate managerial responses on a large scale. There will be disparities, which, while somewhat acceptable under normal circumstances, may spell trouble for efforts to combat the pandemic.
The challenges posed by Covid-19 may be ignited by different factors, but they are interrelated and, therefore, socially complex. Tackling them requires collaboration across agencies as focusing on a particular issue, as each agency tends to do, may worsen other issues. Prioritizing these issues is not a simple task since they all seem urgent.
Are the goals in conflict?
Striking a balance between different goals enabled Vietnam's economy to fare well in 2020. However, in 2021, the Delta variant, which is riskier and  more infectious, has made this more challenging. Stringent rules have impeded economic activities. While allowing workers to stay and work in factories to maintain production, create jobs and put the pandemic under control among enterprises, hefty implementation costs, limited resources and managerial risks have discouraged firms from adopting this arrangement. Restricted traffic flows across localities have adversely affected supply chains. In other words, the goals of controlling the pandemic and fueling economic growth are sometimes at odds.
The people are restricted from going out. This solution makes sense since it can stop transmission chains and allow the authorities to categorize various localities according to risks. However, HCMC should seek to provide its people with necessities. Since what constitutes necessities may differ from household to household, the people should still be allowed to go out to some extent. It is not easy to distinguish essential from non-essential items and excessive loosening of restrictions will make it difficult to control the pandemic, but an extremely strict approach may ignite adverse reactions from groups that have different interpretations of what necessities are. In this case, controlling the pandemic is at odds with ensuring the community's access to necessities.
Vaccination is the only path that will quickly lead to herd immunity or, at least, reduce the death rate. However, vaccination centers can turn into clusters. Moreover, many people must go out, sometimes in the company of household members, to get vaccinated. Managing the flow of people becomes trickier as a result. Mass vaccination at firms is no simple task, either. Small and medium enterprises do not have a sufficiently large workforce to invite healthcare workers to conduct on-site vaccination. Meanwhile, the transmission risks of fetching workers to vaccination centers are high. In this case, controlling the pandemic is at odds with creating herd immunity. 
The path ahead
Covid-19 is a thorny issue which cannot be tackled through discipline alone. A more sophisticated approach that involves a fresh mindset and inter-agency coordination will be crucial.
Instead of letting each agency focusing on its own tasks, the Government should add in some general goals regarding fighting Covid and other essential needs. The governance model should empower agencies to have a shared vision and common goals, so that there will be better coordination and responses to unforeseen situations will be more efficacious.
The multitude of goals to deal with is a pressing problem facing the authorities. Goals should be prioritized with as much detail as possible according to phases, locations and situations, so that the decisions made will be judicious and least detrimental to the community.
Covid-19 is an unprecedented problem so coming up with quick fixes is not easy. Some government officials have not effectively dealt with fundamental issues. A problem that straddles across different groups of people and social activities is difficult to manage via official documents and regulations alone. It will be better to provide an analytical framework so that civil servants can respond appropriately to each circumstance.
From the people's perspective, the pandemic poses an adaptive challenge. The Government and experts should encourage the people to identify the obstacles they must overcome. Information should be accurate and problems clearly identified. Awareness will make individuals more receptive to trade-offs so that the fight against the pandemic can take priority.
Ninh Thuan administration orders speedup of land handover to upgrade highway
The Ninh Thuận Province People's Committee has called for completing land acquisition and handover to contractors by the end of September for the upgrade and widening of 10.18km of National Highway No 27 in the south-central coastal province of Ninh Thuận.
The work, divided into three bidding packages and estimated to cost VNĐ216 billion (US$9.5 million), began in May and is scheduled to finish within a year.
Project Management Board No. 8 of the Directorate for Roads of Việt Nam is overseeing the construction.
Sections passing through Phan Rang-Tháp Chàm city and Ninh Sơn District will be repaired and widened to 12m and four lanes from the current two.
The Đá Bridge on the highway will also get an upgrade.
Nguyễn Huy Hoàng, director of the Project Management Board No. 8, said delays in land acquisition and relocation of technical infrastructure (such as telecom, electricity and water infrastructure and drains) have affected progress .
Some 4,000m of fibre-optic cables and water pipes, 70 electric poles and five substations have not been relocated yet.
Phan Tấn Cảnh, deputy chairman of the provincial People's Committee, warned the work would be called off if the required lands are not handed over to the contractors before October.
The people's committee has instructed authorities in Phan Rang-Tháp Chàm and Ninh Sơn to speed up land acquisition.
The Ninh Thuận Power Company, Ninh Thuận Water Supply Joint Stock Company, Southern Network Infrastructure Centre, rural water supply and sanitation centre, and Viettel have been urged to speed up the relocation work.
The province Department of Transport has been told to monitor the acquisition and report to the committee in case of difficulties for it to promptly resolve.
The upgrade is expected to improve road safety and connectivity, and foster the development of both coastal and Tây Nguyên (Central Highlands) provinces.
The 290km National Highway No. 27 connects Ninh Thuận with the Central Highlands provinces of Lâm Đồng and Đắk Lắk, running up to the latter's Buôn Ma Thuột City.
Trading of essential products expected to resume in District 7
District 7 in HCM City plans to allow trading of essential products and street businesses with strict conditions from September 20.
Those involved in the business must get two full doses of COVID-19 vaccine and operate in line with criteria set by local authorities, according to the district.
The information was revealed at a meeting on Sunday between Secretary of HCM City Party Committee Nguyễn Văn Nên and authorities of District 7 which, together with Củ Chi District, announced to have kept the pandemic under control.
He said the committee had proposed the city's COVID-19 Prevention and Control Steering Committee to choose District 7 and Củ Chi District as a pilot to draw lessons for the next steps across the whole city.
Chairman of the District 7 People's Committee Hoàng Minh Tuấn Anh said the district set up a centre studying socio-economic development models for the new normal period in order to study economic recovery after the pandemic, gradually resuming operation of each kind of business.
As planned, the district will prioritise the resumption of trading of essential products and street businesses from September 20 to October 20.
These businesses will be initially allowed to operate between 6am-6pm, according to Anh.
The district authorities proposed to consider reducing or exempting tax for businesses and household businesses in 2021 and the first quarter of 2022 and continue support packages for workers to help them recover from difficulties caused by the COVID-19 pandemic.
Secretary of HCM City Party Committee Nên stressed that the reopening must be carried out carefully step by step amid the complicated development of the pandemic.
He urged the district to continue carrying out COVID-19 testing, treating COVID-19 patients, vaccinating local residents and ensuring social security for people.
42,000 tonnes of rice delivered to COVID affected people
More than 42,443 tonnes of rice from national reserves have been delivered to people affected by COVID-19 in 24 cities and provinces across the country, according to the General Department of State Reserves.

People in Dak Lak province have received rice from local national reserves to overcome difficulties caused by COVID-19.
Most of the recipients were those who were living in lockdown or quarantine areas or were laid off due to production suspension.
The fourth outbreak of COVID-19 that started in late April has seriously affected the lives and employment of millions of people and workers across the country.
According to the Ministry of Labour, Invalids and Social Affairs, more than 8.6 million people in 24 cities and provinces are at risk of starvation due to COVID-19.  
The ministry therefore submitted a proposal to the Prime Minister in August to allocate approximately 130,000 tonnes of rice from national reserves to these people within a month
Ho Chi Minh City, the country's largest coronavirus hotspot, should be provided with 71,100 tonnes of rice to support 1.58 million households in need of aid relief.  
Hanoi: How do people move through three epidemic prevention and control zones?
From 7 a.m. on September 4, the Hanoi Police and functional forces deployed 39 more checkpoints at the exit and entry routes of Zone 1 (red zone), with the task of strictly controlling all people and vehicles that can enter and exit Zone 1.
Accordingly, the city's 21 checkpoints, chaired by the Hanoi Police in collaboration with the Department of Transport, the Hanoi Capital High Command and the Department of Health, are located in locations with high traffic density. The checkpoint guards are on duty 24 hours per day, divided into four shifts per day, and include 16 officers and soldiers. Of which, the Hanoi Police deployed 10 officers and soldiers, two officers of the Department of Transport, two officers from the Hanoi Capital High Command and two officers from the Department of Health.
Nine checkpoints are being managed by the districts People's Committees located in locations with medium traffic density, including district and district police. The checkpoints are on duty 24 hours per day, divided into four shifts per day, include five officers and soldiers of the district police, one traffic inspector, one officer from the district military command, one medical officer and one local government official.
Nine checkpoints are being managed by the People's Committees of communes, wards and townships collaboration with the police of communes, wards and townships. The checkpoints are on duty 24 hours per day, divided into four shifts per day, including one commune, ward, township police officer or enhanced district police officer, one self-administered officer, one medical officer; and one local government official.
As noted, right from the early morning, at Cau Dien road in the area adjacent to the two districts of Nam Tu Liem and Bac Tu Liem (Hanoi), two checkpoints for vehicles in and out of the inner city of the Hanoi City Police has implemented strict control of vehicles traveling between the zones.
According to Major Pham Van Chien, Captain of Traffic Police Team No. 6 (Hanoi Traffic Police Department), in the first days, functional forces carried out propaganda and handled those who went out for the wrong purpose, travel approval documents without a licensed route, and those who did not wear a mask complying with the distance regulations of the Hanoi People's Committee.
From September 6, implementing Directive No. 20 of the Hanoi People's Committee on social distancing according to "red zones", "green zones", for those who go out without travel approval documents according to the new rules, the competent authority will impose fines according to regulations.
Rare grey-shanked douc langurs found at Hue resort
Two rare grey-shanked douc langurs have been found seeking food at a resort in the central province of Thua Thien-Hue.
Staff at a resort in Loc Vinh Commune, Phu Loc District have recently found the two wild animals hanging on some trees in the garden.
According to the staff, the two langurs were very bold and not scared of humans. They even went into the kitchen to take fruit and food and sat at the table to eat in front of them.
After being informed of the incident, Head of Phu Loc Forest Ranger Department, Le Van Tuong, said that the two grey-shanked douc langurs might have come from Bac Hai Van Protective Forest.
"We are planning to relocate them to Bach Ma National Forest to raise a new colony," Tuong said.
A representative at the Bach Ma National Forest said that the langurs which have scientific names as Pygathrix nemaeus, are listed in Vietnam's red book as rare animals.
Ninh Binh homestays up for sale due to pandemic
Many homestays in the northern province of Ninh Binh have been offered for sale as the local tourism sector has been severely hit by Covid-19.
It is easy to see homestays for sale in Ninh Binh on real estate websites with the main reason that owners need to pay off bank loans.
Most of the homestay facilities are situated near local famous tourist sites.
Homestay services strongly developed between 2016-2019 according to Ninh Binh's homestay owners. However, since the pandemic ravaged Vietnam, they have been facing difficulties, forcing owners to sell.
Nguyen Thi Bac in Hoa Lu District said that her family borrowed nearly VND10 billion (USD434,782) to build a 1,000-square-metre homestay. From 2017 to 2020, the service's business results were quite good. But since the pandemic occurred in 2020, they have endured big losses. In April this year, Bac decided to sell the homestay at VND8.5 billion to repay the banking loan.
Le Van Trong also from Hoa Lu District said that in December last year, he sold his 450-square metre homestay at VND15 billion (USD652,173). Lots of people called him to ask for more information about the facility, but no one bought it. He decided to lower the selling price to just VND12 billion but has still failed to find a buyer for the homestay. He still has to repay high interest bank loans every month.
According to the Ninh Binh Real Estate Association, the pressure for bank loans is the major reason for the sell-off of homestays. Most of the interest in the properties are real estate brokers.
Ninh Hai Commune ChairmanNguyen Van Hoat said that the locality is home to more than 100 homestay facilities with many having gone on sale over the past year. However, since late 2020, only two have been bought.
Covid-19 patients advised not to come into contact with domestic animals
The Ministry of Health has warned Covid-19 patients not to come into contact with domestic animals as there's evidence the Coronavirus (SARS-CoV-2) could be transmitted from humans to animals.
In recently issued guidelines on treating Covid-19 patients at home, the ministry advised patients and their family members not to come into contact with domestic animals, nor let them come into contact with other people and animals outside their families.
According to the ministry, reports from many other countries showed that animals could be infected with Coronavirus after coming into contact with Covid-19 patients.
Some animals that are easy to be infected by the virus include dogs, cats, civets, and some primates.
The guidelines also state that Covid-19 patients should be taken care of in a separate area at home, use their own dining sets and keep a two-metre distance from other family members.
Vietnam announced 12,607 more Covid-19 infections on Tuesday, raising the patient tally to 462,096. The country now stands 59th among 222 countries and territories worldwide in terms of the number of infections.
Party chief's two books introduced to public
The Su That (Truth) National Political Publishing House has introduced two books by Party General Secretary Nguyen Phu Trong, namely "The whole Party and people join hands and unite to build a more prosperous and happier country" and "Unity, confidence to lead the country to enter a new stage".
The books comprise of 180 important speeches, articles, interviews and congratulatory letters and messages by the Party leader from January 2018 to April 2021.
The contents are arranged under four themes of comprehensively promoting the Doi Moi (Renewal) along the socialist orientation; considering Party building and rectification a key task; improving the effectiveness and operational efficiency of the political system and bringing into play the strength of the great national unity; and taking the initiative in international integration and cooperation.
Regarding the comprehensive promotion of the Doi Moi along the socialist orientation, Trong emphasized the need to study, supplement and perfect mechanisms and policies in accordance with the actual situation of the country, each locality, ministry, sector and field on the basis of the Party's stances, guidelines and policies on socio-economic development.
As for Party building and rectification, the Party chief pointed out in many speeches and articles that the work has always received special attention. He noted that Party building aims to make the Party always transparent and strong, while Party rectification is to overcome shortcomings and weaknesses to make the Party worthy of being the sole force leading the country.
Regarding the improvement of the effectiveness and operational efficiency of the political system and the promotion of the strength of the great national unity, Trong's articles, speeches and congratulatory letters have reflected his deep, regular and continuous care about all sectors, agencies, and organisations in the political and social systems from the central to local and grassroots levels.
On the active international integration and cooperation, his messages and speeches at regional and international meetings, along with congratulatory letters and messages sent to Party and State leaders of countries which Vietnam has diplomatic relations with, have demonstrated the Party and State's policy on proactive and active integration and extensive international cooperation./.
Pregnant health workers exempt from jobs at COVID-19 treatment areas
People who are pregnant, have children under-12-months-old, have underlying health conditions, or are not fully vaccinated against COVID-19 will not be assigned jobs that relate to coronavirus, according to a guideline the Ministry of Health.
Accordingly, the ministry has asked medical facilities to develop and implement preventive measures tailored for specific areas and groups of medical workers.
The facilities must actively assess infection risks to early detect and manage SARS-CoV-2 positive health-workers.
The risk assessment for medical workers must be conducted daily after their shift, especially for those working in quarantine areas, examination and treatment areas and SARS-Cov-2 screening areas.
Those assessed as in a high-risk group must stop working, and stop contact with patients and other health workers immediately. They will be tested for SARS-CoV-2 and take health quarantine under current regulations.
Health workers are required to strictly follow the 5K rules: Khẩu trang (facemask) – Khử khuẩn (disinfection) – Khoảng cách (distancing) – Không tụ tập (no gathering) – Khai báo y tế (health declaration), and other disease and control measures.
Health workers who directly treat or take care of COVID-19 patients or those suspected of having SARs-CoV-2 must be trained and master anti-infection skills.
Medical facilities have been asked to maintain suitable working schedules based on health workers' health conditions.
According to the Ministry of Health, preliminary reports in many countries show that health worker infections account for about 10 per cent of total COVID-19 infections.
As the COVID-19 pandemic is developing with highly infectious variants, the number of people hospitalised for COVID-19 infections continues to increase, causing overload in health facilities and posing a higher risk of health workers being exposed to the virus.
Phạm Thanh Bình, chairwoman of the National Union of Health Workers, said that until the middle of August 2021, nearly 2,400 medical workers in Việt Nam had been infected with the coronavirus since the pandemic hit the country, and three had died.
Besides the risk of COVID exposure, medical workers suffer high mental pressure when seeing the increased number of patients whose health conditions tend to worsen quickly and the increased number of fatalities, Bình said.
"Many of them can't help crying and being stressed when they feel they have failed to save patients," she said.
Source: VNA/VNS/VOV/VIR/SGT/SGGP/Nhan Dan/Hanoitimes  

Vietnam, Russia facilitate bilateral defence cooperation: Minister