Ten localities suggest allocating 10,000 tonnes of rice for Lunar New Year
Ten localities suggested allocating nearly 10,000 tonnes of rice for residents during the upcoming Lunar New Year festival, heard a press conference hosted by the General Department of State Reserves in Hanoi on January 8.
In 2020, the general department provided 132,100 tonnes of rice worth over 1.4 trillion VND.
Deputy head of the State Reserves' Goods Management Department Pham Viet Ha said when the central region was hit by floods last year, over 19,000 tonnes of rice worth 213 billion VND (9.26 million USD) along with search and rescue equipment valued at around 202.9 billion VND were earmarked for them.
Deputy Director General of the General Department of State Reserves Pham Vu Anh said the sector will strive to fulfil the goal of purchasing 190,000 tonnes of rice and 80,000 tonnes of unhusked grain for State reserves.
As the central region is struggling with difficulties following disasters, the general department has suggested the PM allow the distribution of 615.5 tonnes of rice varieties, 130.48 tonnes of corn varieties and 1.48 tonnes of vegetable seeds from the State reserves in support of Thua Thien-Hue, Quang Nam and Quang Ngai provinces.
Fight against COVID-19 in army reviewed
The Defence Ministry held a conference in Hanoi on January 8 reviewing the fight against COVID-19 pandemic in the army.
Speaking at the event, Director of the Military Medical Department Maj.Gen Nguyen Xuan Kien said the entire army seriously followed directions by the Prime Minister, the Central Military Commission, the Defence Ministry and its Steering Committee for COVID-19 Prevention and Control; took synchronous, drastic and effective measures to promptly prevent the spread of the virus in the army.
In particular, the anti-COVID-19 work also contributed to the success of the 11th Party Congress of the Vietnam People's Army and other national defence tasks.
Last year, the Defence Ministry's Steering Committee for COVID-19 Prevention and Control maintained meetings with units to grasp the situation and learn from experience. It also held anti-pandemic drills with over 22,000 people taking part.
Via patrols, border guards discovered over 31,400 illegal immigrants and sent them to localities for quarantine, and completed procedures for over 2.3 million people entering and leaving the country via border gates.
As of December 31, the entire army set up 174 quarantine establishments, put over 159,000 under quarantine, and welcomed 264 flights with more than 68,000 passengers.
Chairing the event, Deputy Defence Minister and head of the steering committee Sen. Lieu. Gen Tran Don hailed the army for accomplishing its assigned tasks.
He, however, warned that there is a high risk of COVID-19 infections in the army in the near future due to higher travelling demand across the border during the Lunar New Year festival, particularly via illegal immigrants, and cold climate condition.
Don cited four sources of high-risk infection, including illegal immigrants, legal immigrants who fail to follow quarantine regulations, cases existing in the community, and imported goods that are produced or transported via countries hit by the pandemic.
In order to minimise infections and deaths, Don asked Party committees and leaders of army units to raise their sense of responsibility for seriously following directions by the Party Central Committee's Politburo and Secretariat, the Central Military Commission, the Defence Ministry and guidelines of the Health Ministry and the Military Medicine Department on pandemic prevention and control in the current situation.
General Staff of the Vietnam People's Army and the steering committees at all levels were urged to deploy forces round the clock to deal with contingencies, work with the foreign affairs, transport and health ministries and relevant units to arrange flights and avoid overload at quarantine facilities.
Units were assigned to grasp situation at sea, on air and cyber space, and at border areas while border guards must prevent illegal immigration to maintain local security and order.
The General Department of Politics was responsible for working with Border Guard High Command and localities to urge residents to discover and inform against illegal immigrants at border areas, seriously punish violators, and even take legal proceedings against them if necessary./.
Bà Rịa – Vũng Tàu to reduce poverty to 0.5 per cent by 2025
The southern province of Bà Rịa – Vũng Tàu plans to reduce its poverty rate to 0.5 per cent under national poverty standards by 2025.
The province has 2,083 poor households, accounting for 0.73 per cent of total households.
To meet the target, the province will offer vocational training and jobs to the poor, and other support policies.
Speaking at a seminar held in the province on Wednesday, Đinh Thị Trúc My, deputy director of the province's Department of Labour, Invalids and Social Affairs, said the province's social allowance rate for the poor in 2016 – 20 was 1.2 times higher than the national rate.
The province's People's Committee, relevant departments and agencies and localities had implemented poverty-reduction policies with effective and suitable measures, she said.
Support like soft loans, health care, education and poverty reduction models were given priority.
The province's Fatherland Front Committee and its member organisations mobilised financial contributions from individual and organisations to build houses for the poor, provide scholarships to poor students, and give gifts to poor households on national holidays and the Tết (Lunar New Year) festival.
The province also gave poor ethnic households animal and crop seeds, houses, household use water, and school fees.
It invested in power, roads and schools to improve the lives of poor ethnic households.
Last year, Bà Rịa City became the province's first locality to have no poor households.
Nguyễn Thị Bích Thương's family in Bà Rịa City's Phước Hưng Ward escaped poverty last year after her family was given a soft loan to expand vegetable farming in 2017 and was offered instruction in techniques for growing vegetables.
Her family earns VNĐ10 million (US$432) a month from growing vegetables and has built a house with financial support from the province's support policies for the poor.
"My family has a stable income now," she said.
Previously, Thương and her husband worked as hired workers and grew vegetables, but had an unstable income.
Đất Đỏ District has also reduced poverty significantly in recent years. The district's rate of poor households fell from 11.3 per cent in 2016 to 0.22 per cent last year.
Trần Thị Kim, head of the district's Bureau of Labour, Invalids and Social Affairs, said the district had effectively implemented support measures suited for poor households.
With contributions from political-social organisations, associations and companies in and outside the district, the district had been very effective in reducing poverty, she said.
US provides training equipment for customs sector
The General Department of Vietnam Customs and the US Embassy in Vietnam held a ceremony on January 8 for the former to receive Commodity Identification Training (CIT) equipment worth nearly 40,000 USD from the US Government.
Deputy Director of the General Department of Vietnam Customs Luu Manh Tuong expressed his thanks for the support of US experts in the implementation of the Export Control and Related Border Security (EXBS) programme and especially the CIT programme.
The assistance of US agencies for the customs sector has helped ensure security and stability in Vietnam, the region, and the world, he said.
The customs department will create the best conditions possible for the Vietnam Customs School in terms of the management and utilisation of the equipment./.
Crime-fighting efforts gain public support
Crimes related to social order fell by 6.8 per cent last year, while the continuing crackdown on corruption helped gain public confidence in the State, two committees reported on Thursday.
Speaking at a meeting held by the steering committee for crime prevention and control and the national steering committee for tackling smuggling, trade fraud and fake goods (Steering Committee 389), Deputy Prime Minister Trương Hoà Bình said the committees contributed to the efforts of the whole of Việt Nam last year to control COVID-19 and recover economically by fighting crime.
"We did a good job in fulfilling tasks assigned by the National Assembly," Bình said.
However, he admitted that smuggling, trade fraud and counterfeit product crimes were all still complex problems, adding that the irresponsibility, loose management and corruption of some State employees and officials were to blame.
The number of crimes related to social order fell by 6.8 per cent, with some 83.5 per cent of social order crimes, such as theft and robbery, successfully investigated, while the figure for serious or especially serious social order crimes was 91.13 per cent.
About 1,860 criminal gangs were detected and successfully investigated.
Several corruption trials, particularly those relating to land management and public investment, were opened, drawing a great deal of attention and increasing public confidence in the State's efforts to fight crime.
According to Steering Committee 389, last year, authorities uncovered and successfully investigated more than 185,000 cases relating to smuggling, trade fraud and counterfeit products, collecting VNĐ23 trillion (US$995.3 million) for the State budget.
During the COVID-19 pandemic, authorities paid more attention to stabilising the market and tackling the production and trade of substandard medical products.
The steering committee for crime prevention and control reported that agencies under the Ministry of Defence last year detected a total of nearly 13,600 cases with 44,080 suspects involved. Of this figure, 1,115 with 1,789 suspects were related to drug crimes in which nearly 3,400kg of narcotics were seized.
Last year, 51 victims of human trafficking were rescued after authorities cracked down on 36 human trafficking cases involving 24 suspects.
Authorities also detected 34 cases relating to the illegal trade, storage and use of weapon and explosives.
As many as 1,948 cases related to smuggled and trade fraud were uncovered.
Authorities also found 5,375 cases with 32,584 people involved in crossing the Vietnamese border illegally. Criminal procedures were launched against 172 suspects for organising illegal entry to the country.
Red Sunday blood donation campaign to collect 50,000 blood units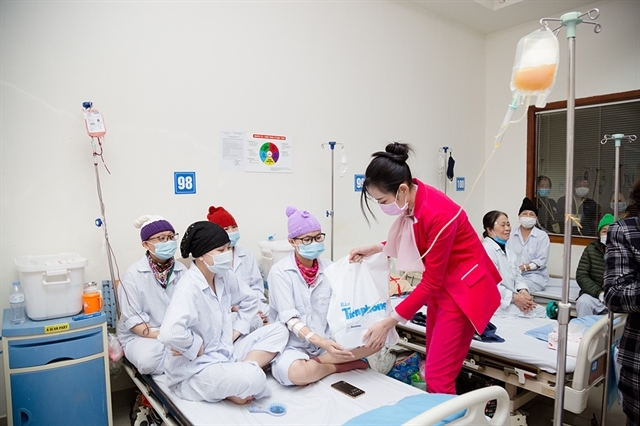 Miss Việt Nam 2020 Đỗ Thị Hà presents gifts to blood patients at the National Institute of Haematology and Blood Transfusions.
Organisers expect to collect 50,000 blood units in the Chủ Nhật Đỏ 2021 (Red Sunday), a blood donation campaign that will be kicked off officially at the Hà Nội University of Science and Technology in Hà Nội on January 17.
Organised by Tiền Phong (Vanguard) newspaper, the National Steering Committee on Traffic Safety and the National Institute of Haematology and Blood Transfusions (NIHBT), the annual event aims to handle the shortage of blood for emergency and treatment during the Tết (Lunar New Year) holiday.  
Lê Xuân Sơn, Tiền Phong newspaper editor in chief and head of the campaign organising committee, said the Red Sunday campaign has become a national scale event with profound human significance, aiming to overcome blood shortages during the Lunar New Year period.
"The event also aimed to call on organisations, State or private enterprises and a large number of people of different ages, regions, ethnic groups and professions to donate blood for the lives of patients who need blood transfusions."
"We expect to receive 50,000 blood units from 80 blood donation festivals as part of the Red Sunday 2021 campaign that will be organised in 43 provinces and cites nationwide from late December 2020 to March. As of January 6, the programme has collected nearly 11,272 blood units at 16 blood donation festivals," said Tiền Phong newspaper editor in chief Lê Xuân Sơn at a press conference on Thursday.
Sơn added that the Red Sunday 2020 campaign received nearly 47,000 blood units.
he COVID-19 pandemic occurred after Lunar New Year holiday so many provinces and cities were unable to organise the blood donation festivals as planned.
According to Dr. Bạch Quốc Khánh, Director of the National Institute of Haematology and Blood Transfusion, the pressure to receive and supply blood before, during and after Tết is always a constant concern for blood transfusion facilities; especially for blood products like platelets that can only be stored for three to five days.
"From the success of "Red Sunday" over the past few years, we call on organistions and communities not only to actively donate blood at this time, but if eligible, to donate platelets to ensure blood and other blood products for patients," said Khánh.
Khánh said that the institute provided blood and blood products to 180 hospitals in 28 provinces and cities in the North. During Tết, the institute needs at least 50,000-55,000 units of blood, of which 36,000-41,000 units of blood in January and about 16,000-18,000 units in February.
"Every drop of blood for us is a drop of life. Many sick people live mainly on the blood donated by the donor community. The lives of me and thousands of other sick people depend greatly on the hearts of donors who silently donated blood and platelets. I hope Red Sunday will bring meaningful drops of life to the community for our sick people," said Nguyễn Trọng Hùng, 36, a blood cancer patient from central Nghệ An Province.
HCM City seeks ways to reduce traffic accidents by 10 percent
Ho Chi Minh City hopes to reduce traffic accidents, fatalities and injuries by 5-10 percent this year, said Chairman of the municipal People's Committee Nguyen Thanh Phong on January 8.
At the ceremony to launch the Traffic Safety Year 2021 event in tandem with COVID-19 prevention during Lunar New Year and Spring Festival, Phong, who is also head of the city's Traffic Safety Board called on local residents to follow traffic rules with a view to ensuring traffic safety.
Last year, the number of traffic accidents fell 13.8 percent year-on-year, meanwhile those of fatalities and injuries dropped 12 percent and 15.2 percent, respectively. However, the local traffic situation remained complicated, which means the city is in need of synchronous and drastic measures.
Phong said the city will continue efforts to ensure effective management and order on roadways and pavements, while enhancing the communication work to raise public awareness of traffic safety.
Besides, scientific and technological advances will be applied to ensure traffic safety, particularly application of artificial intelligence (AI) into traffic management, operation, supervision and settlement of traffic violations.
The city is striving to complete the second phase of the urban transport operation management centre in 2025./.
NA Standing Committee to convene 52nd meeting next week
VIETNAM NEWS JANUARY 10

NA Chairwoman Nguyen Thi Kim Ngan speaks at the 51st sitting of the NA. (Photo: VNA)
Hanoi (VNA) - The National Assembly (NA)'s Standing Committee will convene its 52nd sitting in Hanoi on January 11 and 12, with NA Chairwoman Nguyen Thi Kim Ngan and vice chairpersons acting as rotating moderators, the NA Office announced on January 8.
The NA Standing Committee is scheduled to comment on draft performance reports of the State President, the Supreme People's Court, the Supreme People's Procuracy, and the State Audit of Vietnam during their term of office in 2016-2021.
It will continue discussing a draft of a resolution guiding the negotiation process to nominate candidates to represent the 15th NA and People's Councils of all levels over the next five years. It also plans to review and adopt two resolutions guiding the organisation of voter meetings as well as the negotiation process to nominate candidates for NA and People's Council deputies.
The NA Standing Committee will consider the issuance of a resolution that decides the number and structure of lawmakers to the 15th NA.
It will also debate a number of proposals, including conversion of the investment form of several components in the Eastern North-South Expressway project from 2017-2020, and the establishment of Cat Tien township in Phu Cat district, Binh Dinh province, and several wards in Hoa Binh and Bac Binh provinces, among others./.
Red Sunday 2021: 80 donation collection points organised
80 donation collection points will be organised across the country under the 13th 'Red Sunday' blood donation programme in 2021, which are expected to receive over 50,000 units of blood.
This information was announced at a press conference on the 13th 'Red Sunday' blood donation programme in 2021, held in Hanoi on January 7 by the organising board, which includesTien Phong Newspaper, the National Traffic Safety Committee, the National Institute of Haematology and Blood Transfusion, the National Steering Committee for Voluntary Blood Donation and the Ho Chi Minh Communist Youth Union.
The 13th 'Red Sunday' blood donation programme runs from November 2020 to March 2021 to continue the Pink Spring Festival. The launching ceremony will officially open on January 17.
By the end of January 6, there were 16 blood donation points held with nearly 11,300 units of blood donated.
The 13th Red Sunday has attracted the participation of 43 provinces and cities across the country; including: 22 northern localities (Hanoi, Thanh Hoa, Lai Chau, Vinh Phuc, Ha Nam, Nam Dinh, Cao Bang, Bac Giang, Bac Ninh, Lang Son, HoaBinh, Vinh Phuc, Phu Tho, Bac Kan, Hai Duong, Hai Phong, Thai Binh, Thai Nguyen, Ninh Binh, Quang Ninh, Lao Cai, and Yen Bai); seven central provinces and cities (Nghe An, Ha Tinh, Quang Binh, Quang Tri, Quang Nam, Thua Thien Hue, and Da Nang); 14 localities in the Central Highlands and the Southern region (Dak Lak, Khanh Hoa, Ho Chi Minh City, Dong Nai, Binh Duong, Can Tho, An Giang, Kien Giang, Hau Giang, TraVinh, Dong Thap, Soc Trang, and Ca Mau) .
Along with many blood donation festivals, the organising board of the "Red Sunday" programme also organises visiting and giving gifts to patients in difficult circumstances; and also organises camps, cultural exchanges for young people, students and blood donors. The programme features the participation of many singers, artists, and models.
The new feature of this year's "Red Sunday" programme is the first time the organising board has received platelet donation. Accordingly, instead of donating whole blood units as usually happens, those who qualify will only donate platelets.
In 2020, due to the Covid-19 pandemic broke out after the Lunar New Year, many provinces, cities and units were unable to organise the "Red Sunday" programme as expected, but the organising committee still continued received 46,999 blood units, reaching the set target.
Procuracy sector urged to pay more heed to new corruption cases
Politburo member and permanent member of Party Central Committee's Secretariat Tran Quoc Vuong on January 8 asked the procuracy sector to pay more attention to detecting and handling new corruption cases and better the work in localities.
Speaking at a meeting in Hanoi on January 8, Vuong stressed the need to push ahead with the investigation and settlement of corruption cases in line with regulations of the Party and the State.
The 2021-2026 period marks the building and implementation of a strategy on judicial reform, he reminded, urging the sector to provide consultations in this regard.
He said the sector should work harder to improve the efficiency of the fight against crimes, especially those that tend to rise and develop complicatedly, while proposing solutions to improve the quality of crime combat.
He suggested increasing resources for the investigation agency of the Supreme People's Procuracy so that the agency would become an effective tool in preventing corruption acts and judicial violations.
The sector was also asked to pay more heed to personnel training, and resolutely handle the officials who violate laws and show degradation in ideology, morality and lifestyle.
It was reported that over the past tenure, the sector proposed criminal proceedings against 3,115 cases, up 64 percent as compared with the previous term, and directly decided to launch criminal proceedings against 148 others, up 7.2 percent.
The sector has seriously followed instructions of the Central Steering Committee for Anti-Corruption, ensuring the settlement process.
At the meeting, Vuong lauded the sector for its role in building and completing legal institutions, especially documents in service of the implementation of the strategy on judicial reform and another on building and completing the Vietnamese legal system.
The settlement of administrative and civil cases has been regarded as the major task of the sector in 2021 and the new tenure./.
Hanoi decorated to welcome National Party Congress
Major streets in Hanoi are adorned with lights and posters to welcome the upcoming 13th National Party Congress.
According to the municipal Department of Culture and Spots, as of January 8, the capital city had completed a huge workload in service of the big event.
Such streets and intersections as Tran Nhan Tong, Giang Vo-Cat Linh, Hoang Liet-Nuoc Ngam Bus Station, and Nga Tu So, and the areas around the Opera House and the State Bank of Vietnam, among others, are festooned with diverse posters.
Up to 400 banners have made streets in Ba Dinh district, and Hung Vung, Doc Lap, Chu Van An and Le Hong Phong streets radiant.
Meanwhile, the lighting system has been installed at Ba Trieu, Hang Bai, Phan Dinh Phung, Dien Bien Phu, Pham Hung and Vo Chi Cong streets, and Thang Long Avenue.
On this occasion, a photo exhibition on the 13th National Party Congress is being held at Exhibition House at 93 Dinh Tien Hoang.
The 13th National Congress of the Communist Party of Vietnam will take place in Hanoi from January 25 to February 2, 2021./.
Few self-employed workers buy voluntary social insurance
Voluntary social insurance brings the benefits to self-employed workers; however, the rate of people participating in the social insurance scheme is relatively low.
There should be a mass communication campaign to raise the people's awareness of the benefits of joining the voluntary social insurance scheme, particularly when they are getting old.
For instance, couple Nguyen Thi Hoa who sell fruits in Cay Queo market in Binh Thanh District earning VND13 million- VND15 million monthly but they have not participated in the voluntary social insurance despite local administration's encouragement.
Mrs. Hoa said local administrators did encourage her and her husband to buy voluntary insurance for the sake of us adding that she is 50 years old now while only those participating over 20 years can enjoy pension from the insurance agency.
Grocery trader in Bui Van Ba Street in District 7 Tran Thi Tham said that all her earning is spent on her children's tuition fee and other activities; hence, she doesn't have savings for paying social insurance.
According to the Vietnam Social Insurance Agency, social insurance is unattractive which is partly a reason why administrators bumped into difficulties in persuading freelance workers to buy social insurance.
Importantly, the great difference between mandatory social insurance and voluntary social insurance discourages people to buy. Mandatory insurance buyers are entitled to enjoy compensation for a portion of either lost or reduced laborer's income due to sickness, maternity, occupational accidents and occupational diseases, disability, unemployment, old age, and death whereas voluntary social insurers just enjoy compensation for pension and death.
Quite many people have not fully understood the importance of joining in social insurance; plus, their income is low. Consequently, they are indifferent to participating in the social insurance scheme.
According to the insurance agency, around 16,101,000 people have participated in the insurance scheme accounting for 32.6 percent of the number of people in the working age; of whom, 1,068,000 people have participated in voluntary social insurance.
Most densely populated Go Vap District has the self-employed workers in Ho Chi Minh City. Thanks to local administrators, more people have participated in the insurance scheme.
Director of the Insurance Agency of Go Vap District Ho Hai Luan said additional 2,636 people agreed to buy social insurance voluntarily by the end of 2020. The fruitful achievement was thanks to the District People's Committee, people's committees in wards, the women union and market management board's direction.
Mr. Luan explained for the success of Go Vap District that due to impact of the coronavirus pandemic, out-of-work employees felt securer than when they buy social insurance in addition to local government' encouragement.
Sociologists said that people are not interested in participating in the social insurance scheme just because of long-term payment, not to mention to low compensation for buyers of insurance; therefore, there should be a change to attract more participants.
At a virtual meeting lately on implementation of social insurance task in 2021, Deputy Prime Minister Vu Duc Dam ordered the Vietnam Insurance Agency to make more efforts to achievement the set goal that the coverage of social insurance must be 45 percent of the country's population by 2025 and 35 percent of the residents in the country must participate in unemployment insurance.
Deputy PM Dam requested local administrations and the insurance agency must enhance encouragement and improve people's awareness of buying insurance.
Exhibition marking 13th National Party Congress opens at Hoa Loa Prison
Many photos, documents, and objects featuring National Party Congresses are on display at an exhibition that opened at Hoa Lo Prison in Hanoi on January 8.
The exhibition aims to mark the upcoming 13th National Party Congress and the 91st anniversary of the Communist Party of Vietnam (February 3).
It also honours soldiers who made great contributions to the struggle for national liberation, including those who were detained at Hoa Lo and other prisons.
Visitors had a chance to meet the relatives of the soldiers and witnesses to history at the opening ceremony.
The exhibition will last until the end of April.
Hoa Lo Prison is a special historical relic in Hanoi, built by French colonialists in 1896 to imprison Vietnamese patriots. Called Maison Centrale, it was one of the largest prisons in French Indochina. Many patriots and revolutionary leaders of Vietnam were held captive there, such as Phan Boi Chau, Luong Van Can, Ho Tung Mau, and Nguyen Luong Bang, as well as five Party General Secretaries: Nguyen Van Cu, Truong Chinh, Le Duan, Nguyen Van Linh, and Do Muoi.
From August 5, 1964, to March 31, 1973, part of the prison was used to hold American pilots who were shot down during bombing raids against North Vietnam. The prison was euphemistically called the "Hanoi Hilton" by prisoners. "Alumni" of Hoa Lo include Pete Peterson, who later became the first US Ambassador to Vietnam, and John McCain, the late US Senator.
The Government transformed part of the prison into a historical relic site in 1993. Located in the southeast reaches of the old prison, this part was preserved, renovated, and upgraded. There is also a monument dedicated to Vietnamese patriotic and revolutionary fighters./.
HCMC to thoroughly resolve backlogs to develop new Thu Duc city
HCMC make plans to give directions on resolving backlogs including infrastructural issues in the three districts of Ho Chi Minh City planned to merge into the new Thu Duc City - District 2, District 9 and Thu Duc District. 
District 9 authorities are working to complete items in the HCMC Hi-Tech Park project as directed by the Government Inspectorate and Standing Deputy Prime Minister.
District 9 at the same time has requested HCMC's directives on urban embellishment, resettlement, traffic infrastructure, and the construction of hospitals and schools, said the District Party Secretary Lam Dinh Thang.
Preliminary statistics show there are 4 projects in District 9 delayed for more than 12 years or more, and 2 delayed for more than 20 years.
In Thu Duc district, plans for a sports field, parks and reservoirs in the HCMC National University which were approved back in 1995 have not been executed.
Meanwhile, roads connecting to Binh Trieu train station which completed 18 years ago are far and few between, and people mainly commute on narrow gravel paths.
Additionally, households in the surrounding area are also not allowed to change their land use purpose due to urban zoning, limiting their rights to house repair and upgrades.
According to Thu Duc District Party Secretary Nguyen Manh Cuong, these projects are affecting the quality of life of more than 5,000 households in the district.
 
Moving on to the Thu Thiem New Urban Area in District 2, infrastructures for the 1.8-hectare resettlement area and boundary of new quarters require immediate directives, said District 2 Party Secretary Nguyen Phuoc Hung.
Regarding this matter, Vice Chairman of HCMC People's Committee Vo Van Hoan said the city has approved the 1.8-hectare resettlement plan, and is awaiting the Prime Minister's conclusion on the legal basis for the quarters.
HCMC is expected to spend more than VND1,400 billion (about US$60.6 million) to implement additional benefits in Thu Thiem.
Regarding the Thu Thiem new urban area, Chairman of HCMC People's Committee Nguyen Thanh Phong told voters in a meeting on December 25, 2020 that the HCMC Party Committee has passed a Resolution to finish the construction of Thu Thiem new urban area before 2030 with specific roadmap and solutions. He affirmed that the city is focusing on solving problems in Thu Thiem new urban area.
HCMC imposes tough penalty on illegally-operated ferries
The People's Committee in Ho Chi Minh City yesterday ordered state competent departments and people's committees in districts to tighten control and issue stiff penalties on ferries which were operate without permission.
Under the direction of the city People's Committee, the Department of Transport was asked to continue enhance supervision of illegally-operated ferries for passengers' safety.
Alongside, communication campaign should be increased to make ferry owners and ferry driver s understand the regulations relating to ferry operation and safety.
Simultaneously, the Department should liaise with the traffic safety steering board and people's committee in district and other related agencies to pay visits to ferry monthly or periodically to check the implementation of safety regulations.
On the other hand, suspension will be imposed on illegally-operated ferries which have violated the safety regulations many times.
Hanoi athletes ready for success at the upcoming SEA Games 31
Hanoi to contribute 30% of Vietnamese 31st SEA Games delegation's medal tally.
Hanoi is determined to successfully hold the 31st SEA Games and the ASEAN Para Games 11 this year, despite the negative impacts of Covid-19 pandemic, representative of Hanoi Department of Culture and Information said in a press conference on January 6.
To make the event a success, a year before the opening of the 31st SEA Games and ASEAN For Games 11, the Hanoi People's Committee collaborated with the Ministry of Culture, Sports and Tourism to organize the "Kick-off the 31st SEA Games" program to disseminate the importance of this region's biggest sporting event among Vietnamese and international friends.
According to the director of the Hanoi Department of Culture and Information To Van Dong, Hanoi is now ready for the two events in terms of both facilities and athletes.
"In 2020, due to the impact of the Covid-19 pandemic, the plan of training athletes in foreign countries has been put off which affected the performance of athletes. However, Hanoi still strives to achieve over 30% of the nation's medal totally," Mr. To Van Dong said.
There are 40 sports are scheduled to be held with 520 competitions at the 31st SEA Games, of which, Hanoi will host 26 sport events.
Meanwhile, Para Games 11 will feature 11 competitions, including Athletics, Swimming, Weightlifting, Table Tennis, Badminton, Chess, Boccia, Tennis, Judo for Blind, Rolling Ball for Blind and Archery.
The My Dinh Sports Complex of Hanoi will be the venue for the opening ceremony (November 21), the closing ceremony (December 2) and most of the competitions.
At the 31st SEA Games, athletes will compete in four new sports including Bowling, E-sports, Triathlon and Jujitsu. 
"The song of unity" forever resounds
The documentaries and items on display at "The song of unity" exhibition will help visitors to learn about important historical milestones of the Vietnamese Communist Party.
The exhibition entitled "The song of unity" is on display from January 8 to February 28 at Hoa Lo prison on the occasions of the 13th National Party Congress and the 91st founding anniversary of Vietnamese Communist Party (February 3, 1930 - February 3, 2021). 
The image of Uncle Ho directing the orchestra singing the Unity song taken by photographer Lam Hong Long in 1960 is the highlight of the exhibition underway at the historical relic of Hoa Lo prison, which is divided into two parts called "The imprint of the countryside" and "Under the glorious Party flag".
"The imprint of the countryside" is a display of documents and items related to the farmers, the great contributors to the revolution. The display area on Dong My commune in Thanh Tri district, Hanoi is a focus of the exhibition as this was the place where the Party Branch of Dong Phu was established (the first Party cell in the rural suburbs of Hanoi).
In addition to Hanoi, the exhibition also introduces touching stories about the people and other lands such as Vo Liet Commune (Thanh Chuong District, Nghe An Province) - the famous place where the Soviet - Nghe Tinh movement erupted in 1930 and 1931.
Uncle Ho directing the orchestra singing the Unity song taken by photographer Lam Hong Long in 1960. 
Reminiscing the glorious history of the Party Congress 
The second part of the exhibition called "Under the Glorious Party Flag" dealt with the post-war period when the Vietnamese people overcame the war consequences to rebuild the country.
At the exhibition, visitors will have the opportunity to view documents and artifacts about the party congresses throughout history, meet witnesses and hear their stories to gain a comprehensive understanding of the sacrifices and dedications of previous generations for the survival and development of the nation.
Attending the opening ceremony of the exhibition, Mr. Pham Xuan Hop from Dong Da district, Hanoi shared: "When looking at the displaying photos and documents at the exhibition, I still feel the thrilling atmosphere of 60 years ago, when Hanoian gathered at the Botanical Park to celebrate the 3rd National Party Congress."
"I cannot forget the moment when Uncle Ho stood on the command podium, conducting the rhythm of "The song of unity" to the orchestra. Later on, the image has become one of the symbols of the national solidarity spirits," Mr. Hop.
Viet Nam does not suffer food shortage, ministry says
Viet Nam has stockpiled adequate food for the needs of daily life and processing of about 100 million population and export, said Nguyen Nhu Cuong, General Director of Crop Production Department under the Ministry of Agriculture and Rural Development.
Mr. Cuong made the announcement in response to Viet Nam's recent order to buy 70,000 tons of rice from India after decades.   
In 2020, despite difficult natural disasters and lower paddy cultivation, output was 42.8 million of tons of paddy including 6.1 million for export worth over US$ 3 billion. The rest served for domestic consumption and processing.
According to Mr. Cuong, the country is expected to harvest 1.2 million tons of paddy in early winter spring.
Mr. Nguyen Quang Hoa, Director of Duong Vu Limited liability company (an enterprise which yearly ships 200,000 tons of rice) said that Vietnamese rice importers chiefly bought rice grains for processing of rice noodles, cakes, fodder, and beer in order to get benefits from lower import tariffs (meanwhile import tariff of rice is 40%).
In addition, Viet Nam has initiated in reducing cultivation area of medium-quality paddy including R40404 and raising the area for high-quality paddy.   
Earlier, Reuters reported Viet Nam began purchasing rice grains from India for the first time in several decades. This is despite the fact that the Southeast Asian country is the third-largest exporter of rice in the world./.
COVID-19 in Singapore: infected housewife jailed for hiding contact history
A housewife in Singapore who had COVID-19 has been sentenced to five months' jail for deliberately not providing information for contact tracing purposes.
Oh Bee Hiok, who was diagnosed on February 26 last year, did not tell Ministry of Health (MOH) officers that she had met a close male friend multiple times earlier that month, The Straits Times reported.
The 65-year-old feared others might think that she was having an affair with the man – Lim Kiang Hong.
Lim, 71, was himself diagnosed with COVID-19 on March 20 last year. On January 8, the court heard that Oh's offence came to light only when investigators uncovered information, including parking records for cars driven by her and Lim.
MOH officers who interviewed him later discovered that he had met her multiple times between February 4 and 20 last year.
For committing the offence under the Act, she could have been jailed for up to six months and fined up to 10,000 USD./.
Union confederation extends help to workers as Tet approaches
The Vietnam General Confederation of Labour (VGCL) will set aside part of its accumulated trade union funds to support trade unionists and workers facing difficulties during the Lunar New Year (Tet) holiday - Vietnam's biggest traditional festival which falls in mid-February this year.
VNA Friday, January 08, 2021 16:39
RELATED NEWS
Gov't issues new rules on foreign workers in Vietnam
Friday, January 08, 2021 10:27
Nearly 70 percent of labourers suffer income reduction due to COVID-19
Wednesday, January 06, 2021 16:53
1.03 million people receive unemployment allowance this year
Saturday, December 26, 2020 16:54
Dong Nai: Workers to get free coach tickets, gifts for Tet
Friday, December 18, 2020 14:43
Union confederation extends help to workers as Tet approaches hinh anh 1
VGCL's Permanent Vice President Tran Thanh Hai speaks at the event (Photo: VNA)
Hanoi (VNA) - The Vietnam General Confederation of Labour (VGCL) will set aside part of its accumulated trade union funds to support trade unionists and workers facing difficulties during the Lunar New Year (Tet) holiday - Vietnam's biggest traditional festival which falls in mid-February this year.
The assistance was announced by VGCL's Permanent Vice President Tran Thanh Hai at a press conference on January 8.
Hai told the media that average per capita monthly income stood at 6.7 million VND (290 USD) last year, down 8.6 percent against 2019.
Some 31.8 million Vietnamese people have been affected by COVID-19 and 70 percent of workers are now earning less than before the pandemic broke out.
The service sector was hit the hardest, with 68.9 percent of its workforce affected, followed by the industrial and construction sector with 66.4 percent. The agriculture, forestry, and fishery sector fared better, with only 27 percent of its workforce affected.
Hai said that under the direction of the VGCL, trade unions at all levels plan to organise an early Tet for trade unionists and workers, with a focus on workers meeting difficulties and those who are unable to return home for Tet and those who must work during the festival.
The confederation is also working on a support package for workers living in extremely disadvantaged circumstances or affected by natural disasters, Hai said, adding that more than 4 billion VND has been set aside by the confederation and the Saigon Alcohol Beer and Beverage Joint Stock Corporation (Sabeco) to help those in need during Tet./.
Source: VNA/VNN/VNS/SGGP/VOV/NDO/Dtinews/SGT/VIR