HCM City to spend US$2.3 million to repair HCM City-Trung Luong expressway.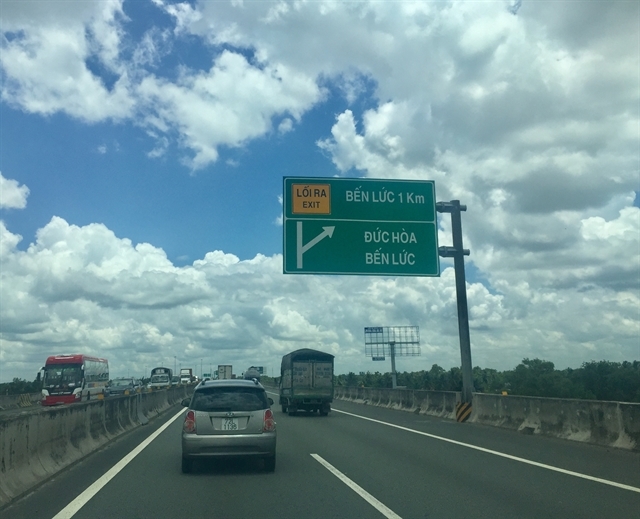 HCM City will spend VNĐ55 billion (US$2.3 million) to maintain and repair the HCM City-Trung Lương expressway.
HCM City will spend an additional VNĐ55 billion (US$2.3 million) to repair and maintain the HCM City-Trung Lương expressway.
Nguyễn Văn Thành, head of the Department of Road Management No 4, said that recently the city had spent VNĐ22 billion to repair a section of the expressway.
In April, the department would spend more VNĐ55 billion to continue the work.
After more than 10 years of operation, the expressway has deteriorated because of severe cracks caused by container trucks.
The expressway is a key connection between HCM City and the Cửu Long Delta region. It passes through HCM City, Long An and Tiền Giang, shortening the travelling time from the biggest city in the southern region to Tiền Giang by two thirds, down to 30 minutes from 90 minutes before.
Although the expressway is regularly maintained, there are still a number of deteriorated sections that make travelling difficult.
Nguyễn Thế Hùng, a driver from Bến Tre Province, said that normally it took only 30 minutes to travel on the expressway, but now due to deterioration, it would take 60 minutes. 
Top doctors discuss two elderly COVID-19 patients in serious conditions
Leading medical experts from major institutions across Việt Nam on Thursday held a telemedicine meeting to discuss the conditions of two seriously ill COVID-19 patients currently in treatment in Hà Nội and Quảng Nam.
Việt Nam COVID-19 Patient No.1,465, 61-year-old woman, a returnee from the US on December 21, tested positive on December 31 and is currently at the National Hospital for Tropical Diseases in Hà Nội. She had undergone a thyroid lobectomy before.
On December 26, the patient reported fatigue and on subsequent days, her condition worsened, with trembling legs and hands, and suffered a loss of appetite.
She is currently on a ventilator and sedatives.
At the meeting, doctors at the National Hospital for Tropical Diseases asked for consultation on treatment for her hypothyroidism, muscle weakness, frequent chills, hypothermia, cytokines storm, signs of heart failure and pulmonary embolism, and proposed the use of plasma from recovered COVID-19 patients.
The expert panel said the hospital's doctors should consider running dialysis and even Extracorporeal membrane oxygenation (ECMO), continue with the administration of the anti-viral drugs remsidivir, and beef up staff taking care of the patient.
Quảng Nam Central General Hospital reported the acute case of a 74-year-old male (Việt Nam's Patient 1,405), also returning from the US, with a history of chronic hepatitis B, hypertension, and type 2 diabetes and has been in the hospital for a month now.
He was admitted to the hospital on December 7 after coughing up blood, a day after he landed at Đà Nẵng International Airport and was moved to a quarantine facility in the central province of Quảng Nam.
His COVID-19 test results came back negative on December 7, 8, and 10, but the fourth test was positive on December 14.
Currently the patient is awake and conscious, but suffers from a bloated stomach, pneumonia caused by 'superinfection' of SARS-CoV-2, gastrointestinal bleeding, and progressing liver failure.
The medical expert panel said the hospital's treatment plan is going in the right direction for a seriously ill patient with numerous underlying conditions.
The patient has shown positive progress but the prognosis remains poor, the panel concurred, asking the hospital to continue monitoring his condition and they would provide further consultation when needed.
As of Thursday morning, Việt Nam has logged a total of 1,505 COVID-19 cases, with 1,353 recoveries and 35 deaths, making it one of the countries reporting the lowest infection and death rate. 
Four imported cases of COVID-19 recorded on January 7
Four new cases of COVID-19 were confirmed during the past 24 hours to 6pm on January 7, all Vietnamese citizens returning from abroad and being quarantined, according to the National Steering Committee for COVID-19 Prevention and Control.  
The new cases brought the national tally to 1,509, including 693 locally-transmitted cases.
The number of recovered patients reached 1,353, while fatalities remain at 35.
Among patients under treatment, 14 have tested negative for SARS-CoV-2 once, six twice and seven thrice.
A total of 19,392 people who had close contact with COVID-19 patients or arrived from pandemic-affected regions are staying in quarantine nationwide.
Meanwhile, the numbers of COVID-19 infections are still rising in several Southeast Asian countries.
Also on January 7, Indonesia confirmed 9,321 new cases, the highest daily so far, raising the national count to 797,723. An additional 224 COVID-19 deaths were recorded the same day, taking the total fatalities from the disease to 23,520.
Malaysia also reported the highest daily cases since the pandemic started in the country, at 3,027.  
The Philippines said COVID-19 cases in the country have surpassed 482,000 after 1,353 cases were detected on January 7. The fatalities also increased by nine to 9,356.  
Though the country has yet to detect any infection of the new variants of the coronavirus, the Philippines has restricted travelling to and from 27 countries and territories until January 15.
Meanwhile, Thailand reported 305 new cases and one more death on January 7. The total number of COVID-19 cases in the country now reached 9,636 with 67 deaths./.
Woman faces fine for hand-free driving
A young woman in Quang Ngai Province has been fined over VND7.4m (USD319) after performing a hand dance while driving a motorbike.
The woman was fined after a 29-second clip about her driving was posted on the internet. In the clip, she didn't wear a helmet and performed a hand dance, and joked with her friends nearby while driving a motorbike on Thach Bich Bridge, Le Hong Phong Ward. Many people have shown anger at her reckless behaviour.
On January 6, the police in Quang Ngai said they had received reports and dealt with the case.
The woman was born in 1999 in Quang Ngai. She admitted to violating traffic regulations while driving on January 2. The clip was recorded by her friends.
She was fined VND7.4m and had her driving licence suspended for three months for not wearing a helmet, driving hand-free and not having the required side mirrors for motorbike.
HCMC asks Transport Ministry for help with infrastructure projects
The HCMC Department of Transport has written to the Ministry of Transport asking for help in getting rid of obstacles facing some traffic infrastructure projects in the city.
Despite its potential for economic development, the southern key economic zone has faced restrictions and difficulties such as a slowdown in growth, out-of-sync infrastructure, mainly traffic infrastructure, and lack of a regional connection, according to the municipal department.
To optimize HCMC's and the zone's advantages and strengths in the 2021-2025 period, it is necessary to prioritize the development of key ring roads 3 and 4, expand the HCMC-Long Thanh-Dau Giay expressway and dredge the Soai Rap waterway. These projects have lagged behind schedule due to several obstacles.
The municipal department proposed that the minister of transport hold a meeting with the relevant ministries and local authorities to promptly eliminate the obstacles and difficulties, and contribute to speeding up work on these traffic infrastructure projects. Besides, the department told the ministry to give directives on funds for the projects.
Over the past few months, HCMC and some provinces of the southern key economic region, including Dong Nai, Binh Duong, Long An, Tay Ninh, Ba Ria-Vung Tau and Binh Phuoc, have proposed the Government consider developing traffic infrastructure as soon as possible.
The prime minister had earlier listed ring roads 3 and 4 as the national key projects to be prioritized for construction in the 2021-2025 period, Thanh Nien Online reported.
The southern key economic zone is the country's most dynamic economic zone, accounting for 45.4% of Vietnam's gross domestic product.
Hanoi, Hai Phong intensify COVID-19 prevention measures
Hanoi authorities have issued an urgent dispatch on strengthening COVID-19 prevention and control, while the northern port city of Hai Phong has held a meeting for the same purpose.
Chairman of the capital People's Committee Chu Ngoc Anh signed the dispatch on January 6. It was delivered to heads of the municipal departments, sectors, and localities at all levels.
The dispatch has urged sides involved to carry out better communications work to encourage people to wear masks, avoid mass gatherings, and fill up heath declarations when needed, among others.
The Hanoi Department of Health is tasked with quickly handling any problems arisen and closely monitoring COVID-19-related situations in the community. Local police units are assigned to focus on preventing illegal entries and punishing violators of regulations on pandemic prevention and control, while the capital Military High Command is requested to work closely with the health department and local administrations in tightly managing concentrated quarantine sites.
Also on January 6, the Hai Phong steering committee for COVID-19 prevention and control held a meeting to intensify its work and honour 33 medical staff, who volunteered to go to Da Nang to support the central city during its outbreak last year./.
Cho Ray Hospital successfully applies new technique in bone surgery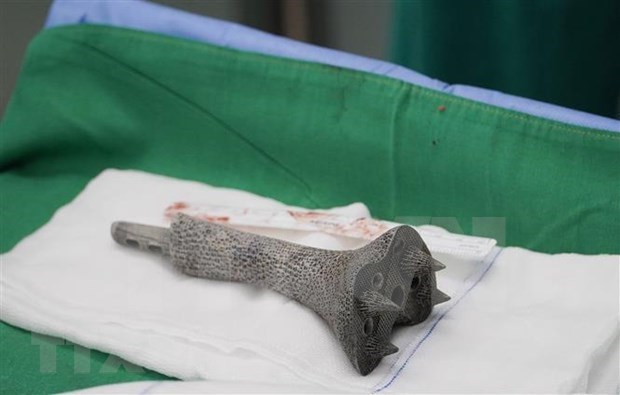 The 3D honeycomb-shaped titanium alloy piece which is successfully transplanted into the leg of a patient suffering from bone cancer from Quang Ngai by HCM City's Cho Ray Hospital.
Doctors at Cho Ray Hospital in HCM City successfully performed surgery to replace a segment of tibia in the leg of a patient suffering from bone cancer with a 3D honeycomb-shaped titanium alloy piece.
According to Le Van Tuan, head of the orthopaedic trauma department at the hospital, this is a completely new technique and was successfully applied for the first time at Cho Ray Hospital in particular and in Vietnam in general.
In 2019, a 33-year-old man from central Quang Ngai province had surgery at the hospital to remove a tumour growing on his left tibia, which resulted in him having limited movement in the knee. The surgery, however, left him with a gap of about 11cm in the tibia.
To avoid any risk and inconvenience from conventional surgery, doctors decided to use a 3D honeycomb-shaped titanium alloy piece to replace the tibial segment.
Just four days after surgery, the patient was able to stand and practice walking. He is expected to be able to walk normally after 5-6 months.
Tuan said that the advantage of this technology is that the piece is created to fit into the missing bone.
The "honeycomb" holes also lead bone cells to multiply and develop, gradually turning the piece into a part of the body that is not rejected, as is usually the case with metals, he added./.
1.7 million blood units donated in 2020
The Steering Committee for Voluntary Blood Donation said it had received approximately 1.7 million units of blood in 2020, which helped millions of patients, especially amid the COVID-19 pandemic.
The amount of blood units donated in 2020 mostly fulfilled the annual plan. 
The majority of blood units were donated by volunteers, equivalent to nearly 1.5 per cent of the population. 
Half of the donors donated their blood more than once. Blood was collected from the Lunar New Year Blood Donation Campaign, Red Spring Festival, Red Blood Drops Summer, and the Red Journey Programme.
The amount of blood has helped cure patients who needed blood transfusions as the blood bank went dry when donors feared the coronavirus and stopped going to hospitals for blood donation.
2020's blood units have increased compared to the figure in 2019. In 2019, more than 1.6 million blood units were donated. 
The committee targets to collect more than 1.7 million units of blood this year. 
Two Korean language centres founded in Vietnam
Sejong Korean Language Foundation have announced the establishment of two Korean language centres in the northeast province of Thai Nguyen and Can Tho, the biggest city of the Mekong Delta in southern Vietnam.
Both locations, known as Thai Nguyen and Can Tho 2, have been set up following a co-operation agreement reached between Sejong Korean Language Foundation and Korean agencies, and will be operated by the Korea Center for United Nations Human Rights Policy (KOCUN).
The main aim behind the Can Tho 2 centre is to teach Korean to Vietnamese women who are married to Korean men and who have subsequently returned to the nation.
The new facilities will help to promote both Korean language and culture among those in need in Vietnamese localities.
HCM City to host first traditional Japanese doll exhibition
The Japan Foundation Center for Cultural Exchange in Vietnam is poised to put on an exhibition for traditional Japanese dolls at the Ho Chi Minh City Museum of Fine Arts from January 8 to January 27.
The exhibition, the first of its kind in HCM City, will feature a total of 32 traditional dolls which depict the gracefulness of Japanese girls wearing a traditional kimono dress, in addition to popular characters from Noh and Kabuki plays which are native of Japan.
Furthermore, guests will be able to view clay dolls and royal dolls on display at the event.
Visitors will also receive some free Japanese dolls which are folded by Origami art as special gifts on the opening day of the exhibition on January 8.
Entrance to the function will be free, with the exhibition scheduled to last through to January 27.
Culture-Tourism Village to host cultural activities welcoming spring
With the theme "Welcoming Spring in the highlands", activities in January 2021 at the Vietnam National Village for Ethnic Culture and Tourism in the Dong Mo tourism area of Son Tay Town, Hanoi, will introduce the atmosphere of welcoming the New Year, with traditional rituals, customs and cultural values of the ethnic groups in the village.
The highlight activity in January 2021 is the "Dieu Xoe Ngay Xuan" (a traditional dance of Thai ethnic people in spring day) programme, which introduces folk games of ethnic groups in the Northern in spring. 
Visitors will be invited to take part in folk games such as Con (cloth ball) throwing, blindfolded pot smashing, sack races and hopscotch while enjoying traditional spring songs and dances. 
On this occasion, the Go Ro Festival of the Kho Mu ethnic group of Tuong Duong District, Nghe An Province, will reappear. Traditionally, at the end of the year, each Kho Mu Village family buys a pot of wine to prepare for the spring festival, to celebrate the New Year. 
Traditional cultural practices by Muong, Thai, Dao, Kho Mu and Mong ethnic people will also be introduced to visitors on the occasion.
Thanh Hoa to stop receiving, quarantining returnees from overseas
As a huge number of people returning home for the upcoming Lunar New Year could pose a challenge to the efforts to contain the spread of Covid-19, Thanh Hoa Province has decided to stop receiving and quarantining people returning from overseas starting January 10, said a local health official.
The decision was included in a statement of the leader of the province regarding the Covid-19 infection prevention and control before, during and after the Lunar New Year, according to Trinh Huu Hung, director of the provincial Health Department, reported VnExpress.
However, when quarantine centers in this north-central province will resume operations remains unknown.
As for foreign experts, highly-skilled employees, investors and business executives arriving in Thanh Hoa, the north-central province still receives and quarantines them, but it will tighten control over their entry, transport, quarantine and residence process.
Earlier, between December 1 and 15, the province had stopped receiving and quarantining those returning from overseas.
According to the same statement, a risk of community transmission in the country, especially in Thanh Hoa, could remain high as the holiday draws near. The risk could be mainly triggered by those who violate quarantine regulations and enter Vietnam illegally.
As of January 4, the province was quarantining over 500 people, mainly at hotels. It also set up 99 quarantine facilities which can accommodate over 10,000 quarantinees.
HCMC tightens Covid-19 infection control at seaports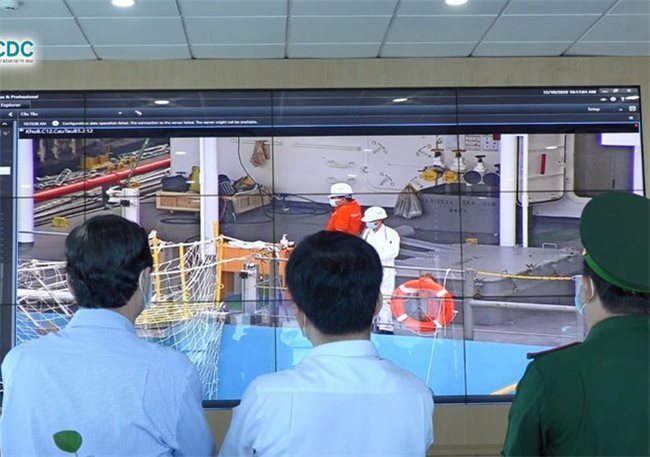 Officers look at a screen that monitors activities at HCMC's Cat Lai Port – PHOTO: COURTESY OF HCMC CENTER FOR DISEASES CONTROL


The HCMC Department of Health has asked the Maritime Administration of HCMC to continue coordinating with the Center for International Health Quarantine and relevant agencies to tighten Covid-19 infection prevention and control at the city's seaports.
The captains of all vessels have been told to commit to complying with regulations on Covid-19 infection prevention and control.
The relevant agencies must ensure that the captains and sailors of foreign ships are fully informed about Vietnam's regulations on Covid-19 infection prevention and control and the related guidance of the Ministry of Health.
They must ensure the crew's compliance with regulations and the captains must take responsibility if their sailors violate the rules.
The HCMC Department of Health asked the HCMC Border Guards to work with relevant agencies to tighten control over people going through the city's seaports. They will also increase the inspection of ships whose sailors have contact with foreign ships docked at the city's seaports.
The captains would face strict sanctions if they let their sailors go ashore illegally.
Gathering in HCM City celebrates Cuba's 62nd National Day
The Ho Chi Minh City Union of Friendship Organisations held a get-together on January 6 to mark the 62nd anniversary of Cuba's National Day (January 1, 1959 - 2021).
Congratulating Cuba on the event, President of the union Truong Thi Hien said the amity between Vietnam and Cuba, despite the ups and downs, has been tightened over the course of half a century.
She said the two nations' solidarity, traditional friendship, and comprehensive cooperation have been continually consolidated and fostered across all fields, with encouraging outcomes.
Hien noted that the union and the municipal Vietnam-Cuba Friendship Association will continue working closely with the Cuban Consulate General in HCM City in organising friendship, cultural, and exchange activities to further connect the two countries' people.
Cuban Consul General Indira Lopez Arguelles took the occasion to share the achievements made by the Cuban Government and people in their national construction, protection and development.
The diplomat affirmed that no matter the circumstances, Cuba always stands side-by-side with Vietnam and spares no effort to sustain and enhance the bilateral solidarity and amity./.
Vietnam Airlines asks passengers to fill in compulsory health declaration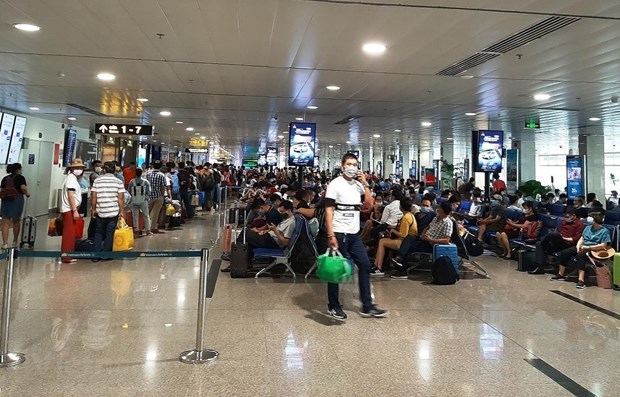 At Tan Son Nhat airport
National flag carrier Vietnam Airlines has requested passengers on domestic flights to fill in compulsory health declaration within 24 hours before departure, given rising travel demand during the Lunar New Year festival 2021 and amid the COVID-19 pandemic.
Passengers could file in declaration via the website tokhaiyte.vn or the app Vietnam Health Declaration on CH Play on Android or iOS operating systems.
The airline staff will check passengers' QR codes before they board flights.
At Noi Bai, Tan Son Nhat, Da Nang, Cam Ranh international airports, Vietnam Airlines also arranged check-in kiosks or staff to offer guidance to passengers.
Further information could be found on the website www.vietnamairlines.com or www.facebook.com/VietnamAirlines, Vietnam Airlines' ticket agents nationwide or customer care hotline 19001100./.
PM urges health sector to develop specific action plans
Prime Minister Nguyen Xuan Phuc has requested the Ministry of Health to develop specific action plans for the following years in line with goals and visions set by the upcoming 13th National Party Congress.
He made the call during the National Health Conference in Hanoi on January 6 which reviewed the sector's performance last year and mapped out tasks for this year.
2020 was an unforgettable year for the health sector during which medical workers in the frontline of the fight against COVID-19, undeterred by hardships, have devoted themselves to protecting people's lives and well-being and to the nation's socio-economic development at large, he said.
Vietnam has successfully fulfilled the dual goals of containing the pandemic and maintaining positive economic growth and that's thanks to the participation of medical workers, military and police officers in the COVID-19 response, the leader added.
The PM took the occasion to thank doctors, nurses and other frontliners at quarantine facilities and health care establishments who have worked relentlessly and tirelessly over the past year to keep Vietnam safe from the novel coronavirus.
He later ordered the health sector, together with military and police forces, to continue stay vigilant against the pandemic, saying they must neither let their guard down nor allow the COVID-19 outbreak to resurge in the country.
He also asked the Ministry of Health to ensure decent medical services for the 13th National Party Congress slated for the end of this month.
Speaking at the event, UNDP Representative in Vietnam Caitlin Wiesen hailed what Vietnam has achieved last year, saying it has been an "impressive year of accomplishment for Vietnam".
Last year, Vietnam for the first time entered the group of high human development countries according to UNDP's Global Human Development Report, she said, adding that the country's life expectancy at birth and healthy life expectancy scores are now better than the average of the high human development group.
She went on to say Vietnam has emerged as a leading country in containing the pandemic and one of the few countries to record positive economic growth in 2020 and Vietnam's success in achieving the twin goals of containing the pandemic and reviving the economy, has shown that giving priority to protecting the lives of people is also the best way to sustain economic activity during the pandemic.
"Vietnam's exemplary response to the COVID-19 pandemic largely depended on swift and effective Government action combined with the trust and willingness of citizens to contribute to the Government's preventive and protective measures. Vietnam offers to the world lessons learnt from this success in terms of transparency, accountability, social cohesion and innovation."
She cited a UNDP report on citizen opinions on the Government's response to the COVID-19 pandemic shows people's strong consensus and support for the government's policies and actions. "More than 97 percent of respondents assessed the leadership of the National Steering Committee on COVID-19 Prevention and Control as good or very good."/.
Indonesia imposes travel restriction to curb COVID-19
The Indonesian Government on January 6 decided to impose travel restriction from January 11-25, especially on Java and Bali islands amid the spread of the COVID-19 pandemic.
Addressing an online meeting chaired by President Joko Widodo, Coordinating Minister for Economic Affairs Airlangga Hartarto said the government will closely track the 3M campaign of wearing masks, keeping distance and washing hands as well as launch a nationwide vaccination programme against the virus.
Health Minister Budi Gunadi Sadikin pledged to complete the COVID-19 vaccination programme within 12 months.
Earlier, the vaccination programme for 181 million people was planned to be completed within 15 months.
The first vaccination stage for 1.6 million medical staff is scheduled to be launched on January 13 and completed in January or February. The next stage scheduled for March or April will be for 17.4 million public service staff and 21.5 million senior citizens across the country.
Also on January 6, Indonesia recorded over 8,800 new infection cases, the highest so far, raising the total to 788,402. There were 187 new deaths, bringing the fatalities to 23,296./.
Quang Nam to provide housing support to disaster-hit households
The central province of Quang Nam will use the majority of assistance from localities and donors to build or repair the houses of those hit by natural disasters.
The province has so far received nearly 129 billion VND (5.61 million USD) in registered assistance from localities, organisations, and donors inside and outside of the country through the Vietnam Fatherland Front (VFF) Committee to help those hit by natural disasters.
Some 103.6 billion VND has been sent to the provincial VFF Committee's bank account, along with 3.2 billion VND worth of goods sent to the province.
Of the total, more than 57 billion VND has been allocated to localities to help local residents recover from natural disasters, including 23 billion VND to build 572 new houses and 25.7 billion VND to repair 2,392 houses.
The province is focusing on speeding up the construction or repair of houses in ethnic minority or mountainous areas, so they may have a roof over their heads by Tet, the Lunar New Year.
With the remainder, the provincial VFF will rebuild 81 houses destroyed by natural disasters in Phuoc Son and Nam Tra My districts.
Resources will also be used to upgrade housing for people in areas suffering from regular natural disasters, to provide them with stable and safe accommodation./.
Co Loa arrowhead mould collection recognised as national treasure
A collection of arrowhead moulds preserved at the Co Loa ancient citadel site in Hanoi's Dong Anh district has been recognised as a national treasure.
The three-piece stone moulds, unearthed during an excavation at the relic site between 2004 and 2007, date back to the Dong Son culture (c. 5th-1st century BC) - a Bronze Age culture in ancient Vietnam centred in the north's Red River Delta.
The moulds are evidence of the moulding practice of bronze arrowheads in Co Loa thousands of years ago.
Co Loa citadel was built during the end of the Hong Bang Dynasty (c. 257 BC), about 20km to the north of Hanoi's centre. It was a place of worship for King An Duong Vuong and Princess My Chau, who are mentioned in legends passed down through generations. According to folklore, An Duong Vuong founded the ancient Vietnamese state of Au Lac and chose Co Loa as its capital.
Recognition of the collection comes under Prime Minister Decision No 2283 accrediting 24 items as national treasures. The capital has three on the list, while other items belong to cities and provinces such as Quang Ninh, Quang Ngai, An Giang, Da Nang, Hung Yen, Hai Phong, Ninh Thuan, Binh Dinh, Bac Ninh and Bac Giang.
Vietnam now has 215 national treasures./.
Gathering in HCM City celebrates Cuba's 62nd National Day
The Ho Chi Minh City Union of Friendship Organisations held a get-together on January 6 to mark the 62nd anniversary of Cuba's National Day (January 1, 1959 - 2021).
Congratulating Cuba on the event, President of the union Truong Thi Hien said the amity between Vietnam and Cuba, despite the ups and downs, has been tightened over the course of half a century.
She said the two nations' solidarity, traditional friendship, and comprehensive cooperation have been continually consolidated and fostered across all fields, with encouraging outcomes.
Hien noted that the union and the municipal Vietnam-Cuba Friendship Association will continue working closely with the Cuban Consulate General in HCM City in organising friendship, cultural, and exchange activities to further connect the two countries' people.
Cuban Consul General Indira Lopez Arguelles took the occasion to share the achievements made by the Cuban Government and people in their national construction, protection and development.
The diplomat affirmed that no matter the circumstances, Cuba always stands side-by-side with Vietnam and spares no effort to sustain and enhance the bilateral solidarity and amity./.
Thailand to offer financial support to 40 million COVID-19 affected people
Thai Prime Minister Prayut Chan-o-cha has said that the country will give financial support to 40 million people who have lost their income due to impacts of COVID-19 pandemic prevention and control measures.
Under the Emergency Decree, the authorities have classified 28 localities as "red zones" until February 1, which means some high-risk business sectors are suspended and many others are restricted, including catering services.
In a press briefing on January 5, the Thai PM did not reveal benefited groups or support forms, but he affirmed that the government has enough money to help those affected.
Earlier in last May, the Thai government launched an urgent loan package worth 1 trillion baht (33 billion USD), including 600 billion baht to support people and businesses affected by COVID-19./.
Malaysia: Flooding prompts over 28,000 to evacuate
More than 28,000 people in Malaysia have had to evacuate due to serious floods.
Flooding hits the country's east coast during the rainy season annually and often results in mass evacuations, but people in some areas said this year's are the worst in decades.
The worst-hit state is Pahang, where over 21,000 have been evacuated in recent days, according to the social welfare department.
Four deaths have so far been reported in the states of Pahang and Johor.
This year's floods come against the backdrop of a worsening coronavirus outbreak in Malaysia, with some fearful they could be exposed to COVID-19 in crowded relief centres.
The government insists it has taken steps to prevent the virus spreading, including ordering officials to screen evacuated villagers./.
Mỹ Tho urban agriculture improves with advanced techniques, some farmers grow wealthy
The use of advanced farming techniques in Tiền Giang Province's Mỹ Tho City has improved agricultural production value as well as farmers' incomes. 
The Cửu Long (Mekong) Delta city has six outlying agrarian communes – Tân Mỹ Chánh, Đạo Thạnh, Trung An, Phước Thạnh, Thới Sơn and Mỹ Phong. Previously, the communes mostly grew high quality rice and farmers had unstable incomes.
To improve the quality of life, the city's People's Committee restructured agriculture towards urban agriculture and switched from growing rice to other high-value crops in 2010. 
The city has encouraged the use of advanced farming techniques to improve the quality and yield of agricultural products as well as linkages among stakeholders to secure outlets for goods. 
Dương Văn Vy switched from growing rice into growing green-skin and pink-flesh grapefruit on his 6,000sq.m field in Mỹ Phong Commune's Mỹ Lương Hamlet in 2012. 
His grapefruit orchard has 300 trees and produces 20 tonnes of grapefruit a year and offers a profit of more than VNĐ500 million (US$21,560), he said. 
Mỹ Phong Commune, which has more than 300ha of green-pink and pink-flesh grapefruit, has one of the city's major grapefruit growing areas. The fruit is in high demand locally and abroad for its delicious taste.  
In Tân Mỹ Chánh Commune, authorities have identified a number of key agricultural products: flowers and ornamental plants, green-skin and pink-flesh grapefruit, xiêm đỏ coconut (a type of coconut grown for juice for drinking), red-flesh dragon fruit, cows, pigs, chicken and goats. 
The development of flower and ornamental plant cultivation has helped many farmers have a stable income and become wealthy. 
Đinh Ngọc Tùng, head of the city's Economic Bureau, said the city's outlying communes are expanding the cultivation of flowers and ornamental plants for Tết (Lunar New Year) festival.  
The city has also set up co-operative groups for flowers and ornamental plant growers in Mỹ Phong and Tân Mỹ Chánh communes and clubs for growers of flowers and orchids in Mỹ Phong, Tân Mỹ Chánh and Đạo Thạnh communes. 
Farmers in co-operative groups and clubs are instructed in techniques in how to grow flowers and ornamental plants according to good agricultural practices (GAP) standards. 
The Mỹ Phong Commune flower and ornamental plant co-operative group has nearly 180 members, with 30 ha of flower and ornamental plants. The group supplies about 800,000 flower pots for each Tết. 
Farmers who grow flowers and ornamental plants can earn a profit of VNĐ360 million ($15,500) per hectare a year. 
The city sells its flowers and ornamental plants in the province and the southern region, especially in HCM City. 
The city's outlying communes have expanded farming models that apply advanced techniques suited to urban agriculture.
The models include cultivation of honeydew melon, vegetables, and other short - term crops in poly greenhouses and net houses.
Châu Văn Tuấn in Tân Mỹ Chánh Commune invested VNĐ700 million ($30,250) to build two 1,000sq.m poly greenhouses for four to five crops of honeydew melon a year. 
He harvests nearly 6 tonnes of honeydew melon per crop and earns a profit of dozens of millions of đồng. 
He learned about the model through the province's Department of Science and Technology's Techniques and Biotechnology Centre. 
Vương Thị Mỹ Thanh, deputy director of the centre, said drip irrigation systems are used and that a honeydew melon crop planted in a poly greenhouse lasts 75 days. 
A 4,000 sq.m poly greenhouse can produce about 1 tonne of honeydew melon per crop, offering a profit of VNĐ11 million ($475), she said. 
The province has about 80 poly greenhouses covering 500 - 1,000sq.m each for growing honeydew melon and vegetables, according to the department. 
Nguyễn Thành Công, chairman of the city's People's Committee, said the expansion of advanced farming models has helped farmers in outlying areas escape poverty and have higher and sustainable incomes. 
The expansion has contributed to the success of the programme of building new rural areas in the city, he said. 
The city's communes have all been officially recognised as new - style rural areas. 
In 2011, the city had 3,7000ha of rice fields which grew high-quality rice and had unstable incomes. All of the rice fields have been turned into areas for growing high-value crops like fruits, vegetables, flowers and ornamental plants. 
The city's per capita yearly income rose from VNĐ11.52 million ($500) in 2010 to the current VNĐ53 million ($2,300). 
The rate of poor households in the city is 0.99 per cent, compared to 3.6 per cent in 2011. 
Vietnam hospitals expected to accelerate digitalization process
Vietnam is one of the first countries to apply electronic medical declarations, Bluezone contact tracing application and Covid-19 safety maps.
Vietnam's medical systems will see greater integration of technology as a means to address shortcomings in healthcare access and enhance sector efficiency, according to Fitch Solutions, a subsidiary of Fitch Group.
During the country's fight against Covid-19, IT has contributed greatly to help Vietnam contain the pandemic.
"Vietnam is also one of the first countries to apply electronic medical declarations, Bluezone contact tracing application and Covid-19 safety maps," noted Fitch Solutions.
The country also established Telehealth, a network aimed to connect around 14,000 health facilities nationwide and link them with other countries in the medical field, part of the nation's digital transformation program towards 2025, with a vision to 2030.
The network will allow people nationwide to access medical services, organize consultations among doctors from different level hospitals remotely, thus reducing patient congestion at central hospitals.
By late September 2020, the network had connected 1,000 medical examination and treatment facilities with nearly 30 key hospitals in Hanoi and Ho Chi Minh City. In late November 2020, it required all hospitals in the country to connect to the network for treatment, practice sharing, and learning.
Fitch Solutions, however, noted Vietnam's burgeoning health tech sector is still in its infancy, attracting significantly less investment.
"To help the health tech sector sustain the momentum post-pandemic, companies not only have to appeal to investors and consumers but they also have to be integrated with Vietnam's national health framework. The government will have to play a bigger role in encouraging collaboration between industry players and other stakeholders, provide incentives, and formulate clear policies," it suggested. 
Last June, the Ministry of Health approved a five-year project on remote medical examination and treatment involving 24 hospitals. Apps and medical services will be developed to manage files and knowledge systems, as well as helping patients find medical information, make their appointments, and consult doctors.
"These measures will accelerate the digitalization across Vietnam's hospital network, which is currently fragmented and mainly implemented in central level public hospitals and private hospitals in major cities," stated Fitch Solutions.
Barriers remain for digital adoption
A number of important barriers still hinder digital adoption in Vietnamese hospitals, both public and private. At present, healthcare professionals and patients are reluctant to use digital-based systems due to unfamiliarity with these tools and technological constraints at home.
Meanwhile, unclear and complicated administrative processes slow digital adoption, while the output of data is not standardized across hospitals, and data security remains a concern for healthcare providers, weakening inter-hospital integration.
The start-up sector in Vietnam, albeit small in size compared to that of other Southeast Asian countries such as Singapore or Indonesia, is also actively contributing to the digitalization of healthcare.
Like pharmaceuticals and medical devices, health tech start-ups operate in a highly regulated sector where there are still many uncertainties in the regulatory landscape.
The Government will have to play a bigger role in encouraging collaboration between industry players and other stakeholders, provide incentives, and formulate clear policies, stated Fitch Solutions.
"Thus, though there is still a lot of room for the health tech sector to grow, the digital transformation of healthcare in Vietnam is already well underway," it concluded.
Hanoi: ten thousands smuggled electronic cigarettes seized
The smuggled goods have a total value of approximately VND800 million or around US$34.400.
Market watch forces on December 29, 2020 found a large batch of smuggled goods in an apartment in Long Bien district of Hanoi.
At the warehouse apartment, market watch force seized 73 cigarette burners; 8,070 e-cigarettes and 3,043 vapes worth the total value of approximately VND800 million or around US$34.400.
At the same time, the owner of the goods couldn't prove the legal origin of the batch and claimed that he is selling mainly to young people with an average price of VND300,000-400,000 (US$13) for a piece.
According to functional units, the transactions of e-cigarettes are conducted mainly on Facebook, and those who buy vapes are youth and teenagers. In order to promote sales, e-cigarette is usually advertised as being harmless or helping quit smoking. Illegal goods are usually kept in warehouses that located deep in alleys to conceal from the functional forces.
Market watch authorities said the case will be investigated further and smugglers will be sanctioned according to the current law. 
Vietnamese students in US collect donations for flood victims at home
The donations help people feel like they're making an impact in helping their family and the communities they're from.
The Vietnamese Student Association (VSA) in Florida Atlantic University (FAU), the US is collecting donations to support people who have been affected by the flood crisis occurred in the central region of Vietnam in October.
Collecting donations together with selling t-shirts is among activities the association has done, amounting to more than five million, the VSA said on Instagram.
Tammy Truong, the president of VSA, said the reasons behind starting the donations involved them seeing how much the flooding has affected the Vietnamese, according to the University Press.
"At least 178,000 homes have been submerged and over 5 million people have been affected," according to their post. "Any donation and 10% of t-shirt sales sent to our Venmo will be shipped to the Pacific Links Foundation."
"Just seeing how much it's affected everyone kind of got me thinking, as a new organization, we're planning on selling our t-shirts," Truong said. "So we might as well put a majority of the proceeds towards going to Vietnam with the floods because, especially with my family, we've worked on our own personal donations and stuff to families in Vietnam before."
"A lot of our international students at FAU are from Vietnam and due to Covid, they can't go home and they're seeing all this crisis happening as it's kind of hard for them to go home and help their families," Truong states. "This is another way for them to be able to donate and also feel like they're making an impact in helping their family and the communities they're from."
According to Truong, there is no hard deadline, as she believes people can continue to donate and order t-shirts until then.
VSA events coordinator Andrew Mei explained that this was to help others and to show their friends, family, and followers about things that the media might not be covering; because either it is not big news or it is not related to the stories that they are covering.
Mei states that he has family in Vietnam and is glad to know they are all right, but knows that the flood crisis is "one of the worst flooding they have experienced in decades."
The VSA is a cultural based organization at a number of universities in Florida. They strive to bring or introduce the Vietnamese culture onto campus as well as the surrounding community. VSA works closely with the Vietnamese community and other cultural organizations to promote cultural diversity and awareness.
Nearly 2,000 Vietnamese nationals return home last week
As many as seven flights carrying 1,970 Vietnamese citizens from Chinese Taipei, Japan, Canada, the Europe, Africa, and the U.S. landed in Viet Nam from December 28, 2020-January 3, 2021, according to the Ministry of Foreign Affairs. 
Passengers onboard these flights included children under 18, pregnant women, the elderly, workers whose labor contracts had expired, students with no residences due to dormitory shutdown and other with especially difficult circumstances. 
Precautious measures were implemented during these flights to prevent transmission of Covid-19.
Right after arriving at local airports, all the passengers received check-ups and were sent to concentrated quarantine sites in line with current regulations on COVID-19 responses.
From April 10, 2020 to January 3, 2021, local agencies coordinated with Viet Nam's representative agencies overseas to arrange 242 flights, bringing home about 66,882 Vietnamese citizens stranded abroad due to Covid-19.
The repatriation of Vietnamese citizens in disadvantaged circumstances abroad will continue in line with their wishes and quarantine capacity in Viet Nam.
As of late January 3, Viet Nam confirmed 1,494 Covid-19 infection cases, according to the National Steering Committee for Covid-19 Prevention and Control.
Of the nation's total, 1,339 patients have been cleared of the virus and exited hospitals while 35 others have been reported dead.
The Committee announced on January 2 that it had found an infection case with new and more transmissible variant of the virus that first emerged in the UK.
The aforesaid case is a 44-year-old woman in Nguyet Hoa Commune, Chau Thanh District of the Mekong Delta province of Tra Vinh.
She was among 305 passengers onboard the flight VN50 from the UK that landed at the Can Tho International Airport on December 22.
She was confirmed positive for Covid-19 on December 25, 2020 and have been treated at the Tra Vinh Hospital for Tuberculosis and Lung Diseases.
Nikkei: Asian trio of VN, Singapore, Chinese Taipei keep COVID-19 near zero
As the world struggles with surging COVID-19 cases, Viet Nam along with Chinese Taipei and Singapore, has succeeded in limiting local transmission to almost zero, according to Nikkei.
The Asian trio offers rare success stories in containing local transmission using rigorous testing and isolation. 
Nikkei reported that Viet Nam goes a step further. In addition to a 14-day quarantine for entrants, it also discloses personal information on newly infected people - such as age, occupation, place of residence and recent activities - for quick tracing of close contacts. This tough response has been responsible for keeping cumulative cases down to roughly 1,500.
Earlier, Viet Nam was named among top ten of best performing economies in pandemic resilience ranking, according to Bloomberg.
So far, Viet Nam confirms 1,505 infections. The number of deaths related to the disease is still kept at 35.       
Vietnamese PM Nguyen Xuan Phuc on January 6 ordered suspending flights carrying Vietnamese citizens home from countries and territories which report new variants of SARS-CoV-2 and see complicated pandemic developments, firstly the UK and South Africa.
The human trial of Viet Nam's COVID-19 vaccine will begin on January 21-22. This is the second Viet Nam-produced COVID-19 vaccine to be tested on human. The country is expected to start clinical trials on the third vaccine in March./.
Source: VNA/VNN/VNS/SGGP/VOV/NDO/Dtinews/SGT/VIR