ADB helps developing members access vaccines for COVID-19
The Asian Development Bank (ADB) has allocated 20.3 million USD in technical assistance to help its developing members access vaccines for the coronavirus disease (COVID-19) and establish systems to enable equitable and efficient vaccine distribution.
The funds will be available for ADB developing members to support vaccine-related health system assessments and the development of country readiness plans to strengthen the capacity to access, introduce, deploy, deliver, and monitor vaccines safely and effectively, the bank said in its press release on November 17.
Funds will help members assess and strengthen vaccine cold chain and logistics, infection control, supply and skills of health workers, risk communications, and real-time data capturing and monitoring. The technical assistance will also support the identification and promotion of innovative cold chain and vaccine tracking technologies, it added.
Director General of ADB's Sustainable Development and Climate Change Department Woochong Um said Asia and the Pacific has largely done well to limit the spread of COVID-19. Ensuring access to a safe, effective, and equitable vaccine is the next frontier in the fight against this virus.
"With these additional grant resources, ADB can immediately support our developing members to undertake urgent actions, including vaccine system assessments and vaccine deployment strategies, to ensure vaccines are delivered efficiently and fairly," Woochong Um said.
ADB expects to implement the technical assistance with its partners - UNICEF and the World Health Organisation (WHO), in coordination with COVAX, Gavi, the World Bank, bilateral agencies, among others.
The funds comprise 20 million USD from the ADB's Technical Assistance Special Fund (TASF) and 300,000 USD from the High-Level Technology Fund financed by the Government of Japan.
The ADB approved a 20 billion USD expanded assistance package in April to support its developing members' COVID-19 response.
Most legislators reject proposal to assign Public Security Ministry to issue driving licenses
More than 60% of deputies of the National Assembly (NA) on November 17 turned down the Government's proposal to assign the Ministry of Public Security to replace the Ministry of Transport to hold driving tests and issue driving licenses for residents.
In a document sent to the NA Standing Committee, the Vietnam Automobile Transportation Association explained that it is more reasonable to assign the task to the Ministry of Transport rather than the Ministry of Public Security.
According to the 2008 Law on Road Traffic, the Ministry of Transport will take the responsibility for training, holding driving tests and issuing driving licenses for residents. Meanwhile, the Ministry of National Defense will grant driving licenses for the military and the Ministry of Public Security will issue driving licenses for police officers.
The proposal to assign the task of training, organizing driving tests and issuing civil driving licenses to the Ministry of Public Security is not in line with the administrative reform, hindering the improvement of the State management's effectiveness.
The association added that the proposal would cause difficulties in recognizing the driving licenses issued by other countries as the job in other countries is conducted by civil agencies.
At a session of the ongoing NA's 10th sitting on November 17, 52% of deputies also agreed to postpone the consideration of a draft amended law on road traffic to the NA's next sitting. In addition, nearly 63% of them opposed the separation of the current Law on Road Traffic into two laws.
Earlier, Tran Thi Dung, deputy head of the NA's Legislation Committee, said a plan to come up with laws and ordinances in 2020 includes the draft amended law on road traffic and not the draft law on road traffic safety. Also, the impact of the new draft law has yet to be assessed adequately.
The management of road traffic and transport activities as a whole is aimed at ensuring effectiveness and safety, so it is unnecessary to split the Law on Road Traffic into two, including one on road traffic safety.
VFF vows to promote national unity for national development
The Vietnam Fatherland Front (VFF) vows to unite people from all social strata for the cause of national construction and defence, as well as global integration.
VFF Central Committee President Tran Thanh Man, who is also member of the Party Central Committee, made the remarks during an interview granted to VOV in the lead up  to the VFF's 90 founding anniversary.
He outlined how the VFF has always played an important role in popularizing and implementing the Communist Party of Vietnam's guidelines and State policies over the years, so as to effectively realize its programs of action.
In addition, the VFF has also listened to and gathered public opinions and recommendations in order to better take care of their material and spiritual lives, thereby contributing to creating social consensus and building the greater national unity bloc.
"We attach great importance to promoting national unity, and only when national unity is promoted, will we overcome all difficulties and challenges in the future," Man said.
The VFF president also noted that over the years all VFF chapters at the grassroot levels have also actively encouraged citizens to promote democracy, carry out social supervision and criticism, along with preventing and fighting corruption and wastefulness. These efforts therefore significantly contribute to building a strong Party and State while pinning people's faith in the nation's leadership.
The VFF has also expanded  people-to-people diplomacy through meetings and exchanges in order to strengthen the friendship, solidarity, and co-operation relations between the people of Vietnam and other countries around the world.
In addition, many campaigns launched by the VFF such as "Day for the Poor" and "Vietnamese people prioritise using Vietnamese goods" have received great support and response from people and businesses.  
Regarding future tasks, Man said the VFF will continue to uphold its motto of national unity and improve the quality of patriotic emulation campaigns, so as to create social consensus among Vietnamese people both locally and internationally to unite to overcome difficulties caused by epidemics and natural disasters.
The VFF will also strive to improve the efficiency of the fight against corruption and wastefulness, and launch emulation movements to welcome the upcoming 13th National Party Congress and the 10th National Patriotic Emulation Congress.
PM provides emergency aid to three central provinces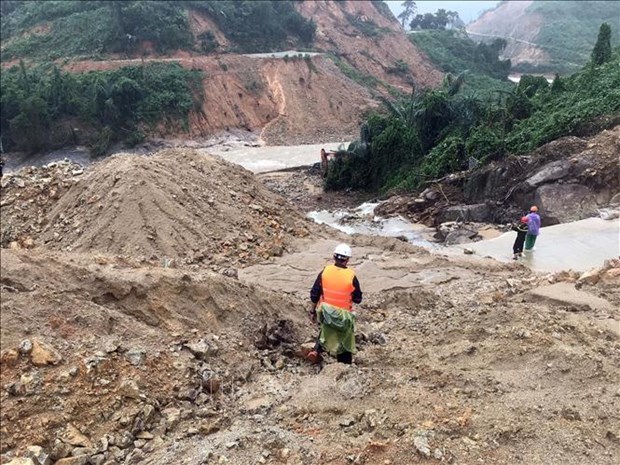 The scene after a landslide at Rao Trang 3 hydropower plant in Thua Thien-Hue

Prime Minister Nguyen Xuan Phuc has decided to grant 80 billion VND (3.46 million USD) in emergency aid from the State budget reserves this year to help people in the central region surmount consequences of recent floods.
Quang Nam and Thua Thien-Hue will receive 20 billion VND each to overcome natural disaster aftermath in Tay Giang and Phong Dien districts, respectively. The rest will be earmarked for Huong Hoa and Dak Krong districts of Quang Tri province
The PM ordered local authorities to use the funding for the right purposes and promptly distribute assistance to the needy.
Meanwhile, 80 billion VND had been raised for Quang Tri province as of November 17, according to the Vietnam Fatherland Front (VFF) in the province. More than half of the sum was delivered to the organisation.
President of the VFF Quang Tri chapter Dao Manh Hung said that the organisation had handed over 6.5 billion VND to localities and 110,000 aid packages to flood-hit residents.
Quang Tri bore the brunt of six floods and two strong tropical storms in October and November. Many schools were forced to close while hundreds of public works destroyed. Thousands of houses were submerged or collapsed./.
38th ASEAN Ministers on Energy Meeting's preparatory meeting underway
A preparatory meeting for the upcoming 38th ASEAN Ministers on Energy Meeting (AMEM 38) is taking place in Hanoi on November 17 and 18.
In his opening remarks, Hoang Tien Dung, Director of the Department of Electricity and Renewable Energy at Vietnam's Ministry of Industry and Trade (MoIT), emphasised that the ASEAN Centre for Energy and the ASEAN Secretariat have coordinated with countries to agree on content relating to energy activities in 2019-2020 and the ASEAN Plan of Action for Energy Cooperation (APAEC) for the 2016-2020 period, as well as the draft APAEC for the 2021-2025 period, which were under discussion at SOM 38 in August.
The ASEAN Secretariat and the ASEAN Centre for Energy supported Vietnam in developing and completing content relating to energy before its submission to the 38th AMEM, he noted.
The preparatory meeting aims to review key energy issues in the ASEAN region, especially the content and implementation plan of the APAEC Programme in the 2021-2025 period, propose cooperation activities on energy with international partners, and jointly agree on a draft ministerial joint statement at AMEM 38, he went on.
Participants reviewed activities of networks, groups, and organisations within the ASEAN energy cooperation framework.
They agreed to a target of renewable energy representing 23 percent of the total by 2025 and reducing energy intensity to 32 percent.
ASEAN member nations will continue to build a roadmap for developing renewable energy and reducing energy intensity in the region to 2030.
They acknowledged new initiatives carried out within energy networks in cooperation with ASEAN's dialogue partners and international organisations, implementation progress at the ASEAN Power Grid (APG) and Trans-ASEAN Gas Pipeline (TAGP), Malaysia's plans as the upcoming chair of the ASEAN Power Grid Consultative Committee (APGCC), and the primary results of the 10th ASEAN Energy Regulatory Network (AERN) Meeting in Cambodia in December last year.
Attendees also reviewed the implementation of cooperation programmes and projects between ASEAN and dialogue partners and international organisations, including ASEAN 3, the EAS, Russia, the US, the International Energy Agency (IEA), the International Renewable Energy Agency (IRENA), and Japan's Ministry of Economy, Trade and Industry (METI). They also approved cooperation plans for the time to come.
Representatives from the EU presented the bloc's policy priorities in energy development and the prospects for ASEAN-EU cooperation in the area of sustainable energy transition in ASEAN./.
NA adopts revised environmental protection law
The revised Law on Environmental Protection was adopted at the 10th sitting of the 14th National Assembly (NA) on November 17, with 91.91 percent of deputies voting in favour.
With 16 chapters and 171 articles, the revised law prescribes environmental protection activities and the rights and obligations of agencies, organisations, resident communities, households, and individuals.
It will take effect from January 1, 2022.
Earlier, legislators focused discussions on preliminary reports on environmental protection and agencies authorised to assess such reports.
November 17 was the last working day of the 10th sitting of the 14th NA.
In the morning, the legislature held a private meeting to vote on a resolution on piloting the management and use of land for defence and security purposes in combination with production and economic development.
Deputies then had a discussion on a draft law on forces safeguarding security and order at the grassroots level./.
Disasters may cost Vietnam 1.5% of GDP annually
Natural disasters could shave 1.5% off annual GDP or even more if no appropriate measures are taken in response to climate change, according to the Ministry of Natural Resources and Environment. 

The average temperature in Vietnam is predicted to increase 2-3 degrees Celsius by 2100, while sea levels will rise from 78-100 cm.
Such a rise would submerge over 10%t of the Red River Delta and Quang Ninh province in the north, 2.5% of central coastal localities, and over 20% of HCM City.
It would directly affect 9% of the population in the Red River Delta and Quang Ninh, nearly 9% in central coastal localities, and about 7% in HCM City.
Of particular note, some 35% of the population in the Mekong Delta would be affected and 40.5% of its rice output lost.
The agricultural sector, the natural ecosystem, the poor, the elderly, women, and ethnic minority groups are all vulnerable.
The ministry emphasised the need to conduct research on and apply technical solutions and new technologies in designing and construction works.
Priority should be given to investing in early warning and monitoring systems in urban areas and concentrated residential areas, and raising public awareness about climate change.
Government looks to create new driver for Vietnam-Laos cooperation
Prime Minister Nguyen Xuan Phuc chaired a meeting with ministries and sectors on November 17 to review Vietnam-Laos cooperation and discuss preparations for the 43rd meeting of the Vietnam-Laos Inter-governmental Committee slated for early December in Hanoi.
PM Phuc underlined the significance of the 43rd meeting in the context of the two countries actively preparing for their national party congresses and building a socio-economic development strategic for the next period.
He reiterated the consistent policy of giving top priority to the special relationship with Laos, and required ministries and sectors to actively implement cooperative agreements signed between the two countries, including those reached during the recent visits to Vietnam by the Lao Prime Minister.
The Government leader also urged ministries and sectors to define the direction for bilateral cooperation in the next period and create a new driver for bilateral relations.
It was reported at the meeting that ministries, sectors and localities of Vietnam and Laos have made efforts to continue implementing plans on bilateral cooperation, while supporting each other in fighting the COVID-19 pandemic and maintaining exchanges in trade, investment, education-training and other fields in bilateral ties.
Ministries and sectors reported to the PM their planned directions for cooperation with Laos in their respective fields, with stress laid on settling outstanding problems, enhancing economic links and promoting joint work in culture, education, people-to-people exchange, especially educating young generations in the valuable Vietnam-Laos ties.
PM Phuc instructed making the best efforts to ensure success for the 43rd meeting of the Vietnam-Laos Inter-governmental Committee, particularly completing important documents on cooperation for signing on the occasion. Those documents include a strategy for Vietnam-Laos economic, cultural, educational, scientific and technological cooperation for 2021-2030, and an agreement on bilateral cooperation for 2021-2025.
He said those documents will show the direction for the strong development of the great friendship, special solidarity and comprehensive cooperation between Vietnam and Laos in the interest of people of the two countries as well as for peace, cooperation and development in the region and the world as a whole./.
Vietnamese, German parties bolster ties
Hoang Binh Quan, head of the Communist Party of Vietnam (CPV) Central Committee's Commission for External Relations, and Alexander Schweitzer, member of the Executive Committee of the Social Democratic Party of Germany (SPD), co-chaired online talks between the two parties on November 16.
Quan affirmed that relations between the CPV and political parties in Germany have served as a foundation to help the Vietnam-Germany strategic partnership flourish in a pragmatic and effective manner.
He also spoke highly of online talks arranged by the CPV and the SPD to provide updates on the situation facing the two parties and countries, in a joint effort to maintain and strengthen cooperation and friendship between the parties as the countries celebrate the 45th anniversary of diplomatic ties (September 23, 1975 - 2020) and move towards a decade of the strategic partnership (October 11, 2011 - 2021).
The CPV official also spoke of Vietnam's recent socio-economic development and preparations for the upcoming 13th National Party Congress.
He shared the country's experience in curbing the spread of COVID-19 and rolling out measures to realise the twin targets of battling the pandemic and sparking economic recovery, thereby creating an optimal environment and tapping into the potential to foster cooperation with Germany and the EU.
For his part, Schweitzer congratulated Vietnam on its achievements in fighting COVID-19. He said he values the trusted and efficient relations between the two parties, and affirmed that the friendship with the CPV is a significant part of the SPD's external relations.
The two parties also discussed measures to maintain and enhance bilateral relations.
They agreed that the pandemic has dealt a blow to all countries and territories worldwide and hampered the exchange of delegation and direct talks.
In such a context, the two parties need to bolster solidarity and information exchange via numerous methods, creating momentum for the relationship to thrive in the post-pandemic world.
The two agreed to spare no effort in promptly organising the seventh theoretical dialogue next year, as this dialogue has been an important mechanism to effectively boost cooperation./.
Japanese ambassador to ASEAN speaks of Vietnam's excellent role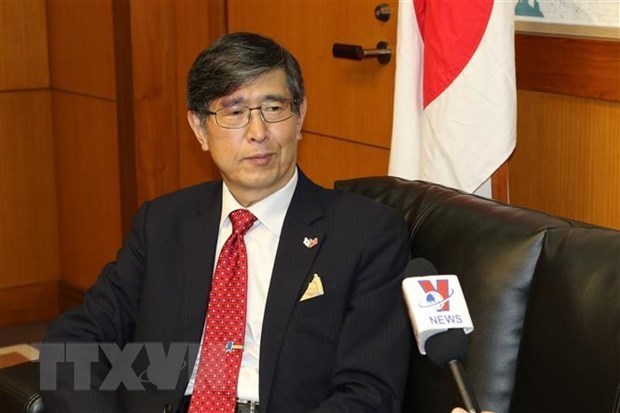 Japanese Ambassador to ASEAN Chiba Akira

Japanese Ambassador to ASEAN Chiba Akira has spoken highly of the role of Vietnam as ASEAN Chair in 2020 with the successful organisation of the 37th ASEAN Summit and Related Meetings despite of COVID-19.
"It must have been tremendously difficult under COVID-19. And we were concerned how it will take place. But Vietnam, through its excellent chairmanship led us to a very good conclusion," he told Vietnam News Agency correspondents in Jakarta.
He said: "time difference must have been a big task for the Vietnamese government. But all in all, it went very good, very smooth. And exchange of opinion was very frank."
"It was a tremendous success," he said.

He expressed his thanks to the Vietnamese government for the organisation of the event, while saying that he believed all participants were satisfied.
He went on "I think especially under COVID-19, this will set a good example to ASEAN as a whole."

Sharing the message Japan reiterated throughout the summits, Ambassador Chiba said the most important thing is Japan's support to the ASEAN Outlook on Indo-Pacific (AOIP). The AOIP has many fundamental principles that are shared with Japan's own policy.
He affirmed Japan's willingness to extend support and help realize the AOIP.
Regarding the Regional Comprehensive Economic Partnership (RCEP) agreement, which was freshly signed by 10 ASEAN countries and five partners, Chiba emphasised it is a very important instrument for the region to facilitate not only trade, but also issues that will relate to resilience of supply chain.
"RCEP is very important to all of us, of course to Japan. And we look forward to further implementing trade through RCEP," he said.
According to the diplomat, RCEP, which will cover almost half the population and GDP of the entire world, will help Japan sell many products to all the participating countries. At the same time, Japan is ready to open market to many ASEAN products, and that will mean good news for Japanese consumers.
Ambassador Chiba said Japan is ready to help ASEAN countries in many aspects such as infrastructure building, amidst the COVID-19 pandemic that caused economic problems for ASEAN countries.
Japan is also ready to fund projects that relate to vulnerable parts of each community, and plans to continue promoting cooperation programmes in human resources development, he added.
On Japan-ASEAN cooperation outcomes in 2020, the diplomat said the biggest project that Japan has together with ASEAN is the ASEAN Centre for Public Health Emergencies and Emerging Diseases (AC-PHEED), launched at the Japan-ASEAN Summit.
Relating to policies and strategic orientations for the ASEAN-Japan partnership in the coming time, he underlined the ASEAN Outlook on Indo-Pacific issued by ASEAN, saying that Japan is very keen on cooperating with ASEAN through its newly established AOIP./.
Ambassador calls on int'l community to assist Lebanon
Vietnamese Ambassador Dang Dinh Quy, head of the Vietnamese mission to the United Nations, has called on the international community and the UN organisations to continue support for Lebanon to overcome challenges.
Attending the United Nations Security Council's meeting on November 17, the Vietnamese diplomat laid stress on the significant role of the United Nations Interim Force in Lebanon (UNIFIL) in assuring security and stability in the region.
He wished the Lebanese leaders would soon establish a government to guide the nation to overcome crisis.
The UNIFIL, the UN peacekeeping force in southern Lebanon, was set up in 1978 to confirm Israeli withdrawal from Lebanon, and restore international peace and security. Its mandate had to be adjusted twice, due to developments in 1982 and 2000.
Following the 2006 crisis, the UNSC enhanced the force and decided that in addition to the original mandate, it would monitor the cessation of hostilities, accompany and support the Lebanese armed forces as they deploy throughout the southern region, and extend its assistance to help ensure humanitarian access to civilian populations and the voluntary and safe return of displace persons.
In August 2020, the UNSC adopted Resolution 2539 extending the UNIFIL's mandate until August 31, 2021.
At the meeting, José Singer Weisinger, Permanent Representative of the Dominican Republic to the United Nations and head of Committee 2374 concerning Mali, reported outcomes of the committee's activities in 2020.
The committee was established in 2017 to oversee the sanctions measures imposed by the UNSC, such as travel ban on and freezing the assets of designated individuals and entities actively stymying progress in implementing the Agreement of Peace and Reconciliation in Mali signed in 2015 by the country's Government and both the Plateforme and Coordination des Mouvements de l'Azawad coalitions of armed groups./.
Ambassador bolsters cooperation between Vietnam, Argentina national radio stations
Newly-appointed Ambassador of Vietnam to Argentina Duong Quoc Thanh on November 17 had a working session with Alejandro Pont Lezica, Director of the Radio Nacional Argentina (RNA), to discuss further cooperation between the Argentine national radio station and the Voice of Vietnam (VOV).
Speaking at the meeting, Ambassador Thanh highly valued the practical and effective partnership between RNA and VOV over recent years which has allowed Vietnam and Argentina to promote their natural landscapes and people among each other.
Thanh and Lezica agreed that the two national radio stations will continue implementing their agreement in the coming time, particularly in the joint production of the radio exchange programmes "Argentina Saluda a Vietnam" (Argentina greets Vietnam) and "Vietnam Saluda a Argentina" (Vietnam greets Argentina).
The two sides also agreed to add content on economy, trade and investment between the two countries to the exchange programmes and accelerated promotion of Vietnamese and Argentine people, natural and cultural heritage, music, cuisine among others on RNA and VOV's official websites to enhance mutual understanding between the two peoples.
The two radio stations will also foster experience exchange and cooperate in producing joint programmes./.
Embassy makes efforts to perform Chairmanship of ASEAN Committee in Bern
The Vietnamese Embassy in Switzerland has worked hard to perform the Chairmanship of the ASEAN Committee in Bern (ACB), according to Ambassador Le Linh Lan.
Lan said due to the COVID-19 pandemic, the ACB's activities set for this year must be rescheduled to next year.
The embassy is working to upgrade the quality of internet services to prepare for online events, the ambassador said.
Within the framework of the 37th ASEAN Summit and Related Summits, ASEAN economic ministers held a troika open-ended dialogue with the Swiss trade minister on November 10.
The ministers exchanged views on the impact of the pandemic on the global economy.
Guy Parmelin, head of the Federal Department of Economic Affairs, Education and Research, stressed that Switzerland always pursues market opening and international cooperation.
Issues of shared concern like economic digitalisation, support to small-and medium-sized enterprises, sustainable tourism development, infrastructure construction, and free trade were also discussed.
Parmelin said apart from multilateral cooperation, Switzerland attaches importance to promoting negotiations and signing of free trade agreements with ASEAN countries.
On behalf of the European Free Trade Association (EFTA), the minister proposed signing of a cooperation statement between the two blocs.
Lan said the ACB and the Vietnamese Embassy in particular have always closely coordinated with the Swiss government to enhance relations between ASEAN and Switzerland, and other bilateral relations./.
Five new imported COVID-19 cases reported on November 17
Vietnam reported five new COVID-19 infections, all among passengers returning from Russia, from 6am to 6pm on November 17, bringing the tally to 1,288, according to the National Steering Committee for COVID-19 Prevention and Control.
The patients, all Vietnamese, were quarantined upon arrival after returning from Russia.
So far, Vietnam has recorded 691 locally infected cases of COVID-19. The country has been free of virus transmission in the community for 76 straight days.
As many as 1,124 patients were given the all-clear while the fatalities remained at 35. No patients are in critical conditions at present, the treatment sub-committee said.
Among those still under treatment, eight have tested negative for the coronavirus SARS-CoV-2 once, 11 others twice, and 15 thrice.
There are 16,125 people having close contact with confirmed cases or coming from pandemic-hit areas under quarantine at present, including 205 in hospitals, 15,043 in other quarantine sites, and 877 at home or accommodation facilities./.
ASEAN works to promote rights of women, children
A virtual launch ceremony was held on November 17 for the regional report on promoting sustainable integration of ASEAN Community through ensuring the legal status of ASEAN women and children.
The event was co-organised by the Ministry of Labour, Invalids and Social Affairs, the ASEAN Secretariat and the United Nations High Commissioner for Refugees (UNHCR).
Speaking at the ceremony, Deputy Minister of Labour, Invalids and Social Affairs Nguyen Thi Ha affirmed that protecting and promoting the rights of women and children in ASEAN are among commitments of ASEAN high-ranking leaders stipulated in official documents of the bloc, serving as guidelines for activities of ministers and ASEAN agencies.
The establishment of the ASEAN Commission on the Promotion and Protection of the Rights of Women and Children (ACWC) on the sidelines of the 16th ASEAN Summit in Hanoi a decade ago elevated ASEAN's commitment through an official and effective human right mechanism, she noted.
The commission has affirmed its position in various fields, with a number of initiatives aiming to protect and enhance the rights of women and children of ASEAN during the past 10 years.
Ha voiced her hope that the report's outcomes will act as a significant foundation for country members, relevant agencies and the UNHCR to consider opportunities and challenges in carrying out recommendations on ensuring women and children's rights, contributing to sustainable development of vulnerable groups in international and region integration.
The regional report delivered an overview of legal framework and enforcement in ASEAN countries in promoting women and children's rights.
It put significance on birth registration and citizenship issuance, along with strong commitment of ASEAN members in building a people-centred ASEAN Community.
Outcomes of the report and future cooperation activities with the ACWC were also discussed at the event, with a view to including them in the ACWC work plan for the 2021-25./.
Bodies of Vietnamese victims in Siem Reap car accident repatriated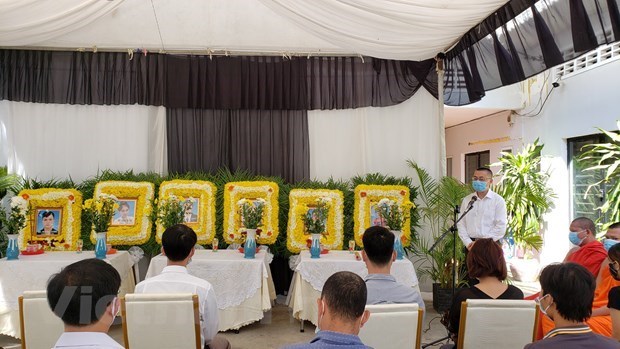 Vietnamese Ambassador to Cambodia Vu Quang Minh extends condolences and encourages alive victims
Representatives from the Vietnamese Embassy in Cambodia on November 16 handed over the bodies of six Vietnamese citizens who were killed in a traffic accident in Siem Reap, Cambodia, 11 days ago to border guards in the southwestern province of Tay Ninh and their families.
Five other Vietnamese people who were injured in the accident were also repatriated.
The serious accident happened in Chikreng district on November 5 evening. After receiving the news, the Vietnamese General Consulate in Battambang contacted with local authorities to verify the information and ask for attention to treating the injured. It also sent staff to the scene to conduct citizen protection measures.
On November 6, the Vietnamese Ministry of Foreign Affairs contacted with the Cambodian Embassy in Hanoi to ask for assistance for the victims./.
PM presses button to launch digital social insurance app
Prime Minister Nguyen Xuan Phuc on November 16 attended the launch ceremony of the "VssID - Digital Social Insurance" – the mobile application of the Vietnam Social Security (VSS).
The VssID app, which is available on IOS and Android platforms, provides users with information on their social insurance engagement history, social insurance codes, medical facilities accepting social insurance as well as places for paying insurance premiums.
After pressing the button to launch the app, PM Phuc said that the introduction of the app is a huge step forward in the VSS's administrative reform process and IT application efforts, contributing to implementing the national digital strategy and building e-government.
He noted that the social insurance coverage has been broadened with a rise of more than 1.3 times over 2015 to nearly 33 percent of the workforce in 2020. The ratio of social insurance engagement also increased to about 91 percent in 2020 from 76.5 percent in 2015.
He held that the number of subscribers of the app will increase quickly as more than 60 percent of the population are using smartphones which are becoming more affordable recently.
Through the app, employees can directly monitor their employers' payment of social, health and unemployment insurance, thus ensuring their legitimate rights, he said.
The Government leader asked the VSS to continue adding more public services as well as the online payment into the app, while ensuring cyber security and private information safety for users.
According to VSS General Director Nguyen The Manh, amid the flooding situation in the central and Central Highlands regions, the VSS and the Ministry of Health are working together to pilot the use of health insurance cards' image on VssID in smartphones to replace the paper ones, thus facilitating local people's medical checkups and treatment./.
Kien Giang steps up measures to protect, develop forests
The Mekong Delta province of Kien Giang is taking measures to retain its forest coverage rate at 11 percent, according to its Department of Agriculture and Rural Development.
Hoang Van Tuan, Deputy Director of the department, said the province is promoting forest protection and forest fire prevention to relevant individuals and organisations.
It has strengthened inspections of violations of forest protection regulations, especially in important localities like the island districts of Phu Quoc and Kien Hai and protective forests along coastal areas, he said.
Kien Giang has more than 82,650ha devoted to growing forests. Of the figure, 46,230ha are natural forests, while 14,678ha are man-made forests. The remaining area has no forests.
The province, which has the largest land area in the Delta, has adjusted its zoning for special use forests, protective forests and production forests. It has turned a part of ineffective production forest areas into agricultural production areas.
The province has achieved its target of growing forests every year, focusing on planting protective forests along coastal areas to prevent erosion and cope with climate change.
It has also allocated about 4,000ha of forested lands in coastal areas for local households and organisations to protect. The forest-allocated households have improved their incomes by exploiting forest resources and breeding aquatic species in forested land./.
New Jurassic lungfish fossil found in northesastern Thailand
A fossil of an ancient lungfish has been found in Kalasin province, northeastern Thailand.
Paleontologists say this is the discovery of an unknown lungfish species from 150 million years ago, signifying the biodiversity of the fossil site.
The Department of Mineral Resources announced the discovery of the new Jurassic lungfish species, found at the Phu Noi fossil site in Kalasin, where fossils of prehistoric creatures dating as far back as 417 million years have been identified.
The fossil of this unknown lungfish species has been studied by fossil experts from The Geneva Museum of Natural History, together with Maha Sarakham University's Paleontological Research and Education Center, and the Department of Mineral Resources' Sirindhorn Museum.
The creature was classified as a member of the Ferganoceratodus genus from its skull and teeth. Due to unique characteristics that differ from other species in the same genus, it has been formally named Ferganoceratodus annekempae.
The fossil is considered to be about 150 million years old, indicating the existence of this species in the Devonian age. It is regarded as a rare fossil find, especially the skull part.
Lungfish is an animal with special characteristics, with both gills and lungs available for respiratory purposes. The Ferganoceratodus genus has only ever been found in China, Russia, and Thailand.
The Department of Mineral Resources' Director General Sommai Techwan, said the discovery of this fossil shows the biodiversity of Phu Noi fossil site, where fossils of species from the late Jurassic period can be found.
The area is also home to fossils of six new vertebrate species, namely a species of freshwater shark, a species of bony fish, a species of lung fish, a species of turtle, and a species of crocodile. Some 5,000 pieces of fossils have been discovered in this area so far./.
COVID-19 field hospital closes after three months vacant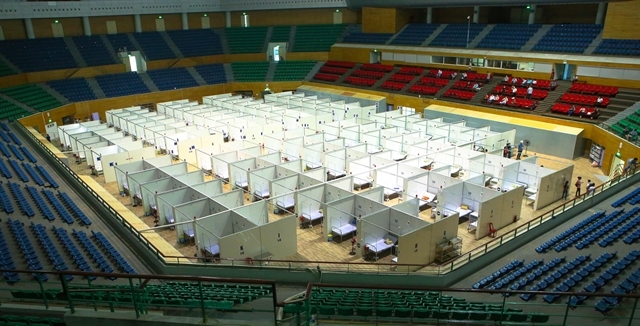 Tiên Sơn COVID-19 field hospital in Đà Nẵng City is built with 500 beds from August. It was closed three months after being left vacant when no COVID-19 patient was taken for treatment. VNS Photo Lê Lâm
Đà Nẵng authorities have closed a field hospital for COVID-19 patients three months after its construction and without treating a single patient.
The city said the 500-bed field hospital at Tiên Sơn Sports Centre was designed as a reservation site for hosting COVID-19 patients in August when the city's two key hospitals were locked down due to COVID-19 infections.
The field hospital was built in 72 hours in early August in preparation for a large number of COVID-19 patients in the city, but it had been left vacant since completion.
Another field hospital, built at Hòa Vang health centre, and four other hospitals in the city successfully treated nearly 400 people infected with SARS-CoV-2 between March and September, while 28,000 close contact cases were quarantined at health centres or in their homes.
No COVID-19 infection case has been found in the community in the city since early September. 
Helmets for Kids programme to expand to rural communities in 3 provinces
Asia Injury Prevention (AIP) Foundation, the National Traffic Safety Committee and the Ministry of Education and Training have expanded the Helmets for Kids programme to rural communities in the provinces of Yen Bai, Thai Nguyen and Tuyen Quang.
These provinces are home to a significant number of ethnic minorities, who face a number of challenges in accessing mainstream services and resources.
The life-saving interventions under the programme include helmet distribution and educational activities focused on safe helmet use.
The very first event of the programme expansion was hosted in Yen Bai province on November 13.
The programme, which is supported by Johnson & Johnson, aims to reduce brain injuries related to road crashes in school zones and the surrounding communities through increased ratio of quality helmet use among children.
The programme will begin with a helmet donation ceremony at each project school and be accompanied by an 'edutainment' event involving a series of interactive games focusing on proper helmet use.
Across 16 schools, 7,375 students, 451 teachers and staff, local authorities, and community members will participate in the edutainment activities.
Jun Hong Park, managing director of Johnson & Johnson Vietnam, said: "The reality is that every day a child leaves their home to go to school without proper safety equipment like a helmet, they are at risk on the road.
"We need to play an urgent, proactive role in empowering communities with proper road safety knowledge and resources related to helmet use, whether it is on a motorbike or bicycle, so that wearing a helmet becomes instinctive and natural rather than a novelty. Something as simple as wearing a helmet can be the difference in that child coming back home to their family happy and healthy."
Hoang Na Huong, deputy CEO of AIP Foundation, said: "Education is fundamental to breaking the cycle of poverty. However, barriers like unsafe commutes, lack of school zones and low community awareness of road safety and speed limit compliance prevent students, and often their families, from living a better life.
"Programmes like Helmets for Kids help raise the quality of life standard for communities, especially for our young people."
Helmets for Kids focuses on increasing the helmet-wearing rate among children in areas where road crash and injury risks are high, but preventative actions are low.
It helps improve road safety knowledge, provides quality helmets to students and teachers at programme schools, and educates parents as key decision makers in their children's helmet use.
In 2020 it plans to distribute over 5,700 helmets./.
NGO begins to provide legal aid to people with disabilities
NGO HCM City Disabilities Research and Capacity Development Centre has launched a project to provide legal aid to and safeguard the rights of people with disabilities.
It will first be introduced in HCM City and Quảng Bình Province with sponsorship from the Justice Initiatives Facilitation Fund of the EU Legal and Judicial Empowerment Programme in Việt Nam.
It will provide disabled people with legal aid related to employment, health, education, and labour.  
Nguyễn Hà Bích Phương of the centre (DRD) said volunteers from clubs for disabled people in HCM City and Quảng Bình would connect with lawyers and legal aid centres to provide counselling for free.
It has also developed a mobile phone application called DLAW for people with disabilities to ask questions to lawyers.
Besides, they can also access DRD's website and Facebook page to see the latest legal documents and policies and administrative procedures and seek answers to their problems. 
When DRD comes to know of a legal problem faced by people with disabilities, it will raise them with relevant agencies. 
Tây Ninh Province to continue looking for investment in agriculture
Tây Ninh Province will continue to focus on encouraging investment in agriculture for the next five years.
In 2016 – 20 it had organised a number of activities to facilitate investment in agriculture and rural areas, especially by foreign investors, attracting VNĐ3.6 trillion (US$155.3 million), including from large corporations such as Lavifood Joint Stock Company and Vinamilk.
The projects are of large size and use modern technologies.
Trịnh Ngọc Phương, director of the province Department of Planning and Investment, said policies and activities to facilitate investment in agriculture have been successful in attracting foreign and domestic businesses.
Nguyễn Đình Xuân, director of the Department of Agriculture and Rural Development, said the province is working on earmarking more land to attract more clean hi-tech agricultural projects.
The province has specific goals of attracting at least one fruit and vegetable processing and preservation facility that works closely with farmers, a modern plant to slaughter cattle and process meat, a seafood processing factory, and a milk production factory.
It also aims to have at least 40 per cent of its agricultural produce meeting GAP standards or their equivalent.
Hà Nội needs to accelerate farm economy
Hà Nội's farm economy in suburban districts has developed well in both quantity and quality with high turnover and creating jobs for thousands of workers in recent years.
However, this area still has faced many barriers in terms of land, capital, human resources, technology application and product consumption that requires the agriculture sector, localities and farm owners to make more efforts to create a driving force for the development of farm economy.
Đặng Thị Tươi, head of the economic section of Ứng Hoà District, said the development of the farm economy in the district had seen positive changes in production and trading with several commodity products meeting market requirements which helped bring high economic efficiency.
Many farms have been producing animal breeds and seedlings to supply to other farmers in the district, according to Tươi.
The whole district has 201 farms with total revenue of nearly VNĐ2.2 trillion (US$95 million) per year and total profit of VNĐ412 billion ($18 million).
Meanwhile, Thạch Thất District has 144 farms, many of which specialise in commodity production and apply high technology.
Many farms have created brand names for their agricultural products.
"Thanks to the development of the farm economy model, the living standards of many households have improved and the income of rural labourers has been significantly increased," said Nguyễn Kim Loan, vice Chairwoman of Thạch Thất District.
According to statistics from the Hà Nội Department of Agriculture and Rural Development, by the end of last year, Hà Nội had 3,150 farms, 500 more than in 2015.
The farms have supplied to Hà Nội hundreds of thousands of tonnes of food, meat, vegetables and fruit every year.
Incentives are needed
However, farm economic development still faces many difficulties.
Hà Nội currently has only 178 farms which have been granted certificates of farm economic model. And most farms are small scale, with each farm about 1.5ha on an average.
At present, resources to invest in production mainly come from households' own capital. The professional qualifications of farm owners have not met the increasing requirements of the market.
Nguyễn Văn Thanh, director of Hoà Mỹ Animal Breeding Co-operative in Ứng Hoà District, said: "At present, all assets on the farmland such as animal lodgings, animals and trees were not evaluated for bank loans because our co-operative and other many farms are not yet certified as a farm economic model."
Chu Phú Mỹ, director of the Department of Agriculture and Rural Development, said that to support the farm economy, the department has directed agencies to co-ordinate with districts and towns to build models of technical transfer and organise training on production, preservation and processing techniques and management skills as well as provide market information to farm owners.
The department has been working to promote supply-demand connections.
The department has given financial assistance for trading and branding promotion to the farms which were selected in the One Commune-One Product (OCOP) programme, said Mỹ.
In terms of loans, the Hà Nội Agricultural Extension Fund has created conditions for farms to access loans up to VNĐ400-500 million ($17,000-21,000) if they have an effective business and production plan, said Mỹ.
The department also works with agencies to promote the issuance of land use right certificates to farms as a basis for farms to borrow money from banks and other credit institutions, he added. 
Job game show begins on VTV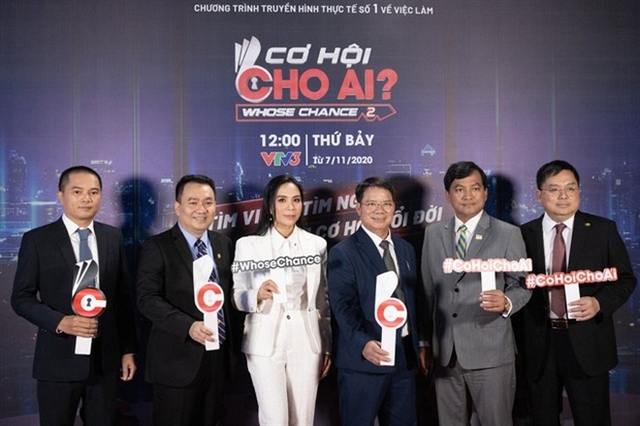 Leaders of large companies at Whose Chance? (Cơ Hội Cho Ai?) television game show. Photo courtesy of ALO Media
Season two of the TV game show on employment, Whose Chance? (Cơ Hội Cho Ai?), is being aired on Việt Nam Television's channel 3 (VTV3) at noon every Saturday.
It serves as a platform to connect employers and job seekers, and offers good jobs.
It helps young people enhance their job interview and problem solving skills with real interviews, negotiations and job opportunities.
A show consists of three rounds. In the first, two candidates will debate on one question and situation on different issues of public concern.
Six company heads and the audience will choose one candidate to enter the second round, where the candidate has to answer questions and debate with participating leaders.
The candidates can enter the final round if they are chosen by at least two leaders.
In the final round, announcements of jobs and salaries by leaders and candidates' expectation will be revealed. The candidates can make decision on new job opportunities.
In the new season, a series of talk shows titled "Whose Chance Talk" will share inspiring stories about career orientations, opportunities and promotions besides emerging issues at work.
In the first season 19 candidates got jobs at eight companies, with a highest monthly offer of VNĐ45 million (US$1,900).
The show is hosted by MC Thành Trung, draws the participation of leaders of large companies like Thắng Lợi Group, Bảo Ngọc Investment Production Corporation, and Vietnam Payment Solution JSC. (VNPAY), is on VTV, and sponsored by ALO Media.
It began on November 7. 
ADB supports sustainable water services in Vietnam
The Asian Development Bank (ADB) and Binh Duong Water Environment Joint Stock Company (BIWASE) on Tuesday signed an USD8 million loan to expand the Tan Hiep Water Treatment Plant (WTP) in Binh Duong province.
According to the ADB, the expansion is expected to increase production capacity, install additional water intake pumps, and build raw water transmission pipes from the Dong Nai River intake facility.
The upgrade will help to meet rising water demand of residential and industrial customers in Ben Cat town, Tan Uyen town, Binh Duong new city, and Thu Dau Mot city of Binh Duong province, where industrial zones provide jobs for nearly 1.3 million locals and more than 500,000 foreigners. The financing package also includes a parallel cofinancing of USD8 million from the Japan International Cooperation Agency.
A further USD500,000 in technical assistance will be provided by the e-Asia and Knowledge Partnership Fund, established in 2006 by the Republic of Korea to help ADB's developing members meet their development goals through the creation and sharing of experience, information, and knowledge.
Speaking at the event, Infrastructure Finance Division Director for Southeast Asia, East Asia, and the Pacific at ADB's Private Sector Operations Department, Jackie B. Surtani, said that this financing would deliver sustainable and efficient water supplies in this fast-growing province, spurring its future growth and contribution to the broader economy.
"It is a strong signal to other international financiers that private sector commercial financing of Vietnam's water sector is feasible and attractive. We are also very happy to work with the Japan International Cooperation Agency on this transaction to support water sector development in Vietnam," he said.
BIWASE's chairman of the board of directors Nguyen Van Thien said that they value the long-term relationship with ADB, which goes back since 2002 when we participated in the third provincial towns water supply and sanitation project.
"We appreciate the continued support from ADB in providing a one-stop solution to enable BIWASE to transition from sovereign financing to standalone private sector financing as it continues on its growth path," Thien said. "We look forward to ADB's continued engagement with the water sector in Vietnam and hope to work with ADB again in the future."
The technical assistance will provide capacity building on financial management and climate-resilient business and operational planning. It will also enhance the legal foundation of the business and operational framework between BIWASE and the Binh Duong Provincial People's Committee.
BIWASE was founded in 1975 as a government-owned entity. It became a joint-stock company in 2016 and listed on the Ho Chi Minh Stock Exchange in 2017. Currently, BIWASE has a total daily water production capacity of 311,300 cubic meters, and its services cover 78% of Binh Duong province's population. BIWASE is also the province's sole provider of municipal solid-waste treatment and municipal wastewater and sanitation services.
Vietnam Design Week 2020 kicks off
Vietnam Design Week 2020 is being held in Hanoi, Hoi An (Quang Nam province) and Ho Chi Minh City from November 15 to 21.
The event aims to honour outstanding Vietnamese products and designers in the culinary, architecture, fashion, souvenir and public arts fields; as well as increasing the value of Vietnamese products and promoting the development of the national design industry.
Co-organised by the Vietnam National Institute of Culture and Arts Studies under the Ministry of Culture, Sports and Tourism and partners, Vietnam Design Week 2020 brings together talented designers and producers, handicraft villages and creative entrepreneurs in related fields.
In the framework of the week, there will be many activities, including the showcasing of the 20 best works in the "Designed by Vietnam" contest, a series of seminars, workshops, talk shows, performances, a Gala night to present awards and finally a closing ceremony.
With the theme "Regeneration", Vietnam Design Week 2020 hopes to change the prevailing mindset towards using materials in an economical, sustainable and optimal way.
More Vietnamese children get free operations for facial disfigurements
More than 100 children in the central province of Nghe An are being offered free-of-charge cleft lip and palate jaw surgeries.
The five-day event, hosted by Vinh International Hospital and Operations Smile Vietnam, will end on November 18.  
More than 100 children in the central province of Nghe An are being offered free-of-charge cleft lip and palate jaw surgeries. 
They are children born with facial abnormalities from poor families.
Experts from many hospitals, including the National Hospital of Odonto-Stomatology, 108 Military Central Hospital, Vietnam-Cu Ba Hospital and Bac Ha International Hospital, are joining the programme.
Moong Thi Hoang, 34, from the mountainous district of Ky Son, said that it was lucky for her seven-month-old son to be provided with the free operation.
In September, 108 Military Central Hospital and Operations Smile also provided free surgery for dozens of children with facial and skull deformities in Vietnam.
HCM City to host first street art festival in Vietnam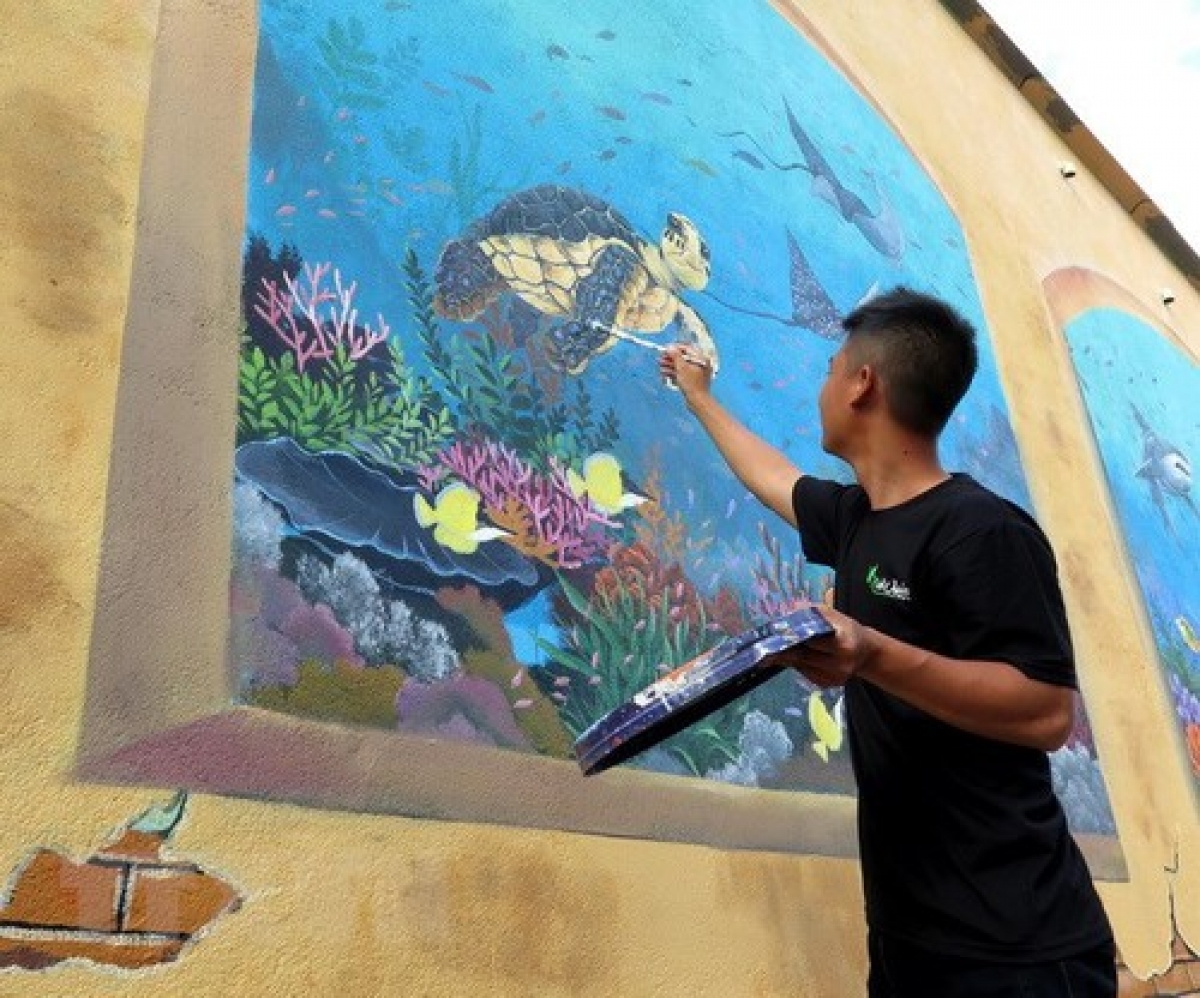 The administration of Ho Chi Minh City put the southern metropolis forward as hosts of Saigon Urban Arts 2021 during a meeting held on November 16 with the consulate general of France. 

The event, the first of its kind in Vietnam, is scheduled to get underway between April and November next year. It will feature a diverse range of activities for members of the public to enjoy and participate in, including mural paintings, street art exhibitions, workshops focusing on street art, and music festivals.
It is hoped that through the event images of the citizens and landscapes of both Vietnam and the southern city will be promoted, according to Duong Anh Duc, vice chairman of Ho Chi Minh City's administration.
He also assigned the local departments of foreign affairs, culture and sports, and the youth cultural house, to be in charge of organising the event.
Da Nang to host Cultural Heritage Day for first time
The central city of Da Nang is set to celebrate the National Cultural Heritage Day with a series of activities to take place at Da Nang Museum from November 21 to 23.
The event will mark the first time that Da Nang has hosted such a festival, aiming to commemorate the 15th founding anniversary of the National Cultural Heritage Day (November 23).
A wide range of activities will be held during the course of the three-day festival, including a competition on cultural heritages of Da Nang, along with photo exhibitions featuring images of local heritage sites and cultural exchanges.
Most notably, a photo contest will be launched through Instagram for the purpose of allowing young people to learn about various cultural heritage values.
A trade fair to introduce items produced at local craft villages and a range of traditional food of different ethnic groups will also take place, while folk games are also anticipated to excite crowds during the festival.
Source: VNA/VNN/VNS/SGGP/VOV/NDO/Dtinews/SGT/VIR