Former Deputy Minister of Education and Training Bui Van Ga says that new exam questions now test the general knowledge of examinees and allow universities to choose the best students.
What about this year's exam scores?

In most exam subjects, the number of examinees getting more than 5 was higher than the number of students with below 5.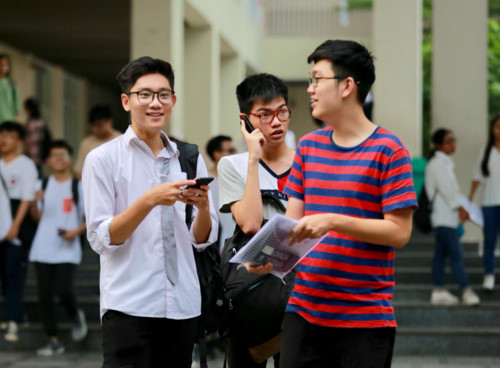 There were difficult exam questions which allowed us to find good students for universities, and there were less difficult questions which showed students with enough knowledge to knowledge to finish high school.

This year's high scores obtained by students could be because exam questions are easier. However, I believe that the most important reason behind this is the general education quality improvement.
History and Foreign Language still have the worst results despite the great efforts made for years.
History and Foreign Language still have the worst results despite the great efforts made for years.

However, statistics show that the students, who need to use the results of the two exam subjects for admission to universities, all gained high scores. This shows that the teaching and learning of the two subjects remain below expectations despite a lot of solutions considered.

What should we do to improve the quality of history teaching?

History is a subject of social sciences, which must not be absent in comprehensive education.

It is unreasonable to conclude that students have turned their back to social sciences, because results from geography and citizenship education, the other subjects belonging to social sciences, are relatively good.

So, what are the reasons behind the low scores in history?

I found that students can get high scores in citizenship education because the knowledge is practical and directly related to daily life.

As for geography, students can get high scores because they don't have to remember too many figures and facts. They can use the Atlas to identify, analyze, comment, and evaluate issues that the questions pose.

I think experience in teaching geography and citizenship education will be very useful for the teaching of history. Instead of requesting students to remember so many figures, facts and historical events, it would be better to analyze and give comments about related issues.

With the exam results announced, will universities find it easy to enroll students?

As the floor mark scheme has been removed, the enrollment will depend on the number of students who want to apply for schools.

There always exists stiff competition among students for top-tier schools. Meanwhile, mid-tier schools won't lack students to enroll because most students have exam scores of between 18 and 24 (for three exam subjects). 
Thanh Lich

Son La, Hoa Binh and Ha Giang, which were involved in a high-profile score manipulation scandal in 2018, were listed among the 10 localities with the lowest average scores for the national high school graduation exam 2019.  

It's normal to see exam papers with below average (5/10) scores but abnormal to see so many bad marks, analysts say.