Vietnam hopes that no people who made special contributions to the nation will belong to poor households by 2020.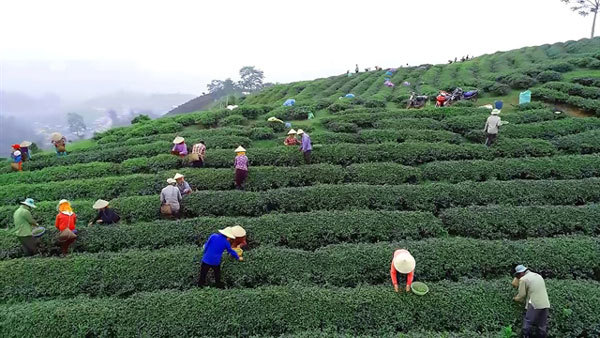 People harvest tea in Tan Lap Commune, Moc Chau District in the northern mountainous province of Son La. The plant helps many local residents escape from poverty. — VNA/VNS Photo Huu Quyet
The target was announced at a conference held on Friday in Hanoi by the central steering committee for national target programme in 2016-20, in co-ordination with the Ministry of Labour, Invalids and Social Affairs.
Vietnam now has more than 9 million people enjoying preferential policies for their special contributions to the nation, including the families of 1.2 million martyrs, more than 127,000 Vietnamese heroic mothers and more than two million invalids.
Over the years, the State and Party have issued preferential policies who made special contributions to the nation, such as monthly allowance, one-off allowance, health insurance, support for accommodation and jobs.
Despite this, 1.2 per cent of poor households across the country were those of people who have made special contributions.
The reasons for this problem include illnesses or injuries picked up in war, large families and backward customs and farming techniques making poverty reduction tricky.
Speaking at the conference, Ho Tan Canh, deputy director of Quang Binh Province's Department of Labours, Invalids and Social Affairs proposed issuing detailed guidance on how to define a poor household with members who made great contributions to the nation.
Canh also proposed providing more support for poor households whose members can't work. For instance, besides common poverty reduction policies, local authorities can call for support from individuals and organisations. If members of the families can work, local authorities should encourage them and give them guidance to produce, create jobs and access social services to escape poverty themselves.
Le Tan Dung, Deputy Minister of Labour, Invalids and Social Affairs, said the State and the Party would not let households with great contributions live below the nation's average living conditions.
Dung proposed different measures to help the households, such as giving poor households loans with preferential interest rates.
VNS