Having lived in a humble rental house in Hanoi for several years does not stop student Hoang Quy Binh of the Hanoi University of Science and Technology from thinking big and going big.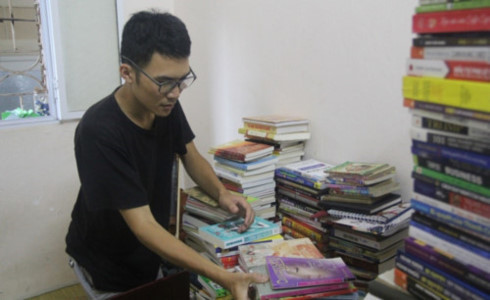 Hoang Quy Binh at the DFree library (Photo: Minh Van)
For some people, success in your early 20s might mean obtaining a university degree. For others, it is having a stable job or finding a lover. For Binh, he devotes his youth to a series of volunteer clubs and projects to help disadvantaged people.
Besides being the founder of 2 free libraries called 'DFree', where readers do not need to deposit anything to borrow books, Binh also founded 'Bright tomorrow', a club of young students volunteering to teach disadvantaged children at SOS Children's Villages. He is also the founder of the 'Green life' project which promotes an environmentally-friendly lifestyle.
Affectionate, heart-warming, and caring are how people working with Binh describe him. First-year student Duc Nhat, a volunteer at 'DFree' library, is one of them.
He said "I first met Binh at an environmental event on exchanging used paper for trees. I was there to help him classify books and papers. He is a very caring man. He asked me where I was studying, if I have participated in other voluntary activities, and what my dream was."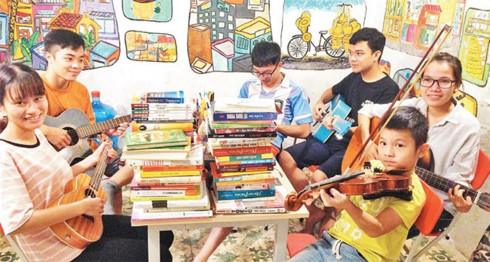 The DFree library attracts many readers and visitors every day (Photo: Tam Trang)
One of Binh's free libraries is located in a small old house in an alley on Le Thanh Nghi street, Hai Ba Trung district, Hanoi. It is a collection of Binh's old books and donations, most of which have turned yellow arranged on old bookshelves. He decorated the library with all recycled items. The library attracts many readers and visitors every day. Some come because DFree does not require any deposit to borrow books. Others enjoy reading books in a tranquil setting.
Thu Huong is one the frequent visitors. She said "When I come to the library, I can feel the fresh air and I enjoy the atmosphere there, which is perfect for reading books. The friendliness and enthusiasm of the staff here is another thing I like. They make me feel like I am at home."
Bearing in mind that kindness means doing things for the cause and not the applause, Binh has never been big-headed. His lifestyle remains as simple and humble as his personality. A heart-warming laugh with a crooked-toothed has become the signature trait of Binh. He always thinks that all the volunteering work he does is not deserving of praise.
Binh said "Like other people, I want to spread kindness in the community. What I have done is not to be lauded. The volunteer clubs and projects I founded have been joined by many kindhearted people who should be recognized for their contribution."
In his 20s, Binh wants to devote more time and effort to volunteer work. Live to learn, live to experience is his favorite slogan. He is learning to draw, to play musical instruments and to better himself. But what he desires to learn the most is how to become a decent man who can spread kindness to more and more people.
Binh said "Notes create music, love connects people. How can music be formed without notes and how can life be meaningful without kindness?"
VOV5