Around 12:30am on Tuesday, a seven-seat car hit a sanitation worker who was busy clearing rubbish off of Láng Street in Hà Nội's Đống Đa District. She died on the spot.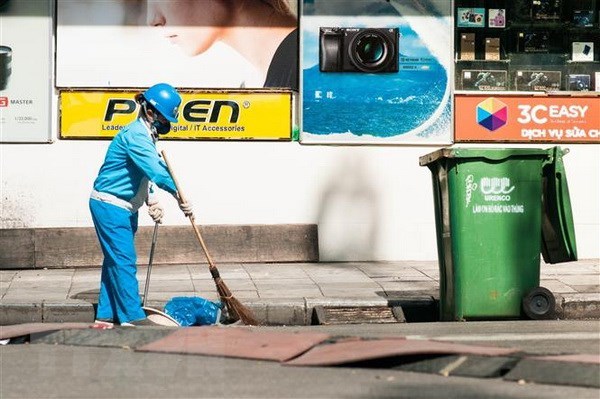 A sanitation worker cleaning a street in HCM City.
The driver, allegedly drunk at the time, hit five motorbikes on Vĩnh Hồ Street before running into the woman.
The accident has once again raised concerns about work-related accidents, particularly over the safety of sanitation workers while on duty on the streets.
Last month, another woman working in sanitation fell unconscious and was rushed to the hospital for emergency treatment after being hit by a car on Võ Nguyên Giáp Street in Hà Nội.
According to unofficial statistics, at least 10 sanitation workers were hit by vehicles on the streets of the capital city in 2018. This number includes a case in which a worker from the Hà Nội Urban Environment One Member Ltd. Co was hit by a motorbike while cleaning Kim Ngưu Street in Hai Bà Trưng District. He fell into a deep coma and was diagnosed with a skull fracture.
There are approximately 15,000 sanitation workers in Hà Nội and HCM City. They often work in dangerous conditions, facing occupational accidents.
Regulations state the workers must be provided with protective tools such as reflective clothing to make them more visible to drivers. However, they are still at risk of being hit at any time.
At a working session between city leaders and sanitation workers in HCM City in late 2018, Võ Thị Ngọc Dung, a sanitation worker in Thủ Đức District, said the workers face high risk of traffic accidents while on duty.
Dung said many of her colleagues were hit by drunk drivers at night and some were unable to continue working because of their injuries, causing even more difficulties.
The offending drivers often flee after the accidents, and the lack of cameras on some streets makes it hard for workers to report, she said.
Chairman of the Hà Nội People's Committee Nguyễn Đức Chung visited the family of the deceased sanitation worker on Tuesday. He urged the municipal police to promptly investigate and strictly punish the driver in line with the law.
An action month for labour safety and hygiene will be launched next month in the central province of Quảng Nam, according to the Ministry of Labour, Invalids and Social Affairs.
According to Hà Tất Thắng, head of the ministry's Labour Safety Department, the event aims to raise awareness among employers and workers of the importance of observing occupational safety and hygiene regulations and to reduce the number of labour-related accidents and diseases.
Various activities will be held during the action month, including a dialogue between the National Council on Occupational Safety and Health and enterprises, and a workshop on recent examples of occupational accidents and how to avoid them.
According to the ministry's occupational safety report for 2018, nearly 8,000 work-related accidents were reported last year, resulting in 1,039 deaths and 8,229 injuries.
The localities with the highest number workplace accidents were HCM City, Hà Nội, Hải Dương, Thái Nguyên, Yên Bái, Đồng Nai and Quảng Ninh. — VNS