Vocational education needs to be organized well to produce enough workers who meet requirements set by investors in the ongoing FDI wave, experts have said.
The Directorate for Vocational Education and Training presented a report at a recent workshop on human resources in vocational education needed for the FDI wave.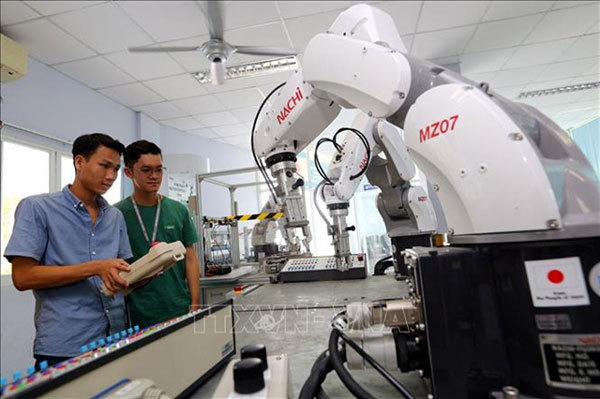 It showed that efforts by the government have helped the economy develop in a stable way and become a destination for investors.
According to Nomura Group, from early 2018 to August 2019, 56 foreign companies left China for other countries. Twenty-six companies chose Vietnam.
For South Korea, Vietnam ranks fourth among 10 countries that attract most of its investments, accounting for 30 percent of South Korea's total investments in ASEAN.
As for Taiwan, Vietnam ranked third among the countries receiving the most investments from Taiwan in November 2020. Taiwanese technology firms and enterprises in supporting industries will still choose Vietnam as investment destinations in the next 2-3 years.
Truong Anh Dung, general director of the Directorate for Vocational Education and Training, said this is the "golden opportunity" to make Vietnam known to the world as a safe investment, ready to receive the FDI wave.
According to Dung, foreign companies will invest in five major business fields, including IT and high technology, supporting industries, electronic appliances, e-commerce and logistics, and consumer goods and retail.
"We need to prepare well to receive both eagles (large corporations) and sparrows (small and medium companies," Dung said, adding that vocational training must be ready to provide workers with skills needed by investors.
He said that vocational education should prepare the "nests" to receive "eagles and sparrows" , take full advantage of the "golden" working-age population, adapt to the 4.0 industry revolution and digital transformation, increase labor productivity, and improve national competitiveness.
Do Van Su, deputy head of the Foreign Investment Agency, said that foreign investors have said that the professional skills of graduates of vocational training establishments have improved.
In many occupations, the skills of Vietnamese workers can meet international standards. Trained workers are present in most business fields of the economy and undertake complicated work which previously had to be done by foreign specialists.
More than 80 percent of students can find or create jobs for themselves soon after graduation.
However, the problem of Vietnam's vocational education is that the training quality and efficiency are not associated with the demands of specific fields and the requirements for socio-economic reform.
Tran Thi Lan Anh from VCCI noted that the number of untrained workers, or workers who only receive short-term training , is high, accounting for 44 percent. 
Ngan Anh

Vocational training programmes in HCM City have narrowed the gap between employers' expectations and employees' qualifications thanks to cooperation between vocational schools and businesses.

Vietnam is striving to have its vocational education with the same level of ASEAN-4 countries by 2030, and reach the level of G20 countries by 2045.