Five years after the Government issued Decree 67, which aimed at supporting fishermen to build bigger and more modern steel-hulled boats, the decree has hardly been a panacea for the country's fishermen.
Modern steel fishing boats left abandoned due to costly operation
Ship owners in Quang Tri can't find enough seamen
Inspection ordered of substandard steel fishing boats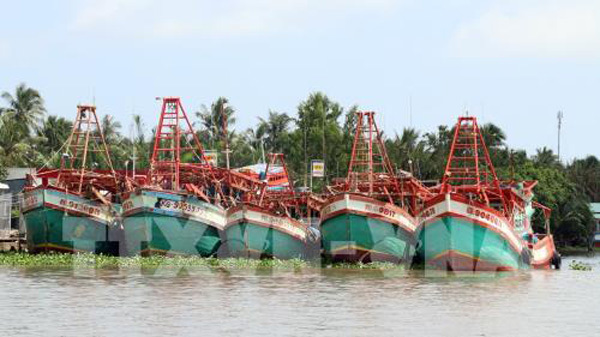 Fishing boats in central provinces. — VNA/VNS Photo Le Huy Hai
In 2015, Mai Thanh Phuc, a resident of Khanh Hoa Province, was happy to have his request for a bank loan of VND4.4 billion (US$172,000) approved in accordance with Decree 67. He believed he could easily return the loan in no time after investing in a modern composite-built fishing boat.
Under Government Decree 67 dated July 7, 2014 on fisheries sector development policies, ship-owners building steel vessels with total main engine capacity of between 400CV and 800CV could borrow from commercial banks a sum of money that does not exceed 90 per cent of the total investment in the building of the ships.
The interest rate is 7 per cent per year, of which ship-owners are required to pay 2 per cent per year, while the State budget will subsidise 5 per cent.
For the first few years, things went well.
But since 2016, when Phuc had to start paying monthly interest to the bank, it was harder to have a profitable haul at sea due to shrinking fish populations.
"I was making less and less profit from each trip," Phuc said.
In 2019, Phuc has made six fishing trips, but in five of these, he lost some VND200 million.
For each deep-sea fishing trip, which often lasts more than a month, he had to pay for fuel cost, workers, food and ice.
"There were trips on which I could only catch five to seven tuna," he said.
Phúc had only paid VND400 million to the bank and still owed another VND4 billion. He, and some other fishermen in the locality, had received warnings from the bank about possible lawsuits if they don't come up with a loan repayment plan.
"How could I pay monthly interest when I either suffered losses from my fishing trips or just managed to breakeven?" Phuc said.
Substandard quality
Tran Dao, another fisherman in Thuan Nam District of Ninh Thuan Province, had his steel boat built in early 2018 with a loan of VND7.5 billion. Since then, on every trip, he lost VND50 to VND100 million.
Since early 2019, his boat suffered frequent breakdowns and couldn't set sail. Apart from making no money, he had to pay VND2 million every month for the boat's maintenance, for boats that don't sail often rust quickly.
Every month, the staff at the bank asked him to pay back his loan.
Fishermen in many provinces from Binh Dinh, Thanh Hoa, Ba Ria-Vung Tau, to Quang Ngai, claimed their new steel ships built in accordance with Decree 67 of the Government were damaged after only a short time of use and have to wait ashore for repairs.
In particular, problems included broken engines, power supplies working intermittently, degraded flooring and hulls.
Tran Van Muoi from Da Nang City, who borrowed VND17 billion from the 67 programme to build a fishing boat, said his trips were not profitable due to poor design of the boat.
"I worked with the shipbuilding company when building the boat, but it was still not designed to be operated at the relevant requirements," he said.
According to the programme 67, there were only a few fishing boat designs that boat owners could choose from.
Bad debts
Many officials from agriculture departments of the provinces which benefited from decree 67 admitted the fishing fleet built under the decree was not effective.
One official from Ninh Thuan Province said the reasons were decreasing fish population, increasing fuel cost, lack of workers and broken boats.
Another said fishermen's experience and knowledge in off-shore fishing were somehow still limited.
Due to fishermen's unprofitable fishing activities, many of them have now become the owners of bad debts.
By March this year, Agribank has some 43 loans for fishermen according to Decree 67 ranked as bad debts, with the total amount reaching VND510 billion. It said that by the third quarter of the year, there will be 16 more loans ranked as bad debts with an amount of VND283 billion.
The State Bank branch in Quang Nam Province said the number of bad debts in the province resulting from the programme is not VND200 billion.
The Bank for Investment and Development of Viet Nam branch in Quang Ngai Province said they now have bad debts totalling VND70 billion.
Banks in Phu Yen Province said their bad debts from the programme are now more than VND30 billion.
Vu Thi To Nga, deputy director of BIDV branch in Quang Nam said the bank had resorted to many measures to recover the loans but failed. They are opting for the last resort, which was to bring lawsuits against the debtors.
Similar situations can be found at other banks and other localities.
"We have no other choice if asking the fishermen to repay the loans becomes too difficult," said Tran Quang Ho, deputy director of the Quang Nam branch of the State Bank of Viet Nam.
No way out?
Tran Van Linh, President of the Fishery Occupation Association of Da Nang City, said in order to develop the fishing sector sustainably, it would take huge efforts, more than just providing fishing boats.
"We still lack training schools for the fishery sector, our fishermen mainly do the job with their experience," he said.
"I think it's that the implementation of Decree 67 was done in a hasty manner and the results were discouraging. So many veteran fishermen and fishing boat owners now have become bad debt owners!" Linh said.
Regarding those who were responsible for the substandard fishing boats, Nguyen Xuan Cuong, Minister of Agriculture and Rural Development said the ministry had disciplined these individuals and agencies.
The Government, on the other hand, has issued another decree, Decree 17, to adjust Decree 67's irrational provisions. The agriculture ministry is now working with localities where fishermen are having difficulties to review the programme and make proper adjustments.
VNS