Hanoi police are investigating an incident where a spectator was injured by a flare at a football match in Hanoi on Wednesday.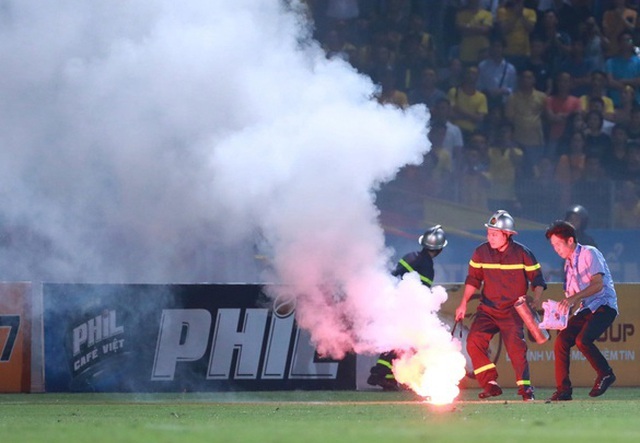 The flares set off at Hanoi FC and Nam Dinh FC match
The incident took place during Wednesday's V.League 1 clash between Hanoi FC and Nam Dinh FC at Hang Day stadium.
According to the initial information, at the eight of the first round, first flares were set off but quickly controlled by security force.
At the 10th of the second round, fans at in the B stand continued burning flares and one of them was shot towards the A stand, directly hitting a woman's leg, causing her severely injured. She was then taken to St. Paul Hospital nearby after being given first aid.
The woman, who is a journalist, was diagnosed with serious burns due to sulphur. She would need two operations.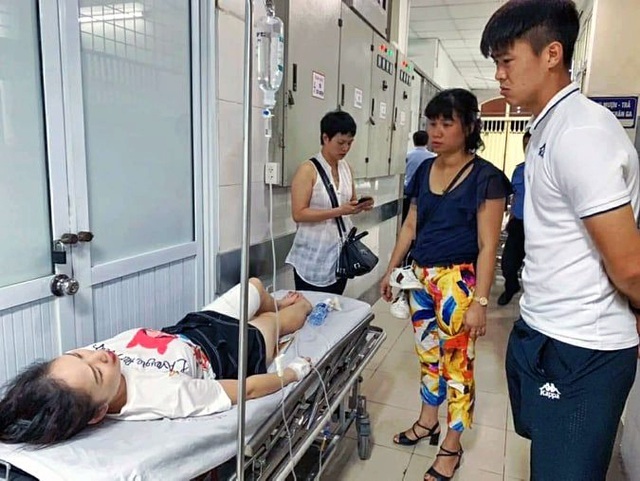 The injuried woman hospitalised
Nguyen Quoc Hoi, chairman of T&T JS Company which owns Hanoi FC and head of the V.League 1 organising board, said that Hanoi FC will pay the entire medical costs for the victim.
The fixture was halted for several minutes to deal with the situation. However, when the match was resumed, some aggressive fans continued setting off flares.
A policeman also sustained a light injury because of flares.
A group of Nam Dinh fans were blamed for the incident, which is being investigated. Dtinews
Tien Nguyen