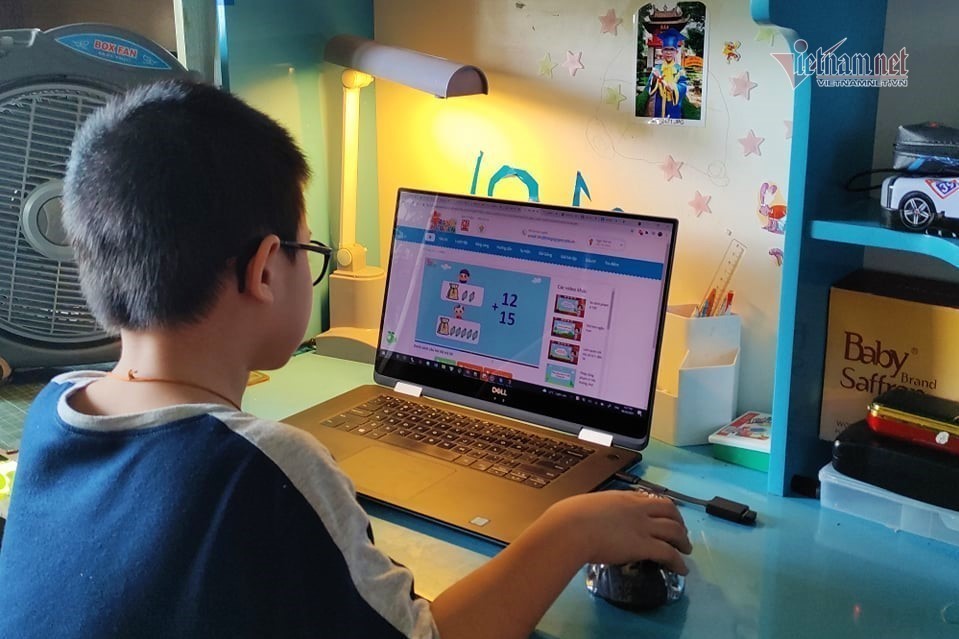 Thuy Ngan, in Ba Dinh district, planned to send her kids to grandparents in the countryside only for a couple of weeks before returning to Hanoi to start the new academic year.
But the plan was upset as Hanoi imposed the first social distancing campaign, and then a second. The children are still living with the grandparents.
"My elder son enters the third grade this year, but my younger daughter goes to preschool. I feel worried about the studies of my son," she said.
"Since Hanoi's schools closed the doors, students have had to study online. Meanwhile, grandparents cannot help," she explained.
After hearing that local authorities admitted students from pandemic-hit areas, Ngan decided to enroll her kids in schools in the countryside.
"This is the most feasible solution for now. If students can go to school, they will be able to study in-person with teachers and better understand the lessons," Ngan said.
Her kids were learning online before so Ngan believes that it will be better if they can attend in-person classes.
She was able to enroll her kids in Phu Ho II Primary School in Phu Tho Town.
Trinh Thu Ngoc Anh, a parent in Ha Dong district, said her child is now in Yen Bai City with grandparents.
He is an official student at Tran Quoc Toan Primary School in Ha Dong district. However, he is temporarily studying at a school in Yen Bai because he cannot return to Hanoi, which is under social distancing.
However, sending children to schools in the countryside is not a good solution for everyone.
Nguyen Ngoc Phap, a parent in HCM City, was informed that Nguyen Binh Khiem Primary School students would have to study online until the end of the first semester.
At first, Phap decided to send the kids to a school in his hometown but he later changed his mind.
"In HCM City, my daughter follows an integrated English teaching program, but the program is not available in the countryside," he explained.
He fears that the daughter will not be able to keep up pace with her classmates in HCMC after the first semester ends and the girl returns to HCM City.
So, the girl will both study online with Nguyen Binh Khiem School students with her smartphone borrowed from a cousin, and also go to a school in the countryside. 
Thuy Nga - Ngan Anh

All of the three largest mobile network operators have affirmed that they are ready to cover depressed areas with broadband as per the Prime Minister's request to serve online teaching.

Though the Ministry of Education and Training (MOET) in May released a document guiding the ordering of teacher production as stipulated in Decree 116/2020, localities are reluctant to comply, even though the enrollment season is nearly over.