Son La, Hoa Binh, Ha Giang exam scores lowest nationwide

Son La, Hoa Binh and Ha Giang, which were involved in a high-profile score manipulation scandal in 2018, were listed among the 10 localities with the lowest average scores for the national high school graduation exam 2019.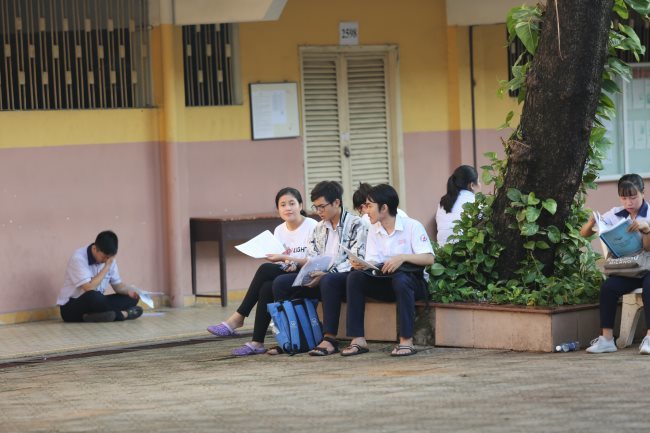 Students talk before taking the 2019 national high school graduation exam in HCMC. Those in Son La, Ha Giang, Hoa Binh performed poorly in the exam
Based on the exam results, high-school students in the three northern mountainous provinces performed poorly in math, foreign languages, history and geography, the local media reported.
Son La and Ha Giang took turns to have the bottom place for test results across all subjects.
For math, Son La recorded the lowest average score of 3.5 on a scale of 10, followed by Ha Giang at 3.6 and Hoa Binh at 4.1, all lower than the national average of 5.64 points.
Also, these provinces' average scores in foreign languages and history both failed to reach 4.
Similarly, the students' performances in other subjects such as geography, literature and chemistry were far lower than the national average.
Meanwhile, Nam Dinh and Ha Nam provinces gained the highest scores overall. Besides this, Hanoi, HCMC and Haiphong were among the best performers in the exam, with HCMC gaining the highest average score in foreign languages at 5.79, higher than the national figure of 4.36.
Sai Cong Hong, deputy director of the Quality Control Department at the Ministry of Education and Training, was quoted by Tuoi Tre newspaper as saying that this year's exam results were on par with socioeconomic conditions and the traditional fondness for learning across many localities. SGT

Eight former educators and police officers implicated in the 2018 national high school examination scam in the northern upland province of Son La could face jail terms of one to 10 years.  

"Can you believe it, our Thăng Long (Ascending Dragon) has become Hạ Long (Descending Dragon)!" exclaimed one graduate of the school, one of the top public schools in Hanoi.